Have you ever wanted to experience a huge crush just like the characters from Nicholas Sparks' novels?
Have you always dreamt about an endless love between a soldier and a cute civilian?
Well, maybe it's time to experience it on USMilitarySingles.com.
Let's swipe together through this review, and see if the USMilitarySingles is worth it.
OFL Top Recommendations based on 100,000+ Survey

"Serious Relationships"
"Discreet Hookups"
"Best Course for Men"
"Quick Flings"
"Normal Hookups"
"Our Quiz"
While doing that we will look at:
Is your dating app giving you the best chance for success?
Make sure to take our online dating site/app quiz to find out.
It's a fact that people who follow our dating site suggestions have on average 2 extra dates per month.

What are military dating online platforms?
Before we step further into this U.S. Military Singles review, let's find out what exactly military dating is.
Military dating websites or military dating apps are places that match State's servants with civilians.
Those are usually safe places where you can meet the Air Force, Coast Guard, Marine Corps, Navy, or any other servant of the US Army, like for real.

Effectiveness 2/5
Features 2/5
Ease of use 3,5/5
Making contacts 1/5
Pricing 3,5/5
easy to use
user-friendly dating site
simple interface
free browsing profiles
free favorites list members
no ads
difficult matching process
making contacts
many features aren't free to use
USMilitarySingles.com Demographic Makeup/ Who is it for
The USMilitarySingles.com is one of the first and the best dating sites where you can meet military men from all over the world.
OFL Top Recommendations based on 100,000+ Survey

"Serious Relationships"
"Discreet Hookups"
"Best Course for Men"
"Quick Flings"
"Normal Hookups"
"Our Quiz"
Launched twenty years ago by the Premium Dating Network Company, it gathers military personnel from the USA, the UK, and Western Europe.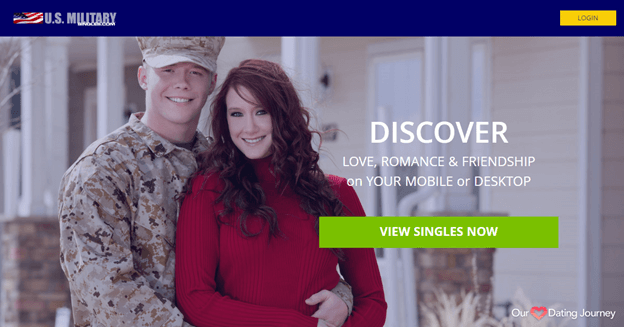 The site promotes online dating between military servicemen and those who are into them.
This dating service counts more than 500,000 members, and it has been a user-friendly dating place since 2001.
The USMilitarySingles.com is for all those who are looking for potential partners whose main characteristics are maturity, loyalty, and honesty.
How can you not trust people who defend and serve their country wearing the US uniform and are proud of it?
If you are someone who likes uniform and if you are someone who is looking for a stable and sincere relationship (like eHarmony or Tinder), then USMilitarySingles.com is the right place for you.
However, if you are seeking an innocent flirt or a friendship, that's just another thing that this online dating site can provide you.
There is something for everyone.
Maybe you will like the fact that there are many young members of this online military dating base.
There is nothing unusual about that age range because military guys like traditional dating, they are looking for a long-term relationship, and they usually marry young. So, if you are looking for a casual hookup you should visit another website (like BeNaughty or Ashley Madison).
USMilitarySingles.com Design and Functionality
The USMilitarySingles.com webpage is neat and very well-organized. Its page is simple, minimalistic, and the site is easy to navigate through.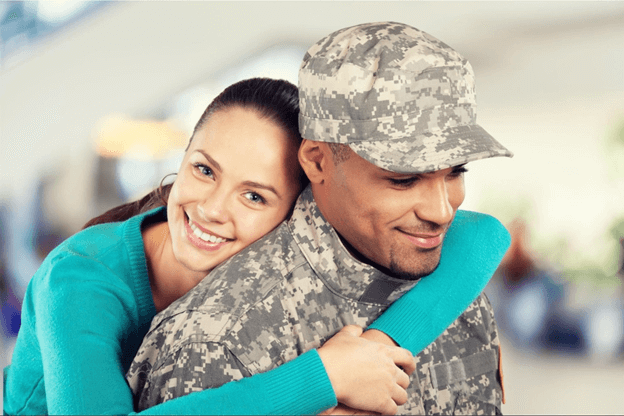 The USMilitarySingles.com logo is made of the US flag, and it is placed on the left corner of the main page. On the right corner is the login button.
Below the logo and the login button, there is a nice picture of a young couple. The man is in military uniform, and he is hugging a civilian girl. They look happy and in love.
If you scroll down the page, you can see two short texts that explain what is the USMilitarySingles.com and who it is for.
Next to those two texts, you can see two more pictures of matched pen pals.
The entire site's information is placed on the main page, and they are available and useful for all site visitors.
This online dating site gives an impression that it is a high-quality made online dating platform, and that is worth your time.
The USMilitarySingles.com is one of the rare military dating sites where there are no annoying ads. That's one of the reasons not to dust off the site.
USMilitarySingles.com Mobile App
The USMilitarySingles.com works pretty well on mobile devices. Features, basic information, and users' profiles are as well-organized as on the website.
Unfortunately, no USMilitarySingles.com app can be used to make your military dating easier.
Although the US Military Singles team is announcing many changes like adding video, SMS features, free chat rooms, and spreading international member base, they definitely have to work on their mobile app first.
Many online dating users like to have the online dating app on the go, and it's the right time to consider it.
USMilitarySingles.com Ease-of-Use
This military dating site is quite ordinary, so it is very easy to use.
All site's functions, features, and menus are visible in one place and nothing is confusing about them. Let's see the site's three main steps that certainly help to find your perfect match.
USMilitarySingles.com Signing-up
The registration process is simple. It is possible to make a free account by completing the registration form.
During the registration process, you have to enter your gender, email, username, password, country, state, the city you come from, and your sexual orientation and preferences.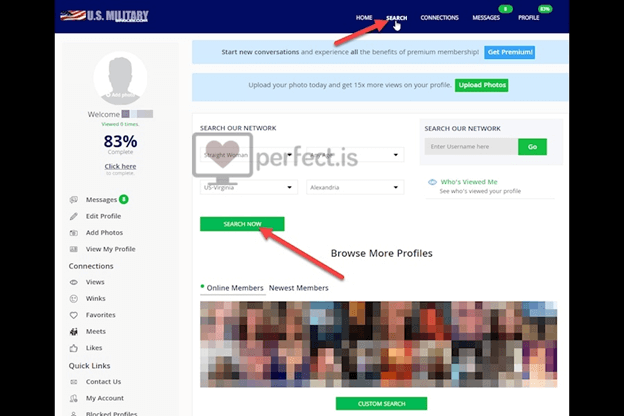 There is no email verification, and you have to fill in all this additional information if you want to start using USMilitarySIngles.com.
Creating an USMilitarySingles.com account is free, but it can take you a little bit more time than on other online dating sites.
A prolonged registration can be exhausting for new military and civilian members.
There is no questionnaire, but some of the information can be skipped, and without them, you cannot finish your registration process.
USMilitarySingles.com Profiles
When you finish the signing-up process, it is time to create your USMilitarySingles.com account.
After adding some basic information to your profile like gender, age, email, and sexual orientation, you can complete your profile by specifying more details.
It is possible to add eye color, hair color, height, weight, body type, marital status, profile headline, and ethnicity you are interested in.
As soon as you create your profile account, it is possible to view other single members' options.
An interesting thing about creating your profile account is that you don't have to post your profile picture if you don't want to.
However, adding a profile picture is always the best option because it shows that your profile is real and that it is not one of the scammers' actions.
Although some safety measures restrict fake profiles, there is always enough space for scams.
Speaking about the profile quality it is as good as it really seems. Profiles look innovative, amazing, and they are giving everything that you are looking for.
The USMilitarySingles.com members have the possibility to reveal or hide information they want on their profiles. That kind of action is visible for them only.
There is also a free section where all members can leave a more detailed description if they think it is necessary.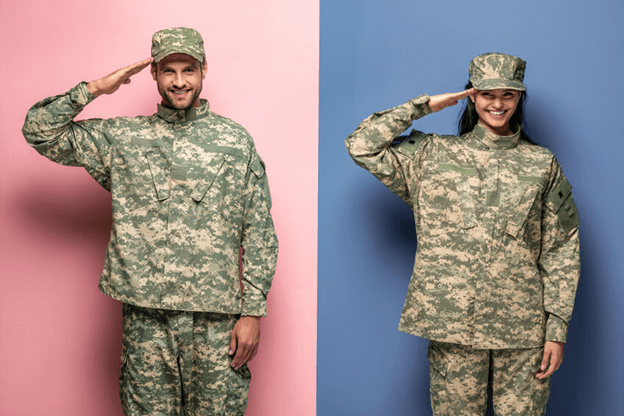 That description can be written as a short text and it will be placed below your profile picture.
Things that can be written in this About Me section are your interests, hobbies, job, friends, what you like doing in your free time, etc.
A detailed profile description can always be a plus for you on online dating platforms because other members like seeing that you really made an effort in finding your ideal match.
In that way, people never take you for granted, and you can be placed on the top of the cake by taking a few insignificant minutes.
USMilitarySingles.com Making Contacts
After creating your perfect profile, it is time to get in touch with other military members.
The very first step to make some contacts is to send a wink or leave a like and comment on other users' profiles.
Sending winks and leave likes are free for all site users. Unfortunately, there aren't too many members who regularly respond to these actions.
Reactions are weak, and that can be very depressing for fresh members.
At the end of the day, the best way for making your first contact is by messaging.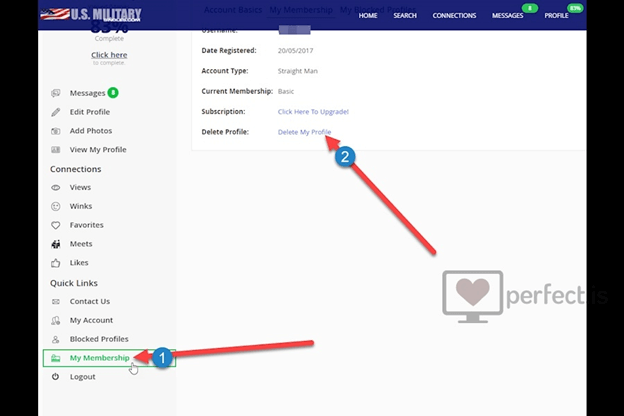 We have to disappoint you because messaging is not free to use, and it is available for those with premium membership only.
If you want to start using the messaging option, there is a message icon on the user's profile. Once you click on it, you will be automatically redirected to a premium membership package that you can confirm or refuse at any time.
The most important remark is that sending or receiving messages contain many spams coming from other harmful websites.
So, if you have ever thought that USMilitarySingles.com is one of the free dating sites where you can make contacts easily and in just one click, then, you are obviously wrong.
It is definitely one of the hugest cons that this site has made.
The good side of this online dating site is that searching filters are free to use, and they provide you to find your perfect military match in no time.
But the question is what's next? And what's the point?
USMilitarySingles.com Features
The U.S. Military Singles online dating site offers just a few free, basic features that all site's members can use.
Besides the fact that the signing up process and creating an account are free, other free features are contemporary and they are nothing else that can blow your mind away.
It is really disappointing that such a great online dating site has almost nothing to offer to its users.
Here are some of them.
You can send free winks to active members. A wink is a great way to show other users that you are interested in them. And what's more ironic, maybe it is the only way!
Similar to other online dating sites and social media, you can leave a like on the profile that likes you the most. If someone likes you back, then you are a match.
3. 10 pictures per profile
Every USMilitarySingles.com profile is restricted by 10 photos per profile. Pictures aren't something that can affect your potential match on this online dating site.
Thank God for free searching criteria! The site is so determined that this feature is one more hope for lost boys and girls.
Searching criteria that you can select to find a military partner are based on age, gender, sexual orientation, country, and city.
5. Browsing through profiles
Take a quick pick into other users' profiles without feeling guilty. It's free of charge.
You will receive an email notification every time another member visits your profile, likes you, or sends you a wink.
You can hide the information to keep your privacy, or you simply just want to hide some information from other users.
Those are your rights, and if the site offers it for free, use them.
This feature allows you to vote for your favorite military member, or to block one on the other side.
This is a well-known feature that is used on many other online dating platforms.
My Favorites feature is a list that you can complete by adding your favorite members or matches from the site.
USMilitarySingles.com Special Features
This feature is great for all military beginners on the site because it allows you to make your very first interaction with other users.
Let's Meet is a feature that provides you to meet with your perfect match offline, and be more intimate in any way.
This feature can help you to organize your inbox by folder that you can make and rename.
It is very important to wink back to make an interaction and start living your virtual dream.
Becoming a paid member can put you on the top of the most wanted site's users, and it will place you among the highly respected site's members.
Linking keywords can grow your popularity on this online dating site overnight. Get more matches daily by linking keywords.
Have a highlighted profile can also increase your popularity on this online dating platform. It provides you more matches, more winks, more likes, and a fuller inbox.
This is one of the most important features that you can get as a paid user. You get free mobile access to the site, and you can be in touch with other users offline whenever and wherever you want.
USMilitarySingles.com Costs and Price
We have to underline that USMilitarysingles.com is not one of the free dating sites.
It works under a paid membership only and it works the best after you leave the number of your credit card or PayPal account.
The site offers you a free trial, but that's all.
However, if you want to have a successful online dating with military servants, you have to upgrade your profile as soon as possible.
There are a few packages that you can choose from, and some of them usually come with a discount.
The price goes from 24.95 USD to 87.30 USD.
If you decide to get an additional plan, you can get it from 16.99 USD to 20.99 USD.
The USMilitarySingles.com is the synonym for a good interface, easy navigation, and neat design. But that's pretty much it.
If you think that you are going to find your uniformed soul mate or the love of your life, then you're wrong.
Many site features are for paid members, there are no chat options for free, and interaction among members is restricted.
So, if you don't want to waste your precious time and money on this online dating site, then it's the right and the best decision you can ever make.
There are so many similar online dating sites whose features and algorithms will find a perfect life partner. Some of those online dating sites are Military Cupid, EHarmony, EliteSingles, and many more.
The overall rating will be 2,4/5, and my dear John, I'm over the hill!
We hope that this full review helped you to eliminate all doubts you've ever had about USMilitarySingles.com.
These doubts can be justified or not.
Now it's up to you to make a decision. Are you going to hat up or get chest candy by using this military dating website?
Hit the road Jack or simply swoop with your military dream guy.