There has been a lot of debate about whether Well Hello is a scam or not, so it's about time we investigate this matter.
Because I've reviewed a lot of dating sites in the past, I have to point out some suspicious dating sites and see if they are legit or not.
So let's answer the question – is Well Hello a legit site? Let's read this Well Hello Review to find out!
Is your dating app giving you the best chance for success?
Make sure to take our online dating site/app quiz to find out.
People who follow our dating site suggestions have on average 2 more dates per month.
Well Hello Review in Video Form
Audio (podcast) form for those of you on the go
Ratings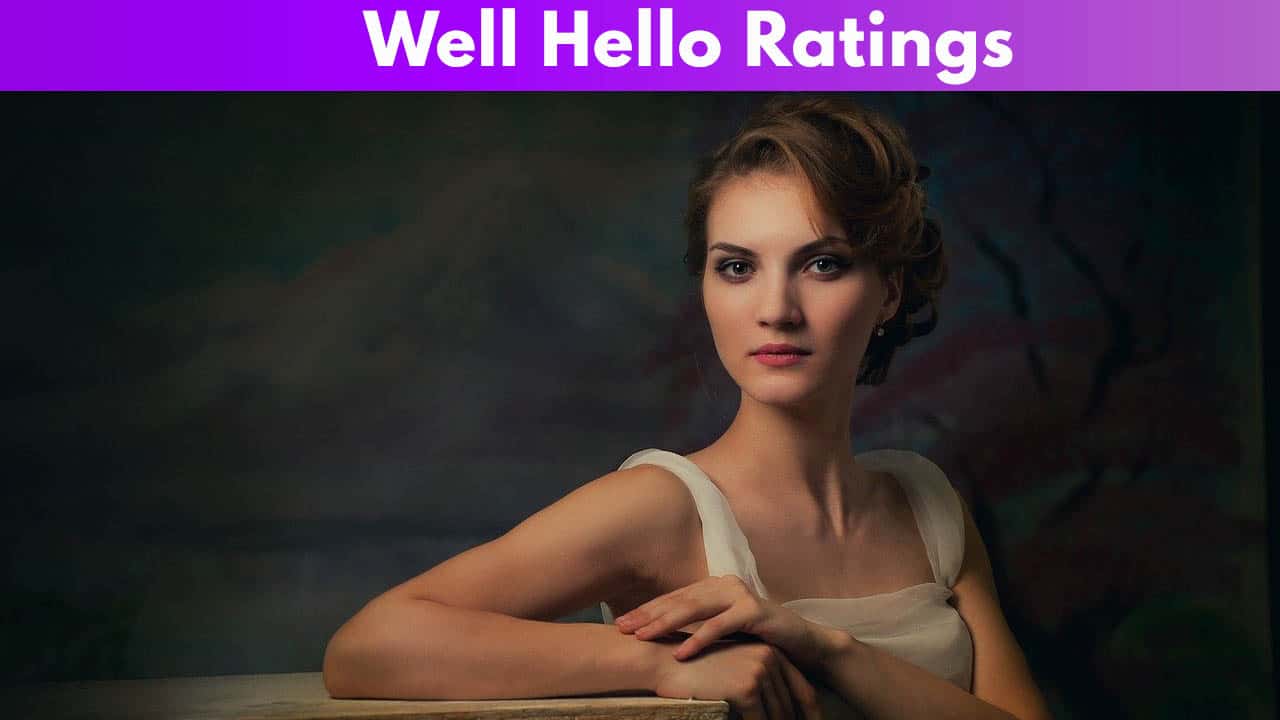 Effectiveness 2/5
Features 1/5
Ease-of-Use 3/5
Price 1/5
Pros
Needs e-mail verification to sign up
Has a video chat option
Sexual orientation filters
Private video and photo galleries
Two-step sign up process
Cons
A lot of bots
Tons of advertisement
Limited messages
Most features require a premium membership
Who is it for/Demographic Makeup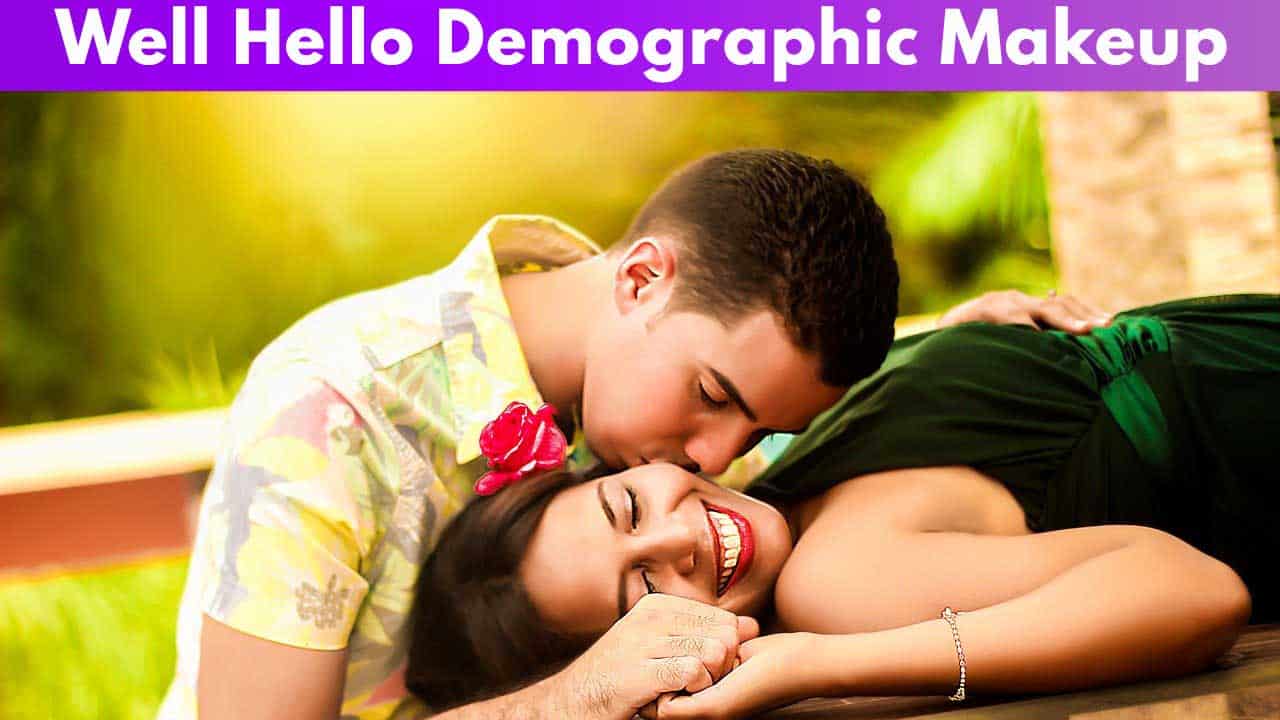 When you type in Google "WellHello app review" you're bound to see a lot of reviews that say that the site is a scam and still there are a lot of people using Well Hello each month.
The site has more than 6 million users most of which are from the USA, the UK, and other English-speaking countries.
Surprisingly enough, Well Hello has about 56% female users and 44% male users which is quite odd for a dating site and it might be the reason why people raise the question – is WellHello real?
This is because on most dating apps you would expect to see more men than women so it might mean that there are bots used by the site to engage members and persuade them to go premium.
A lot of members have been reported such activity and we have to point it out.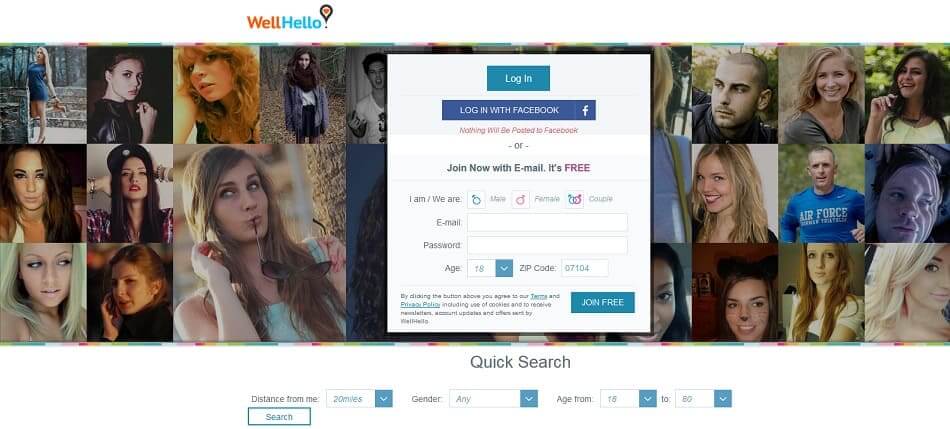 Nevertheless, people who use Well Hello are generally looking for either long-term relationships or just plain hook-ups, however, as most of the bots on the site are portrayed as really hot women, it seems that most users are seeking the latter.
Interestingly, you can create an account as a couple which is quite odd for a dating site because there are specific sites that are used by couples who are into polygamy and swinging.
But couples would definitely enjoy this site if it wasn't a scam.
Overall, the site seems to have a lot more real members than fake ones and I can't say that it's unusable but you need to be quite careful when engaging members on Well Hello.
So now that we know the demographics and who uses the site, let's see what your chances of scoring a date are.
Effectiveness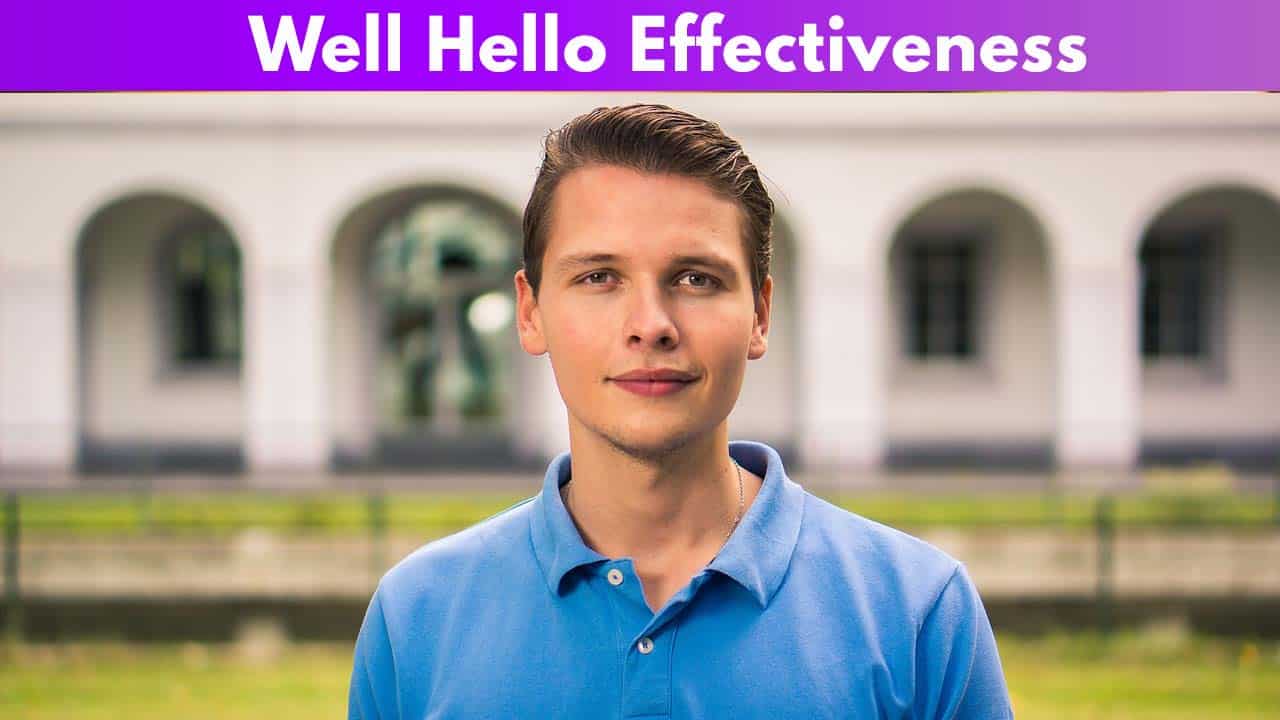 One red flag that instantly makes people think twice before jumping in the Well Hello scam is that you can't engage other members unless you have a premium membership.
With a free membership, you'll only be able to like other people's pictures or adding them to your friend list.
You can also add other members to your "Favorites" list but they won't be able to see it unless they have a premium membership.
When someone sends you a message, it will expire in 48 hours but you can only send 5 messages per day so you won't be able to chat all willy-nilly with everyone.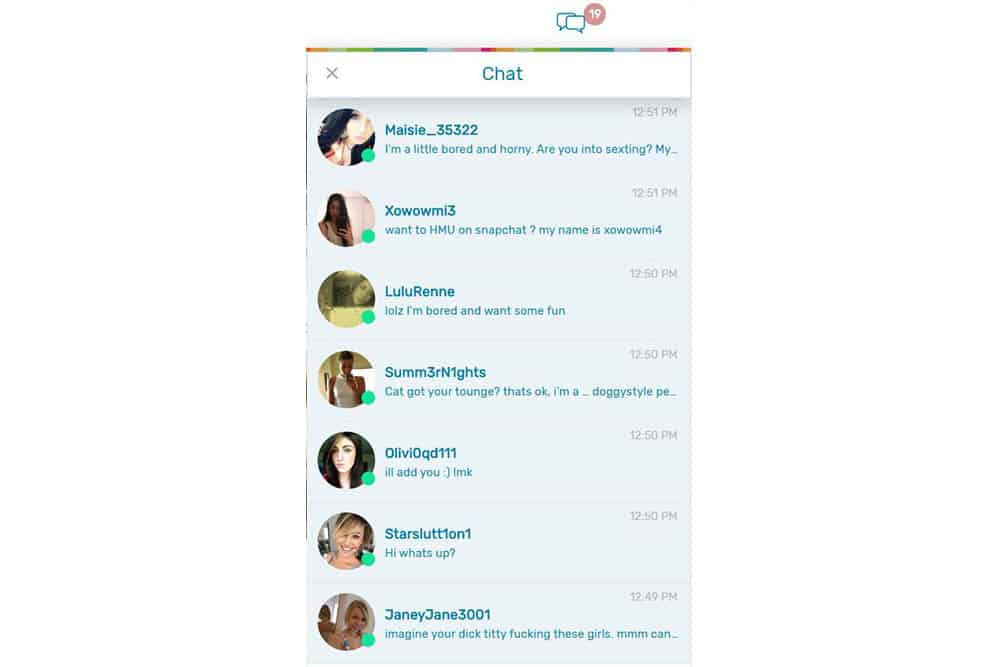 So let's talk about the way you actually find members.
One way to find members is to search for them via the preference filter, but we will talk about it more in the next section.
OFL Top Recommendations based on 100,000+ Survey

"Serious Relationships"
"Discreet Hookups"
"Best Course for Men"
"Quick Flings"
"Normal Hookups"
"Our Quiz"
You can search for members based on their gender, location, and age and you can't narrow your search any further.
You'll be presented with the members that are nearest to you and if you like some of them feel free to like their pictures and send them a friend request.
Now, what most users have reported is that they get spammed by bots in their inbox and because of that it sometimes seems that there are no real users.
What's even worse is when you actually start a conversation with someone and they turn out to be a bot as well.
But you don't just have to search for members via the search option because on the main menu page you'll see a list of suggested users who are online now and new users as well.
As far as profile quality is concerned, the profiles on Well Hello aren't well put together as everything about them seems fake.
You can't make an interesting bio, just list what you're like and what you're interested in so it's quite hard to attract real people as most of them will think that you're just a bot.
So overall, based on the user's experience, Well Hello isn't as nearly as effective at finding your dates as most dating apps.
But, miracles do happen and sometimes people really do find the love of their life even on scammer dating websites such as Well Hello.
Key Features
Surprisingly enough, the WellHello fake website seemingly has somewhat good features but they're all just for premium members to enjoy so don't get your hopes up just yet.
Let's see what these features are and how to use them.
Filter Search
The first feature which seems to be a bit outdated in the era of hookup apps is the filter search option.
On most dating sites that still use this feature, you can at least narrow down your search to specific preferences such as body type, hair color, height, and so on.
Well Hello on the other hand you can't do any of that.
You can only set up the location, age and gender, and nothing else.
You don't even get more options when you go premium which is usual for this style of dating sites.
The irony is that you can set up your profile by giving a short bio and explaining what you look like and what are your interests but you can't search for people based on that.
Private Galleries
Once you go premium on Well Hello, you'll be able to access private galleries of other members to see their exclusive photos.
However, only the owner of the gallery can invite you to access it and once you're in, you can start liking their pictures.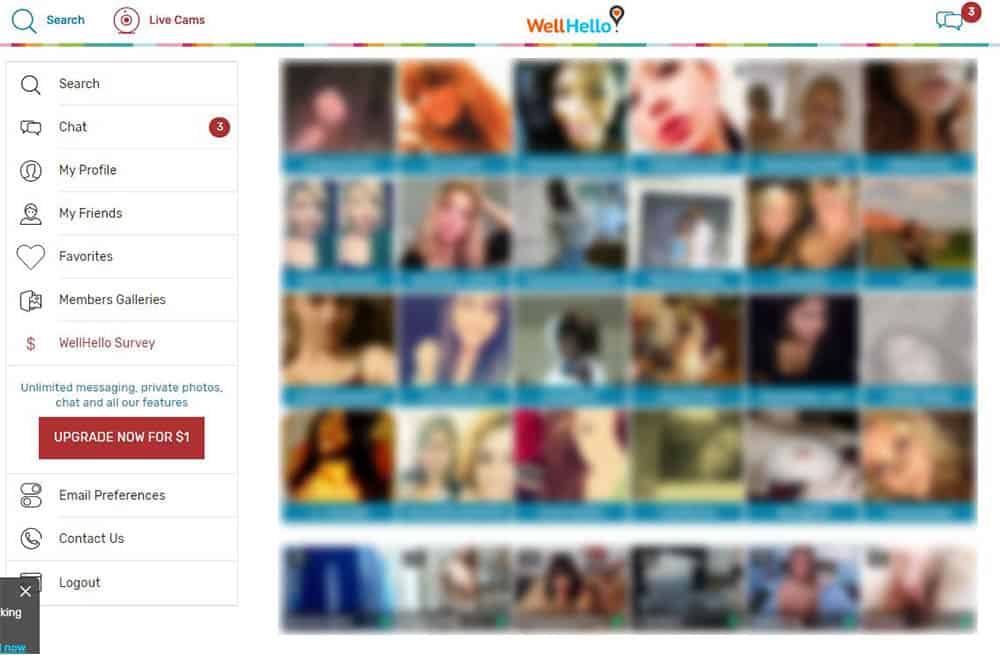 Most of these galleries are actually made by the site and they show random half-naked women which seem so inviting that you might even consider paying money to see them.
Also, I don't even think I should mention this but to create your own private gallery you have to go premium.
There isn't much point in having this feature as it just allows you to see spicy picks of other members and doesn't offer much engagement.
Survey
Well Hello has its own survey on the site which you can take and get a reward after finishing it.
Of course, the rewards are all based on getting premium access to porn sites, even though the site claims that there are cash prizes involved.
But, if you want to answer 20 or more questions on this WellHello fake survey about your sex life, then have at it.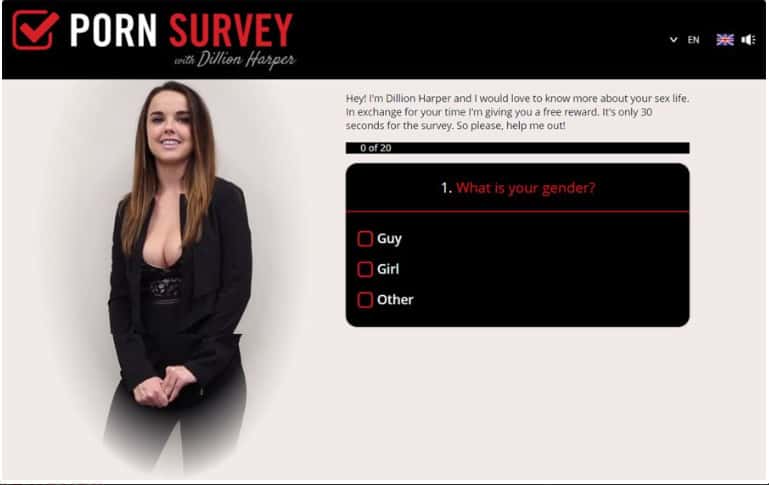 Video Chat
This is one of the most useful features that Well Hello has to offer even though you have to go premium to get it.
It lets you start a video chat with other members and it's a perfect way to see if the person you're talking to is real or not.
Of course, the member you want to start a video chat also has to have a premium membership so it might sometimes be tricky to make any use out of it after all.
It's surprising how a site such as Well Hello which is basically a scam has this feature and most dating sites don't.
So even though most of the features on the site aren't really helping you get more engagement I have to say that this isn't such a bad feature after all.
Sending Flirts
And last but not least we have the "Flirt" feature which allows you to send flirts to other members which, to put it in dating site terms, does the same thing as super liking, someone, on Tinder.
You need a premium membership to get the "Flirt" feature and you won't be able to see who sent you a flirt without one.
You'll be able to see the members you've sent "Flirts" to and also who sent "Flirts" to you in the "My Favorites" section
All in all, even though Well Hello seems to have good features, they don't seem to coordinate well and don't give you anything apart from the opportunity to spend more money than you have to.
Ease-of-Use
Surprisingly enough Well Hello has a great signing up process which is actually much safer than on other dating sites of this "scamming" kind.
So let's go through it together.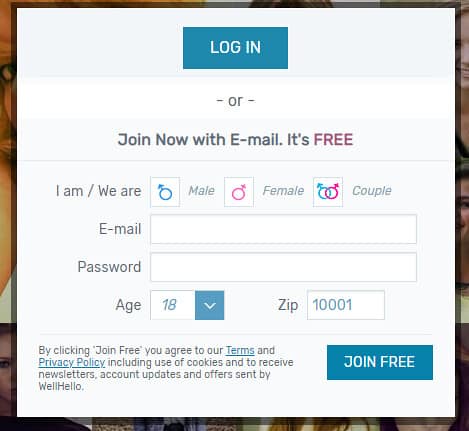 First, you need to select your gender or, if you're a couple then select the "Couple" option.
After that, you need to provide your e-mail address and create a password.
You need to be 18 and over to use the site as with most dating sites nowadays so select your age.
You'll also need to provide your Zip code so that the site knows your location and you'll see members based on that.
When you're done you can set up your profile picture and upload up to 6 photos or videos.
You can also write what you're like, your interests, and what's your body type.
The great thing is that you can do all of this later or you can just leave everything blank if you don't feel like giving out personal info.
Since we're on the topic of this, a great way to see if a profile is fake is to look at the picture quality and what the person is interested in.
Most of the time the pictures are quite bad and the interest all navigate towards sex.
The signing up process is free and you must confirm your e-mail address to join.
You'll receive an e-mail in your inbox that invites you to follow the link Well Hello provided and once you do that your registration is done.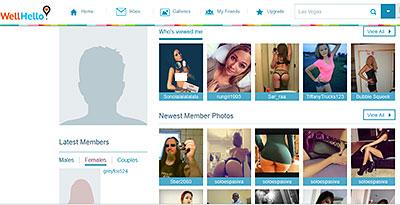 The picture above is the first thing you see when you enter the site.
As you can see, the interface is quite user-friendly and there aren't a lot of sections.
You'll be presented with new members, who are online now and who are near you, and below that, you'll see the newest photos shared by other members.
You can search for members manually by clicking on the search bar and setting up your preferences to age, gender, and location.
Once a member sends you a message, you'll be able to see it in the "Inbox" icon and start chatting with them if you have a premium membership.
After that, you have the "Galleries" section where you can view private galleries and like other member's photos.
And lastly, there is the "Favorites" section where you can see who sent you "Flirts" and the members you've sent "Flirts" as well.
So overall, it's not that hard to learn where things are on the site and how to use them but an interface update is long over-due.
What bugs me is that there's no mobile app so you're bound to be in front of your computer or laptop to use the site.
On the other hand, a scamming dating website which has its own mobile app is just another way to make more income on desperate people who seek love.
Pricing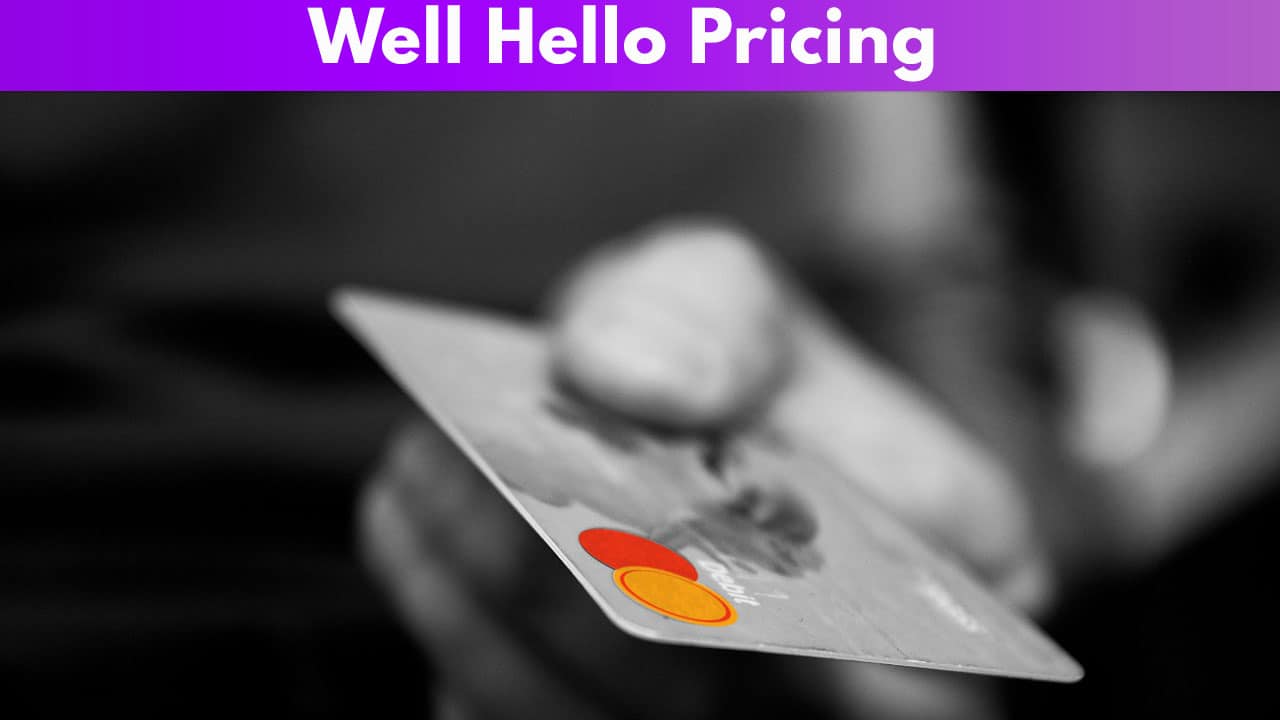 So now let's see how much does WellHello cost.
When it comes to pricing, Well Hello is quite expensive compared to other dating apps and offers nothing in return for making your wallet a lot thinner.
You can get a 24-hour free premium membership trial for "just" one $1 and after which you can choose to subscribe or not.
There are only 2 subscriptions:
1-month subscription – costs around $25 per month
1-year subscription – costs around $89.40 and it comes to $7.45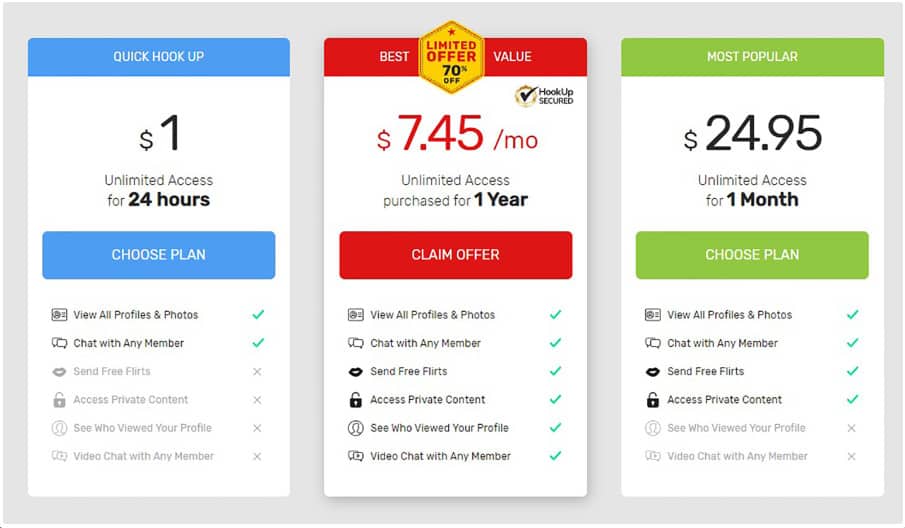 As you can see in the photo, with the 24 hours subscription you can only chat with any member and view their profile and photos.
With the monthly subscription you can do everything from the trial and also:
Send "Flirts" to anyone and show them you like them
Access the private content of other members
With a yearly subscription you can even also:
Video chat with other members
View who viewed your profile
So is Well Hello worth this price? Absolutely not, because the only feature that's worth anything is the video chat one.
It would be great if the price wasn't that steep and if the premium membership came with more filtering options so you can narrow down your searches.
Also, there shouldn't be tons of advertisements once you subscribe which isn't the case.
To conclude, Well Hello just seems to be milking out money from its users and doesn't have a lot to offer in return.
Conclusion and Overall Rating based on Well Hello Review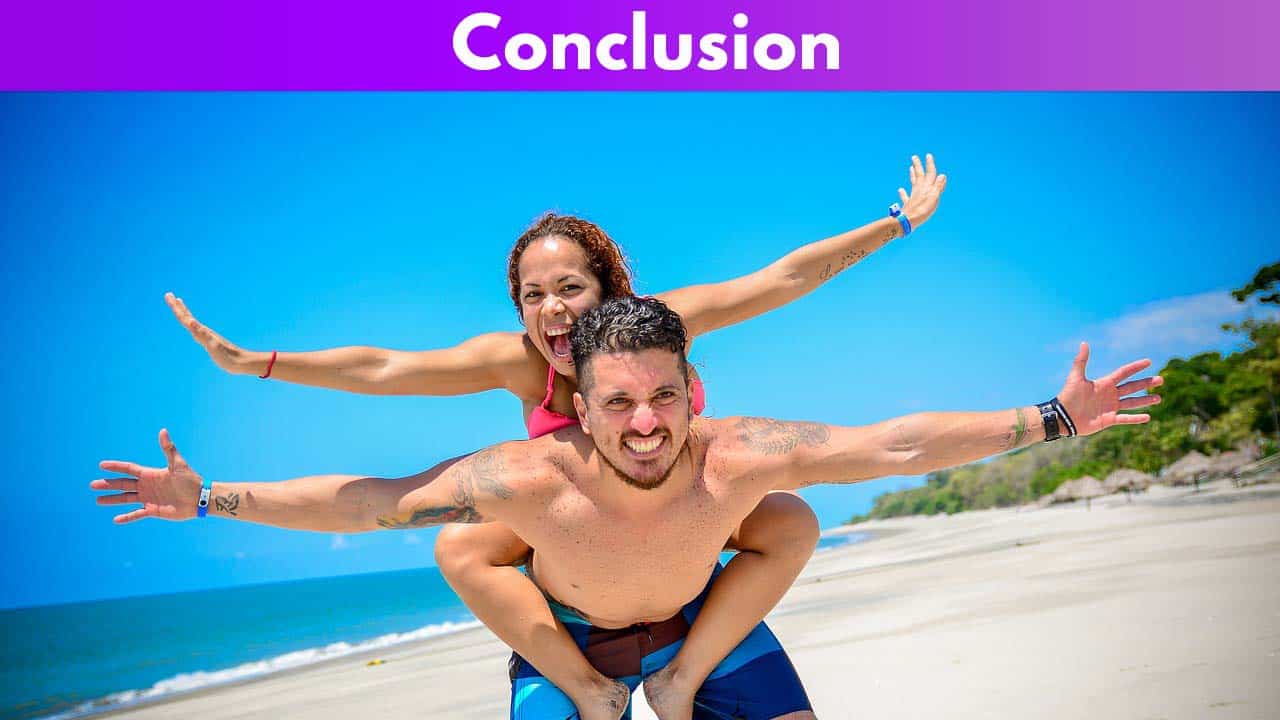 So we've made it to the end of this Well Hello app review.
I have to say that it wasn't easy to review an app that has such a bad reputation.
It seems that the site is made solely to milk people out of their money rather than bringing people together.
Let's break down the rating one by one before I make an overall rating.
First of all, I can't say that Well Hello is completely ineffective at finding dates as many users use the app it's just that there are tons of bots who send you messages and friend requests which can be a major distraction.
As far as features are concerned, they lack serious potential in making it easier for you to get a date and if you don't have great pick-up lines, then there's no point in even using the site.
I do have to give Well Hello a break for having a simple user interface though, as it's not that hard to navigate through the sit.
However, it would be much simpler if Well Hello had a mobile app as it's much easier to use an app on your phone than hunch over your computer.
I don't even want to talk about pricing on Well Hello as it's quite obvious that the site is just made to make money.
Overall, I would have to rate Well Hello 2/5 simply because everything about it is fake and you don't have many chances of scoring a date.
Do you think I'm being too harsh?
Would you give Well Hello a try?
Is Well Hello a scam in your experience?
Please leave a comment down below and share this review so other people can see and know to stay away from sites like these.
Frequently Asked Questions