Welcome to our review today where we look at TopFace.com, an online dating app, and website that's run out of Russia.
It's an international dating service for long-term relationships (like eHarmony or Tinder) and hookups (like BeNaughty or Ashley Madison), that appears to be extremely popular.
In fact, those behind TopSite maintain that it's the best site to meet new people and find a perfect match thanks to the fact that it has millions and millions of users across the globe.
So if you want to know all the strengths and weaknesses of the site before you try it out, or perhaps to compare it to the dating app you currently use, this review is for you.
We are going to analyze TopFace in such great detail to help clarify just what you can expect if you start a profile here.
Here you will find out:
So let's start then, shall we?
Is your dating app giving you the best chance for success?
Make sure to take our online dating site/app quiz to find out.
It's a fact that people who follow our dating site suggestions have on average 2 extra dates per month.
TopFace Review in Video Form
Audio (podcast) form for those of you on the go
Ease of Use 4/5
Effectiveness – 3/5
Key Features – 3/5
Pricing – 4/5
Millions of users all over the world
Membership is very cheap
Some useful key features
Easy to use
You can only see potential matchups one by one in a roulette-style matchup game
Who Is It For/Demographics?
While it doesn't seem like TopFace is looking fo any particular kind of user, it is the domain of the younger generation, that's for sure.
Before we get more into the demographics behind the site, it's important to talk about user numbers first.
Go to the TopFace site and you will see a claim that over 140 million users have signed up for a profile since it started in 2011.
That's a bold statement.
Is it true?
Well, we will never really know.
What I do know is that I've often observed dating sites make these claims about user numbers.
Despite these huge numbers, it's almost always invariably a marketing ploy I believe.
That said, there is every indication that TopFace is super busy.
Here are a few facts and figures that I was able to collect about the site you may find interesting:
Around 5 million users from the USA have signed up for the site
Daily 3000 people log in to TopFace
That's 21000 people each week and 84000 a month
The TopFace mobile app has been downloaded over 10 million times on Google Play
On the App Store, it has an average 4.6-star rating and many positive reviews
The two biggest user groups on TopFace are aged from 18-24 and 25-34.
The small group of users are aged 55 and up
While the number of American users is impressive, for me, the daily number of people logging into the site doesn't fit in with the narrative of 140 million users.
But let's continue to gather more information about the site and see where we stand.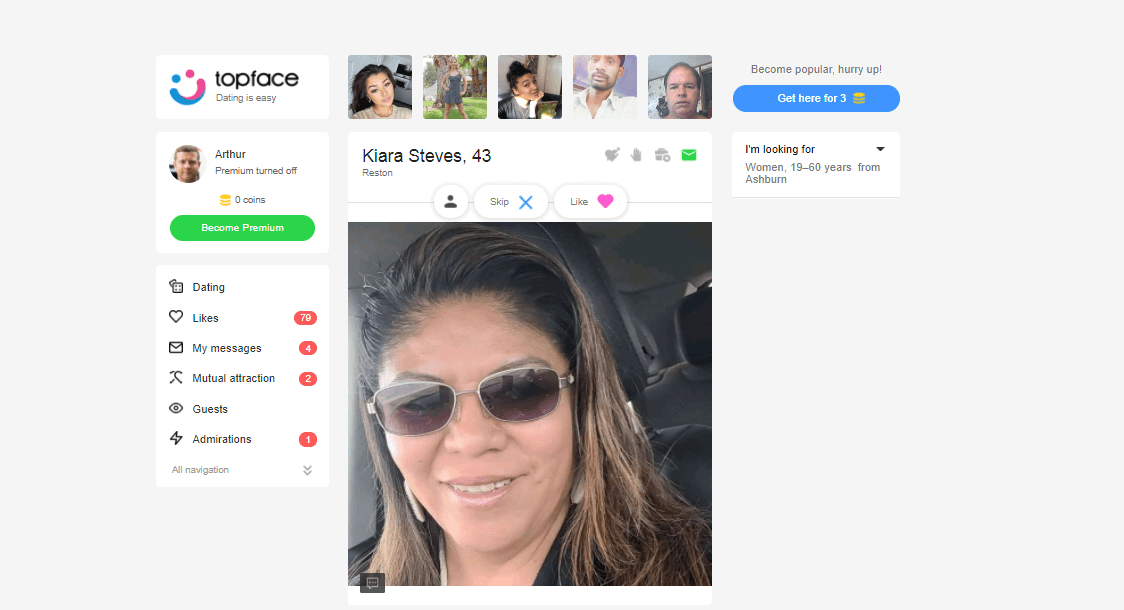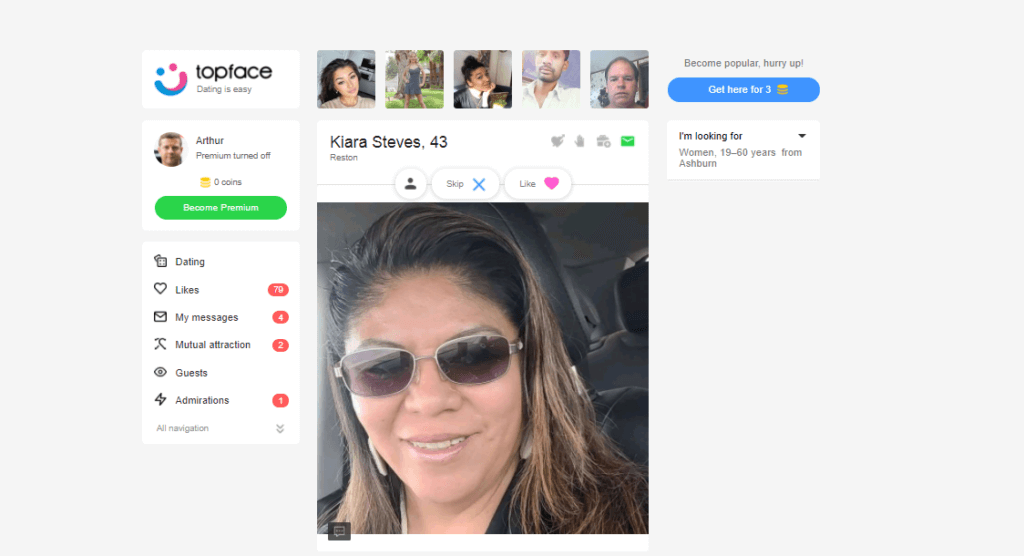 TopFace features plenty of options when it comes to signing up for a profile.
You can download the TopFace app for either Android or IOS devices, or simply head on over to the website to register.
There are many different social media accounts to help with that process but most of them are Russian-based other than Facebook.
Choosing the regular registration method is perhaps the most simple method.
And it's not going to take too much time to get onsite either.
Just provide the following information:
Your gender
Your location
Your name
Your date of birth
Your email
A password
Now verify the email address you've given and then you can start with filling in your profile.
This is a step that takes place on the site but must be completed, otherwise you won't be able to access the profile information of other users.
It helps to solve the problem of empty profiles and it's something about the site I love.
More dating sites should take this approach to ensure users fill in their profiles.
Completion of your profile starts with uploading a profile picture that cannot be skipped like on so many other dating sites.
That's followed by:
Your height
Your weight
Your current living situation
Your character (easy, tough, firm, soft, calm, restless and nobody's complained are your options)
An About Myself section
The gender you want to meet (with LGBT options)
Their location
The age range
There are seven albums where you can still fill in photos on your profile.
These are:
My leisure
My travels
My job
My house
My friends and I
My family
My hobbies
You can also provide more information for others who view you.
Click your profile picture to access your profile and then the Edit button.
Now you can add the following:
If you have children
Education
Income
How sociable you are
Your thoughts on smoking and drinking
Your body type
Your hair and eye color
Your car
Your characteristics (including cool, wild, honest and more)
Your occupation
Your favorite restaurants
Your ideas for a first date
The achievement you are most proud of
What you value in others
Your life goals
The countries you have visited
I'll be honest, while most of these provide a useful insight into a potential date, I am not sure what car they drive is that important.
This is the first dating site I've ever seen that includes this in a users' profile information.
It's all a bit strange really.
Finding your way around the site
So let's talk quickly about the overall design of the TopFace website.
Slick and modern are the two words that immediately spring to my mind when I saw it for the first time.
You will also immediately notice the uncluttered design and the ample use of white space, which gives it a clinical look.
It's a site that from looks alone, you probably will enjoy spending time using.
As to how you would navigate TopFace, well, you will see a set of menus on the left-hand side of the screen.
That's the primary method of finding your way around the site.
These menus are:
Dating: Here you will see matchups presented to you in a roulette format. You can then either click like or skip them.
Likes: Here you can see who likes your profile. To do this, you either need to sign up for a membership on the site or use the site currency to open your likes for viewing for a certain period of time.
My messages: This is a record of messages, both those you have sent and those you receive. You will easily see the different names of those who have sent you messages and you can click on that message to reply.
Mutual attraction: If you've liked someone and they like you back it will appear here
Guest: Here you can see who has viewed your page
Admirations: People can send you an admiration. If they have it will appear here.
Fans: This is a member-only feature but it will show you who has favorited your profile.
Favorites: You can keep track of the profiles you have favorited through this menu
Settings: Change various settings regarding your account, profile, people you have blocked and more here.
Popularity: See how popular you are on the site
Rating: Again, this is a system where you can see how your profile rates against others.
If I have one critique of the site, it's that there are far too many menus.
If you are trying to be a pure dating site, there is no need for things like ratings or popularity.
But that appeals to the younger crowd and it's become something you see on modern dating apps.
But in all honesty, are you going to try to date the most popular person?
No, especially if they don't live anywhere near you, right?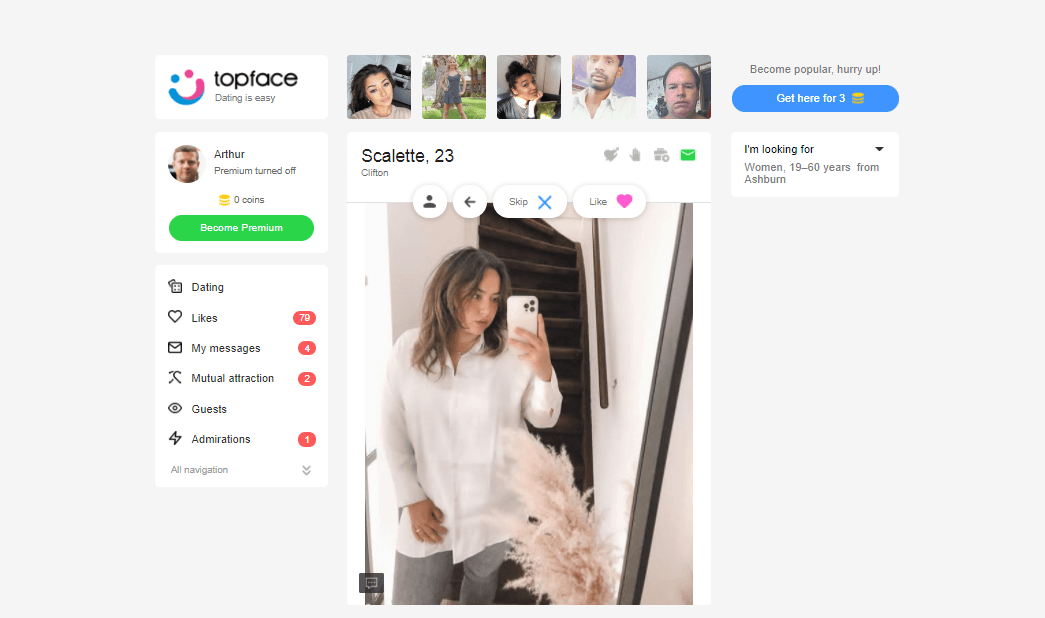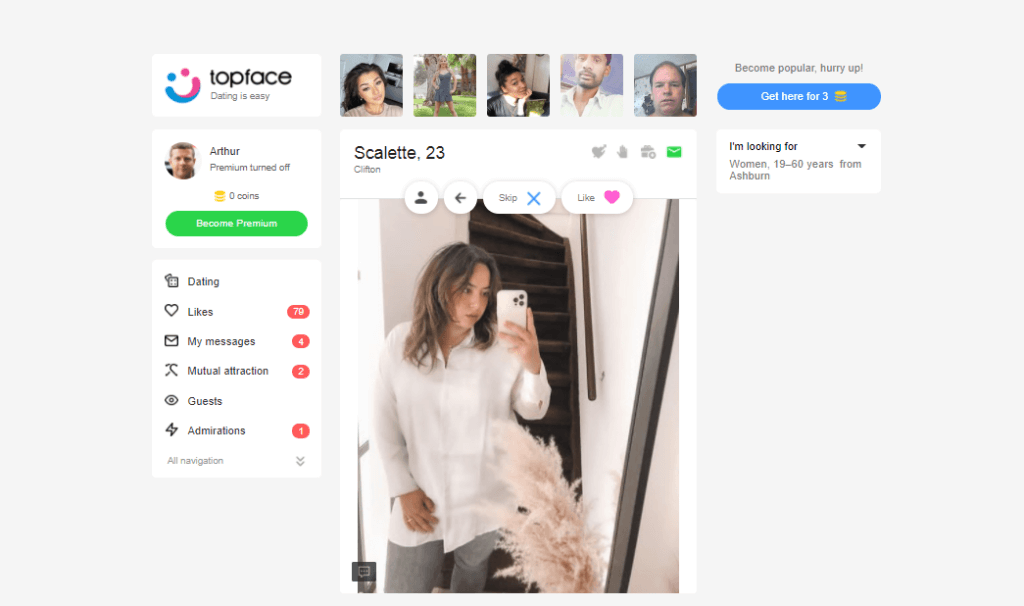 Yes, this is a typically modern dating site and app where things like popularity and ratings help sell it to the younger generation.
And they love it because as we've already seen, 18-24-year-olds are the biggest group of users you will find here.
If that's your age, those extras will appeal to you as well but for this TopFace review, I want to focus on finding someone to message, how to view profiles and pics and how to find someone to date.
Searching for the

perfect match
No matter if you download the app or use the website, there is only one way in which you can look for potential matchups.
That's through the Dating menu.
And then those matches are only presented one by one in a roulette-style matchup game much like Tinder and other modern dating apps.
Again, this probably appeals to the younger crowd but I will be honest, I am not much of a fan.
I prefer if these potential matchups were presented to me in a Gallery style that I could go through and find profiles that I would prefer to look at.
But I guess, it is what it is and if you'd like to try the site out, you'd have to get used to it.
There simply is no other way that I could find to present potential profiles to look through.
It's something about the site I think that could be improved.
On each profile that is shown, you have an option to either see their profile, skip past them to the next one or like them.
To see their profile, click on the Person silhouette.
To like their profile click the heart and to pass skip, click the X.
You can also click the heart icon that has a line through it to admire them but that costs three coins.
Lastly, click the hand to say hi, the gift icon to send them a gift and finally, the envelope to send them a message.
I want to talk about gifts quickly.
None of them can be sent for free.
You are going to have to use coins to be able to send them.
There are four gift categories: Greeting, Romantic, Exclusive, Flowers.
While I don't see the need for them, they are popular on the site and any gift a user gets will be displayed on their profile which helps their popularity ranking.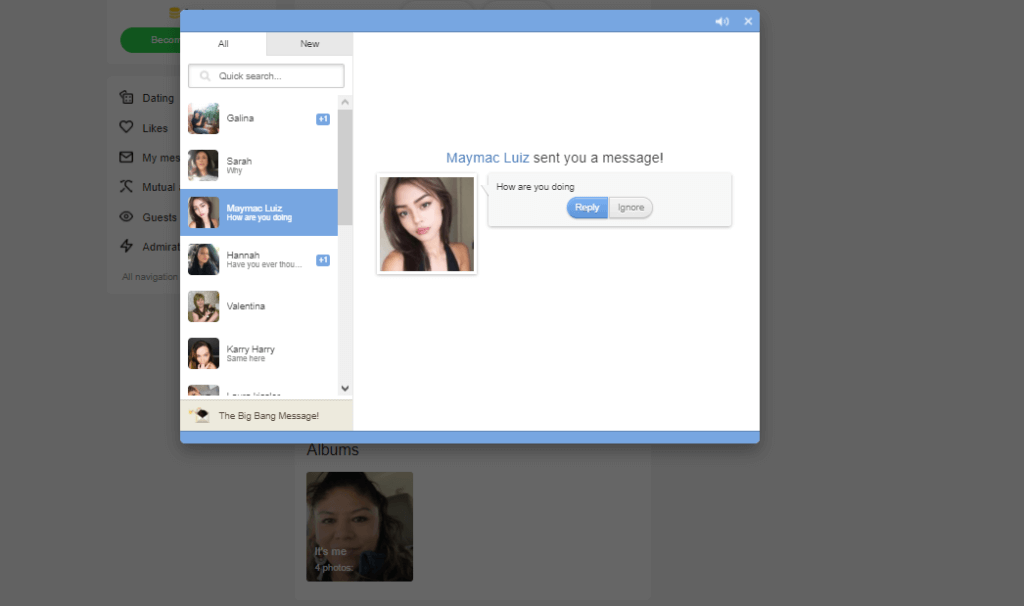 So let's talk about messaging on the site.
If you like someone and they like you back, well that means you've matched up and you can send messages to each other.
Of course, you cannot see who has liked your profile unless you spend coins or sign up to be a member.
If a matchup occurs, however, you can click on the Mutual Attraction menu to see who it is with.
So it's easy to see who you can send messages to for free.
That's a real highlight of the site and shows that it can be used effectively without having to pay for membership.
During my time on the site I had plenty of likes on my profile and I also received over 20 messages within a few days.
I will say, some of these seemed like a scam and often would not answer questions I presented to them while others were extremely conversational and definitely genuine.
One last way to reach out to others is by using a Bomb Message.
I will cover this in the Key Features section of the review where we look into the extras a member can expect on the site should they sign up.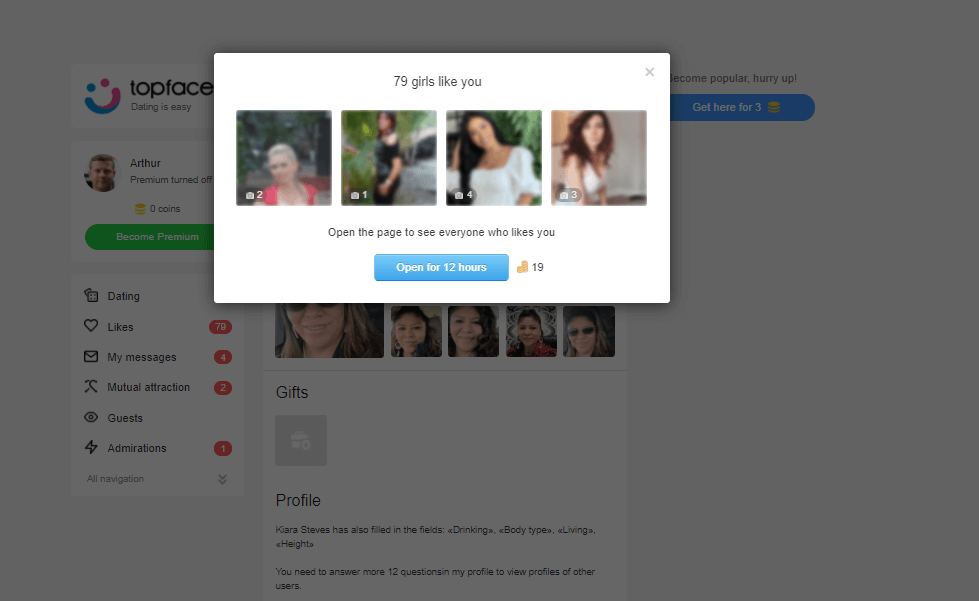 So you can use TopFace as a regular user and find people to communicate with, that's for sure.
But membership does offer some key features that are not available to regular users.
And that's what we are going to cover now.
As a member, you don't have to wait for a mutual matchup before you message someone.
In fact, if you find someone that you like, you don't even need to like their profile to communicate with them at all.
You can simply click on the messaging icon to send your messages.
And they can reply as well.
I've already mentioned Admirations earlier in the review.
If a member uses an Admiration on the profile of a regular user, that user is informed.
They can then see the profile of the member who carried out the Admiration and it's then easier to make a matchup.
A Bomb Message is just a broadcast message that you can send to multiple users.
It's a useful way of getting into contact with profiles that you have identified as potential matchups.
4. Virtual Gifts and Stickers
While regular users can purchase coins to then use to buy gifts and stickers for other users, as a member you can send any of these for free.
They form part of the membership privileges.
5. See who has favorited your profile
Regular users have no way of telling who has favorited their profile.
As a member, however, you have access to this information.
Again, this is useful knowledge to have because it can highlight potential matches that you might have missed during your search.
If you'd prefer to leave no trace that you have browsed someone's profile, you can set turn on various privacy settings.
With these selected, you won't leave any trace that you have viewed a profile at all.
For me, this always seems counterproductive on a dating site.
I would want someone to know that I have viewed them and that I could be interested.
In terms of features, in my eyes, some are useful and others a little underwhelming.
As always, however, membership features and what they offer all depend on the cost you have to pay for them.
And that's what we are going to look at now.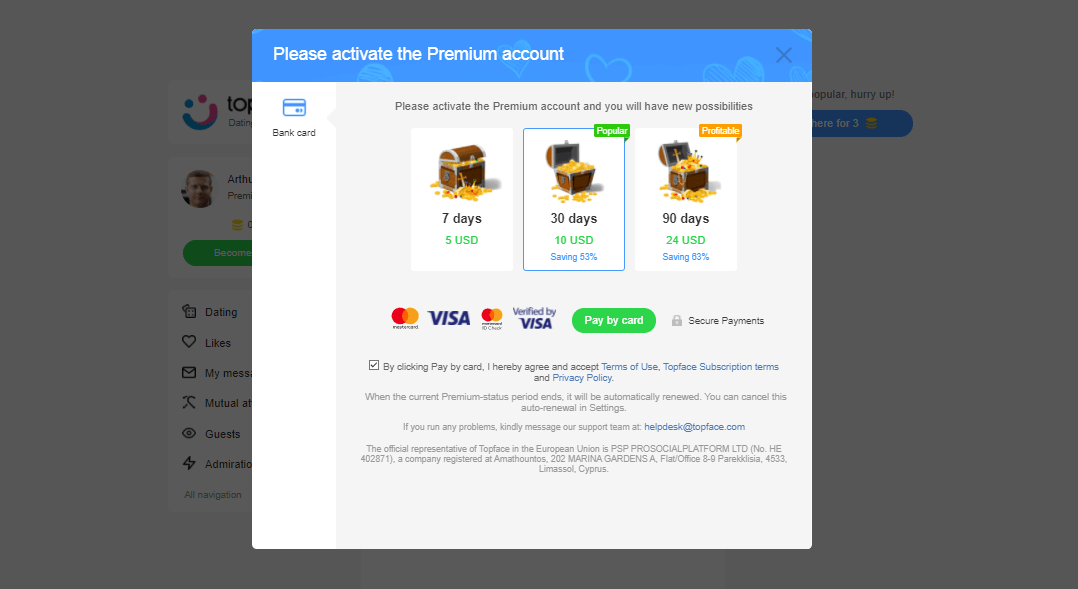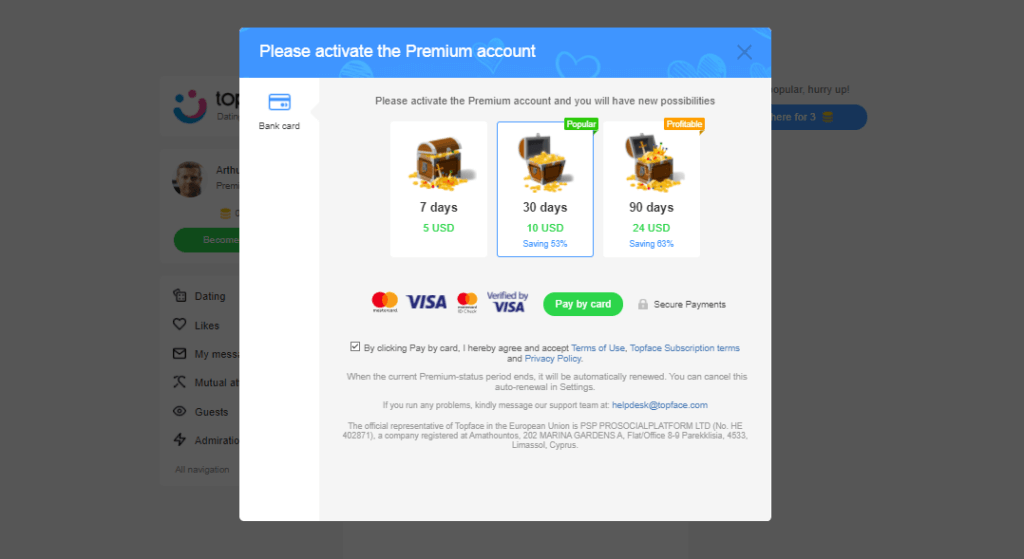 Before we get down to the actual pricing, it's important to remember that you can use this dating app in two ways.
First, you can sign up for the benefits as a member and second, you can use some of the membership features as a regular user if you purchase coins.
That means that you don't have to sign up for membership and pay in USD if you don't want to but use coins instead.
Of course, this is a more expensive method of using the site.
So let's look at the cost of membership first then.
The good news is that there are three options, including one-week membership which is perfect for those who want to try the app out.
1-week membership: $5
1-month membership: $10
3-month membership: $24 ($8 per month/$2 per week)
Cheap, right?
It's easy to why this app is so popular with pricing like that.
Although I would try out the one-week membership first up if you like what you find, signing up for three months at just $2 per week is the route to membership I would take.
But of course, if you prefer to buy coins instead of opting into membership, this is what it will cost you:
6 coins – $1
40 coins – $5
100 coins – $10
500 coins – $30
As you can see, the more coins you opt to buy the cheaper it is.
On the whole, I would stick to a membership package over coins.
The pricing of the packages just makes this a no-brainer for me.
You can use your credit card to purchase either membership or coins.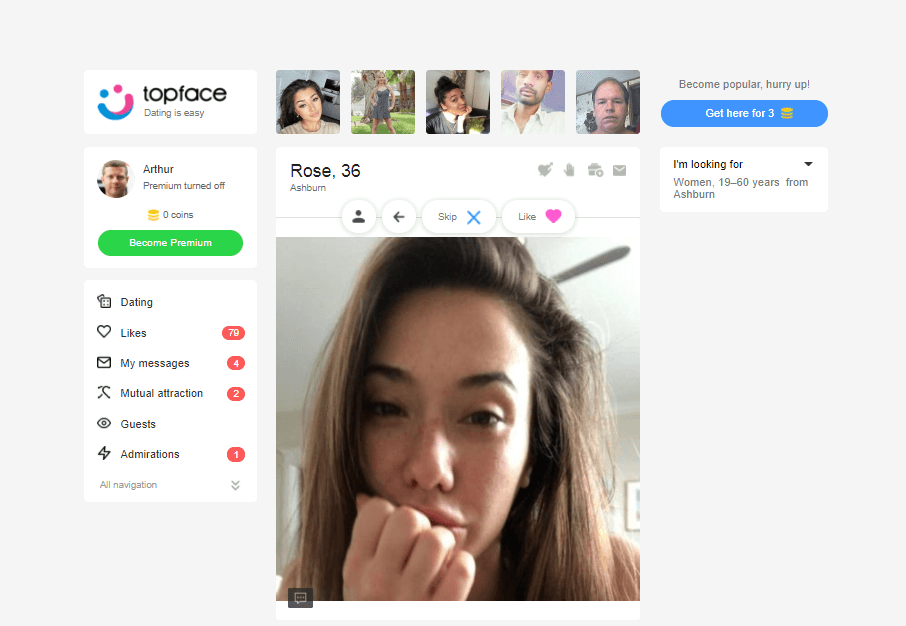 Conclusion and Overall Rating
That's it for our review of TopFace review.
To summarize, this is a dating site and app that has millions of users all over the world.
That's always a good thing, right?
It means that no matter where you are in the world, the chances are really high that you will find users near you.
So it's worth downloading and starting a profile on.
It is certainly for the younger crowd though with popularity and ratings a common theme running through the app.
How that's a benefit to anyone who is looking for love I've yet to understand but it's a reason why many young people use apps like this.
And TopFace isn't the first dating app to include these kinds of popularity contests.
From a dating point of view, yes, TopFace has what you need to find and reach out to potential matchups.
But you may not like the way they are presented.
I wish there a gallery-style presentation where you can look through potential matches.
Instead, you can only see them one by one and then either skip or like them.
Luckily, that's redeemed by the fact that as a free user, it's pretty easy to get mutual matchups and then communicate with others for free.
But I really would prefer to be able to see all my potential matchups in one go than one at a time.
If you are someone that wants to try out membership on the site, another major positive is the fact that it is so cheap.
There are some interesting membership features too, particularly the ability to send Admirations to others as well as Bomb Messaging.
But let's get to a rating then.
TopFace gets 3.5 out of 5.
It's well worth looking into, especially if you are between the ages of 18-30 although there are users here across all age ranges.
At Onlineforlove our team of dating experts studied and tested TopFace for a period of time.
We gave the site an overall star rating based on various critical criteria that we apply to all our reviews.
The final evaluation of TopFace is based on criteria like:
The cost of membership
Overall ease of use
The key features it offers members
How effective it is in helping users find matchups
The size of the user base