Certain people can't find what they need on modern dating apps. Many need a bit of coaching with a professional matchmaker or just prefer meeting someone offline rather than online, via an app.
If you are one of these people then you should try out the It's just lunch.
This is one of the oldest dating apps and matchmaking services available, that is affordable and has a high success rate.
This It's just lunch review will cover everything you need to know about this matchmaking service – how can you join, options and features it is offering and answer the most important question: is It's just lunch worth it?
OFL Top Recommendations based on 100,000+ Survey

"Serious Relationships"
"Discreet Hookups"
"Best Course for Men"
"Quick Flings"
"Normal Hookups"
"Our Quiz"
Without any further ado, let's start!
Is your dating app giving you the best chance for success?
Make sure to take our online dating site/app quiz to find out.
People who follow our dating site suggestions have on average 2 more dates per month.
It's Just Lunch Review in Video Form
Audio (podcast) form for those of you on the go
Ratings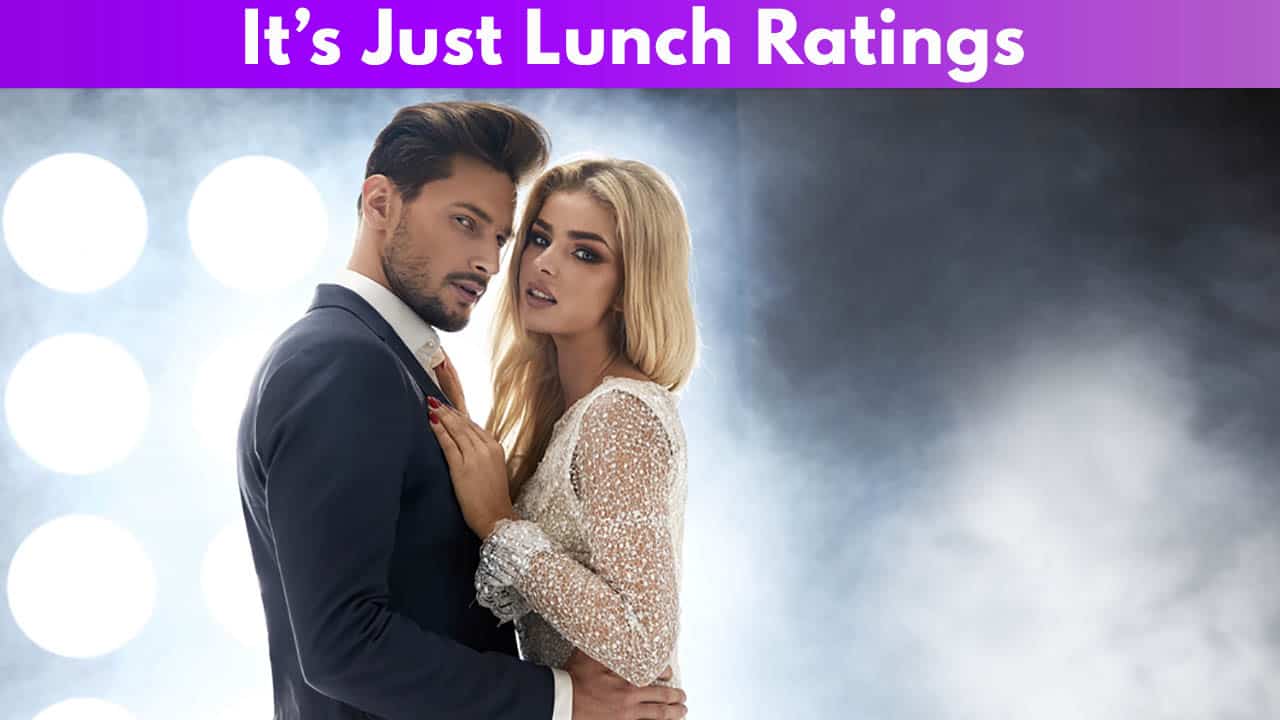 Effectiveness – 4.5/5
Features – 2/5
Ease-of-use – 4/5
Price – 3/5
Pros
Dates are arranged for you
A matchmaker will find suitable people, so you won't waste time scrolling through the profiles
Coaching sessions are available
They upload helpful blog posts
This is a highly selective website, with plenty of smart, single professionals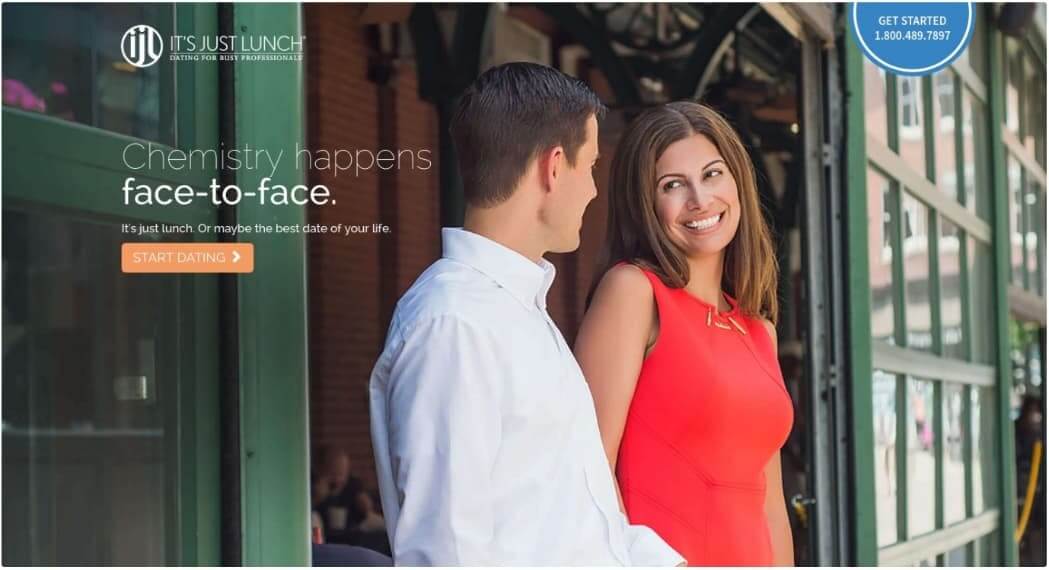 Cons
The registration process can last for a few weeks
The services are quite expensive
It might take a few months until matchmakers find a match
Who is it for/Demographic makeup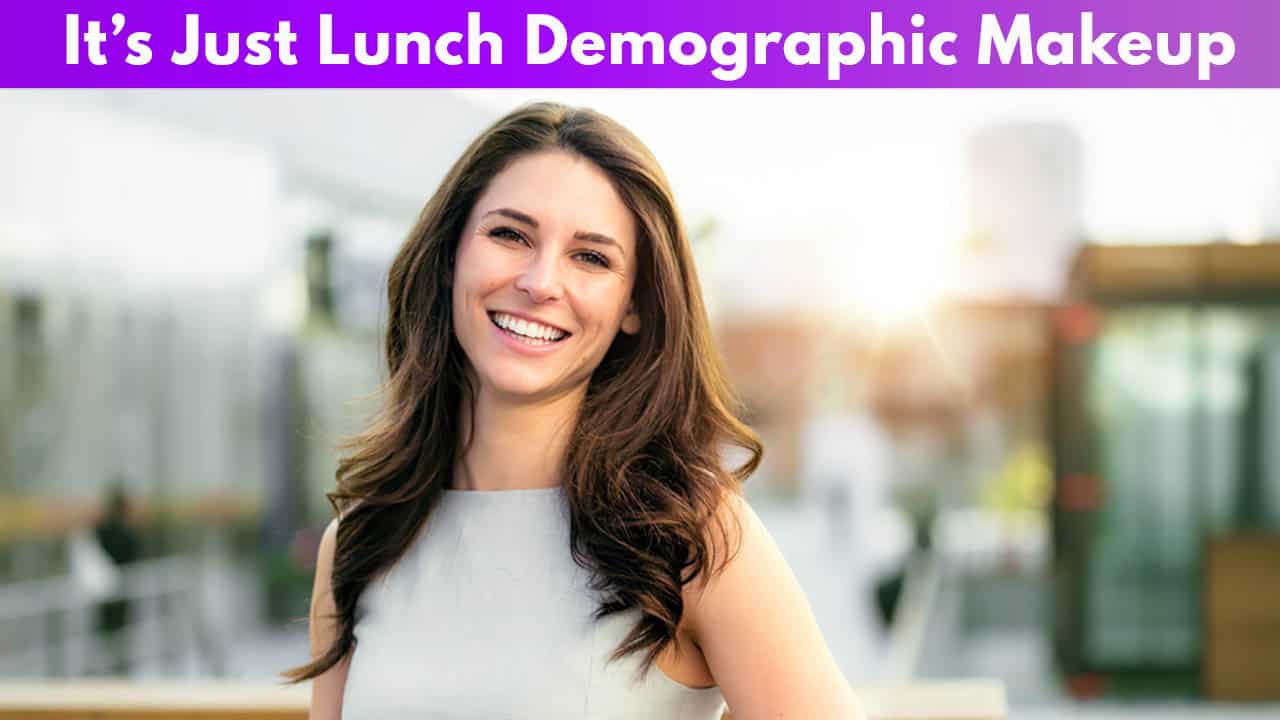 The creators wanted to help professionals with their dating lives. Since many professionals don't have plenty of free time and modern dating apps don't work as well for them, matchmakers from It's just lunch are doing the job for them.
This website was created over two decades ago, and arranged over millions of dates since.
Many of these dates turned into successful, long-term relationships and marriages.
Because the website isn't using an algorithm similar to other dating websites and real people are behind all matches, it is available in a limited number of countries. Currently, people from the UK, USA, Canada, Ireland and Australia have access to the website.
The total number of users is around 50 000, which is low compared to other dating websites. There are more women than men on the website, but the exact men to women ratio are unknown.
LGBTQ members are welcomed as well. This matchmaking agency has no restrictions when it comes to these members and many of them are already using the website.
When it comes to age distribution, most members are in their late twenties and early forties. However, even seniors are present and finding matches without any difficulties. As long as you are above 18 you can fill the registration form and start the registration process.
Keep in mind that you don't have an option to browse through the profiles, only accept or refuse the ones matchmakers choose for you. Therefore, you won't be tempted to look at your "competition" or compare your matches with others.
All you will have to do is give information about what you are looking for: a relationship or someone to casually date.
Since members are professionals from different fields, most of them are looking to settle down. The website brags about the number of long-term relationships they are behind and finding just a fling on this website might be a bit more challenging.
If you are interested in reading a few of these success stories, you can find them all on the website.
Effectiveness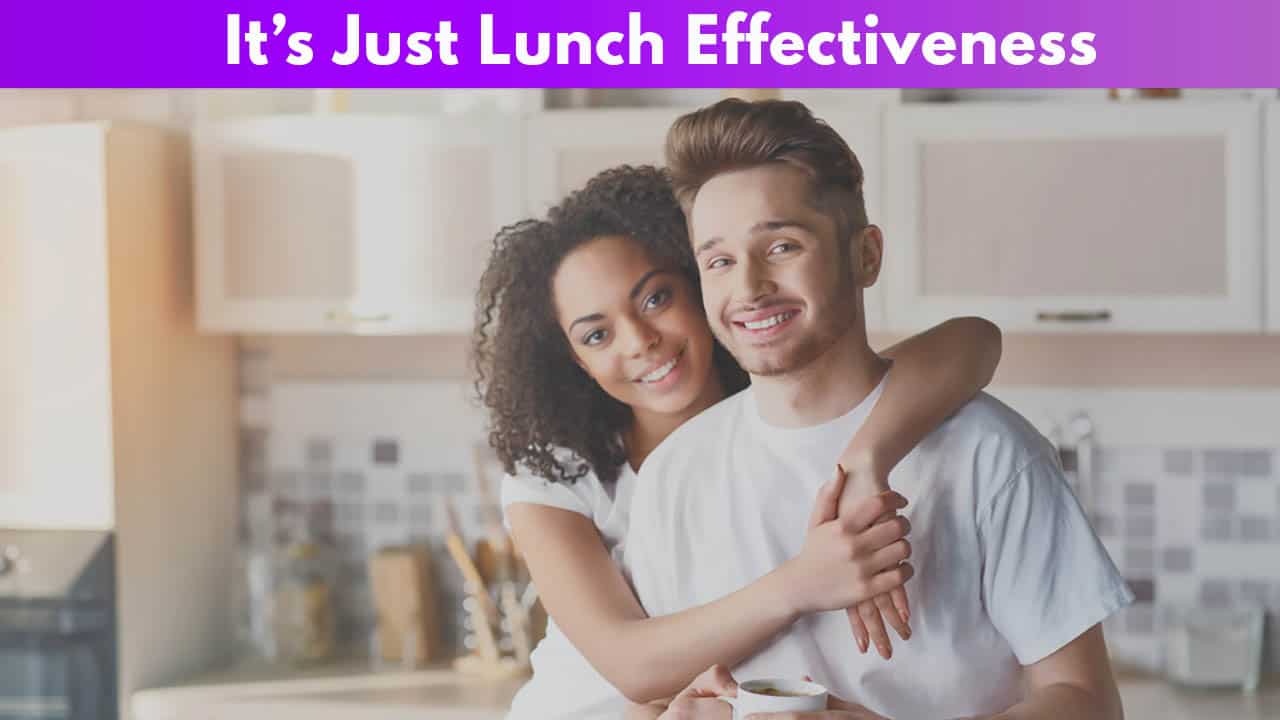 The website claims it is one of the most successful matchmaking services available.
So far, they arranged over two million dates, and many of them grew into serious relationships and marriages. Their matchmakers are behind thousands of marriages, engagements and monogamist relationships.
The creators say that the key to the web site's success is the face-to-face approach matchmakers have with every member.
OFL Top Recommendations based on 100,000+ Survey

"Serious Relationships"
"Discreet Hookups"
"Best Course for Men"
"Quick Flings"
"Normal Hookups"
"Our Quiz"
Let's dig deeper into what matchmaking is so you can understand better how the website works.
What is exactly matchmaking?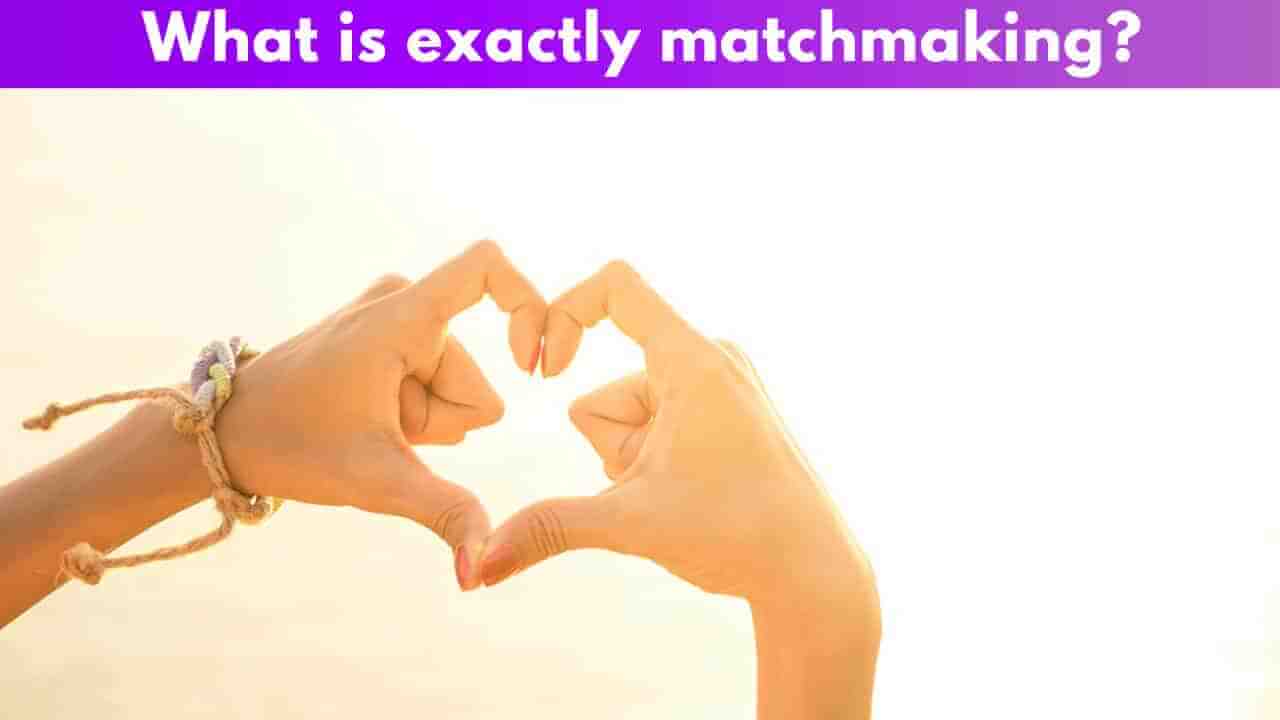 Matchmaking is all about the personal approach with their clients.
Modern dating apps (such as Tinder) allow people to make a profile, browse through other profiles and decide on their own whether they like someone or not. It is all up to you – based on a profile picture and short bio, you can decide if you want to start chatting and go out with someone or not.
Professional matchmakers get to know their clients and then arrange a few dates for them with the people they see fit.
Typically, they match people based on their similar interests and habits, and they do it better than any algorithm because they know their clients.
One matchmaker has a few clients, so it can help more people at once, without getting overwhelmed.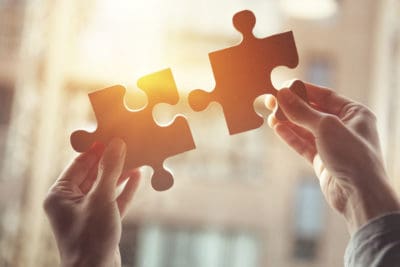 It's just lunch has plenty of women matchmakers that are experienced in this filed – their matchmakers have over ten years of experience, so you know that you are in good hands.
Also, matchmakers can coach their clients, help them see their mistakes in dating and check on their clients when a date is over so they can arrange another one, or find someone better.
Different matchmaking services
There are a few different types of matchmaking services, and some are pricier than others.
Here are some types of matchmaking services you can try:
1. A matchmaking agency
An agency has a team and each member of a team has a few clients.
It's just lunch is a matchmaking agency, so you will communicate with one member of a team that will help you find a date.
Usually, there are several packages you can try out, but we will talk more about them later.
2. Private matchmakers
These matchmakers work entirely alone.
Since they work without a team, they don't accept as many clients – only the ones they know they can help.
Also, these matchmakers are typically pricier than agencies.
3. Elite matchmakers
These matchmakers accept only celebrities or high-class persons.
They are the most expensive matchmakers and not everyone can become their clients.
Many of these matchmakers have their TV shows with celebrities come as guest and you can watch how these matchmakers work.
If they aren't hosting their show than they are appearing on other shows where they talk about their agency or share some dating tips.
4. Online matchmakers
This is the least expensive matchmaker.
Online matchmakers are different websites created for meeting other people. Typically, the people on these websites are only interested in starting a serious relationship and settling down.
Meeting people via It's just lunch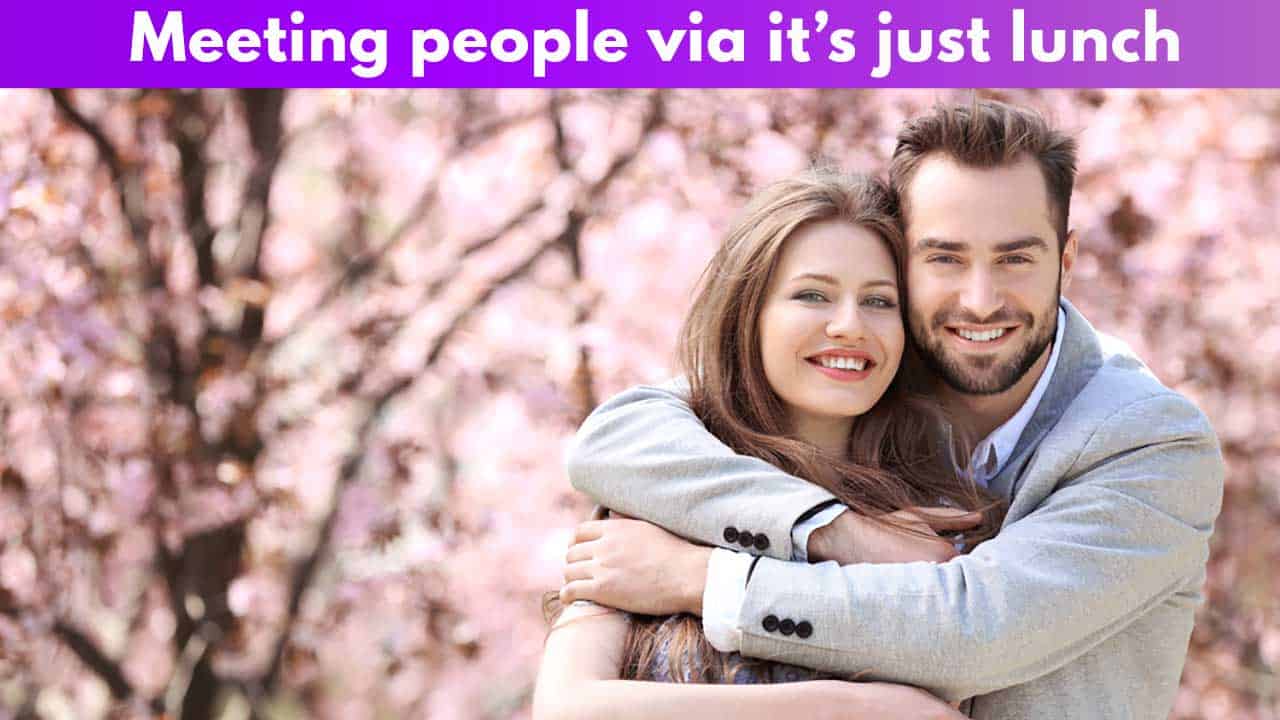 Now that you are familiar with what matchmaking is, we can talk about how does It's just lunch work.
To be specific, in this section we will cover everything you need to know about meeting people through It's just lunch.
Skype and call interviews are helpful for the matchmakers because they have a general idea of what and who you are looking for.
Through those interviews, they learn about your previous relationships and current interests, which makes finding new dates a lot easier.
Once you get accepted, your matchmaker will go through the database to find you a date.
You don't get a chance to explore people in their database or look at their profiles – this can only be done by the matchmaker.
When they found someone suitable, you will get a call. Of course, you can reject the member they offer you and ask them to find another one.
Keep in mind that finding a match can sometimes take a while. Some members go on a first date after one week, and for some, it doesn't happen for a few months.
It all comes down to the number of singles in your area and whether they share your interests or not.
It's just lunch is all about meeting people offline, and the matchmaker will call you to arrange the date.
Most dates happen during lunch hours, at a place they've chosen. If the time doesn't work for you, the date can be moved for later hours – when you are finished with work.
The membership package only covers the services of an agency, and the costs of the date won't be covered.
Either you or your date will have to pay for the lunch or drinks, or you can split the bill. It is up to you!
When the date ends, you will get a call from your matchmaker. You will be asked to describe the date, tell how it went, and what you think of the other person.
If the date went well, you can ask the matchmaker to set up another one.
Even if you decide to go on a second date with one person, you are still allowed to date other singles from their database.
The matchmaker will continue with finding matches until you decide to start dating only one person.
Key features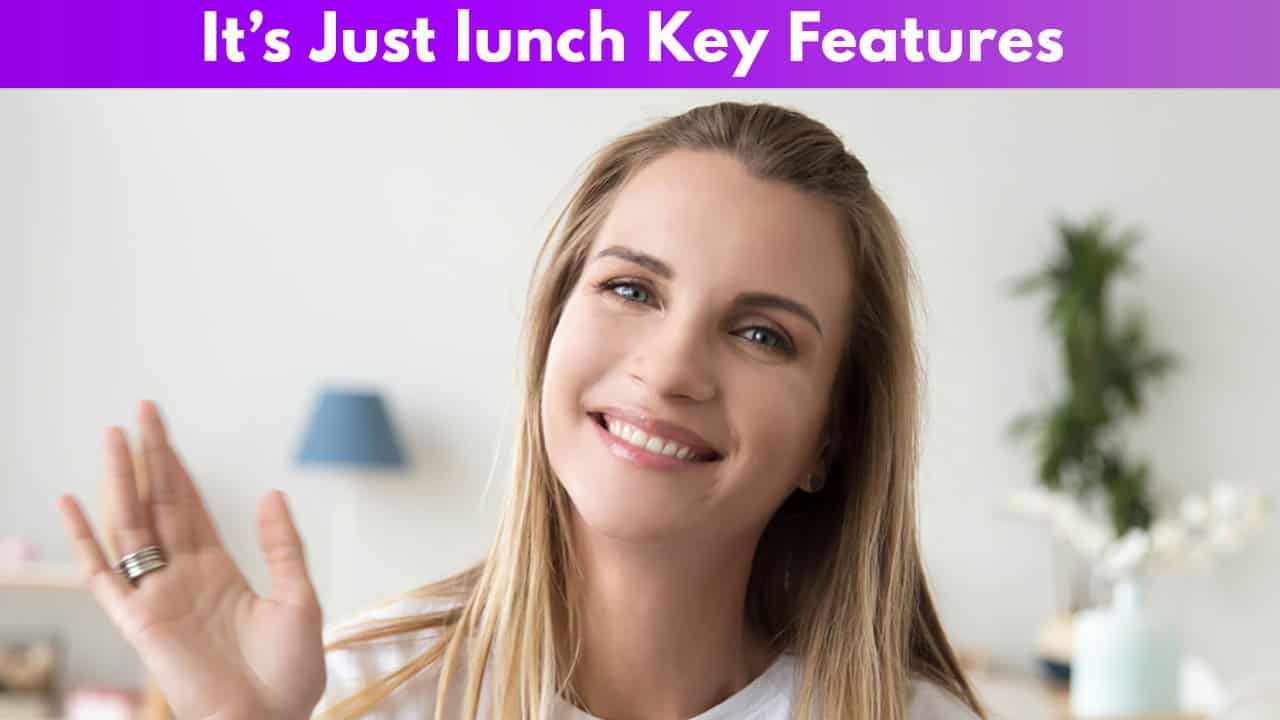 Since this is a matchmaking agency, and members aren't able to browse through profiles or initiate contact with another member on their own, there aren't any special features you can try out.
The website is all about blind dating and members aren't doing much. Finding a place, choosing the time and a partner is in the hands of matchmakers. All that members have to do is show up on time at the right place.
So, if you aren't that tech-savvy or don't have time to scroll through profiles, and play with the features, this website is a great choice.
When you pass the interviews and get accepted, your work is done!
Ease-of-use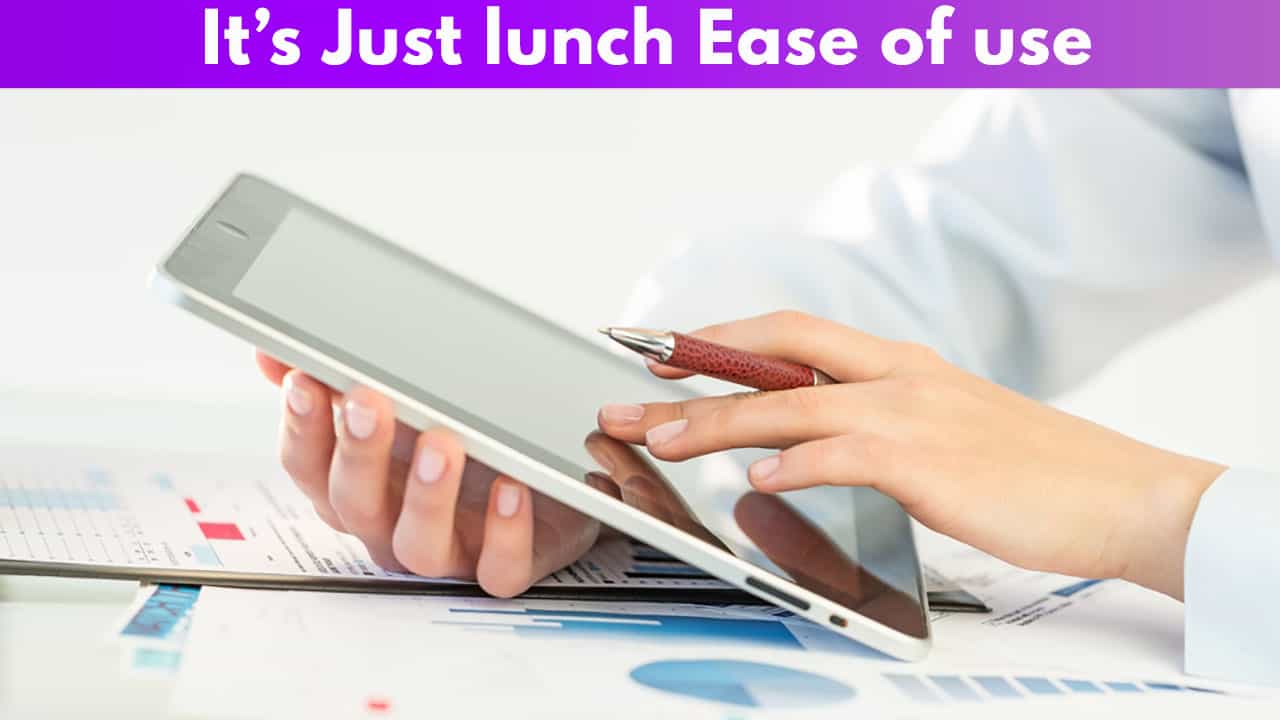 Because there aren't many features, It's just lunch app is super easy to use.
Simple design and amazing matchmakers are what single professionals find the most attractive.
The hardest is to join the website – this is a quite selective website and matchmakers only accept the people they know they can help.
Besides this long registration process, everything is pretty simple and straightforward.
How can I join It's just lunch app?
Joining It's just lunch requires completing a few steps. Even when all steps are completed, the access isn't guaranteed.
The website is quite selective when it comes to members, and matchmakers only accept the members that they know they can help. If during one of the steps they don't see you fit for the website, you won't get access to any features or their services.
For starters, you will have to fill out the form.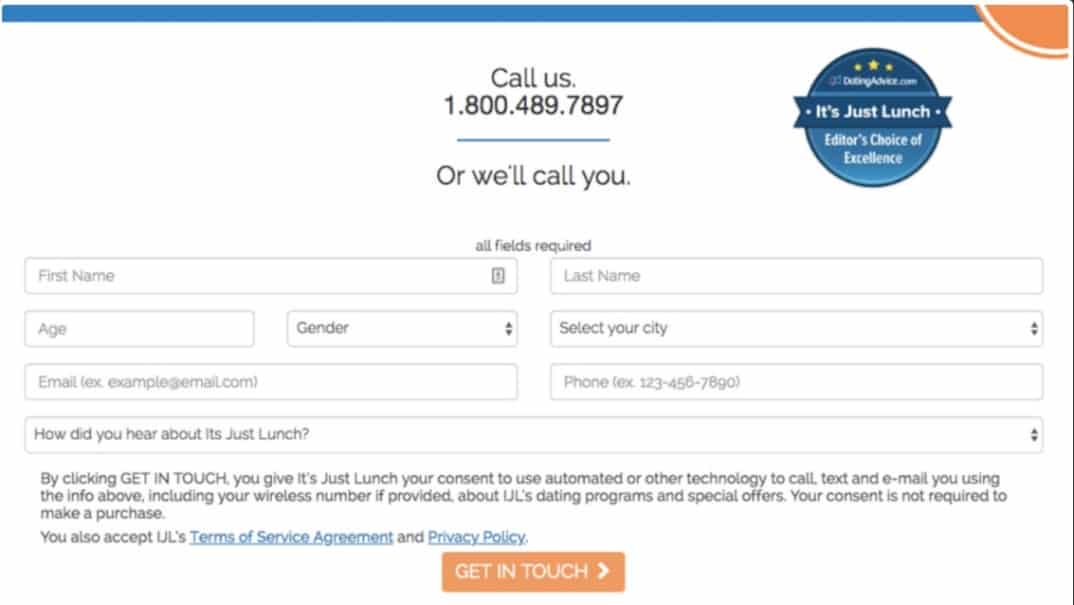 You can find it on their website.
In this form, you have to provide basic information about yourself. For example, gender, date of birth, email, phone number and occupation.
When they review the completed form, one of the It's just lunch employees will call you for an interview.
This interview is done over the phone and lasts about thirty minutes.
In this second step, you will get information about their services – what exactly matchmakers will do and how much their service might cost you. You will get to know every part of the matchmaking process and a few guarantees.
If everything seems right to you, you can start the third step.
During the Skype interview, they will determine whether you are the right person for their website.
This step takes the longest to complete, and you will be asked plenty of different questions regarding what you are hoping to find and personal habits, accomplishments and similar.
At the end of an interview, they will tell you whether they can help you with your dating life or not.
If they think that they don't have someone that will match your personality and desires, you will be rejected.
Keep in mind that the registration process is lengthy, so be patient.
For anyone that wants to speed up the process, there is a phone number you can call. The employees will find your filled registration form and arrange the call and Skype interview.
Design of the It's just lunch website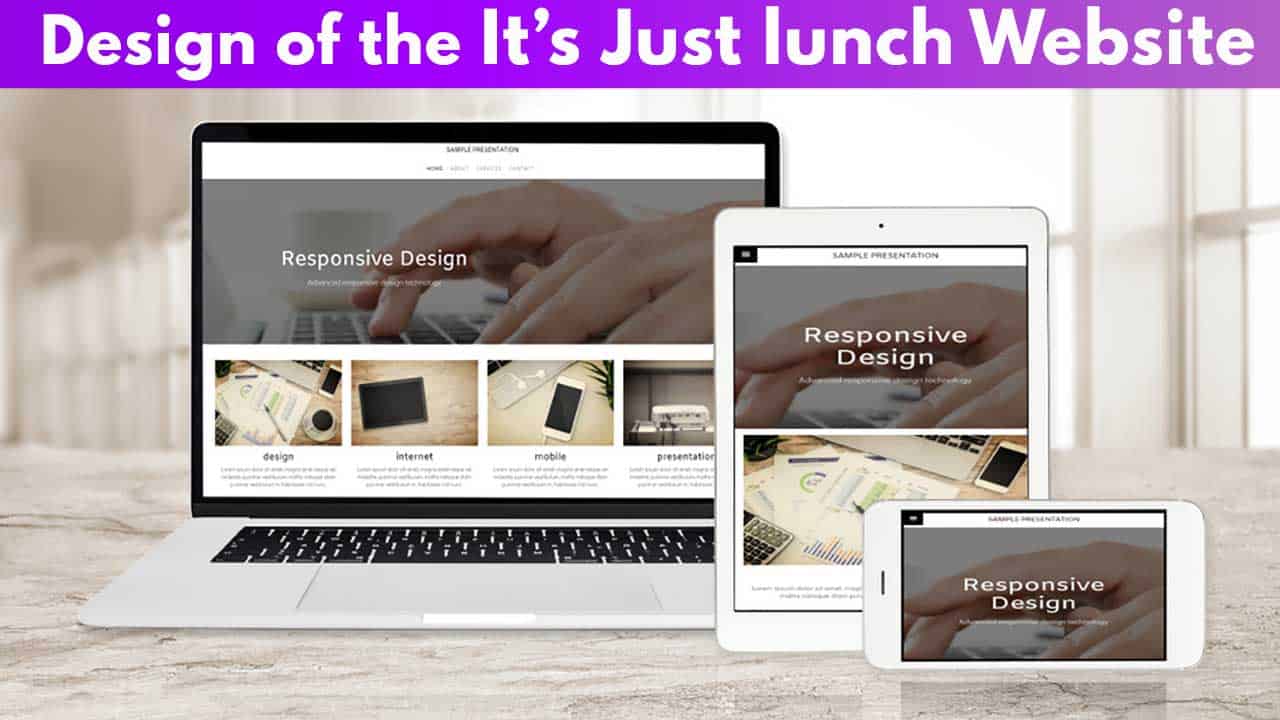 As said, since there aren't any special features, the website is quite simple.
On the website, you can find information about how it works and how dates are arranged.
There are also a few success stories you can read.
If you aren't sure whether the website is available in your city or not, there is a Cities tab where you can check the availability.
Even though only people from five countries can join, the website allows you to go on dates in other cities besides yours, so you aren't limited to just one area.
There is also a blog, where you can check out some tips and tricks on virtual dating, how to make a good impression and find results to their different surveys. Many members find these blog posts quite helpful.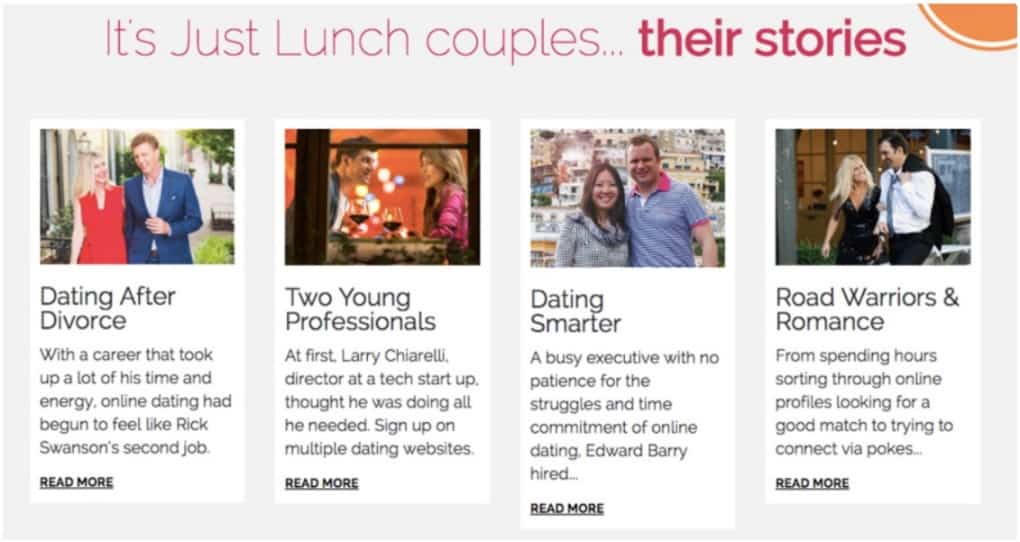 When you click on the "Start dating" button, you will be automatically redirected to the page with the registration form.
Once this is completed, all there is left to do is wait for a call. Remember that by calling the It's just lunch, you can speed up the registration process.
These are all of the options and tabs available on the website. As you can see, there aren't plenty you can do or explore.
While you wait for a call, read one of the blog posts – that first date might happen sooner than you think, and you should come prepared.
Pricing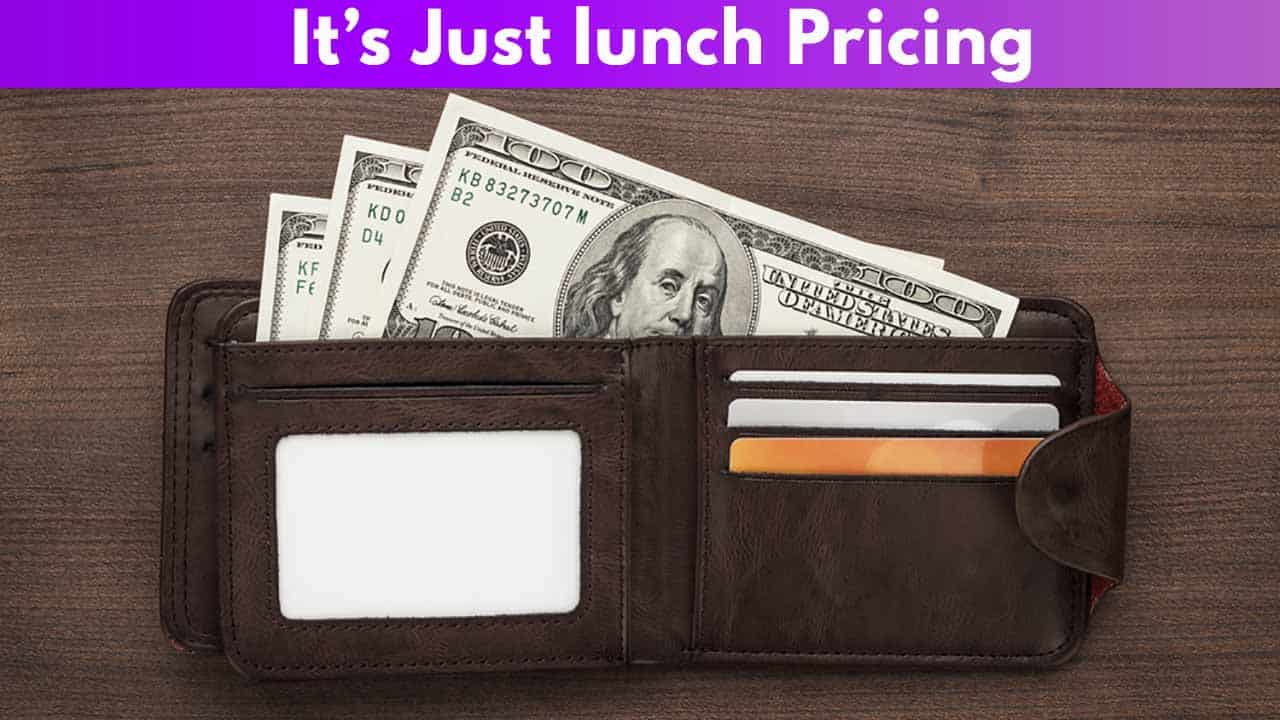 It's just lunch cost will depend on two things: your location and contract you've signed.
Compared to modern dating apps, It's just lunch is pricier than all of them. If you want to use their matchmaking services, prepare to spend a good amount of money.
For some, the price is just too high, and they go back to regular dating apps.
You will found out the price of the services during the first call.
In the USA, a member spends between $2000 and $4000 with It's just lunch. The more dates and coaching sessions you book, the higher the price will be.
Before they start finding matches, payment is required. You might spend $2000 when you join, and go on a first date after a few months.
Also, even though the matchmakers are choosing the place for a date, they aren't covering the expenses.
You will spend even more money than you expected to because of the dates.
For paying, you can use cash or a credit card.
Conclusion based on It's Just Lunch Review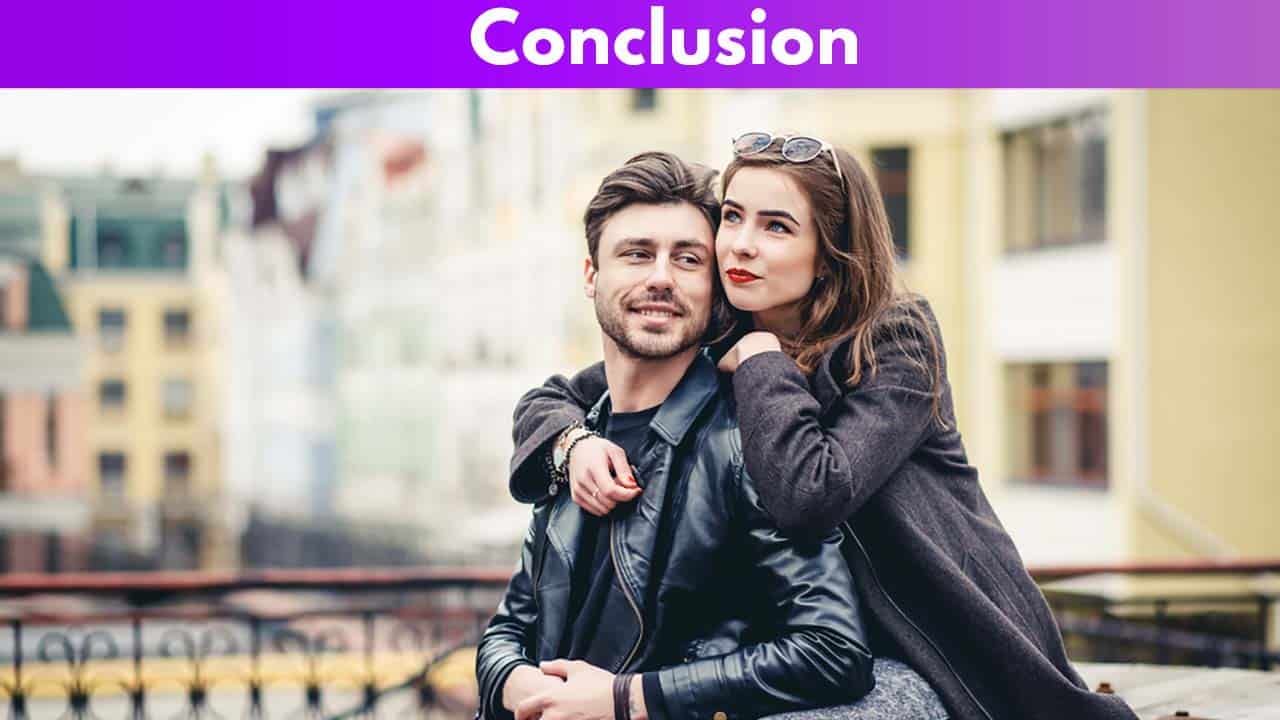 Overall rating – 3.375/5
If you are busy and find modern dating apps boring or unsuitable, this could be the right option.
Even though the membership is pricy, the matchmaking service of It's just lunch is incredible.
Thanks to coaching sessions, and interviews with matchmakers, you will quickly find your other half.
If you are unsure whether this is a good choice, you can still sign up for an interview and see whether you like what they have to say.
Hopefully, this It's just lunch app review answered all of your questions and helped you with making a decision.
If we haven't answered one of your questions, ask us in the comments. Also, anyone who has tried out this matchmaking agency is welcomed to share their experience as well.
Frequently Asked Questions