Dating abroad can be super fun – it is a great chance to meet new cultures and China has quite an interesting one.
However, meeting Chinese people online can be quite difficult and you might be struggling with finding the right online dating website.
Chinalovecupid.com is one of the websites that connect foreigners with single Chinese.
So, how does Chinalovecupid work?
OFL Top Recommendations based on 100,000+ Survey

"Serious Relationships"
"Discreet Hookups"
"Best Course for Men"
"Quick Flings"
"Normal Hookups"
"Our Quiz"
This Chinalovecupid review will help you know: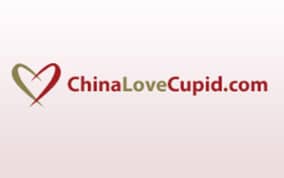 Is your dating app giving you the best chance for success?
Make sure to take our online dating site/app quiz to find out.
People who follow our dating site suggestions have on average 2 more dates per month.
China Love Cupid Review in Video Form
Audio (podcast) form for those of you on the go
Firstly, check out the ratings!
Effectiveness – 3.5/5
Features – 3/5
Ease of use – 3.5/5
Price – 4/5
One of the most popular websites for Asian dating, with around one million users
Among cheaper Asian dating websites, has a refund and auto-renew options
Basic and advanced filters are unlocked to everyone
You can talk with multiple accounts in real-time via chat rooms
The app has the same, simple design and features
The website is available in a few languages, besides English
You can see when someone is online
Live Chat is a paid feature
Profiles are verified, but the website is still full of scammers
Who is it for/Demographic make-up
Firstly, I will tell you more about the demographics of the website – who is for, so you can decide whether you would fit in with the members or not.
Chinalove Cupid has around a million users – it may not seem as much, but still, it is one of the most popular dating sites for meeting Asian beauties.
OFL Top Recommendations based on 100,000+ Survey

"Serious Relationships"
"Discreet Hookups"
"Best Course for Men"
"Quick Flings"
"Normal Hookups"
"Our Quiz"
Also, the users are quite active and the website counts 8 thousand weekly logins.
As you can probably conclude from the website's name, one percentage of users are sexy Chinese singles.
Since this isn't strictly an Asian dating website, other nationalities are present as well.
Mostly, Westerns from different parts of the world are present and use this website to meet singles from China.
Out of 1 million users, 20 thousand are Americans, and the website is quite popular in the UK and other larger European countries.
Speaking of age distribution, people in their twenties and thirties are the most active – this is probably because these people are the most willing to move to China or any other part of the world, while seniors aren't so attracted to this idea.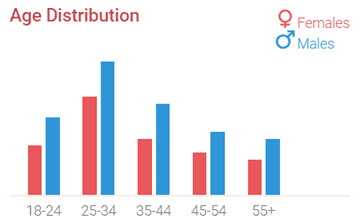 Men to women ratio are almost even – there are more men present on the website, in all age groups, but this won't have any negative impact on the dating experience of men.
So, what are the members looking for?
Love, hookup, marriage?
Well, Chinalovecupid.com is neither strictly for hookups (like BeNaughty or Ashley Madison) nor only for serious relationships (like eHarmony).
The answer is – everything!
Since dating abroad often comes with a variety of difficulties such as distance, determining where the connection will lead is hard.
Many users plan on traveling to China shortly, and a website is a great place for getting to know the Chinese culture.
Others are ready to settle down and think that one of the Chinese singles could be their perfect fit.
So, is it possible to meet Chinese singles through chinesecupidlove?
Before I start talking about the effectiveness, I would like to note one thing – abroad dating is often hard and for results, you have to be patient.
The language barrier is one of the difficulties, and distance is another. If you find someone that you like, meeting with them maybe won't be possible immediately.
You will also have to adjust to a different culture, which isn't always easy.
Now, let's continue with the china love cupid review.
How does it work for the target group?
As one of the highest-ranked dating websites for Asians, Chinese love cupid works great for the target group!

Keep in mind that the men hoping to date Chinese women will have more success than foreign females looking for hot Chinese men.
This is because Chinese women are outnumbering Asian men on the website.
Also, Chinese females are from bigger cities and freer spirited than men, so hookups are also common, not just long-term relationships.
Western women will have to work harder to meet Chinese males.
They are quite traditional, and private people, so dating them will require a lot of patience.
The language barrier is another problem common in both genders – Chinese aren't proficient English speakers (at least most of them aren't).
For easier communication, you should consider purchasing a membership and enjoy the perks of a translator.
Your success will greatly depend on the available interactive features.
Unfortunately, for free members, there aren't many unlocked.
Chinese love cupid has some great, advanced search filters, so you can easily specify which people you would like to interact with.
Advanced filters are gender, age, location, or online status.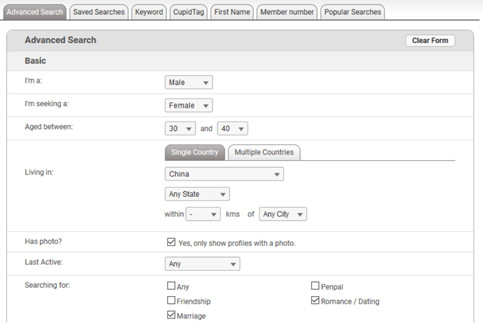 You can also filter the verified profiles from others that are not.
When it comes to messaging, as a free member you can send a limited number of messages each day, so you should be careful about who you are spending them.
At times, this limited number of messages can be quite frustrating, since you never know when you will stumble upon a great profile.
You can determine whether you should send someone a message or not, by liking a profile first.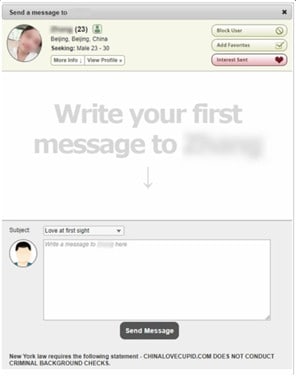 If the member responds with the like, then you should go ahead and start the conversation.
Creators have also enabled video and audio calls on private chats, which are quite helpful for long-distance dating. However, many users have reported multiple bugs on these features.
Besides direct messages, there are also chat rooms – these can be great for meeting more people at once.
Whether you find someone or not, depends mostly on you.
If you know what your ideal partner looks and thinks like, then you should see whether the Chinese mentality fits into your expectations.
As said, they are quite conservative – both women and men, and if you do not share these values, you shouldn't expect to meet your lifelong partner on Chinacupidlove.
Anyhow, Chinese girls are more open to hookups with Chinese men, and if casual dating is all that you are interested in, you will probably find a Chinese babe looking for the same without any trouble.
Also, to meet more people and get the most out of the website, you should consider switching from a free to premium profile.
With a free membership, communication is quite limited, and this can affect your dating experience.
Now that you are familiar with the basic features of the website, let's get to know some additional ones that could help you meet more people.
Because dating abroad comes with some challenges, the website should have numerous features that will make online dating experience more exciting.
One of the major flaws of Chinalovecupid is the low number of special features – even the special features are quite basic, so you won't have a chance to explore something new.
As said, the website already has plenty of search filters – some are quite standard, while others are advanced, and help with further narrowing down the search.
Cupid Tags are some type of advanced search filters.
They help members to find other people with similar interests, so you can contact profiles with significantly higher match rates.
Chinacupidlove doesn't use any specific matching algorithm – you are browsing through profiles and messaging whoever you want.
However, creators decided to add the match rate – it is a number placed inside a small boxed, and you can see it by entering someone's profile.
With this feature, you can easily decide whether you should send a message to someone, or not.
Want to surprise your Chinese cupid love match?
Send her flowers, via Flora2000 – these small gestures will sweep her off her feet!
If you are experiencing any trouble communicating with other members, then consider buying a membership and using an online translator.
This feature works in real-time: when you receive a message, it is automatically translated, which makes communicating much easier.
To try out all of the amazing features and search filters, you will have to create an account.
Let's see how you can join Chinacupidlove and learn more about the website's design.
You will only need a few minutes to get started on Chinalovecupid.com.
The website requires some basic information. In total, there are only a few mandatory fields that need to be filled.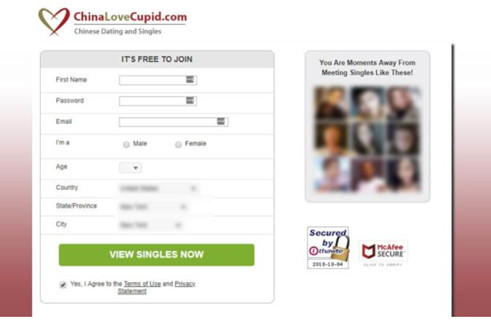 These are about your age, email, and gender.
In the last field, you will have to state what gender you are interested in.
Only two options are available – man and woman.
As you can see, the website isn't forbidding homosexual relationships, but there aren't many options for LGBTQ+ members.
Once this step is completed, you will have to type in a username and strong password.
If you are using Facebook to login in, you can skip most of the steps since your info is automatically transferred.
After the registration process is completed, you can add additional details.
The photo must be uploaded because it is needed for the verification process.
If you are using Facebook for signing up, then the profile photo will be automatically uploaded.
The team of China love cupid advises its users to always post pictures where they are standing alone, so other members do not have to play a guessing game.
Besides the photo, you can add some details about your looks such as height, eye color, etc.
Also, a short description is always welcomed, because shows that your profile is authentic.
If you can't wait to start browsing, then complete your profile later.
Details on your profile can be deleted or altered whenever.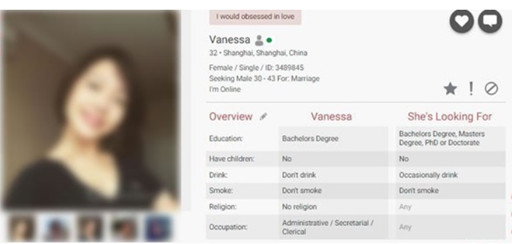 Since the registration process is so simple, and not a lot of info has to be provided, many think that they can easily get away with creating a fake profile.
However, the team of chinalovecupid.com is constantly doing background checks and making sure that all profiles and information are authentic.
So, when you are creating a profile, always give valid information, because you can easily get banned for posting something that isn't true.
During the verification process, you only have to give one piece of personal information.
Before your account is approved, you have full access to the website and you can explore profiles.
Since accounts are constantly checked, you can expect to get profile approval in a few minutes or hours.
If you have tried out one of the Cupid Network's dating sites in the past then you are already familiar with the design.
All of their websites have a quite straightforward and intuitive design, and Chinacupidlove is no exception.
You do not need to be tech-savvy to understand how to access a certain feature or where does a button lead.
To start browsing, apply some of the filters.
Profiles that meet your criteria will be shown in a grid.
You will only be able to see their profile picture, name, age, and location.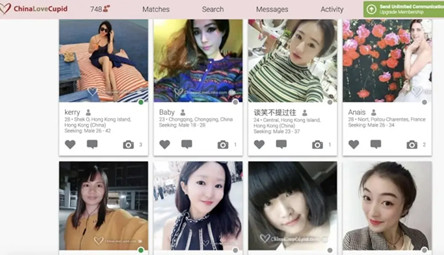 You can contact any profile simply by clicking on the like or message icons.
If you want to see a full profile, just click on it.
The structure of the profiles is super simple – it gives a brief overview of some general information, so you can quickly decide whether to contact someone or not.
Information about education, habits, interest, looks, and other is placed in bullets, so it is super easy on the eyes.
If you are worried about fakes, always look for a verification mark – it is placed underneath the profile picture.
As said, the website is looking after its users and always checks the given information, but fake profiles are still present and this verification mark can prevent catfishing.
If you want to browse on-the-go, then download the app.
It is free and compatible with Android and iOS.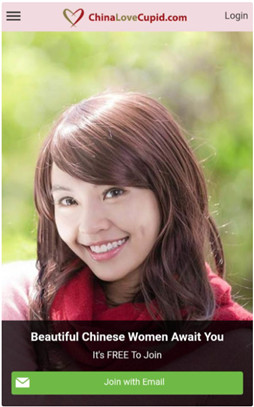 When it comes to design, there aren't any differences between mobile and desktop versions.
The app is well-designed and has the same features as the website.
It is just as intuitive, so everyone can use it.
If you do not like spending too much time at your computer, then you can use the app to create your account.
All of the steps of the registration process are the same.
Okay, so how much will all of the above-mentioned features, registration process, and search cost you?
Well, China Cupid Love has some free services as well, so you can use the website without paying a single dime.
Free-services include a registration process, browsing, and messaging premium members.
The website has basic and advanced filters, and both categories are unlocked to standard members.
If you want to try instant messenger, you will have to upgrade your account.
Besides this feature, paid service is messages sent to standard members, live chat, and VIP highlights.
You will also get access to a translator, which can help overcome the language barrier.
Take a look at the prices:
Gold Membership
1 month – $29.98
3-month – $59.99
12-month – $119.98
Platinum Membership
1 month – $34.99
3-month – $69.98
12-month – $149.99
Compared to other Asian dating websites, this one is considered a cheaper option.
The website accepts payments via bank, credit card, PayPal, and cash.
If you aren't happy with additional features or find them unnecessary, a refund can be approved when a good reason is provided.
Auto-billing is automatically activated, and you can turn it off at any point.
Overall Rating – 3.5/5
I gave the website an overall score of 3.5/5.
It is among the best websites for Asian dating, especially if you are a Western man looking for a Chinese girl.
The website has a large audience, and numerous free features such as advanced search filters (with CupidTags), and chat rooms.
Furthermore, the design is great with a simple theme and user-friendly interface.
Even if you decide to only use the app, you won't have to worry about missing out, since all features are available with the app as well.
However, there are still plenty of things that could be improved.
Chinese love cupid team should think about adding a few more matchmaking features and find a better way of coping with fake profiles.
In the end, it is up to you – are you drawn to the website by all of the pros, and do not care about a few flaws?
Hopefully, this chinacupidlove review helped you with deciding. If you have any answered questions, ask me in the comments.
Want to learn more about the website? Check out FAQ as well!