If you, too, are not sure which dating app will bring you the best results and provide you with a high-quality dating experience, we understand.
Making this kind of decision can be pretty time-consuming, and it seems like in the end, people always choose between some of the most popular dating apps.
Because of that, in this Zoosk Vs Tinder article, we have decided to help you out and discuss:
Is Tinder the best dating app for you?
Statistically speaking, probably not. People who follow our app recommendations have 2 times as many dates on average compared to using Tinder.
If you were ever thinking about getting into the world of online dating, then you must have heard about Tinder which seems to be the most popular dating app during the past few years.
It is thought to be one of the best dating apps on the market, and it has over 80 million active users worldwide.
However, this is one of the casual dating services mainly made for people looking for a casual hookup or someone to spend the night with (like BeNaughty or Ashley Madison).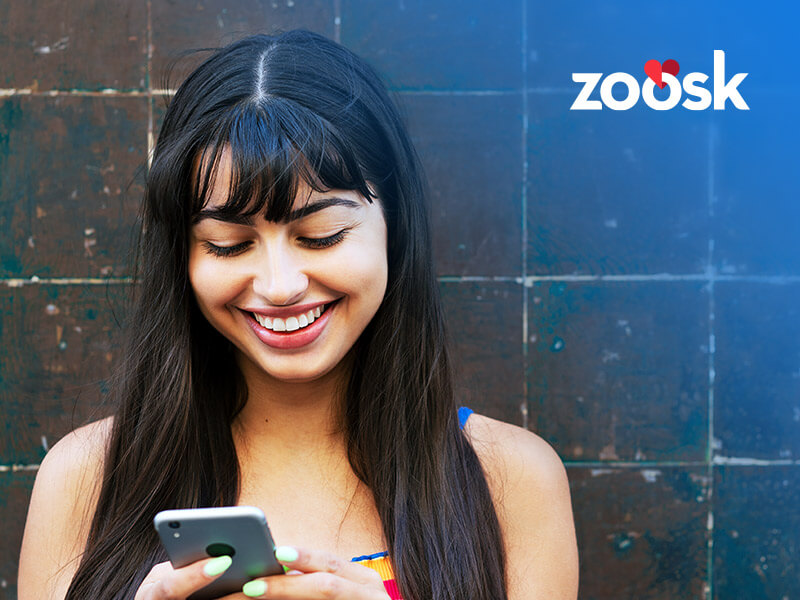 That is also why it has so many active users and why it is so popular worldwide.
Also, it doesn't exist as a dating website, but rather only as a dating app, which means it is targeted at a younger audience that usually has a relaxed approach to dating.
Dating profiles on Tinder are not that detailed like on online dating sites made for serious relationships, and you don't need to go through a verification process before you get accepted to the platform.
The matchmaking process on this one is quite simple, and they don't make any compatibility comparisons but rather connect people based on their locations.
Since their algorithm is not created with a mission to connect like-minded people, it just keeps on recommending to you those living in your surroundings, and you decide which one looks like a good match.
The sign-up process is relatively easy, and all you need to do is sign up through your email and name; you can even create an account through your Google or Facebook account to finish the whole process within a minute.
Unfortunately, this also means that people become a part of the user base the moment they join the platform, which can lead to a lot of scammers and fake profiles appearing on the platform.
If you have been following the dating world lately, you have realized there are many scammers targeting people on Tinder, especially women, so whenever you are reaching out to some possible matches and chatting with them, you need to stay extra safe and keep your eyes wide open to make sure they are not trying to trick you into something suspicious.
There were plenty of scams that led to people paying money to Tinder scammers, but there were also far more serious ones where people almost became victims of human trafficking.
OFL Top Recommendations based on 100,000+ Survey

"Serious Relationships"
"Discreet Hookups"
"Best Course for Men"
"Quick Flings"
"Normal Hookups"
"Our Quiz"
For that reason, always stay safe and be extremely careful who you connect with because some daters on this platform can turn out to be quite dangerous.
Overall, I believe it is a great dating platform for all younger people who still don't have an idea what they are looking for and don't want to commit to long-term relationships yes.
This will provide you with information about who are the people in your surroundings looking for a partner and what kind of person they are.
There is plenty of fish on Tinder, and you can easily switch from one person to another and see who the people that would fit you the best are.
If you want to have an outstanding performance, you will probably want to invest in Tinder gold, which can help you turn this platform into a lot more serious place for dating.
This way, you will have access to plenty of features that can make the search for potential matches a lot easier and faster, and it is really great addition for all people who want to stay on Tinder but want a serious relationship too.
Their membership is also quite cheap, and it will cost you around 15 dollars per month, which makes it a lot more affordable for most people.
Even though the algorithm may not be that amazing, it seems like many people are opting for it because of the price and number of active users, so I believe everyone should take it into consideration!
Zoosk.com is one of the most popular dating platforms for serious dating, and it has over 3 million active users looking for a loving and supportive partner.
It was launched a decade ago, and it is one of the rare platforms based on behavioral matchmaking, which means all the recommended connections on your homepage will fit your preferences in terms of personality traits, goals, education, and many other things.
Since it works on a Smartpick algorithm, you will be able to create your perfect partner and then start looking for them on the platform.
They are offering hundreds of different search filters, and you will basically be able to choose your preferred body type, ethnicity, and religion and then find a partner who fits your criteria.
This is probably the biggest perk of Zoosk.com and something that will make your dating experience a lot more enjoyable and efficient.
When joining the platform, you will need to create a detailed dating profile where you will leave as much information as you can about yourself, and you will also need to fill out a questionnaire and personality test if you want to make sure the algorithm recommendations will fit your needs.
I would advise everyone to fill out these 2 steps with a maximum of information because that is the only way to make Zoosk features work for you and make your dating story become one of those success stories you hear all the time.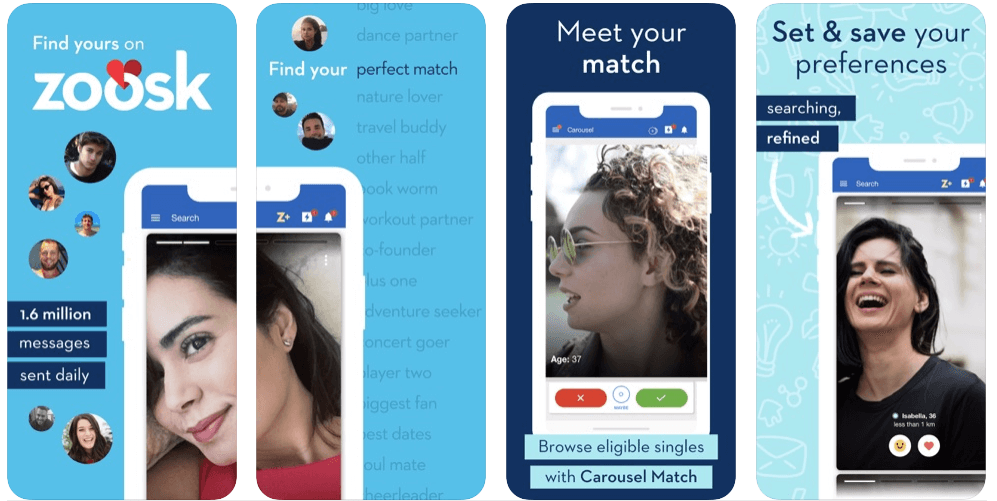 It works basically like social media, and you will be able to find out a lot about a specific person just by scrolling through their dating profile.
They tend to be detailed and have a lot of pictures, so it will be easy for you to decide whether you like them or not.
The whole platform works on a similar concept as EHarmony, so you will be able to find a long-term partner that suits you without any problems.
In case you get bored and want to switch things up a little bit, you can always use the Zoosk Carousel and schedule some casual dates that can be very interesting.
This is a very fun feature that allows you to get out of your comfort zone and meet some people who otherwise wouldn't be your choice of partner.
If you have read a Zoosk review or two, you have also realized how much they care about the privacy and safety of their users, so you can be sure that while using this platform, no scammer or fake person will try to trick you into something.
All Zoosk subscribers are protected, their information can't be shared with third parties, and everyone is required to fulfill a two-step verification to get accepted to the platform.
This minimizes the risk of scammers appearing on this dating site and makes it safe for everyone.
Suppose you believe something suspicious is happening on the platform, and you don't really trust some users. In that case, you can always contact Zoosk customer support, explain the situation to them, and see what kind of problem you are dealing with.
They are very active, and they try to solve problems as fast as they can, which is an excellent thing for all people using the platform.
Even though it is much safer and made for serious dating (like eHarmony), not hookups, most people avoid Zoosk because of the expensive membership, which is entirely normal.
You can use the platform with a free account, but you will not have access to some fantastic features, so if you want to get the best out of Zoosk, it is probably a good idea to purchase a subscription of some sort.
In the end, even if you don't have money for it, I believe you can have great success on Zoosk because it is a platform that cares about all of its users and makes sure all of them have a satisfying experience while on the app.
When using Zoosk, you won't need six months in order to find the right one, but rather six days!
What Are The Differences Between These Apps?
Zoosk and Tinder differ in some quite important sections so these are some of the things you should keep an eye on when deciding which one you will join.
While the sign-up process on Zoosk is quite extensive and requires you to fill out several questionnaires and personality tests, and verify your identity both through a photo and phone number verification, joining Tinder only takes a minute.
Since Zoosk is a platform made for people looking for serious relationships and real people, they require everyone to go through a long sign-up and verification process in order to make sure they are dealing with real people.
Tinder on the other hand doesn't require you to do anything because it is a completely free dating platform that you can join by only leaving your name and date of birth, or you can even log in through your Google account without providing them with any additional information.
As you can see, this is also the reason why there are so many fake and scam profiles on Tinder and why it can be very hard for most people to find a match for themselves on this platform.
Both Zoosk and Tinder can be used free of any charge and you will definitely be able to explore these platforms and connect with interesting people without having to spend any money.
However, if you are not satisfied with your performance as a free user, you can always decide to purchase a premium membership, and this one can cost you 35 dollars on Zoosk.
Tinder is a bit cheaper and you will be able to get all the premium features for as little as 20 dollars, so it really is a lot cheaper option on Zoosk.
Since Zoosk provides you with a lot better and safer experience they can charge a bit more because their users value this over money.
As you already know, the matchmaking process on Zoosk is quite extensive and they offer plenty of features that will help connect you with the partner of your dreams.
Since it is based on a Smartpick algorithm, it takes into consideration all the information you have ever left on your profile and makes sure to connect you with those Zoosk users who have the most things in common with you.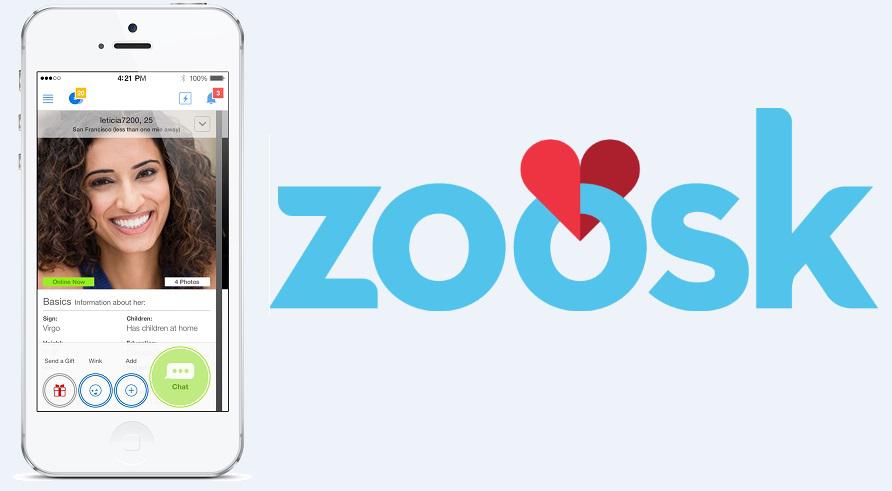 The algorithm tries to get the most out of every profile and first shows you recommendations that are the most compatible with your idea of a perfect partner.
Tinder, unfortunately, doesn't have any special algorithm and can't provide you with some personalized matches because their recommendations are based solely on your location and age range.
This is also a hookup app so you can't really expect too much from them because their algorithm tends to be very simple, just as the needs of its users.
Zoosk and Tinder tend to have similar features, except that Zoosk also offers its users the option to start a video chat with their potential match.
This allows them to see they are talking with the real person and that they are able to successfully create a relationship even with someone who is not living next door.
Both apps also provide you with the option of a boost and likes that allow you to reach out to a larger number of people and make your dating profile look more attractive.
However, Zoosk has a Priority message feature that allows you to always stay at the top of the inbox of the person you like, which will eventually lead to them answering you first all the time because they will not be able to avoid your account.
This can really help you out a lot if you want that one specific person and you are not willing to give up on them yet.
On the other hand, Tinder doesn't really have any special messaging features and the whole messaging process is quite simple, so the features they offer will not be able to significantly impact your experience on the platform.
As you can guess by yourself, Zoosk has extremely detailed profiles and you are able to find out just about anything about a potential partner on this app because all users are required to fill out several questionnaires while joining the platform to make the algorithm work better for them.
Tinder on the other hand doesn't care too much about dating profiles, and you can upload as much information as you want.
Unfortunately, most users don't upload any information to their profiles except their name and age, which can lead to a quite frustrating experience and really undermines the efficiency of this platform.
Their dating profiles tend to be quite uninformative and it can't really help you out too much.
Which Dating Site Is Better?
We can't discuss which one of these dating sites is better because, in general, they are made for entirely different types of dating.
If you are a younger person who doesn't want to commit and would rather spend her free time meeting interesting people and seeing where it goes, then Tinder is the choice for you.
It is the perfect app for hookups, and it has all a young person may need in order to meet a good partner for themselves.
However, it can't provide you with some profound matches because they don't have an algorithm that will show you people from your specified ethnicity or age range, and the only criteria that will help you are your location.
Since it is free, it also doesn't require verification, so you can struggle with fake profiles and scammers, which isn't the best option for anyone because you don't want to work with potential threats.
On the other hand, Zoosk is one of the best platforms for serious dating, and it is a bit more modern OkCupid.
It focuses on people looking for lasting relationships and is not afraid to start searching for the right one on a dating app like this.
This is considered to be the safest dating platform out there because it requires a two-step verification for everyone who is joining, and you need to confirm both your phone number and profile picture.
There are more than 3 million active users on this platform worldwide, so wherever you are, you will be able to start the search for your partner through it.
It is a fantastic dating website that can bring many things to everyone (both the seniors and the young), even those who join it, without expecting too much.
However, the main reason why Tinder seems to be way more popular and why it has so many more users is that it is free, and even if you decide to go for a premium membership, it won't cost you more than 15 dollars per month.
Zoosk, however, costs 35 dollars per month which is pretty expensive for everyone, and even though you can create a free account, most people want more and eventually decide to upgrade their experience.
If you get Tinder gold, you will be able to turn this platform too into a place for serious dating, so it isn't that bad as most people tend to describe it.
Both of them have pretty high success rates, so whichever ends up being your choice, you can be sure that you will find someone who fits all of your needs.
Which one will be a better option for you depends on the type of arrangement you are looking for, but also on how much money you want to spend, so keep these things in mind before you splurge!