When finding the right online dating platform for yourself, the most important things you will want to know is the pricing on the dating site and the payment options.
If you are eager to join Zoosk, but this is something you have no idea about, stay with us because, in this article, we will cover things like:
OFL Top Recommendations based on 100,000+ Survey

"Serious Relationships"
"Discreet Hookups"
"Best Course for Men"
"Quick Flings"
"Normal Hookups"
"Our Quiz"
Is your dating app giving you the best chance for success?
Make sure to take our online dating site/app quiz to find out.
It's a fact that people who follow our dating site suggestions have on average 2 extra dates per month.
How Much Does Zoosk Cost Per Month?
Even though Zoosk is a quite serious and specific platform, the membership on this one won't cost you thousands of dollars.
Dating services made for people looking for a serious relationship or marriage tend to be extremely expensive without a specific reason, but on Zoosk, you won't have to spend as much money as you would have to on EliteSingles or Match.com.
If you plan on becoming a premium member of Zoosk, you will need to count on spending 35 dollars per month in order to gain access to all the special features.
This is the only type of premium membership they offer, so you do have to worry about people who have more money having a better experience than you because this is the only sort of paid subscription you can get.
However, there are also some different and cheaper ways you can invest in Zoosk that can also help you boost your experience a lot.
For example, people who are still not eager to find their one and only soulmate on this online dating site may be interested in the Instant Crush feature that will allow them to explore the Carousel feature to the maximum and enjoy swiping.
This is quite a simple feature that will allow you to use the Carousel membership on a monthly basis, and if you are still not into a serious Zoosk subscription, this can work just fine for you, and it also won't harm your budget because it is only 10 dollars per month.
There is also always an option of investing in Zoosk coins that can be used for a variety of different features, filters, and options that can help you boost your performance.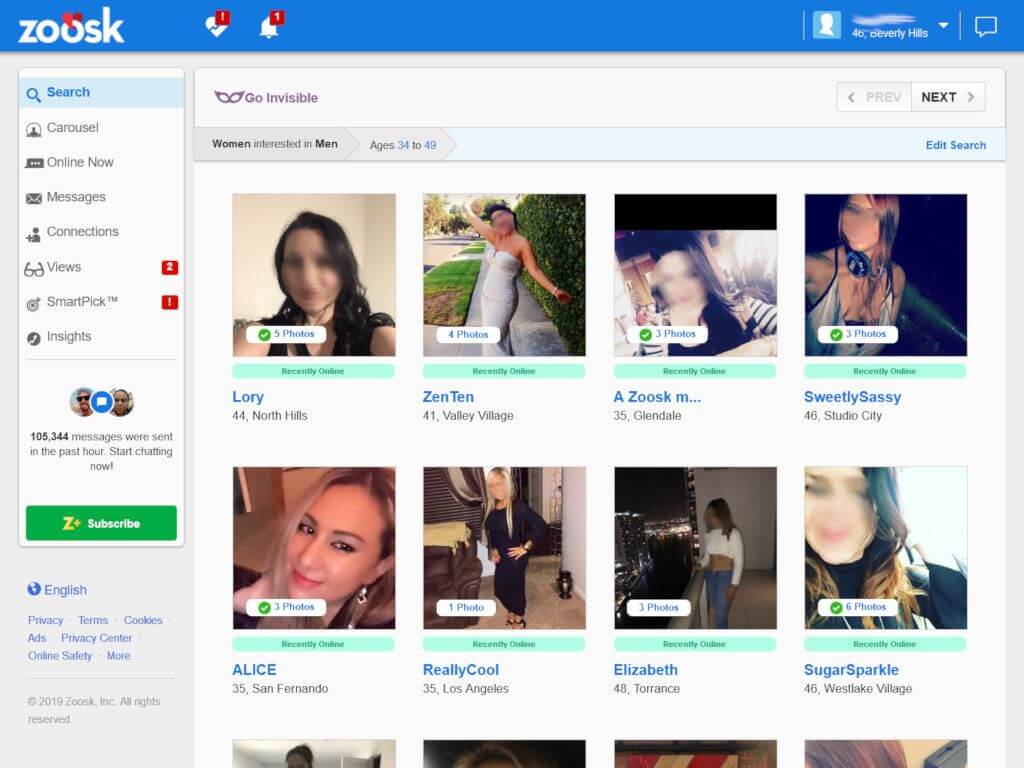 It is available to all Zoosk members, and for just 10 dollars, you can gain access to a lot of things over an unlimited period of time.
You can choose among different options of Zoosk memberships, and even though the premium one is the most expensive option, it is also the best choice for all people who are looking for potential matches and someone they will spend the rest of their lives with.
What Do I Get With Zoosk Premium?
Most people are not opting for a Zoosk paid subscription, at least not before they make sure it will work long-term and that there are actually people they have a lot in common with on this app.
Just like with all other dating apps, they tend to be skeptical about fake profiles and potential scammers, which is absolutely understanding, but once you create a Zoosk account, you will see this platform is nothing like that.
It is very safe and private, which is probably the reason why so many people decide to upgrade their experience once they see what Zoosk offers.
OFL Top Recommendations based on 100,000+ Survey

"Serious Relationships"
"Discreet Hookups"
"Best Course for Men"
"Quick Flings"
"Normal Hookups"
"Our Quiz"
When you decide to pay 35 dollars for a premium membership, you will get access to premium features that will help you elevate your dating experience to another level and make the whole search for a significant other a lot easier.
If you have read a Zoosk review or two, you will see that people who decide to purchase a premium dating profile have access to better filters on the Smart pick algorithm which will do the whole search a lot faster.
Also, once you get a paid membership, you will be able to use the Live feature that allows you to start a video chat with your potential match, engage in Carousel dating without spending additional Zoosk coins, and send messages to whoever you want on the platform without any limits.
Premium members also have the option to send virtual gifts to the people they like, and since the algorithm is based on behavioral matchmaking, they can go in-depth about the things they wish to see in the people they want to date.
People who are looking for a long-term relationship usually decide to invest in this membership because it makes the search for the perfect match really quick and easy, and the whole online dating experience is impeccable.
When you have access to all the possible online features you can think of; you don't need to spend time thinking about the perfect icebreakers, hookup strategies, or memes you can send to impress them.
You will be able to start talking with whoever you like the moment you finish the sign-up process, and you can fill out questionnaires that will help you find the one for yourself.
It is a great investment for people who don't want to waste any more time on mobile apps that get them nowhere and want to find the right people among plenty of fish on these apps.
This process can last way too long on other dating and social media, while on Zoosk, you can get all of that done within just a week.
If you have read previous success stories and Zoosk reviews, then I am sure you have realized how many Zoosk users are extremely satisfied with the platform and actually appreciate its user-friendly approach and all the things it offers to its loyal community.
35 dollars isn't too much money, especially if you compare Zoosk to other dating platforms like EliteSingles, EHarmony, or Match.com that charge a lot more money for even fewer options and don't even have the number of active users that Zoosk has.
I would always choose and recommend Zoosk over any of these dating apps because my experience on it was absolutely amazing, and I really met amazing people I wouldn't be able to meet in real life ever.
What Is Zoosk Super Send?
If you are willing to explore the Zoosk dating app but don't have too much money to spend and believe Zoosk prices for premium membership are way too high for you, this is an excellent replacement for it.
Even though most people consider this feature to be some sort of dating spam, and it is a bit more suitable for hookup apps (like BeNaughty or Ashley Madison), it can still be a worthy investment that will speed up the process of meeting your significant other.
This is a way to spam all the people you have matched with by sending them the same icebreaker and then waiting until someone responds so you can start the conversation.
It may not be the most fantastic way to connect with someone, but it will definitely boost your chances of meeting the right person and help you get in touch with as many people as you can.
The feature will also cost you only 10 dollars per month which really isn't too much, and it will help you connect with a larger group of people, so it can work out long-term.
If you are one of the free members and you are looking for a way you can make things a bit more interesting, then this is definitely a good option and I would recommend it to anyone.
What Are Zoosk Coins And How Do I Use Them?
Zoosk coins are also one of the amazing days you can make your Zoosk online dating performance a lot better and faster without spending too much money.
By spending 10 dollars on 100 Zoosk coins, you will be able to use those coins on whatever feature you may like and you can activate options like Carousel, Live feature, and many more.
This is a great option for all people who want to experience the premium Zoosk feature but don't really have 35 dollars per month to spend on it.
Once you purchase your 100 coins, you will be able to use them as long as you want and you don't have to stress about them expiring.
On this dating website, you will really be able to get a lot of use of this feature for as little as 10 dollars, which is not something you will see frequently.
I would definitely advise you to try this out if you don't have too much money because it will last you for a long period of time and you can test out a lot of features with this one.
Can I Get Zoosk For Free?
Most people avoid Zoosk because they are not aware of the fact that you can use the platform even if you don't splurge on a membership.
Zoosk has a large number of free members and they make up the majority of the platform, which is a sign that you don't need to spend money on a monthly membership in order to have success on apps like this one.
All Zoosk profiles go through a profile verification, even the free ones, so you don't have to stress that your experience will be of much lower quality than those with a premium account.
Free members also have the opportunity to upload a profile photo, they go through a profile verification and they have access to the same search filters as premium members.
Even if you are using Zoosk free you can search for people based on your preferred body type, ethnicity, religion, or eye color, and the algorithm will try to provide you with the best pick.
The algorithm works the same for everyone, so you will always see people who have the highest compatibility with you, and you won't have to stress about the platform not providing you with matches good enough.
Also, you will receive notifications whenever someone matches you back and you will be able to keep track of all your potential partners on it.
One of the biggest perks of Zoosk is the fact that even free members need to go through the photo verification process and confirm their identity, so you never really have to stress about someone being a fake profile just because they have a free account.
All users of Zoosk are treated the same way, and the only disadvantage to a free profile is the fact that you don't have access to features like Live video chat and Carousel, but those are really some things that are not crucial for your whole online dating experience.
Free membership can take you a long way, and I know plenty of people that were able to get amazing results even though they have never spent a dollar on this platform.
You will still be able to meet hundreds of different people and schedule dates, and you will never have to share your credit card with the app.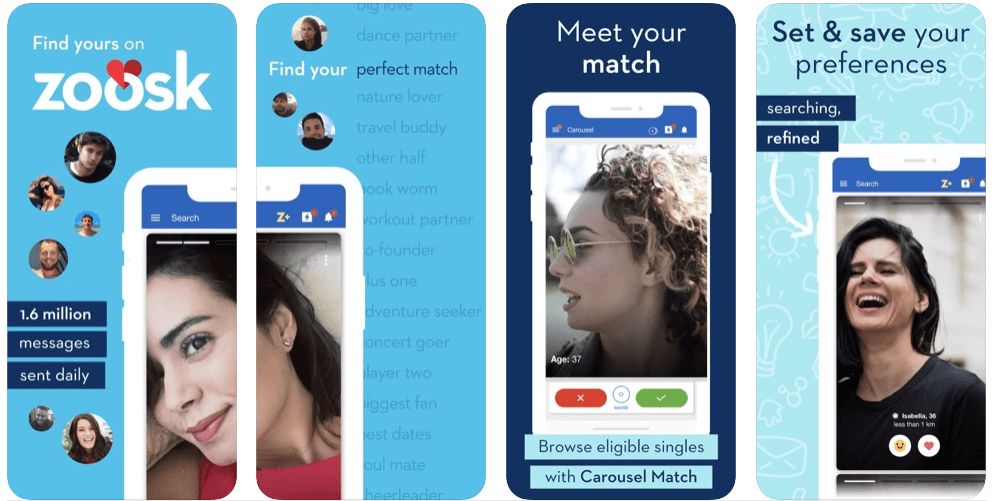 If you want to give Zoosk a try, I would recommend downloading it from your App store today and seeing what are all the things available to its free members.
I believe you will be surprised when you realize how much you can achieve with it!
Is Investing In Zoosk Worth It?
People are usually skeptical about all dating apps that offer some sort of premium membership, and the same thing goes for Zoosk too.
However, if you have read some Zoosk reviews and heard about those success stories, I believe you were able to conclude that this platform really has a lot to offer and that it is a perfect option for all people who are looking for a long-term relationship (like eHarmony or Tinder).
The price of the membership is not that high, especially if you compare it with other dating apps on the market, and considering all the features and filters you get when you join it, it is definitely worth it.
However, you can decide to cancel your subscription if you seem not to get the value for your money.
I have rarely come across a person that wasn't satisfied with the offer on Zoosk, and I genuinely believe it is the best thing a person who is looking for a long-term partner can do.
Also, it provides its users with pretty fast success, so sometimes, all you will need is a three-month membership before you meet the love of your life, which is really a short period of time.
In general, Zoosk is my sincere recommendation to everyone (whether you are young or an older person), and if you are ever dwelling on the type of dating app you need to use to find a long-term partner, you don't need to look any further.