For as long as we know about the internet, we are familiar with many different dating sites. People go online to look for someone to talk to, to go out with, have fun with, or even live happily ever after with them. Some of them actually make it, and stay in long-term relationships (like eHarmony or Tinder)! But don't worry if you're there only for the hookups (like BeNaughty or Ashley Madison). We are sure you are not the only one.
So, if there were so many different dating sites, how do we know which one to stay on for a while?
In this article, we will focus on one – Zoosk.
In a few steps, we will try to explain to you the following:
OFL Top Recommendations based on 100,000+ Survey

"Serious Relationships"
"Discreet Hookups"
"Best Course for Men"
"Quick Flings"
"Normal Hookups"
"Our Quiz"
Is your dating app giving you the best chance for success?
Make sure to take our online dating site/app quiz to find out.
It's a fact that people who follow our dating site suggestions have on average 2 extra dates per month.
Step 1: Make a Zoosk Account
You can use Zoosk on your computer, Apple device, or Android since it's compatible with both! You can download the Zoosk app from the App Store or Google Play!
So, when you open the app in your browser, first you will see a Sign-Up form on the right side of your screen. The Sign Up process is super easy.
You can choose your gender and preferences, type in your birth date, location, email, and password; and you are ready to have your Zoosk account!
Very simple right?!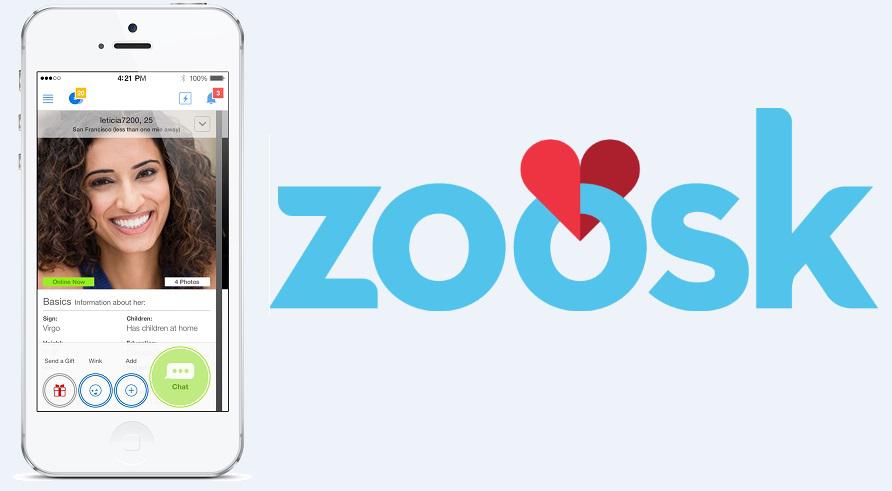 After you have set up your account settings, you will be asked to set up your dating profile. You will put in some facts about your physical appearance, and answer some personal preferences, like if you have kids or if you smoke. You will also have to put up a profile photo or a few.
It is important to stay true to yourself, and also to be clear about your wishes and needs. Zoosk is a dating site based on behavioral matchmaking, and that simply means that the algorithm is set up in a way to pump up the profiles based on your previous searches, matches, and also your dating profile.
You can set up the age range you are interested in, distance from you, height, body type, and all sorts of fun things like education, ethnicity, religion, and relationship status. You can even search for only smokers or non-smokers. How cool is that?!
We find it very important to have a very detailed profile so that the matchmaking process goes smoother. The app is more likely to match you with the right profile if both of your profiles are fully set up.
Step 2: Build A Zoosk Profile
Just like on any other social network, Zoosk has designed a very simple and ready-to-use dashboard. The first thing you see when you open the app is someone's profile picture. We have seen this before on some other apps like Tinder, so it is a very familiar look for all.
But the difference is that Zoosk gives you the opportunity to find out a whole lotta more information about someone before you decide how to swipe. That feature kinda helps with our urge to judge a book by its cover, doesn't it?
The main information about the person will be on their picture; age and location. When you search deeper in the profile, you will find the three main segments of it: "Body", "Education/Career" and "Home".
This is why it is very important to be detailed in your preferences, and also your own profile. It is the only way for the algorithm to work properly.
Under the "Body" option you will find information about height, body type, and ethnicity. We have noticed that this option made some users insecure about their appearance. No worries, you are not the only one.
OFL Top Recommendations based on 100,000+ Survey

"Serious Relationships"
"Discreet Hookups"
"Best Course for Men"
"Quick Flings"
"Normal Hookups"
"Our Quiz"
The "Education/Career" option will give you details on previous or current education or job. Very obviously.
And when you go to "Home" you can find out relationship status, info about children and religion.
Besides the basics of the profile, you can also enter a short bio, or story which is what Zooskers call it. That's where you can use your flirty catchphrases that can express your witty personality. Or your dark side. Each one works. Totally your choice.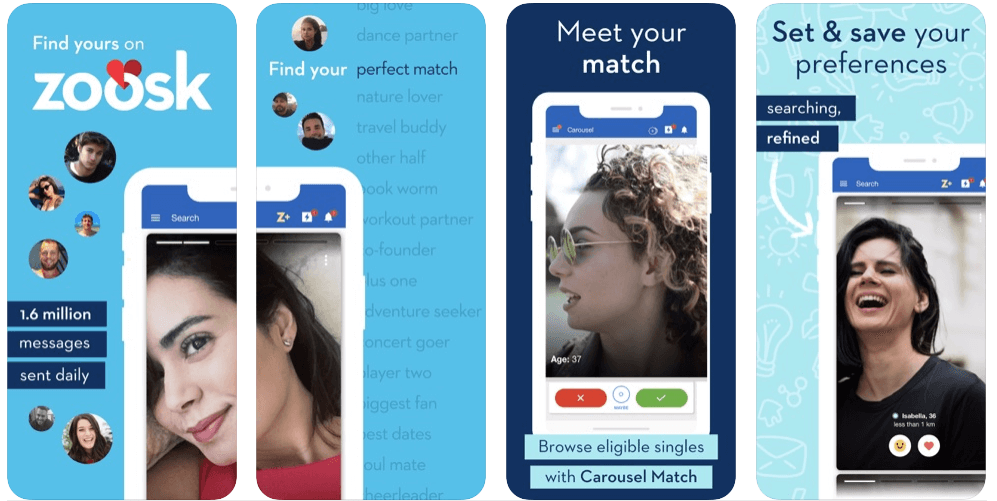 If you are not very poetic, or you feel like your writing skills can't do the part in this play, Zoosk's got you covered! There are many pre-made sliders you can use to spice up your profile!
There is also an Interests tab, one swipe away from you, which will basically answer all of the questions you would ask someone on your first date. Like what are their favorite books, songs, bands, etc.
Also since catfishing is a serious online issue with all sorts of fake profiles out there, Zoosk took care of that by adding a profile verification option. That way you can link your profile to your other social media apps to prove that you are who you say you are.
There is also a photo verification option where you can make a short selfie video, again – to prove that you are you.
As we speak about catfishing, we want to make sure you have the right intel on how to spot a fake profile on Zoosk.
These also apply to all the other apps out there.
So to start off, if a certain profile has a super gorgeous profile photo – don't be fooled, because it might not be real. A lot of people, for some reason, use photos they randomly find only. It can be a model or a less known celebrity. Some even use an actual world-known celebrity. It sounds crazy, but it happened before.
Along those lines, if a profile only has one profile photo – most likely a scam. Because of this, it is best if you can put up at least two of your photos on your profile. So that people don't assume your profile is fake if you happen to be extremely beautiful.
Make sure to try a bit harder about what you write in your bio or profile info. If a profile is not written fully or is only written partially and doesn't really make much sense – it is probably a scam. You are on an online dating site and everyone is trying to get everyone's attention, so if you run into a profile that doesn't make much sense – you might as well run away from it.
Messages. Ok, here is where the good side of Zoosk asking you to pay with real money to send someone a message is. No scammer will actually pay to scam you (and spam you). But on many other sites, you will get tons of unrelated messages or messages asking you for your personal info like email or phone number. On Zoosk, if a person sends you a message, it is because they actually want to talk to you.
To conclude, while using any social network make sure you are convinced that the profile you are chatting with is not a scam. Use this awesome advice to prevent falling into a trap!
Step 3: Swipe Left or Right!
After you select your preferences, you are ready to swipe!
You can send messages to your matches if you get the full version of the app. But another fun part is that you can send and receive virtual gifts! All you need is to load the Zoosk coins and you are ready to go!
Algorithms are fun in every app. But with Zoosk, you'll always be one step ahead, because it has two modes: Carousel and SmartPick.
Carousel mode is as exciting as it sounds. It will let you spin around the platform, and swipe the profiles like on an actual carousel. That way the app will get a better representation of what kind of profiles you like. You can give Yes, No, or a Maybe to every photo that pops up.
SmartPick connects onto Carousel. SmartPick allows the algorithm to provide you with the profiles based on your choices. Profiles that share similar interests, and the ones you find the most attractive.
The behavioral matchmaking algorithm is what sets Zoosk apart from the other dating apps. It is what makes your online dating experience very personalized and saves up a lot of your time you would otherwise use pointlessly swiping.
For all of these features to shine in their brightest edition, you should set up your profile as we explained above. That way you will make sure you did everything that's in your power to give the app all the information it needs.
It is also nice to put all of your qualities out there. Profiles with more details get more traffic, and that increases your chances of finding true love.
And that is what you are here for right?
Step 4: Zoosk Subscription
Obviously, not all the good stuff is out there for free. Zoosk who get the paid subscription unlocks a whole range of bigger opportunities in finding true love.
The first perk of being a Zoosk member is that you get free access to messaging. That way you can send messages and also see all of the interaction that comes to your dating profile.
Messages are really the ultimate feature because you need to talk to someone in order to find out whether you like them or not. So if you are not willing to pay for it, this may be off-putting for you.
If you go all out and purchase a premium paid membership, you will get access to many premium features – like full access to smart picks. That feature will definitely help you get the best of the dating app.
Subscribed members can pay for a "boost", which is a feature that makes your profile more visible and gives you more traffic and exposure. That way more people can have a chance to look at all of the precious information you shared about yourself.
We have mentioned virtual gifts that you can buy with Zoosk coins. You will get your wallet that will allow you to put in your coins. You can buy gifts as a package, and it consists of gifts you would actually get someone for a first date. Like flowers, wine, jewelry, etc.
With Premium, you can also check out who looked at your profile which is definitely something we are all always interested in.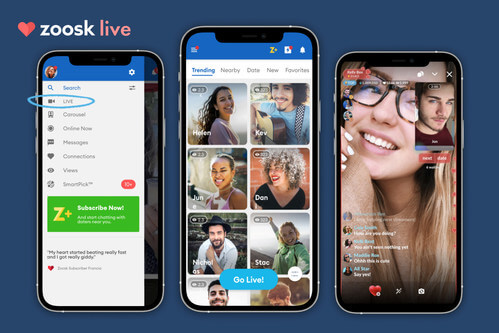 There is an Online status available, so that way you can make sure the person you would like to speak to is online. That helps to know if someone is actually interested in speaking to you. If they are online and not responding.. you should maybe consider moving on.
There is a Connections tab where you can keep track of all the people you have matched with. If you don't want to be matched with someone anymore, you can simply remove them.
As you can tell, there are many great perks you can get with Zoosk membership, but…
Is The Subscription Worth It?
It depends.
There are all kinds of online daters out there. Some of the Zoosk users rated the premium paid membership very highly, and some of them said they had the same amount of joy as free members.
You can look at it this way: if you go to the store to buy a T-Shirt, and you really, really, REALLY need a new T-Shirt. You will give your all to find the perfect one, and you will obviously pay for it.
But if you go to the store only because you kinda need a new T-Shirt, but you really just wanna browse through the store and check out the options – you probably won't buy a T-Shirt or anything else.
The same goes with Zoosk, or any other app with in-app purchases to be honest.
If you are desperate to have SmartPick choose the perfect match for you, the paid subscription is probably the way to go for you.
If you just kinda want to see what's out there and kill some time, and if it happens – it happens, the paid subscription will be a waste of money.
You're probably calculating in your head and asking yourself, how much money is it?
The price is dependent on how long you sign up for. One month costs $29.99, three months cost $59.99, and a six-month subscription on Zoosk costs $74.99.
If you break down the six-month subscription, you will see that in that way you pay only $12.49.
We guess it all comes down to the final question: How much are you willing to pay to find true love?
As we all probably do, you will want to check out the reviews before you download any app, especially a dating app.
We did your research for you, and based on the Dating News website, Zoosk has a rating of 4.7 out of 5.
They gave it such a high rating because it is user-friendly, cost-effective, and has over 40 million users, which makes it extremely popular.
Some will argue that eHarmony has more interesting features. But Zoosk has great matching tools, and also a whole bunch of success stories from people who actually found love on zoosk.com.
While going through Zoosk reviews, we came across a very interesting comparison between Tinder, Zoosk, and Bumble.
Bumble seems to have a girl-power vibe, Tinder makes it very easy to enjoy a casual relationship – but Zoosk gives you the widest spectrum of dating profiles internationally!
Why only bound yourself to a certain area when you can try your luck outside of your typical location?
As we mentioned above, there are more than 40 million Zoosk users, which means more fish in the sea!
Yes, we found some bad reviews stating that it is not free and that you have to pay to be able to send messages, but the way we look at it there are more pros than cons if you make Zoosk work for you.
Another thing that sets apart this dating app from all the others, is that the stats are showing that there is an almost equal number of male vs female profiles! That is new in the online dating world!
In conclusion, we get to the bottom question, would we rate Zoosk dating app with Yay or Nay?
As we stated above, based on our research and usage of the app; Zoosk probably has more pros than cons. But it all comes down to the question you need to ask yourself when getting into the online dating world:
What are you looking for?
Are you looking for a casual or serious relationship? What are you looking for in your ideal partner? What is the ideal date for you? How much time are you willing to put into this search?
We think that Zoosk is a good app if you are willing to give it some time. Spin on the Carousel and let it do the matchmaking magic.
If you are more laid back and don't care that much, there are so many other apps out there. Simply find a different app that suits you.
The facts are that Zoosk has an easy sign-up process, it provides you with a wide pool of dating profiles, and has a good scam-protection system.
The app is certainly very fun and you will enjoy your time online with it!
The bad side of Zoosk is that you have to pay to send and receive messages, which can be a deal-breaker for some users.
Overall, Zooskers are satisfied with this dating app and most of them would definitely recommend it to friends.
We leave it up to you to try it out and decide whether Zoosk is a yay or nay app for your choice of dating experience!
Hopefully, this guide helps you in your journey! Good luck!