If you have started the search for the perfect online dating platform for yourself, then I am pretty sure you have come across Zoosk and Bumble quite a few times.
These are some of the most popular dating sites nowadays, and they gather millions of active users, so it may be quite hard to make the decision of which one is better for you.
For that reason, in this Zoosk Vs. Bumble article, we will try to:
Is your dating app giving you the best chance for success?
Make sure to take our online dating site/app quiz to find out.
It's a fact that people who follow our dating site suggestions have on average 2 extra dates per month.
Zoosk is one of the matchmaking platforms made for people looking for a serious relationship.
This online dating site was created a decade ago, and it is based on behavioral matchmaking, which means that all daters on the platform will get connected to the people they have the highest compatibility with.
If you have entered the dating world with a mission to find the right one, then this is the best dating website for you.
It has over 3 million active dating profiles worldwide, and it gathers people of all ages and helps them find their perfect match.
This is one of the unique online dating apps that consider all the information you have ever shared with them and make sure your perfect match fits all of these criteria.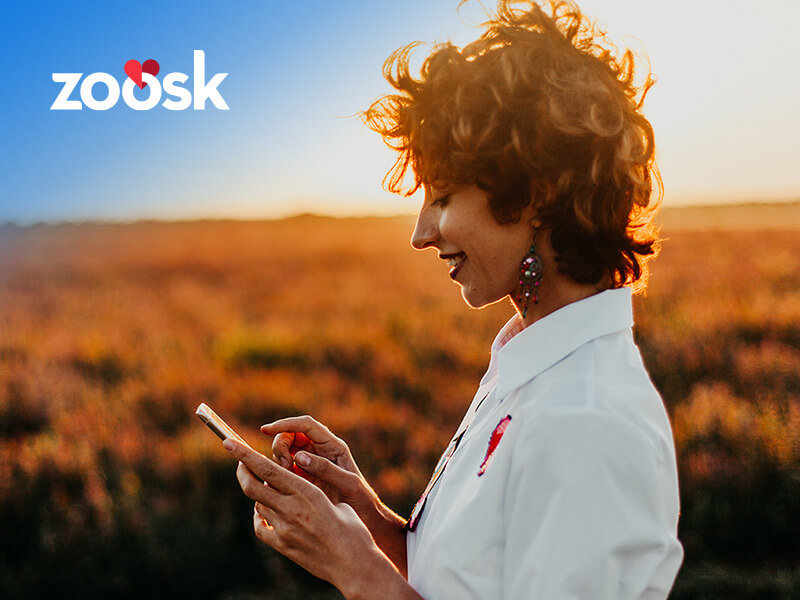 Its search filters are one of the best on the market, and even those who have a free account will be able to use them.
Unlike other popular dating apps like Tinder or Hinge, Zoosk tries to provide its users with the best dating experience, and its Smartpick algorithm can help you meet amazing people within just a few hours of joining the platform.
They also offer funny features like winks, Live chats, stickers, and gifs that can make the conversation a lot more dynamic and help you make your potential smile.
Even though some people try to use it for a hookup (like BeNaughty or Ashley Madison), this is mainly a platform for long-term relationships (like eHarmony or Tinder), and you probably won't be able to find too many people interested in casual dating on here.
When you are joining the platform, you will need to fill out a questionnaire and do a personality test so the algorithm can connect you with other subscribers who are a good option.
It also works both on Android and iOS devices, and as long as you download it from the official App store, you will be able to use it without any problem.
Zoosk is also one of the rare online services that care about its users and their safety, so you will have to go both through a phone number and profile photo verification before your account gets approved.
This makes everyone on the platform protected from fake profiles and potential scammers and helps you to meet only people who want to get to know you in real life too.
However, you, like many others before may wonder if these views are real on your Zoosk profile.
When you join Zoosk, you will easily be able to search through plenty of fish because its search filters allow you to search for your preferred body type, ethnicity, religion, education, and anything you can think of.
OFL Top Recommendations based on 100,000+ Survey

"Serious Relationships"
"Discreet Hookups"
"Best Course for Men"
"Quick Flings"
"Normal Hookups"
"Our Quiz"
Features like this are what make it one of the best dating apps and what helps you find the right match so fast in the user base, so if you are looking for a long-term relationship, I believe this is the place for you.
What Are The Differences Between These Apps?
As you already know, Zoosk and Bumble differ a lot in all aspects of dating, so these are some of the most important sections you should keep an eye on.
Even though Bumble is way more casual than Zoosk, it still has a bit demanding sign-up process and you will need to verify your identity and answer some questions if you want to get accepted to the platform.
Since Bumble also has a better algorithm, I would recommend you to fill out all the requirements on your dating profile if you want to make sure other people will find your dating profile and decide to match with you.
Zoosk on the other hand has a quite long sign-up process and you will need not only to go through two verification processes but also to complete several personality tests and questionnaires that will help you get better performance on the platform.
This is one of the biggest advantages to Zoosk because it really allows people to navigate their dating experience and connect with people they would really like.
Both Zoosk and Bumble can be used free of any charge and you will still be able to get in touch with a lot of people and establish connections.
The most basic part of the platform can be used without you spending a dime, so if you want to give a try to both of them, you definitely can.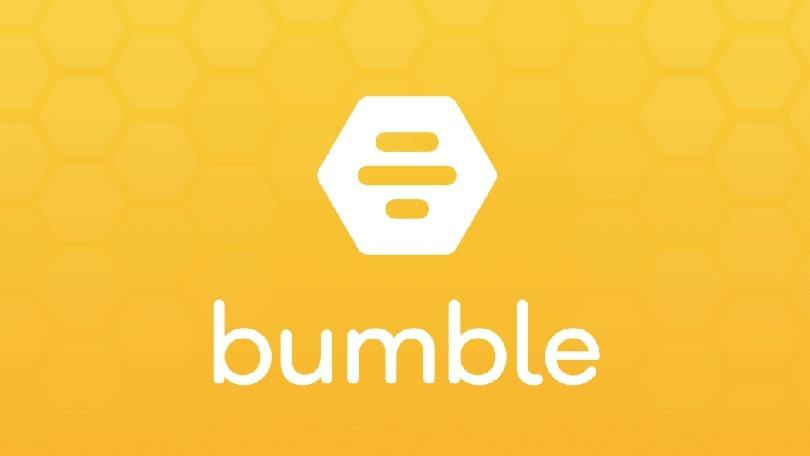 However, if you are looking for a more genuine experience and you also want to get some premium features that will boost your performance, you will need to invest money in a subscription.
Since Zoosk is aimed at people looking for serious relationships, its membership is quite expensive and starts at 35 dollars per month, which can be way too much money for most people.
Bumble on the other hand offers subscriptions starting at 12 dollars that offer you a significant boost, so if you want to save some money, this can be your dating option.
3. The Matchmaking Process
Zoosk has an outstanding matchmaking process that will connect you with like-minded potential partners almost instantly, which is also the reason why people love it.
It is based on a Smartpick algorithm that makes sure to show you those with the highest compatibility levels and provide you with the best matches on the network.
Bumble on the other hand is a lot more simple, and besides basic information like your age and location, there are not really any other criteria that would help you connect with someone, so unless you are there for a casual hookup, it probably isn't the best option for you.
One of the most popular features on Bumble is the option of using Bumble Date, Bumble Bff, and Bumble Bizz all at once!
This will allow you to get in touch both with potential business partners, daters, and new friends which is definitely an amazing thing.
It has turned Bumble into more of a social media than a dating platform so I would definitely recommend it to everyone.
Bumble also has a boost feature that will allow you to get in touch with a large number of people and match even with those who otherwise wouldn't appear on your homepage.
Zoosk is strictly a dating platform, but they also have some cool features like the boost one and the options of Live video chats which are always an amazing addition to your communication with potential matches.
They also offer plenty of messaging features that will help you step up your game and impress a person instantly, and the Priority mail allows you to always be on top of everyone's inbox.
Since Zoosk is for serious dating they also provide their users with extensive dating profiles where other users will be able to see almost everything about them.
On Zoosk, you can talk about everything from your favorite color, movie, song to more important things like your religious beliefs or aspirations for the future.
You can also upload plenty of pictures so in general their dating profiles are very informative and will definitely make your search for a potential partner a lot better.
Bumble on the other hand has great dating profiles, but since they don't require their users to upload any information besides their age, location, or name, they tend to be very poorly designed, and only on special occasions you will be able to really get to know something about your potential match.
Bumble is one of the most popular dating services at the moment, and it has millions of active users from basically every country in the world.
It is open for people of all ages, and it welcomes the LGBTQ community, too, so no matter where you are, you will be able to find the match for yourself on this app.
One of its biggest perks is that it is based on swiping, which allows you to scroll through hundreds of dating profiles in a short period of time.
The sign-up process on Bumble is also relatively short, and you don't need to go through any verification process, so you should be able to set up your profile within minutes.
However, this also means that you don't need to go through any sort of verification process, which leads to a large number of fake profiles and scammers on this platform, which can cause uncomfortable situations and experiences.
Since this is a chill dating app, it is made for casual dating, which means it is the complete opposite of Zoosk.
Its members are usually people of the younger generation, and there are also plenty of teenagers on it, which gives the whole app a relaxed vibe.
Also, dating profiles can be pretty empty, and users usually upload their profile photos and some basic information like their age and location.
Bumble doesn't require its users to add additional information, so most people stick to this.
This also means that you won't be able to search for your perfect match through different search filters because they don't have any specifications that could help you out.
For that reason, older people and those who don't want to waste time on people who may be a total disaster decide to skip Bumble and opt for something a bit more serious.
Even though you can purchase some unique features that can make your Bumble experience a lot more enjoyable, they still lack options, and they probably won't provide you with enough details that could help you find the right person for yourself.
Their free membership will take you a long way, but if you want to get a boost or get an unlimited number of messages and likes, you will need to spend extra money, so at the end of the month, Bumble may end up being more expensive than the Zoosk premium membership.
They have some amazing features, but I believe they are way too expensive, especially the boost one that costs 15 dollars and lasts only for a few hours.
However, if you are one of the people who are not that eager to find a partner and you don't want to rush anything, then you will probably enjoy your time on Bumble and exploring all the potential matches.
I believe Bumble is one of the best options for all people who have a more relaxed approach to dating and who want to take it slow and instead go out on a casual date than get into something serious immediately.
Bumble doesn't have a great success rate, but that's probably because people on it don't try to create lasting relationships, so this shouldn't worry you.
Suppose you are someone who wants to try out all the options and go on a few dates before you make the decision. In that case, this will be the best option for you, and if one of the people you have met turns out to be a great partner for you, it can always grow into a serious relationship you will nurture for years.
Even though some people tend to overlook it because it is more focused on casual dating, I believe it is an excellent choice for everyone because you never know what your first date can end up being like.
Also, over 95% of people who met through Bumble ended up going out, and more than 70% of them went on a second date too, so this one can also show some amazing results.
However, before you agree on anything, always make sure you deal with a real person and try your best to save yourself from all those fake profiles and scammers.
What Dating App Is Better?
Bumble and Zoosk dating apps are, in general, quite different because they offer different types of arrangements and are made for different types of people.
Zoosk is focused on serious dating and provides people with hundreds of search filters that can make the whole process a lot faster and easier and help you connect with your soulmate within just a few hours.
On the other hand, Bumble offers a more relaxed approach to dating, which enables you to meet plenty of people, set up casual dates and hookups, and see whether they really have something to offer to you or not.
People who are active on Bumble are usually not eager to create lasting relationships immediately, and they just want to see who is available in the dating pool.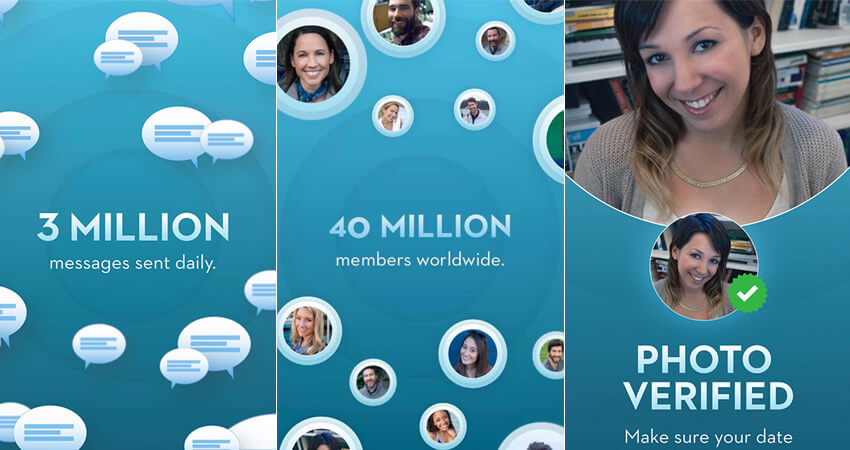 This is a great option for all of you who are still young and not ready to settle, but if you are a person who wants something calmer and wants to invets time in just one person, I would recommend Zoosk over Bumble anytime.
Their approach is a lot more serious, and it is similar to platforms like EHarmony and OkCupid that were created with a mission to connect you with the right one.
If you don't have too much luck and want to have some fun at the moment, you can always try out Zoosk Carousel, which will provide you with more matches and help you choose between hundreds of active daters.
Both of these apps can be used for free, and you will have a lot of success with them, but while the Zoosk membership can bring you a lot of amazing things, the Bumble one is pretty much necessary, so save your money.
Overall, both Zoosk and Bumble can help you meet amazing people, build valuable connections and maybe even meet the love of your life, but which one will be your choice mainly depends on your style of dating and the things you are looking for at the moment.
If you are still in doubt about which one will be the best for you, I would recommend you to install them both, give them a try, and then see which one you will stick with.
No matter which one you choose, I believe you will be able to meet plenty of amazing people and create memories you will remember forever.