If you are tired of dating apps letting you down, then this review Iris is a must-read.
Catfishing on dating sites is nothing new.
It's people pretending to be someone they are not and if you've used a dating app like Tinder or Bumble, for example, you've probably come across it.
After swiping forever to find that someone special, eventually you come across a profile that could be your ideal match and potentially could lead to a serious relationship.
OFL Top Recommendations based on 100,000+ Survey

"Serious Relationships"
"Discreet Hookups"
"Best Course for Men"
"Quick Flings"
"Normal Hookups"
"Our Quiz"
But they are nothing like the person they portray themselves to be.
Luckily, Iris promises something different.
This is a dating app where potential matches are who they say they are.
No more photos of other people in fake profiles to be found here.
So in this Iris dating app review, we'll research and evaluate the following:
So if you are sick of dating apps letting you down during the pandemic, maybe it's time to give Iris a try.
Let's see what it has to offer.
Is your dating app giving you the best chance for success?
Make sure to take our online dating site/app quiz to find out.
It's a fact that people who follow our dating site suggestions have on average 2 extra dates per month.


Ease of use – 4/5
Success rate – 2/5
Key features – 3/5
Price – 5/5
Iris is a dating app that provides added security against fake profiles and catfishing.
It includes machine learning to understand the type of matchups you would like based on overall looks.
Iris is currently free to use.
At this point, Iris fails in the fact that its user base is far too small to deliver on the promise that it will provide the exact matchups you are looking for. That will improve as the user base grows.
Sadly, Iris is not yet available in many countries. Its user base would surely be bigger if it was.


Who Is It For/Demographics?
This is a dating app for everyone.
Anyone can join up and start a profile here.
But it is particularly aimed at those of us that have had heartache when trying to find love by using online dating.
Those of us that have been let down by someone pretending to be who they are not.
Those of us that have been caught by someone with a fake profile who is actively catfishing others.
What do people get out of doing that?
It's something I will never understand.
But Iris uses artificial intelligence, selfies and trust ratings to ensure an experience where this just won't happen.
So you can find people to hookup with, like on BeNaughty or Ashley Madison, or even those wanting serious relationships, like on Tinder or eHarmony, safe in the knowledge that they are who they say they are.
Iris is new.
It first appeared on the Google Play Store and App store in 2019.
So it's a dating app that's growing all the time but yes, it does have a small user base than most.
That's understandable, all dating apps have to start somewhere, right?
Even the best dating sites in the world began with 0 users.
At this point, there are probably fewer than 50 000 users but as more people find out about Iris, that should grow exponentially.
Here are a few more facts and figures to help us analyze Iris:
Around 10 000 users are based in the United States
Around 1 000 users log into the app daily
The iPhone version of Iris has a rating of 4.2 on the Apple app store
The Android version has a rating of 4.5 on the Google Play Store
It has been downloaded over 100 000 times for Android devices
While the user base is small, it seems those who have downloaded Iris are very happy with it.
If you compare the scores it gets to other apps, you will find many of them, even those with millions of users, get much lower ratings.
Gender ratio and user age ranges
While it is still relatively new, we can already get an idea of the current gender ratio breakdown on the site.
If you compare male to female users you will find that 60% of the profiles on the site are male and 40% are female.
That's not to say this won't change as the user base grows but it's a good indication for now.
The most active age group on Iris are between 25 and 34 years old.
35% of all users (25% male and 10% female) are in this age range.
The smallest group of users currently are from 45-54 years old, around 10% in total (6% men and 4% female).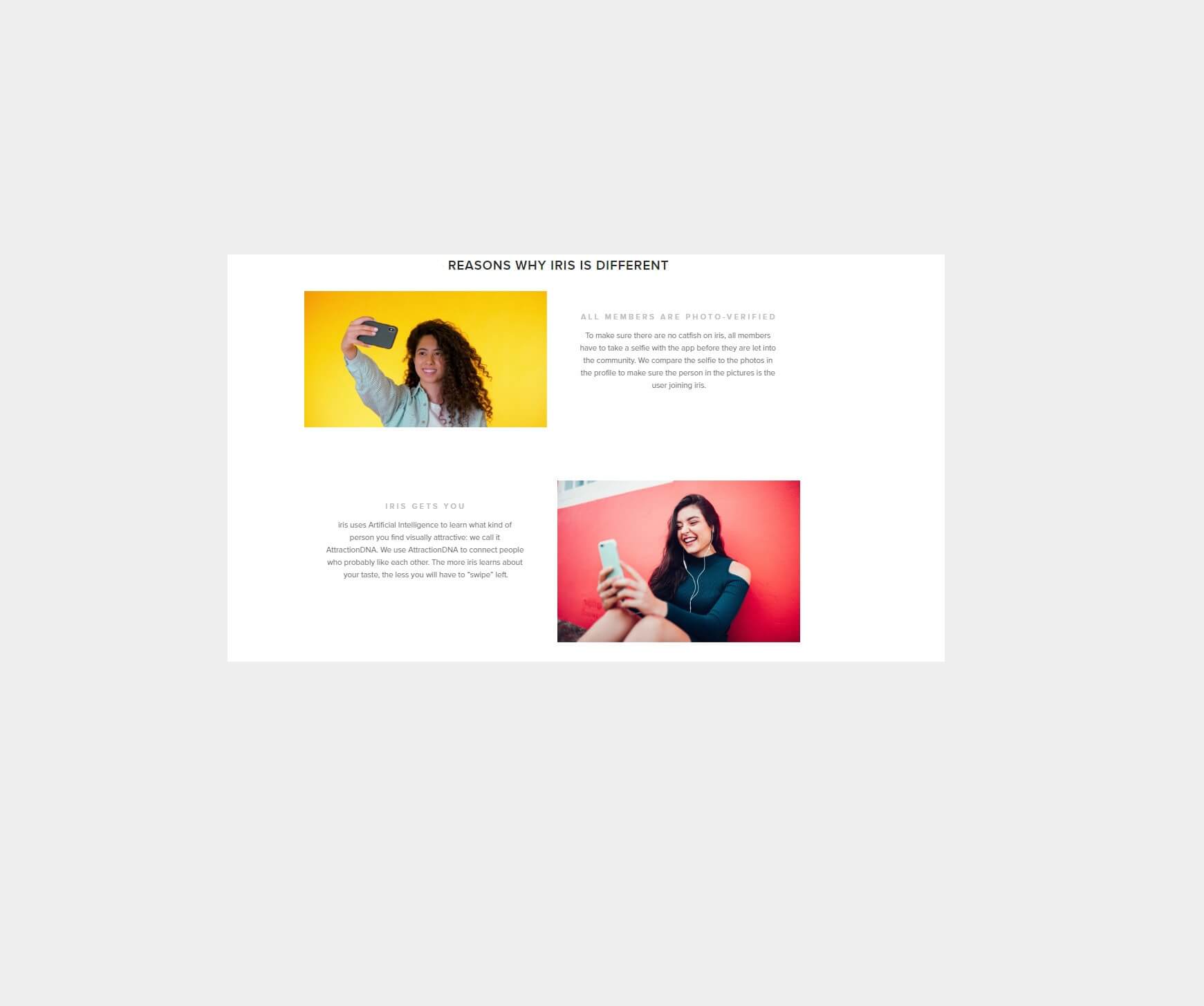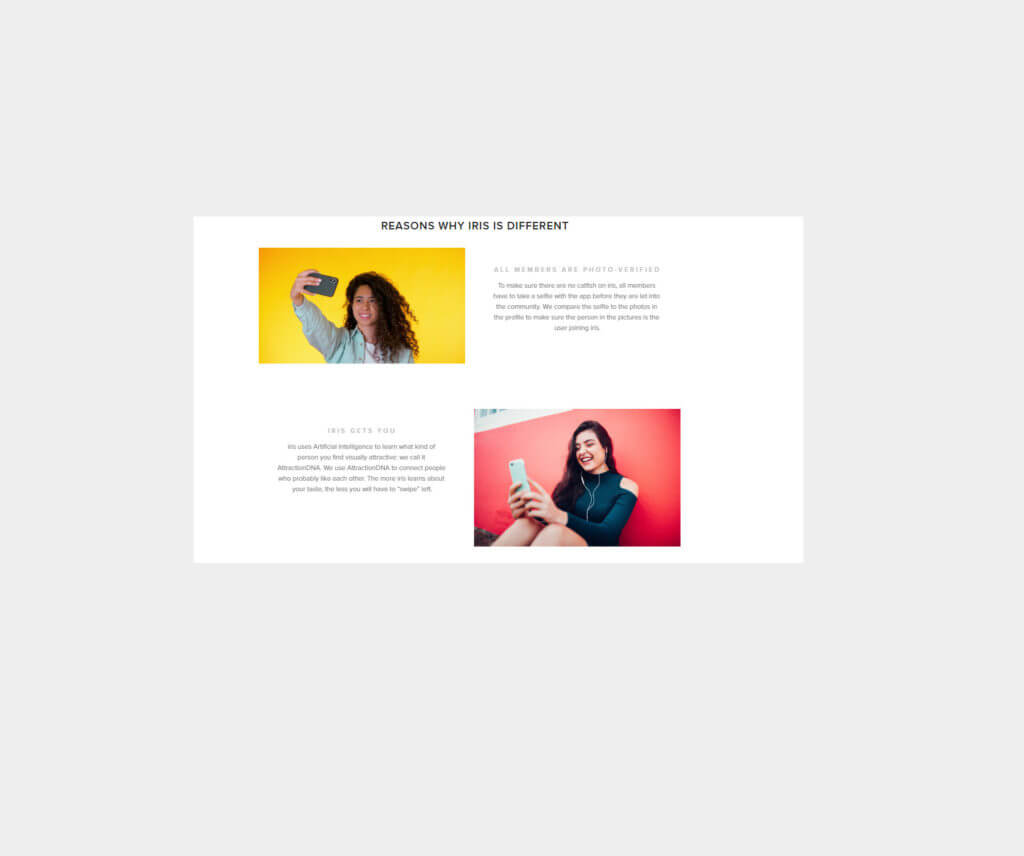 Iris only has an app version that you can download for both major operating systems from their relevant online store.
Registration starts with linking a social media account, in this case, Facebook to your profile.
Let me just clarify, however, that if you prefer not to do this, you can register with your phone number.
If you choose this route, a verification code will be sent to your phone to confirm your registration.
Following that, you will need to provide your:
Date of birth
Email address
Location
The process continues with Iris requiring more information including:
The gender you would like to meet (Iris has

LGBT

options)
The age range they should be
A profile picture
A selfie
Why a profile picture and a selfie?
Well, remember I mentioned that Iris is an app that cuts out catfishing and fake profiles.
This is how they do it.
The admin team will collect information including your profile picture and selfie and see that they match.
And by conducting this simple step, they can detect that you are who you say you are.
It stops people from using photos of others from the internet to build their fake profiles.
All of this takes just a couple of minutes but you are not quite yet done.
Iris using machine learning to assess your ideal match so the next part of the registration process helps confirm what it is you are looking for.
To train Iris, you will have to go through stock photos.
On each, you have three choices.
You can either "like" them, "pass" on them or if you aren't sure, select "maybe".
Iris learns from this and as the process goes on, the photos towards the end should all be more "likes" than anything else.
And now Iris has an idea as to what kind of look you want in a potential match.
Of course, this is fairly limited for now because Iris doesn't have a massive user base.
But just imagine how effective it could be as that grows.
Machine learning and the use of artificial intelligence is something that more and more dating sites are going to use in the future, that's for sure.
Iris profiles are not that detailed and you aren't forced to fill them in.
But as I always say, rather take a couple of minutes to complete what needs to be done.
There is no harm in giving a potential match a little bit more information about yourself.
Here's the small amount of information that's needed:
An about section
Your likes
Your dislikes
And that's it.
I believe that profiles don't provide enough information about someone and personally, I would want more parameters.
But let's move on.
While Iris has no fake profiles, by completing your information and uploading even more photographs of yourself, you increase your trust rating.
The higher your trust rating, the more other users are likely to like your profile or reach out to you, especially those who might have been catfished before.
Those users with a high trust rating will have a special badge on their profiles.
They will also receive freebies from Iris, according to the app website although they don't elaborate on what those are.
As for the quality of the profiles, you will find on Iris, no doubt, there are attractive women and men to be found here.
But again, because the user base is still small (but growing), you may just be disappointed by the number of matchups returned like I was.
Despite that obvious issue, there is a way around it which I will explore later.
Iris couldn't be easier to use.
For someone who has used a dating app before really won't have any problem working out how to find your way around and what all of the menu icons mean.
But for those who might be using a dating app like Iris for the first time, let's just quickly take a look at those menu icons and what they do.
Home icon: This takes you back to the main screen of Iris. This is where the app will provide you with matchups that are near your location.
Heart icon: This is where you can see people who have liked your profile and those that you have liked.
Speech bubble: This is where any messages you receive from others can be found. If you've sent a message to someone, you will find it here as well.
Human in circle icon: This takes you to your profile and settings. You can change your profile here and access various settings related to Iris.
I like the fact that they've kept everything so simple.
It just shows you that dating apps don't need menu after menu.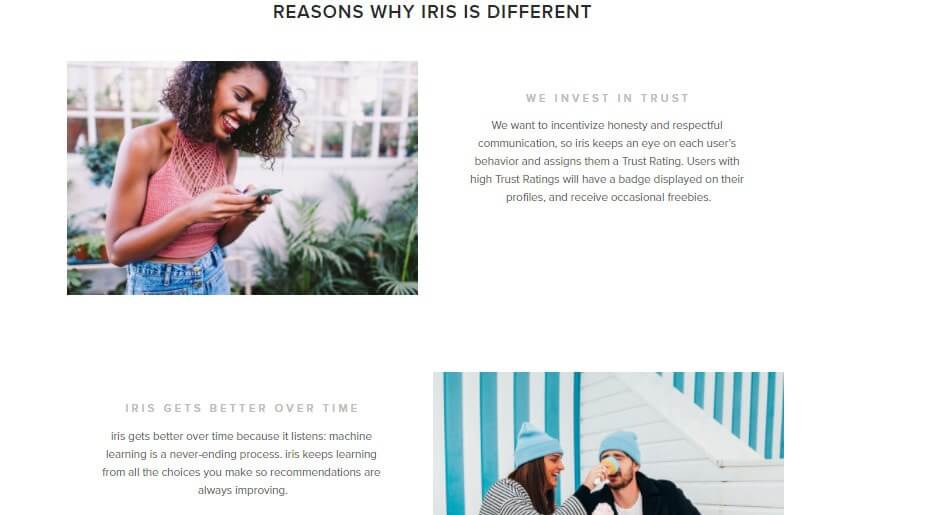 There is no doubt that those behind Iris have high hopes for the app.
This is not standard fare when it comes to online dating, that's for sure.
It's something that as the user base increases is going to become more attractive to daters, especially those that have been hurt before.
But for now, it's not what it should be.
​Searching for potential matches
Ok, so with dating apps like this, you don't really do that much searching.
You've already provided the gender and the age range of users during the registration process.
And remember, Iris uses artificial intelligence to find you matchups based on the stock photos you viewed during that process too.
But again, because the user base is small, your returns might not include that many matchups to begin with.
That doesn't mean you shouldn't at least try though, right?
So if you launch the app, or click on the home screen, you will see the matchups that Iris has managed to find for you.
But you will also notice two menus.
The one you see first up is called the Iris lineup and they are based on the variables we talked about above.
The second is called Discover.
With this, Iris lets you look at profiles that don't quite fit in with what you are looking for as indicated during the registration process, especially in terms of overall looks.
You can filter returns based on a few variables.
For example, you might want to change the age range of matchups Iris provides for you.
I found that during my time on the site, my test results in terms of matchups presented to me through the Iris Lineup weren't that impressive.
In fact, I only had two and one was not anything like the kind of girl I would go for.
But that's the small user base working against Iris.
As that grows, the potential for this app is massive.
I suggest that to solve this problem, use the Discover option to see other matchups.
And yes, while they weren't all perfect, from my perspective, there were one or two that I did explore a little further.
But don't discount the Iris Lineup option, especially as the user base gathers more users and provides you with even more matches.
This will be your main way to search for love on the app.
In the beginning, however, you may be a little disappointed with returns.
The last thing to talk about here isn't really of consequence as of yet, I feel.
Again, that's because the Iris user base is so small.
But you can sort how the matchups you received are presented to you.
And these are the options Iris gives you:
Default: This is the default setting how Iris shows you matchups
Nearest: Iris will show you matchups nearest you first
Attraction: Based on your input during registration, Iris will show you matchups you should find most attractive first
Recently active: These are users who have logged into the app most recently
Trust rating: See users with the highest trust rating first
Age: This will show you matches that are closest to your age
Again, unless you are getting tons of returns, this isn't very useful to begin with based on the fact that Iris' user base is small.
I can see how this would be useful, however, as more and more people register profiles on the app.
Making contact with other users
So let's say you do live in an area where there are other Iris users and the app has returned several profiles for you to look through.
Iris operates just like any other dating app when you are faced with the decision to pass or like a profile.
"Pass" if you don't think a particular user is a matchup for you or "Like" them if you do.
A matchup occurs between one user and another when both have liked each other's profile.
And messaging is free but it's only going to take place when a mutual matchup has occurred.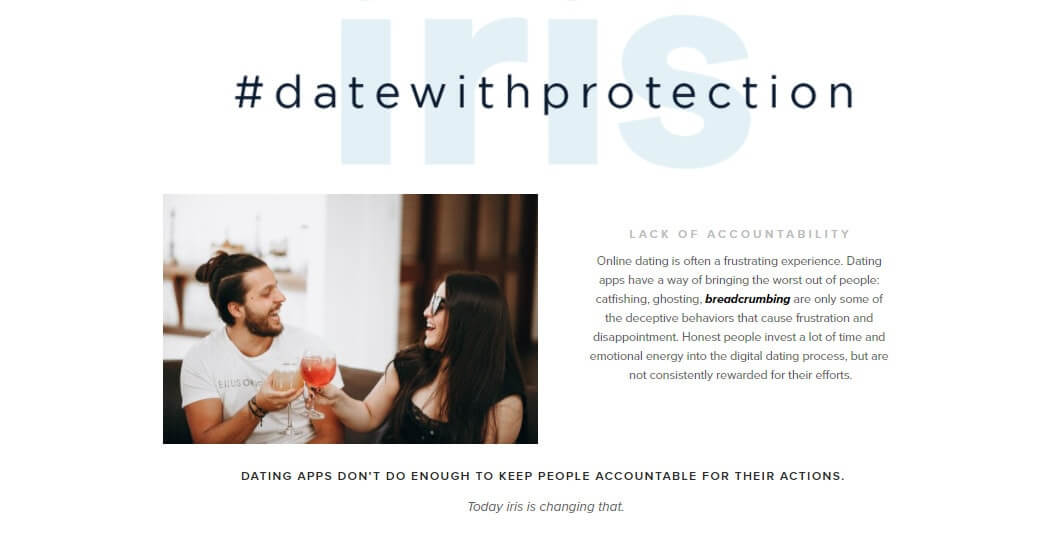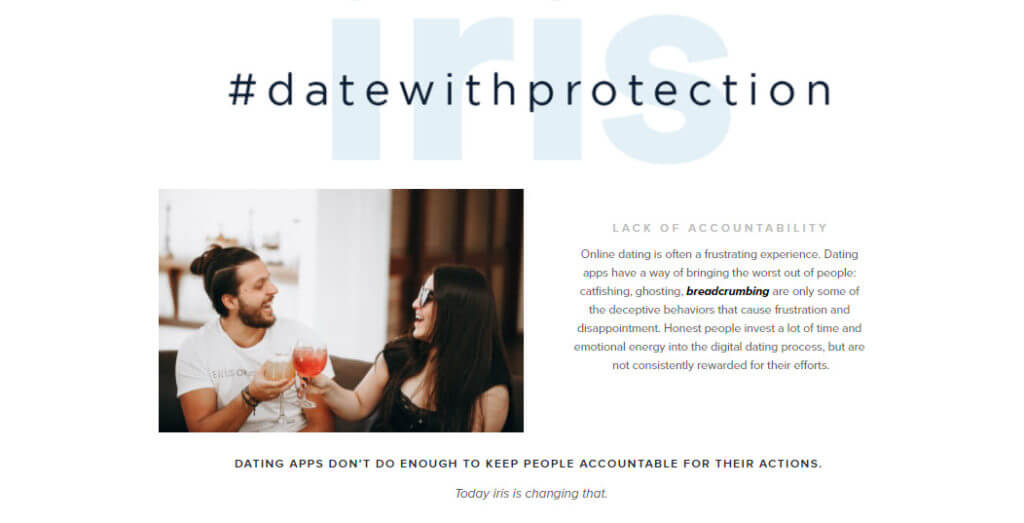 Currently, I'd like to highlight that Iris doesn't have a membership option.
It's free to download and use but messaging is only allowed when a matchup has taken place.
Although we've mentioned some of them in this review, Iris does have some key features that I feel are worth reflecting on.
It's partly because of these features that Iris is carving it's own unique place in online dating.
Let's identify what they are.
I found the Training Iris section of the registration process to be very interesting.
It's something that no dating site or app I've seen has ever had.
Iris uses artificial intelligence to gather information about what you like in terms of looks during the process.
Slowly, it fine-tunes the photos sent to you to either pass or like on, and during the last stages of the process, you should be liking almost all of them.
This information is then used to send you the kinds of matchups you are looking for from an appearance point of view.
I think this is a brilliant idea in concept, it just doesn't work at this point in time because Iris' user base is still so small.
In a few year's time, as the user base grows, this could be extremely useful in your quest for love.
I have been catfished on a dating site before.
It's not a nice experience to go through, especially if you poured out your heart to someone over a period of months.
Iris promises that this is something that won't happen on their site.
But they've built an extra tool to help you just in case.
And that's Trust Rating.
​You can easily see users that score high in that regard as they have a badge on their profiles.
You should have one too.
I found it simple enough to increase mine by just completing my profile.
At this point, Iris is free to use.
I suspect that when the user base grows sufficiently, membership will become a part of this dating app.
But for now, you can download and use it for free.
That doesn't mean you can just send messages to anyone.
You will have to match with them first before you can communicate.
Conclusion and Overall Rating
Iris can be something spectacular but at this point, it is worse than expected for a site with so much promise.
The main downside is the fact that the user base is so small and that's an area to improve.
And it will.
Sadly, for now, our study determined that this small user base affects the whole app currently and you might not find any matchups near your location.
But Iris is unique in what it has to offer and in time will become a better dating app and exceed expectations, I am sure.
But if you plan to try it out now and depending on where you live, this might be worse than expected.
Every dating app out there had to start somewhere and Iris is in that position.
To summarize, my perspective is that Iris has so much potential but I believe it will only show that once more users join up.
As for a rating, Iris gets 3.5 out of 5 which is helped by the fact that it is free but significantly lowered due to its small user base.
Onlineforlove studied and tested the Iris Dating app and concluded that while it has huge potential, that will only be met as the user base improves significantly.
The approach taken included trying out the app for an extended period of time and rating important criteria as we reviewed it.
Our evaluation was based on the following factors: price, ease-of-use, success rate, user population, and key features, amongst others.
Frequently Asked Questions