Online dating sites come in many forms.
You've got niche dating websites for just about anything you can think of, but today, we are going to review a dating service that's straight down the line.
And that site is AskMe4Date.com.
What kind of dating experience will you find here?
OFL Top Recommendations based on 100,000+ Survey

"Serious Relationships"
"Discreet Hookups"
"Best Course for Men"
"Quick Flings"
"Normal Hookups"
"Our Quiz"
Well, I would say casual dating, is the word to best describe it.
Now that can sometimes be associated with hookup sites (like BeNaughty or Ashley Madison) but here, it means a site for people who simply want to meet new people, date them, and then see what happens from there (like eHarmony or Tinder).
As we evaluate and assess everything the AskMe4Date dating site has to offer, we will look into:
So just how does this site compare as a regular online dating site to something like eHarmony or similar dating portals?
Well, let's find out in our comprehensive AskMe4Date.com review.
Is your dating app giving you the best chance for success?
Make sure to take our online dating site/app quiz to find out.
It's a fact that people who follow our dating site suggestions have on average 2 extra dates per month.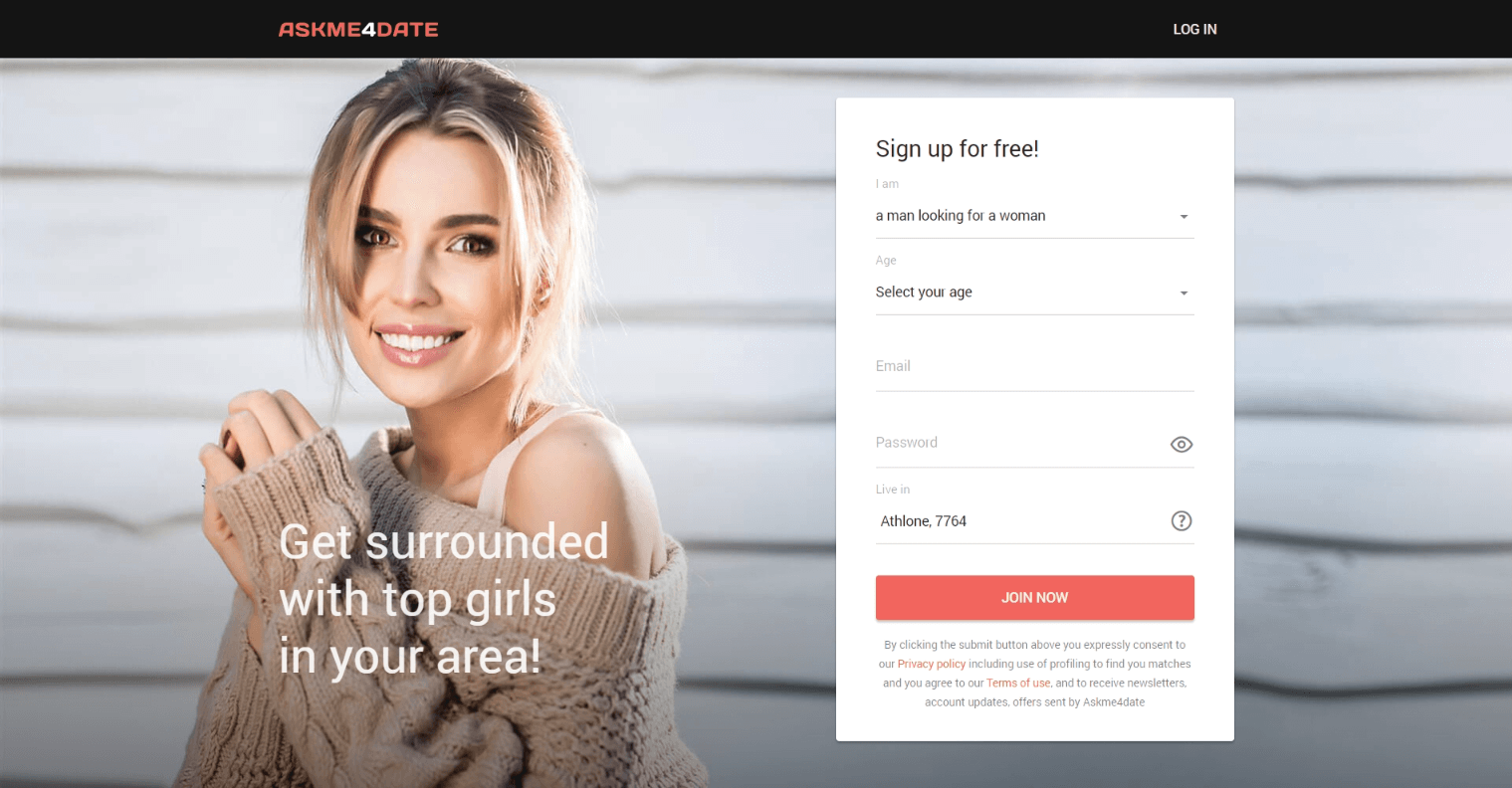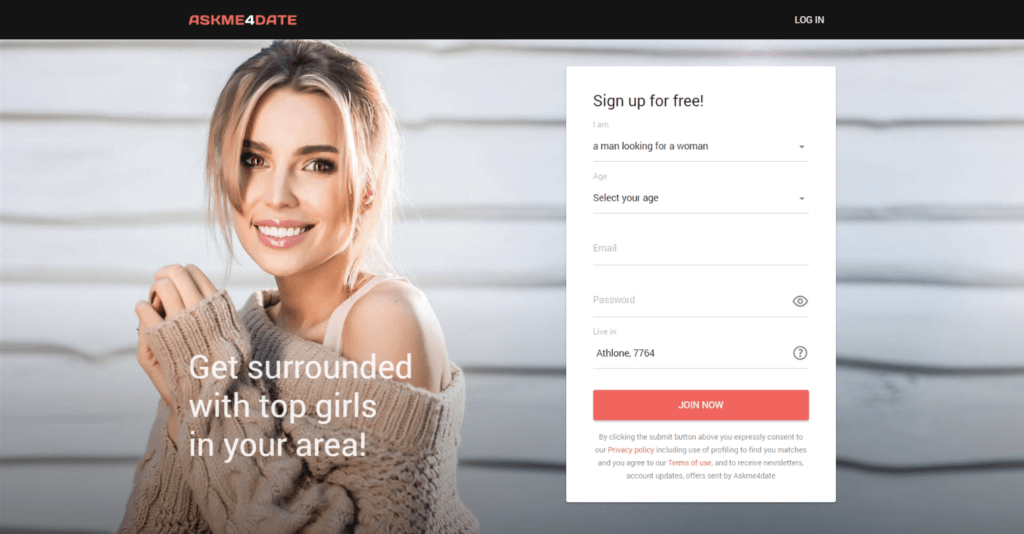 Ease of Use 4/5
Effectiveness 4/5
Key Features 4/5
Price 4/5
A user base that's claimed to be over 2 million strong
Excellent search and matchup tools to help users
Membership isn't expensive
The site uses bot messaging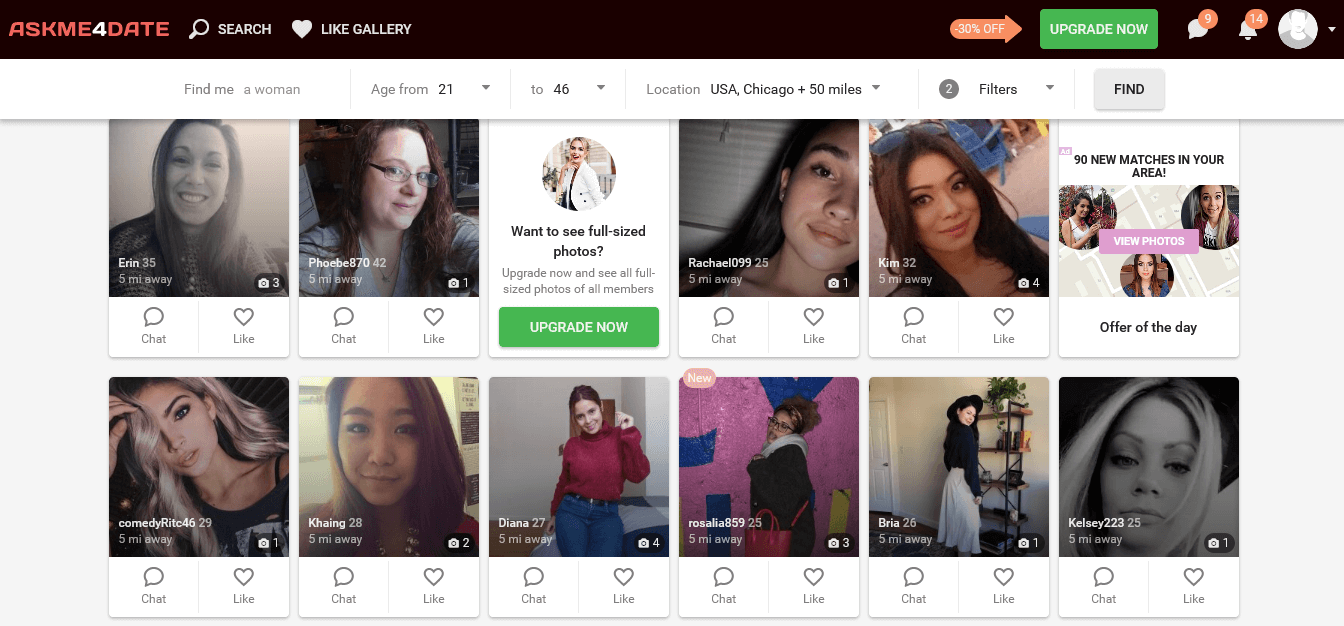 Who's It For/Demographics
Run by Together Networks Holdings, AskMe4Date is pretty secretive in terms of just how many users it has.
Luckily, my hours of research into this did produce some information.
OFL Top Recommendations based on 100,000+ Survey

"Serious Relationships"
"Discreet Hookups"
"Best Course for Men"
"Quick Flings"
"Normal Hookups"
"Our Quiz"
In fact, it seems that over 2 million people have signed up for profiles on this site.
Most of them as we have mentioned before are using this online dating website to play the field so to speak.
You know, finding cool people to hang out with, go on dates and see what happens from that point onwards.
Could it end in a serious relationship?
Of course, it could.
Could people also be looking for a bit of fun?
Yes, I am sure some are but as I mentioned, this isn't specifically a hookup site like AdultFriendFinder, for example.
You'll find men and women here, heterosexuals and members of the LGBTQ community.
The site is for everyone and profiles are across the age range.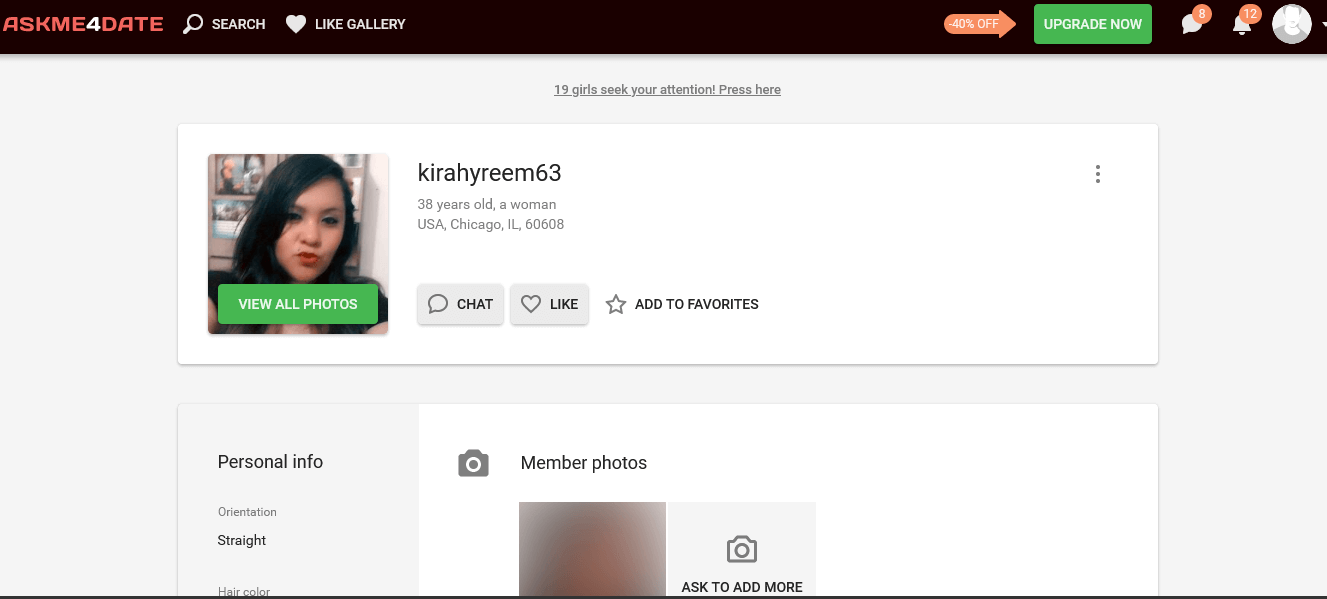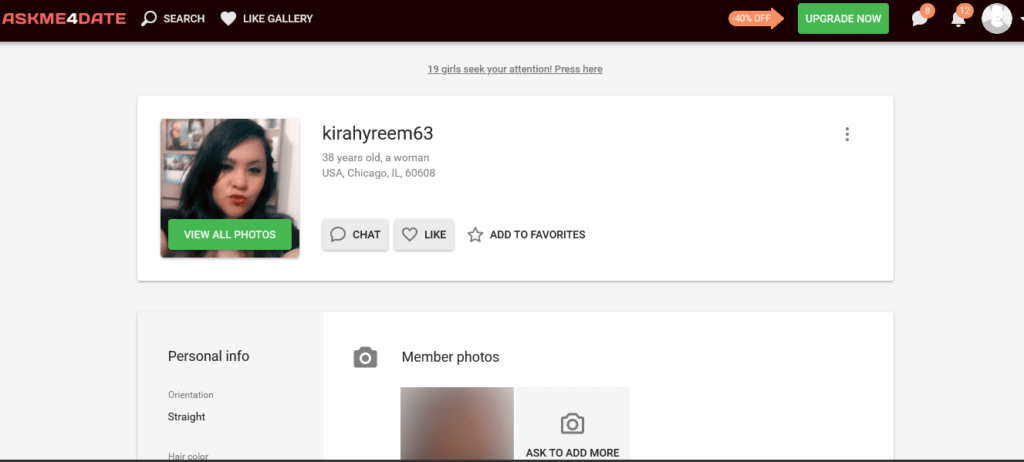 AskMe4Date offers free registration for all users.
The website itself mentions nothing about a dating app but I was able to find an Android APK file for the site.
If it's not officially endorsed by Google or Apple, I tend to ignore these apps, so I registered through the site itself.
While many sites offer a social media login to speed up the process, you won't find that here.
So just how does registration on AskMe4Date work then?
Well, it's pretty simple actually and you will need to provide some information first up before you are asked to fill in profile information.
I am not going to go through what that information is because it's similar to just about every other dating site.
Once you have verified your email address by clicking on the relevant link you receive from the site, you are presented with your profile.
You can fill this in now or skip it but I chose to get it done straight away.
First up, you will need to load your best profile picture.
There is a good chance that if it doesn't include your face, you will be asked to change it.
Following that, you can add the following to your profile:
Your user name
Your profile header
Appearance parameters (body type, tattoos, piercings, eye and hair color)
Your ethnicity
Two minutes, that's all it took me.
You will also notice a checkbox that's checked to "Promote Your Account".
Rather uncheck this and I will tell you why.
This uses your profile to send messages to other users making them seem like it comes from you.
Also, it will "like" the profiles of other users.
For me, this is a little below board and it's just trying to entice people to sign up for membership.
That's because if you receive an automated message like this (and you will), you cannot reply to them, even with the five free messages all new members receive to use on the site.
But more on that later.
Once you've completed your profile, you are free to look around the site for the first time.
While you might think that's all for your profile (like I did), it's not fully completed yet.
I never quite understand why dating sites have you fill in some parts of your profile but leave the rest of it.
Especially if it would only take about another two minutes to complete.
To do that, click on our profile picture on the right-hand side of the screen and then My Profile.
You can add:
More photos
A profile video
More appearance parameters
It really doesn't take long and now you have a fully completed profile on this dating platform.
I must say, overall profile quality is excellent on the site with most users – well, certainly those that I viewed – taking profile completion quite seriously.
And that's always a good thing.
There really is nothing that annoys me more than uncompleted profiles.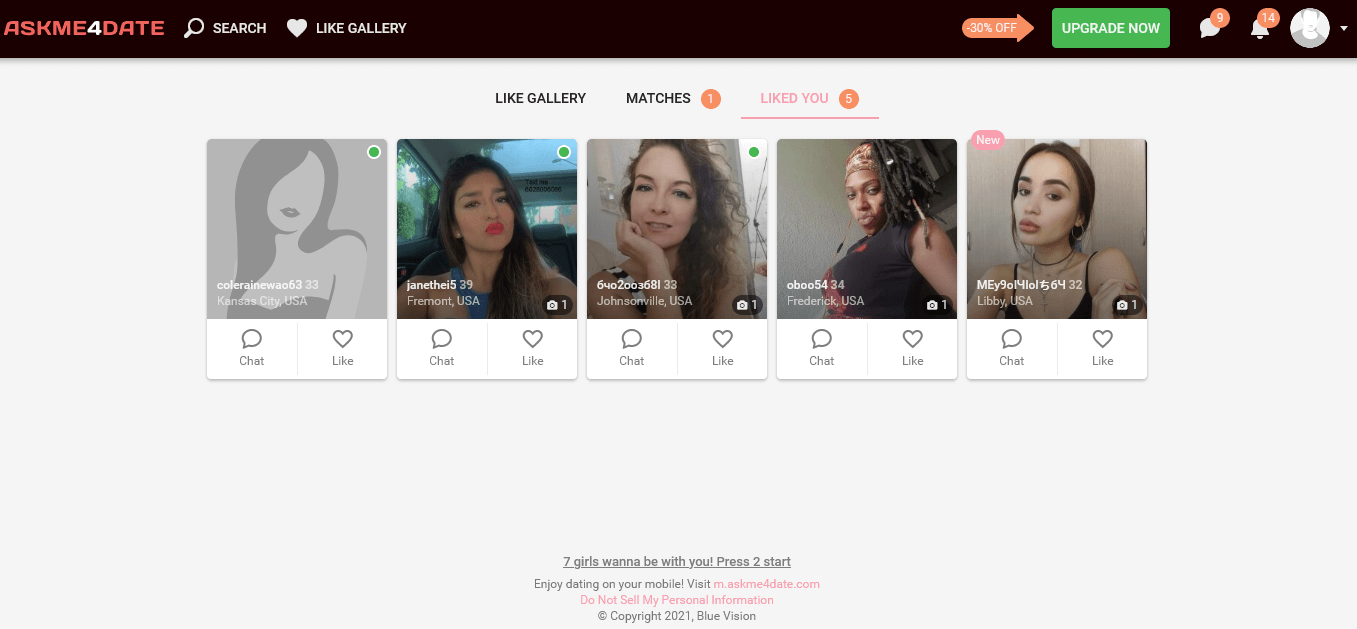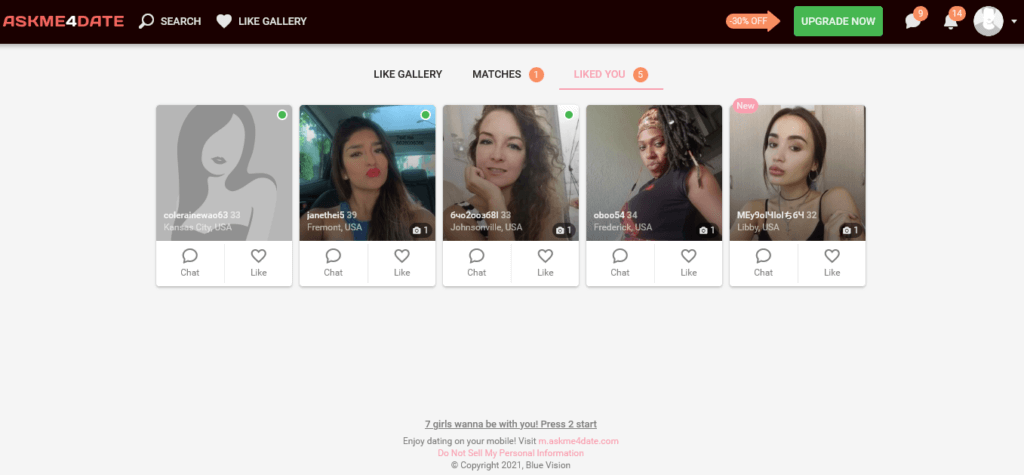 Navigating the AskMe4Date
You'll find AskMe4Date super simple to use.
In fact, if you've ever used a Together Networks Holdings dating site before, you would have probably recognized the overall layout.
Here, profiles of other users are what's most prominent.
And that's the way it should be.
But we will get into the best way to look through those profiles a little later in this review.
First up, I want to talk about the different types of menus you will find on the site.
You'll notice that there aren't that many of them either.
Here are the menus that you will be dealing with:
Search: If you click on this, you aren't taken to the site search engine. Instead, you are taking to the home page effectively. Here, AskMe4Date provides you with potential matchups near your location. You can also launch searches of your own from here using the search bar.
Like Gallery: This is a matchup game that you will find on all Together Networks Holdings dating sites. I will discuss it in greater depth a little later in the review.
There are icon menus on the right-hand side of the screen that you will use from time to time as well.
These are:
Messages: This takes the form of a chat bubble icon. You can track all the messages you've received as well as the ones you have sent to other users here.
Notifications: This looks like a bell icon. Important notifications, for example, if someone likes your profile, will be displayed here.
Profile picture: Click here and you will find several menus. One of them allows you to access your profile to edit it while the other allows changes to site settings.
From time to time, you might want to change settings regarding your profile or account.
To do that, simply click on your profile and then the site My Settings menu.
Not only can you find safety tips here, but you can also engage in a safe mode for the site.
There are three settings:
Full: This means you can only be contacted by verified members
Basic (default): This means all members can contact you but not those that the admin team deem suspicious or have been reported by other users.
Full: You can be contacted by anyone.
I would recommend that you at least keep this setting on basic.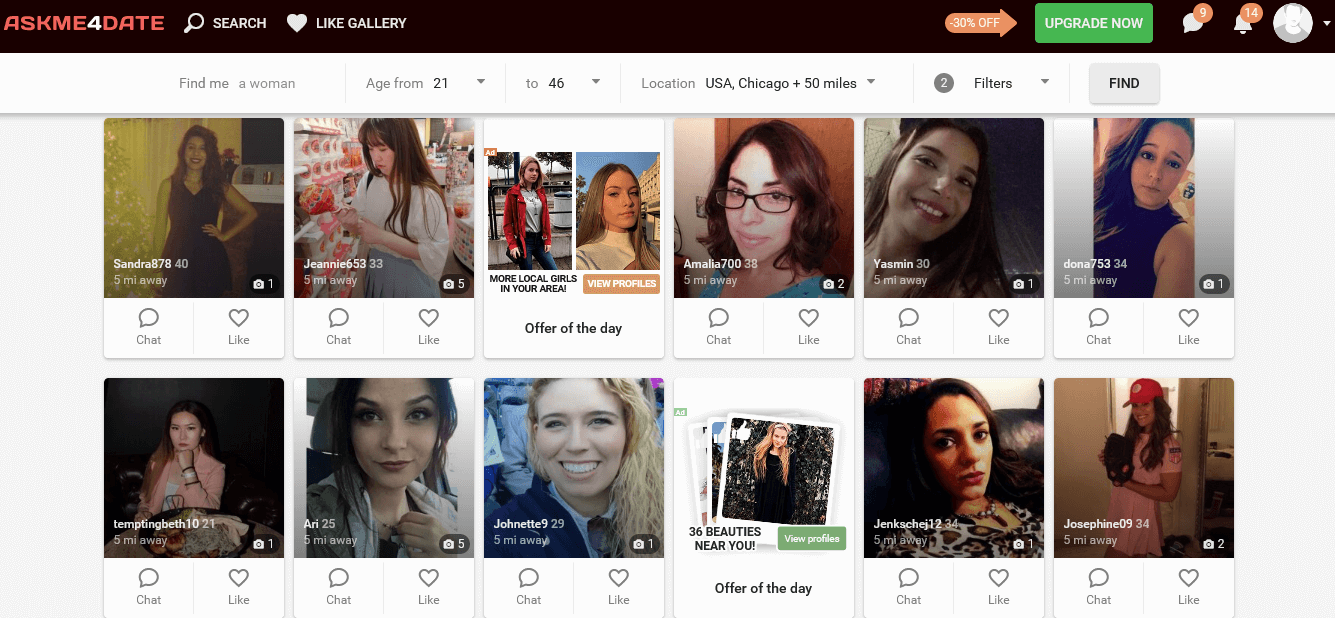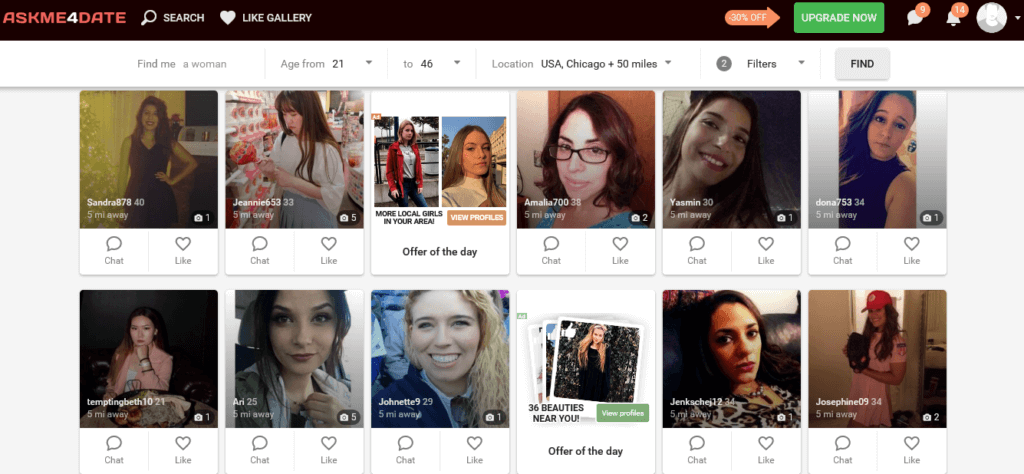 Finding people to date on this isn't that difficult.
That's because you have a few tools at your disposal to do so.
In this section of the review, I'd like to highlight three ways that you can go about finding someone to date.
While this isn't my personal favorite, there is no doubt that it will appeal to some users.
That's because profiles are presented individually.
Think of it as the website version of swiping through profiles on a dating app because it's very similar to that in fact.
The like gallery presents you with the main profile picture of each potential match that you flip through.
Now you have the option to skip (by clicking on the x) or like them (by clicking on the heart).
It's different from swiping in the fact that you can view other pictures a user might have posted, but that's only if you are a member.
You can even send a user a message from the Like Gallery screen.
It's useful from time to time, but I prefer browsing through more than one profile at a time.
Matchups returned by the site
If you click on the Search menu or the AskMe4Date logo in the top-left hand corner, you will be taken to the primary way in which to view other user profiles.
For me, this gives you the perfect way to quickly look through profiles and note those that stand out to you.
Profiles are showing in rows of five with ten on the screen at any one time.
The profile pictures are nicely sized too, so you can easily make a judgment call on whether you are attracted to someone or not.
If you are, simply click on their profile to find out more.
Or you could simply click the heart under their profile to add them to your list of liked profiles.
As a premium member, you can choose to click the chat bubble icon to send them an immediate message.
You have choices and in my book, that's always a good thing.
Adding your own search parameters
You will also notice a small search bar at the top of the screen.
These are matches that the site presents and will be based on the three parameters you find there:
Gender
Age range
Location (you can change the distance from your location between from 0 to 100 miles)
You can add extra filters of your own as well.
Simply click the Filter menu on the right-hand side of the search menu.
These filters include appearance parameters, ethnicity if returns should include a photo or not, tattoos and piercings, and sexual orientation.
While other dating sites sometimes have advanced search engines with more parameters, I can clarify that this is more than enough to help you find the kind of matchups you are looking for.
Often, if you add too many filters, you actually just narrow down your search returns which means you could be missing out on someone awesome.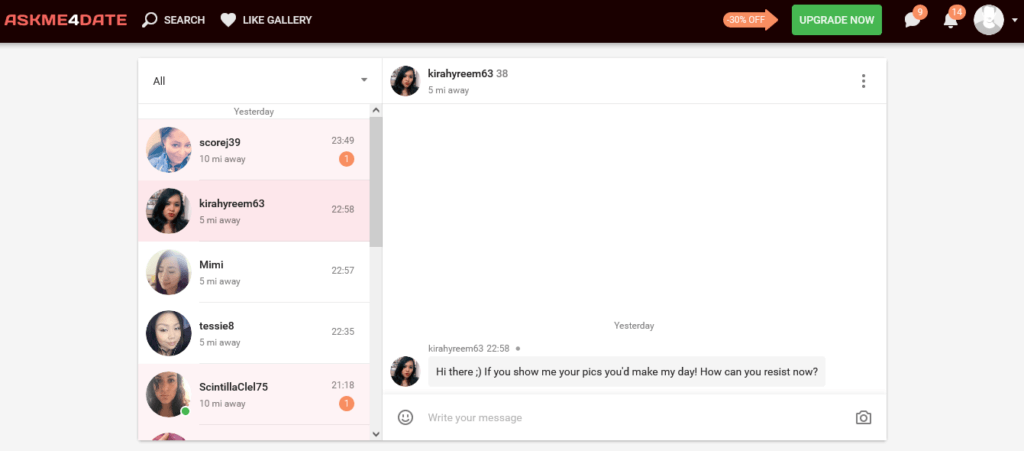 Messaging others on AskMe4Date
Well, you are going to have to be a paying member if you want to use the site long-term.
That's because messaging is a member-only feature.
You will get five free messages as a new user but you can only send those to other users.
They cannot be used as a reply message which pretty much makes them useless in my book.
A word about messages that you receive too.
Remember I mentioned that the site automates messages from other users.
You will be able to pick these out pretty easily because they just seem so lame.
It really is a bit annoying, that's for sure and it's something about the site that I do not like at all.
For me, it's all about getting people to sign up for membership so they can reply to the message they receive.
And the person sending them didn't really send them.
Underhanded, right?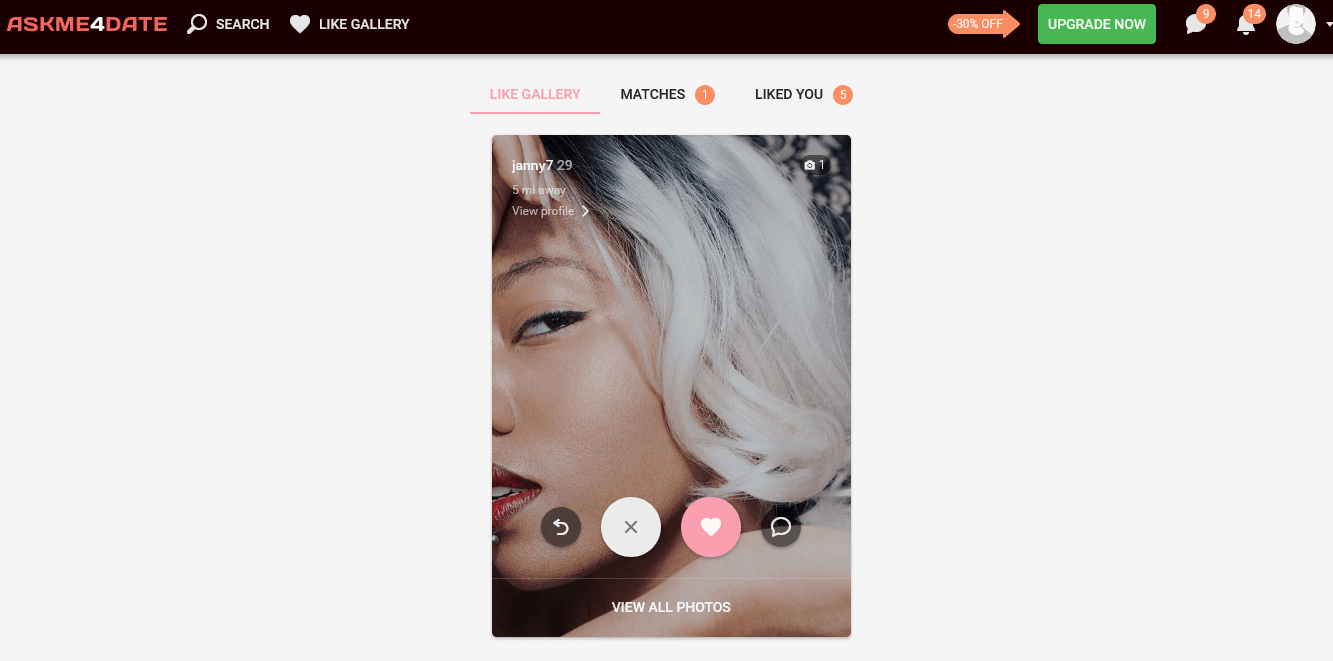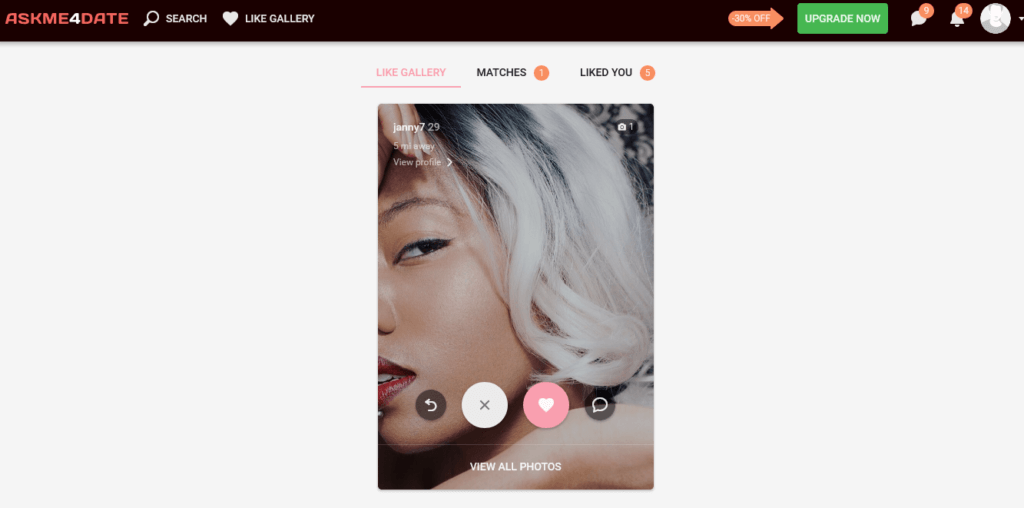 There are several key features that those that sign up for a membership can expect.
I think some of them are pretty useful, while others aren't that spectacular.
Let's go through them quickly.
There is no limit to the number of messages you can send or receive as a member.
This is a critical part of any dating site and for me, it's easily the most important aspect of membership on AskMe4Date, that's for sure.
So, find users you like and fire those messages off!
Those who sign up for a membership on the site will get even more matchups returns.
This is useful that's for sure but it's not like regular users don't get lots of returns anyway.
I guess the more the merrier, right?
The messaging system used by AskMe4Date is basically instant messaging.
You don't have to wait for a message to arrive in your inbox.
Instead, as soon as someone types a message, you are going to receive it once they hit the enter key.
This lends itself to sending media as messages and members of the site can send both videos as well as pictures as instant messages.
As a non-paying member, you will soon moan about not being able to see someone's profile picture in it's full-size.
That's a member privilege only as is the ability to see any other pictures a user may have uploaded to their profile.
All members have access to 24/7 support.
That means if you have any queries, you can sort them out straight away.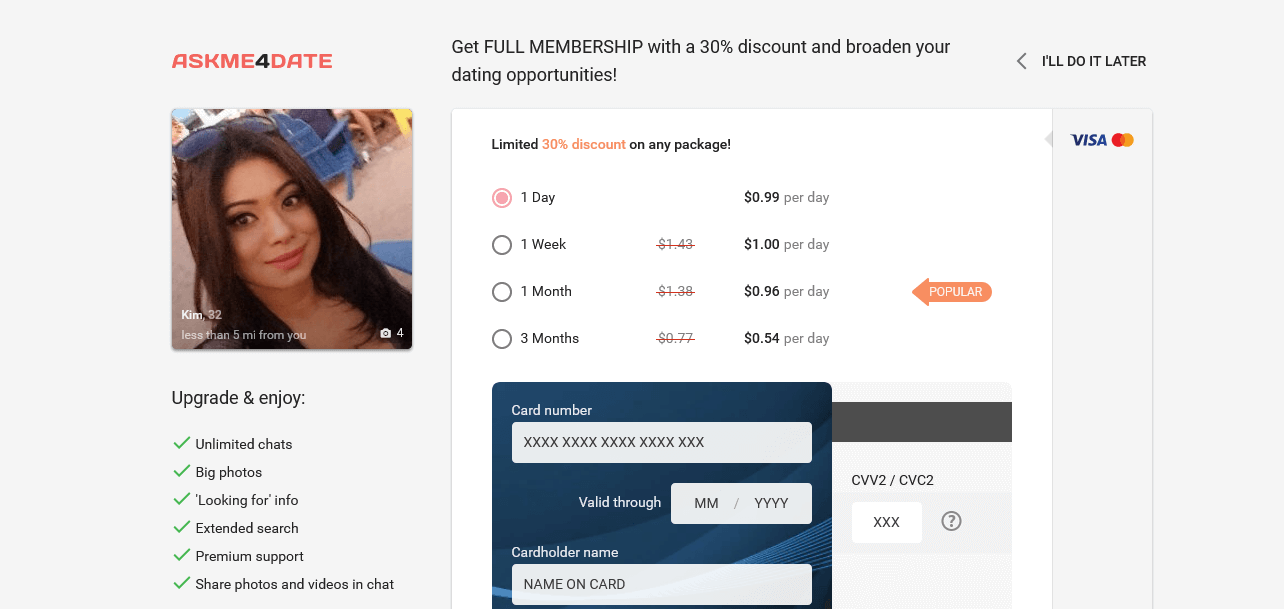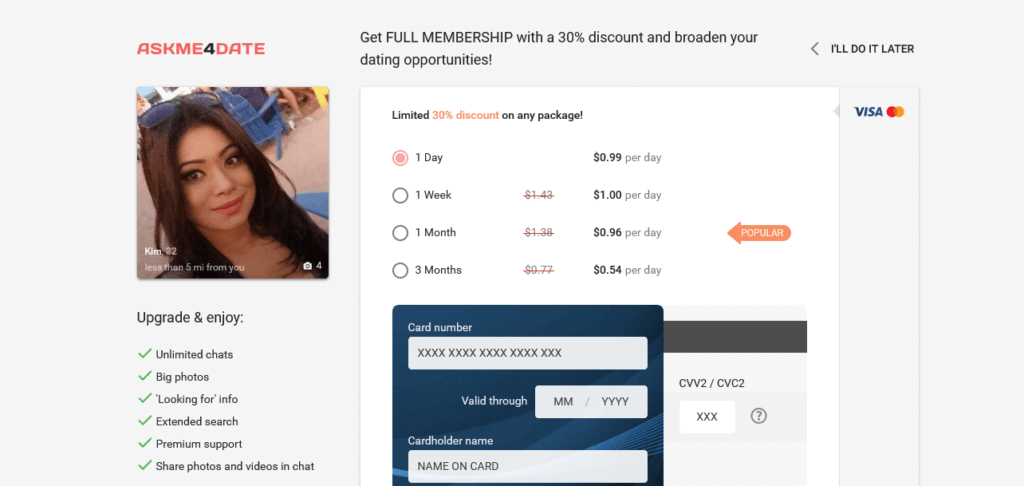 While the key features here are useful, it's what you are going to pay for them that will make you think they are worthwhile or not.
Ultimately, however, if you are to get anywhere on this site in terms of communication, membership is your only option.
The good news is that you don't have to be tied into a one-month membership from the start.
If you just want to try out the site and see what it offers you, there are two options: a 1-day membership and a one-week membership.
Personally, I don't think a day isn't enough time unless you are going to be on the site for at least six to eight hours.
I would opt for a week membership instead.
That gives you time to send messages to others, see if they respond, and get a good general feel of how the site will work out for you.
If you are happy with that, you can change to a longer membership.
And on the three-month option, you are effectively paying just over $15 per month, so it provides the best value overall.
Here's a breakdown of all the prices:
1-day membership: $0.99 per day
1-week membership: $7
1-month membership: $29.99
3-months membership: $49.99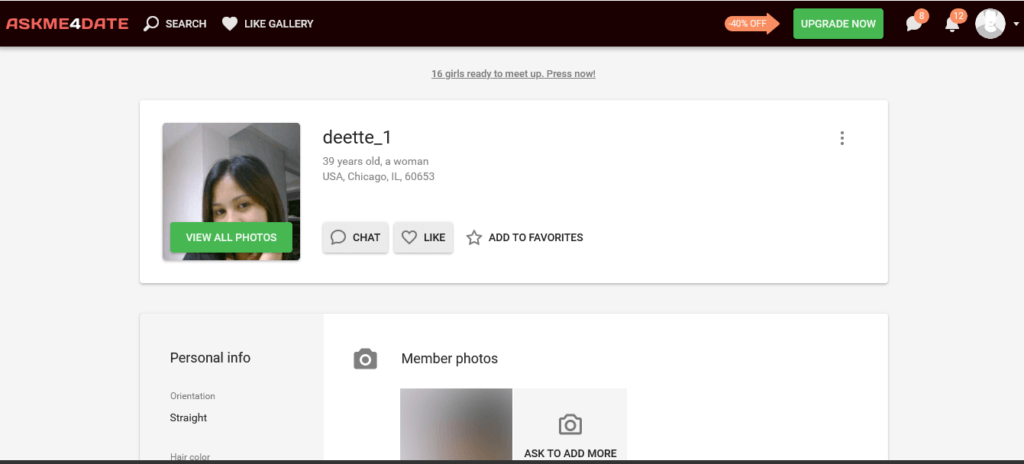 Conclusion and Overall Rating
That's it for our review of AskMe4Date.
Is it a rip-off site filled with scammers?
No, not at all.
This is a solid dating site that's filled with users like you just looking for a good old-fashioned dating partner.
If you live in the United States, you will find thousands of users near your location, that's for sure.
The site itself is super easy to use and has excellent tools available to help you find that perfect matchup.
I don't like, however, that they actively use profiles to send automated messages to others.
For me, all that's about is to try and make the site look busy and to get people to sign up for membership.
It isn't really necessary at all because the site is active enough in my view.
So only a rating then – AskMe4Date gets 4 out of 5.
Over a review period of many weeks, Onlineforlove registered for and used the AskMe4Date dating platform.
Our review approach saw our team give a star rating for critical aspects of the site as an online dating portal.
Our evaluation process took into account the following: the size of the userbase, key features offered, pricing, ease of use, and matching algorithm.