Online dating has allowed us to meet people from all over the world.
The majority of online dating sites offer international dating, so you have a chance to meet someone from a different continent.
Mingle2day.com is moving boundaries in online dating and helps you find your soulmate regardless of where you live.
In this article, I will:
OFL Top Recommendations based on 100,000+ Survey

"Serious Relationships"
"Discreet Hookups"
"Best Course for Men"
"Quick Flings"
"Normal Hookups"
"Our Quiz"
For starters, check out the stats and basics.
Is your dating app giving you the best chance for success?
Make sure to take our online dating site/app quiz to find out.
It's a fact that people who follow our dating site suggestions have on average 2 extra dates per month.

Effectiveness – 3.5/5
Features – 2.5/5
Ease of use – 3.5/5
Price – 3/5
Most of the features are free
The website gathers 12 million globally
The app is free and available for iPhone and Android
You can chat without matching
The sign-up process is user-friendly
The design is outdated
With an upgrade, you are just getting add ons
Overpriced
Who is it For/ Demographic Make-up?
The member structure can significantly impact your online dating experience. If the pool of members is small, there is less chance to meet someone within the desired age group or with a similar mindset, preferences, and desires.
Thus, I would like to start this mingle2day.com review with a demographic make-up, so you know upfront what are you getting into. If the member database doesn't fit you, it is unlikely that the website will.
Migle2day counts around 12 million users globally and 60 thousand active members per week.
Out of this 12 million, around 150 thousand are American citizens, which means that if you are coming from the USA, you are more likely to have an international romance.
When scrolling through foreign profiles, one thing you should watch out for are scammers – if you are browsing through German profiles, they are most likely real people. However, profiles from Nigeria or Ghana are often fake – profile pictures could be taken from other accounts, or even from porn sites.
Genders are almost equally present on the website. It is a slightly male-dominated website, as 60% of members are males, but this ratio of female and male profiles is not too much out of proportion.
OFL Top Recommendations based on 100,000+ Survey

"Serious Relationships"
"Discreet Hookups"
"Best Course for Men"
"Quick Flings"
"Normal Hookups"
"Our Quiz"
Another thing that should be stated is that this gender trend is present in all age groups.
Mingle2day has no restrictions when it comes to who can join, so people of all ages are welcomed.
However, the gender trend mentioned above is present in all age groups. For instance, let's take a look at members between 25 and 34 years. This age group counts the most members (around 30%) and more than half of these members are men.
The same goes for their oldest age group (55+), in which 6% out of 16% are women.
When it comes to sexuality, people of all preferences are welcome to join.
Even with 12 million members and quite a welcoming policy, this still isn't one of the more popular dating websites.
If you do any online research of this website, you will stumble upon many good reviews.
So, is it good or a complete waste of time and a scam?
In this part of the mingle2day review, I would like to talk about effectiveness – once you log in what can you expect from the website?
Without further ado, let's dive in!
How does it work for your target group?
As said, this dating service is quite welcoming to people from any part of the world, of all ages, and sexual orientations.
It doesn't have a specific target group, so it is a bit harder to predict whether it will be effective for you or not.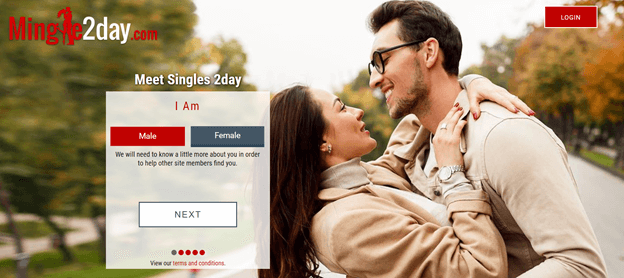 The highest chances of finding love (like eHarmony or Tinder) or next hookup (like BeNaughty or Ashley Madison) have young adults, as their peers are the most active.
If you are in your twenties or thirties and looking for someone around your age, there is a high probability of success.
You will have a chance to not only scroll through profiles from your area, but also meet many people of your age from different parts of the world, so mingle2day could be a great tool for starting an international relationship.
Also, since members of all ages are present, even if you are looking for someone older, you should easily meet singles online.
However, since men are present in higher numbers, there might be some competition.
As a male on mingle2day you sort of have to fight for the attention of ladies – so to increase your chances, work on your online charm.
Making contact on mingle2day is incredibly easy as most of the contacting features, such as messaging, are luckily entirely free and accessible to all members.
The website will display recommended profiles, with which you can make contact by sending kisses, hugs, or any other emoji.
There is also an option to contact other profiles, but this will require a manual search.
During this manual search, you will see only highly detailed profiles looking for serious relationships, so you don't have to worry about getting catfished. Also, there is a filter that will display profiles with pictures.
One thing you should be aware of is that with a free account you have the first-contact limit. If this limit is not surpassed, all sent messages will be deleted in 30 days. Members that reach this limit can continue chatting with users they have previously contacted.
Besides messaging, the website offers other matchmaking features. You will find plenty of forums with ongoing discussions, as well as chatrooms.
Let's wrap up this chapter by answering the most important question: what are your chances of succeeding?
Well, this depends on many factors, out of which is you.
Before joining, define a few goals. Are you there to meet someone your age or from your country?
When it comes to dating within the age group, the chances of success depend on your age. As said, the highest chances of success have young adults. This generation is quite used to different dating services, so it is no surprise that they are present in such a large percentage.
If you decide to date someone from a different country, be prepared for some struggles that come with long-distance dating.
It can be an amazing experience, but with a lot of adjustments – there could be a language barrier, and different time zones could also cause problems. Once you overcome these obstacles, you will surely enjoy your new romance!
As a new member of mingle2day, most of the features will be automatically unlocked.
Free users are allowed to browse and chat with however they find attractive.
I already listed some of the features of this website, so now let's check out the rest.
This feature reminds me of scrolling on Tinder.
The website will show interesting profiles – you can see their profile picture, as well as some information, but not the username.
Then you get to choose between Yes if you are interested, and No if you are not.
If both persons click on the Yes button, the username is revealed and you can start chatting.
As I mentioned previously. messaging in real-time is available to everyone, so it is not necessary to match with someone to start chatting.
However, this option is great if you want to discover more profiles.
Basic profiles are only allowed to do a manual search, but once you upgrade your profile, the advanced search will be unlocked.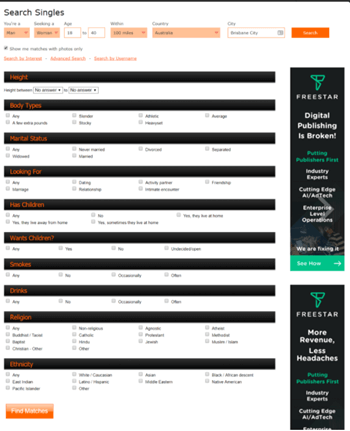 This option will allow you to set certain parameters and scroll through profiles that meet all of your criteria.
However, be careful when you are adding filters for zip codes.
In my opinion, the algorithm for advanced search requires some improvements as it is not so precise. Even if it says someone is near you, don't be surprised if you receive a good morning text from them at 1 pm.
After reading about features, did you become more interested in mingle2day?
Well, then you should learn more about their sign-up process and how to create your account.
The process of becoming a mingle2 member is super straightforward – you cannot mess it up in any way, and once you are done, you can access your profile right away, as no verification is needed.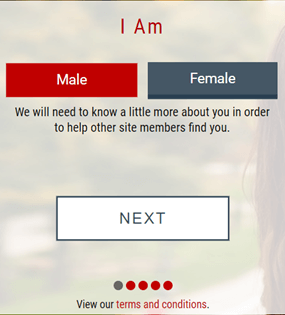 The sign-up will take less than one minute, but you can additionally speed it up by joining through social media, such as Facebook or using email.
If you choose this option, most of the data will be automatically transferred, so you won't have to bother will completing their questionnaire.
In case you decide to manually sign-up, I will guide you through the process.
In the beginning, the website will ask for basic information.
Input the valid email address, state your birthday, gender preference, and country.
Once you complete this step, you will have to fill another questionnaire called "About yourself".
This can be done in under one minute as well, as the questions are not so personal and all you have to do is choose one of the proposed answers.
On the last step, upload one picture – this will be the profile picture, and once your account is active, you can add more photos.
The basic information, as well as a profile picture, can be seen by everybody. As all users have to complete the same forms and they consist of only multiple-choice answers, there isn't a way to make your profile stand out among others.
As soon as you complete the registration process, you will be transferred to the home page and mingle2day will show a few profile recommendations.
When it comes to website design, you will notice that the creators didn't put in much work.
The template is a basic website template, but this does have on the upside – every age group feels welcome, as you do not need to be tech-savvy to navigate it.
Also, there aren't many features or functions. All of the options can be access with just one click.
One thing that I find distracting is the ads. For example, some of these ads are for other dating sites (eHarmony or OkCupid). You can accidentally click on one, be taken to another dating website, and ditch the mingle2.
Now, let's move on to profile quality.
As already mentioned, creating a unique profile is hard, because there is a questionnaire each potential member has to fill.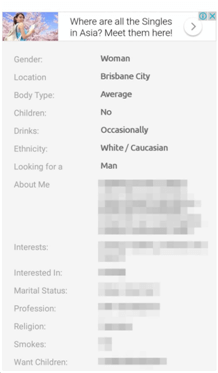 Things that can make you stand out are your profile photo, headline, and About me or blurb section.
Many users do not take time to write this short blurb or think of a catchy headline, and the main focus pictures. The number of pictures that can be added is limited, still more than enough to show off your personality and best assets.
A website has a quite simple theme, and profile pages follow the same trend. All basic information is listed in bullets, with a picture on top.
On the same page, you can find buttons that lead to inbox or instant chat.
Navigating the site is super easy, but I would prefer a more updated design.
You can find the app on App Store and Google Play, and get it without any charge.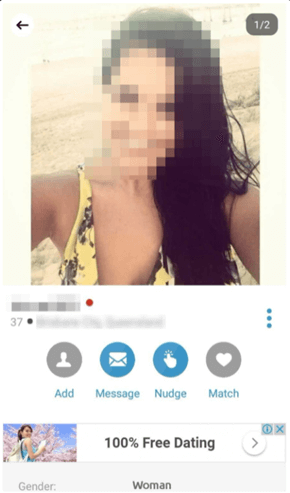 The features available on the website are available on the app as well – just with small tweaks in the design.
Overall, the app looks more modern, and some features are easier to access.
You can receive notifications for likes, messages, requests, and nudges.
The number of ads is the same, and sometimes loading the page takes a while, which can be annoying.
Still, I would choose the app over the website version.
How much will this dating service cost you?
Well, this isn't a free dating site, but because many of the features are free, most users do not feel the need to upgrade to a premium account.
As a free member, you have access to the app, you can browse through profiles, contact whoever you want, send nudges, and participate in the debates in forums or access chatrooms.
Also, the matchmaking feature is available as well.
By updating, you are mostly paying for an add-on.
For example, with gold membership, in MutualMatch, you can see who liked you.
Also, you will unlock the anonymous browsing and read feature for sent messages.
The membership comes with certain benefits as well – when users are browsing, your profile is on top of the queue, which increases your visibility and could help you get more matches and hangouts.
When it comes to pricing, you can choose between three packages. The duration of the subscription determines the cost, and this is a high-priced website.
3 months – $29.85
6 months – $47.70
12 months – $71.40
Mingle2 accepts mobile payment and credit cards.
Overall Rating – 3.125/5
The overall score is low for several reasons.
Firstly, the out-of-date design is user-friendly, however quite unappealing, and the high number of ads makes browsing difficult.
Furthermore, I would prefer more detailed profiles. The questionnaire in the sign-up process is a great idea, however, the questions are not personal, so it is often difficult to determine whether someone would be a good match or not.
Also, because of the lack of verification process, many are uploading fake pictures, so you should always have your guard up while browsing and chatting.
The upside is that most features are free, so if you want to test out the website, you can try out many features without spending a penny.
Hopefully, this mingle2 review has helped you decide whether or not to join it.
Good luck with your online dating adventure!
While you are still here, check out the FAQ below.
In case you still have some unanswered questions, read this FAQ – you might find your answer right here.
Questions about mingle2day.com are separated into three categories: facts, account, and usability.