Welcome and thanks for taking the time to read our meticulous review of eDate.
It's a dating site that's undergone changes in recent years.
In fact, it was operated under the name Mate1 from its inception till around 2018 where it was rebranded as eDate.
In this review, we cover eDate and just how it operates so that if you are planning on starting a profile on the site, you can have an excellent understanding of what to expect.
The review will also cover:
Just about everything you need to know about eDate, you can find in this review, that's for sure.
Is your dating app giving you the best chance for success?
Make sure to take our online dating site/app quiz to find out.
It's a fact that people who follow our dating site suggestions have on average 2 extra dates per month.
eDate Review in Video Form
Audio (podcast) form for those of you on the go


Ease of Use 4/5
Effectiveness – 3.5/5
Key Features – 3.5/5
Pricing – 4/5
Millions of users
Advanced search features aren't behind a paywall
You will receive daily matchups from the site
Cheap trial membership
Messaging is paywall locked
Who Is It For/Demographics?
From the outset, eDate makes some bold claims on their registration page.
That's nothing new for online dating sites, that's for sure.
For everyone that's not into shouting their user numbers from the rooftops so to speak, you will get those that don't mind doing so.
And eDate is one such site.
For example, those behind the site claim that it has over 50 million users.
That makes it one of the top commercial dating sites online in terms of that specific statistic.
Is that true?
Well, you will have to read the rest of the review to find out.
The strange thing, however, is that when the change from Mate1 to eDate was made, members who had registered from Europe were simply cut from the user roster.
Now, the site serves the United States and Canada predominantly but Australia as well.
It also markets itself as a site that's truly for all.
It's right there on the registration page.
From those searching for regular singles to others who want someone of a certain religion.
What about a particular ethnic group or perhaps older singles?
Gay and lesbian singles?
Well, they are covered too.
It appears like your everyday dating site (like Tinder or eHarmony), and also has some things in common with a hookup site (like BeNaughty or Ashley Madison).


It seems that eDate has a place for just about everyone.
That's a promising start.
When writing reviews like this, the very best thing to do is to set up a profile on the respective dating site and see just what the process is someone would have to follow in doing so.
All online dating sites tend to follow similar models.
And that starts by having you begin the registration on either the registration page of the relevant dating app.
Of course, eDate is no different and you are going to have to put your gender as well as what your matchups should be, the day you were born, the country you live in (the only options are Canada, USA, Australia and New Zealand) and finally, your email address and a secure password.
If you'd like to, you can read the terms and conditions of the site.
They are presented by clicking on a link before you finalize the initial part of your registration.
While these can be a little boring, it's not a bad idea to read through these on the dating sites you sign up to.
It's a suggestion I would make here as well.
Ok, so that's the first part of the information that you will need to supply to eDate.
The registration process continues with:
Your first name
Matchup age ranges, for example between 18 and 99
Various parameters related to your appearance (the color of your eyes and hair, body type and how tall you are)
Various parameters related to your lifestyle (your vices, for example do you drink)
What ethnic group you come from
Whether you have children/want children
Your educational level
Your yearly income
If you are religious
You must upload a photo and this is a step that cannot be skipped.
eDate easily allows you to upload a photo from either Facebook or Instagram if you'd prefer.
Your last step is to check your inbox to confirm your email address.
Clicking on that email will take you right to the eDate home page and straight into the action.
The first thing you will notice about eDate is that it certainly has a bit of a Facebook feel about it from the overall design as well as the blue color scheme.
It's not the first dating site to use this approach and I am sure it won't be the last.
I like the idea too as it brings in some familiarity, even though this clearly isn't Facebook.
You just feel, however, that you've used the site for ages.
Well, I certainly did.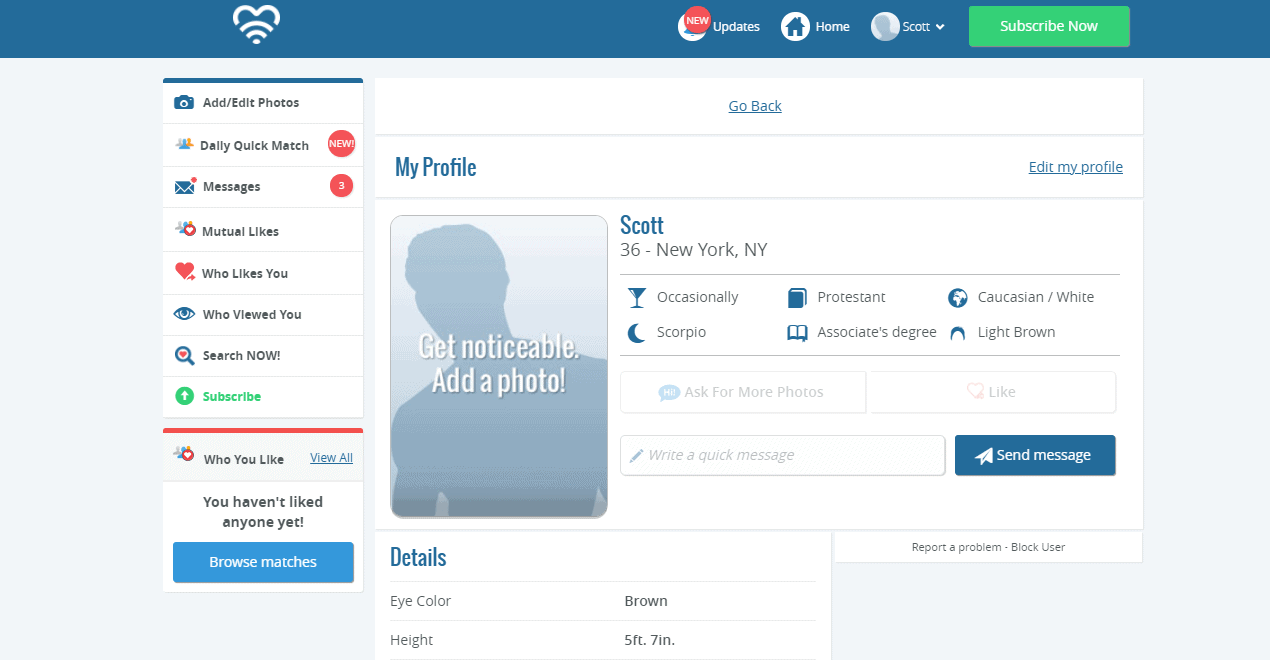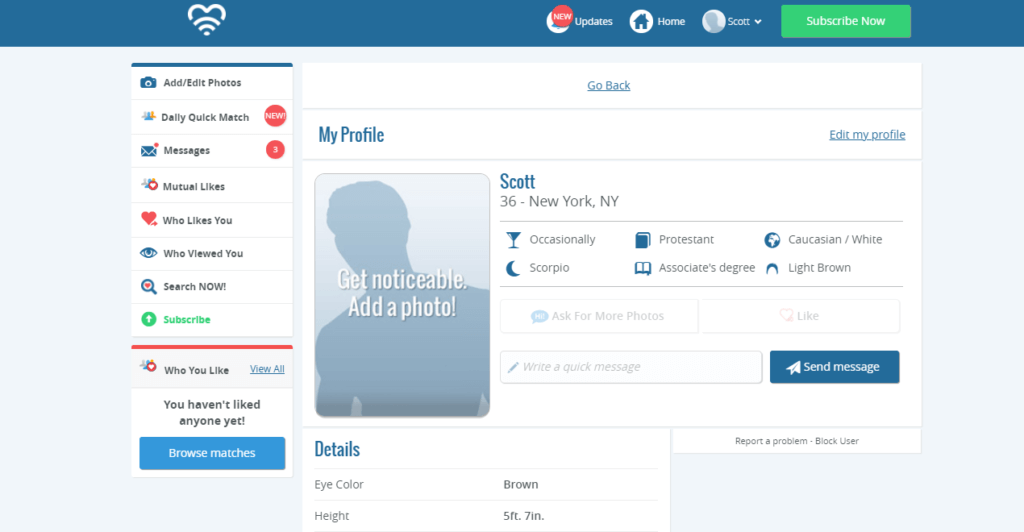 From a design point of view, the home page is split into three distinct windows.
The left-hand side contains the menu system, the middle is the viewing panel and the right-hand side is an information panel.
Initially, this information panel will encourage you to update your profile even further.
While the registration process sees you providing a fair bit of information to flesh out your panel, there is still more to do.
And it won't take more than another five minutes of your time.
Areas where you can provide further information include:
Lifestyle and interests
Favorite things
Least favorite things
Each of these sections includes a number of subsections with questions that you can answer.
And it's a simple case of selecting a pre-generated answer that best describes you.
For example, under the lifestyle and interests section, you are asked to describe your sense of humor.
There are seven options to choose from including sarcastic, witty, cryptic and off the wall, as an example.
Simply click on the one that fits in with you.
As I said, you can complete this all in a matter of a few minutes and it will really help beef up your profile.
eDate | Finding your way around
As I mentioned earlier, the design of eDate is rather appealing.
I found it a joy to navigate and fun to play around with.
Most of your navigation on the site is done by the menu system found on the left-hand side of your screen.
These are:
Add/Edit photos: eDate allows you to add more photos than just a simple profile picture. You can do so here.
Daily Quick Match: Each day, eDate will provide you with a matchup. You can view that matchup by clicking here
Messages: Messages sent to others as well as received from others are found under this menu
Mutual likes: If you like a daily match for example and they like you back, well, that will reflect here. Note, however, only members of eDate can access this menu
Who likes you: Find out who likes you under this menu. This is a member-only feature
Who viewed you: If someone has viewed your profile, you can find out by clicking here. This is a member-only feature.
Search NOW: eDate's search engine can be found here
Subscribe: Become an eDate member by clicking on this button
That's not the only menus on-site, however.
A few more can be found at the top of the screen including one to take you back to the home page as well as a link to your profile and other site settings.
Before we get a bit more into how to search for matchups, I just want to point out the newsfeed that runs at the bottom of the home page.
Here you can see new members who have joined the site as well as other preferred matches.
It's a useful tool in helping you find matchups close to your location other than searching for them.
So don't dismiss how effective it could be.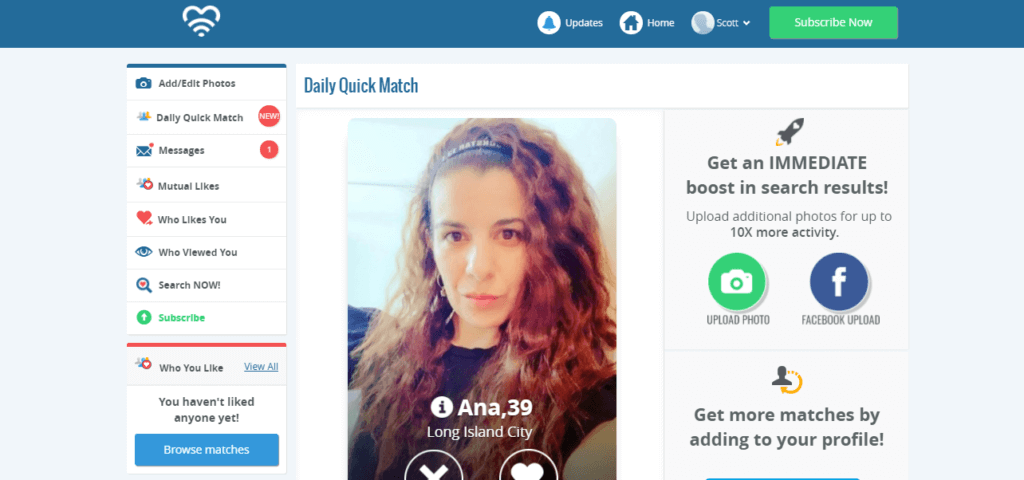 Speaking of effectiveness, let's see just how eDate has you search for matches and also how you can contact them.
Once you've taken the time to take a look around eDate, you are going to want to put it to the test.
Ultimately, a dating site can only work for you if it can produce the kinds of matchups you are looking for.
And let's not forget, eDate has made some lofty promises in that regard.
With millions and millions of users, it should deliver.
Searching for the ideal matchup on eDate
Most dating sites these days present you with matchups.
eDate is no different.
And the moment you log into the site, you will already see your first few.
You can easily get back to these matches by clicking on the Daily Quick Match menu.
Then click the "x" button if you don't want to match with them or the "heart" button if you.
Don't ignore this feature, it's worth your time going through the matchups every now and again, that's for sure.
If you'd like to know more about the person before making a decision, you can click on their picture to load their profile.
But what about if you want to search for yourself?
For me, that's the best way to find a matchup on any dating site.
To start searching, click the "Search Now" menu.
Immediately, you are presented with profiles of other users that matched your inputs when you registered for a profile in terms of the age ranges you'd prefer.
And these are people that are within 50 miles of your location.
Those are the two basic search criteria that the search engine uses first up: age range and distance from your location.
You are free to change them as well but the maximum distance from your location that you can set is 100 miles.
What about an advanced search engine seeing that the profiles on eDate are so detailed?
The good news is that yes, there is an advanced search engine option and it's extremely detailed with tons of parameters that you can set.
With a site with so many users, this can be a real help when it comes to narrowing down matches to what it is that you want.
So let's talk about what you can change here.
Well, it's all related to the parameters you find in user profiles.
So that includes:
Various appearance parameters like height, body type, hair and eye color
Ethnicity
Religion
Lifestyle parameters
Work, education and income
There's a lot of control at your fingertips here.
Of course, setting lots of these parameters will cut down on the number of search returns but on the other hand, you know that those returns are going to be close to what you want in a matchup.
And yes, this is the kind of thing that you can do on a dating site with so many users.
It's far more difficult when the user base is small.
Without a doubt, eDate provides you with some excellent tools to be able to find the right kind of matchups, even if you are just a regular user on the site.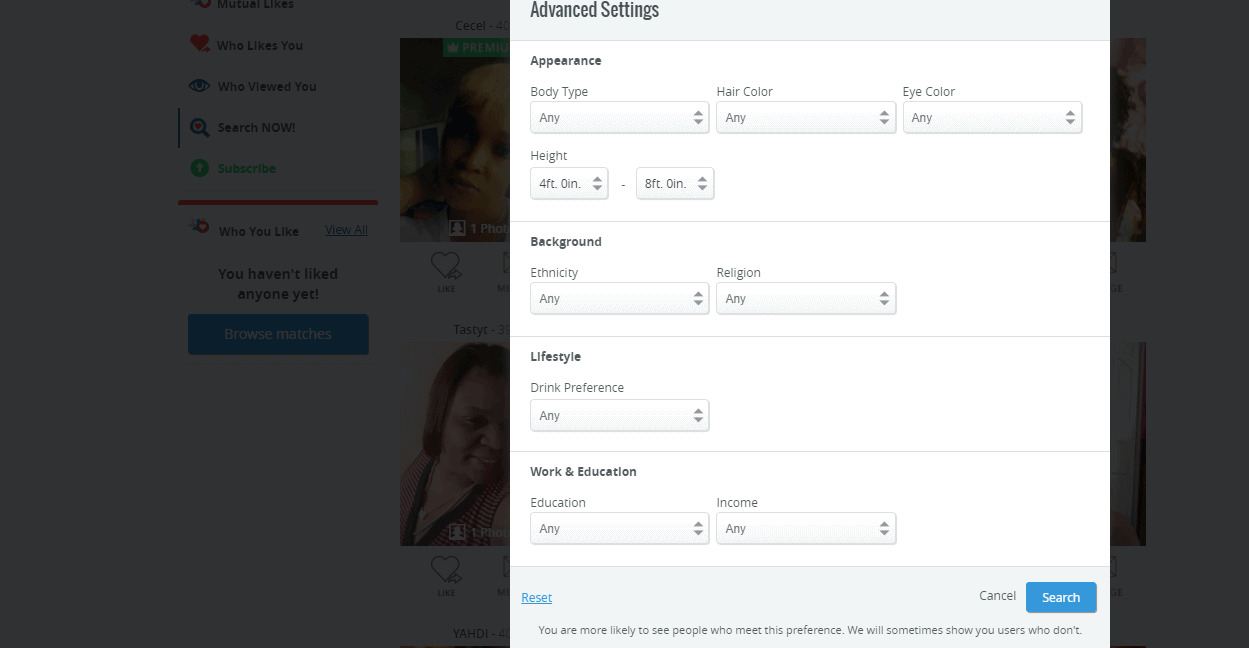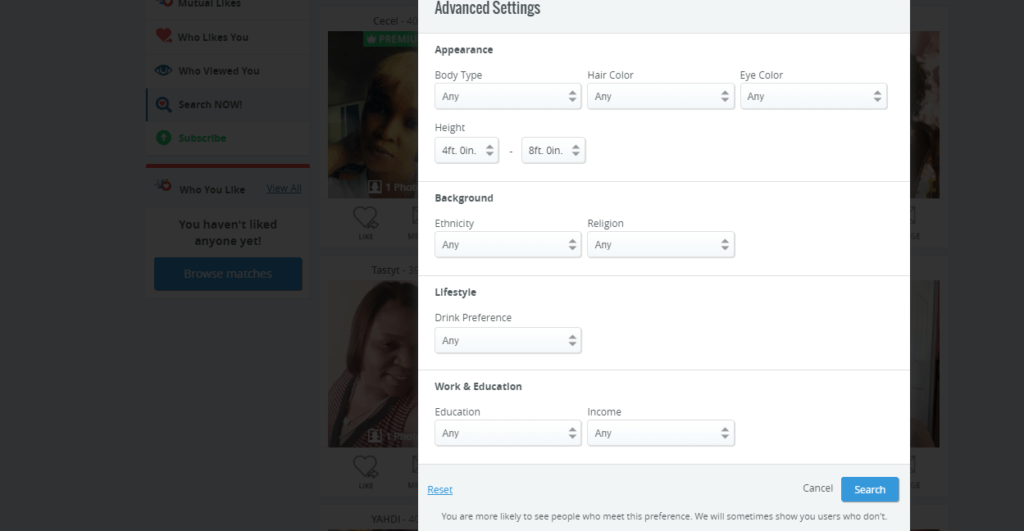 But can you communicate with someone that's caught your eye?
Contacting other users on eDate
Well, the answer there is no.
Communication with other users is a no-go, other than the fact that you can like their profile.
And that doesn't really help you either because they can only see who has liked their profile if they are a member of the site.
Membership is needed if you are going to use eDate in an effective manner, that's for sure.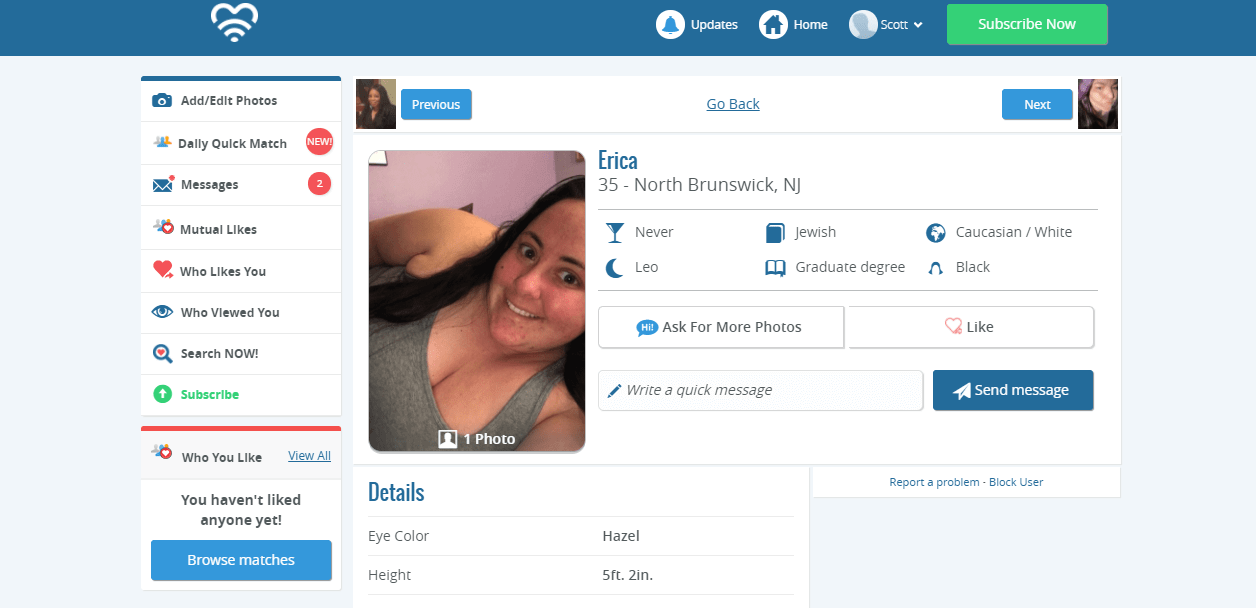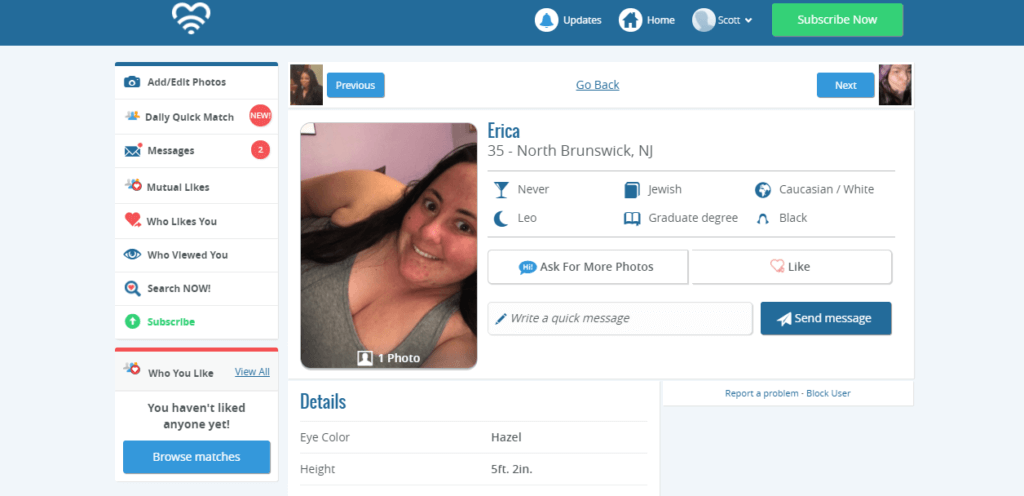 A little later, we will talk about what membership to eDate is going to cost you but for now, let's look at some of the key features that membership will provide.
Here are some of the key features that you can expect from eDate when you sign up to become a member of this dating website.
The most obvious advantage when it comes to membership of eDate is the fact that you can send and receive messages.
Without these messages, there is just no other way to communicate with someone.
Unlike some other dating sites, eDate doesn't have public chat rooms either, so it's messaging or nothing, right?
If you message someone, they are able to reply for free as well, so that means that even if you find someone who is not a member of the site, you can communicate with them.
2. Top-ranked in search returns
Members get preferential treatment when it comes to other users' search returns.
If you are a member, you can opt to get ranked near the top of their search returns.
That means that other than you looking for the perfect matchups, you improve your chances of other users looking for someone just like you.
3. See mutual likes, who like your profile, and who viewed your profile
Seeing mutual likes is a real advantage but it's only available to members of eDate.
Seeing who viewed or who liked your profile is something most dating sites offer.
But they also choose to handle it differently when it comes to who has the privilege of seeing this kind of information.
At eDate, it's hidden behind the membership paywall.
Only members can block other users.
I'm not sure I agree with that.
Almost every other dating site on the web lets regular users decide if they want to block someone or not.
Yes, advertising can be annoying on dating sites.
And if you are a member, you can remove them.
I will admit, however, that advertising on eDate is minimal.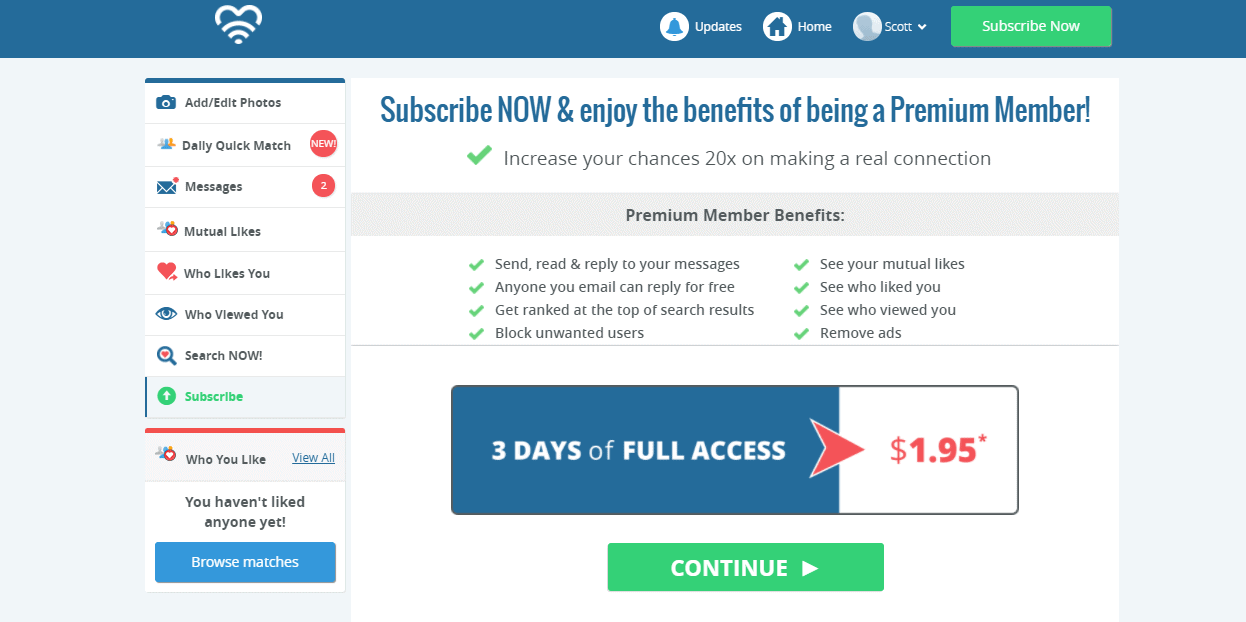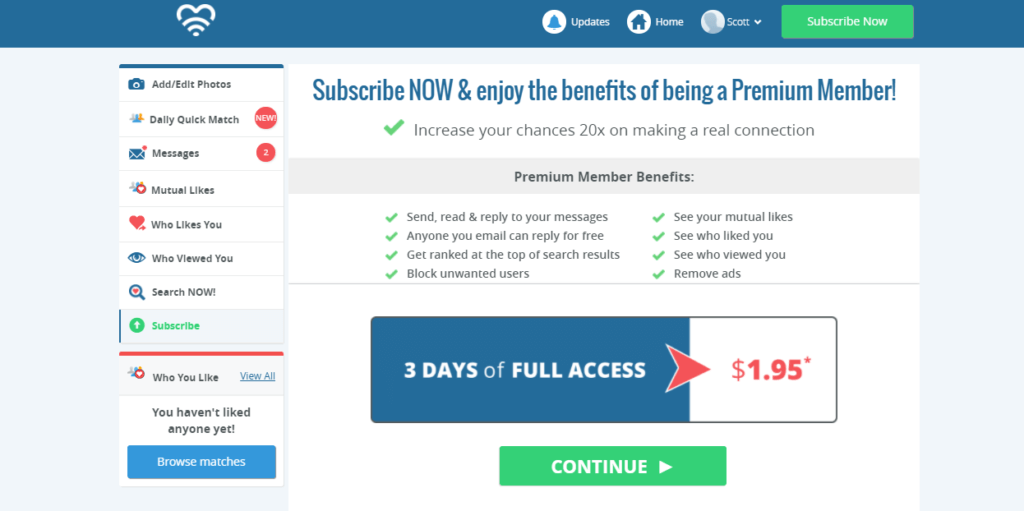 In fact, it never bothered me.
So I am not sure how much of a perk this really is.
Should you wish to sign up for a membership on eDate you are going to have to start with a three-day trial.
That's only going to set you back $1.95 which is extremely cheap.
Three days is more than enough for you to try out the site, see what kind of search returns you get and if they are near your location or not.
Once that three-day trial is over and you decide to keep your membership, it will automatically convert into a monthly membership.
But there's another option too, and that's a three-month membership.
Here's what both of these will cost you:
1-month membership: $39.99
3-month membership: $74.97 ($24.99 per month)
On the whole, I feel that the one-month plan could be at least $5 to $10 cheaper.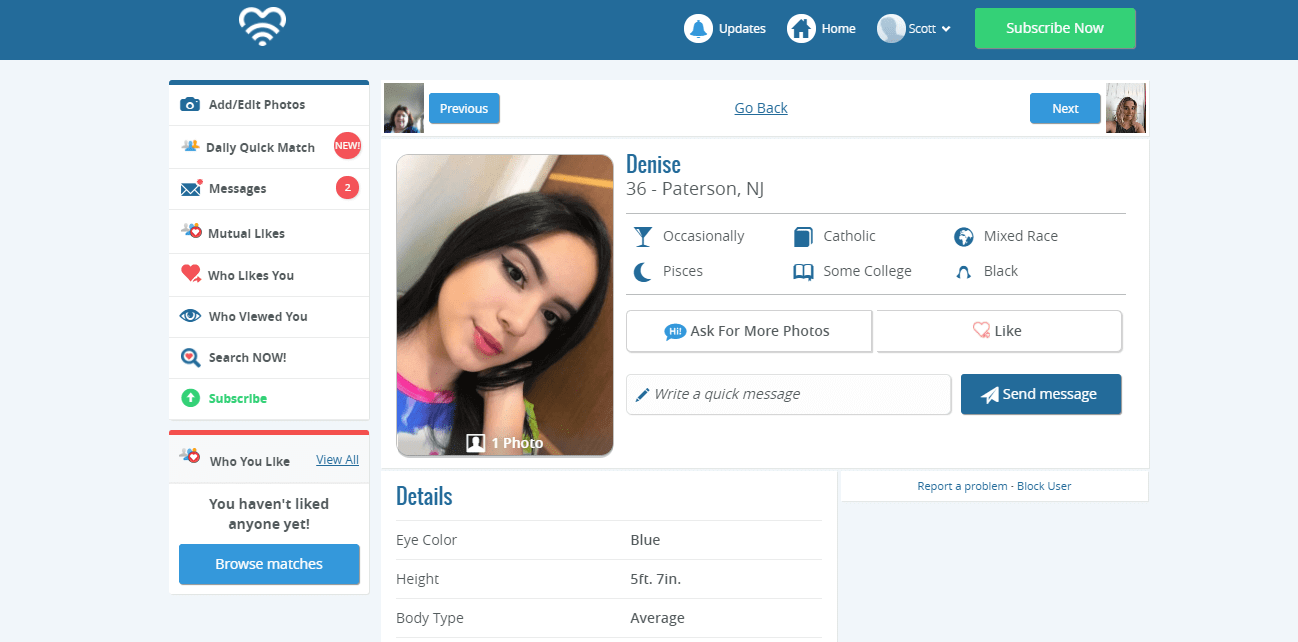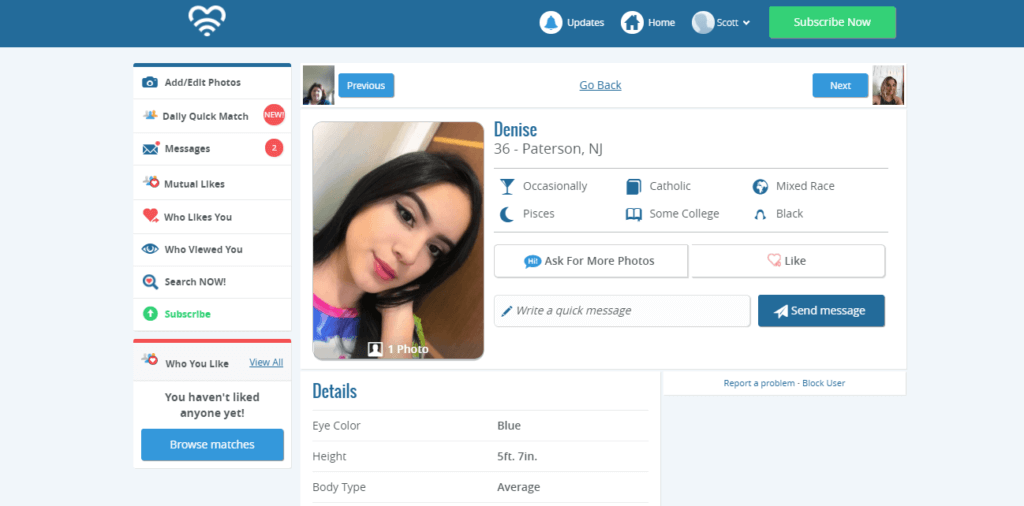 But I guess you have to remember that eDate does have a significant user base, so they probably justify it in terms of that.
You can save $15 per month if you opt for the three-month subscription.
Conclusion and Overall Rating
If you are in Canada or the United States, eDate is a dating site that's worth exploring, there is no doubt about that.
In my time on the site, I found a number of excellent matchups that were located very near to me.
The tools on offer here to find the ideal matchup include an excellent search engine that has advanced search parameters that are for all users.
While some dating sites just aren't that great to look at, eDate is a visual joy.
As I mentioned, it styled on Facebook, without a doubt, so that gives it a certain familiarity which I love.
It's so simple to use as well, with just a few menus needed to help you find those perfect matchups.
And you don't only have to search for them.
eDate presents them to you as well.
What more could you ask?
Messaging them will mean you need to be a member and eDate takes somewhat of a unique approach to this by giving you a three-day trial membership for cheap.
Once you've tried the site, you can make your final decision as to whether you want to sign up or not.
So let's move on to a final rating for eDate.
It gets 3.75 out of 5.
Frequently Asked Questions