Omegle is a free, random chat site that encourages its members to participate in video chats and text messaging. Without registering or setting up a profile, users can partake in conversations. All you need to do is log into the site and chat away!
Omegle pairs its users in one-on-one chat rooms and identifies them as "You" and "Stranger." Whoever you are chatting with assumes the title of "Stranger." When you are finished chatting, you can end the chats as desired.
Where video chats are concerned, Omegle is refreshing. Besides the unique aspect of chatting with strangers, Omegle comes with an abundance of features that make the chats interesting. This Omegle review will let you know what the site is all about!
Pros:
Large user database
No need to register on the site as users start chatting immediately
User-friendly interface that makes Omegle quick and easy to use
Text-based and video chats for users to decide which they are most comfortable with
Chat sessions can be easily disconnected
Cons:
No special filters that will let you chat with a preferred gender
Explicit content is common on the site
Member Information
Omegle has a diverse member list. Most of the members fall into the younger demographic, but the platform still carries several mature members. The members do not have profiles; therefore, the only way to know each other is through messaging and video chats.
I found that most of the members were willing to talk to me. The conversations that I engaged in were very open and detailed. I highly enjoyed the video chats on Omegle.
Sign Up Process
RATING
3/5
Omegle does not have a sign-up process like on other dating sites. I did not have to choose a username and password or provide a valid email address. I typed "Omegle.com" into my browser, and voila, I ended up on the site. I was asked whether I preferred text-based chatting or video chatting.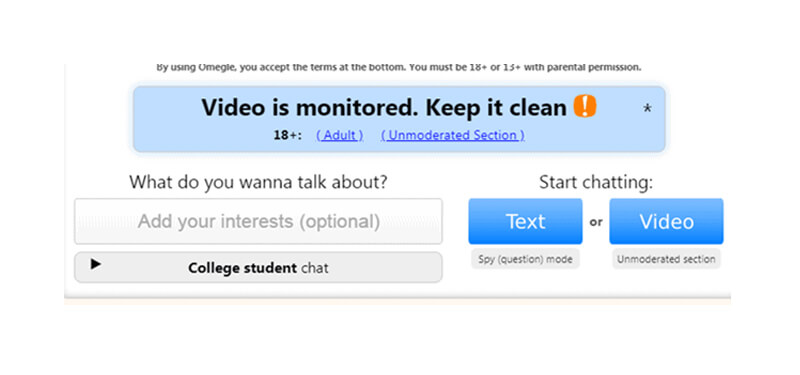 Once I selected my desired mode, I went through a one-step verification, and the communication began in less than thirty seconds.
Contacting People
RATING
3/5
There are two main ways to contact people on Omegle; messaging and video chats. As soon as I logged into the site, I was presented with these two options. I tried out each of them individually.
The video chats were rather interesting because I was presented with a list of online people, and I could either pass or chat with those who caught my fancy.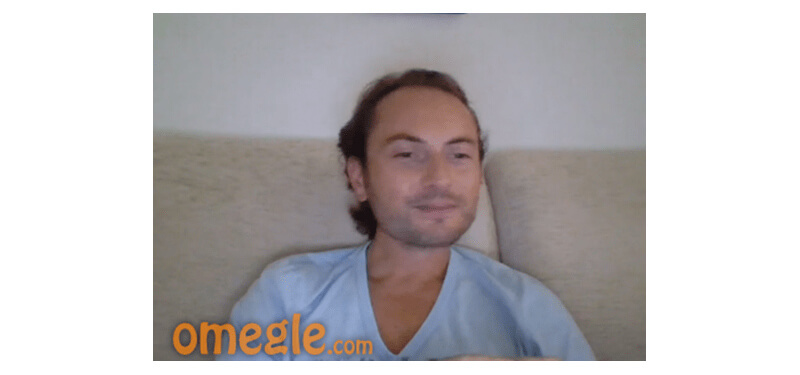 While most users show their faces during the video chats, some wear masks for anonymity. Other than that, the text messaging (referred to as spy-mode chat) was also intriguing.
I did not reveal my identity during video messaging. However, the downside was that I was also unaware of the other user's identity.
Profile
RATING
2.5/5
Omegle does not come with user profiles. The only way to get to know the members on the platform is through conversation. As soon as you land on the site's homepage, you will be urged to start chatting, no profile needed.
While I got personal with few Omegle members, it was also difficult to tell if they were genuine in the conversations. Also, some users chose to wear masks during the video chats. It seemed farfetched for them to sign up to a video chat site and still hide their faces.
OFL Top Recommendations based on 100,000+ Survey

"Serious Relationships"
"Discreet Hookups"
"Best Course for Men"
"Quick Flings"
"Normal Hookups"
"Our Quiz"
Mobile App
RATING
2.5/5
Unlike similar video chat sites, this one does not come with an Omegle for Android mobile application. Therefore, if you are a user on the go, you may not enjoy the convenience of logging into an app and engaging in the video chats. However, all hope is not lost here; Omegle is a mobile-optimized site.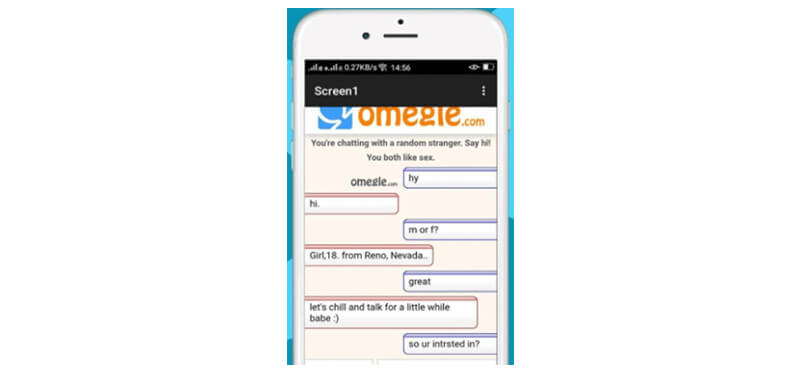 This means that you can log into the Omegle website using your mobile phone. Simply type "Omegle.com" into your browser. You will end up on the website and immediately join a chat. You can choose to bookmark the page for easy access or add Omegle to your homepage.
Membership Options
RATING
3/5
Omegle does not have a fee-based subscription. The site is completely free to use for all. Without upgrading or subscribing, you can engage in video chats and messaging with strangers. Additionally, you can use tags to filter chats.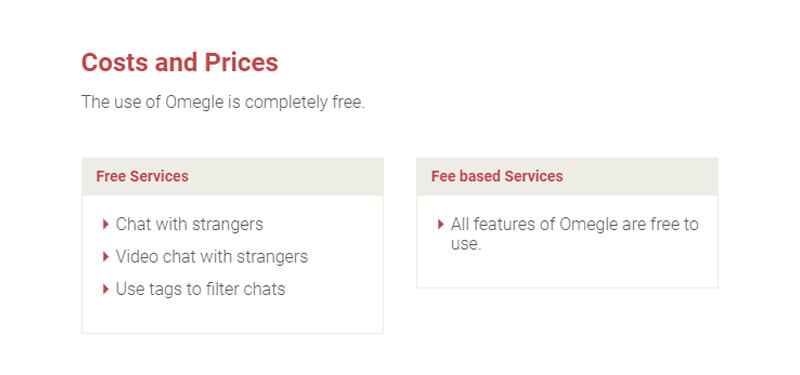 It is refreshing to find that Omegle offers the same services to all users. When you are signing up to this site, know that you can participate in unlimited chats without paying a dime.
The Bottom Line
Omegle is a friendly video chat site meant for teens and adults to interact, make friendships, and create connections. Like any other chat site, you will be talking to strangers. Therefore, it is important to take the right safety precautions.
Most importantly, do not give out your personal details to people you don't know. With the right amount of caution, you can maximize your time on the site and enjoy the conversations!
Frequently Asked Questions
What is the Omegle video chat service?
Omegle is a free online video chat service that allows different people to sign up and interact with others. The chat service focuses on one-on-one video chat sessions where users can chat anonymously under the monikers "you," "stranger 1," and "stranger 2".
How do you join the gay Omegle chat rooms?
To join the gay chat rooms on Omegle, go to www.Omegle.com, and at the very top of the page, you will see a list of available chat rooms. Select "gay chat rooms".
Where can I download the Omegle app?
Omegle does not come with a mobile app, but it is mobile-optimized. This means that when you go to your mobile phone browser and type in "omegle.com," it will automatically redirect you to the site.
Are the Omegle gay chats recorded?
No, Omegle chats are not saved and recorded. If you want to revisit a chat later, you will need to record it yourself or take screenshots of the conversations.
Is Omegle safe for teenagers?
The video chats on Omegle are monitored. Therefore, we can say that Omegle is safe for teenagers to use in this aspect. Even so, users are free to give out their personal information at any time. It is recommended for parents to monitor their children and educate them on self-safety precautions to be safe on Omegle.
How can I access the Omegle lesbian group chats?
Go to www.Omegle.com, and on the categories found at the top of the page, choose lesbian chat rooms. Once you are in the rooms, initiate the group chats through the "group chat" option.
Is the Omegle mobile site easy to use?
Yes, it is. There is no difference between the mobile site and desktop site when it comes to ease of use. The only difference is that you will use your phone for the former and your desktop computer for the latter. The Omegle mobile site also comes with easy-to-use features.
How does Omegle work?
Omegle works by pairing different users together in one on one chat sessions. The users are referred to as "you," "stranger 1," and "stranger 2". Users can engage in a variety of video chats.
Omegle vs Chatroulette: Which is better?
Both Omegle and Chatroulette are free video chat sites. Additionally, both come with the same camera features and encourage their users to make connections by engaging in video chats with strangers.
However, the differences come in where Chatroulette only focuses on video chats, while Omegle offers video and text-based chats. In addition to this, Omegle users have reported several system errors from time to time, while Chatroulette users never encounter these problems.
According to the Chatroulette website review, users do not enjoy location-based filters as they do on Omegle. So, both websites are different in their own way, and only you can decide which one is best according to your needs.
What is the Omegle customer support number?
Omegle does not have a traditional customer support service. It does not provide a customer support number where users can get in touch with them. Instead, it urges its users to go to https://www.omegle.com/ and leave a feedback in the site's messaging system.