What's Your Price is a dating site that does things very differently to others.
And yes, there is money involved as you'd probably guess by the name.
At this point, we are not going to get into just what that difference in but it suffices to say that it's an approach that defines two distinct groups of users on the site.
Interested in knowing more?
Well, this all-encompassing review of What's Your Price is the perfect place to start, because you find out:
And that's something I am sure you want to know, right?
So what are you waiting for then? Let's find out if you can find someone for a relationship (like eHarmony or Tinder), or casual hook-up (like BeNaughty or Ashley Madison).
Is your dating app giving you the best chance for success?
Make sure to take our online dating site/app quiz to find out.
People who follow our dating site suggestions have on average 2 more dates per month.
Post 9 of 17 in the Individual Sugar Reviews Series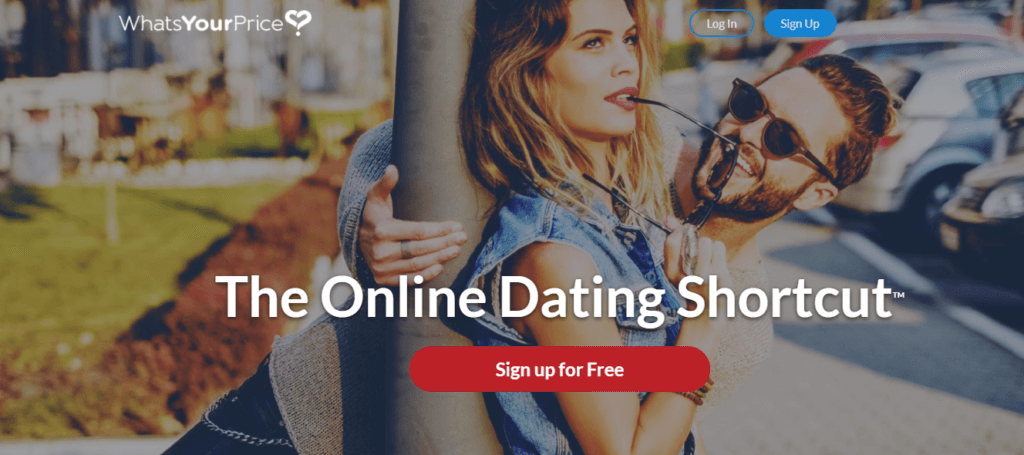 Ease of Use 5/5
Effectiveness – 3/5
Key Features – 2/5
Pricing – 3/5
Such an easy website to use
It's stunning to look at too
Large user base
No real key features
It's pricey

Who Is It For/Demographics?
Ok, so I am going to cut right to the chase.
Because I am sure you want to know just how What's Your Price is different and who makes use of it.
Well, it's different because instead of waiting around for someone to get back to your messages, like on regular dating sites, here you pay for the privilege of going out with someone.
It's a concept that's been done before with other sites but it seems to be quite popular with the users of What's Your Price of which there are two distinct groups.
Generous members: Those who are paying to date someone on the site
Attractive members: Those who are receiving to go on a date with someone
The thing is male and female users can form part of any one of these groups.
On the whole, the generous members are those of us who are tired of waiting for others to get back to them when using other dating sites.
So they've taken another plan of action.
And attractive members are those who don't mind receiving some money as part of preparing for a date, looking their best so to speak.
Note, this is not an escort service and that's strictly policed by site admins.
A look at the numbers associated with What's Your Price
So while this dating site clearly goes about things very differently, how does that affect user numbers?
Well, What's Your Price is not a new site.
It's been around since 2010.
In that time, it's grown appreciably from humble beginnings with most of the users based in the United States but you will find them all around the world
Here are some facts and figures to consider about What's Your Price:
Around 4 million users have signed up for the site
Close to 500 000 users come from the United States
To date, there have been over 7.5 million bids place on first dates alone on the site
200 000 successful dates have taken place, all arranged through the site
Around 50 000 users are active on the site each week
That's 7 000 per day and 200 000 each month
Depending on where you live the price of first date offers changes significantly
The national average of a first date offer in the United States is around $125
User ratios on What's Your Price
When it comes to users, for the most part, young females are those who are accepting bids for dates and older males are those who are making those bids.
That's a general rule of thumb that you can follow on this site.
When you look at a user ratio breakdown, it's not quite 50/50 but it's not that far apart either.
60% of the users on What's Your Price are male
40% of the users on What's Your Price are female
That doesn't mean it's a 60/40 split when it comes to the two member types: generous and attractive.
Remember I did say that males or females can come from either group.
So with that background information into site demographics, let's talk a little about how you would go about setting up a profile on the site.

This is a website-only online dating portal, you won't find an app for it on the Apple Store or the Google Play Store.
While the site works differently than most, the signing up process is still pretty simple and starts with a two-step process.
The first part requires the following:
Your valid email address
A secure password
You can speed it up even further by using your Google account to log in if you'd like.
The second part of the process requires the following:
Your gender (either male or female)
If you want to make bids or receive bids on dates
What gender you are interested in meeting (men, women or both)
Your display name
Your location
Your birthdate
Following that, you are taken straight to the site although you cannot do anything until you click on the link you will receive in your inbox.
Dating sites that choose blue as their primary color always make an immediate impression on me.
It just looks so neat, clean and inviting.
What's your price has gone with a royal blue and white as their primary colors and they really work.
But's it's not only the colors of this website that make you want to spend time here.
It's the overall design too.
It's just about perfect.
From the moment you hit the home page for What's Your Price, you are presented with profiles of other users.
And each of them has large profile pictures which I like too.
Navigating your way around What's Your Price
The uncluttered design of What's Your Price can be seen in the menu system you will use to navigate the site.
There are only four main menus.
These are:
Search
Favorites
Offers
Messages
Search, favorites and messages are self-explanatory, right?
I don't need to go into any great depth to explain those to you at all.
But what about offers?
Well, remember this is a site where you make offers to matchups that you'd like to take on a date.
And this is where you can track them easily enough.
If you ever want to return to the home page from one of these menus, click the What's Your Price log on the left-hand side of the menu bar.
You can find a link to buy credits as well as access your profile on the top-right-hand side of the screen.
There are a few sub-menus here as well that you should know about.
For example, you can manage your profile, upload photos, change settings, contact support and see your credit purchase history.
Speaking about your profile, you will need to complete it before you can make any offers on the site.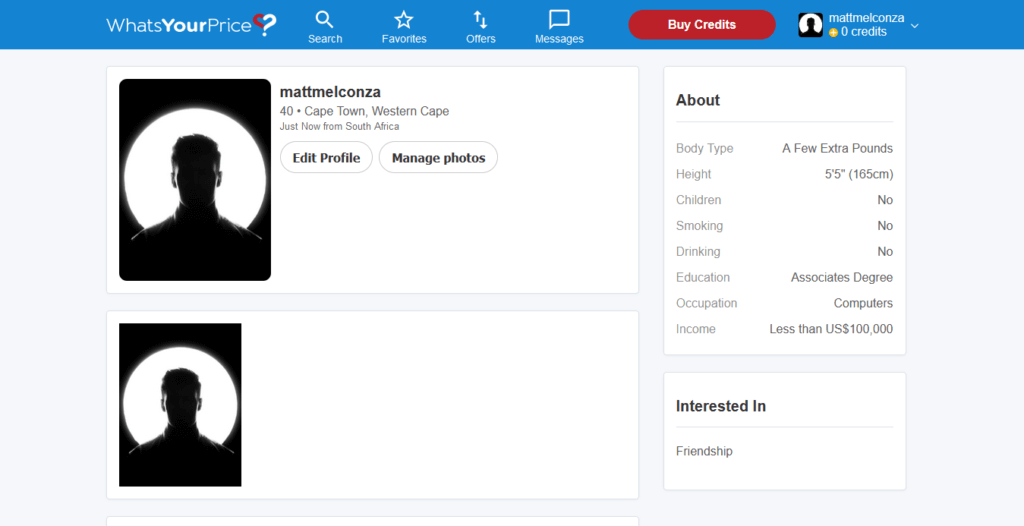 Your What's Your Price Profile
Profiles on What's Your Price aren't that informative.
But there is enough here to help you find out a little more about someone that you might like to make an offer on or to see if you should be accepting an offer from them.
So what information are you going to have to provide?
Well, you have to provide:
Your height
Body type
What you are looking for (there are six options here including dating, casual hook up, long-term, discreet affair and friendship)
Your education
If you have or want children
If you drink
If you smoke
Your occupation
Your income
A section to describe yourself
A section to describe your ideal first date
And that's all there is to it.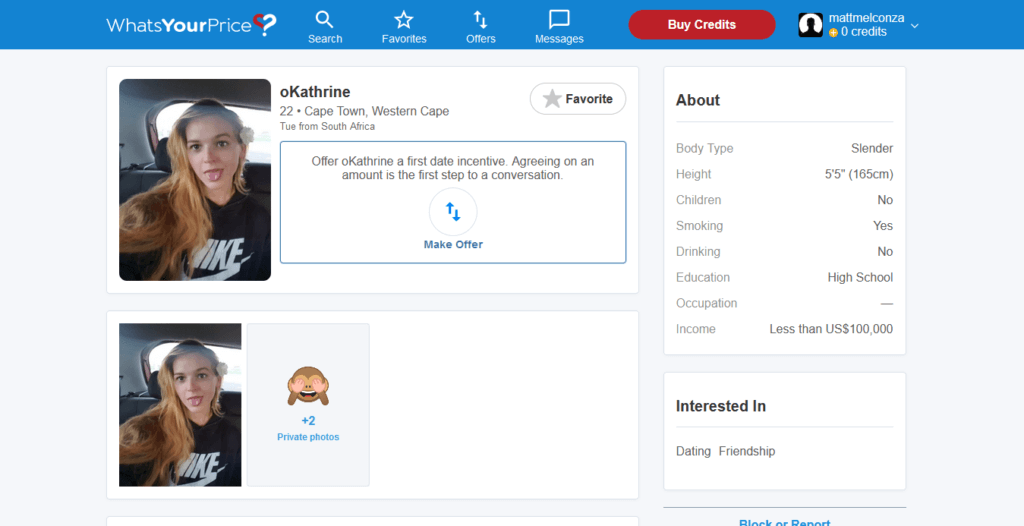 So let's get onto how the site operates and how effective it is.
We've already talked about how different it is from other dating sites.
And yes, if you are a man, you can certainly try to get people to take you out on dates.
But it's more the other way around.
And that's males bidding to take female users, many of them younger than themselves, on a date.
It's got a bit of a sugar daddy/sugar baby feel to it, that's for sure.
Searching for a potential date on What's Your Price
So how do you go about trying to find the right kind of date on the site?
Well, you have a few options.
First, let's start with the home page.
From the moment you log into the site for the first time, you will be presented with all the new members that have joined up on the site.
These new members are also near your location, so it's not a bad place to start your quest.
Under the new members, you will find other users that are also near your location and who have been online in the past day.
This is also another place that's worth checking because you know that these users are active on the site.
Of course, you can click the search button as well.
That will give you a bunch of matchups that are close to your location.
You can then filter these by:
Recent activity
Newest members
Nearest to you
Now, it's not immediately obvious, well it wasn't to me anyway, but you can refine this search even more if you'd like to.
On the right-hand side of the returns, you will see a filter option.
If you click on that, you can adjust the following parameters:
Distance from you (from 10 miles up to unlimited distance)
What they are looking for (dating, friendship, long-term, discreet affair and more)
Their age range
Their height
If they smoke
If they drink
If they have children
Their body type
Their education
The best thing about these filters is that they are available for all users.
And they can be used to find pretty specific matchups if they exist near you of course.
Making contact/bidding for a date
As a male myself, I had not one bid to go out on a date with me while I tried the site out, so I am not sure how that whole aspect works.
I can only talk from the point of view of trying to bid for a date with someone else.
And it's a pretty interesting procedure.
For example, bid too low and you are going to be ignored or outbid by someone else.
It's a bit of a balancing act and one that you have to learn how to play, that's for sure.
But that's for you to explore, right but remember, a minimum bid is $5 and the average bid to get a date in the United States is $125.
That's not cheap at all.
Also to make these bids and to message other users to negotiate, you will need credits.
That's the currency that runs the site.
There are no membership options here, only credits.
Don't forget What's Your Price says that most members have secured their first dates after having been on the site for only three days?
Marketing mumbo jumbo?
It could be but at the end of the day, it all depends on how much you are willing to spend to go on a date with someone.
The ball is truly in your court.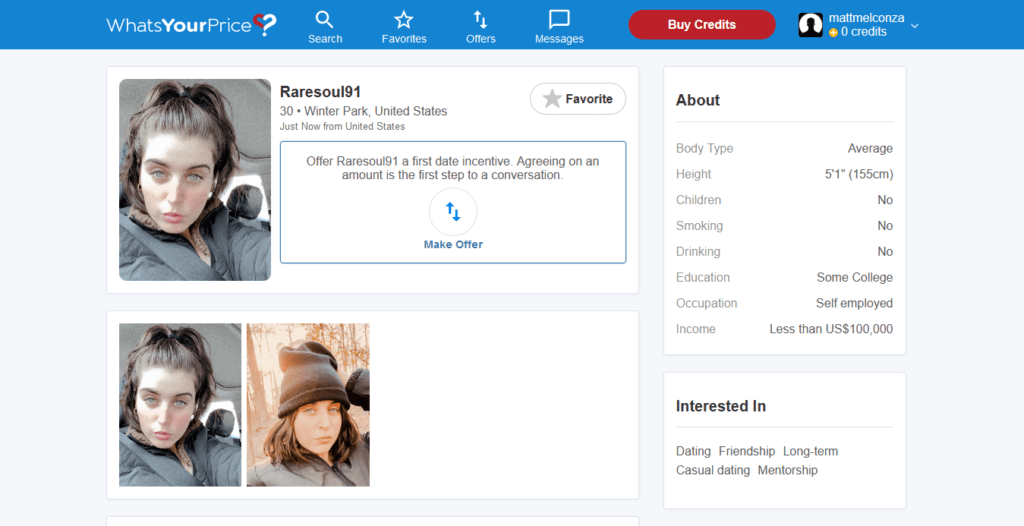 So without membership like many other dating sites have, are there key features that you should know about on What's Your Price?
Well, the answer here is no.
There are no features at all on this site.
Other than placing a bid to go out on a date with someone, or accepting it, if someone wants to date with you, you can favorite someone's profile if you'd like to come back to them at some point.
You can view all the photos of members as well, except their private photos.
They will have to give you permission at some point if you'd like to view those.
The same can be said for your private photos.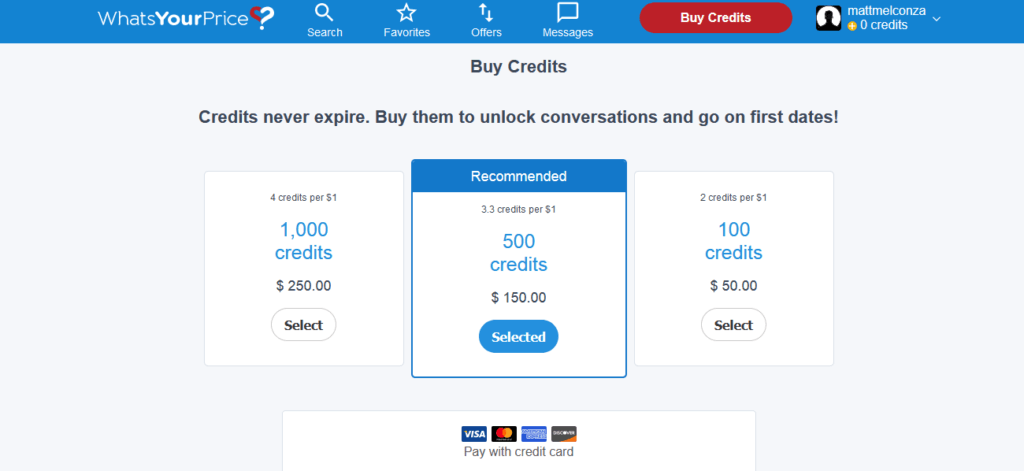 So let's talk about pricing.
The site runs on credits and that's what you will need to buy should you wish to use it properly as a way to find a date.
The great thing about these credits is that they never expire, so it's something that you can build up over time if you'd like to.
When it comes to buying credits you have three different options as to the amount you can purchase.
They are:
100 credits for $50 (2 credits for every $1)
500 credits for $150 (3.3 credits for ever $1)
1 000 credits for $250 (4 credits for every $1)
Obviously, the best value-for-money here is the 1 000 credits, but it's certainly not cheap.
$250 isn't chump change.
On the whole, these credits are pretty expensive, but with no other membership options, you are going to need to purchase them to try the site out.
Although it provides the least credit to dollar ratio, I would suggest initially that you buy just 100 credits first up to try the site out and see if it is going to work for you or not.
As for payment, there are two options for you.
You can either pay with your credit card or if you'd prefer not to, opt for PayPal instead as that's a supported method as well.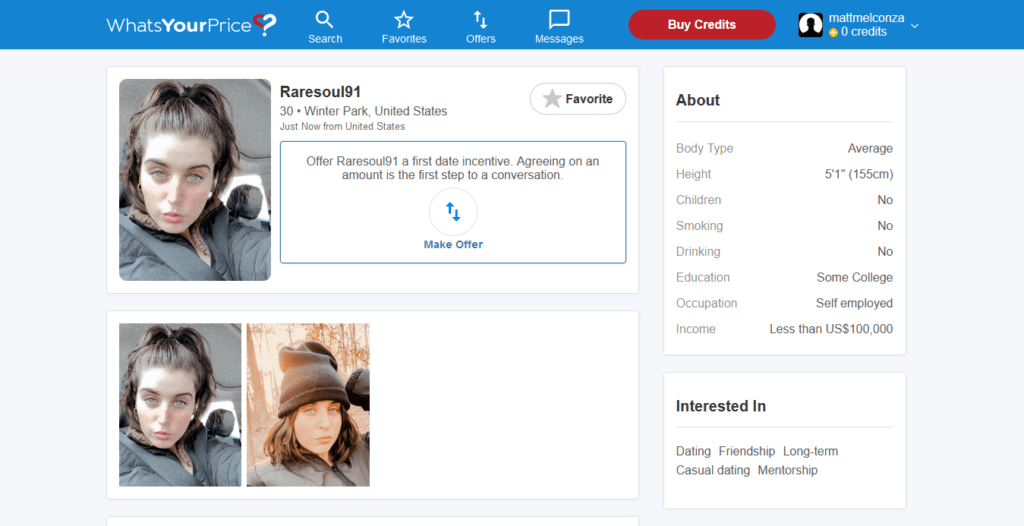 Conclusion and Overall Rating
It's always nice to come across a dating site that does things differently and without a doubt, What's Your Price is that type of site.
It's not the first to use a system where you bid to take people out on dates and it won't be the last.
But it certainly pulls it off!
During my time on the site, I came across over 250 potential matchups near my location.
Most of these, however, were in their early 20s and as I said earlier, that does give the site a bit of s sugar daddy/sugar baby feel.
But there's nothing wrong with that, especially if you are a male who wants to date a younger woman or you are a younger woman that doesn't mind dating older men.
Perhaps my favorite thing about the site, however, is just how easy it is to use.
From registering as a user, filling in your profile and then searching and connecting with a potential date partner, nothing could be easier.
The design too is spot on.
Uncluttered, uncomplicated, no ads and super-efficient.
That's the best way to describe What's Your Price.
Of course, for me, there are one or two things that could improve.
Perhaps those behind the site could find a way to make it work with a membership option instead of using credits.
If that's not possible, then the pricing structure could be rethought because at the moment, it's pretty expensive.
So let's get onto an overall rating then.
Today, What's Your Price gets 3.25 out of 5.
It would have been higher if the pricing on credits wasn't so expensive and if the site had a few more key features.
I would really suggest you try out the site and see how it works for you, especially if you don't have a problem with the overall pricing model.
Do you have any other questions about What's Your Price?
Be sure to leave us a comment below and we will get back to you to answer them as best as we can.
Thanks for taking the time to read our review.
Frequently Asked Questions