Established in the year 2000, Habbo is a social networking cum virtual gaming site. While the site was initially meant to attract teenagers into an online experience like no other, it has gained traction and attracts teenagers and adults alike.
The thought of dressing avatars in the way you want is exciting for people of all age groups. Thus, it is safe to say that nothing is impossible on Habbo.
Habbo does not market itself as an exclusive dating site, but it has a dating section where members can interact with each other and send their avatars on dates. These virtual dates have turned into real-life dating experiences for some members. Want to know more about this unique platform? Read this Habbo review.
Pros:
Free to join
Free messaging features
Large member database
Many free games available
Avatars that make the site exciting
Cons:
Has minor members who should not be part of dating experiences
Member Information
As a platform that was established two decades ago, Habbo has garnered over three million members through its existence. While there are members from all over the world on board, Habbo boasts 700,000 members from the United States alone.
I found that the site reports up to 45,000 new sign-ups every month. The male members (62%) on the platform outnumber the females (38%). As Habbo attracts both teenagers and adults, I encountered many teenagers using the platform because of its virtual gaming nature, while the adults preferred to go on virtual dates.
This shows that Habbo carries self-disciplined members. If an adult runs into a teenager in an adult-only part of the site, they have the right to report the teenager.
Although Habbo comes in a desktop and mobile version, most of the members (including myself) gravitated towards the desktop version because it is jam-packed with features. Playing the games on the desktop is much more convenient than on the app.
Sign Up Process
RATING
4/5
Habbo comes with free registration for all members. You can choose to either sign up through your mobile phone or desktop. I found the latter more appealing. All members should be 13 years of age and above to sign up.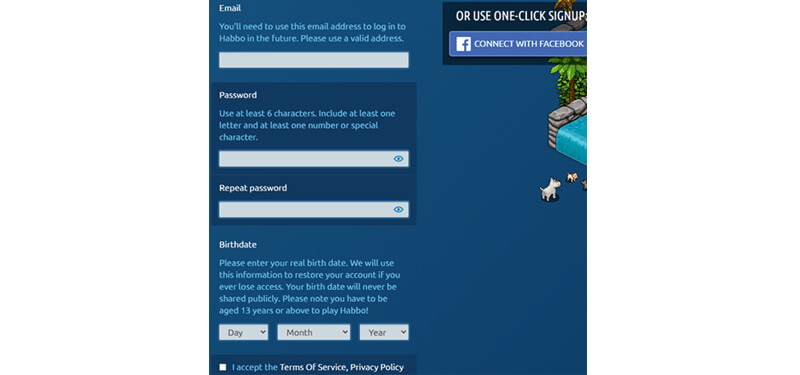 I was asked to sign up using my Facebook account, Google account, or Microsoft account. Signing up with Facebook was the easier option because all my details were automatically transferred to my Habbo account. However, I found it better for parents to monitor minors when signing up.
Contacting People
RATING
3.5/5
Habbo members can contact each other through chat messages or discussion rooms. When I joined the chat rooms, I was able to view everyone's messages and they could do the same with mine. However, whenever I needed a little privacy, I engaged in private chats with other members.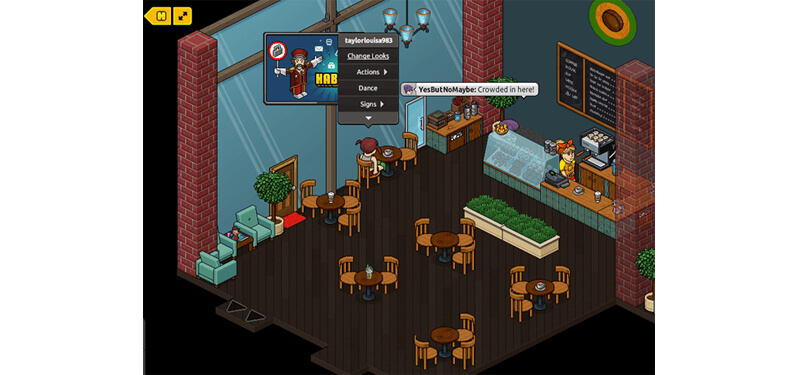 However, some of the messages that I received contained inappropriate content. The site does not have strict guidelines regarding what users can and cannot send.
If you do not want to engage with a sender, you can report them to the site's administrators, and they will be banned from your friend list. Habbo also has a messenger that acts like other social network messengers where you can send messages to members, whether online or offline.
Profile
RATING
3.5/5
After signing up for Habbo and verifying my valid email address, the site redirected me to my active profile.
OFL Top Recommendations based on 100,000+ Survey

"Serious Relationships"
"Discreet Hookups"
"Best Course for Men"
"Quick Flings"
"Normal Hookups"
"Our Quiz"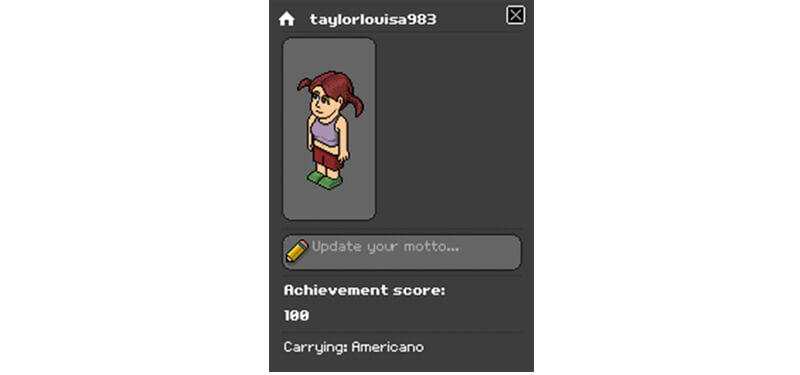 Managing my profile information and privacy settings was relatively easy. Apart from the general information on my profile, some options enabled me to dress up my avatar, design my home, flaunt badges, and invite others to my relationship board.
Mobile App
RATING
3/5
Habbo comes with an app version. But even so, most of the members prefer using the desktop version. Provided you have an iOS or Android device, you can download the app.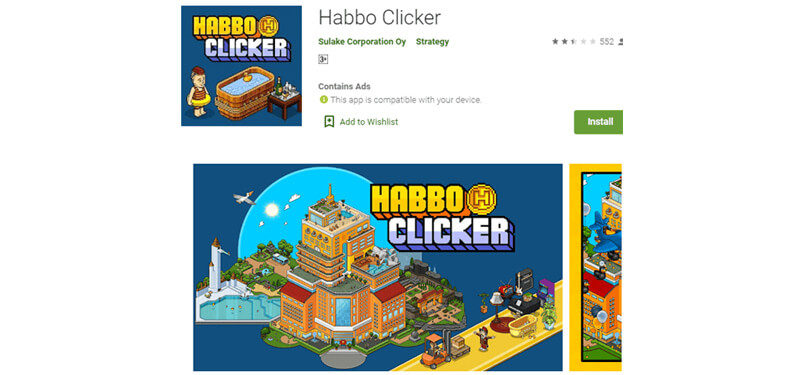 Unfortunately, the app does not come with push notifications, and updates are done only when you are online. Since the app is of landscape orientation, your phone needs to be tilted when using it.
Membership Options
RATING
3.5/5
Habbo is a free platform for all members. But if you are looking for extra perks and features, it is best to subscribe to the fee-based version of the site.
This is Habbo's membership pricing and comparison: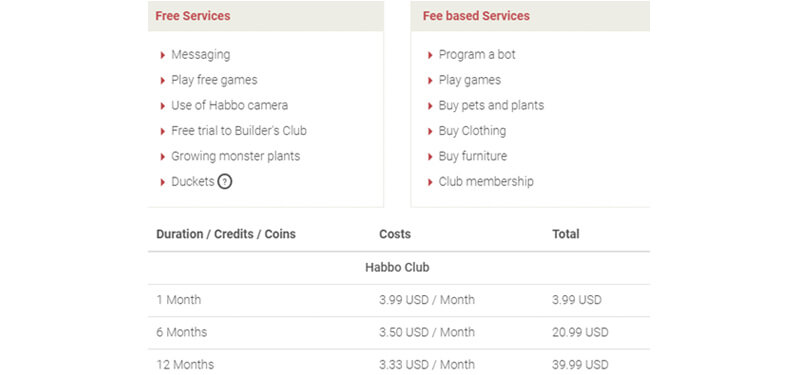 For $3.99 per month and $39.99 for a year, Habbo is an affordable site if you can cough up the change. With a free subscription, you can send messages, play free games, and use the Habbo camera.
However, with a fee-based subscription, you can do all these things and play paid games, buy clothing, buy furniture, and earn a club membership.
It is up to you to decide whether you are comfortable with the free account or if it's worth upgrading to earn some extra features.
The Bottom Line
Habbo is an exciting platform where you can date and enjoy experiences like virtual games and interactions. However, the fact that there are many minors around may cloud your dating experience.
If you can overlook this, great! But if the younger demographic is too much of a barrier, it is best to consider other dating platforms.
Frequently Asked Questions
How do you download Habbo for Android?
Habbo is a chatting and role-playing app that can be downloaded from the Google Play Store. To download Habbo for Android, follow these steps:
Step #1: On your device, go to the apps section.
Step #2: Click on Google Play Store, and the app will open.
Step #3: In the search box, type in "Habbo app," and an array of app options will appear.
Step #4: Select "Habbo – Virtual World," as this is the app option that will appear.
Step #5: Click on the "install" option, and the app will automatically start downloading on your Android phone.
Step #6: Once the download process is complete, open the app, and enjoy!
How do you contact the Habbo support team?
As a Habbo user, you can contact the support team when you have problems with your account, when you encounter a user who makes you feel uncomfortable or encounter inappropriate images or content in a group format. The best way to contact the support team is by going to https://help.habbo.com/hc/en-us/requests/new and submitting a ticket, as this assures you the quickest response. You can also call the support team on this phone number: 1-800-833-634.
Can you use Habbo free of charge?
Yes, you can. Habbo is free to join, and if you wish to sign up, you can do it without paying a dime.
How do you delete Habbo account?
Log into your Habbo account with your username and password.
At the top right corner of your homepage, click on the grey cog, and this will lead you to the settings section.
On settings, go to "character settings."
Click on the "privacy" tab.
Scroll down to the bottom of the page until you come across the GDPR menu.
Tick the "right to erasure" box.
Answer the safety questions accordingly, and your account will be marked for deletion.
What are the benefits of the Habbo chat site?
Habbo is an exciting virtual world experience that comes with the following benefits:
A diverse, worldwide community
A free to sign up offer
Great visual appeal
One-on-one games
Numerous discussion groups