If you love casual dating and online hook ups, you'll be thrilled with Fling Dating Site
But just how good is it?
The best way to do that is to see:
OFL Top Recommendations based on 100,000+ Survey

"Serious Relationships"
"Discreet Hookups"
"Best Course for Men"
"Quick Flings"
"Normal Hookups"
"Our Quiz"
Rest assured, by the time you have completed this all-encompassing Fling Dating Site Review, you will know if it is the website for you to use or not.
When it comes to covering those bases online, Fling claims to be one of the biggest dating sites on the planet.
Is your dating app giving you the best chance for success?
Make sure to take our online dating site/app quiz to find out.
People who follow our dating site suggestions have on average 2 more dates per month.
Fling Review in Video Form
Audio (podcast) form for those of you on the go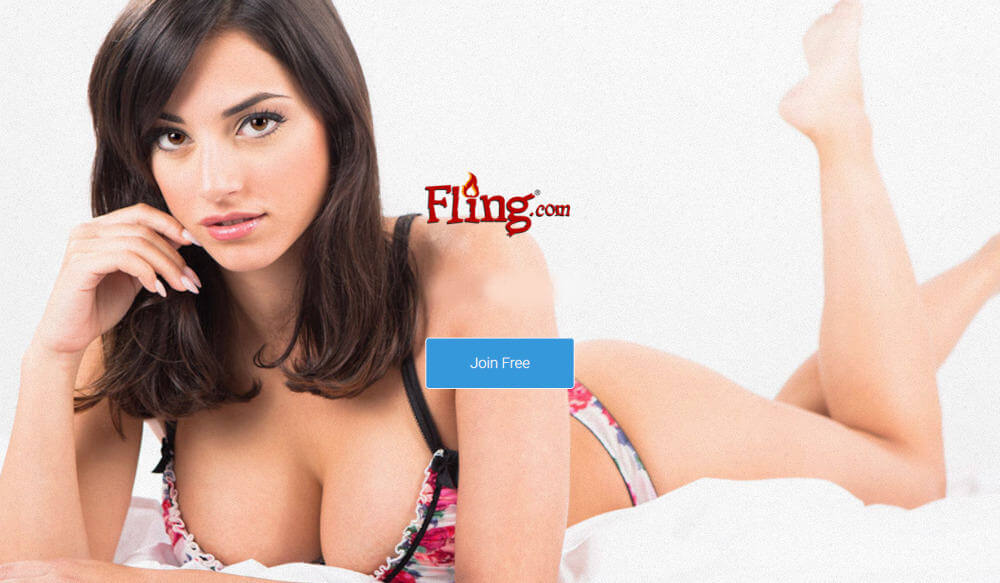 Effectiveness 2/5
Ease of use 3/5
Key features 2/5
Price 3/5
You can have a profile up and running in a matter of minutes
Lots of features for paying members
There is an excellent mobile version of the site for those who prefer to use their phones instead of a laptop
Includes a block mode for porn
There seem to be many fake profiles on Fling as some of the messages you receive from potential matchups are very similar.
Fling doesn't get particularly good reviews online and a simple search will find lots of users saying it's more of a scam than anything.
In their terms and conditions, Fling openly says "your profile will be shared with other dating and "hook up" websites which contain members of the site".
Not a site for the faint-hearted and you may use that block mode more than you thought possible
No app available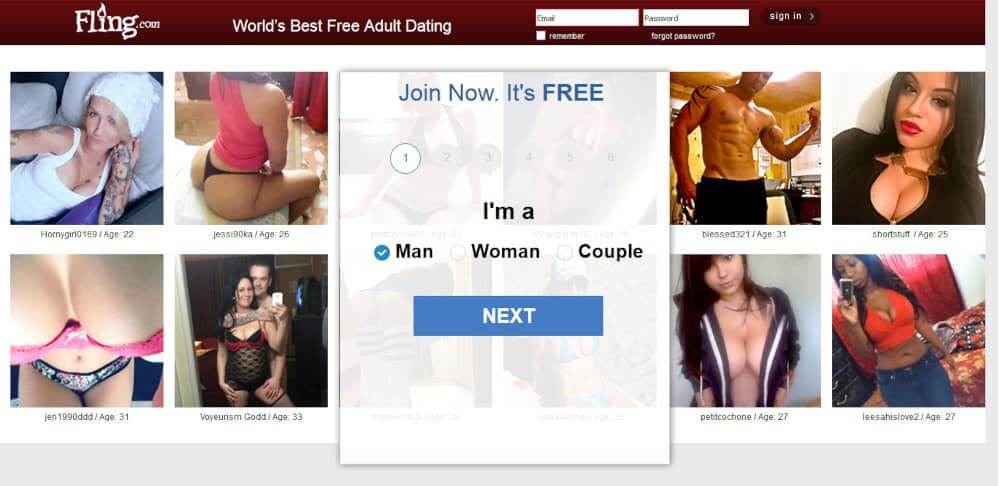 This is purely a site for people who want to meet others for a quick hook up or for casual dating.
It's pretty blatant about it as well.
You probably not going to sign up to Fling to try to find Mr. or Mrs. Right!
It's aimed at men and women of all races, ages and orientations.
Fling isn't new either.
It was first established in 2006 and claims to be one of the best free casual dating sites in the world.
A breakdown of user numbers
While Fling might claim to be one of the biggest casual hook up sites on the internet, do the numbers justify those claims.
Well, as you would probably expect, and seeing that Fling has been operating well into its second decade, it does seem that the number of users that Fling claim would be pretty close.
Of course, all of these dating sites do embellish a bit about their total users, that's for sure.
But here is a breakdown of important figures in a few key areas.
Fling claims to have well over 10 million users worldwide
In the United States alone, the numbers of users are around 3 million
It's big in Europe, especially the United Kingdom where around 1.2 million users can be found.
Those are some impressive figures, that for sure.
But you can bet your bottom dollar that those are not active users.
In fact, during the research that I carried out for this review, I found that in terms of active users, the numbers fall.
But still, each week Fling has 100 000 and above active users on-site trying to land a match for that perfect hook up.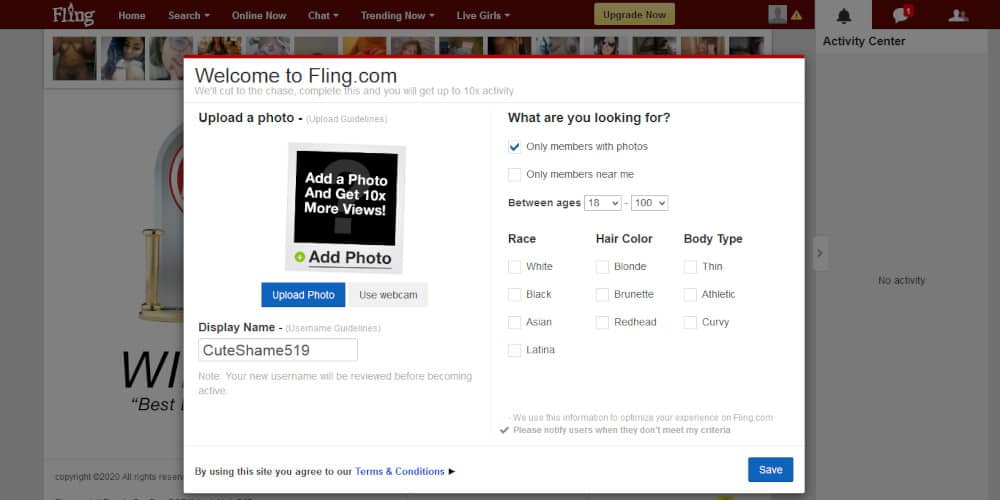 So here is a question.
Can you guess if there are more males or females that use Fling?
Yes, that's right, it's more males.
And a lot more of them.
The ratio is more than double with just women making up 30% of the users on-site and males making up the rest.
But what about a look at the user base in terms of the most popular age groups?
That breakdown is as follows:
25-34 years old
35-44 years old
45-55 years old
18-24 years old
55 and older
So there you have it, all the information you need to know about just who is using Fling.
While this is critical information in helping you to find the right dating site for you, finding out how effective a site is in landing you a match is far more critical.
That's what we will be looking into next.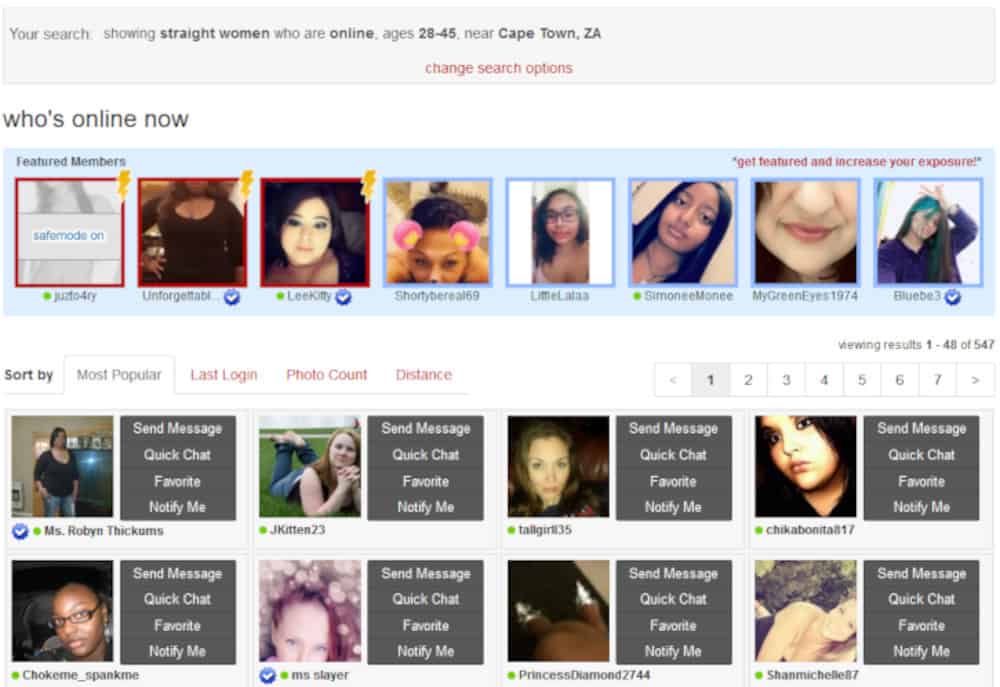 Once you've set up your account, loaded your profile picture and filled in all the information that you think is necessary to help you find that matchup, it's time to get the ball rolling.
Finding a matchup is the primary function of a dating site, right?
So how does Fling fair in helping you find that casual hook up?
Well, it's very hit and miss.
But why do I say that?
Fling claims to have millions and millions of users, so in reality, it should be pretty easy.
It should be, but there's just way too many things that annoyed me when trying to find someone to chat with.
So the main thing that frustrated me from the start was the fact that immediately I received notifications of people who looked at my profile, asking for more pictures and more.
So how's that a bad thing?
Well, I don't think they were real.
In fact, I am sure they were bots because I tried sending them a message and nothing came back.
This wasn't just with one profile but a few.
That said there were other people that I chatted with so yes, it's not just bots or fake profiles online at Fling, although there are plenty of them.
Also, while researching Fling, I found many stories of people complaining about the same thing.
Some even were given personal email addresses to contact a potential matchup offline and never heard from them again.
Others said that they'd seen the same profile appear but for different parts countries and in more than one city.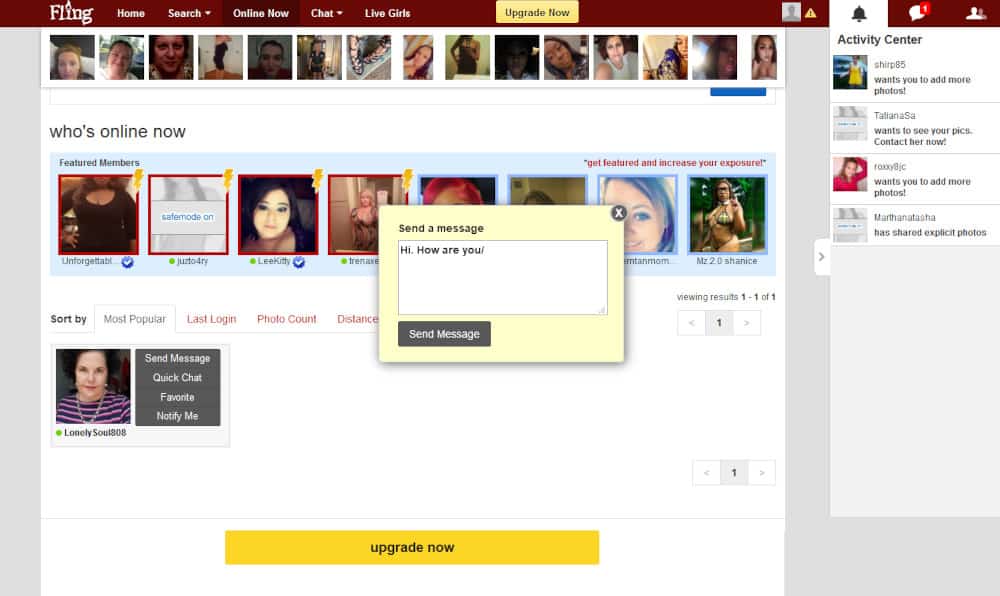 If you find someone you'd like to chat with, well you are going to have to try the membership option to do so because there is no other way of contacting someone.
Also, some users aren't shy to flaunt what they have, so there is lots of nudity on-site and much of it is full-on.
There's nothing new here when it comes to searching for a potential matchup.
Fling offers all the regular search parameters you would expect from such a site.
The basic search includes:
Your preferred gender
Your preferred age range
Sexual preference
The country you'd like to search in
The advanced search offers a load more options including:
Appearance (eye color, body type, hair color, race)
What they might be interested in (experimenting, threesomes, flirting, meeting up, etc_)
Compatibility (religion, languages, marital status)
Professional (profession, income)
There are lots you can fiddle with here to refine your search exactly as you want it and to hopefully turn up profiles that are worth your while looking into.
Of course, people might be looking for matchups and you pop up into their searches.
If someone has viewed your profile, added you as a favorite, or has contacted you, it will appear on the right-hand side of the screen in a section called the activity center.
If they have, you can click on their name and view their profile or even start to chat with them.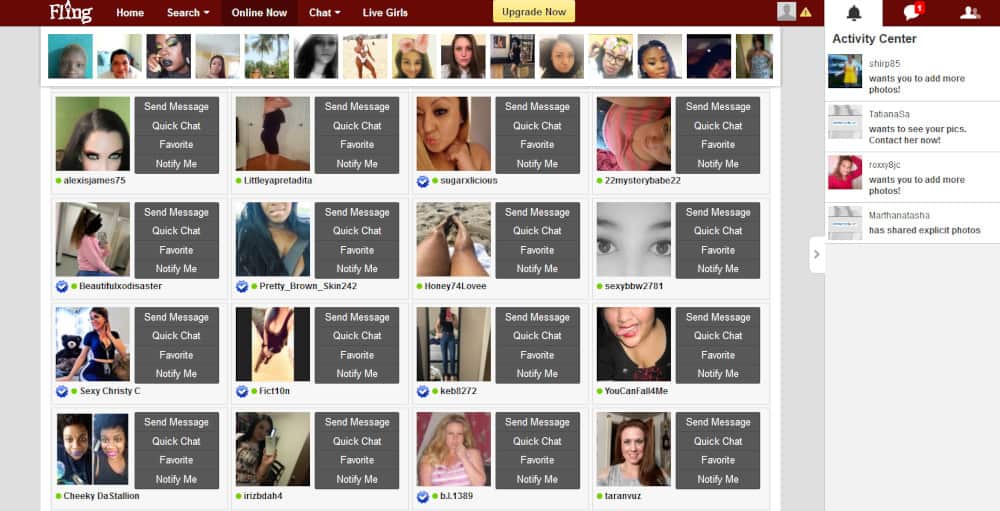 As a paying member of Fling, what key features are offered to you over and above the ability to send and receive messages from potential matchups?
Other than the message system as a way of connecting with a potential matchup, you can also talk to other users in chatrooms.
If you'd like to video chat with a matchup that you have found, there is that option available to paying members.
Of course, many people use video chat in more ways than simply getting to know each other.
One of the advance search options allows you to look for members that are open to video chatting as well, so it's not too difficult to find someone that will want some cam time.
What's the Fling guarantee I hear you ask?
Well, for paying members Fling promise that if you cannot find the matchup you are looking for in three months from having signed up for a membership, they will give you another 3-months free to continue looking.
Personally, if I was in that situation, I would want my money back. If you haven't found someone in three months, what are the chances of another three months helping you to do so?
While you might wonder why a website like this needs a game, there is some method in their madness.
In the "Who's Cute" game, you rate the profiles of other users on Fling.
But what do you get out of it?
Well, the more profiles you rate the more visible your profile becomes.
And if you are rated highly in return in the "Who's Cute" game, you become even more popular.
So it's a freeway of boosting your profile, plus you get the chance to look through potential matches.
For the more risque users, there is the premium content option.
No, this isn't receiving anything from Fling, but more you contributing towards Fling and supposedly getting paid for it.
Users that contribute premium content to the site aren't scared to get naked and post pictures or videos.
Yes, Fling even has a sex shop where they have partnered with an online adult retailer
Here you can buy all manner of goodies to spice up your life including wearables, toys, DVDs and more.
There are often excellent discounts for Fling members as well as other special promotions.
Fling also offers live cams off-site.
It's a separate service that you would need to sign-up for, however as the Fling's member fees won't cover a session with a cam girl.
You are free to see some preview pics of previous shows as well as learn a little more about each cam girl without paying extra money.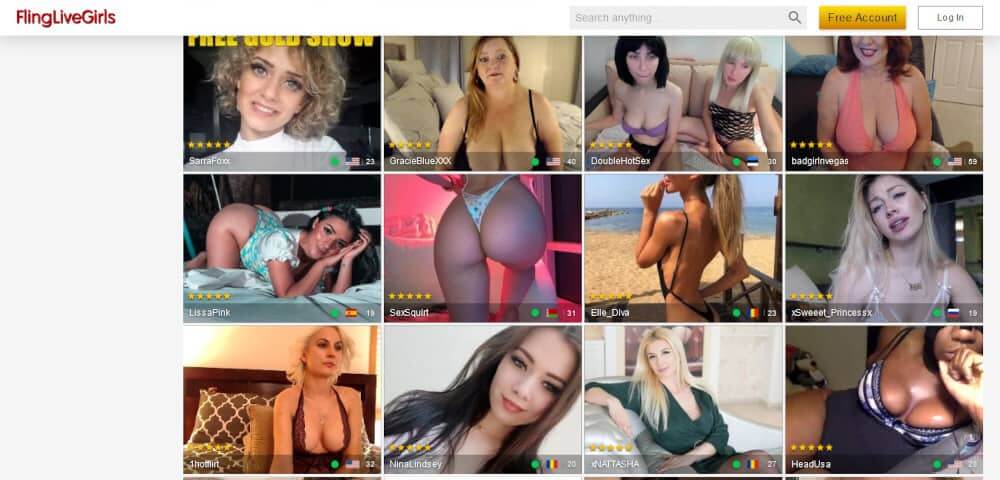 Just how easy is Fling to use?
If I am honest, my experience didn't start that well.
I set my account up with all the usual information that a website like Fling needs.
So that's:
Your location
What you are looking for
Your age
Your email address
Then I waited for the verification email and clicked on it as soon as it landed in my inbox.
But then I could not log into the site.
It kept on giving me a username/password error.
After clicking the forgot password link, I changed my password but still wasn't able to log in.
Nothing I did worked, so I gave up and tried with my secondary email address.
That worked right away and I could use the site.
What happened the first time, I am not sure.
Remember: When signing up for Fling, you are going to have to provide proof that your photo is really you.
This means uploading your profile pic as well as another (either from an identity document or taken with your webcam).
If you don't do this, you won't be able to access your account after a period.
Once you have done this, you can then change your profile picture to whatever you want.
When you've seen one, you've seen them all
Dating sites are all the same, right?
When you've seen one, you've seen them all, that's for sure.
Other than a change to their layouts to help make them a little different from each other, they all pretty much work in the same way.
I found Fling easy to navigate and didn't have to scratch around to find anything I was looking for.
It has menus at the top of the screen where can search for other users, access the chat, view the live cams and more.
Also, if you want to access your profile, a simple click on your profile picture takes you there.
You are then free to make any changes you want, quickly and easily.
On the far right of the page, you find the Activity Center which alerts you to any activity regarding your profile and other users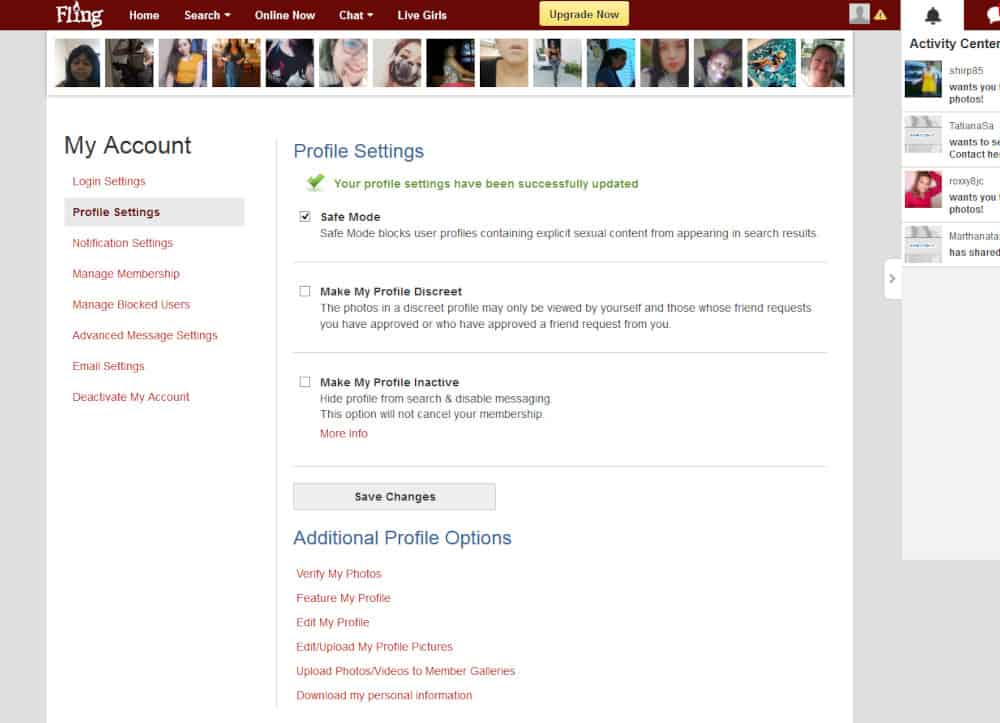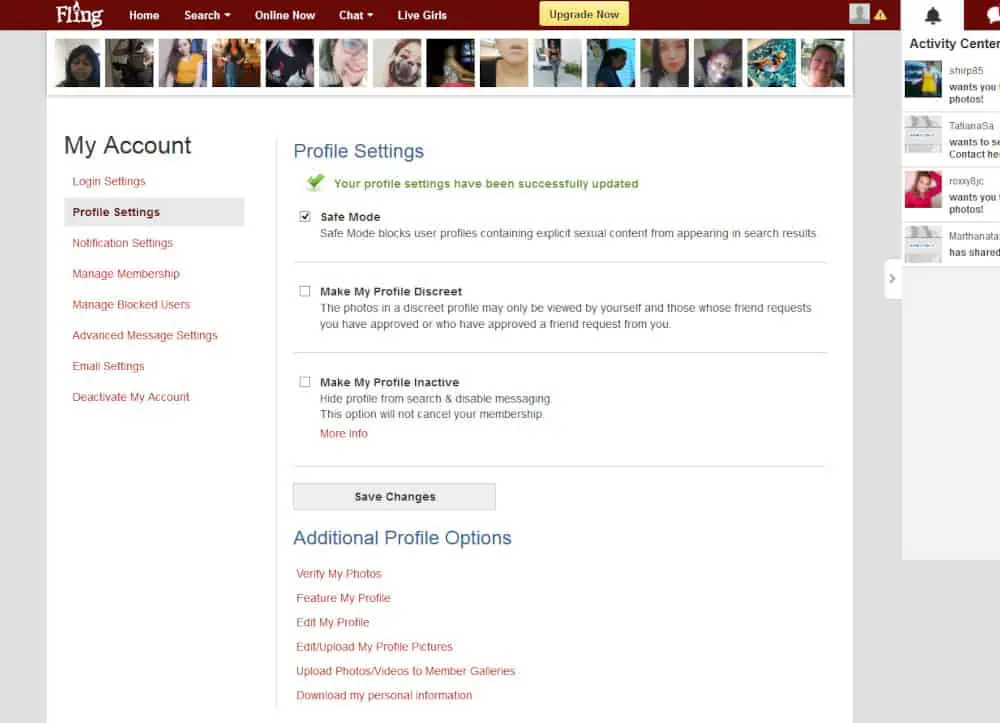 Setting up your profile can be as quick and easy as you like or you can take your time to fill in all the fields that Fling provides.
I, for one, like to give as much detail as possible to a potential matchup, and filling my profile in full took about 20 minutes.
Over and above the regular sections regarding your appearance and age, there are some other bits of information that are optional including:
What they might be interested in (experimenting, threesomes, flirting, meeting up, etc_)
Compatibility (religion, languages, marital status)
Professional (profession, income)
Even though it has been around for a decade and a half, Fling doesn't have a mobile app on either the Google Play Store or the Apple iStore.
Just a word of warning, if you do search for a Fling app on either of those two platforms you will come across something with the same name.
This is not related to this dating website at all.
Fling offers mobile browsing, however, so if you want to use your smartphone to look at some matches while you commute into work, it will work perfectly.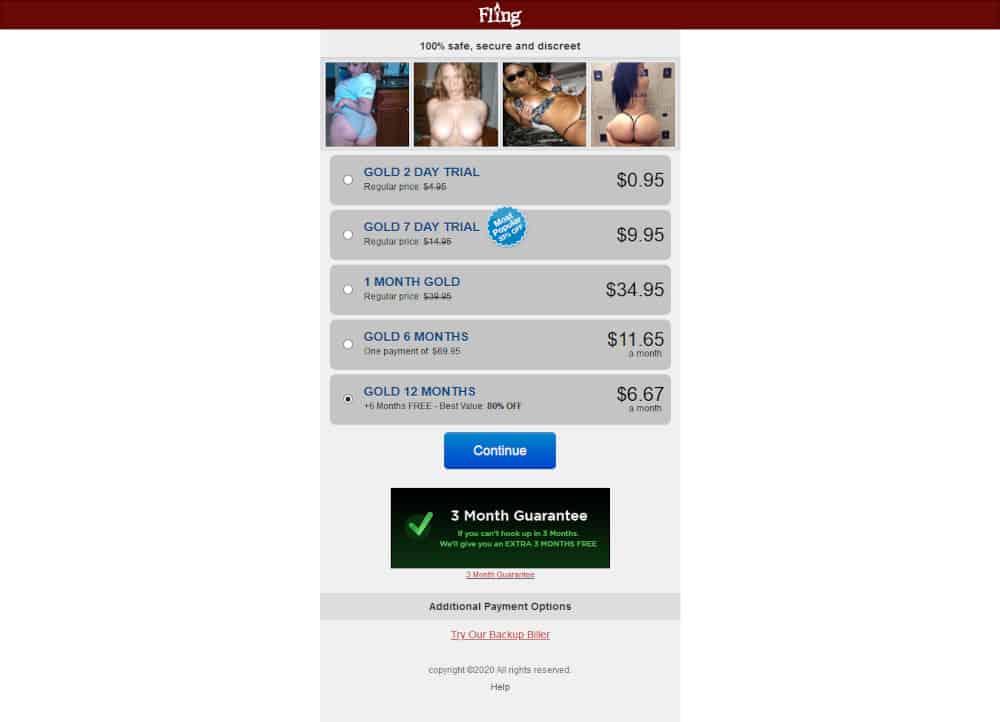 So here's the news that you probably knew was coming.
As a user that's just signed up, actually making contact with someone to chat with them is impossible.
Fling is no different from any other dating site out there, from the poshest to the oldest and also the newest.
They don't provide you with the means of contacting someone because they want you to sign up as a member.
It's how they make their money, plain and simple.
So here's what signing up with Fling is going to cost you.
1-month membership – $34.99
6-months membership – $69.95 ($11.65 a month)
12-month membership – $80.05 ($6.67 a month, including another six months membership)
Without a doubt, the 12-month membership is the most value for money of all three.
But it also ties you into a 12-month contract and is that something that you want?
Perhaps it will work for you, but I would suggest you try before you buy.
And Fling offers you that option.
This comes in the form of two and seven-day trials that looks a little like this.
Gold 2-day trial ($4.95)
Gold 7-day trial ($14.95)
On occasions, these prices drop even lower with the 2-day trial coming in at ($0.95) and the 7-day trial at $9.95.
While the pricing for a month of membership is way too high in my book, especially considering what the site offers, there is some redemption here for Fling.
That's because the two other longer membership signups are ridiculously cheap.
To be honest, however, If you want to make use of the features offered to members, then rather sign up for a shorter trial as outlined above.
Regarding payment methods, well you can either use your credit card or PayPal.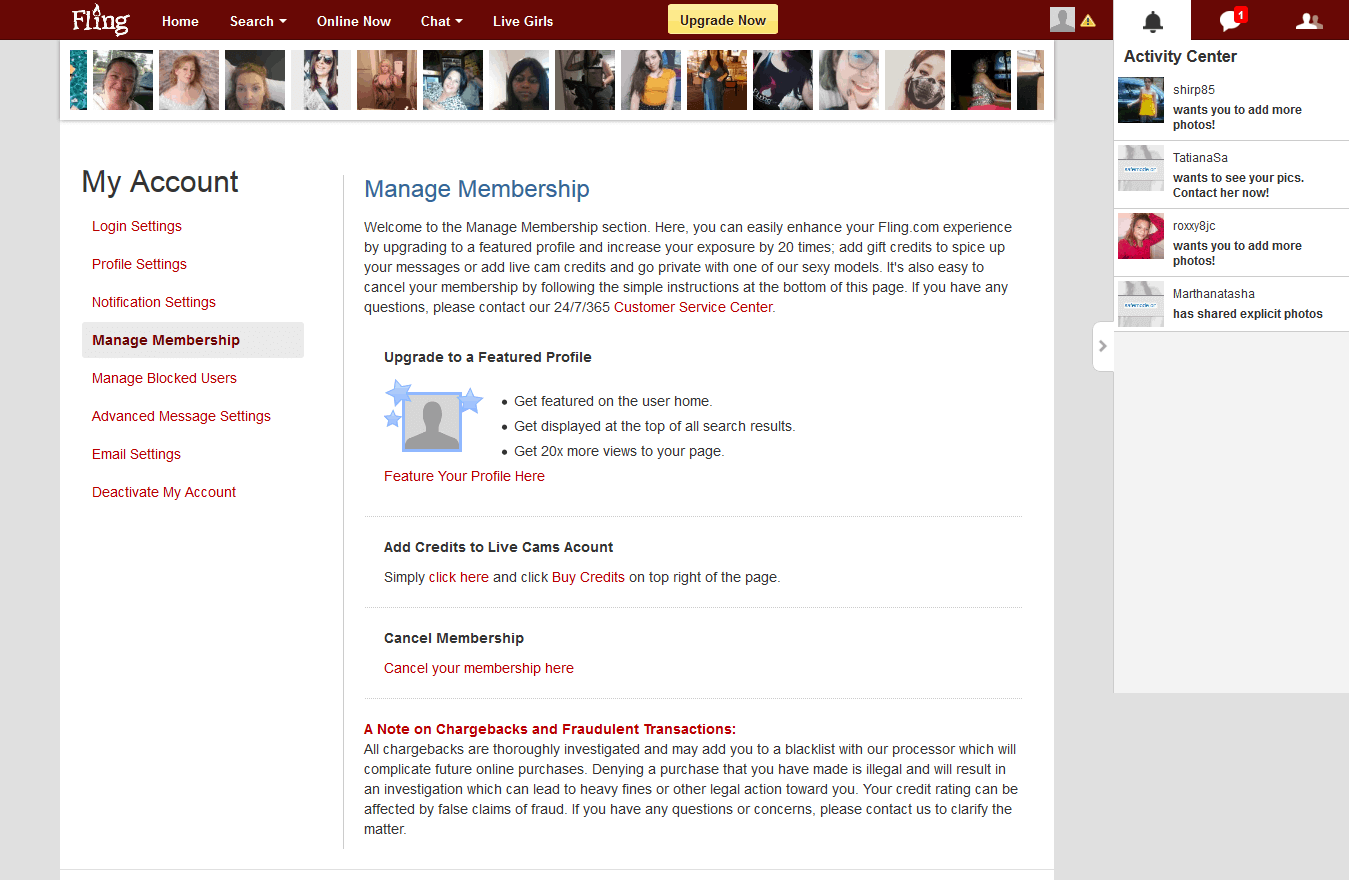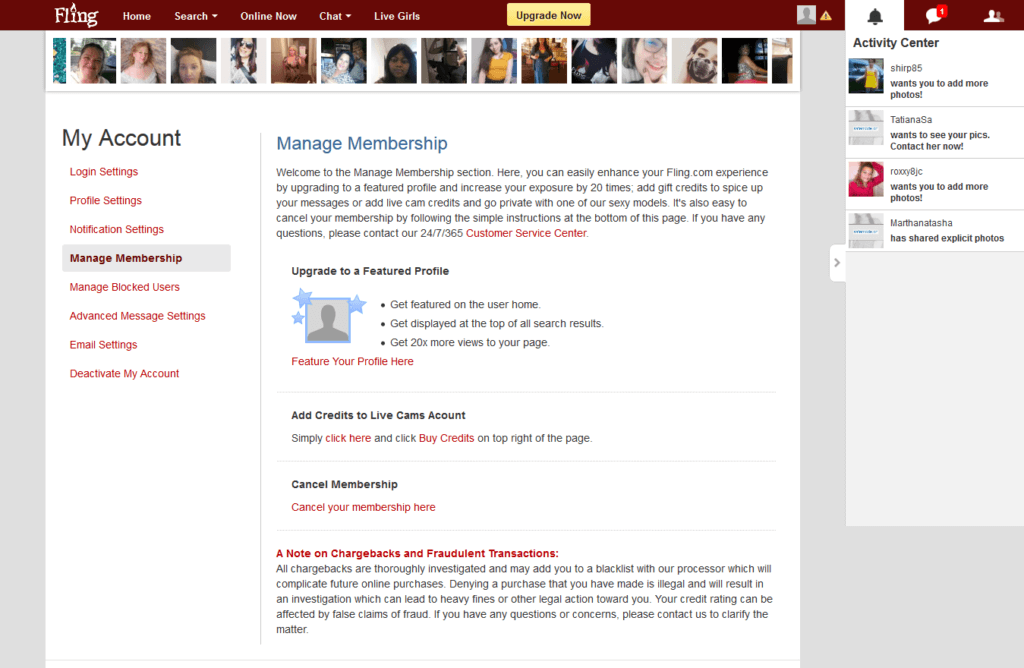 Conclusion and Overall Rating
I'm giving Fling 2.5 out of 5.
While it might claim to be the biggest casual dating site online – and that might be true – there's just way too many negative things about the site that have contributed to that low score.
For one, there is no doubt that Fling is filled with fake profiles and bots.
While it offers cheaper packages, to access them, you are going to be locked into either a 6 or 12-month membership.
Is that what you really want?
Having said that, from the membership standpoint, there are two and seven-day trials so you can test the waters so to speak.
I am not saying you won't have success finding a hookup on Fling but it might just be harder than you initially imagined.
Frequently Asked Questions