Are you curious or adventurous in relationships with others? Do you have a fantasy to interact with others you do not know in an intimate, online fashion from the comfort of your own home? If you answered yes to these questions, this Chatrandom review is going to perk your interest!
Chatrandom allows users (individuals and couples) to chat via text or webcam with random people around the world with no strings attached. It offers a fun and affordable experience for those who looking for interaction with no commitment.
This review will provide you with a wealth of information to help you determine if this is the best platform for your needs and desires. In as little as a few seconds, you can be chatting online with hundreds of interesting people from all over the world!
Pros:
Offers the ability to connect with people from all over the world
Provides access to chatrooms via multiple platforms (desktop, mobile device, tablet)
Seamless and easy way to engage intimately with other singles or couples from home or on the go
Affordable way to instantly interact with others via webcam or text chat
Ability to video chat via webcam with up to 4 random people at a time
Premium membership includes great features
Monitored by real life people who shut down anything illegal instantly
Cons:
Chatrandom does not provide refunds or prorated fees if you cancel your membership
Not ideal for someone looking for a long-term commitment
Chatrandom chat room conversations can be recorded and posted online without your knowledge
Member Information
Like other chatrooms, Chatrandom does not require an extensive member profile. Part of the reason it is so easy to use is because you don't have to spend a significant amount of time creating a personal profile or uploading pictures. However, it is important to keep in mind that Chatrandom provides very little information about each member. It is left up to you to learn about members through chatrooms or via webchat.
While member information is lacking, the Chatrandom gender filter and chatroom theme selection provides you with the ability to narrow down the type of people you interact with.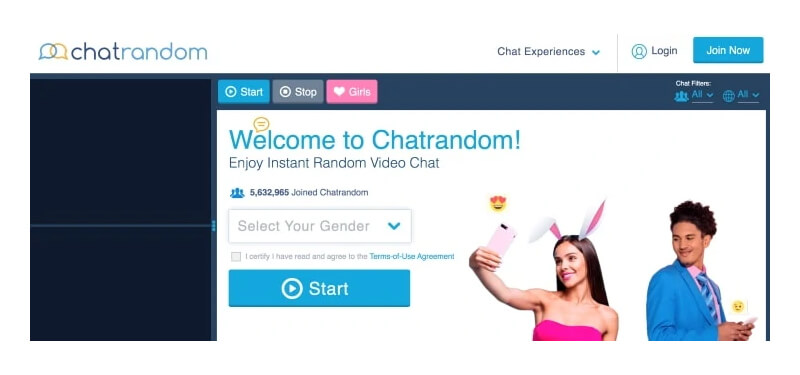 The Chatrandom gender filter is unique and unlike many other chatrooms as it allows you to select your gender or identify that you are chatting as a couple.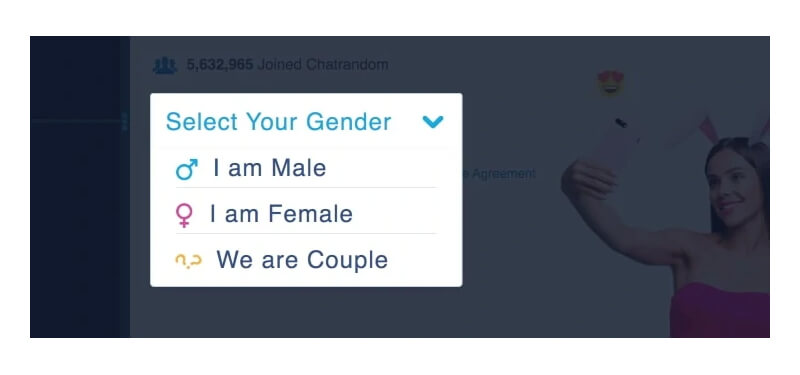 Sign Up Process
RATING
OFL exclusive offers - Check all of them

"Serious Relationships"
"Discreet Hookups"
"Best Course"
"Quick Flings"
"Normal Hookups"
"Our Quiz"
4.0/5
Signing up for Chatrandom is simple and takes a few seconds. Quick, convenient, and accessible from your desktop computer or mobile device, you will be on your way to engaging in the Chatrandom video chat app in no time!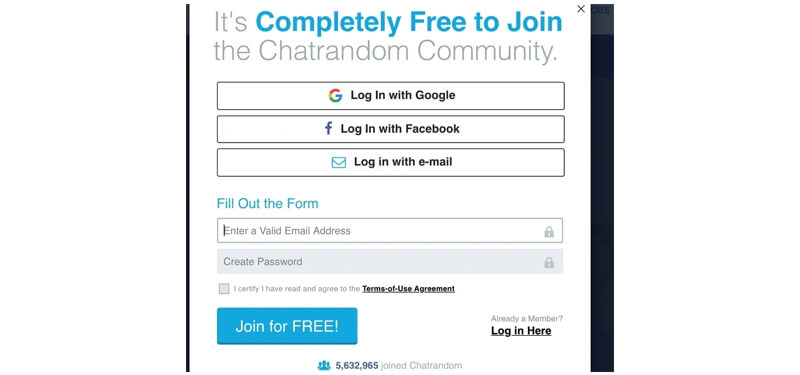 To join the Chatrandom community, all you have to do is provide your email address, create a password, and review Chatrandom rules or terms of use agreement. Once you have confirmed your account via email, you are ready to chat! Unlike other websites, you do not have to worry about creating an informative profile before you begin interacting with others. You don't even have to list your name if you do not want to! This makes the Chatrandom chat room experience truly spontaneous.
Contacting People
RATING
4.0/5
The Chatrandom video chat app is easy to use and provides several opportunities to engage in conversation with people you have never met. If you do not have a working webcam, do not worry as you are still able to participate. If you determine that you would like to add a webcam, you are able to do so at any time during the conversation.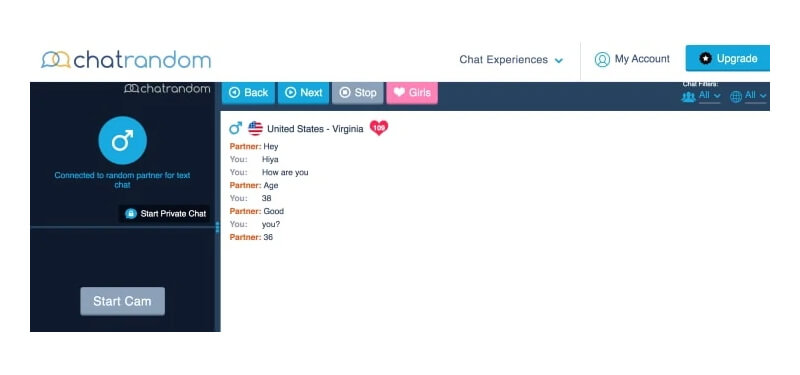 One minute you can be chatting with someone from your home country, and then you can click the "NEXT" button and find yourself chatting with someone from across the world. As long as you abide by Chatrandom rules, there is no limit to the amount of interactions you can have!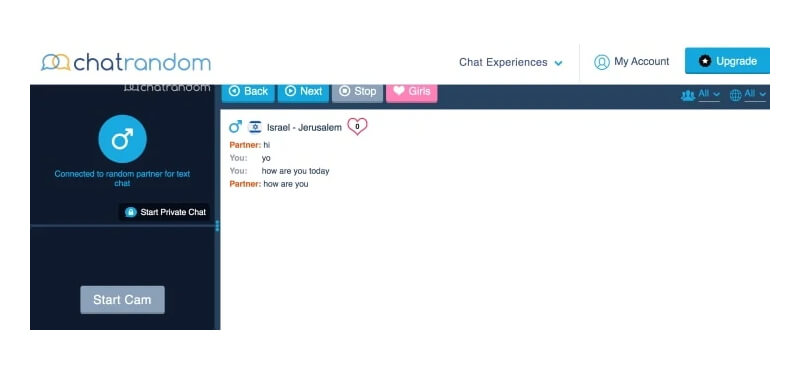 Whether you are seeking the opportunity to connect randomly with heterosexual people from all over the globe, or you are interested in Chatrandom for gays, there is a community that is awaiting your arrival.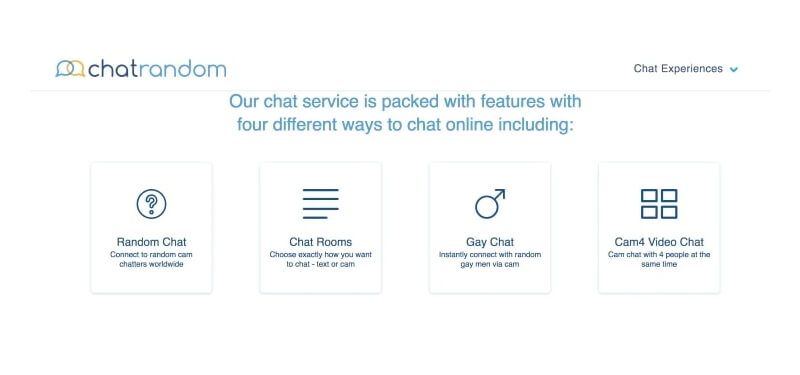 Profile
RATING
3.0/5
Chatrandom is just that–random. There is no information displayed about you up front. Your name is not displayed and there is not an option to add a profile photo. The beauty of this is that you can remain entirely anonymous. However, the downside to doing so is that you may not always be interacting with another human. The only way to truly identify if you are interacting with a true, verified person is by checking for an "in-chat verified badge" that signifies that the member has paid for an upgraded account.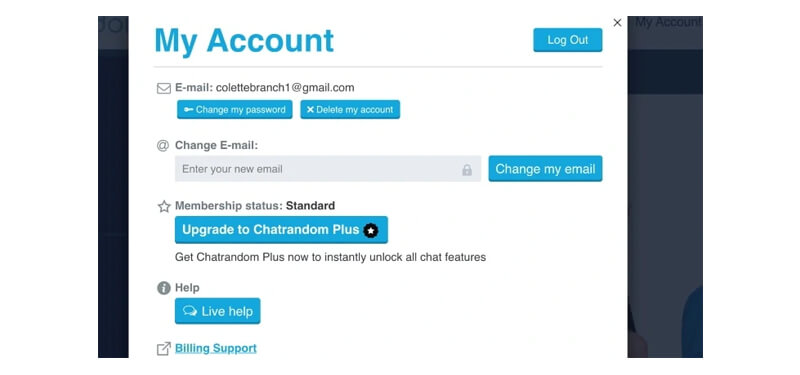 Mobile App
RATING
4.0/5
Chatrandom for iPhone is user-friendly, clean, and seamless, making it a popular app to download. The Chatrandom app is free and allows you to video chat with others, utilize face filters to add more fun to the chat, and select the chat type. Communicating with others from your phone in a matter of seconds is convenient and can be done anywhere! While Chatrandom for iPhone is free, it is important to note that there are some in-app purchases that make the interface easier to use. An example of this is that a paid membership eliminates advertisements.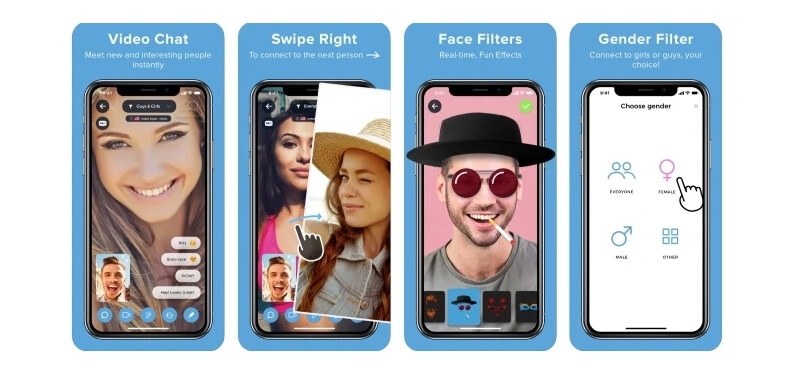 Although the reviews are not as favorable as the iPhone app version, Chatrandom for Android is just as user-friendly and provides the ability to interact with people fast.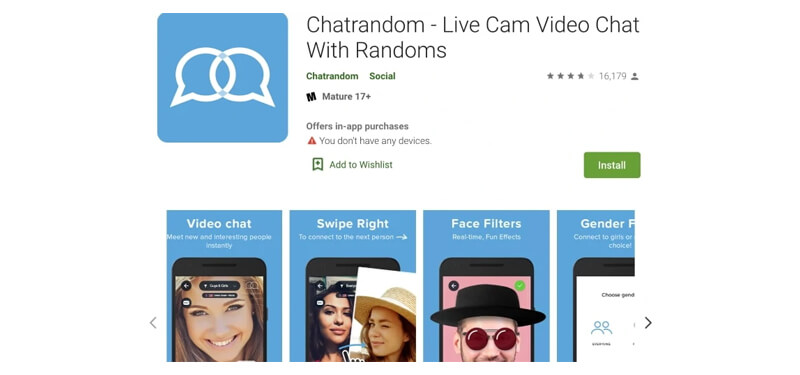 The most common challenge that people experience with the Android platform is having a glitch in the software from time to time. This glitch appears in the form of a lag in conversation and is easily remedied after a few moments.
Membership Options
RATING
3.0/5
Chatrandom offers an affordable option to access premium features that are well worth the money. The Chatrandom gender filter is a unique feature that allows you to limit interactions with others or narrow down the type of person you are looking for. Another great feature of the premium membership is that you will not have to experience Chatrandom chat room interruptions due to advertisements and pop-ups. Finally, the premium membership gives you a verified badge that makes it obvious to others that you are a paid member and that you are a live person. It is important to note that when you invest in the upgraded Chatrandom service, your chats are considered private, meaning that they are encrypted and no longer monitored.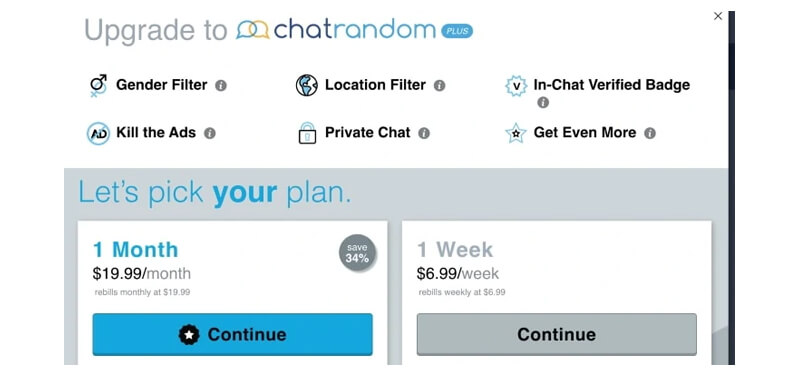 The Bottom Line
The Chatrandom video chat app Is affordable, accessible, and requires little to get started! If you are seeking a fun-filled experience without any commitment, giving the Chatrandom app a try is a smart idea. For the best results, invest in a paid membership to experience all the features that the Chatrandom community has to offer.
Frequently Asked Questions
Is Chatrandom for gays?
Yes. Chatrandom for gays is quite popular and is known in the LGBTQ community as a place to find others who are looking for a good time.
Are there Chatrandom rules that you have to follow?
Like all online dating platforms, Chatrandom rules include terms of service that outline legal ramifications for taking part in illegal activities. Chatrandom rules are monitored on a regular basis and accounts violating the rules are shut down immediately.
Is Chatrandom for Android safe?
Yes. Chatrandom for Android is just as safe as Chatrandom for iPhone. Both Chatrandom apps offer built in safety measures in the form monitoring and evaluating participant behavior. With that being said, it is still critical that you pay attention to your own safety and if you see something unsettling, notify Chatrandom customer service or staff right away.
Is the Chatrandom app free?
Yes. The Chatrandom app is free to use, however there are limited features included. For the full user experience, it is worthwhile to invest in an upgraded membership. You will not be sorry!