There are so many cougar dating sites online today that finding the best one for your needs can be a tough undertaking.
Often, it depends on the individual as to which dating site is going to meet the specific parameters they are looking for.
That's why we review all of these niche hookup sites so you can make the final decision as to which is best for you.
Today, we specifically look at CheatingCougars.com, a dating service used by milfs, real cougars, and young men who want to meet them.
But will you find real women here?
Well, that's what we aim to answer along with other questions such as:
So if you've had your fill of trying sites like Ashley Madison, Tinder, or BeNaughty to find cougars and want something different, perhaps Cheating Cougars has exactly what you are looking for in the older women dating stakes.
Or is it a site filled with fake profiles and mature women or cubs looking to scam you out of your hard-earned cash?
Let's see.
Is your dating app giving you the best chance for success?
Make sure to take our online dating site/app quiz to find out.
It's a fact that people who follow our dating site suggestions have on average 2 extra dates per month.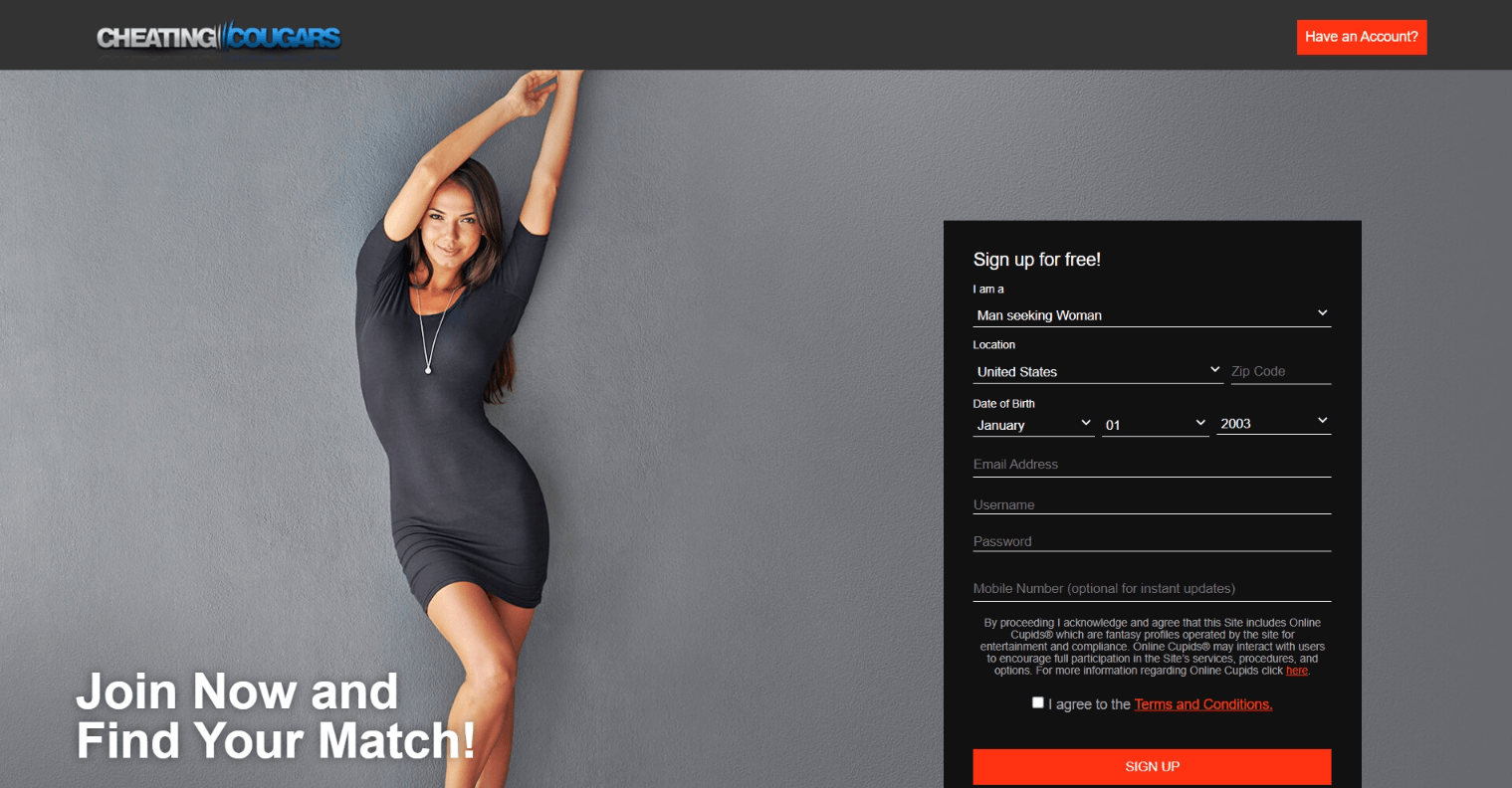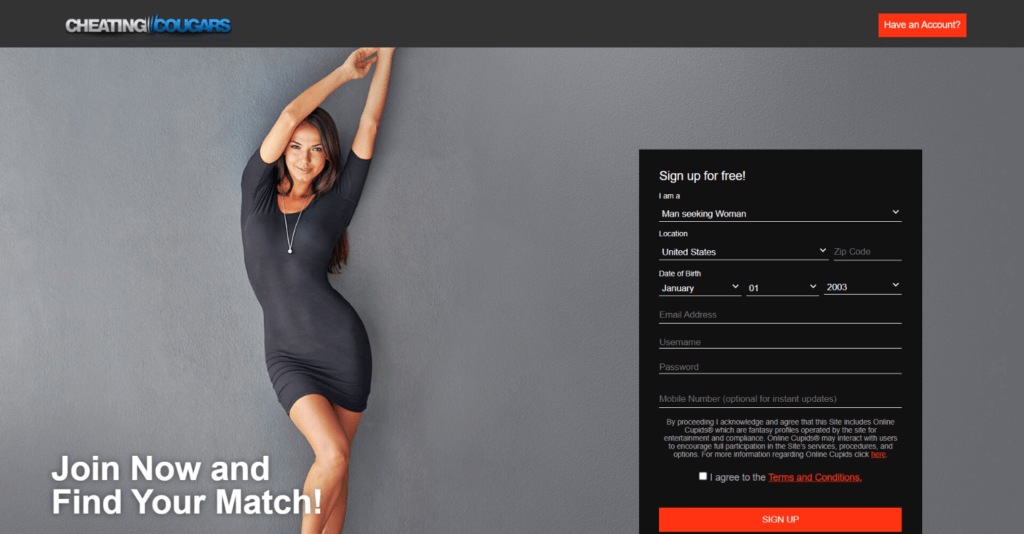 Ease of Use – 4/5
Effectiveness – 1/5
Key Features – 1/5
Pricing – 2/5
Well designed and easy to use
Doesn't have a mobile app
"Online Cupid" profiles constantly message you but are run by the site itself
Not many key features
Pricey for what is on offer
Who's It For/Demographics?
If you've never heard of a cougar dating site, let me quickly break down what it is all about.
This isn't a regular dating site like eHarmony.
Cougar dating websites have two distinct groups of real people using them.
First up, you have older women – the cougars and in this case those who are married women.
The second group is younger men who want to hook up with them.
In the online dating world, this is a particularly popular part of niche adult dating
Because it is so popular many cougar sites exist.
And sharing a niche user base means that some of them have a smaller user base than others.
When it comes to Cheating Cougars, finding exact users numbers simply wasn't possible.
There is no indication on the registration page and emails to the admins went unanswered.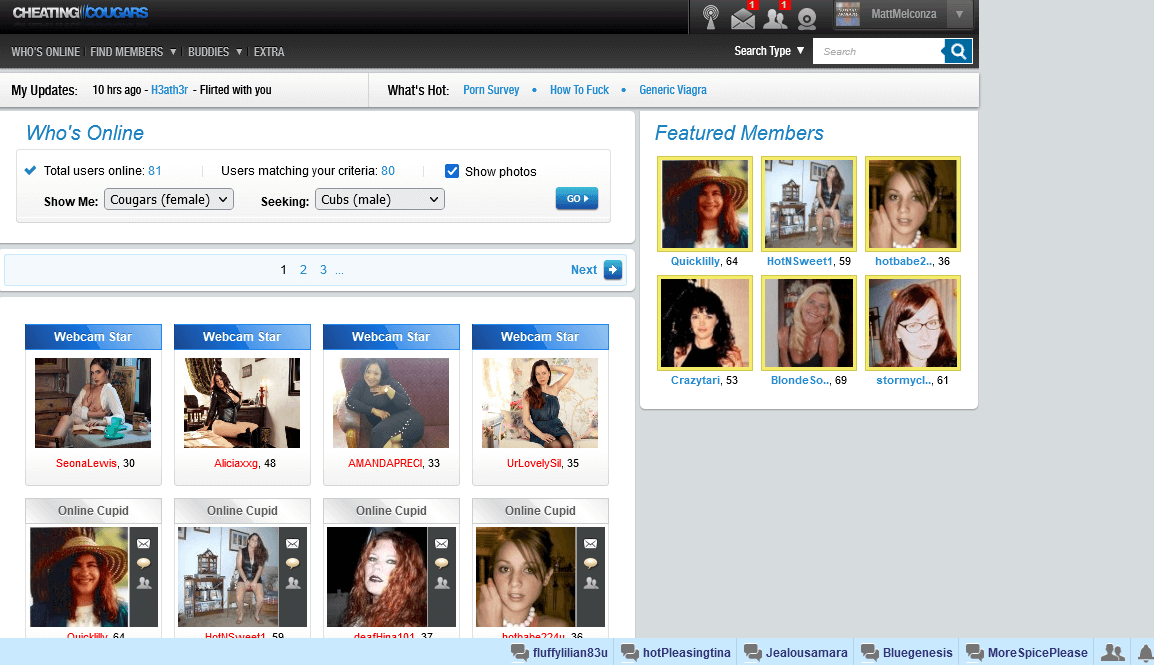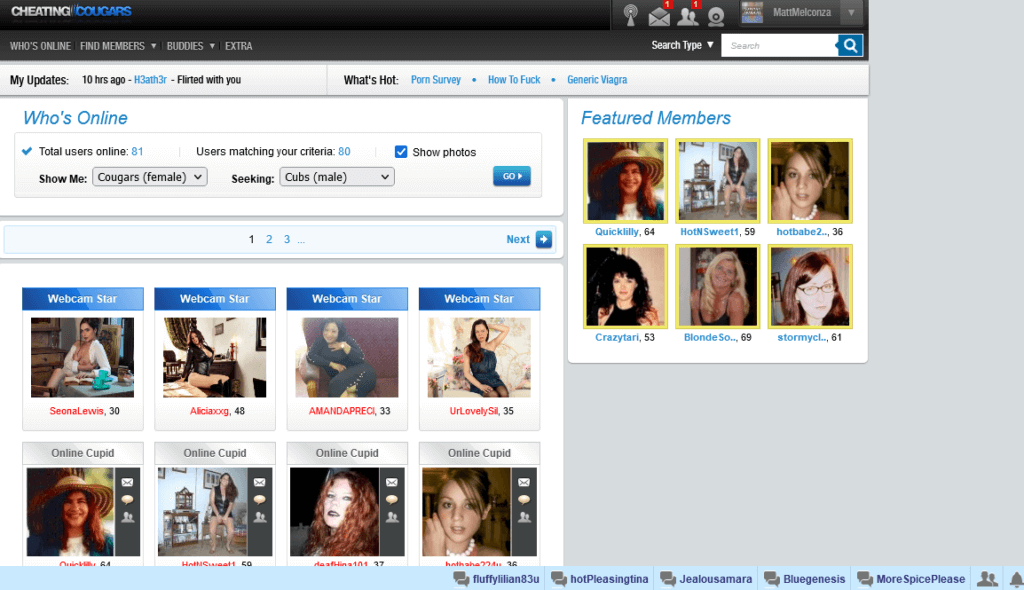 As with many of these smaller dating sites, there is no app available for Cheating Cougars.
To register, you will have to access the landing page on your laptop or PC.
You can view the site in mobile view on your mobile phone if you'd prefer but for overall ease of use, it's just so much easier to register using a computer.
Weirdly enough, Cheating Cougars includes LGBT registration options but the process is simple enough for all users.
Just provide your gender, the gender you are looking for, your location, date of birth, email address, user name, and password to start the process.
From their, Cheating Cougars has users fill in various profile details that include:
An introduction title for your profile
Introduction text
A section to describe what you are looking for in a matchup
These are all compulsory but take less than a minute to complete.
From there you are taken straight to the site for the first time but just be ready for lots of nudity and porn.
Even though the site includes a nudity filter which you can access under the settings menu, that did nothing.
I'm not a prude at all but it's pretty blatant and all over the site.
But let's get back to how the site operates.
Finding your way around the site
You certainly can't fault the design of Cheating Cougars.
Its modern look is fun to navigate around and the use of black, blue, and white as primary colors really make it stand out.
Cheating Cougars is one of those sites that uses a split menu system.
On the left-hand side you have the following menus:
Who's online: Click here to see the users currently online. They won't all be near your location, however.
Find members: Here you can launch searches of your own. This is split into three secondary menus – member search, hottest members and view galleries.
Buddies: Cheating Cougars allows you to have buddies. On this menu, you can see who you have buddied up to, approve buddy requests and see which users you have not buddied, but blocked.
Extras: This takes you to affiliate sites linked to Cheating Cougars.
In the top-right-hand corner of the screen, you will also see an icon menu system.
These are:
Broadcast tower icon: Click here to see the latest updates linked to your account. This means you can see who has viewed your profile, flirted with you or sent you a buddy request, amongst others.
Envelope icon: Click here for all your messages
People icon: You can see all the buddy requests you have received by clicking here
Webcam icon: Click here to see live model webcams
Your username: Click here to view your galleries, edit your profile, add pics, change account settings and access the site FAQ.
Some menus do double up but overall, the split menu system is fairly easy to operate and you should be able to navigate the site with ease.
One thing that I did find different on the site was the fact that if you clicked on the Cheating Cougar banner icon, it took you straight to your messages.
On most other cheating dating sites, clicking this will take you back to the home page or the search engine but that's not the case here.
I found it a little off-putting at first because this is one of the main ways I navigate around a dating site but after a while, I got used to not clicking the icon, unless I wanted to read my messages of course.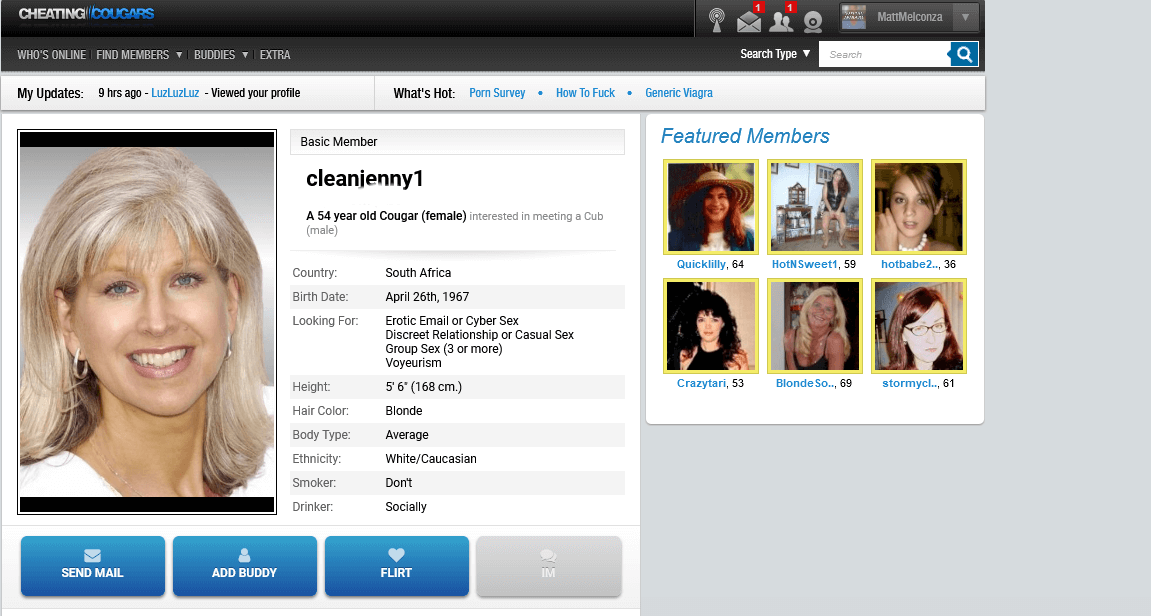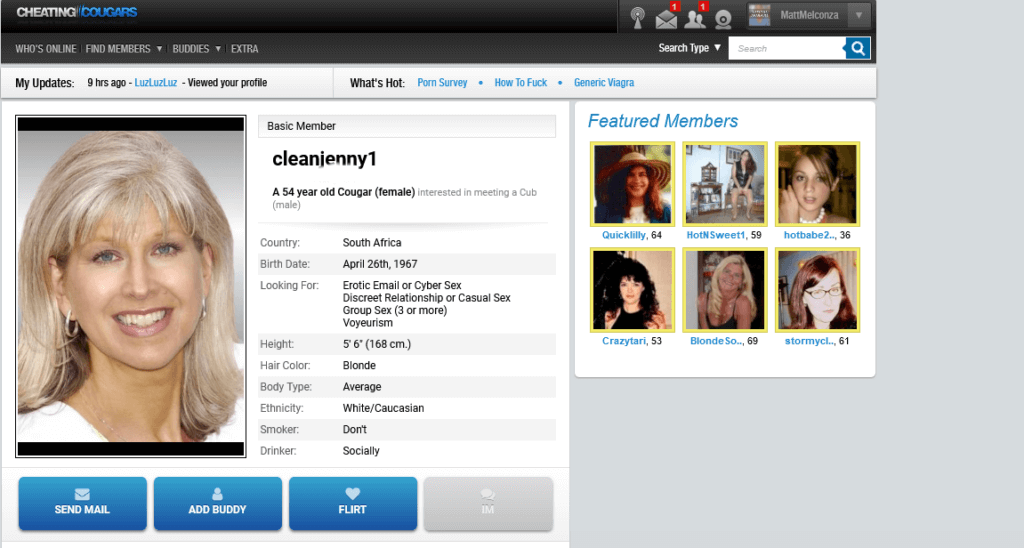 No, it's not yet completed.
While hookup dating sites never have overly complex profiles, you still have a few things to fill in on yours.
That's even though you would have completed almost 75% of it during the registration process.
And you shouldn't neglect these extras either because most of them relate to your appearance.
These are:
Height
Hair color
Body type
Ethnicity
If you smoke or drink
Marital status
If you have or want children
Your level of education
Your profession
And that's it.
Overall, I noticed that profiles on the site are a little hit and miss.
Some users have only provided the bare bones when it comes to information while some have taken the 5 to 10 minutes it takes to complete their profile.
I guess on a site like this, if someone hasn't completed their profile in full, it doesn't really matter.
That's because people are looking to hook up with someone they find attractive and they don't really care what kind of work they do, for example.
If you are only going to fill in parts of your profile, however, I would suggest you do include the appearance parameters.
That's because you can tell someone is 7 feet tall in a profile picture of their face.
And that might be a deal-breaker for some, right?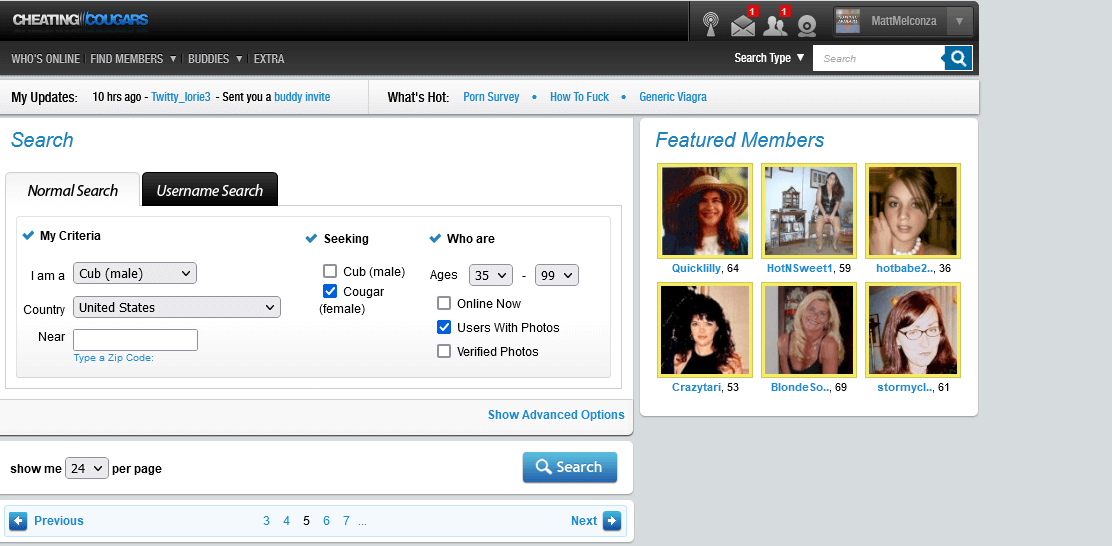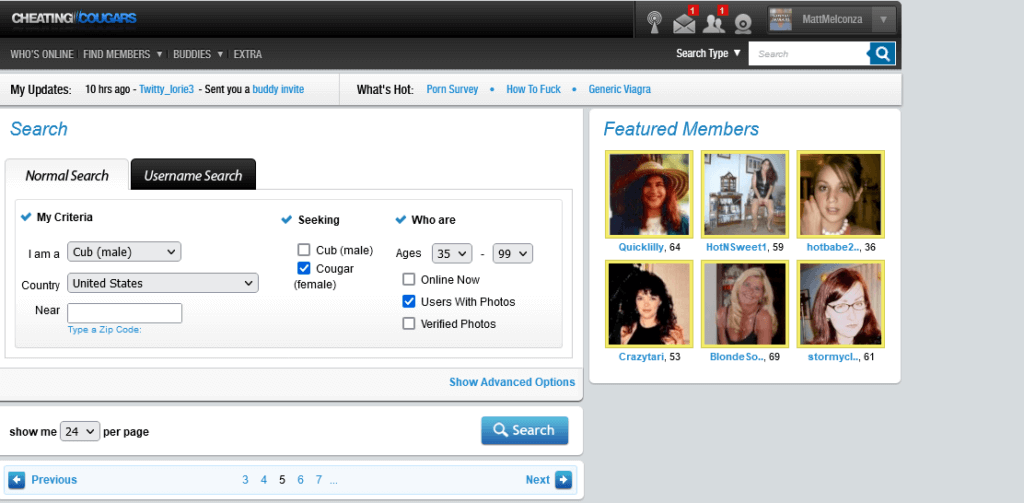 So we've established that starting a profile on Cheating Cougars isn't that difficult and that overall, it's a pretty simple site to use.
The question now is, can you use it to find a cougar or cub of your dreams.
Well, for me, that answer would certainly be no.
And I am going to tell you why.
But before I do, let's look at the tools you have at your disposal to look for Cougars and see if they are part of the problem.
There are a few ways that you can go about looking for the ultimate cougar matchup on the site:
Online users
Hottest members
Galleries
Using the site search engine
While hottest members and galleries could be something you use from time to time, you are predominantly going to use the online user option or launch your own searches using the site search engine.
That's because these two options provide you with the ability to control the kind of returns you see.
Let's look at the online user option first.
While it's not going to allow you to tinker too much, you can change the type of user you are looking for as well as if the profiles returned should have photos or not.
You cannot select location and age range and from my perspective, it would be far better if these options were added.
If you compare searching through online members on other sites, they often will allow you to search by location or show you matchups that are only near yours.
That's not the case with Cheating Cougars.
So while you might use the online user's option from time to time, it's never going to surpass the Cheating Cougars search engine.
Searching for the best cougar hookups
The Cheating Cougars search engine is found under the Find Members menu.
It's pretty powerful too and allows you to set numerous parameters as you try to find a cougar for casual dating.
To start, you can adjust the following:
Your gender
Your location (country)
The city you wish to search in
The gender you are looking to hook up with
Their age range
If they are online now
If they have photos
If they have verified photos
That's the basic search and you can return anything from 24 to 72 profiles at a time (this is something you can easily adjust).
There are advanced search options as well.
Over and above the parameters we've talked about, you can add these too:
What type of relationship they are looking for (cybersex, BDSM, photo exchange, group sex, casual sex and more)
Ethnicity
That's it for free members but if you choose to sign up as a paying member, you can make use of the various appearance parameters too.
Even without the appearance parameters, the search engine was effective enough for me.
Or so I thought.
While there were plenty of matchups to look through, a large portion of them had the tag Online Cupid on their profile.
This intrigued me and after doing some more research and reading through the terms and conditions on the site, it appears that Online Cupid profiles are run by the site itself.
And guess who is messaging you the most when you use the site or wanting to buddy up?
Yes, it's the Online Cupid profiles.
This is very underhanded and simply a way to get people to sign up for membership.
I am not a fan at all.
But what about other profiles?
Well, there certainly seem to be some legit users on the site.
For example, I found people from my city and country that used colloquialisms and had names in a second language that would be difficult for scammers to come up with as a fake profile.
But I also noticed that while some of these users were looking for cubs, many of them said they wanted to meet their soulmates.
Who does that on a site like this?
Or is Cheating Cougars sharing profiles with a sister site, perhaps?
Who knows but it certainly is another red flag for me.
There are a few ways that you can alert people to the fact that you are interested in them.
From their profile you can:
Add them as a buddy (a member-only option)
Send them a flirt
Email them (also a member-only option)
Instant messaging (this seems to only be an option with profiles of Online Cupids)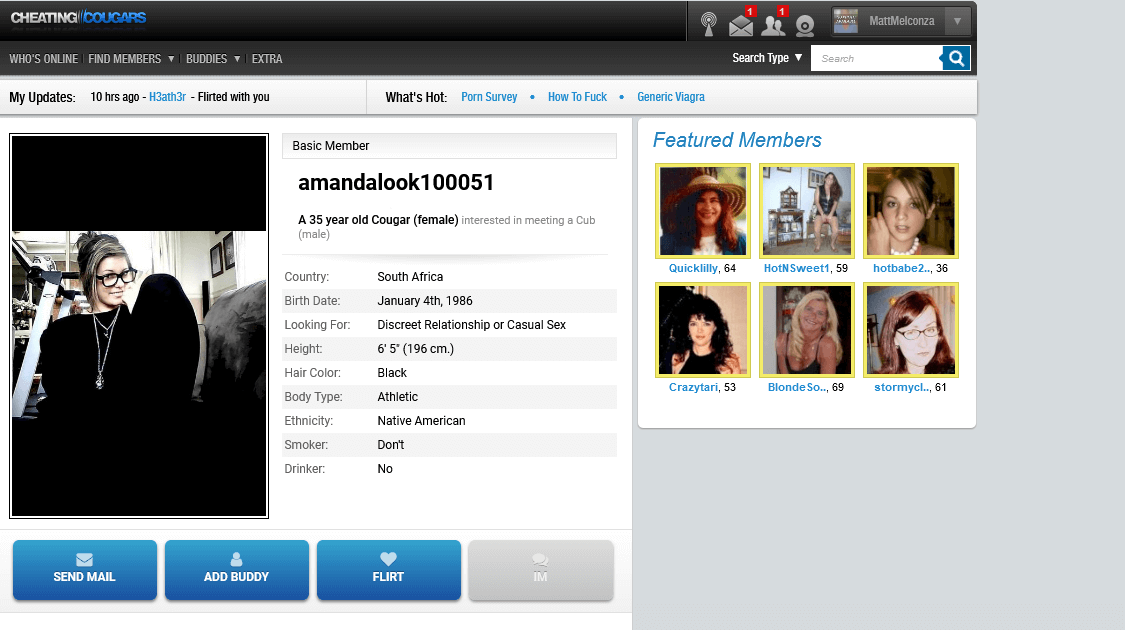 Here are the critical key features that membership brings to those who sign up for Cheating Cougars.
1. Messaging/1 on 1 chatting
All users who sign up as members of the site can send and receive unlimited messages.
As a member, you can also create one-on-one instant messaging chat rooms with other users, similar to how the Online Cupids create chat rooms with you.
But at least you can do this with other users on the site.
2. View profiles and photos
For members, there is no limit to the number of profiles they can view.
Also, they will have access to any additional pictures that other users have added to their profiles.
That's pretty useful as many of the users I viewed had additional photo galleries to look through.
Members can video chat with the webcam models you will find on the site.
There are 100s of models to select from and you can even search through them for your particular preferences.
4. Unlimited Buddy requests
As a member, you can send as many buddy requests as you like.
5. Feature in all search results
To be honest, shouldn't all users feature in search results?
Anyway, as a member, you will feature in the search returns of other users should you match their particular parameters.
6. Extra search parameters
As a member of the site, you get extra search parameters that you can use when trying to find the best possible matchups.
These parameters are taken from a user's profile, for example, height, hair and eye color, and more.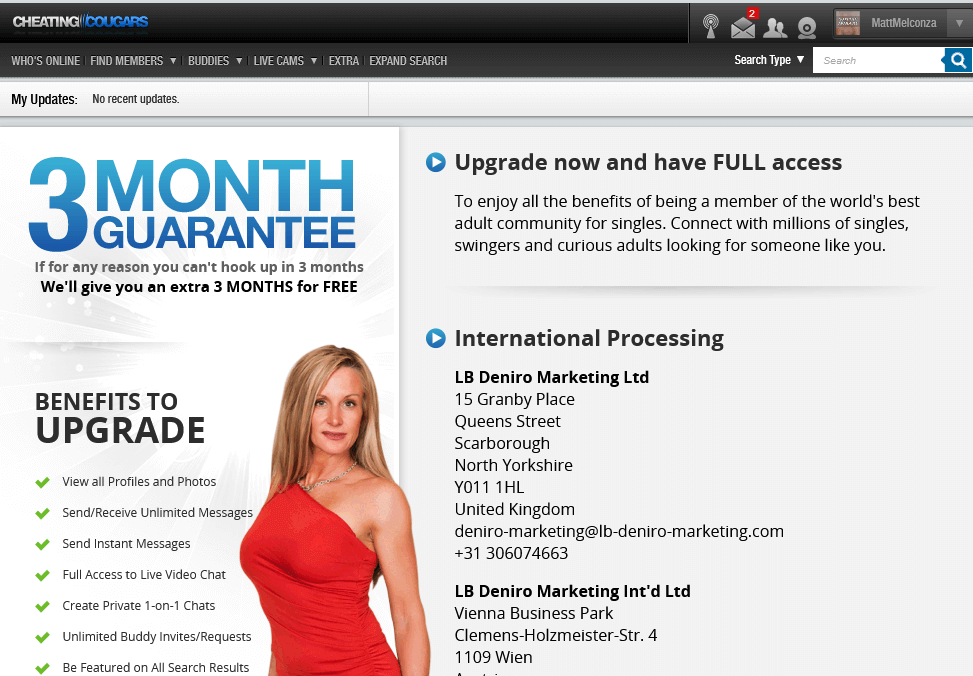 While I have seen less inspiring key features for members on other dating sites, those above really aren't worth writing home about.
The critical features are obviously the ability to message others while creating one-on-one chat rooms is pretty useful as well.
But how much are you going to pay?
Well, you have three options:
1-month membership: $29.99
3-month membership: $59.99 ($20.00 per month)
12-months membership: $119.99 ($10.00 per month)
For me, $29.99 per month is way too much money considering the Online Cupid problem as well as the poor selection of key features.
If you do find some cougars or cubs while using the site as a free user, perhaps you might choose to try a one-month membership, but that's up to you.
While the extended memberships are much cheaper, I would look for a better cougar dating site to use my money on.
If you do choose to sign up for membership, your credit card is the only payment option.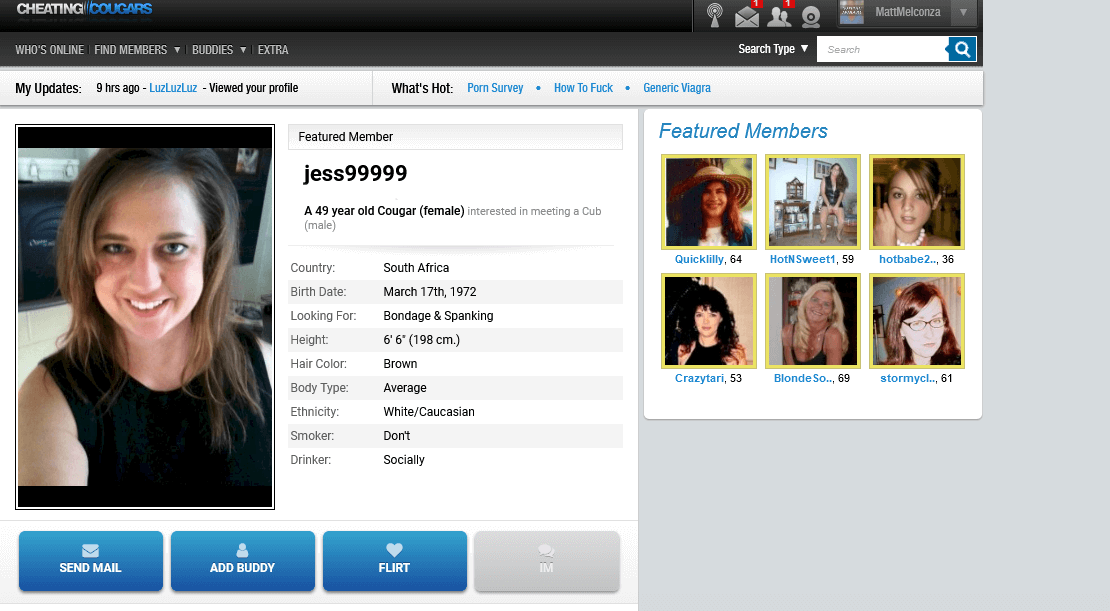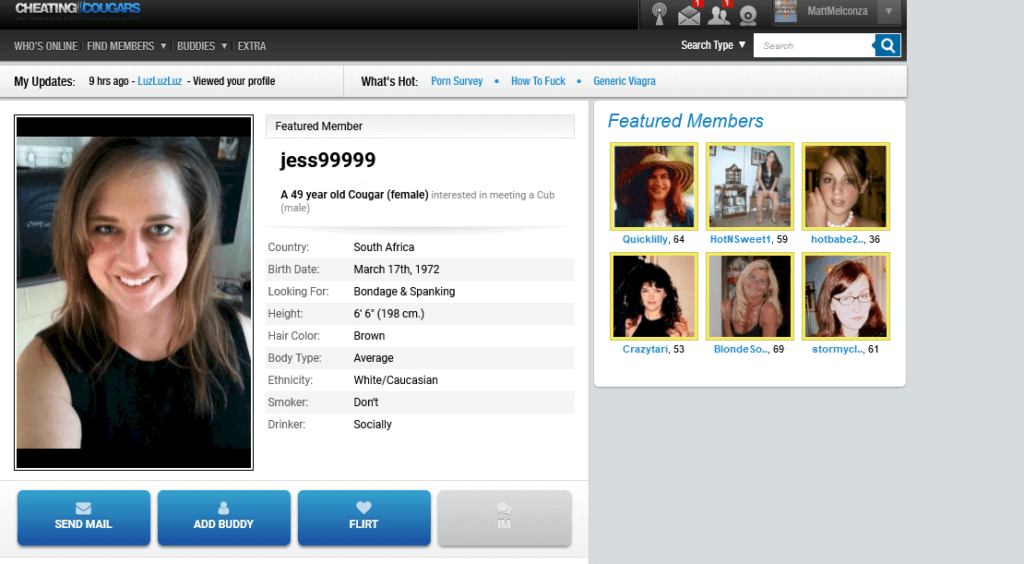 Conclusion and Overall Rating
And that's the end of our Cheating Cougars website dating review.
Is this the best cougar dating site around?
Well, I am sure that you can answer that question.
There certainly are far better Sugar Momma Apps and Websites out there when it comes to cougar dating, that's for sure.
While I did see what seemed to be legit profiles on the site, there were obviously fake ones as well.
For example, one "cougar" who was aged 48 had the profile picture of a beautiful woman no older than 25.
In fact, I saw a few like that.
And then there is the problem of the Online Cupids.
​From the moment I was online I was receiving messages from them.
These are not legit profiles.
There is no way you can even hook up with these people as they are employed by the site.
All they are there to do is go get some poor desperate person to sign up for membership.
It is underhanded and the main reason why I wouldn't use this site at all.
There really are better options out there when it comes to cougar dating.
As for a score for Cheating Cougars?
​It gets just 2 out of 5.
Our dating experts at OnlineforLove tested Cheating Cougars over a period of time for this review.
Following that, the website was given a final star rating based on various criteria which included:
How many users have signed up for the site
How easy it is to register a profile on the site
How the search engine and matching algorithm works
What it costs to become a member
What key features members receive