Japan Cupid is just one in a long line of dating sites run by Cupid Media.
Many of these sites focus on a particular population group, creating a niche online dating portal for people who want to date, or for people from that population group looking to date each other.
And of course, Japan Cupid is mostly made up of people of Japanese descent but that's not the only group you will find on the site.
So is this the type of website that you are looking for?
OFL Top Recommendations based on 100,000+ Survey

"Serious Relationships"
"Discreet Hookups"
"Best Course for Men"
"Quick Flings"
"Normal Hookups"
"Our Quiz"
Well, I suggest that you go through this intensive review of Japan Cupid not only to see what it has to offer but how you could make it work for you, whether you are of Japanese origin or looking to date someone who is.
In this in-depth review, we are going to look at:
Let's get started then!
Is your dating app giving you the best chance for success?
Make sure to take our online dating site/app quiz to find out.
It's a fact that people who follow our dating site suggestions have on average 2 extra dates per month.


Ease of Use – 4/5
Effectiveness – 3.5/5
Key Features 4/5
Pricing – 3.5/5
Around 1 million users
It has an Android app
The site provides you with matches
Lots of search options to find your own as well
Simple to use
Excellent member features
Skewered gender ratio where almost 90% of users are males
Limited messaging without membership


Who Is It For/Demographics?
Well, thanks to the name and the introduction in this review, we already know just who Japanese Cupid is for.
But what I want to cover in this section is some of the demographics behind the site.
Cupid Media, the team behind Japan Cupid has around 35 datings sites with many catering towards a specific population group.
And these sites, just like Japan Cupid, are a massive success because they all use the same formula which people love.
OFL Top Recommendations based on 100,000+ Survey

"Serious Relationships"
"Discreet Hookups"
"Best Course for Men"
"Quick Flings"
"Normal Hookups"
"Our Quiz"
We will get into that a little later in this review but first, let's look at some facts and figures behind the site.
Japan Cupid by the numbers
When it comes to user numbers, niche dating sites all differ.
That's often down to the population group that the site is based on naturally.
Of course, there are lots of Japanese people the world over and as a nation that embraces technology more than most, it goes without saying that you'd expect the number for Japan Cupid to be quite impressive. So, if you want to find someone on this site for hook up (like BeNaughty or Ashley Madison), or for a serious relationship (like eHarmony or Tinder), it won't be hard.
And while it's not the biggest site that Cupid Media runs, since its inception back in 2005, it's grown to a user base of close to 1 million users from all over, not only Japan.
Here are some more interesting figures about the site:
The Japan Cupid app, only available on Android handsets, has been downloaded over 100 000 times
Around 100 000 users of Japan Cupid are from the United States
Around 4 000 people log into the site daily
That's close to 30 000 each week and 120 000 per month
So yes, it's a busy site.
I've seen some regular dating sites that cater to all population groups with user figures like that.
Remember, here you are dealing with a niche website with one population group in mind, so the figures are pretty stellar in that regard.
Next, then let's look at gender ratios because, on population-specific sites like this, they can be quite skewered at times.


Japan Cupid Gender ratio and user age ranges
As I mentioned, sites like these have one gender far in the ascendency over the other.
And that's true of Japan Cupid as well.
But's it's such a massive difference, that I've never seen the likes of before.
Males are in the ascendency on Japan Cupid… by a long, long way.
We almost talking about a ratio of 4:1!
88% of the profiles created on the site are males
12% of the profiles created on the site are females
Now that's an unbelievable stat, it really is.
It means that female users are in the prized seats because they can literally pick and choose who they want to reach out to.
And males are going to jump at the opportunity to talk to any female users that do just because they have so much competition from all the other male users on site.
Let's just quantify it a little more by breaking it down into workable figures.
Of the 1 million users on Japan Cupid, only around 120 000 are females.
So that means around 880 000 users are male.
Simply staggering numbers and certainly, if you are a male, they might make you consider if it is worth starting a profile here or not.
Lastly, let's consider the age ranges of users.
Although the 25-34 year-olds are the biggest group on-site, it's not by a lot.
Here's a full breakdown of all the age ranges, from most to least popular as well as a gender ratio split.
25-34 year-olds (29% of all users. 25% of this group are male and just 4% are females)
35-44 year-olds (25% of all users. 22% of this group are male and just 3% are females)
18-24 year-olds (20% of all users. 18% of this group are male and just 2% are females)
45-54 year-olds (17% of all users. 15% of this group are male and just 2% are females)
55 and older (9% of all users. 8% of this group are male and just 1% are females)


If there's one thing to be said about Japan Cupid it's that it's just so simple to use.
You are welcome to download the Android app if you prefer to surf dating sites on your phone.
Either way, registering via the Japan Cupid website is simple enough too.
You can make it even simpler, a one-click registration, by using linking with your Facebook account if you'd prefer.
If not, both the website and app will require a few bits of information so you can be registered as a user.
Of course, that includes a username, password and valid email address.
Don't forget your gender and your chosen gender to search for.
If you are gay or lesbian, then yes, you can register a profile here too as Japan Cupid is also for the LBGT community.


Unlike other dating sites, at no point during the registration process do you fill in anything that has to do with your profile on Japan Cupid.
So as with all dating site reviews, that's what I suggest you start with right away.
Not only does it get it all out of the way but a complete profile just is going to work in your favor.
And men, just remember how many rivals you are going to have on this site.
Making your profile the best it can be could just give you the advantage you need in terms of winning over a female user so that she reaches out to you and not someone else.
Profiles on Cupid Media sites include tons of information about each user but honestly, you will only have to set aside 10 to 20 minutes to complete yours.
As for the information you will need to provide, it's divided into appearance, lifestyle, background cultural details as well as other basic information about yourself.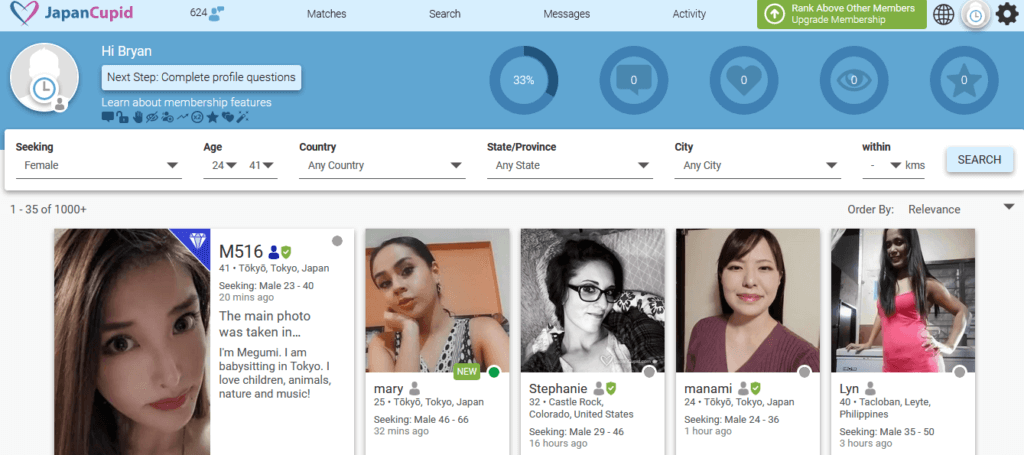 The overall look and how to navigate your way around
Cupid Media sites all share the same overall design.
It's generally the color scheme that changes.
And they share the shame design because of the simple fact that it works so darn well.
Japan Cupid uses different shades of blue and also white as the dominant colors.
It gives the site a nice relaxed feel.
You will immediately notice that you are shown users from all over the world from the start.
Click a few of them to check out their profiles and see what they are all about.
Some of them, you will see, have diamonds next to their names.
These are Platinum members, but more about that later.
Other than a number counter on the left-hand side of the menus that shows you how many people online, there's also a quick search bar where you can launch your own search.
Again, I will talk about that later in the review.
Japan Cupid uses a simple menu navigation system to help you find your way around the site.
There are four menus:
Matches: This is where Japan Cupid presents matches for you based on your profile entries and age.
Search: Other than the quick-search bar, if you want to search for matchups of your own, this is the menu you would use.
Message: Find all your sent and received messages under this menu.
Activity: This includes both your activity on the site and by others towards you. For example, you can find profiles you have liked and see which users have liked you.
That's it, really.
Four simple menus provide you with all the tools you need to make a success of your time on Japan Cupid.
What about the Japan Cupid app?
While only for Android users, the Japan Cupid app is effectively a compact version of the website.
And just like it, it is very easy to use.
Plus, it's totally free to use and perfect for browsing the site when you have some free time and are away from your computer.
Many users actually use both their computers and the app to help them find love.


Once you've played around on the site for a while, no doubt you are going to want to see what kind of matchups it turns up for you, right?
There are a few basic ways that you are going to do this.
Searching for love on Japan Cupid
These are the ways that I recommend you start.
Check the matchups provided by Japan Cupid for you
Conduct your own searches
To see the matches that the site provides for you, simply click on the Matches menu.
And voila!
There they are.
It's worth going through these because there are sure to be a few that will be of interest to you.
But there's something else here too.
If you are a Platinum member, you can access both mutual and reverse matches.
This is a feature found on all Cupid Media sites and for me, it's invaluable, especially if you are a male on Japan Cupid where the gender ratio is so skewered.
So what are these matches?
Well, a mutual match is where you almost match up perfectly with someone.
You are what they are looking for and vice versa.
A reverse match is where meet the matchup requirements of another user, but they don't meet exactly what you are looking for.
That's doesn't mean it's not worth checking out, right?
Launching your own searches can be done through the quick bar you will find on the home screen.
Here you can search by gender, age range, country, state/province, city and within a certain distance of your own location.
Clicking the search menu, however, opens many other search possibilities including:
Advanced searches which include profile details
Keyword searches
Cupid Tag searches
Searching by first names
Searching by member number
You can also click on the popular search button to see what it is other members are searching for.
I love the fact that there are so many options to help you find Mr or Mrs Right.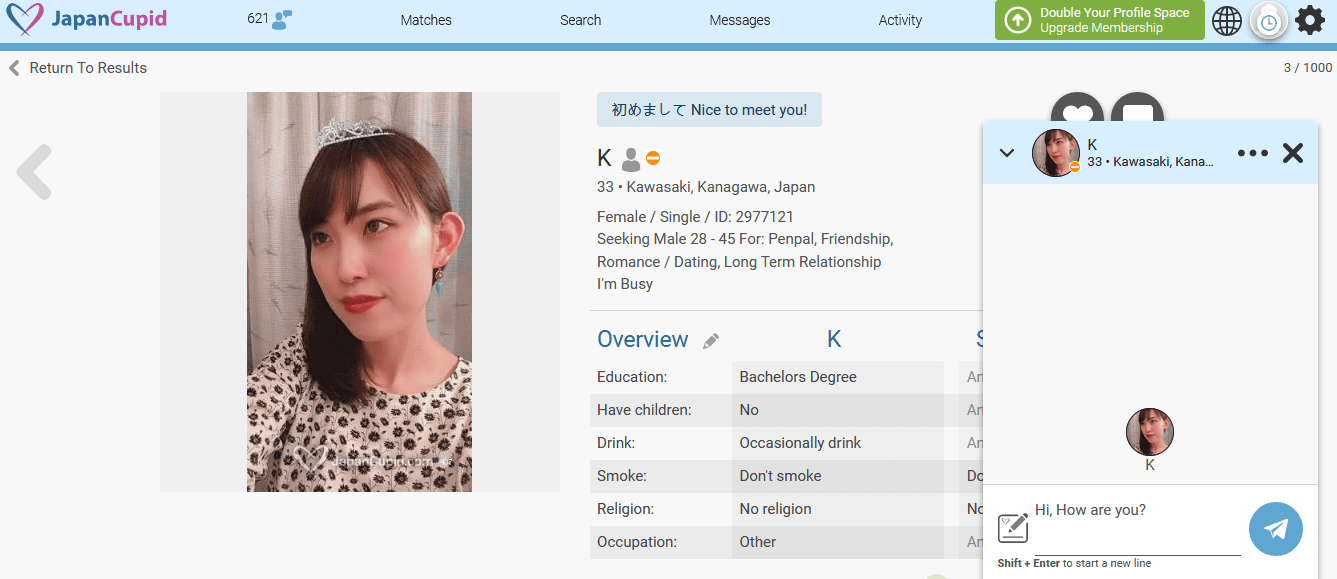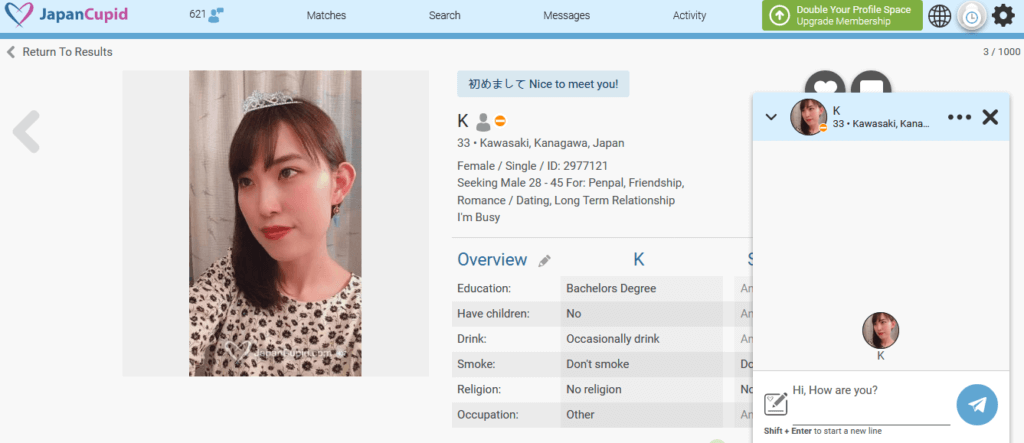 As a normal user on Japan Cupid, messaging is locked to you.
But, the site does allow some messaging if you are sent a message from a paying member.
If that happens, you can reply to their messages and any others they may send in a conversation.
While that's useful, it means you are playing a waiting game for people to message you.
And it simply might not happen.
So that's where membership comes it.
It allows unlimited messaging on the site along with a ton of other key features.


There are tons of key features for members of Japan Cupid.
It's important, however, that we also just refresh our memories as to what a regular user on Japan Cupid can do without taking membership.
Cupid Media sites allow normal users a number of features that on other sites would easily only be for members.
So here's what you can do without membership:
Register your profile through either the website or Android app
User a fair number of search filters to look for potential matchups
Reply to messages that you may have received from members
Like other user-profiles and see who like yours
Favorite other user-profiles and see who favorited yours
There is no limit on the number of profiles you can view
You can view other profiles in their entirety
I told you that Cupid Media allows regular users a lot of leeway, didn't I?
Now let's look at all the key features you would expect if you become a paying member of Japan Cupid.
We will get to their pricing later but Japan Cupid has two membership types.
These are Gold and Platinum.
If you are a Platinum member, you qualify for a VIP profile
That means that when other users conduct searches of their own, your profile will be among the first returns they see.
That's a brilliant way to get others to reach out to you because your profile is out there at the forefront of all search returns, even other Gold and Platinum members
All dating sites need some form of a communication system.
If they didn't have it, how would people connect?
With either package that you choose on Japan Cupid, you will have the ability to message other users.
If they aren't a member, they can message you back as well which is a massive advantage and means you can talk to anyone on the site, regular user or member, effectively.
Both Gold and Platinum members of Japan Cupid are allowed to access extra privacy options that are not available to regular users.
This means that should you wish to, you can not only take your profile offline that it won't appear in other search returns, but your browsing history won't show up for other users.
What I mean by that is that if you view someone's profile, there is no record left of the fact that you did.
While I don't really see the necessity of this – it is a dating site after all and surely you want as many people to see your profile as possible but clearly there are users who do want this added privacy.
Sending messages via the email-like messaging system is a little slow and cumbersome, that's for sure.
If you'd like to speed up communication between you and another member, however, you do have access to an instant messaging system which is like chatting in your own personal chatroom.
It's much faster.
All members of Japan Cupid get double the profile space of regular users.
Regular users get more than enough search options.
In fact, it's really impressive.
But as a Platinum member, you get even more.
This comes in the form of reverse and mutual matchups and they are well worth checking out especially mutual matchups.
Remember that's when you and another user are matchups up close to 100% compatible.
For members, there is no additional advertising on the site.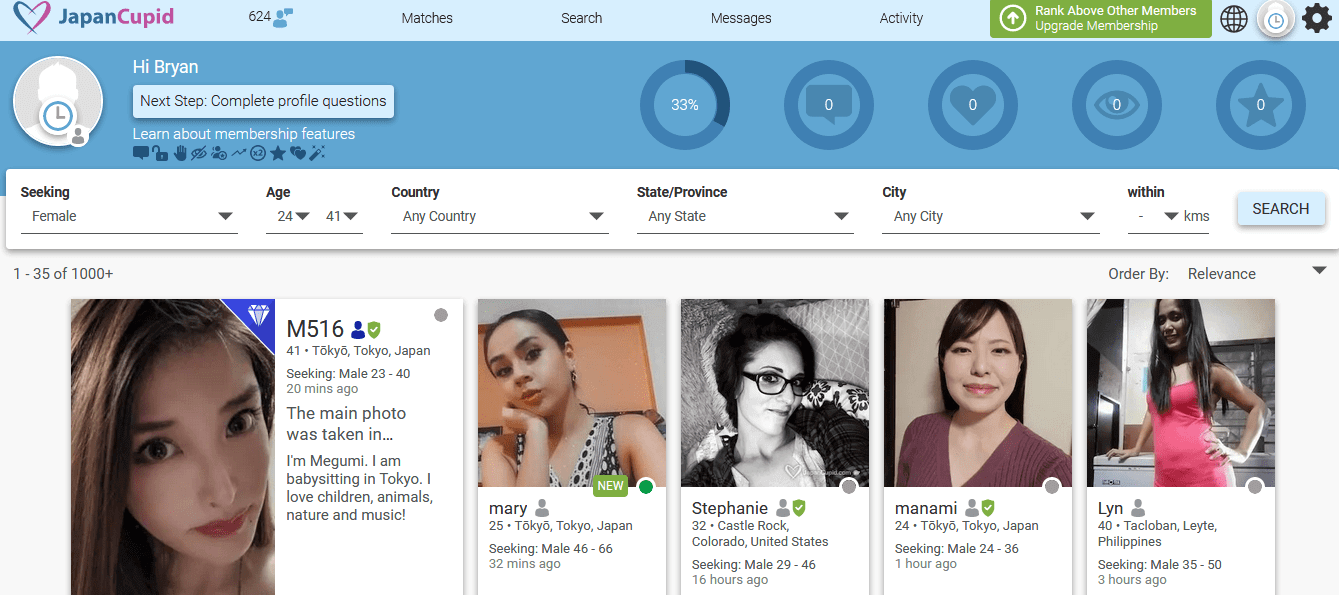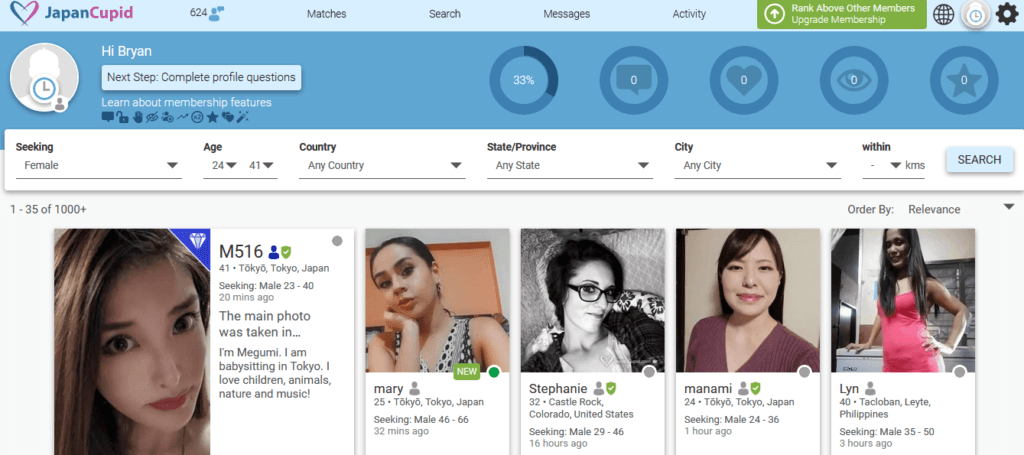 That's a fair amount of key features on the site, I am sure you will agree.
Some of them are standard and you will find them on other dating sites, while others are a little rarer.
Of course, mutual and reverse matches are something that's only found on Japan Cupid and other dating sites in the Cupid Media network.
But yes, to use this site effectively, you are going to need to think about becoming a member.
While regular users can reply to messages a member sends them and if you are super patient, that might be a way to use the website
But if you are anything like me, you are going to want to be proactive and actually do the searching for yourself, to find the kind of matchups you'd like to reach out to.
That means sending messages and that to do that you need a membership.
So what packages does Japan Cupid offer?
Well, there isn't a trial membership which is a pity.
So you are going to have to choose from a one-month, three-month or 12-month package.
But that's not all.
You are also going to have to make the choice between Gold and Platinum membership.
Yes, Gold membership has most of the features, but you won't be able to access reverse and mutual matches plus your profile won't receive VIP rankings in other user searches.
That's reserved only for those who are Platinum members.
So here's a breakdown of all the membership options that you will find on Japan Cupid.
Gold membership:
1-month membership – $29.98
3-month membership – $59.99 ($19.97 per month)
12-month membership – $119.98 ($10.00 per month)
Platinum membership:
1-month membership – $34.99
3-month membership – $69.98 ($23.33 per month)
12-month membership – $149.99 ($12.50 per month)
You probably getting really excited about the savings to be had on the extended packages.
And I don't blame you because the 12-month Gold or Platinum membership has some ridiculous savings on them, that's for sure.
But 12-months is a long time to use a dating site and forking out $150 isn't chump change.
The month-to-month fees are well priced too, especially if you want to try out the site.
Also, to get the mutual and reverse matchups I talked about (part of the Platinum package), you just have to pay around $5 extra.
That's where I would start and if the site can work for you, then maybe you can think about the extended packages on offer.
But ultimately, you have to make the decision based on not only what's going to work best but what's the most cost-effective option.
Only you really know that.
Conclusion And Overall Rating
For those of you who are of Japanese origin or want to date people who are, then this is one of the premier online dating portals to do so.
Cupid Media dating sites just have so much going for them.
It's easy to get a profile register.
It's super simple to use the site.
There are tons of added extras to help you in your journey, even for regular users.
Member key features are super impressive
And the pricing points for membership are well thought out for what's offered.
Plus you have two different membership packages to choose from.
My only real gripe here is something that's not going to be able to be changed.
And that's the gender ratio.
Obviously, men are in the ascendency by far and that's not going to bother you as a female, right?
But it might if you are a male.
Having said that, it's not going to cost you anything to try the site out just to see what it has to offer.
So let's get onto a rating for Japan Cupid.
It scores 3.75 out of 5.
And that would have been even higher had the gender ratio been just a little closer.
If you have any questions about the site, do not hesitate to ask them in the comments below and we will get back to you as soon as possible.
Frequently Asked Questions