Welcome to our GayCupid review.
It's a gay dating site run by the Cupid Media Network, experts in the field of online dating.
In fact, they run over 30 different niche online dating sites that have produced many success stories.
In this review, we will evaluate and assess what GayCupid has to offer both regular users with a free account and paying members.
OFL Top Recommendations based on 100,000+ Survey

"Serious Relationships"
"Discreet Hookups"
"Best Course for Men"
"Quick Flings"
"Normal Hookups"
"Our Quiz"
And that means we analyze the following:
I did say we would explore GayCupid.com in full, right?
So if it's a website that's been on your radar, this review will help you confirm if you should start a profile or not.
So let's begin then.
Is your dating app giving you the best chance for success?
Make sure to take our online dating site/app quiz to find out.
It's a fact that people who follow our dating site suggestions have on average 2 extra dates per month.


Ease of Use – 3.5/5
Success Rate – 1/5
Key Features 3.5/5
Pricing – 4/5
Run by Cupid Media, a very successful online dating company with over 30 other sites
Easy to register for and use
Excellent search features
Membership features are worth it
Membership pricing is spot on


Who Is It For/Demographics?
GayCupid is simply a gay dating website and website for gay men who are looking for how to get a gay sugar daddy for various types of relationships.
You will find gay singles here that are more into casual dating and hookups (like BeNaughty or Ashley Madison), as well as those who are wanting a serious relationship (like eHarmony or Tinder).
But if you compare it to other gay sugar daddy websites, it's important to note that GayCupid doesn't have the massive user numbers that Grindr or Blued register.
OFL Top Recommendations based on 100,000+ Survey

"Serious Relationships"
"Discreet Hookups"
"Best Course for Men"
"Quick Flings"
"Normal Hookups"
"Our Quiz"
In fact, the demographic information that I collected around the site suggests that there are around 200000 users in total made up of free members and those with a premium membership.
What that indicates to me is that your success using the site might depend on where you find yourself in the world.
But that's true with all smaller dating sites because despite users being allowed to sign up from anywhere around the globe, you will mainly observe them in large cities.
Here's some more information that I found out about GayCupid:
Around 30000 users are based in the United States
1400 are active on the site each week
Most users are in the age range of 35-44 years old (35%)
That's followed by 45-55 years old (25%) and 25-34 (24%)
The smallest group of users are 55 and older (5%)
From my perspective, while this clearly isn't the biggest gay dating site around, the fact that it's a Cupid Media site would prompt me to still check it out.


Let me just clarify that signing up as a member on a Cupid Media site really couldn't be more simple.
GayCupid has an Android app that you are welcome to download to register that way but my research revealed that most users make use of the website.
You can log in with Facebook if you'd like or use the traditional method which means supplying:
Your username
A password
A valid email address
Your age
The age range matchups should be
A profile picture
It's that simple.
You won't have filled in much of your profile during the registration process so my advice is that's where you should start.
And you can start straight away because once you've supplied the above information, you will be taken straight to the site.

Profiles on Cupid Media sites have all the information that you need to be able to find out more about a potential matchup.
And they will take you no more than around 10 minutes to fill in.
On dating sites where none of your profile is filled in during the registration process, it's best to just get it done before you start your search for someone.
There is nothing more infuriating than coming across someone that you are immediately attracted to and then finding little to no information in their profile.
Yes, looks will draw you in but profiles serve the purpose of telling you more about someone and if the information is not there, you might choose to move on.
So what information will you need to fill in to complete your profile then?
Well, there are:
Appearance questions
Lifestyle questions
Background and cultural questions
And then there is the other basic information that all dating profiles have.
I am not going to take you through it all, but again, rather just get it over and done with.
Then you know you can use the site in the knowledge that if someone might want to reach out to you, your profile will provide them with the information they need before doing so.
Navigating your way around the site
One of the strengths of Cupid Media sites like GayCupid is just how easy they are to use.
It really couldn't be more simple even if you've never used a dating site before.
The site uses an uncluttered design with a simple menu system at the top of the screen to find your way around.
You will also notice that profiles are everything here and they are presented to you on the homepage right from the start.
That's something I will cover a little later in this review, but for now, let me take you through the menu system and what they do.
Matches: GayCupid provides each user with a range of matches based on their age range and location. They are displayed under this menu.
Search: You can launch your own searches which can be done by clicking here
Messages: If you want to access your messages, those you've sent and those you've received, click here.
Activity: You will find lots of useful information under this menu. For example, you can see the profiles you've viewed, favorited or liked. If you are a member, you can see who has liked or favorited you as well as who has checked out what you have to offer.
The GayCupid app is only available for Android devices.
It provides all the functionality of the website but it's perfect for people that are constantly on the go.
Some users have downloaded the app but it seems that many more use the website.
The GayCupid app currently has a 3.9-star rating on the Google Play store.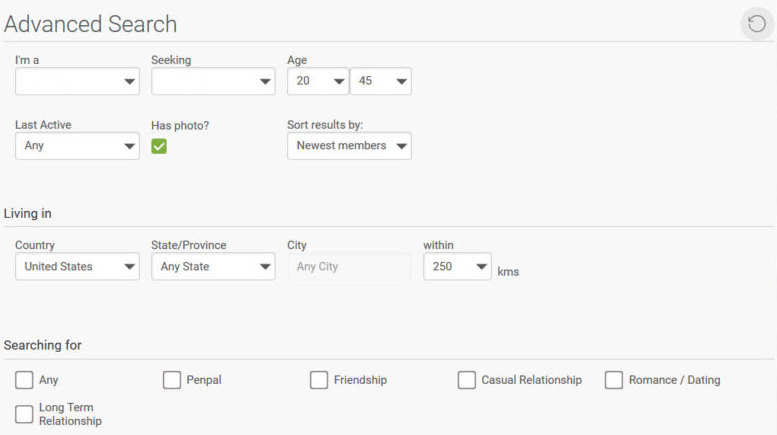 So once you've completed your profile and checked out what the site has to offer, you are going to want to see what kind of matchups it brings you, right?
Well, to test whether GayCupid has other users near your location, the best place to start is by clicking on the Matches menu.
If there are potential matches near your location, they will show up here.
As I said earlier, with the small user base that GayCupid has, your location does depend on how successful you will be in finding matchups.
It's obvious that if you live in a smaller town and not a major metropolitan area, the chances of finding matchups will be pretty low.
But again, there is no harm in trying, especially as you can be registered as a user and online in less than 10 minutes.
If you take out a Platinum membership on the site, you also have access to mutual and reverse matches under this menu.
A mutual match will be where you match up with someone else almost perfectly.
In other words, you are what they are looking for and they are what you are looking for.
Without a doubt, if you have a mutual matchup that shows up under this menu, you should be contacting that person.
A reverse matchup is a little different.
Here, the profiles shown under the reverse matchup menu aren't quite what you may be looking for but you are an almost perfect matchup for them.
Again, these are worth following up on, after all, you have nothing to lose.
You will notice a quick search bar under the matchup menu as well.
Searching for love on

GayCupid
If you want to launch your own searches, you are welcome to do so.
But I prefer to use the Search menu because it gives a few more options including:
Advanced searches where you can include specific profile parameters
Searches using specific keywords
Cupid Tag searches
Searches using first names
Searches using a member number
For me, first name searches or member number searches aren't that important.
What you want to use are advanced searches and Cupid Tag searches.
Advanced searches allow you to include various profile parameters.
These are a feature of all Cupid Media sites but you have to be a little careful here.
Why?
Well, with only 200000 users, adding too many appearances or lifestyle parameters could lead to searches with no matchups, so just be aware of that.
Here are the parameters you can add if you'd like to try out the advanced search:
When a user was last online
If their profile has a picture or not
Where they are locate
Various appearance parameters (including hair and eye color, their height, their body type and other options)
Various lifestyle parameters (including their habits, if they are willing to relocate, their marital status, if they have or want children and more).
Again, don't add too many parameters because you might just be narrowing down your potential user base too much.
One thing I'd like to highlight in this review are Cupid Tags.
They are something that you will find on all Cupid Media sites.
I love the fact that they offer something a little different when it comes to trying to find the perfect matchup.
But what are they?
Well, you can search for various Cupid Tags that people have assigned to their profile.
So something like "fun", "travel", "passionate", "active" or "passionate" are all examples of Cupid Tags.
It's a fun way of looking for potential matchups, that's for sure and it's worth exploring on your part.
If you've used an online dating site before, you know that the thing that's often hidden behind a membership paywall is the ability to message others.
And of course, that's the case with instant messaging on GayCupid as well.
But like other Cupid Media sites, if you are a regular user and a premium member sends you a message, at least you can respond.
Ultimately, however, membership is probably something you want to consider to use the site effectively, especially because it doesn't have the largest user base.
But if you are considering membership, you are probably wondering what other key features are available to you.
So let's look into that now.


Before we get into what membership offers on GayCupid, I just want to refresh your mind on what a regular user can do on the site.
If there is one major positive about Cupid Media sites, it's that they allow tons of extras for free users to take advantage of.
So let's quickly recap on that.
As a free user on GayCupid you can:
Register a free profile
Use the search engine including advanced filters to find potential matchups
Answer any messages that you receive from paid members
Like and favorite profiles of users you want to get to know better
View an unlimited amount of profiles of other users
See full profiles of other users
That's pretty impressive and more than what other dating sites offer their free users.
For me, the best part of any membership feature on dating sites is the ability to send messages.
If you choose any of the two membership options on GayCupid, you are free to send as many messages as you like to other users.
This is often a membership feature of dating sites but I am not sure I always agree with it.
I get the fact that people value their privacy and only want to reveal themselves when they reach out to other users.
It's not something I would advocate on a dating site with just 200000 users, however.
Here you should be using your profile to attract other users as well instead of just searching for them for yourself.
So if that means leaving traces of the fact that you've viewed someone's profile, so be it.
I've covered these already during the review but don't forget to look into the extra matchup options that membership of GayCupid brings to the party.
These are reverse and mutual matches and they certainly are worth paying some attention to.
A mutual match is when your profile offers exactly what someone else is looking for and vice versa.
A reverse match is when you are what someone else is looking for but they might not be what you want.
You will only find these options on Cupid Media sites and believe me, they can help you find potential matchups.
This is only a feature for Platinum members.
Boosting your profile will see it appear at the top of other users' search returns.
This is easy to dismiss but it really can help get other users to reach out to you instead of you having to do all the work.
As a member of GayCupid, you can leave comments on others users' photos.
While this might not seem like a big deal, I think it's the perfect way to break the ice with someone you'd like to get to know better.
It makes sense to comment on their photo and interact with them in that way before you send your first message.
See it as a way of introducing yourself and rest assured that if you comment on their photo, they will take the time to check out your profile as well.
Perhaps they even reach out to your first.
6. All advertising removed
While there is advertising on the site, it's never really in your face at all.
But as a member, all advertising is removed.

Cupid Media sites have some brilliant features for members.
In fact, many other dating sites could learn from them.
The question is, how much are you going to have to pay for what we've outlined above?
Well, it's important to remember that there are two membership options for GayCupid: Gold membership and Platinum membership.
The only difference when it comes to these two is the fact that Platinum membership offers mutual and reverse matchups as an extra along with a special badge and profile boosting.
Here's a breakdown of what each will cost:
Gold membership
1-month membership – $24.99
3-month membership – $49.99
12-month membership – $99.99
Platinum membership
1-month membership – $29.99
3-month membership – $59.99
12-month membership – $119.99
I believe that the pricing for GayCupid is well thought out.
It's cheaper than many other niche sites in the Cupid Media stable and that's probably got something to do with the fact that the overall user base isn't that big.
I think if you can find potential matchups near where you live, then signing up for membership makes sense.
And if I had to choose, the three-month membership option for both Gold and Platinum membership are well priced.
Conclusion and Overall Rating
And that's it for this review of GayCupid.
To summarize, this is a dating site for gay men that has everything going for it.
The problem, however, is in the user base.
It's only around 200000 at this point and as this is a global site, the chances of finding potential users near your location are going to depend on where you live.
That means if you live in a large metropolitan area in the United States or Europe, you stand a chance of finding other users near you.
If you live in a smaller city or town, it's really going to be a case of hit and miss.
The thing is, GayCupid is not the biggest online gay dating site but it's worth checking out.
There really is nothing stopping you from trying out a profile on the site and seeing just what it has to offer.
As for an overall rating, well that is hampered by the fact that it has a small user base but it still scores 3 out of 5.
Over a review period of weeks, Onlineforlove registered for and used GayCupid to test it as a dating site for gay men.
Onlineforlove's review approach gave a star rating for the most critical criteria of the site while we tested every aspect of GayCupid.
Our overall evaluation took the following elements under consideration: membership cost, how easy it is to use, success rate when it comes to matchups, the size of the user base is and key features it offers.