If you are interested in online dating, you've probably looked into many dating sites to see what's best for you.
eHarmony, Match.com, Tinder, Bumble, and other commercial dating websites are all popular of course. Maybe you even tried hookup sites, like BeNaughty or Ashley Madison.
There are so many out there which make your decision as a dater as to which to try out a little more difficult.
But perhaps you looking for something very different, something that you can tackle with best friends.
OFL Top Recommendations based on 100,000+ Survey

"Serious Relationships"
"Discreet Hookups"
"Best Course for Men"
"Quick Flings"
"Normal Hookups"
"Our Quiz"
And what's better than your wingman adding a testimonial to your profile to vouch that you are the standup person you say you are?
Well, believe it or not, there's a dating site that will allow single people to do all that.
Called MySingleFriend, in today's review we will evaluate this online dating site, gathering all the information you need before you decide if it's a place to maybe find your soulmate.
As we analyze and explore MySingleFriend.com, we will look into:
So line up your wingman and get ready as we reveal all you need to know about a dating site with a no-nonsense approach to doing things a little differently.
Is your dating app giving you the best chance for success?
Make sure to take our online dating site/app quiz to find out.
It's a fact that people who follow our dating site suggestions have on average 2 extra dates per month.
MySingleFriend review in video form
Audio (podcast) form for those of you on the go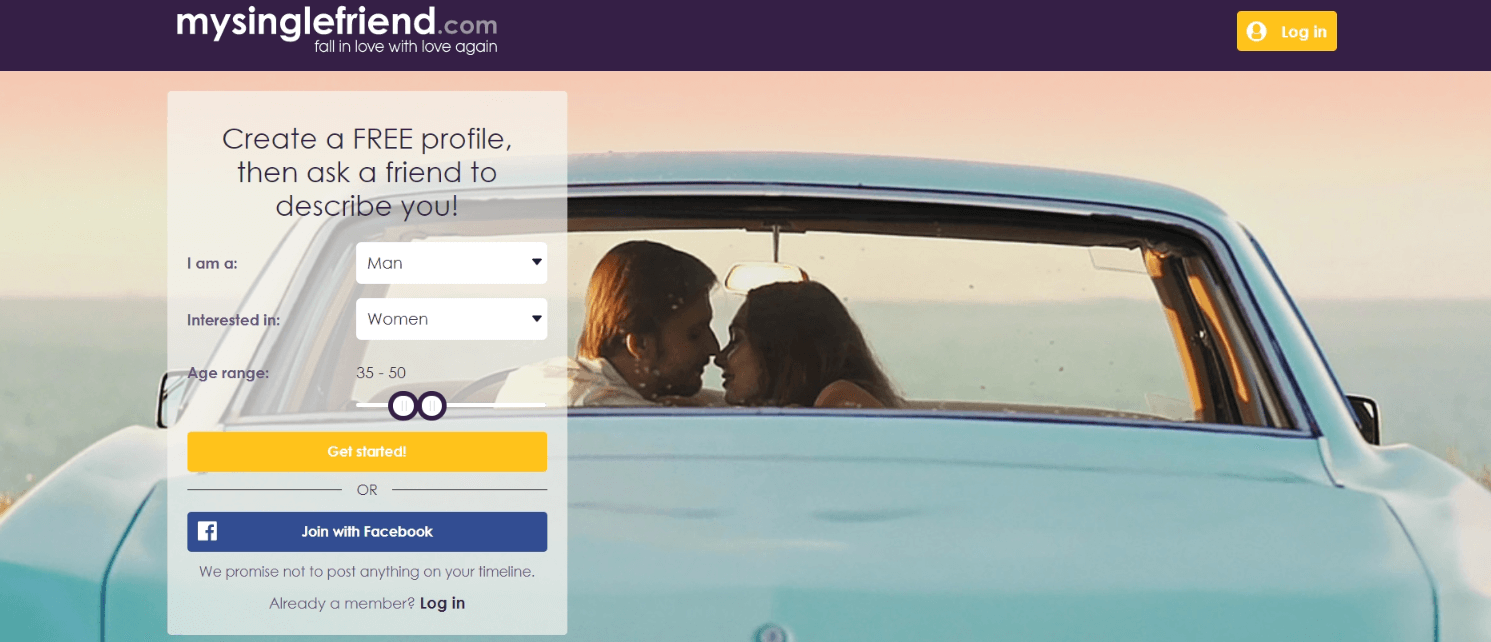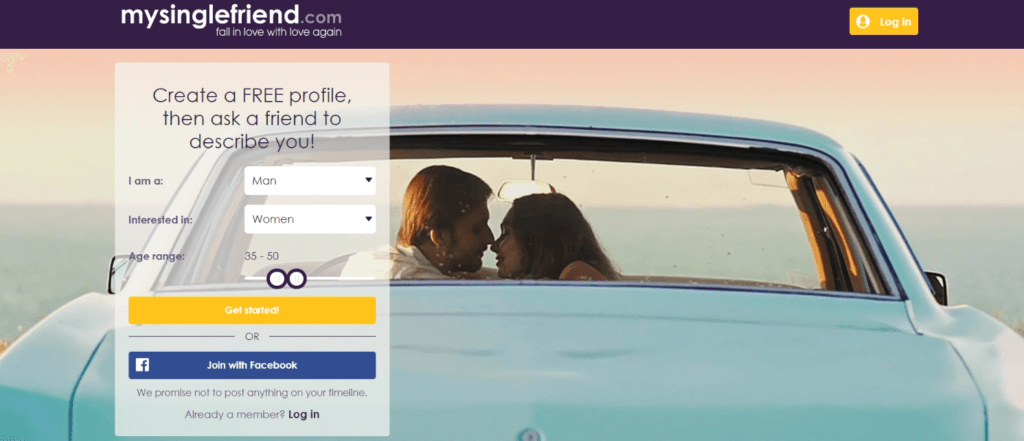 Ease of Use 4.5/5
Effectiveness – 3/5
Key Features – 3/5
Pricing – 3.5/5
The MySingleFriend matchup tool is excellent
Profiles are packed with information
Not the biggest user base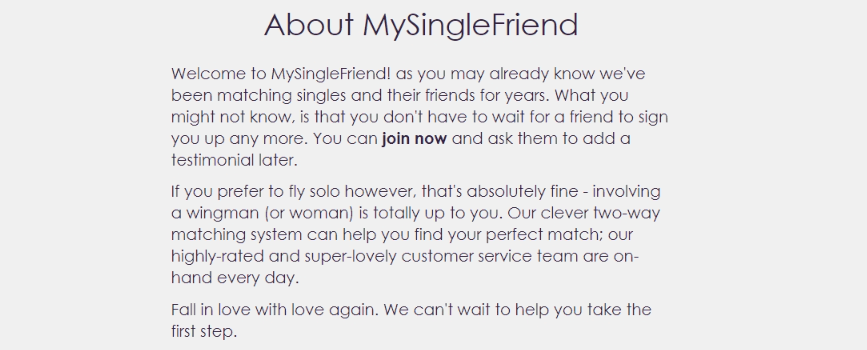 Who Is It For/Demographics
As a member of the online dating association, MySingleFriend review, although different from any other dating site you've seen before, does take itself seriously.
And while the concept of a wingman is a bit tongue in cheek in real life, I believe that having testimonials from others on your profile isn't a bad idea at all.
OFL Top Recommendations based on 100,000+ Survey

"Serious Relationships"
"Discreet Hookups"
"Best Course for Men"
"Quick Flings"
"Normal Hookups"
"Our Quiz"
While the site was started way back in 2004 by TV presenter, Sarah Beeny, it's not the biggest dating site you are going to find in terms of a user base.
MSF, as those who have profiles on the site like to call it, has around 250000 users from all over the world.
So it's not the biggest dating site you will find, but those who try a different niche never really are.
Gender ratio and user

age ranges
The concept of a wingman indicates men, right?
The clue is right there in the name.
And when it comes to who has more profiles on the site, yes it is men.
59% of profiles on the site are male
41% of the profiles on the site are female
Age ranges are fairly evenly split.
Here's a full breakdown from the most popular age range to the lowest along with the gender ratio split of each:
25-34 years old: 28% of all users of which 16% are male and 12% female
18-24 years old: 19% of all users of which 11% are male and 8% female
35-44 years old: 19% of all users of which 11% are male and 8% female
55 and over: 17% of all users of which 10% are male and 7% female
45-54 years old: 17% of all users of which 10% are male and 7% female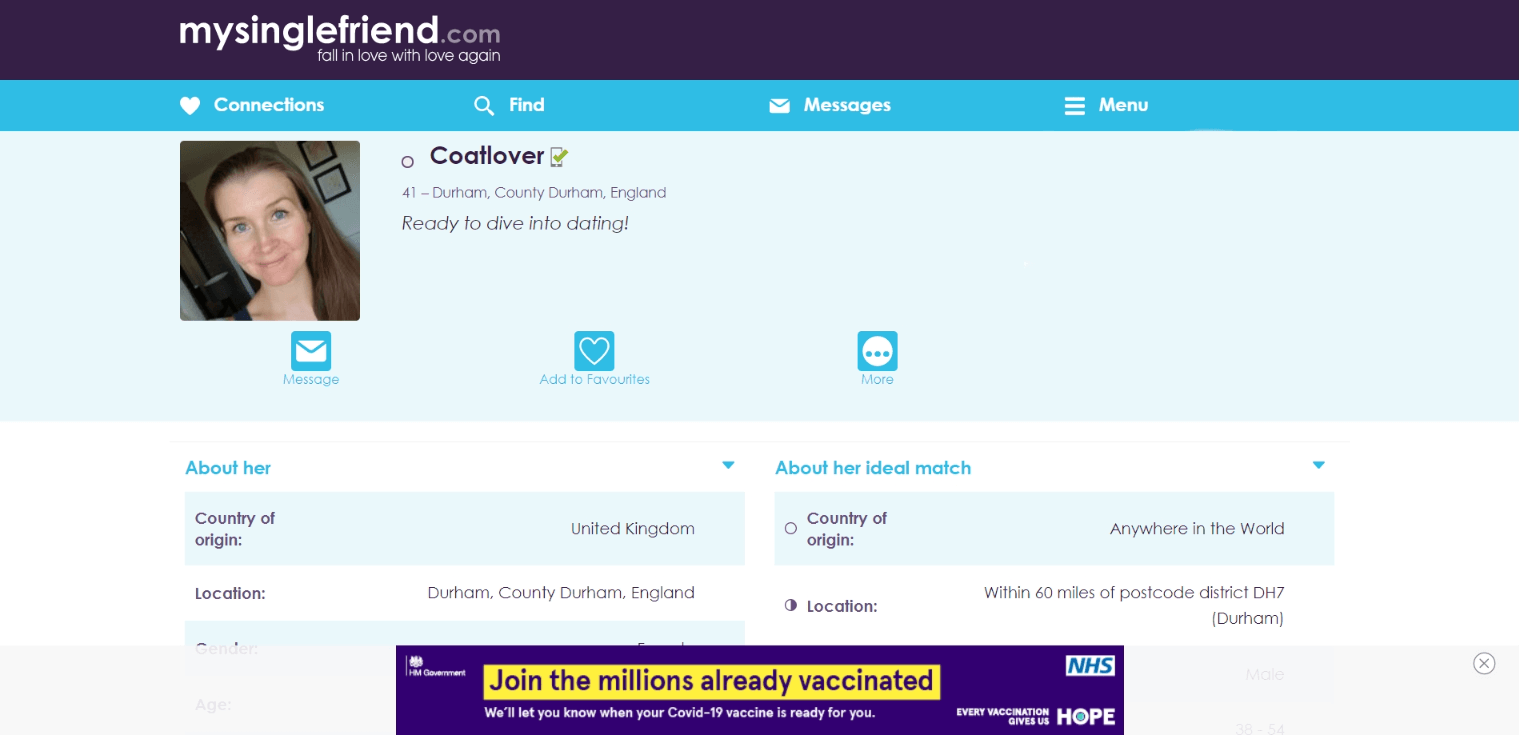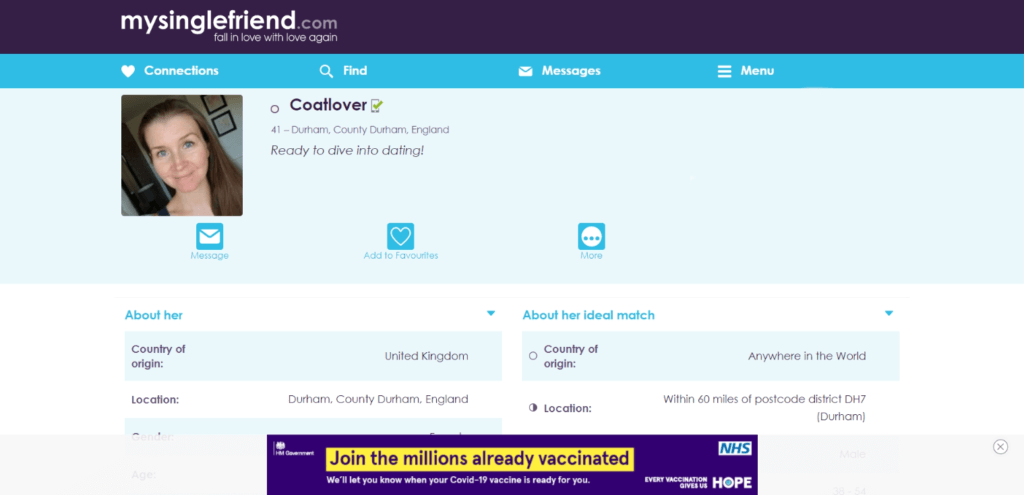 Ok, so assess the site, it's critical to note one thing.
When it started, your friend actually had to complete your profile for you and with your approval upload it to the site.
So essentially your friend had written from their point of view what you were like.
It doesn't work quite like that anymore.
Anyone can upload a profile to the site but to carry on the wingman theme, you need to add testimonials from friends to help boost it.
But now, let's get onto registering a profile on the site.
With no app yet, the only way to start that process is via the MSF website.
This is the information you will need to give first up:
Your gender
The gender you would like to search for (including options for LGBT users)
The age range of matchup returns
DOB
Location
A username
Password
Your email address
If you'd like, you can link your Facebook account to cut down on some of the information needed here.
One of the things I think the admin team has done right during this registration process is to have users fill in sections of their profile as well.
The profile on this site is certainly one of its strong points I feel.
It's packed with information so getting some of that out the way is essential, especially for those users who don't like to spend too much time doing this task.
It's worthwhile, however, because if you do fill in your profile in full, you will help with the two-match matchup feature used on the site.
And that means the quality of matchups you receive will be top class in terms of what you are looking for.
All-in-all, this feature is a particular strength of the site, so playing your part will help in the long run.
Before we get onto the site itself and how to navigate it, let's just keep on the subject of profiles.
They are really filled with so much information and it's the perfect way to learn more about a potential matchup before you reach out to them.
For example, instead of just sending them a regular greeting when you do, perhaps you find something in their profile that you really have in common with them.
That's the perfect way to connect from the start, right?
So I don't want to go too in-depth here, because you will find out more about profiles when filling them in.
I do want to highlight, however, the various sections that they are made up of.
These are:
About: This includes sections for appearance, lifestyle, relationship status, income and occupation.
What they are expecting for a potential match: While there is information that's useful here, what I like about this section is that you will find the two-way matchup algorithm at work. It gives a percentage of just how much of a matchup you are with each person you are whose profile you are looking at.
Own words: Here users will explain themselves in their own words. I love reading through these and you can see the people who really care about getting across just who they are.
More about: Another section that contains so much information about subjects like humor, likes and dislikes, personality traits and more.
I did say they were packed with information but again, profiles on this site are one of the key features, that's for sure.
I won't go too much into it other than to say that the site's overall design is simple, yet sophisticated.
And it's a joy to use.
If you start a profile here you will love spending time on the site and it certainly won't seem like a chore, that's for sure.
Navigating your way couldn't be easier either with only a few menus required to do so although each of them does contain sub-menus.
These menus are:
Connections: Here you will find the matchups that MySingleFriend has for you based on your profile as well as the gender and age range you prefer. You can also see other critical information like the names of users who have favorited and liked your profile.
Find: This is like the search menu on other dating sites. Instead of looking at matchups sent to you, you can look for your own with the site search engine.
Messages: Pretty straightforward, right? Here you will find any messages you receive. It also keeps track of those you send.
Menu: A strange name for a menu in which you can find MSF site settings as well as a link to your profile.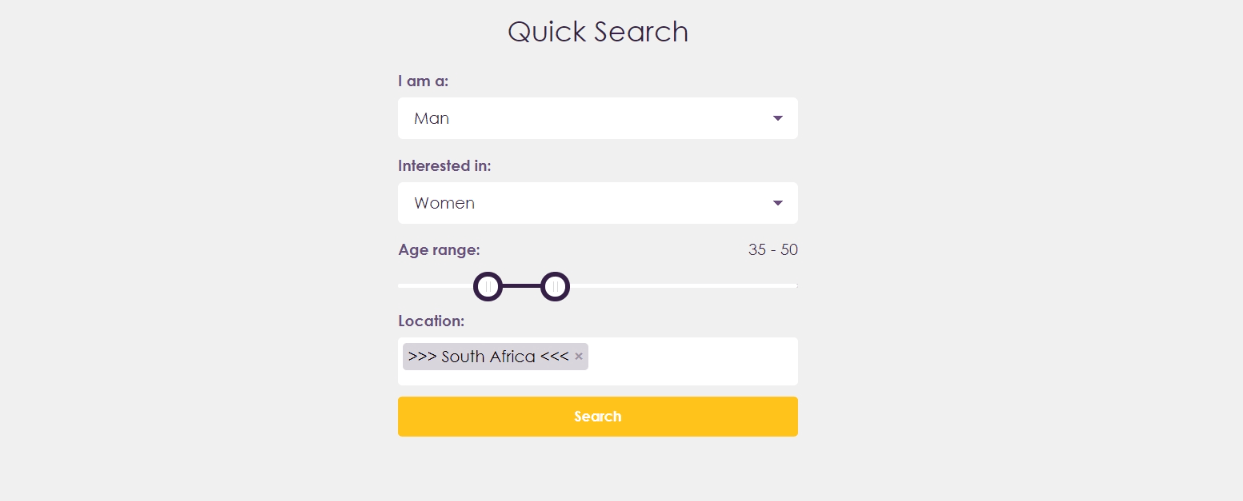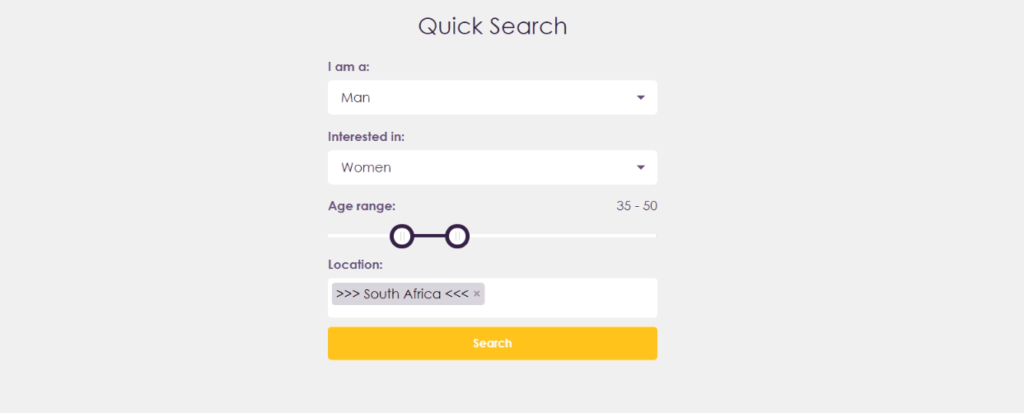 So with an extensive profile with tons of parameters as well as a super-effective matching algorithm, from the time you log in to the site for the first time, you will have matchups that you can look through.
Most people would start their quest for potential matchups here as it just makes sense, thanks to the two-way matchup score you will find on each person's profile.
But the site obviously has a search engine as well and you are no doubt going to check that out at some point, right?
Searching for love on

MySingleFriend
So once you've looked through the matchups provided by the site, you can search for your own as well.
Simply click on the search button to start the process.
The great news is that the MySingleFriend search engine has many search options at your disposal.
Here's an idea of the kinds of searches you can launch:
See users that are online currently
Look through members who have recently uploaded photos to the site
Username searches
Search through profiles of new members that have recently signed up
Look through the most popular users on site
Look through users that have recently logged profile changes
Search via keyword
There are some useful ones there, that's for sure but if you are anything like me, you are going to want to search with your own custom parameters, right?
Well, custom parameter searches that incorporate information from user profiles are only for paying members.
As a regular user, you can only change three options:
Dating sites get people to sign up as users by making some of the necessary tools for success a paid-for feature.
MySingleFriend is no different in that regard.
Yes, like advanced search features, messaging is something you will find behind a paywall.
If you are a member and you want to send a message, you can go to the profile of the user you want to contact and do it from there.
As an added extra, should paying members opt for another special package (Premium) over and above their current membership, they can allow other users to reply to their messages.
I will cover this later in the review.


Before we get into the features, this is what a non-paying member or regular user can achieve on the site:
Like other users' profiles
Add other user profiles to your favorite list
View profiles in full
Read and reply to messages from a Premium member
Here are the extras for paying members.
Send and receive all the messages you like.
As a member of MySingleFriend, there are no restrictions on messaging at all.
Also, if you opt for the extra Premium package, your messages can be replied to by regular users without any membership.
2. Message keyword searching
It's not a massive perk but could come in handy from time to time.
All members can search their messages for keywords.
As a paying member, you can give other users access to your private photos.
While the site provides your matches, as a regular user you can only see up to 100.
For those who take out membership, that goes up to 1000 matches.
5. See who viewed your profile and more
Members of the site can see who viewed their profile.
That's not all, they also will receive notifications if someone likes or favorites it as well.
If you'd like, you have the option to sort your search results using various filters.
The stand-out features here are obviously messaging and the fact that you get up to 1000 matches to view.
The rest of the features are useful but nothing really that spectacular.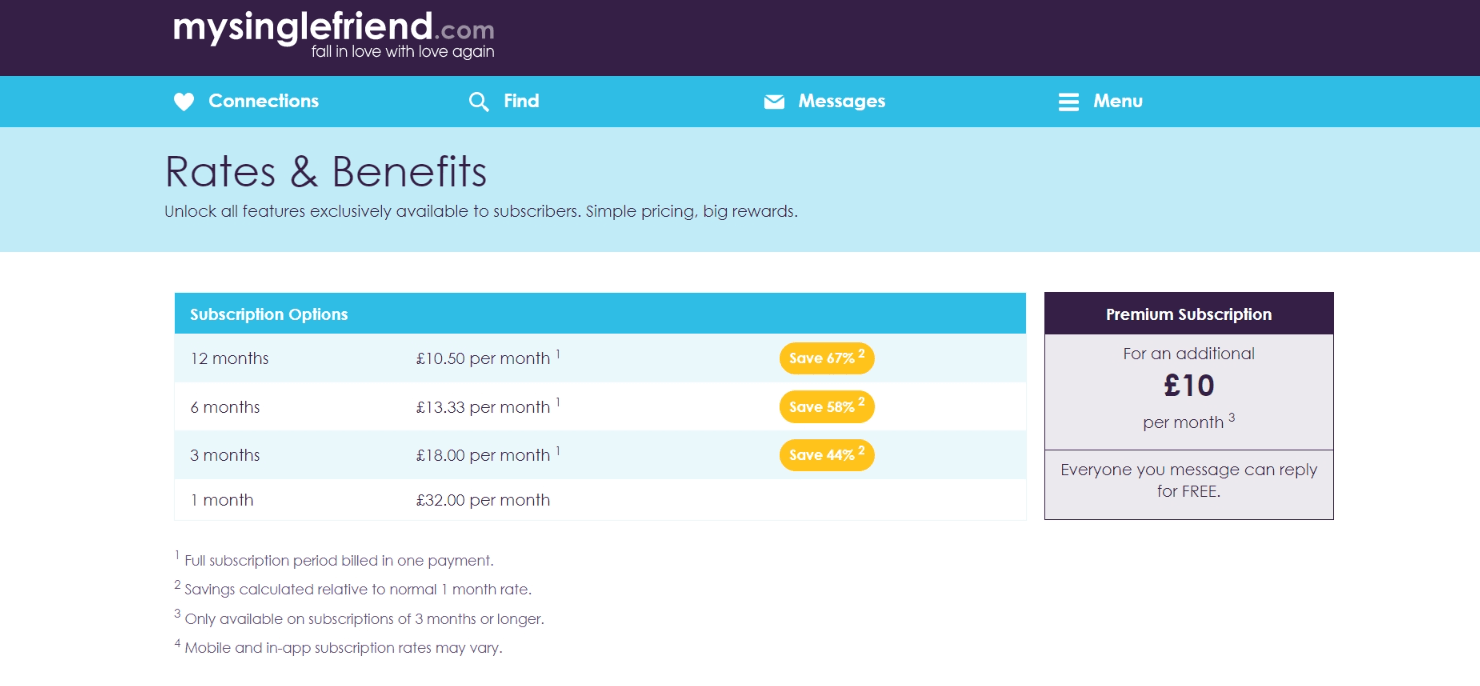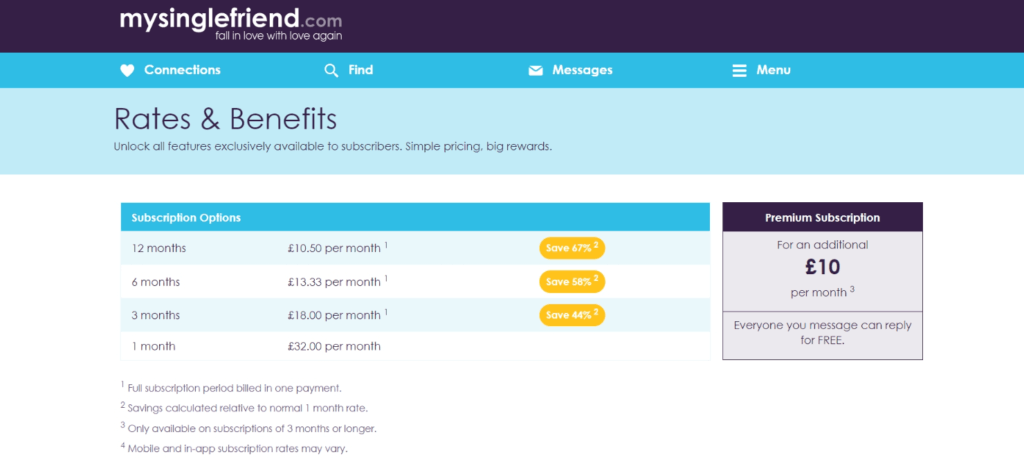 So just how much will you pay for membership.
Well, it depends on which package you are going to go for.
Of course, there is the regular month-to-month subscription but also a three-month, six-month, and year option.
Here's a breakdown of what each of these will cost you:
1-month: £32
3-month: £54 (£18 per month)
6-month: £79.99 (£13.33 per month)
12-month: £126 (£10.50 per month)
Remember, you can add the extra Platinum membership to membership subscriptions over three months to allow anyone to reply to your messages.
That costs an extra £10 per month.
I am not sure why that can't be put on the 1-month option.
I guess they want to tie people into longer contracts and get the cash upfront.
But to be honest, with the 1-month option almost double in price, I would allow the Platinum membership to be attached to it as a way to encourage people to sign up.
As for membership payment, well, you can use your credit card to make things easier.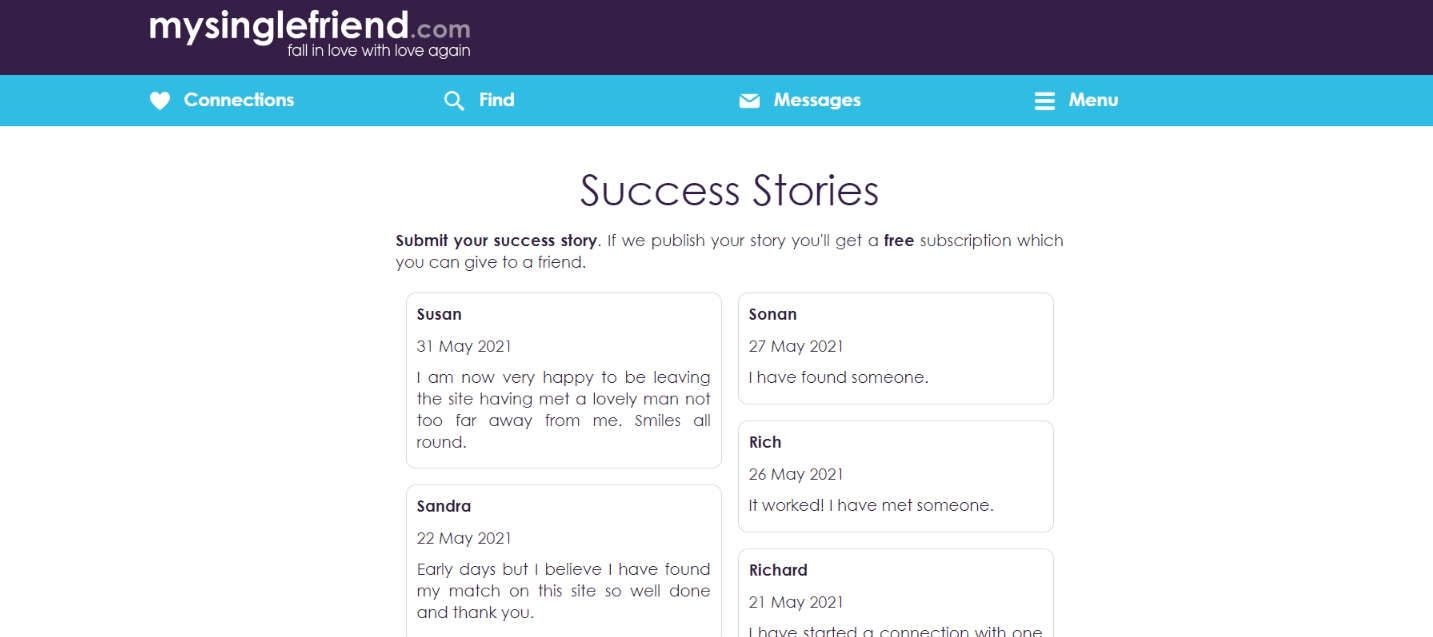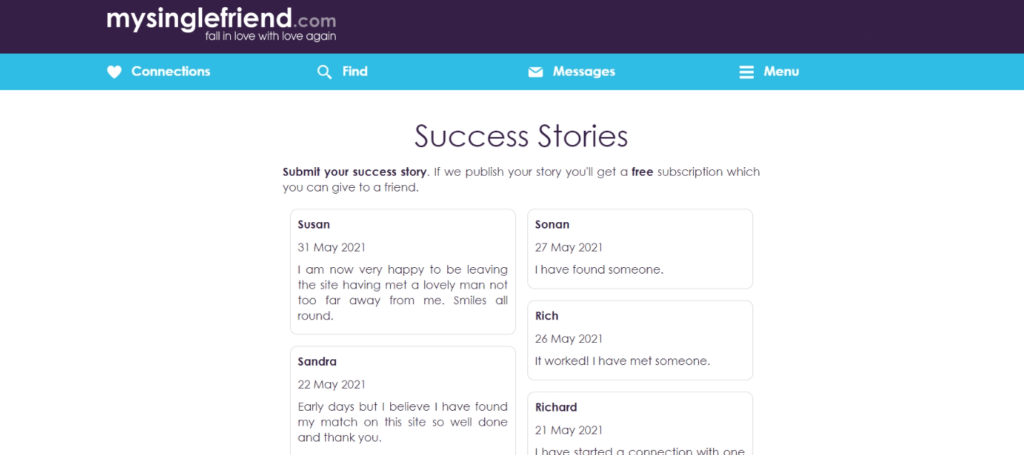 Conclusion and Overall Rating
And that's it for our MySingleFriend review.
Let's quickly take a few moments to summarize what it offers.
Well, when it started, it was certainly a little quirky in the fact that friends made profiles on the site for other friends.
Now, however, it is more of a traditional dating site where you can get your friends to provide testimonials about you.
So it is still different from most dating sites, I guess.
There are several things that I love about the site.
It's well-design and you will love using it.
It's got an excellent two-way matching system and it also provides ways for users to let other replies to their messages, for an extra fee of course.
Will it work for you?
Well, the user base isn't huge, and mostly in the United Kingdom.
So if that's where you are based, why not give it a try.
As for a rating, it gets 3.5 out of 5.
Our comprehensive review of MySingleFriend was overseen by Onlineforlove who used the site for an extended period to fairly rate what it has to offer.
Our approach during this time was to identify important criteria by which to score the site and give it a final, overall rating.
These criteria included the user registration process, overall ease of use, profile quality, and the effectiveness of the search engine.
But the evaluation also considered membership pricing, matchup success rate, the size of the user base, and features offered to members.