If you are Mexican or love dating people of Mexican descent, then this review is going to tell you all you need to know about a site that caters to this specific dating niche.
In this deep dive, we are going to cover everything you could possibly need to know about a site that's popular in the Americas but also in other parts of the world.
You will learn:
OFL Top Recommendations based on 100,000+ Survey

"Serious Relationships"
"Discreet Hookups"
"Best Course for Men"
"Quick Flings"
"Normal Hookups"
"Our Quiz"
And at the end of the review, you will know if this is the niche site you should start a profile on or not.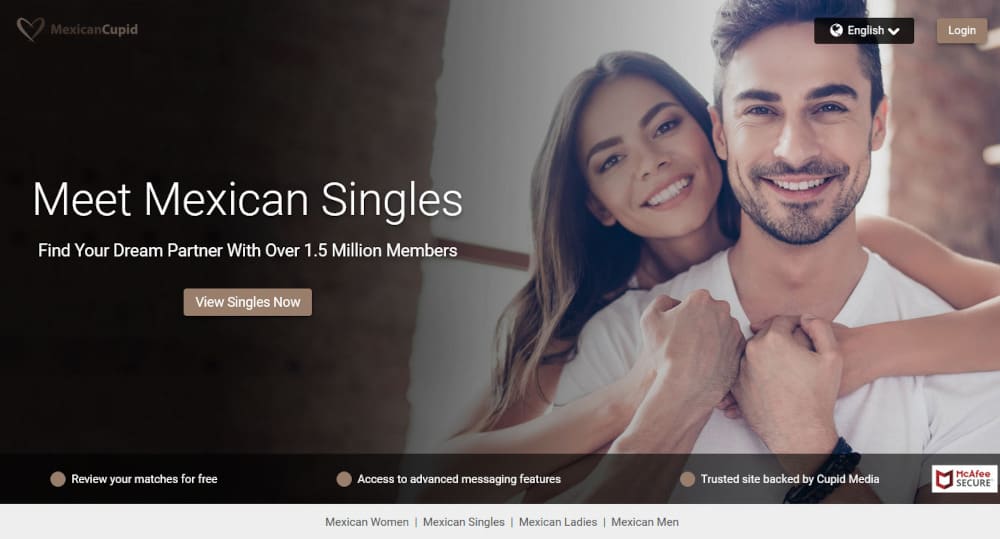 Is your dating app giving you the best chance for success?
Make sure to take our online dating site/app quiz to find out.
People who follow our dating site suggestions have on average 2 more dates per month.
Mexican Cupid Review in Video Form
Audio (podcast) form for those of you on the go
Ease of use – 4/5
Effectiveness – 4/5
Key Features – 4/5
Pricing – 4/5
Easy to sign up
Easy to navigate
Excellent search options
Brilliant features for members
Not the biggest user base but enough
You will need a membership to communicate effectively
The app isn't available for Apple phones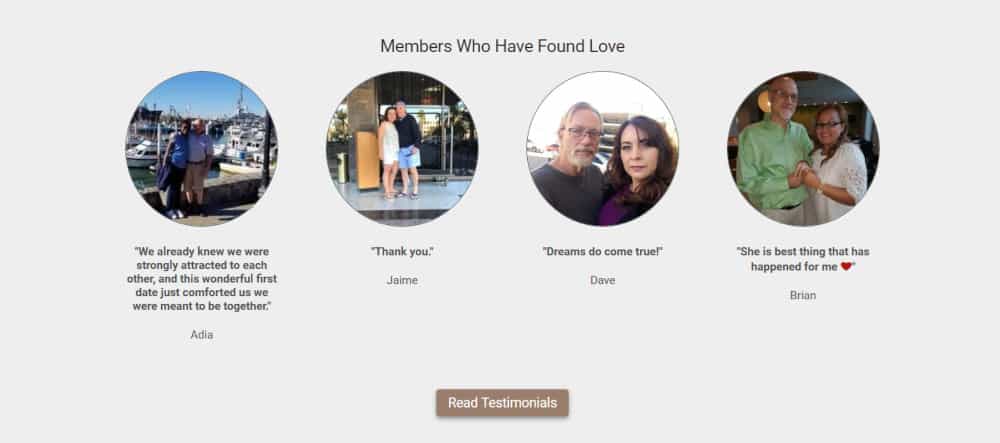 Who Is It For/Demographics?
Mexican Cupid is not exactly a hookup site (like BeNaughty or Ashley Madison) or purely a site for those seeking serious relationships only (like eHarmony).
Yes, it's for people of Mexican origin who want to date each other but also those of other ethnicities who prefer to date them too.
As users for the site go, those make up the majority but you will find other profiles on-site as well.
But let's go a bit deeper into the numbers behind Mexican Cupid.
They are certainly not as spectacular as sister-site Latin American Cupid.
None-the-less, they are more than enough to sustain a niche site like this.
Overall, Cupid Media says that since its inception, Mexican Cupid has had around 750 000 users sign up.
Let's break that down a little further:
300 000 users from the United States
Over 100 000 users are active each week
The Mexican Cupid app has been downloaded 100 000 times
Close to half the users are from Mexico
While those figures don't blow you away, there is something to work with, especially if you know that you are going to come across plenty of people of Mexican origin.
If that's your thing, then it seems like Mexican Cupid could be worthwhile setting up a profile for.
There are just a few more critical things to discover.
So in terms of a gender breakdown, you probably can guess that like other niche dating sites, for the most part, males tend to dominate user numbers.
And that is true for Mexican Cupid, by a ratio of a little more than 2:1.
70% of Mexican Cupid users are males
30% of Mexican Cupid are female
That's a breakdown of 525 000 male and 225 000 female profiles if you want it in a numeric value.
Now, let's look at the age ranges of these users because that's critical information when seeing if a dating site has people in the age range you are looking for.
The most active members on the site are as follows:
25 to 34 years old
35 to 44 years old
45 to 54 years old
18 to 24 years old
55 and up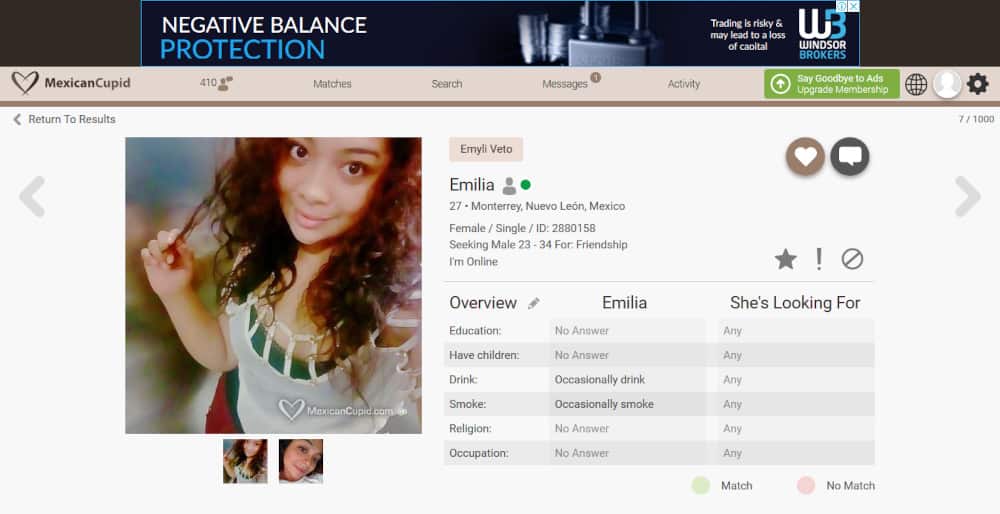 You simply won't find a dating site on the web that's as easy to use as Mexican Cupid.
That's because as a Cupid Media site, you can be sure that everything you need to secure that perfect match is not only simple to find but simple set up and use as well.
But before we get into just how the site works, to use it, you first must make your own profile.
Dating sites want to make your sign-up as quick and painless as they possibly can.
That's because they know, by getting you on the site and showing you some of the potential matchups available to you, they can get you extremely interested in what they have to offer.
In other words, signing-up at Mexican Cupid takes no time at all and even less if you use your social media account, Facebook in this case.
I went the more traditional route and needed to enter my username, a password and an email address.
You will have to answer three questions as well.
Your gender
What gender you'd like to meet
Your age
And that's it.
The first thing you notice when you log in is Mexican Cupid presents you with a bunch of profiles straight up to browse through.
These are all pretty random in terms of ages but if you'd like to get browsing, you can.
Most people, however, will take the time to fill out their profile.
And I would suggest that as well.
That's because this is not a hook up site, people are looking for dates, perhaps partners or even long term love.
So the more they know about you, the better.
As always, you can fill as much as you'd like, or as little.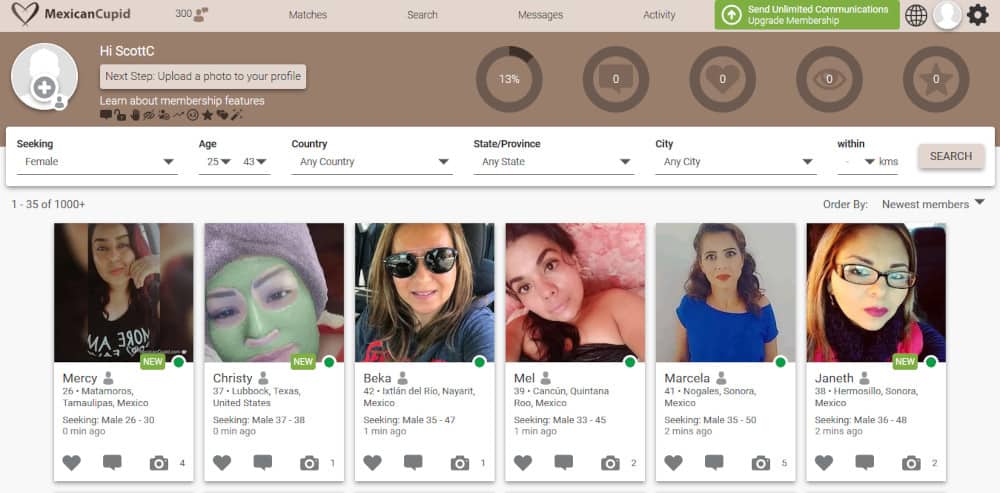 Finding your way around Mexican Cupid is not that difficult at all.
In fact, when you view the first screen as you log in, you are presented with a menu bar that acts as the main site navigation.
Here you will find access to your matches, the search engine, messages and activity.
While the first three are self-explanatory, activity shows which profiles you have liked or favorited, viewed and blocked and who has liked, viewed or favorited your profile.
Once you are set up, you are probably going to spend your time launching searches.
By clicking on the search engine, you are brought to the search page.
Here you can add all the parameters for that perfect person you are looking for.
A useful addition to the site is an indicator that shows you how many users are online.
Mexican Cupid only has an app for Android.
Everything you have on the site is also available in the app but obviously in a more compact format.
I used it for a brief period of time, but I found I preferred the website.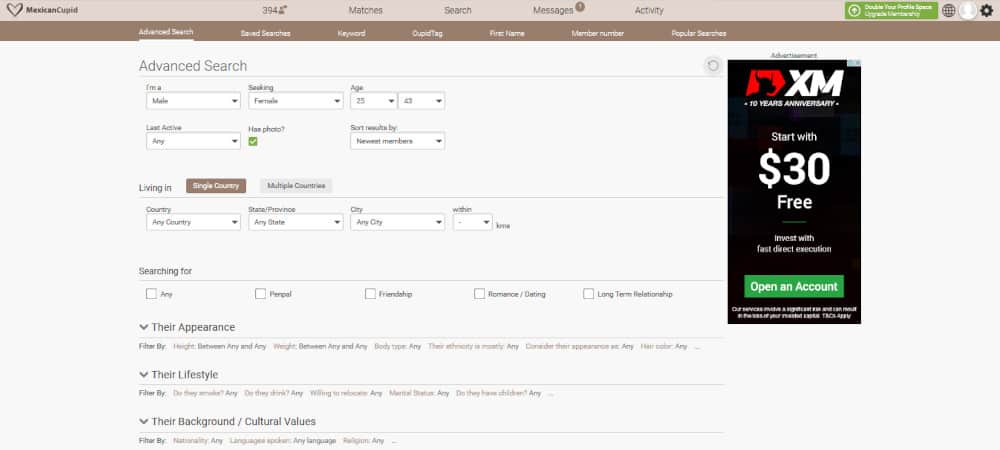 Effectiveness of Mexican Cupid
So all the tools are there, that's for sure.
But can Mexican Cupid help you find love (or whatever it is you are looking for)?
Well, that's always a difficult question to answer because much of the answer depends on you, the individual.
But in a nutshell, yes, I think it can.
Let's look a little deeper.
I've already spoken a little about the search engine and what you can input here as parameters for your searches.
This is the number one way that you are going to conduct a search for potential matchups.
Over and above things like their age, gender and other parameters, you can also search according to:
Their last login. This means you aren't bringing up users that haven't logged in a long time
Do they have a photo or not
Where about they live
Various appearance parameters
Various lifestyle parameters
Background and cultural parameters
In my time on the site, I ran some broad searches but also ones with a lot of parameters selected.
While the broader searches brought in the most matchups, which is pretty obvious, I wasn't unhappy with the more refined searches with particular wants and needs on my part.
So yes, the user base is online for you to take advantage of.
I also want to mention a second way in which you can search for people and that's using what Cupid Media calls Cupid Tags.
It's a feature of all their dating sites.
They allow you and other users to put certain tags that you would associate with yourself on your profile.
For example, you could describe yourself as kind, or helpful, or caring.
Other Cupid Tags include:
Outgoing
Quite
Romantic
Serious
Affectionate
Sense of humor
There are many to choose from but you can also put in age ranges, where the person should be residing and the gender you are looking for in a Cupid Tag search.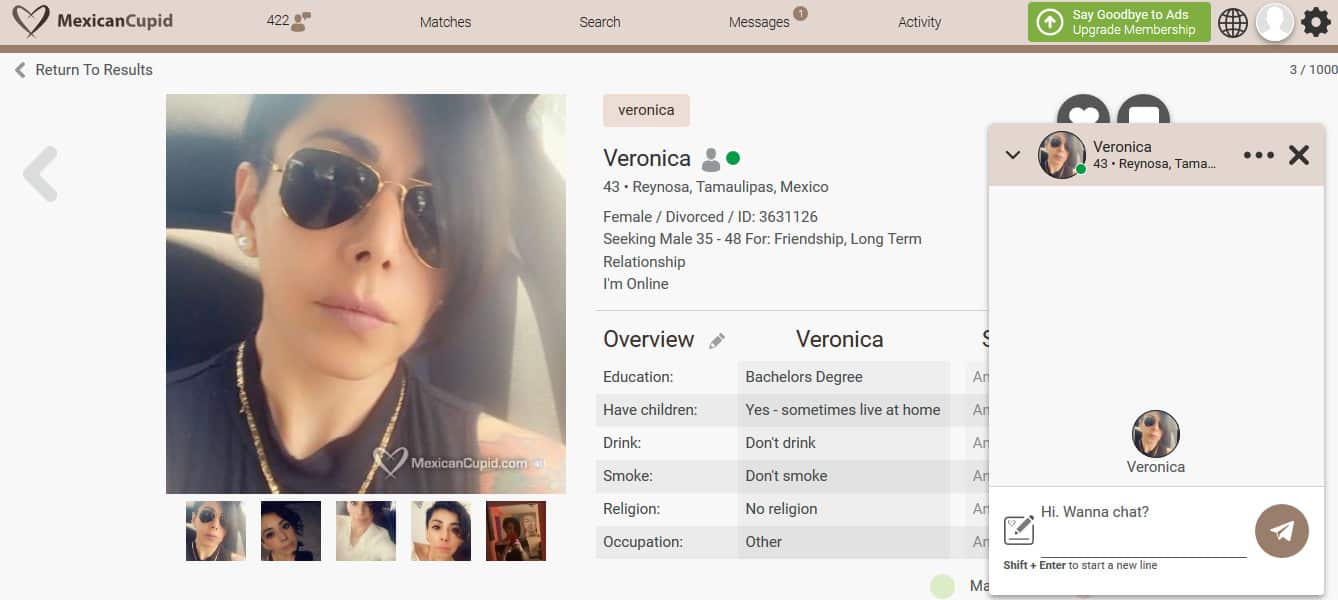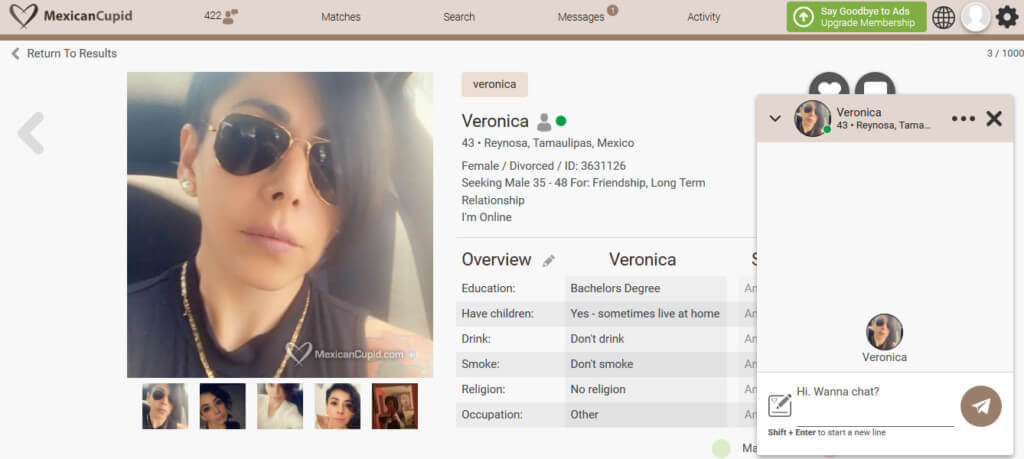 Connecting with a potential matchup
The final thing we need to check in this section of the review is just how easy it is to get into contact with a potential matchup.
This is where things start to get a little more difficult because Mexican Cupid only allows for limited messaging.
That means you can only send messages to members.
If you find a regular user that you would like to contact, you can't other than "liking" their profile to which they will receive a notification.
Mexican Cupid is not unlike other dating sites in the fact that if you want to communicate effectively then taking out membership is your only option.
Of course, membership brings you a range of other key features so let's look into those now.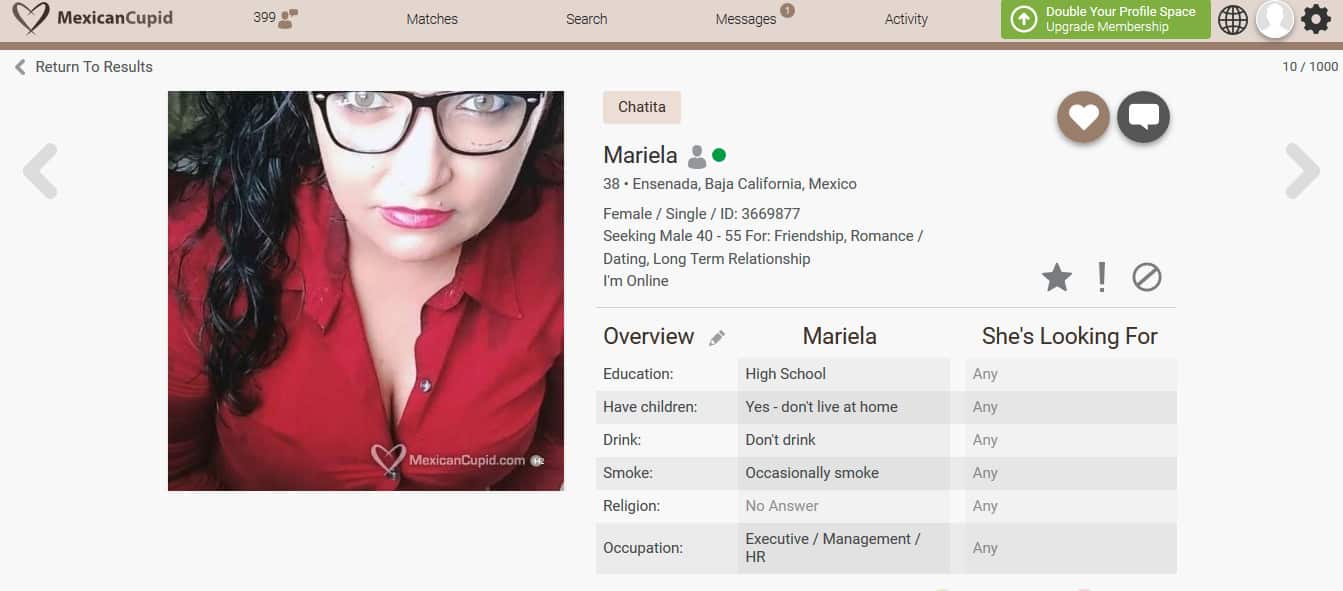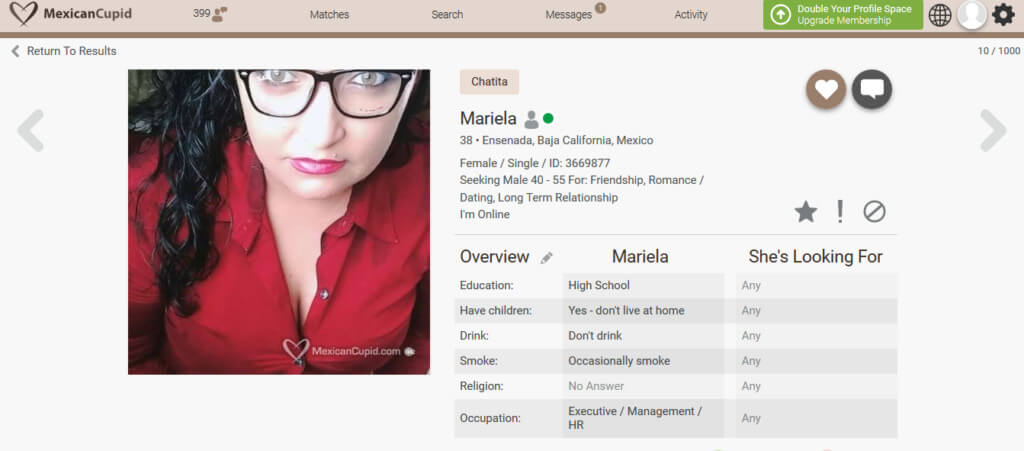 So as with similar dating sites out there, the key features on offer at Mexican Cupid are for members only.
The great thing about Cupid Media sites is that although messaging is restricted and you are probably going to need to look at membership at some point, there are tons of cool features that you don't have to pay for.
So before we delve into those key features members can expect, it's good to remind ourselves what a regular user of the site will be able to do while online.
You can send messages, but it's only to paying members. This is very restrictive.
You can "like" other user profiles. If you do, they receive a message that you have "liked" them. It's a great way to show people that you are interested in them.
If you really think someone might make a good matchup, you can add them to your "favorites" list.
Many extra parameters that you can set while searching for matchups
You can see which other users have viewed your profile
You can see which other users have favorited your profile
You can see which other users have liked your profile.
If you have used other dating websites before, some of the options above are considered as key features for members.
On Mexican Cupid, there are there to use for regular users.
The main problem remains, however.
And that's the fact that messaging is restricted.
So if you want to effectively communicate, you probably will look into a membership at some point.
And Mexican Cupid has two options when it comes to that.
Gold membership
Platinum membership
These are the key features that you can expect
1. Send messages to anyone
If you opt for either of the membership options above, messaging anyone on the site is not a problem.
That's because you can send messages to other members as well as all other users.
And you are not restricted either in the number of messages you can send.
Feel like connecting with 100 other people?
Well, you are welcome to type out messages to each one of them and send them.
2. Instant messaging options
So if you'd prefer instant messaging, as a member of Mexican Cupid, you can.
Available to both Gold and Platinum members, an instant message is just that, instantaneous and a far better way to communicate with someone to get to know them better.
Other than the ability to send messages to anyone, this feature alone I feel is a reason to look into Platinum membership.
If you are a Platinum member, you can look for matchups in the regular way, or you can see what Mexican Cupid suggests for you.
And to do that, you can browse:
Mutual matches
Reverse matches
Let's look into both in a little more detail.
Mutal matches, in theory at least, should provide you with near-perfect profiles to browse.
That's because, with these matchups, they match your criteria in terms of what you are looking for and you match their criteria as well.
Sounds promising, right?
So what's a reverse match.
Well, these are a little different in the fact that it's you that match the other person's criteria in terms of what they are looking for.
They, however, might not match exactly what you are looking for.
But that keeps it a little spicy!
Without a doubt, these are excellent ways to find people you might be interested in instead of going through hundreds and hundreds of search returns.


To be at the forefront of other user's searches for love, you can make your profile VIP.
This simply means that instead of appearing someone in a list of matchups in someone's search, instead, you will be at the very start of their search returns.
There's not only that, however.
Both Gold and Platinum members have access to increased profile sizes as well where they can add even more information about themselves.
As a Gold or Platinum member, you won't be exposed to any form of advertising at all.
Advertising is big business for dating sites and Mexican Cupid is no different, although I have found the advertising they allow to be far less intrusive than other dating sites I've used.
That said, it's nice not to be exposed to any advertising and that's what membership brings you.
Should you prefer your profile to be hidden for a period of time and not come up in searches, Gold and Platinum membership allow you to do so.
You can also still browse other people's profiles with no trace of the fact that you have.
In other words, your details won't appear when you check who browsed their profile.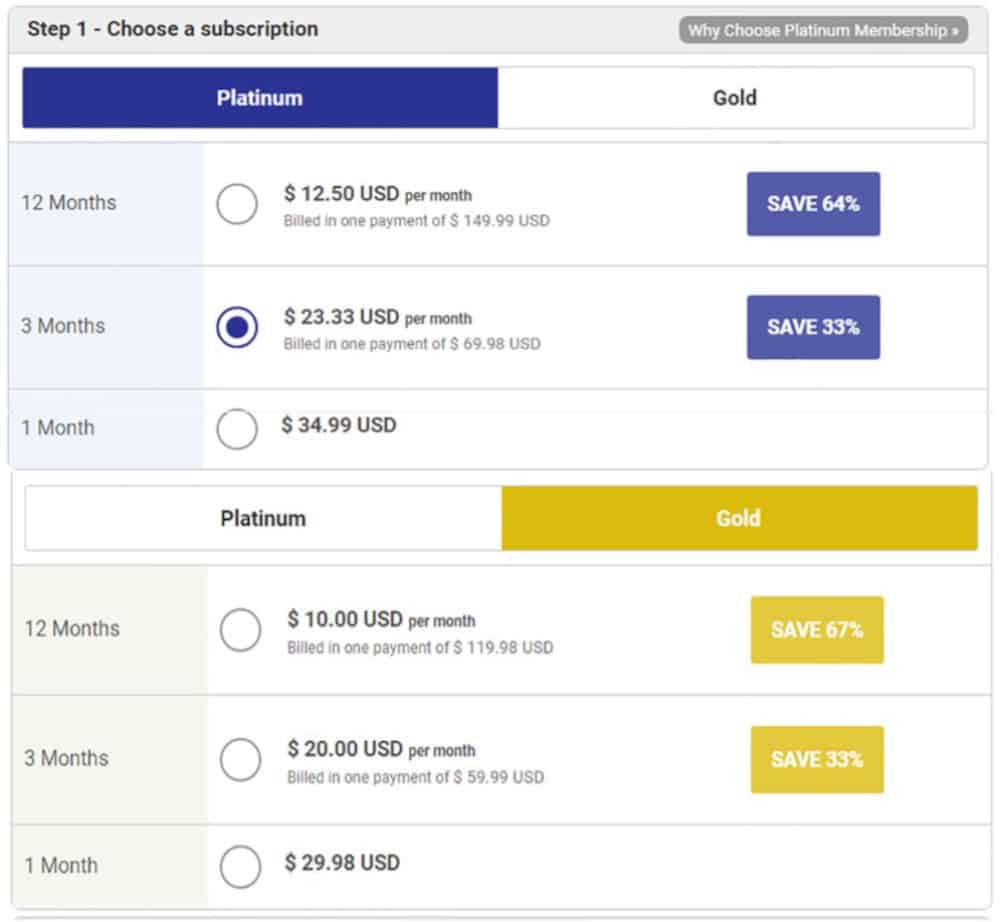 Now that you've seen the features that Mexican Cupid has to offer, it's time to get into the pricing structure.
Mexican Cupid is no different from any other dating site out there in the fact that all the key features, as well as the ability to message someone in an effective manner, is locked behind a paywall.
So how much is this membership going to cost you?
And does Mexican Cupid offer a range of membership packages to choose from?
Starting with the second question, yes, there are two main membership packages for you to choose from should you wish to sign up as a member of Mexican Cupid: Gold and Platinum.
Platinum membership opens up all the features that Mexican Cupid has to offer, while Gold Members offers most, but not all of them, for example, reverse or mutual matches.
The differences between the two were covered in Key Features above.
So how much is Gold and Platinum membership going to cost then?
And are there various monthly packages on offer?
Starting with Gold membership, here's a breakdown of the costs.
1-month membership – $29.99
3-month membership – $59.99 ($20 per month)
12-month membership – $119.99 ($8.10 per month)
So what's the Platinum membership going to set you back then?
1-month membership – $34.99
3-month membership – $69.99 ($23.33 per month)
12-month membership – $149.99 ($12.50 per month)
Niche sites tend to be more expensive than a regular dating site and Mexican Cupid's prices are pretty steep.
Ultimately, it's every individual's decision as to what type of membership they opt for if they do so at all.
From a Key Feature point of view, I think that Mexican Cupid's prices are actually well thought out.
If you do become a member, there are lots of features for you to make use of when looking for love.
And I wouldn't mind paying the prices quoted to land that perfect match.


Conclusion and Overall Rating
Niche sites are a critical part of the dating scene online.
That's because, for people with specific requirements in a potential date, they provide a target group of users that you know will fit the bill.
That's what Mexican Cupid gives us.
And like all the other Cupid Media sister-sites, Mexican Cupid does what it does so well.
When it comes to a rating, I am going to give Mexican Cupid a very solid 4 out of 5.
Even regular users have got lots of extra features that other sites put behind a paywall.
But like those sites, if you want to message other users effectively, you are going to need a membership.
Luckily that opens so many other features as well.
Do you think Mexican Cupid is the site you are looking for?
Have you tried it?
Let us know in the comments below.
Frequently Asked Questions