They say money can't buy love and happiness, but Selective Search says otherwise. If you are looking for the most elite dating service, then you should definitely take a look at Selective Search.
In this Selective Search review, I am going to reveal the truth behind this dating service, and answer the question 'Is Selective Search a scam'.
If you want to know more stay tuned, and let's begin!
Is your dating app giving you the best chance for success?
Make sure to take our online dating site/app quiz to find out.
People who follow our dating site suggestions have on average 2 more dates per month.
Selective Search Review in Video Form
Audio (podcast) form for those of you on the go
Ratings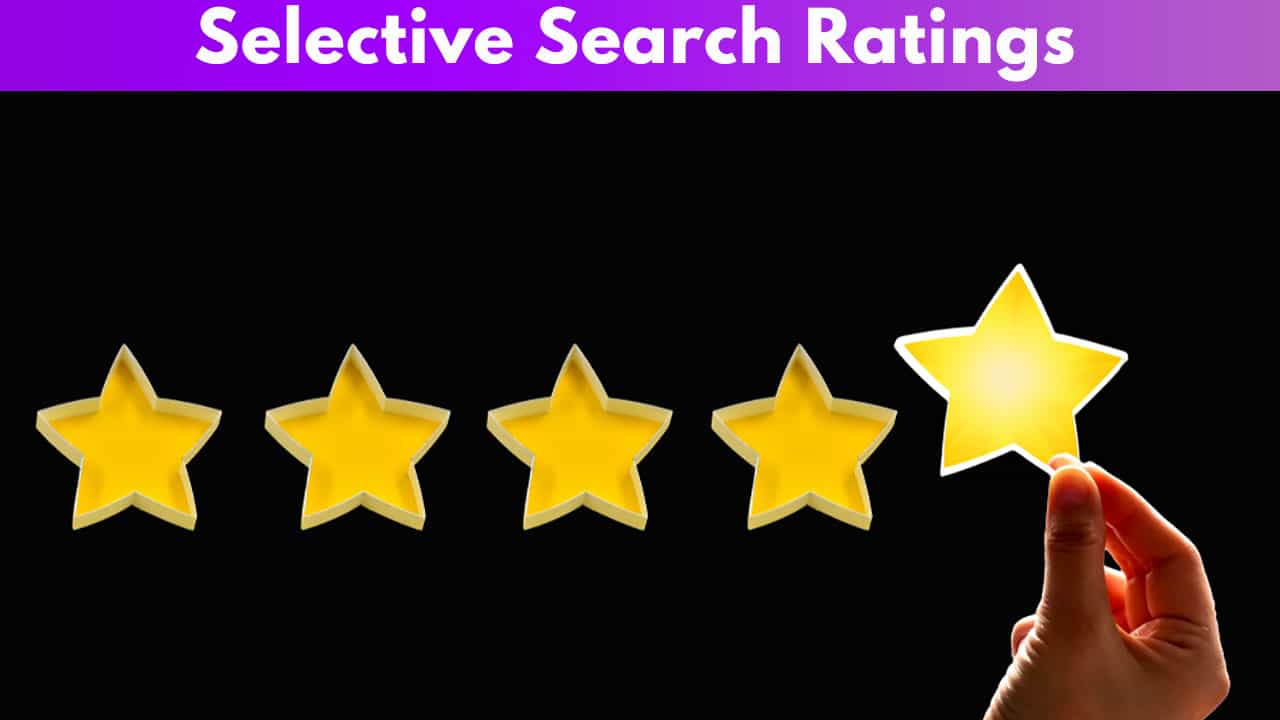 Effectiveness: 3.0/5
Features: 1.0/5
Ease of Use: 3.0/5
Price: 1.0/5
OFL exclusive offers - Check all of them

"Serious Relationships"
"Discreet Hookups"
"Best Course"
"Quick Flings"
"Normal Hookups"
"Our Quiz"
Pros:
Genuine matches
Offline support
Completely safe to use
Free affiliate program
Cons:
Extremely expensive paid plan
Long sign up process
Too many sugar-daddies
Only available in the United States
Who is it for/Demographic Makeup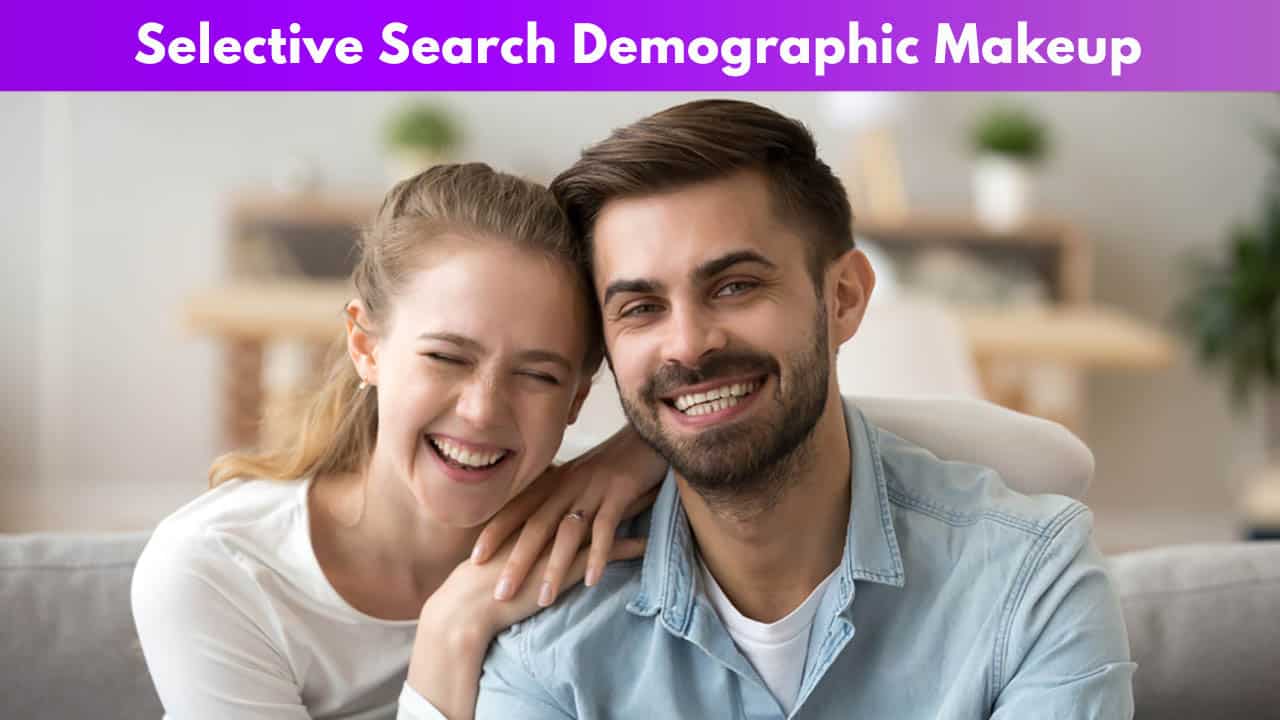 Selective Search is not a regular online dating service, but instead a matchmaking service. What that means is that it operates mostly offline.
All you do online is submitting your profile, and eventually contacting support, but the entire process is mostly done offline.
Selective Search's main base of operations is in Chicago, but it operates across the United States, more precisely, in 27 other cities.
The service is focused on people who are looking for high-profile individuals for serious relationships, not just hookups.
At least that is what their official statement is. In truth, reviews about Selective Search are pretty divided, as you will later see.
Apart from that, Selective Search staff claims that there are also members from outside the United States, but that their number is not too large.

As for the official numbers, there are more than 250,000 affiliate members, as well as about 500 clients, most of which who are males.
Therefore, this matchmaking service is not for everyone, but mostly for the educated, well-standing, and high-profile people who don't have too much time to find dates some other way.
Effectiveness
Now, let's talk about the effectiveness of Selective Search, and see whether it is even worth a try or all the stories are just that, the stories. Here, I'll partly answer the question 'Is selective search a scam'.
I'm going to divide this section into two parts. First, I will talk about what are the official numbers from Selective Search.
After that, I am going to show you some selective search dating reviews and testimonials from outside the network, to gain more insight into what is the general opinion of this matchmaking service.
The official data from Selective Search claims that a total of 87% of their clients manage to achieve the end game, and find someone for the relationship.
Also, about 34% of people supposedly find their loved one on a first date, which is more than a third of the total amount of clients.
In total, Selective Search statistics say that has helped a lot of people to meet each other, which has resulted in over 3902 successful couples, as well as more than 1800 marriages.
All these sound great, but, since there are no other official statistics from outside the Selective Search itself, I wanted to dig more about the service, and this is what I've found.
The site is indeed genuine, with real staff, and real matches. However, not everything is as shiny as they presented.
A lot of people had complaints about Selective Search being just a covered-up escort service because young and attractive women would usually be matched with older men with a lot of money, which lead them to the conclusion that a Selective Search is a place for sugar-daddies to find escorts for themselves.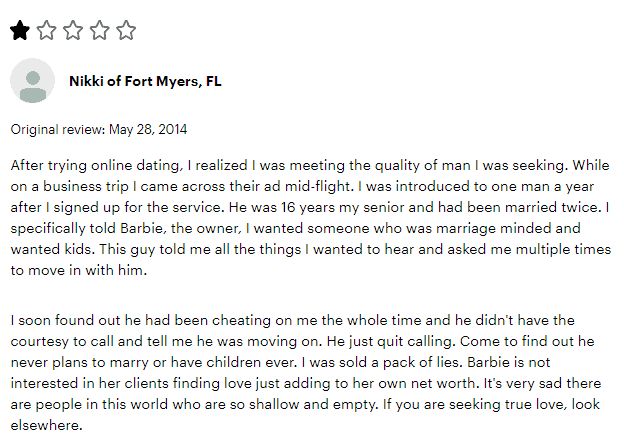 Men who had written reviews, also reported the same thing, expressing their concerns that Selective search is just another high-profile escort service.
Not just that, but even men who had used the website, also wrote Selective Search matchmaking reviews that claim the website and staff are not professional in terms of how they treat their clients and customers.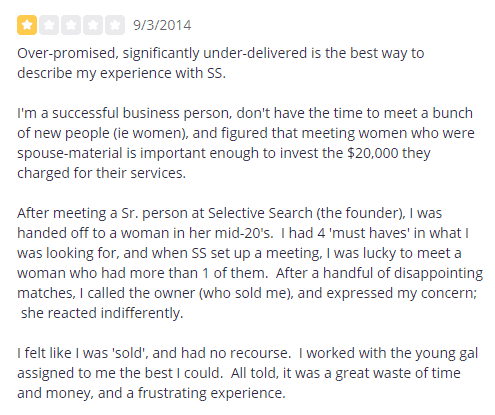 In some cases, it seems that Selective Search staff would go to that extent to hire a real lawyer, just to pay people to remove negative reviews, so they could keep scamming people.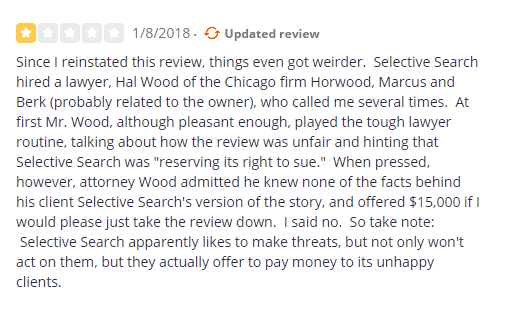 The most common answer Selective Search has to all these negative reviews is that they are sorry those people had bad experiences, but that they couldn't have found them in their database, which basically means that they reject that you are even their member.

Another answer is that they are not able to assist you directly on the review site, but over the phone, due to the confidentiality of the member's details.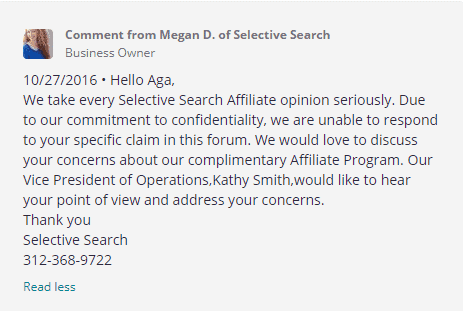 Of course, there are also positive reviews, but truth to be told, most of them look like generic or even paid reviews.
Most of these reviews are poorly written, without too many details about the user experience, unlike in negative reviews, where you could've seen the stories behind the context, which is more convincing, to be fair, than some generic-looking positive review.
Key Features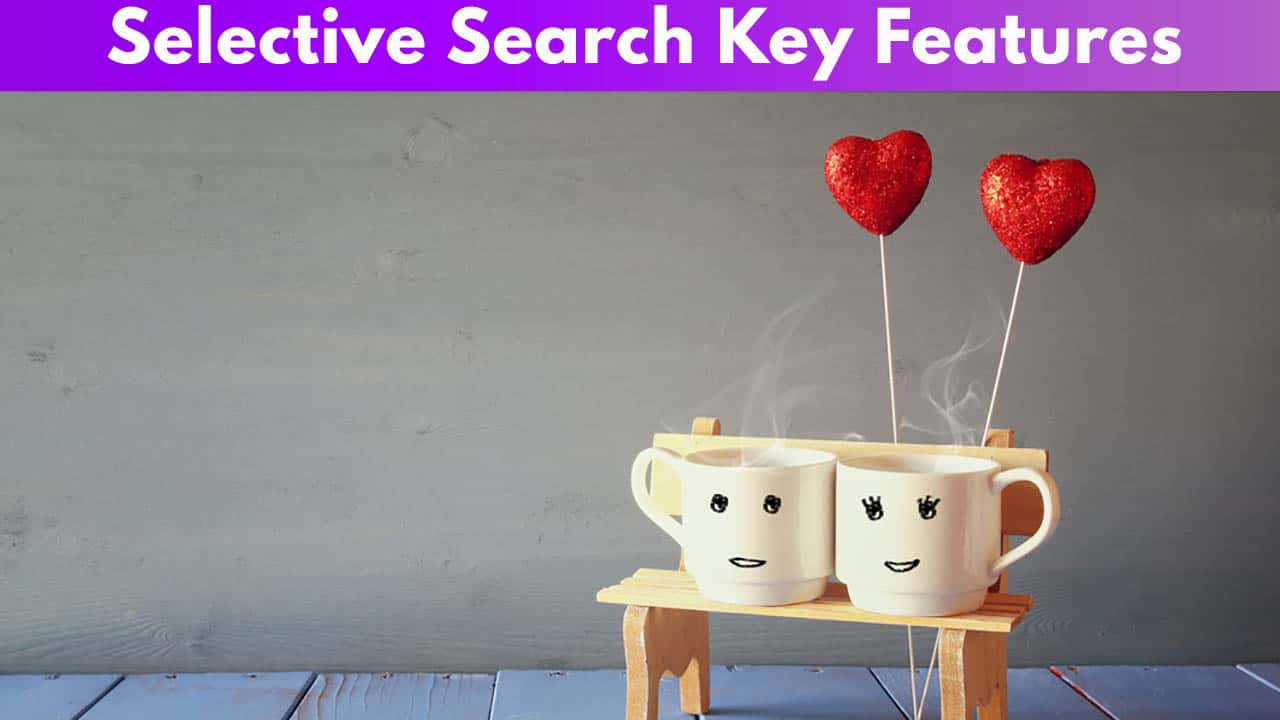 Now that we've seen the general opinion of Selective Search, let's talk about how does this selective dating service works.
Since Selective Search is not a regular online dating website, nor mobile application, there aren't any special features to be found here. It is simply a matchmaking service, which mostly operates offline.
Instead, I am going to discuss the entire matchmaking process, and to explain how does it work, in order for you to understand it better.
The Selective Search matchmaking process is divided into 6 steps:
Intake
Benchmarks
Screening
Presentation
Selection
Evaluation
Let's take a look at every individual step, and then create an overall picture of how everything fits together.
Step 1: Intake
After you submit your client application, the matchmaking process can begin. During this first step in the process, Selective Search staff will call and arrange personal interviews with the applicants.
During that interview, they will ask about your preferences and experiences in previous relationships, in order to create a pattern to describe what kind of people would be the perfect match for you.
Once they know more, they usually ask you when you are going to become a full member. In other words, they ask when you are going to give them your money.
If you applied as an affiliate, you will usually be contacted by Selective Search staff via email, or directly by phone, whenever they have a match for you, which can never happen, by the way.
Step 2: Benchmarks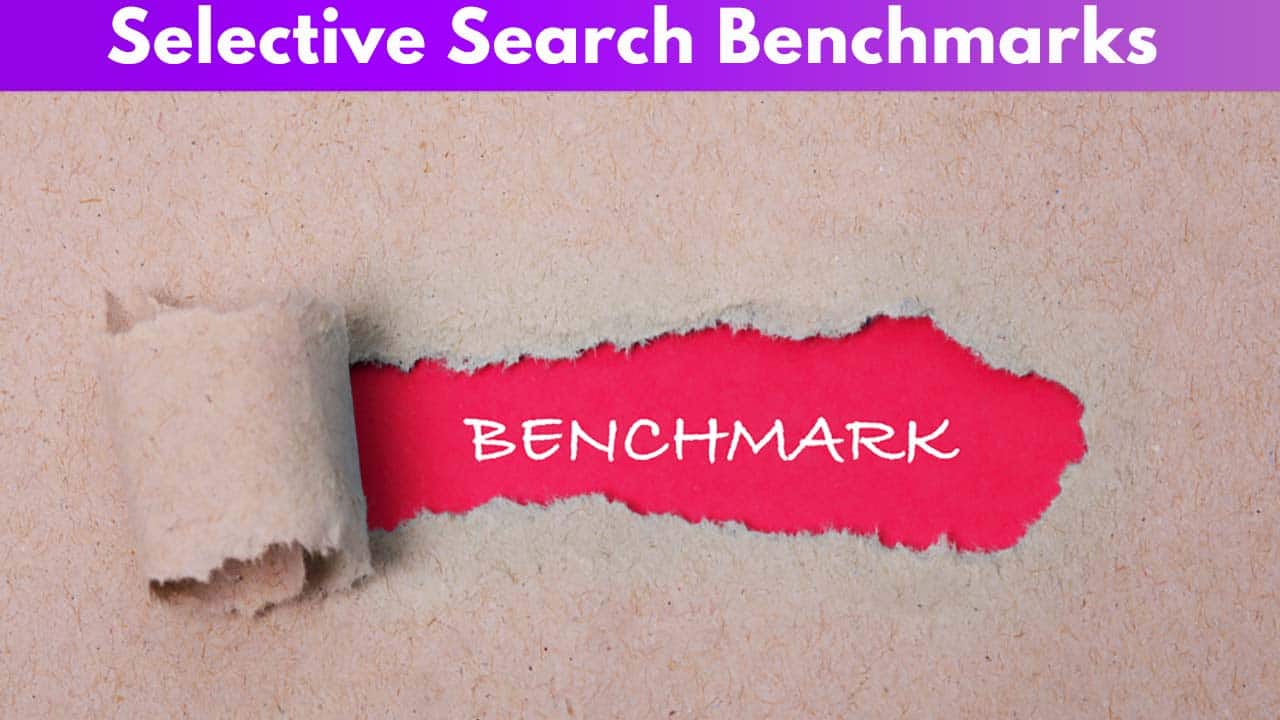 After they have learned something about your previous dating experience, Selective Search staff will ask you about what are the specific characteristics you would like to see in your future soulmate.
This phase includes more than 110 key indicators, split into three groups: personal, professional, and social.
These indicators should serve as a guideline for matchmaking experts, to make it easier for them to find you your perfect match.
However, they will also consider factors you didn't include in your search preference, since, as they say, it is almost impossible to find the exact 100% perfect match.
Step 3: Screening
Each potential candidate is screened, meaning that they will be interviewed, mostly by email or phone, but it can happen in person as well if they live nearby.
Then, each of these candidates will go through the same process, as the clients were, in order to find the best possible client for each candidate.
During this phase, experts use information about personal preferences of clients they've previously interviewed, and try to match their indicators, to the individual characteristics of every candidate. The ones with the highest match percentage are often offered to be matched to certain clients.
Step 4: Presentation
Once they've gathered all the necessary information about the candidates, Selective Search staff will create a presentation for every candidate's profile, and select the best ones to offer to their clients.
This includes the most recent photos, information about their height, weight, hobbies, interests, etc. as well as certain additional facts added directly by Selective Search experts.
Knowing all this information, clients can accept to meet certain candidates, reject it and try to find another candidate, or ask some additional questions.
Step 5: Selection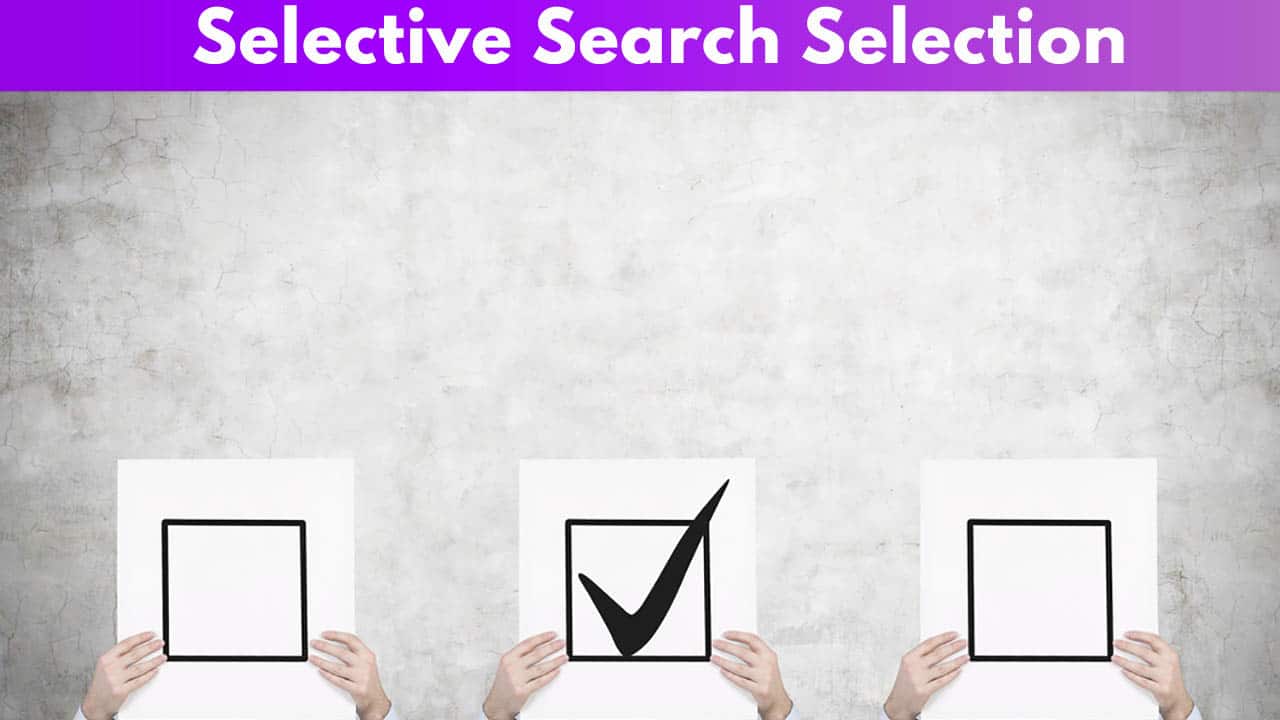 If both candidates and clients decide to meet each other, then it will start the selection phase. Selective Search staff organizes a meeting in the place of their choosing, and allows clients and candidates to enjoy moments together, and figure out whether they are good for one another.
It is important to note that Selective Search claims that they only match completely compatible people, according to their personal preferences, but from some of the reviews, we know that is not entirely true.
Step 6: Evaluation
After they meet each other, clients and candidates will usually be contacted by the Selective Search staff, in order to provide some information about how did the date go.
They are usually contacted by the separate matchmaker, who can be objective in its assessment. This is where both clients and candidates say whether they want to pursue further contact with each other or not.
During these talks, the expert will express the importance of being honest about the experience, since only if you are honest to yourself, you can find true love. If it doesn't work out, then the staff will proceed to find them other matches.
Ease of Use/Tutorial
As I had already stated, Selective Search is not an online dating website, nor mobile dating app, but the offline matchmaking service.
The only thing related to the website is the sign-up process, which I will go through here since there are two types of membership.

Clients are high-profile people who are ready to pay an insane amount of money to find dates. Sounds like a perfect place for sugar-daddies or a gay sugar daddy, uh?
Anyway, to become a client, you will need to fill in the application form on the website, where you need to state your basic details, such as:
Name
Email
Phone number
Country, state, city, and postal code
Apart from that, you will need to share some additional information, which is used to assess whether you are qualified enough to be a client, such as:
Job title
Annual income
Education level
Once all that is done, simply send the application, by clicking on the 'Send' button, and Selective Search staff should contact you.
Another type of membership on Selective Search is a candidate or affiliate membership. This type of membership is free, but to get it, you will need to go through a very lengthy process.
First of all, you will need to enter your email address and to choose a password you want to use for Selective Search.
After that, you need to provide some basic contact information, just like when applying for a client membership.
Then, a real nightmare begins, since you will need to provide a lot of details about yourself, starting with some basic ones, such as your gender, birth date, ethnicity, height, body type, etc. as well as something about your previous relationships.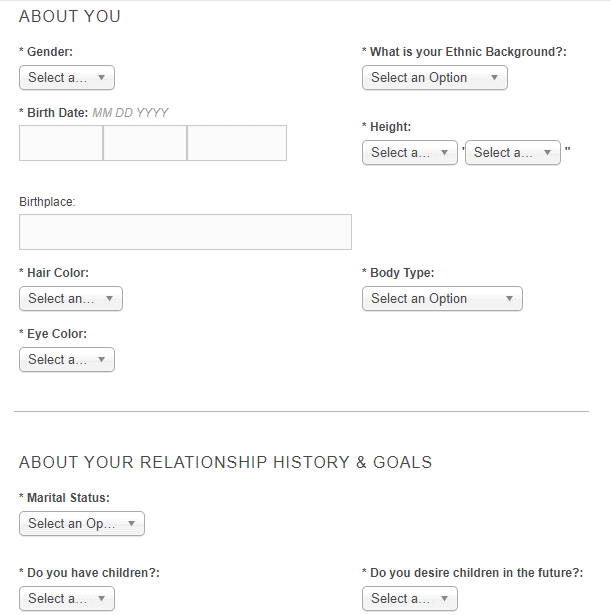 Then, you have to share something about your education, your career, and the general opinion of your political and religious views.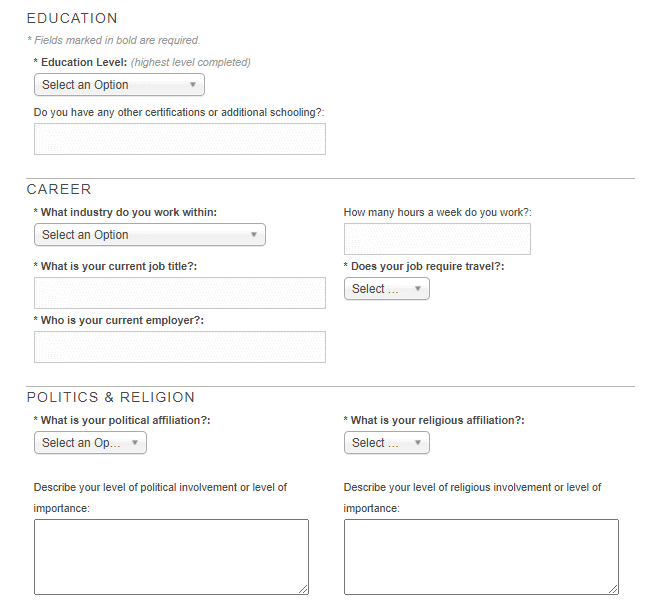 After that, the questionnaire goes even deeper and asks you about your lifestyle, languages you speak, and certain vices if you have them.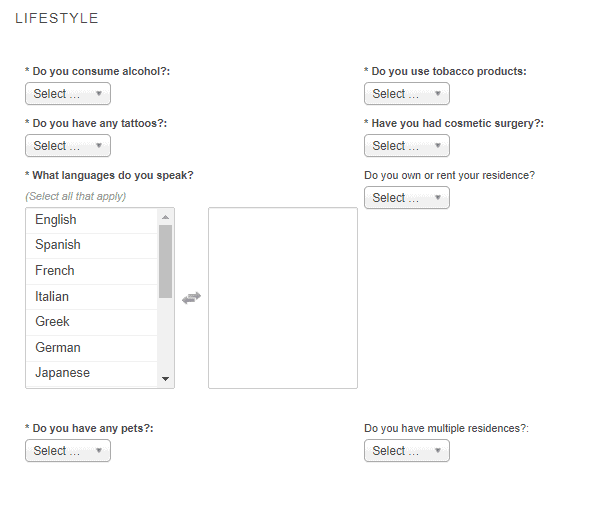 Then, you will be asked to write something about your interests, and to state what do you think you can bring to a relationship. Here, you can also share some of your social media profiles if you want.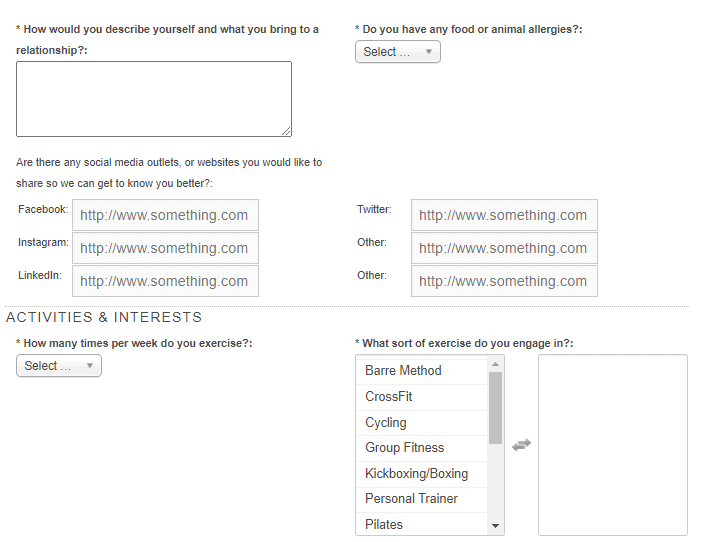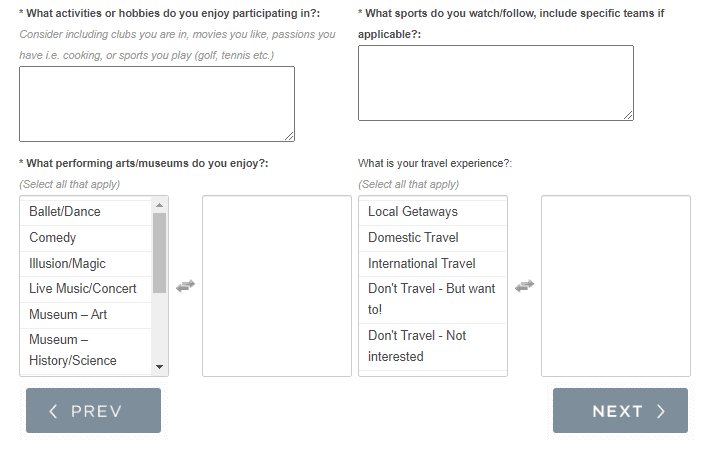 After you answer all these questions about yourself, you need to do the same for your desired match, and state what type of people you like, as well as share some preferred indicators, such as age range, body type preference, desired height, etc. as well as your perfect match's relationship history.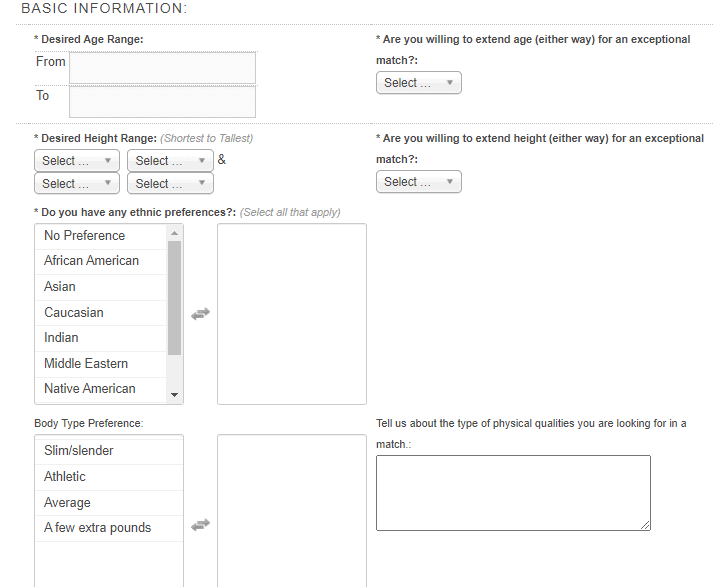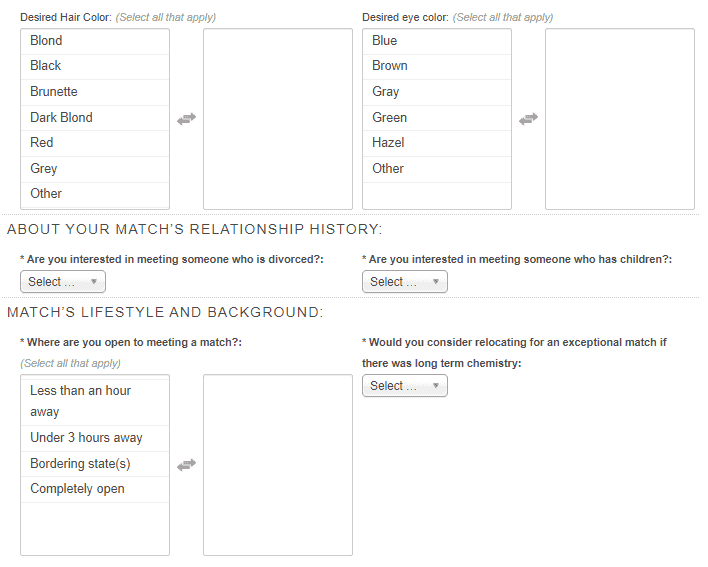 You can also answer some questions about the desired political and religious preferences you want to see in your matches.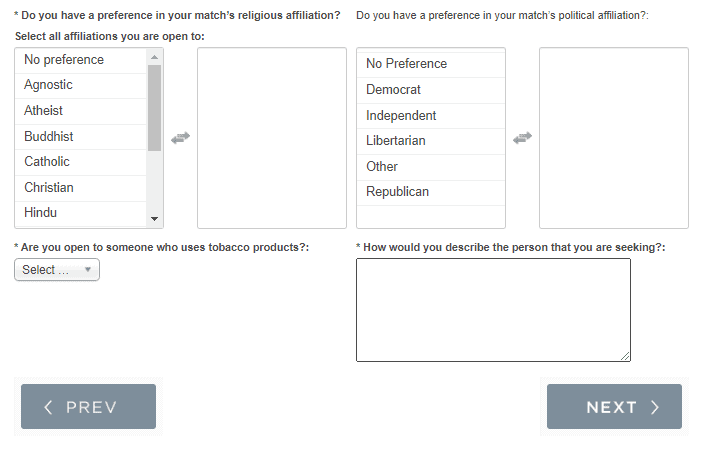 Lastly, you need to include one or more recent photos, which can be done by uploading directly to the application, or you can send it via email.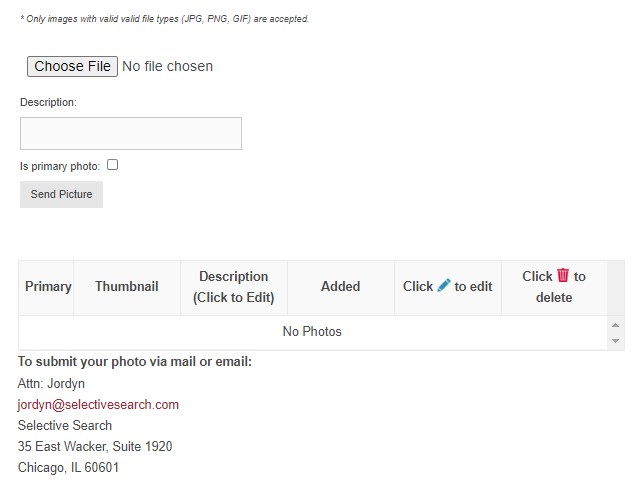 Pricing
When it comes to the Selective Search price, this is where Selective Search gets really crazy. Candidate membership is completely free, but it is not so likely to get matched to too many people, especially if you are a man.
However, Client membership is not free, and it is very expensive. There are three possible Client membership plans:
Young Executives Program – this is a discounted plan, only available to people who are under 35 years old. It includes 6 introductions for a period of six months to one year, and it costs $15,000.
Basic plan – it gives 10 introductions in just one city, spanned over a period of one year, and the price is $25,000.
Elite plan – includes 10 introductions in four to five major cities in the USA, and the cost starts with the $50,000
One pretty shady thing is that Selective Search doesn't have a money-back policy, meaning that even if they don't find you your match, you can't get your money back.
They defend themselves, by stating how everyone will get at least a few matches until their membership period ends.
Conclusion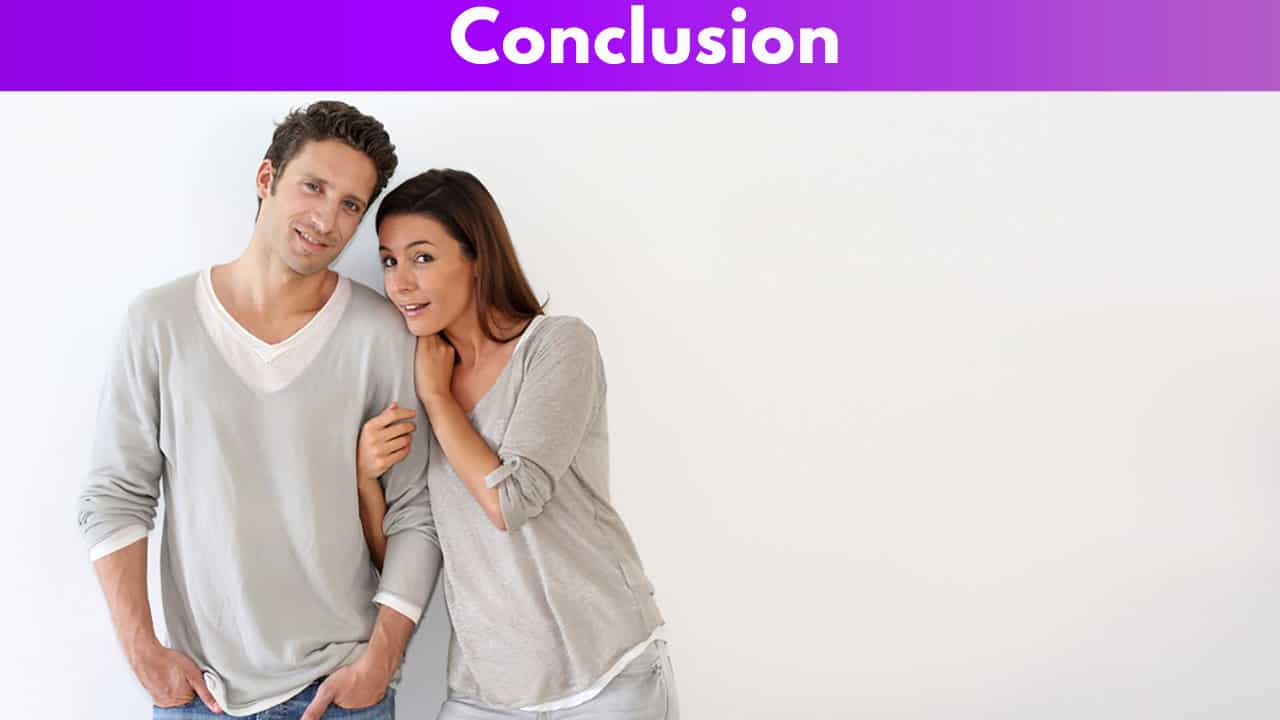 Now that we know almost everything there is to know about Selective Search, let's give the final assessment, and see what is the overall rating of the service.
Overall Rating – 2.0/5
Even though Selective Search cost is extremely high, that is not just one reason because of which I simply cannot recommend anyone to use this matchmaking dating service.
There are also a lot of controversial reviews and the fact that they don't even have a money-back guarantee tells us that something is shady here.
If you have any other doubts about the Selective Search, check out the FAQ below, or ask us in the comments.
Frequently Asked Questions