Chatiw is a chat interface that focuses on free communication for everyone. The site markets itself as a chat service, not a dating platform, available in mobile and desktop versions. However, it goes on to say that it could lead you to your next relationship or introduce you to your soul mate. The matching algorithm on Chatiw is location dependent.
Chatiw strives to connect people in the same area. However, it does not limit communication among members who reside in different countries. Highly famous in the US and the UK, Chatiw carries many members who hail from these two countries. It emphasizes anonymity and educates its users on the importance of being safe.
Pros:
Available worldwide
Easy sign-up process
A blog that offers useful advice on the chats as well as online dating
Easy to find people with similar interests
Highly affordable subscription options
Cons:
No strict security measures
Only comes with basic features
No uploading of photos. As everyone remains anonymous, it may be hard to know who you are chatting with
Member Information
The member activity on Chatiw is always at an all-time high. This is understandable, seeing that the platform has millions of users. It carries mostly male members (70%), with fewer females to match them (30%).
OFL Top Recommendations based on 100,000+ Survey

"Serious Relationships"
"Discreet Hookups"
"Best Course for Men"
"Quick Flings"
"Normal Hookups"
"Our Quiz"
Whenever I logged into Chatiw, I found thousands of online members. The members are friendly and find it easy to approach new members. All the members have their country flags as identifiers that showcase other countries of origin.
It is easy to tell whether the members are online or offline because a green button indicates their online status alongside their names.
Sign Up Process
RATING
4/5
Chatiw presents you with two options: using the site as a guest user or going through a short sign-up process that will consider you a member of the site. I chose the latter.
All you need is to provide information on your age, sex, country, state, and choose the most suitable nickname. If you do not know your location, there is a GPS ready to pinpoint it for you. This gives you more chances of chatting with members who are within your vicinity.
Once you fill in this information and click on the "Start Chat Now" option, you will begin chatting immediately. The entire sign-up process took a total of three to five minutes.
Contacting People
RATING
4/5
A green button indicates all active members on the site, and those without this indication are inactive. I discovered that it is best to contact the active members who pique your interest. Having an active conversation will make you realize whether you are interested in the person you are talking to.
While Chatiw does not necessarily market itself as a dating site, most people who participate in the chats are often interested in dating, more than they are in friendship.
If you do not want to deal with the hassle that comes with searching through thousands of profiles, you can use the search filter functions to find the person that you are looking for. The filters include the nickname, gender, age, and location.
This is how I was able to contact people on Chatiw: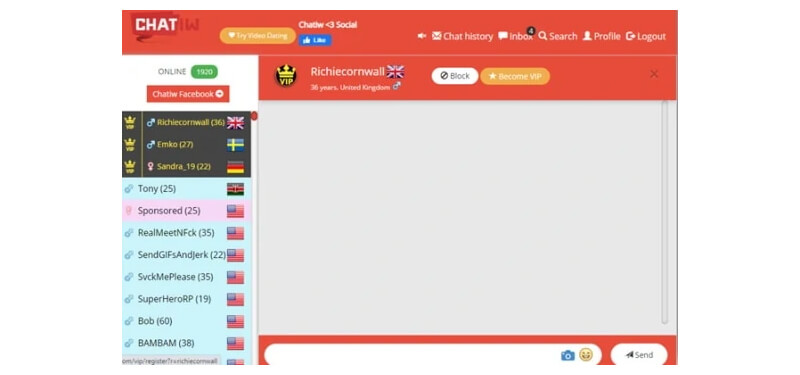 By typing a message into the search box, you will get a response and form a message thread. There is no limit to the number of messages you can send per day.
Profile
RATING
3.5/5
OFL Top Recommendations based on 100,000+ Survey

"Serious Relationships"
"Discreet Hookups"
"Best Course for Men"
"Quick Flings"
"Normal Hookups"
"Our Quiz"
The profiles on Chatiw comprise your name, gender, age, and location. As the site does not allow you to upload photos to the site, you will not necessarily know your prospective partner through their profile. However, I found that all hope is not lost as I could exchange photos in the chat window.
Here is my profile on the site: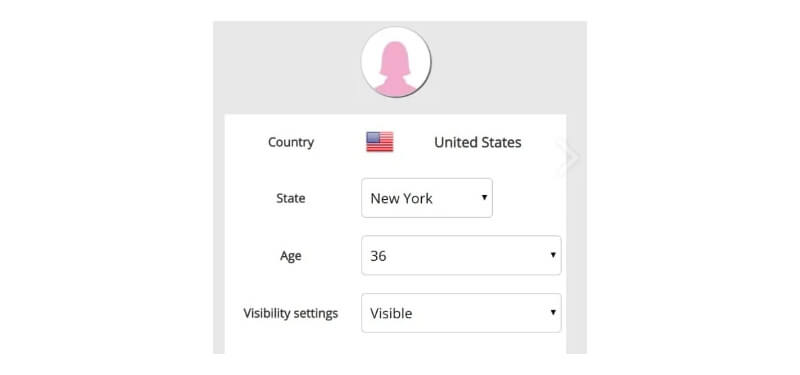 I also saw that users who were inactive for a couple of hours had their profiles automatically deleted. This means that if you are inactive for more than an hour, you will have to sign up again the next time you visit Chatiw. Don't worry; the site automaticity saves your sign-up information.
Unfortunately, I encountered multiple fake profiles, decoys, and scammers. Since Chatiw does not have stringent security measures, such profiles keep plaguing the site. This goes to show that you should be very careful with the profiles on the site, even those that you are interested in. Do not be in a rush to give out your personal information.
Mobile App
RATING
4/5
If you are on the go, you can enjoy the Chatiw mobile app in all its glory. Not only is it free to download, but it functions in the same way as the free website. The only difference? The app is accessed through a mobile phone, and it comes with a few extra features that will make your experience on the platform that much more convenient.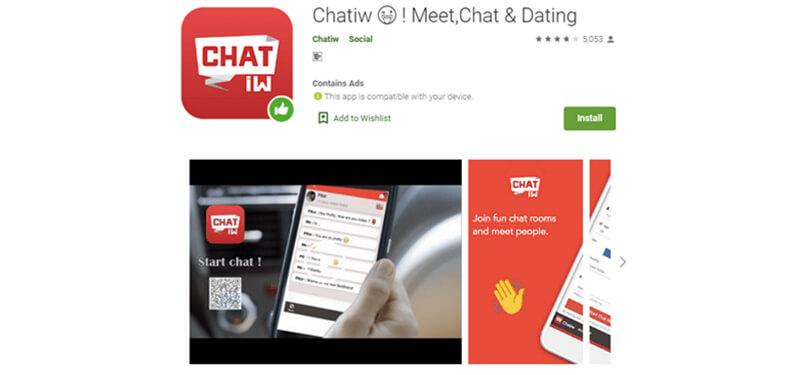 The Chatiw app is easy to use and navigate. It is as functional as it is appropriate. You will log in to it in the same way that you log in to the website and relish all its features while you are at work, resting, or doing other activities.
However, the app is only available for Android users on the Google Play store.
Membership Options
RATING
4/5
So, is Chatiw free to use? Yes, it is! You do not need a subscription to enjoy the chats. On your free account, you can communicate to your heart's content. However, there is a VIP upgrade that makes it possible for you to get the most out of the site. In fact, without this subscription, you may be robbing yourself of the full Chatiw experience.
You can send limited chats, access your chat history, and search for other members with your free account – but wouldn't it be nice to unlock a variety of additional features? This is what the VIP subscription gets you. As a VIP member, your profile will not be deleted, even if you do not log in for weeks. Also, you will not go through constant security bots whenever you log in.
Here is a breakdown of the VIP prices: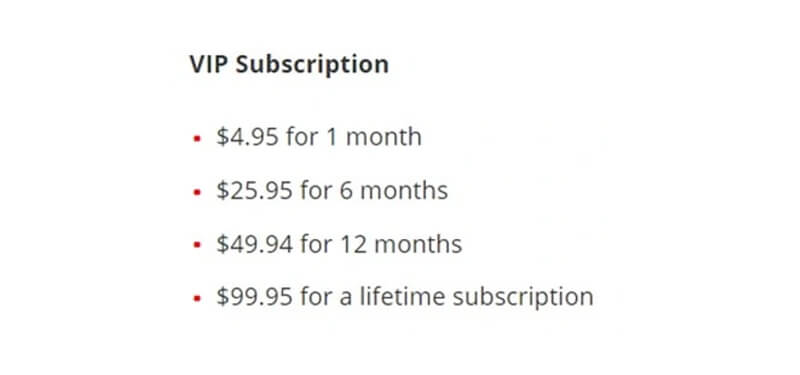 While a one-month and six-month subscription is affordable, a lifetime VIP subscription will earn you all the benefits you desire, as long as you are a Chatiw member.
The Bottom Line
Chatiw is an excellent place for those looking to meet new people through online conversations. The platform is a great option if you are looking to kill some extra time and eliminate boredom. Like any other chat site, it will allow you to expand your horizons by creating friendships.
Who knows? You may hit the jackpot and find your perfect match here. But you need to be ready to separate the wheat from the chaff.
You will run into fake profiles or people who are not at all what they claim to be. However, you will also find a group of decent people from all walks of life who may make valuable additions to your life. But always keep in mind the most important rule of online chatting – protect yourself.
Frequently Asked Questions
Can I reactivate my banned account through Chatiw mobile site?
Yes, you can. To remove the ban, you will have to wait for 48 hours and then send an email to the Chatiw support team through the "help" section of the mobile site.
What is the Chatiw text chat?
Chatiw allows for video chats and text chats, depending on what you are most comfortable with. If you do not want to make a video call, Chatiw will always offer the Chatiw text option. Remember, text chats are not recorded. If you wish to save the conversations, you will have to take a screenshot of them.
How do you unblock people on Chatiw?
Log into your account, and on the left side of your page, you will find your friends list. Click on the name of the person that you want to unblock and click on unblock.