Niche datings sites are found online everywhere.
Black Cupid is one such site that caters not only to black people all around the world but those interested in dating them as well.
But what does Black Cupid offer you as a potential user?
In this review, we are going to look at Black Cupid in immense detail, covering several critical points such as:
OFL Top Recommendations based on 100,000+ Survey

"Serious Relationships"
"Discreet Hookups"
"Best Course for Men"
"Quick Flings"
"Normal Hookups"
"Our Quiz"
So if you'd like to meet someone for long term love or perhaps just a casual hookup, after reading this review, you will know if Black Cupid is the kind of dating site you are looking for.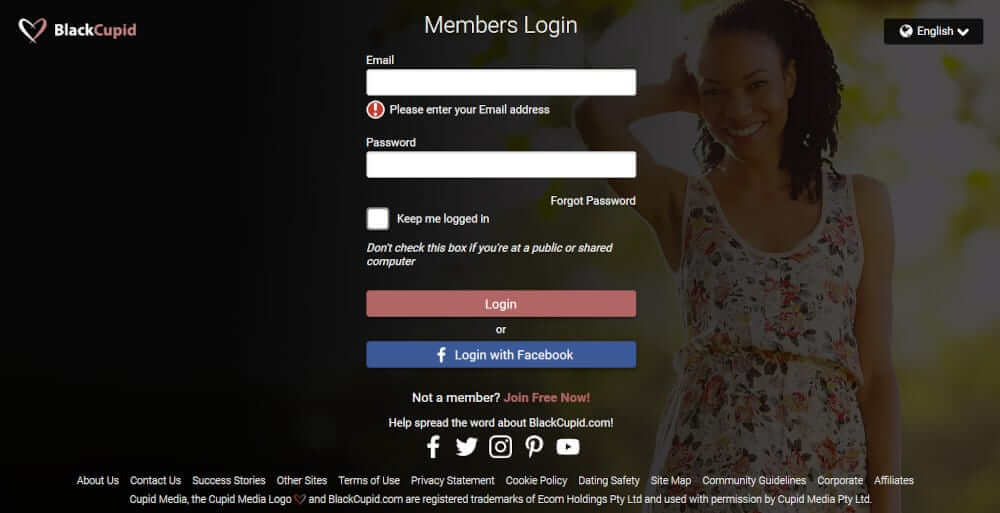 Effectiveness 3/5
Ease of Use 5/5
Key Features 4/5
Pricing 4/5
Signing on is so easy
By the time you log in for the first time, you already have matchups to look through
You can send messages to members
If you prefer to be mobile, download the Android App for Black Cupid
The user base isn't that large, around 300 000
You are going to need to get a membership to communicate effectively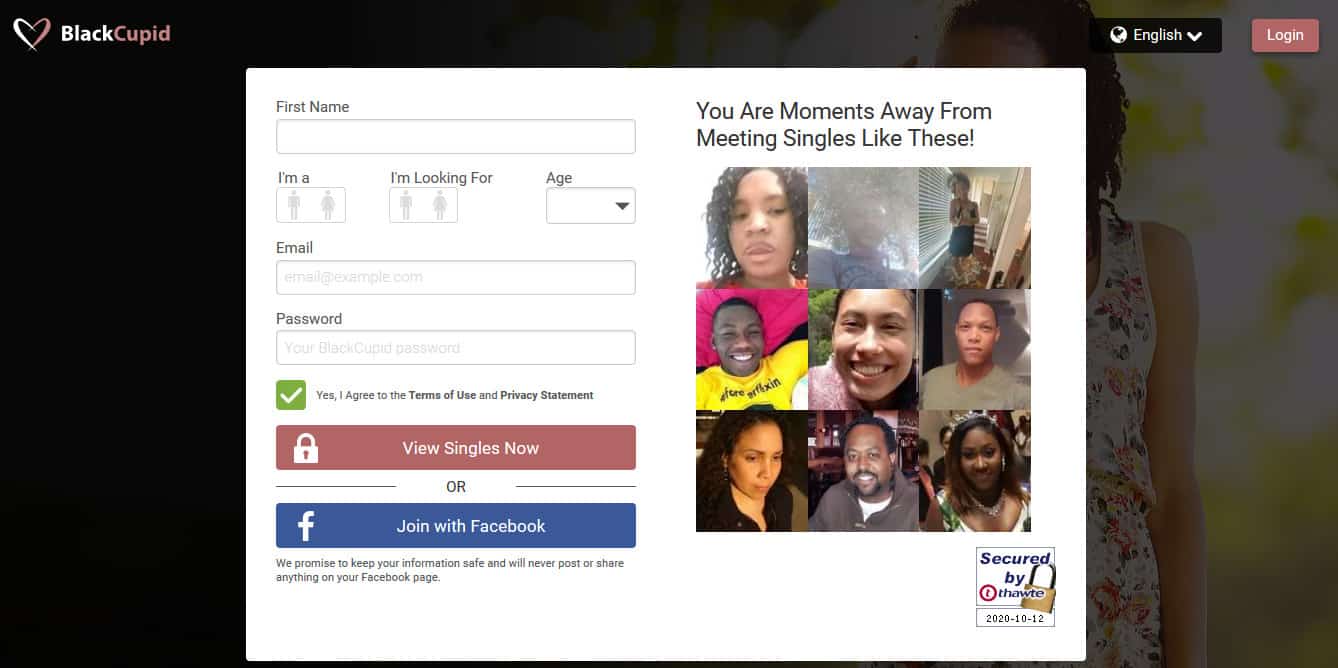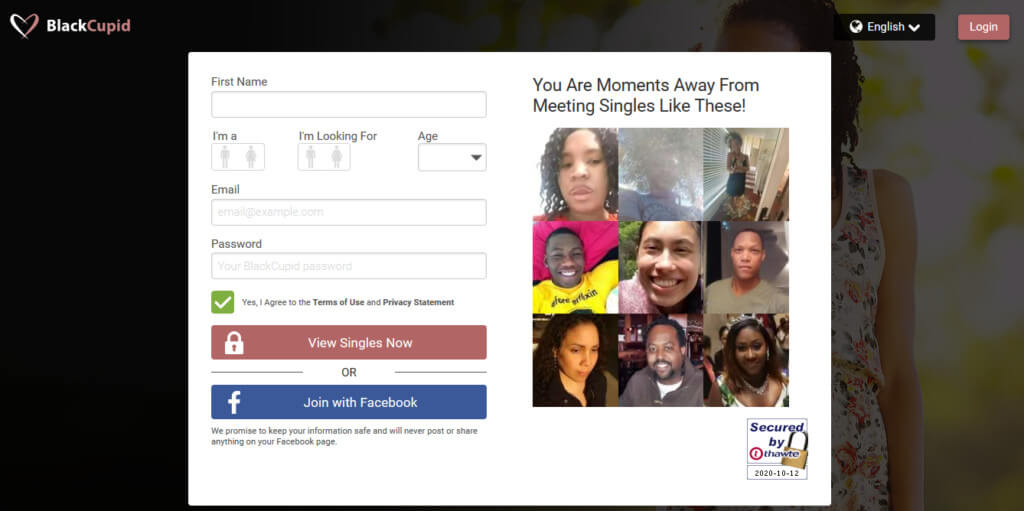 Who is it for/Demographic Makeup?
This is a niche site for not only black people but also those who would like to date them.
Users come from all over the world and the site continues to grow at a steady rate.
It is neither for hookups only (like BeNaughty or Ashley Madison) nor only for serious relationships (like eHarmony).
That said, because this is a niche site, it's never going to have the kinds of numbers that a regular dating site will have, right?
And that's fine as long as you can find some matchups.
Of course, if you live in a major metropolitan area, it's easier to do so than if you live in a small town in the country.
Unlike other Cupid Media sites, finding some user numbers for Black Cupid was pretty difficult, but Cupid Media claims that the site has around 300 000 members.
Now that's not a huge amount but let me stress again, this isn't a regular dating site, but a niche site.
That means that naturally, numbers will be down when you compare it to other, more general dating sites that cater to everyone.
There are some other figures to take note of as well:
The site logs 50 000 page visits from the United States each month
80% of the profiles are men
The site is most popular with users between the ages of 35-44.
Let's look into the gender ratios and the ages of users more closely.
A 4 to 1 ratio of men to women is pretty steep in terms of the user base.
But at the end of the day, it depends on what you are looking for in a matchup, I guess.
If you are a man looking for a female, there are fewer options to chose from, but that doesn't mean there aren't any.
I found a range of profiles worth following up during my searches and I am sure you will as well.
As we mentioned, most of the users on site are aged between 35 and 44.
Let's look at a full breakdown of age ranges.
35-44 years old
45-54 years old
25-34 years old
55 +
18-24 years old
That's the demographics covered.
Now let's see just how effective Black Cupid is in helping you find that matchup.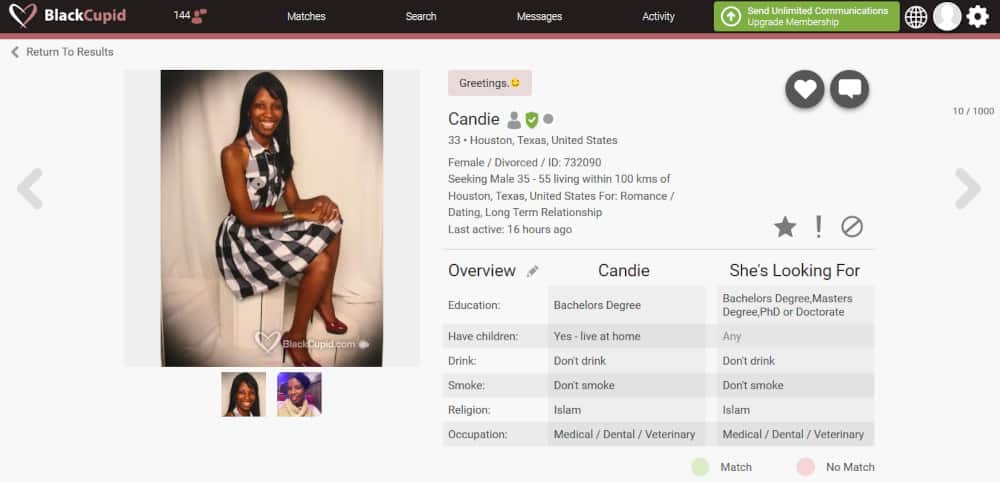 A dating site is measured by one thing only.
And that's how effective it is in providing you with the kind of matchups you are looking for.
In that regard, Black Cupid handles itself pretty well.
By no means is the best dating site out there but what it does, it does well and if you live in a bigger city, finding matchups shouldn't be that difficult.
So how do you make contact?
Well, that's where the problem lies.
Unlike many other sites, at least Black Cupid allows you to send messages to those users with member profiles.
That said, communication for a regular user is still a problem and ultimately, you will look into a membership at some point just to be able to chat with standard users.
Should a user not have a membership, there is another way to have some form of communication with them.
If you go to their profile, you can click on the big red heart you find there and that tells them that you have "liked" them.
Other than that, there is no way to communicate with a regular user of the site.
Finding your ideal match can be done in two ways.
The first you will be familiar with.
That's using the search engine where you fill in the gender you are looking for and their age as well as location.
But there are added parameters to tinker around with including:
The day the user was last active
Does their profile include a picture
Appearance (height, weight, body type, ethnicity)
LIfestyle (do they smoke or drink, will they relocate, marital status, do they have children)
Background/Cultural values (nationality, languages, religion)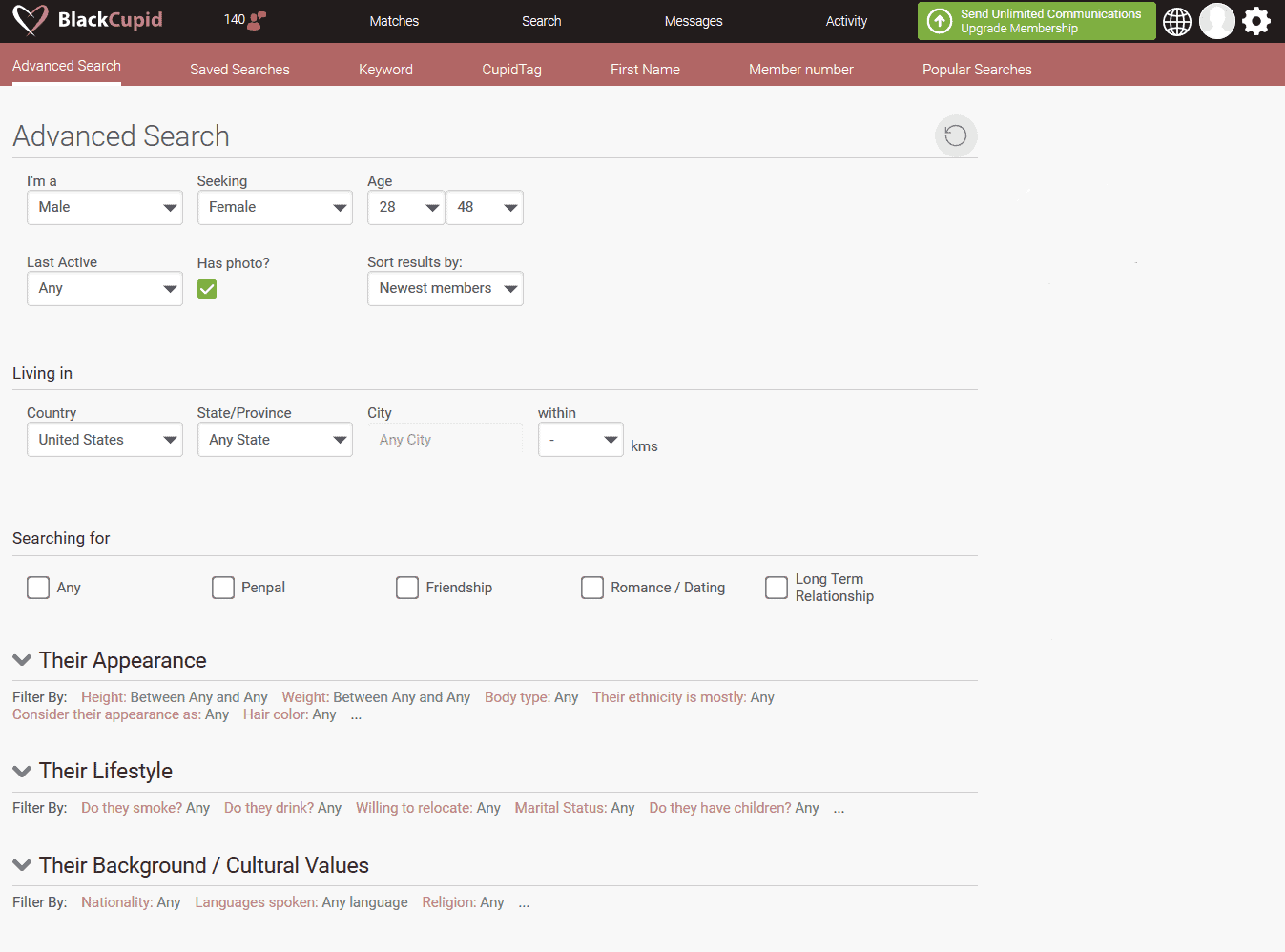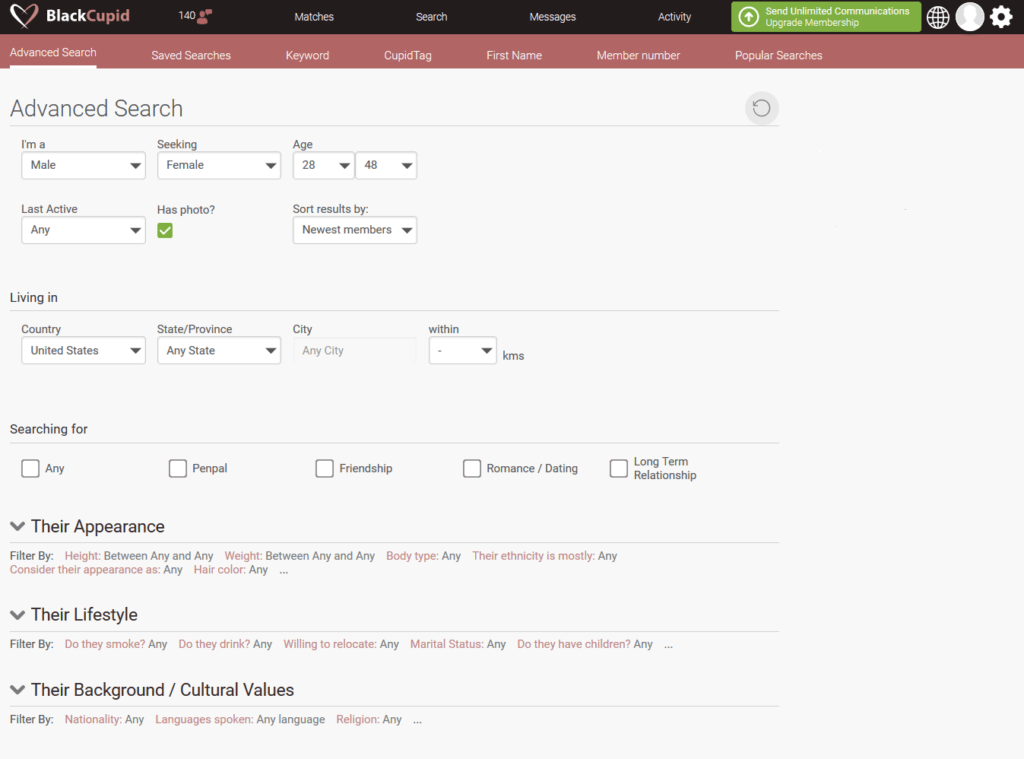 Or, you could search for profiles by using Cupid Tags.
What is a Cupid Tag you ask?
Well, it's a tag used on Cupid Media dating sites that a user has assigned to themselves.
There are many to choose from, for example:
Sense of humor
Candid
Relationship
Affectionate
Caring
Looking for friends
Cupid Tags are something a little bit different and I quite like them.
Finally, Black Cupid gives you matches that the site has worked out for you based on your profile.
These include:
Mutual matches
Reverse matches
These are covered under Key Features as they aren't for standard users but only for members.
If you are serious about finding the perfect matchup, Black Cupid gives you tons of tools to work with, even as a regular user.
At the end of the day, you probably will want to try out a membership at some point.
That means you can communicate with everyone, but you can also make use of specialized searches to help narrow down the field of matches you receive.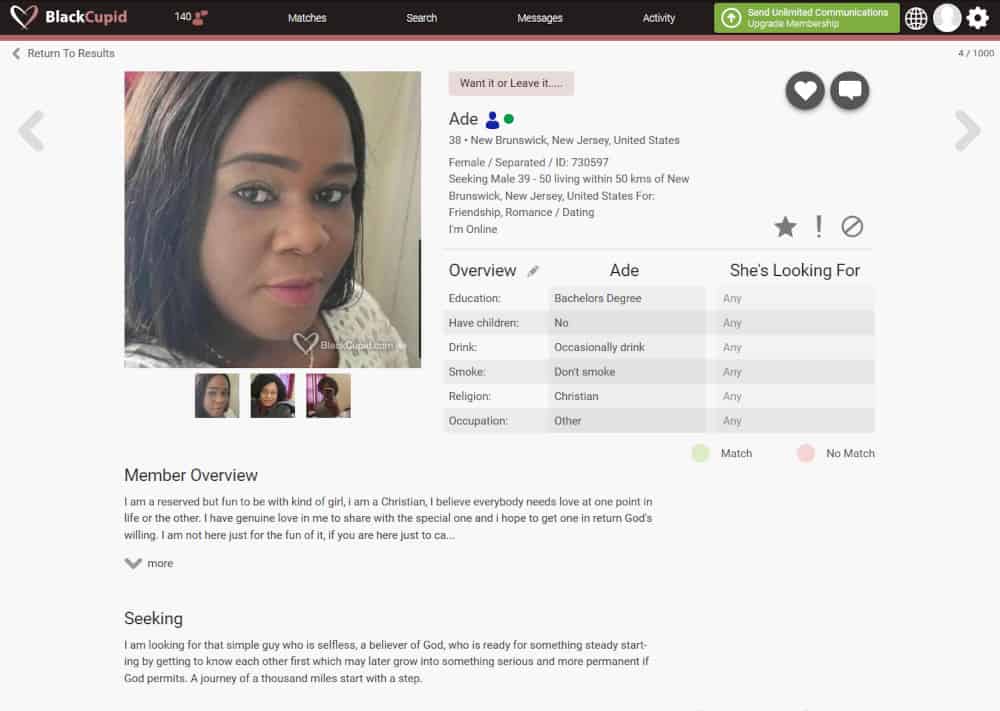 Starting a profile on Black Cupid couldn't be easier.
I did it through the website by setting up my username, password and my email and answering a few questions about my gender, who I was searching for and what age range they should.
Based on that, you are presented with a host of matches near you as soon as you log in for the first time.
That's pretty neat and allows you to start searching from the get-go.
You will need to upload a profile picture and flesh out your profile even more, so don't forget to do that.
People want to know what you are about and if they anything like me, they will just move on to the next matchup if they come across uncompleted profiles.
There's lots of information for you to include in your profile.
Over and above the normal things like weight, height, body type, age, eye color and more, other parameters you can populate include:
Ethnicity
My best feature
Body art
Lifestyle (do you smoke or drink, will you relocate, your marital status, do you have children)
Background/Cultural values (nationality, languages, religion)
Occupation
Living situation
Type of relationship you are looking for
And more
I love the design of Black Cupid.
All of the Cupid Media sites have the same design elements and are extremely simple to navigate.
Everything you need is found across the top of the page including profile, settings, messages, search and your matches.
On loading the site for the first time after signing up, you will already see some matches from your basic search requirements that you as part of your sign-up.
Black Cupid also has a quick search bar where you can change parameters easily to conduct a new search.
A counter shows you just how many people are online with you as well.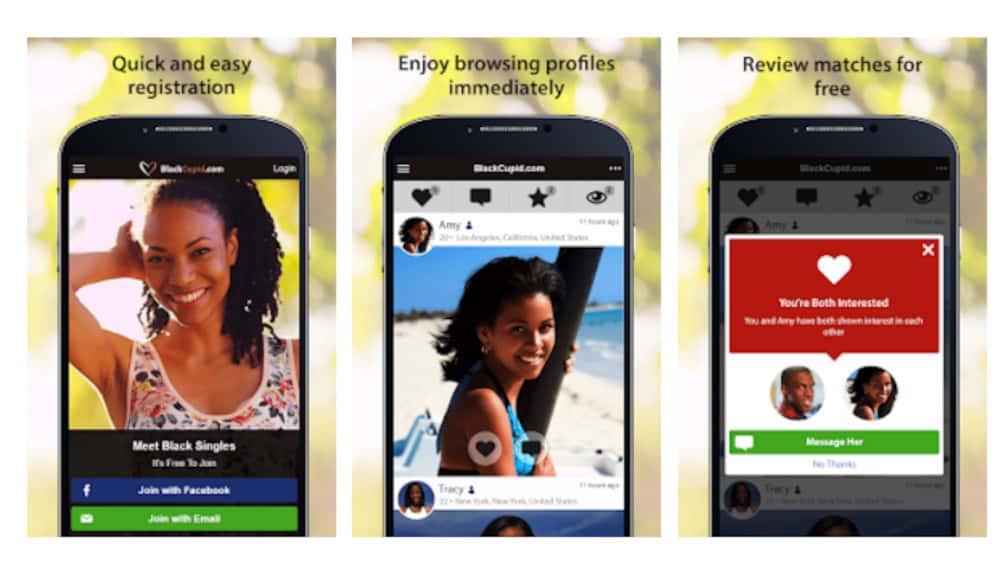 Is there a Black Cupid app?
Yes, there is but it's only for Android phones.
You won't find it in the Apple store.
Although I used the app, I found that I preferred the website more.
If browsing from your phone is your preference, the app provides you with everything you need to set up your profile and begin searching.
In fact, you can sign up through the app without having to visit the website.
To date, the app has been downloaded over 100 000 times and has a rating of 3.9 out of 5 stars.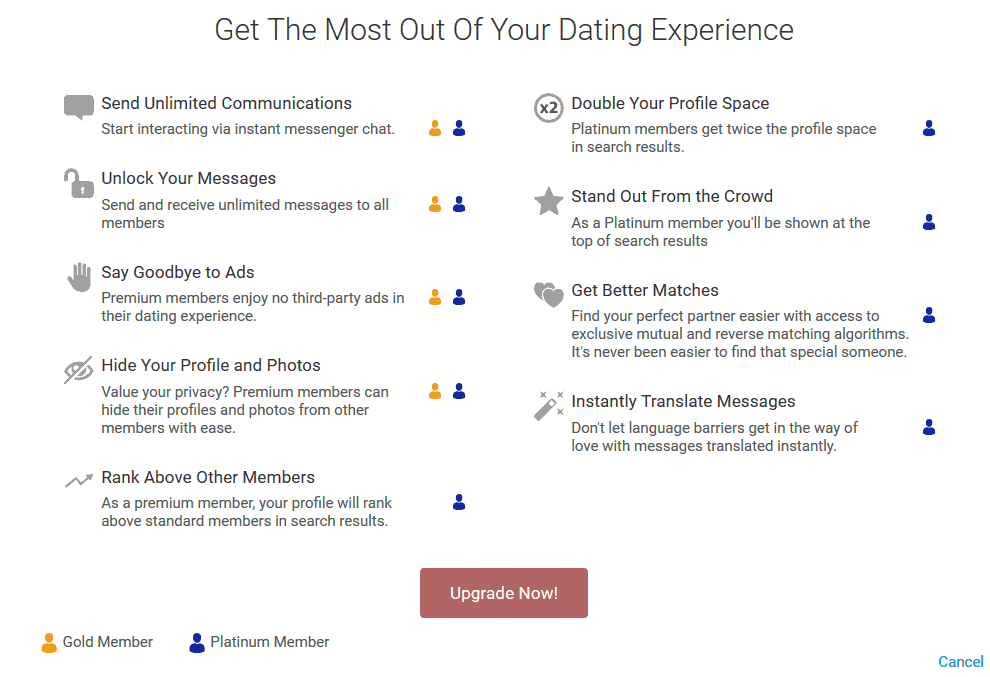 Black Cupid has several excellent features for those users who are willing to pay membership.
And if you want to get into contact with a potential matchup, it's something you are going to need to probably do, just so you can respond to any messages you receive.
Before we get into them, let's look at what it is you can do as a normal user of the site without taking out any membership.
Send messages but to paying members only
Like profiles for you to return to look at later. They will receive a notification that their profiles have been liked
Add your favorite matchups to your favorite list
Search for matchups using many extra parameters than a regular search
See who has viewed your profile
See who has favorited your profile
See who has liked your profile
That's a lot of things you can do as a regular user but the major blow is the fact that messaging is limited, so that's were paying for membership comes in.
And Black Cupid has two payment options.
These are:
Gold membership
Platinum membership
So what can you expect other than the ability to message everyone when you pay for membership?
Over and above using the more traditional message system that sort of acts like email, as a Gold or Platinium member of Black Cupid, you can also chat with people using an instant message system.
This is just a far quicker way to communicate with someone than waiting on a message to arrive in your inbox.
Gold or Platinum members have the option to hide their profile on Black Cupid.
All this means is that you won't come up in any searches by other users.
You can still browse other user profiles anonymously and they will not be alerted to the fact that you did so.
Gold and Platinum members are not subject to any form of on-site advertising.
Not that Black Cupid throws advertising at you.
In my time on the site, I didn't really notice any, to be honest.
It's a lot different in that regard from other sites where advertising is in your face all the time.
4. Increase your profile space and VIP profiles
Platinum members can increase the size of their profiles.
This means you can add even more information that will appear in the searches of other users.
If you want to stand out, even more, you can give your profile VIP status.
Black Cupid offers some exclusive search options that can provide you with matchups aligned specifically to your profile.
These are called mutual matches and reverse matches and here's how they work.
A mutual match is when you and another user both match each other's criteria.
A reverse match is when you match exactly with the criteria someone else is looking for but they don't necessarily match what you are looking for.
Both these features are part of the Platinum membership option.
They are an excellent way to find potential matchups that are close to what you are looking for without having to go through tons of profiles.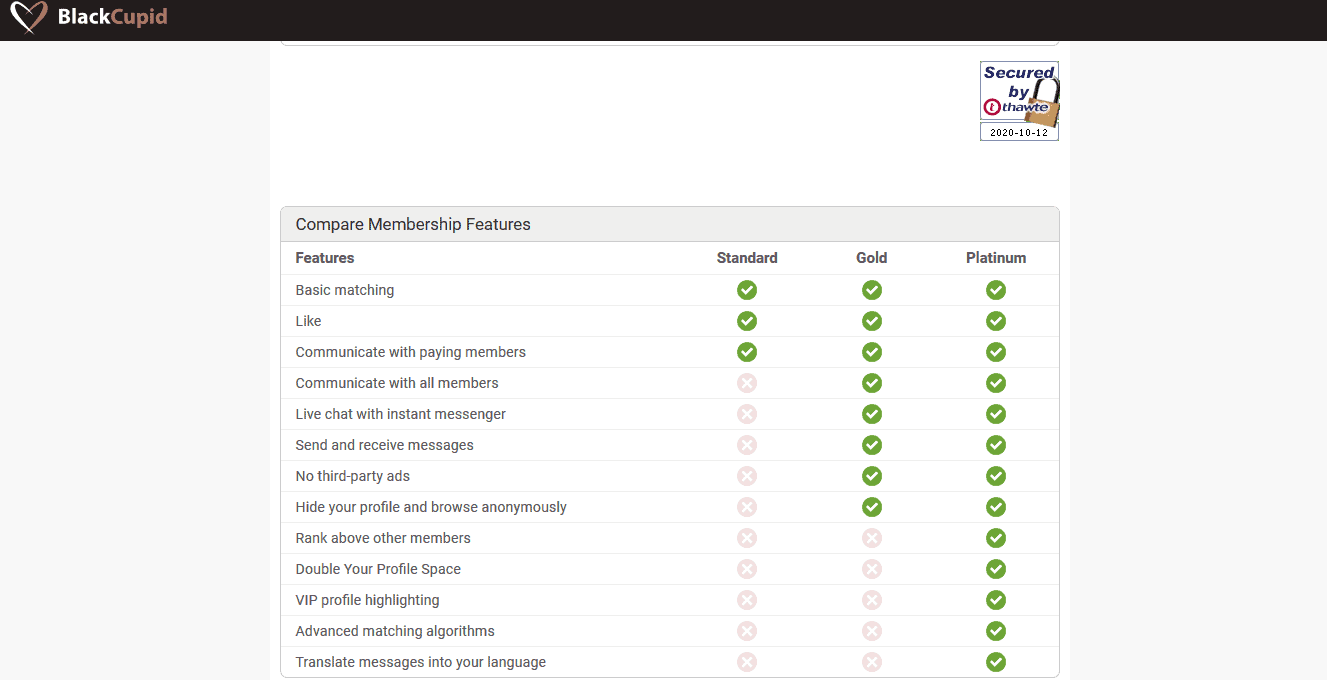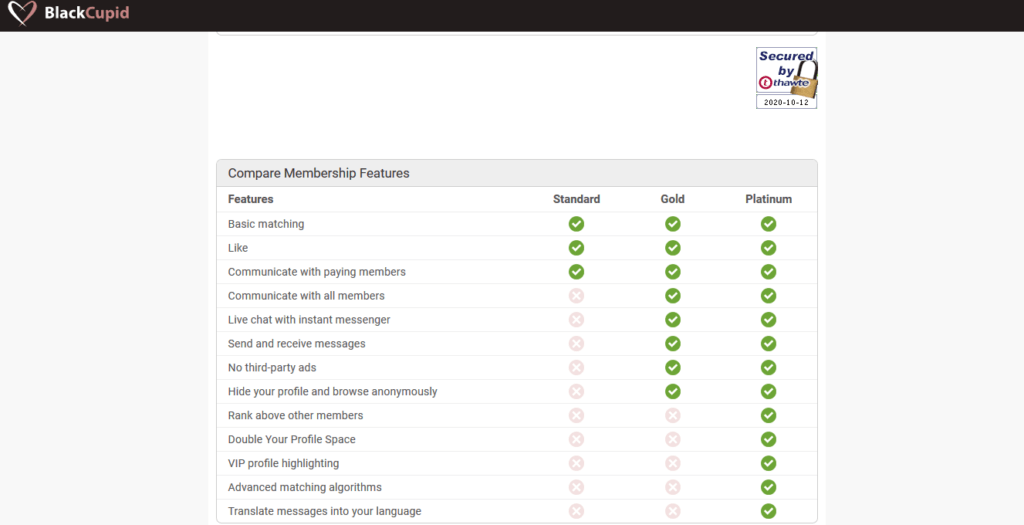 So that's the extras you can expect if you sign up to become a member of Black Cupid.
I think you'd agree that there are some useful tools to help you in your dating journey, that's for sure.
But what can you expect to pay for a membership so that you can access them?
Well, we already know that there are two membership options for Black Cupid – Gold and Platinum.
So now, let's look into the costs involved with each one of these membership options.
Gold membership is your cheapest option of the two and includes many of the key features we've already spoken about.
Platinum membership is the most expensive option you can choose and has all the features you would get as a Gold member but with even more added extras.
So let's break down those prices for you, showing the three types of packages available within both the Gold and Platinum membership.
Gold membership:
1-month membership – $24.99
3-month membership – $49.99 ($16.66 per month)
12-month membership – $99.99 ($8.33 per month)
Platinum membership:
1-month membership – $29.99
3-month membership – $59.99 ($20.00 per month)
12-month membership – $119.99 ($10.00 per month)
Looking at those prices, I think overall, they are pretty competitive and that Cupid Media have got their pricing model for the site spot on.
And remember, this isn't a normal dating site, it's a niche site and with those, prices are often a little higher.
But if you compare it with other niche dating sites, the prices are spot on, especially with all the excellent features you can use as a member.
If I had to pick I would go for a longer membership plan, especially if you want to use the site for an extended period.
Conclusion and Overall Rating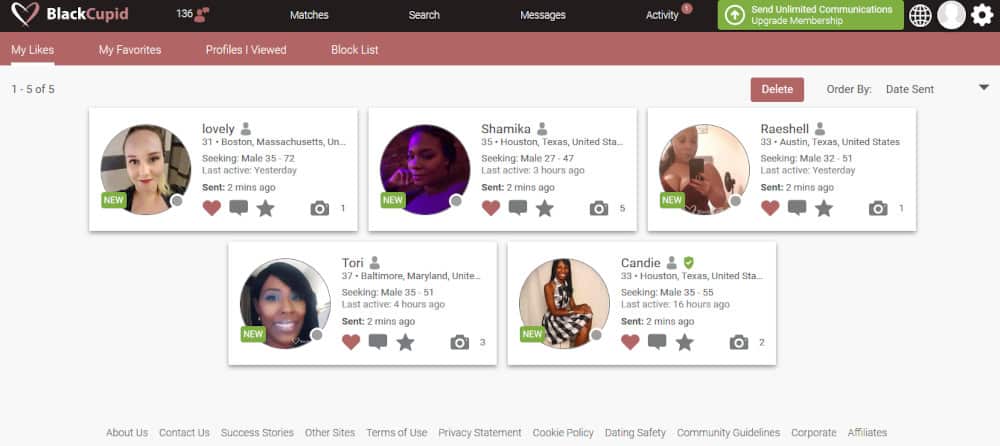 Let's get straight to the score.
I am giving Black Cupid 4 out of 5.
Although it doesn't have the massive user base of other Cupid sites, there is enough to work with here to help you find a potential match.
The thing I really like about the site is the brilliant overall design.
Everything is easy to find and within five minutes of using Black Cupid, you will be navigating the site like a pro.
Also, you aren't bombarded with advertising either like on so many other sites and it's not a site where bots are present.
To reach out to people, you are going to need to look at membership.
But that also offers other awesome features that you can take advantage of.
I am a big fan of the reverse matching and mutual matching as a way of finding people that might be the perfect matchup.
So yes, I recommend Black Cupid and you should check it out.
If you have used Black Cupid before, let us know in the comments below.
Frequently Asked Questions
Cupid Media owns and operates Black Cupid and a host of other dating sites.
They offer a verification system on the site, so if you are worried about dealing with scammers or fake profiles, only talk to people that are verified.
But yes, Black Cupid is safe and uses SSL security to encrypt your personal details.
Many aspects of Black Cupid are free.
You can set up your profile, search for potential matchups and browse other profiles without having to take out membership.
If you'd like to send a message to normal users, however, you will need to take out one of the membership options available on the site.
For sure.
Black Cupid is one of 35 dating sites run by Cupid Media, a company with years of experience in the online dating field having started out in 2000.
Black Cupid has around 300 000 users and is one of the "Cupid" sites that fall under the banner of Cupid media.
The site is available in most countries around the world.
To join up at Black Cupid visit their website and following the instructions to make a profile.
If you would prefer, you can also download the Black Cupid app on the Google Play Store.
There isn't a version for Apple phones, however.
If you have a Black Cupid account, you cannot cancel it but you can turn it off, however.
Find the "settings" tab at the top right corner of the screen while viewing the website and select "profile settings".
From there, scroll down until you see the "switch off profile" section.
Click the link to switch off your profile.
You can reactivate it at any time you choose to.
If you don't use your account for a lengthy, Black Cupid will terminate it.
If you would like to delete your account on Black Cupid instead of just switching it off, the easiest way to do so is by email.
Send an email with a subject along the lines of "Please delete my account" to [email protected].
To contact Black Cupid, you can send an email to their support team on [email protected] or fill in the contact form found here.
Black Cupid uses a search-based algorithm.
You can fill in plenty of parameters when it comes to your search for your ideal match.
The site then looks for people that then match those parameters and returns the search results to you.
The process to block a user on Black Cupid is so easy.
All you need to do is go to their profile and on the right-hand side, you will find an option to block them.
Simply click it and they will then be blocked.
You can unblock them at any time when you go to your profile.
Reporting a user who violates the policies set out by Black Cupid is a must, especially if their behavior is way out of hand.
Again, it's a simple process.
Just click on their profile and find the exclamation mark which is the report abuse button.
Click on it and follow the steps to report the user and Black Cupid moderators will look into their behavior.