Hey all and welcome to our in-depth Christian Mingle review!
This article will focus on the following aspects of the Christian Mingle dating app/site:
Let's mingle Christians!
OFL exclusive offers - Check all of them

"Serious Relationships"
"Discreet Hookups"
"Best Course"
"Quick Flings"
"Normal Hookups"
"Our Quiz"
Is your dating app giving you the best chance for success?
Make sure to take our online dating site/app quiz to find out.
It's a fact that people who follow our dating site suggestions have on average 2 extra dates per month.
Christian Mingle Review in Video Form
Introduction to Christian Mingle
Christian dating sites are meant to encourage faith-based dating services and the ChristianMingle.com dating platform owned by Spark network is a forerunner in this category.
ChristianMingle.com is one of the top online dating sites for single Christians who are searching for that special someone to share the rest of their lives with.
The site has been operational for nearly 20 years and to date has helped hundreds of thousands of its members to connect with other members who share similar values.
ChristianMingle.com was explicitly created for single Christian men and women who are looking for like-minded individuals for romance, marriage, or friendship.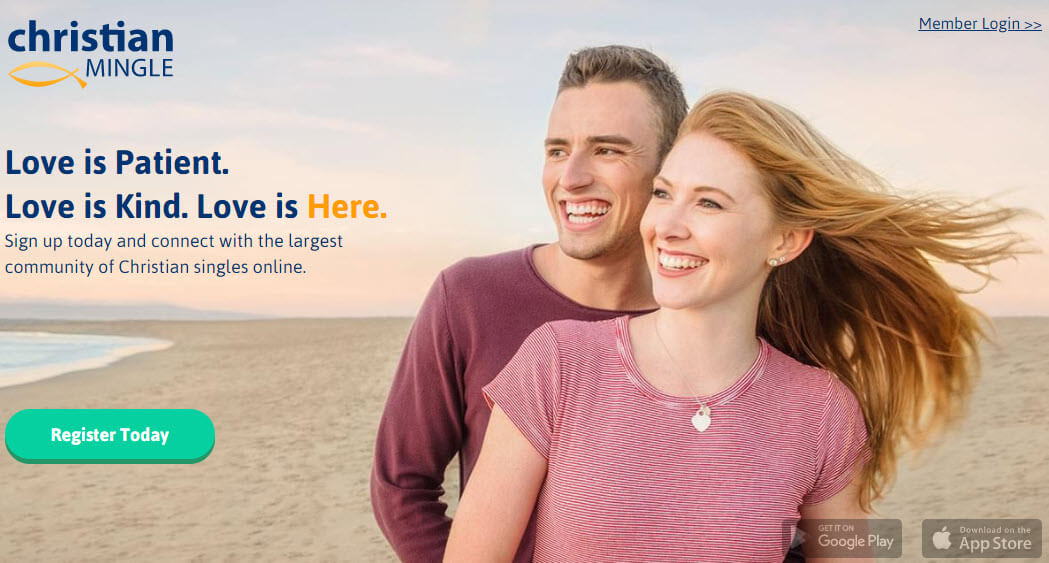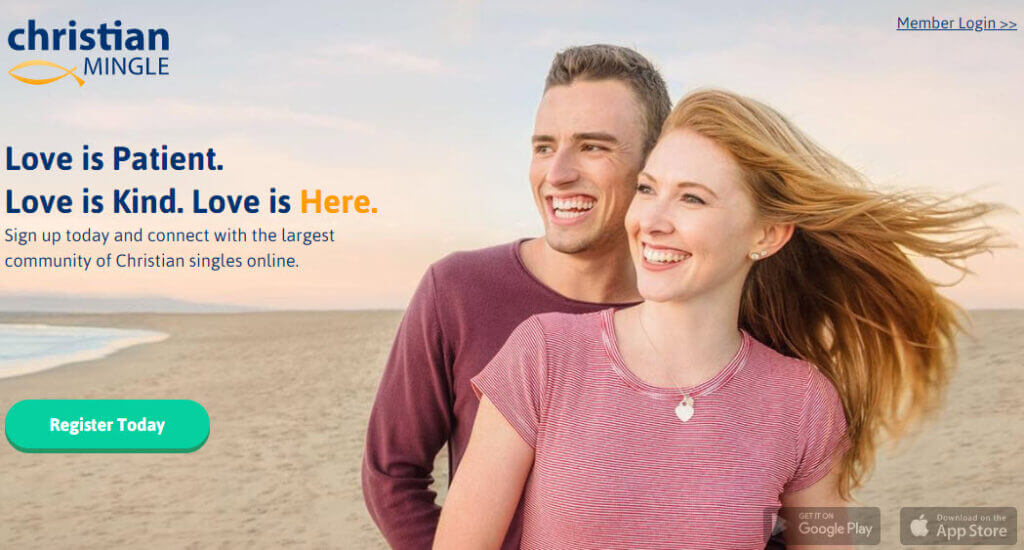 A quick browse through their homepage and you'll find this: "Our only focus is on helping Christian men and women find a loving, God-centered relationship built on mutual faith and love."
As it is a Christian site, you're required to disclose your relationship status and marital status to avoid complications that will lead to a breakup.
The top 10 best online dating sites ensure their paid subscribers enjoy premium membership perks, which include background checks.
Our research showed that faith influences just about every aspect of the site.
After all, that is why the site is called ChristianMingle.com.
Let's get right into my Christian Mingle breakdown so we can find out why it is one of the best online dating sites for Christians!
Also afterward make sure to check out my article on the best dating websites for Christians to meet Christian singles alongside The Ultimate Guide to Online Dating for Men/Women in 2019.
Fast Facts About Christian Mingle
The Christian Mingle website and mobile app are populated by as many as 16 million people sending over 200,000 messages to each other daily.
Whereas there are more than 154,000 paying members, the dating app can be used to find potential Christian matches on iOS or Android as well as the web.
You can enjoy Christian mingle free when you register for the free trial while deciding on whether you'll upgrade to a premium member or not.
We gave Christian Mingle an overall rating of 3 stars out of 5, this is how it ranked for each feature.
Ease of use – 3/5
Success rate – 3/5
Key Features – 2.5/5
Pricing – 3.5/5
Christian Mingle Pros & Cons
Every site comes with its own merits and demerits, so let's find out where Christian Mingle got it right and what areas need improvement.
Gives you complete control over your matches
Affordable membership fees
Ever increasing number of subscribers
The ability to search for active subscribers
Has a very active community
Too Many Prayer requests on their Prayer Wall and Chat Room
There are too many options for contacting matches and no centralized contact method
The site is a part of the Spark Network that also includes non-Christian dating sites
Ease of use/Site Navigation
ChristianMingle.com is by far one of the most accessible online dating sites to use mostly because it boasts a clean layout and practical navigation menus.
The sign-up process only took a few minutes to complete as you can either sign up via your Facebook account or email.
From our experience, changing your Christian mingle profile settings is super easy, and the free members of the site are allowed to frequently update their interests with their "Question of the week" feature.
ChristianMingle.com also has an advanced search results option that makes browsing through the many potential matches by sorting such qualities such as their physical appearance e.g. hair color, eye color, and body type, or using keywords such as "bible study."
Finding your way around the site and finding your match is just super easy on ChristianMingle.com.
We believe ChristianMingle.com is a beautifully designed site with a simple layout that allows you to move around the site easily.
Its layout carefully guides you into setting up your user profile while taking note of those things that should not be seen on it, so that you can start searching for your perfect Christian match.
It also doesn't hurt to say that moving around the site is hassle-free.
Christian Mingle success rates
A ChristianMingle.com review, like most other online dating site reviews, does not list specific success rate information: however, here are some promising data:
The sites boasts of about 11 million monthly hits from members
About 1.8 million of those users are unique visitors
They have a fairly decent strong male to female ratio
Although they have more Whites than any other race, they do have a healthy mix of all age groups, with the majority of its members being between the age range of 25 to 54.
One downside of ChristianMingle.com is that it does not have the best odds for matchmaking success, especially for Christian women as they are more women than men searching for lifelong Christian partners.
However, their audience is specific, so there is still hope for everyone to find love on the site.
Christian Mingle long-term success rates
This is always a very hard figure to get as not everyone will report on their success.
This is not to say that ChristianMingle.com is without its fair share of success stories of those who have met their soulmates using the site.
The success stories that the ChristianMingle.com website tends to include people of all races, backgrounds, age groups, and more.
No wonder the site is receiving more married women and men searching for love, as well as divorced singles coming there to look for potential mates.
Christian Mingle Features
ChristianMingle.com has a wide variety of features that its members can take advantage of.
For starters, we tested their main feature – the Matching system that they have.
It was incredible (and sometimes overwhelming) how good their match selection system is.
To achieve this, a few questions are asked when you join Christian Mingle to help the matchmaking algorithm suggest the most compatible matches to you.
Also, you can search for matches using factors such as denominational preferences to birthday days.
The use of well-positioned profile photos that shows hair color, eye color with the body type help users decide on a physical attribute.
Another interesting feature we found using this site was the lookbook (available only to paid members) which works just like the Tinder swipe feature.
This can become overwhelming, but it is a great and useful feature.
However, while many people frown upon the fact that messaging is hidden behind a paywall, premium users also have access to the messaging+ feature.
With messaging+, a premium user can send and receive messages from a free member without that member subscribing to any of the paid membership plans.
ChristianMingle.com also has a fun communication tool that members can take advantage of including live chats where you can ask basic questions, chat rooms, instant messenger where members can send out messages, and an active member forum.
But wait, Christians, as they are not done yet; ChristianMingle.com also boasts a 2-way matching system, the option to view online members, flirty features such as "secret admirer" and "smiles" and suggested conversation starters.
The only downside to these wonderful features, just like with sites like eharmony and Match.com, is the inability to access them without a premium membership.
Since it is a site for Christians to find dates, does it mean there are no online dating dangers to watch out for; what are the pros and cons of dating online you need to know to avoid such pitfalls?
This Christian dating site puts out safety tips for its users to protect them from fake profiles as the membership base keeps increasing daily.
Women on ChristianMingle are advised to be safety conscious when giving out personal information on the dating app.
A Christian man on a religious dating website must reflect his Christian faith in seeking the right match to have a splendid dating experience.
Our definitive guide here and here answer both basic questions above respectively and show that searching for love online is worth it, after all.
While signing up for a Christian Mingle account might be entirely free, interacting with other members and other special features come at a premium.
Also, to access the Christian mingle browse anonymously features (where you can secretly view other members' profiles), you need to become a paying member.
If you're on the site for long-term relationships (which we presume you are), then you should be ready to pay for communication with the person you'd love to know better.
The cost of a single-month Christian Mingle subscription is $49.99.
While a discounted $39.99 is charged per month if you're paying 3 months upfront and $24.99 per month for a 6-month membership plan.
Compared to Match.com, the Christian Mingle premium membership plans are quite expensive, though not as expensive as eHarmony.
We registered on the Christian Mingle website and tested both the mobile and web versions to conclude.
We concluded by rating the individual components and features of the site on a scale of 1 to 5.
Our evaluation was based on the site's user-friendliness, cost of premium packages, success rates, and constructive reviews from real users of the site.
Christian Mingle Review Conclusion
ChristianMingle.com is an excellent site for the young Christian male as given the male to female ratio on the site men have more potential matches to choose from.
This is not to say that Christian women will not find success, the reality is just that more women are looking to meet men than men are looking for women.
As a lady, knowing the do's and don'ts of online dating would give you a better chance to be noticed.
The site does not enjoy a large membership, but what it lacks in raw numbers it makes up for in its ability to capture the single Christian looking for relationships.
New members in need of a Christian crush can make use of the free trial by creating a profile and answering the personality test questions to be able to view profiles.
These profiles will be suggested based on your Discovery Preferences which may be by ethnicity, denominationalism, body type, hair color, etc.
Christian singles can move from free membership to paid subscription by making payment using a credit card.
Bottom line, this ChristianMingle.com review will say that if you are a single Christian looking for that special someone to be your long-term Christian partner, then this is the place to be.
So, my rating for this site is:


If, however, you are a non-Christian then you might wish to explore other sites such as Match.com or eHarmony as you will not have to deal with reading through a mountain of Prayer requests. (Yes it does get old fast, even for Christians).
You should read some of our other reviews to get a well-rounded view of all the dating sites.
We suggest that you check out our Zoosk review as well as our chemistry.com review!
You might want to also check out some comparison articles such as eharmony vs match.com, OkCupid vs PoF, Match vs PoF, or match vs OkCupid!
We hope you all got something out of our Christian Mingle review!
On the ChristianMingle app, you will be charged for auto-renewal if it is not turned off after subscription purchase.
From our ChristianMingle reviews, it is worthwhile to note that it places importance on rights reserved, advertiser disclosure, terms of service, and prompt customer service.
Elite singles will find this review helpful in choosing a user-friendly dating site as relationships and marriages beckon while exploring the option of long-distance relationships also.
Now let's turn our focus to some of the top FAQs that you may have in mind or come across.
Frequently Asked Questions