Planetromeo or sometimes referred to as just Romeo is a website dedicated to gay men dating.
When it was originally launched, it was the website for the LGBT community, but since then the rules have slightly changed.
Nowadays, it is oriented to gay dating, and in this Planet Romeo review, I will tell you everything you need to know:
Let's start with the basics!
OFL Top Recommendations based on 100,000+ Survey

"Serious Relationships"
"Discreet Hookups"
"Best Course for Men"
"Quick Flings"
"Normal Hookups"
"Our Quiz"
Is your dating app giving you the best chance for success?
Make sure to take our online dating site/app quiz to find out.
It's a fact that people who follow our dating site suggestions have on average 2 extra dates per month.

Effectiveness – 3.5/5
Features – 4.5/5
Ease-of-use – 3.5/5
Price – 3.5/5
Access to many features without the premium membership
Budget-friendly prices of planetromeo plus and the ability to cancel the membership whenever
Many resources for healthy, safe sex life
The app is compatible with iOS and Android
Numerous search filters
Non-existing verification process
Low profile quality
Who is it for/Demographic makeup?
Planetromeo was established back in 2002, in Germany, as the gay dating platform, and to this day, the majority of users are gay men, as well as transgender, and bisexual males.
In the beginning, most members were German (coming from big and popular German cities like Berlin and Hamburg), while nowadays, you can easily meet someone from Amsterdam, as well as Switzerland, and major Austrian cities.
As you can see, many members are from German-speaking countries, but even if you are coming from Italy, Spain, Netherlands, or any English-speaking country, you can join, as the website is available in several languages (Portuguese, French, and many more) besides German.
The only rule is that you are a member of the LGBTQ community, interested in gay dating and casual hookups, not shy, and afraid to share some adult content, since this is the easiest way to grab the attention of other gayromeo members.
Currently, the planetromeo counts around 6 million users. Since its origin is one of the most popular European countries, it is not shocking that the biggest percentage of those users are Europeans.
Even if you are from the USA, you can find someone to chat with, or exchange steamy images, as 500 thousand members are Americans.
When it comes to age distribution, it is not as diverse. This online dating website is mostly for young adults – around 50% of users are below 40 years old, while around 20% are under 50.
OFL Top Recommendations based on 100,000+ Survey

"Serious Relationships"
"Discreet Hookups"
"Best Course for Men"
"Quick Flings"
"Normal Hookups"
"Our Quiz"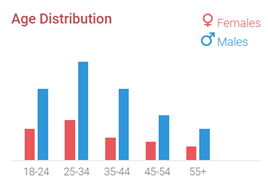 The number of fake profiles is low, so you don't have to worry about scams or cat-fishing.
Now that you got to know the basics, let's tackle a very important topic – the effectiveness of planetromeo.com.
Is this website better than other gay dating sites?
Well, before you become a member, and go to the discover page of planetromeo, you should be aware of a few things.
This website is focused mostly on hookups and flings (like BeNaughty or Ashley Madison). – the majority of users are posting x rated pictures, and other adult content that they know will grab the attention of others. So, if you are looking for something more long-term you should find another website (like Tinder or eHarmony).
Also, if you are from any country outside Europe, it might be a bit more difficult to find someone, since the majority of members are European.
Now that you are aware of these minor obstacles, let's get into detail about the effectiveness of this dating website.
How does it work for your target group?
As already said, the target group of planetromeo is transgender, bisexual males, as well as gay men.
The interface and features are quite similar to other gay dating sites, so it will be easy to navigate the website and find what you need.
When going to the browse page, you can input several search filters, and scroll through thousands of LGBT profiles with xxx content. Just enter the age, language, sexual preference, or any other criteria, and see who is available.
As there is a lot of results for all combinations of search filters, it is super easy to get addicted to the website, and once you become a member, you will undoubtedly spend a lot of time on Romeo planet.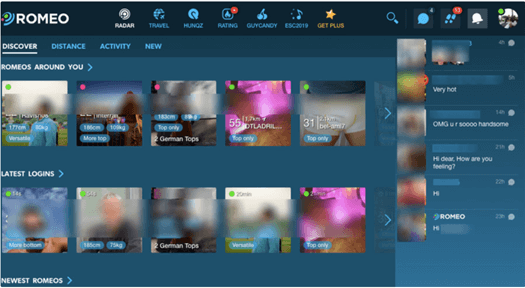 Once you find someone you would like to get to know better, you can start the conversion.
Keep in mind that most conversations on planetromeo are quite short, and the person on the other side decides in just a few minutes whether they want to do something with you or not.
So to meet people, you should be careful about which pictures you are posting and always start the conversation with a good pick-up line.
One of the advantages of planetromeo is that most of the basic options and features are available to free members.
This gives the new members the opportunity to explore the website, engage with other members, and then see whether they want to upgrade their profile and purchase a premium subscription.
The website offers a few unique features that can help with approaching other members, or just scoring more dates, but I will talk about it a bit later in this planetromeo review. Now, I will focus only on the basic features for contacting members.
As you are scrolling through the website, you will get the option to like profiles or add them to favorites.
Since planetromeo.com has thousands of profiles, I recommend using this option, as the profiles you are maybe interested in can get easily lost in the sea of others.
Also, when it comes to searching, you can do it via categories. For example, if your next hookup has to have a particular trait, you can input that trait, and see the profiles that match your criteria. The same goes for different activities, and planetromeo makes it easy to find people with the same sexual preferences.
After you are done with searching, you can either start messaging or start an instant chat.
The website also has a few other features for making contact such as footprint, which is some kind of a sticker. There are two categories: one is marked as hot stuff, and the other is compliments.
The goal is to use these small images to describe other members and show what you like about them.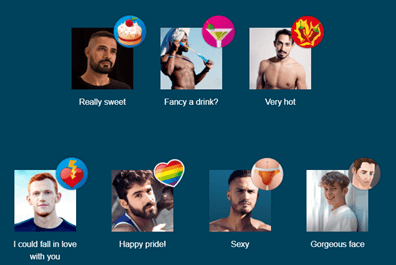 For example, if someone has a great body, you can go to the "hot stuff" subcategory, and choose a hot butt or sexy sticker.
So, will this xxx content help your dating life?
In most cases, yes, but only if you are looking for a hookup.
The planetromeo members are open-minded, quirky, sexual, but most of the contacts are quite superficial.
At any point in the day, there are around 50 thousand people online, so your phone will be buzzing.
You will receive and send hundreds of messages, exchange multiple nudes, and maybe even enjoy a steamy video call, but the interaction will end at that.
If you are looking for a deeper connection, then you should probably skip joining this dating platform, since it is harder to find that here.
I already mentioned one of the unique features of planetromeo: footprint.
Still, this website has many more to offer, and by becoming a premium member, you can get access to all of them.
Here is a short description of all unique planetromeo options:
With Radar, you can use four tabs when searching.
Discover tab is the summary of the three tabs.
The first one is called Distance. If you want to meet someone offline, it is best to browse through profiles from your area, and in this tab, you will see profiles that have the same zip code.
Activity is the place to find people currently active. Whoever has recently joined the app will be displayed here.
The last tab is the New tab, which features all-new planetromeo members.
If you are looking for a travel companion, you can use the Travel feature.
Members can list the destinations they want to visit, along with the dates on which they can travel.
In this way, you can find someone willing to accompany you or a local that wouldn't mind spending a few days with you.
Planetromeo offers some services, and one of them is Hunqz – male escort service.
The escorts are paid either hourly, or overnight, and through this feature, you can check out their rating, as well as some sexual preferences and type of service.
GuyCandy is used for organizing members based on traits on their profile pictures. You can be either a jock, bear, apple, twink, banana, muscle, or gent.
You can easily conclude from the name of the list what to expect.
For example, the Twink is a person that looks young, while a Gent is someone with a lot of dating experience.
A guy listed on Apples will show his bottom on the profile photo, while Bananas will display his private parts.
To boost your profile visibility, you can rate the added pictures.
There are five options: flower, match, illegal, popsicle, and fire.
If you uploaded a nude picture, rate it as illegal, so the users under 18 cannot see it.
For photos that are showing some skin, but not displaying private areas, use the popsicle rating.
The flower is the rating used for pictures that show zero sexual activity, and in which your body is completely covered.
Since not everybody is okay with sharing nudes with everyone, planetromeo has created a QuickShare.
With this feature, you can create an album of xxx content, and people have to send a request. Once the request is approved by you, they can browse through these pictures.
If you want to see other albums on QuickShare, you have to send a request and wait for approval.
As a free member, you get a limited number of requests each day (only 3), while premium members get to send an unlimited number of requests.
On the planetromeo blog, a new member is featured every week. You can see their profile along with the short description.
After introducing all of the cool planetromeo features, let's dig into how you can become a planetromeo plus member.
There are two ways in which you can create your planetromeo account.
Firstly, you can complete a step-by-step registration.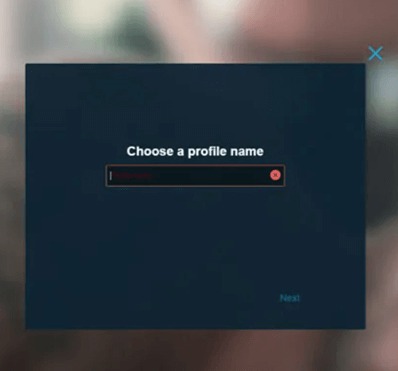 The website will ask you to type in the username and then provide your age. The lower age limit is 18, so minors cannot join the website.
Once this step is completed, the website will ask to share the location – either put it in manually or use one of the location services. Also, you have to provide a valid email address, strong password, and add a profile photo.
Profile pictures do not have to be approved, so you can choose whichever you want.
Once you get the verification email, your profile will be active.
In the next step, you can build your profile by completing a short interview. All questions are mostly focused on sexual orientation, preferences, relationship status, and interests.
There is the fastest way to create a profile – you can simply link your Facebook account, and information about your age, status, location, as well as photos, will be automatically transferred.
When it comes to functionality, you will notice that the website is quite user-friendly.
The website is simple and modern, so the user experience is outstanding.
Most of the features are located on the main, home page, and you can access them with just one click. Also, all messaging options (instant chat and inbox) are combined into one.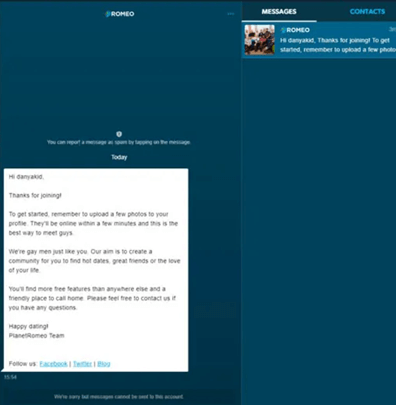 The profiles are displayed as pop-ups on the screen, and information is well organized, so you can easily determine whether you are interested in someone or not.
The profile picture is displayed on the left, and answers from the interview are displayed on the right.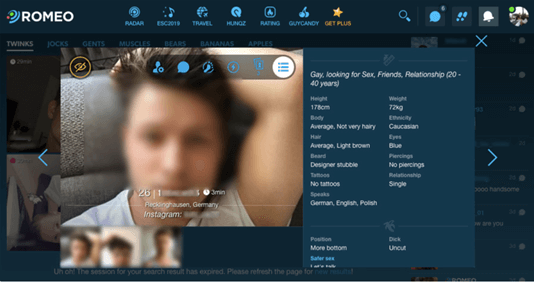 As said, the albums are locked until the member approves the request, but you can get to know someone before by reading an about me section or by reading about sexual preferences they have listed on their profile since this information is available to everyone.
One thing that should be noted is that profile quality is in most cases low.
While members do not have a problem with sharing nude pictures, and content related to sex, they aren't willing to share information about their private lives, and the about me section is in most cases empty.
Also, since profile pictures aren't verified, members often use photos of celebrities.
If you are away from the computer for the better part of the day, you can still access planetromeo.com via an app.
The app is available for Android and iOS smartphones. All you have to do is go to the app store (or Google Play in case you own an Android) and download it without any cost.
Then log in with your username and password.
The interface of the app is similar to the desktop version – the color scheme is the same, and features are located in the bottom bar.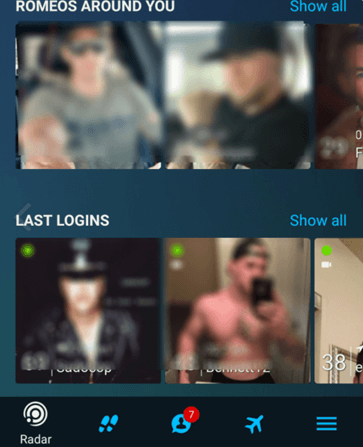 Remember to turn on the notifications, so you don't miss a message from a sexy planetromeo guy!
Many features on planetromeo are free, so even without a premium subscription you can interact with other users and get a great user experience.
If you are considering buying the planetromeo plus, here are some of the things you should know.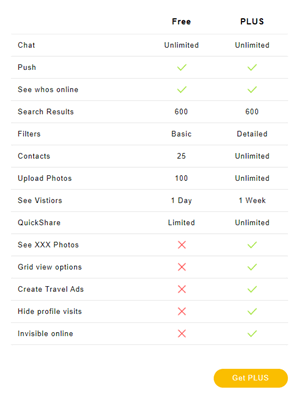 Firstly, the subscription unlocks the xxx content – all of those explicit images won't be blurred, however, you still need the approval for QuickShare, since these albums are not automatically unlocked by purchasing a subscription.
You will get an unlimited number of requests to send on QuickShare, which is better compared to only 3 you get as free uses because you never know how many of those requests will be approved.
While browsing or using the app, you won't be disturbed by the ads.
Furthermore, the membership allows you to see who looked at your profile in the last week, as well as allows you to browse anonymously.
When it comes to prices, they are quite budget-friendly.
You can purchase the membership for 1 or 3 months, and there is even an option for only 12 days in case you are interested only in exploring the benefits.
Promo codes and coupons can be easily found online, so you might be able to lower the price a bit more.
For payment, you have two options – the credit card is the standard option, and creators also added a Paysafecard.
Here are the prices:
1 month – $10.11
3 months – $23.58
12 days – $67.32
Overall Rating – 3.75/5
Planetromeo is a gay dating website where you won't have to be scared of judgment, homophobia, or bullying.
Users are encouraged to be flirtatious and explore their wildest fantasies with other like-minded people.
The major advantage is the number of users, xxx content that you can easily get access to, and plenty of features to make online dating even more enjoyable.
In my opinion, the only thing that should be improved is the verification process, and approval of profile pictures, so safety is further increased.
If you liked this planetromeo review, make sure to check out the FAQ below as well!
Before you click on the "Sign-up" button, I would advise you to read the FAQ, to make sure you have all of the necessary information before joining the website.
Here are the answers to some of the most burning questions about planetromeo.