Chatango is a site that allows users to sign up and partake in group discussions. If you had forgotten all about old school chatting, Chatango will remind you why it is still exciting. Chatango's concept is that of chatting with random strangers who share the same personality and interests.
The goal? To create connections that go just beyond text-based conversations. As the members get to know each other, Chatango provides dating potential. Apart from engaging in chats, the site promises to grow the traffic of each member's personal and/or professional website(s).
Founded in 2010, Chatango has been successful in its offerings, mainly because it boasts over 8 million registered users who share their thoughts and ideas on the platform. Want to know more? Keep reading this Chatango review!
Pros:
Free services, no subscription required
Simplistic design that makes the site easy to use
The Chatango app can be downloaded on all devices, including Mac, iOS, Windows, and Android
Offers private and public chat rooms that anyone can join
Convenient search features that make it easy to find other users
MeetingCatcher feature notifies users of new messages
Cons
While the app's bare design is easy to use, it is not appealing and can quickly become boring
Chatango does not favor users who may not necessarily want to chat and prefer other methods of interaction such as videos
Member Information
Chatango has 8 million members. With such a vast number, one thing is for sure; this site will keep you as busy as you want to be. Do not think that you will experience any dull moments here. Most of the members are from the United States (1.3 million members), while the rest come from other countries worldwide.
There are more men (75%) than women (25%) on the platform. But regardless of your gender, you will surely have a blast. Additionally, thousands of people keep signing up for Chatango. As such, the male to female ratio might change.
As I indulged in the site, I found that the diverse members are looking to talk about anything under the sun. There are no specifics here. This is what makes Chatango members unique.
Sign Up Process
RATING
3.5/5
The Chatango sign up process is not complicated at all. The simplicity of the sign-up process sets Chatango apart from its competitors. I had my account up and running in under five minutes. While signing up is completely free of charge, you can only manually fill out the sign-up form. There is no Facebook registration option, and frankly, there is no need for one.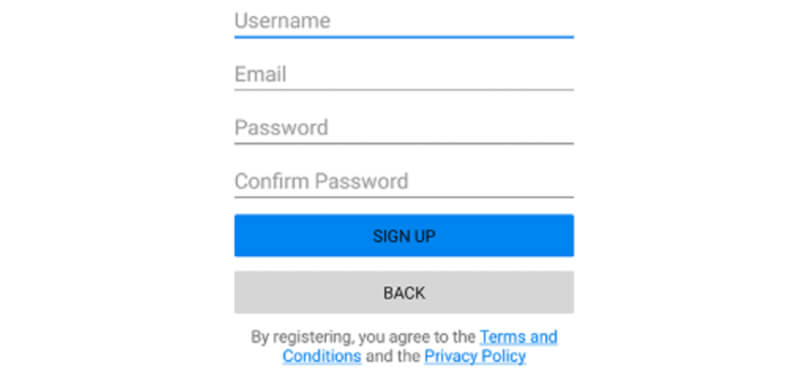 The other thing I noticed was the fact that Chatango does not come with email verification. This means that anyone, scammer or bot, can sign up without getting noticed. Because there is no security or verification system in place, I found it wise to take all the necessary safety precautions when signing up to Chatango.
It goes without saying that you should not share your personal information. Additionally, you should be cautious about the people you are interacting with and those you invite to your groups. It is always best to engage in general conversations unless you feel the need to go deeper.
Contacting People
RATING
3/5
Chatango does not have a directory of its members. Therefore, finding others required a lot of search and filtering. I also needed to know the usernames that I was looking for, which is the only way to come across profiles. You should sign up for Chatango if you know a few people; otherwise, you will be lonely.
This is how I engaged in a conversation:

All the conversations I indulged in were engaging. As such, messaging is the only way to make contact on Chatango.
Profile
RATING
3/5
Despite not being the main attraction, it is essential to have keywords, age, gender, and ZIP code filled out so your profile will be more likely to pop up in search results, which will lead to an interaction. Dressing up your profile with the artistic freedom the site gives you is just a bonus.
OFL Top Recommendations based on 100,000+ Survey

"Serious Relationships"
"Discreet Hookups"
"Best Course for Men"
"Quick Flings"
"Normal Hookups"
"Our Quiz"
After creating your account, it is now time to fill in your profile. Well, creating my profile was relatively easy because Chatango does not put a special emphasis on profiles. I came across users who had bare accounts without any profiles, but I saw it best to represent yourself in one way or another. Customizing my profile using colors, images, and words was so much fun. The users who had profiles used different avatars as profile images. The users on Chatango do not necessarily upload their real photos.
This is my profile:

Although profiles are not Chatango's strong point, it is important to have information on your gender, age, and zip code because these are the keywords that are often used when searching for profiles. For instance, if you search for a gay Chatango user who runs a gay chat room, you do not need to use the word "gay" during the search. To find their profiles easily, it is best to search by username and age.
Mobile App
RATING
4/5
The Chatango app can be downloaded and used on various devices. Tablets, laptops, mobile phones, you name it! Even better is the fact that the Chatango Android app works just as well as the iOS app. My interaction with the application was rather flawless.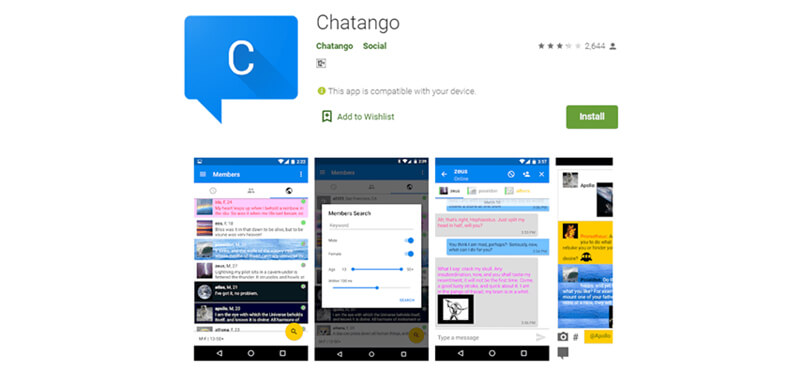 Did I mention that the app also takes very little memory? This way, you do not have to worry about deleting your other files to accommodate it. Don't worry about spending money because the app does not come with in-app purchases. It is highly convenient for users on the go. The biggest plus is that the app does not strain your device in any way. In other words, it is "lightweight."
Compact and easy to use, the app does not disappoint in its neatness and compatibility. It has a more appealing interface than its desktop counterparts. It is user-friendly and will make your experience much more intuitive.
Membership Options
RATING
4/5
You can access Chatango completely free of charge. Unlike other similar sites, you can enjoy all the perks and benefits without paying a dime. This fact alone enticed me to stay on Chatango. With your free membership, you can upload pictures, send messages, and update your bio.

This is not all! The site makes things much more interesting by introducing Chatango codes. When you come across these codes, you will get access to the following special features:
You will be able to download this extension to your device, and it will send an alert whenever you receive a message. As such, you will always see all your messages in record-breaking time and ideally, respond to them immediately.
These are small, customizable Chatango chat rooms that users can create and only invite a select group of people. Inside these chat rooms, users cannot use offensive language or content. As Chatango says, "keep it clean."
The Bottom Line
Chatango is a chat site with a variety of chat rooms that cater to different users. For instance, the gay Chatango chat rooms cater to gay users only, where anyone can access the general chat rooms. A unique aspect of the site is that users can create their own chat rooms and act as moderators. They can ensure safe chatting by banning, blocking, and deleting certain content. Chatango can be used to connect with the community, ask and answer questions, and even for dating.
Do not write off the site because of its drab and boring interface. Behind this, it has a lot to offer. To introduce a bit of appeal, you can customize your group however you want. Chatango is free, democratic, and does not have any limits. Talking to strangers is adventurous as it is always exciting, but do not forget to remain cautious.
Frequently Asked Questions
How can I delete my Chatango account?
Unfortunately, Chatango does not provide an option that allows for the deletion of accounts. It is not possible to delete your data from Chatango. As such, most users prefer to log out and leave their accounts inactive. All you can do is leave and never come back.
Can I see who likes me on the Chatango mobile app?
Yes, you can see who likes you on the desktop version of Chatango and the mobile app. It is easier to view those who like you through the mobile app compared to the website, as the app gives greater access to user profiles.
How do I contact the Chatango support team?
You can contact Chatango by sending an email explaining your issue to [email protected]. You can also contact the Chatango support team through social networks; facebook.com/ChatangoDotCom on Facebook and twitter.com/chatango on Twitter.