Amolatina is a niche dating site that's aimed at Latin American singles the world over, not only in the United States or Central and South America.
And while it's been around for ages, Amolatina has somewhat of a tarnished name it seems.
Is that justified?
Well, that's what we hope to find out in this exhaustive review of this dating site.
OFL Top Recommendations based on 100,000+ Survey

"Serious Relationships"
"Discreet Hookups"
"Best Course for Men"
"Quick Flings"
"Normal Hookups"
"Our Quiz"
But that's not all we will cover:
We will try to establish:
You can be sure that by the time you've read our review of Amolatina, you will know if it's a dating site to try out or steer clear from.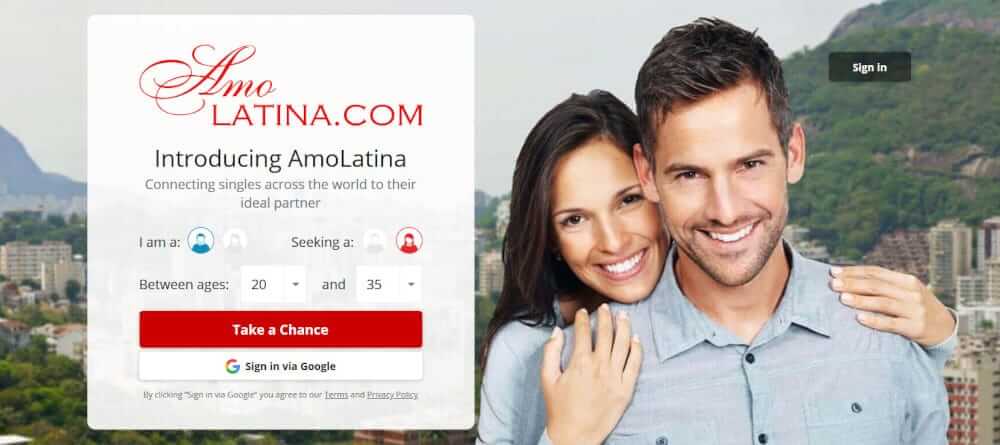 Is your dating app giving you the best chance for success?
Make sure to take our online dating site/app quiz to find out.
People who follow our dating site suggestions have on average 2 more dates per month.
AmoLatina Review in Video Form
Audio (podcast) form for those of you on the go
Ease of use – 4/5
Effectiveness – 2/5
Key Features – 3/5
Pricing – 2/5
Easy to sign up
Over 20 million users
A well-designed website that's easy to navigate
Credits, the currency you will need to contact others, are expensive
There seems to be plenty of bots online
You will be constantly bombarded with messages from these bots
Nothing is for free at all

Who is it for/Demographics?
Well with a name like Amolatina, you would think that this dating website is specifically aimed at people of Latin American or Hispanic origin.
And yes, while that may have been the case when it started out in the 1990s, that's not the only profiles you will find on the site.
Amolatina is not purely a hookup site (like BeNaughty or Ashley Madison) or a site only for those seeking serious relationships (like eHarmony).
While trying out the site, I saw all manner of different profiles.
Of course, these could be people who'd like to date people of Latin American or Hispanic ethnicity.
So first and foremost, it's a dating site that's not exclusively for one ethnicity.
It's interesting to note that a website that's been around from the early days of the internet doesn't provide any numbers in terms of its user base.
And it took a lot of digging to find out just how many people the site has signed up over the years.
But according to Crunchbase, Amolatina has had over 20 million people sign up and make use of its service over the years.
Of course, not all of these people will still have active profiles on the site but that's a huge number which suggests that Amolatina has a user base to make it a worthwhile site to explore when looking for love.
Finding out other figures regarding the site, things like the predominant age ranges of users as well as the gender ratio between male and female users proved to be a fruitless exercise.
When finding relevant figures proves difficult, the next course of action is to jump right and to test the site to see just how it operates and whether connecting with people is easy enough.
But first, let's start with how easy it is to sign up for Amolatina and move from there.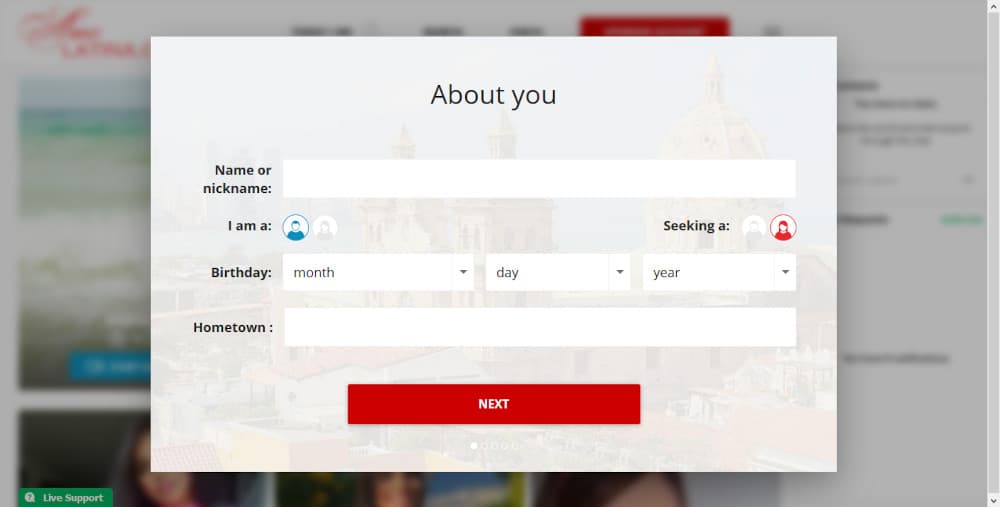 Similar to just about every other dating site on the web, Amolatina makes creating your own profile quick and easy.
You have two ways of doing so:
Create your account by providing your email address, a username and a password
Using a social media account (in this case Google) to create your Amolatina account
Most dating websites offer the second option but instead of Google, use Facebook.
I generally don't use any of my social media accounts in situations like this.
Although it is safe to do so (they wouldn't offer it if it wasn't) I just prefer the old method of signing up, just to be sure from a security point of view.
The signing up process includes a few steps in helping to set up your profile initially.
You can skip them all if you'd like, but if you want people to contact you when searching for matchups, it's probably better if you complete them.
And it's simple.
For example, you will be asked:
To give a brief description of yourself
What you are looking for in a match
What you like doing for fun (sports, camping and dancing are just some of around 20 examples)
From there, you can upload a profile picture and start browsing the site.
With its modern look and excellent design, Amolatina is a pleasure to navigate.
You will notice five menus at the top of the screen.
Your status
Search
Inbox
Upgrade Account
Settings
Your status is where you can set your mood for the day.
There are six options to pick from here, for example, romantic, flirty and naughty.
It's just to give an idea to others as to how you feel on the day.
The search option doesn't include many parameters at all.
In fact, you can only search for gender, age and then a matchup interests which are exactly the same as you would have filled in earlier when setting up your account.
I will speak more about the search engine later in the review.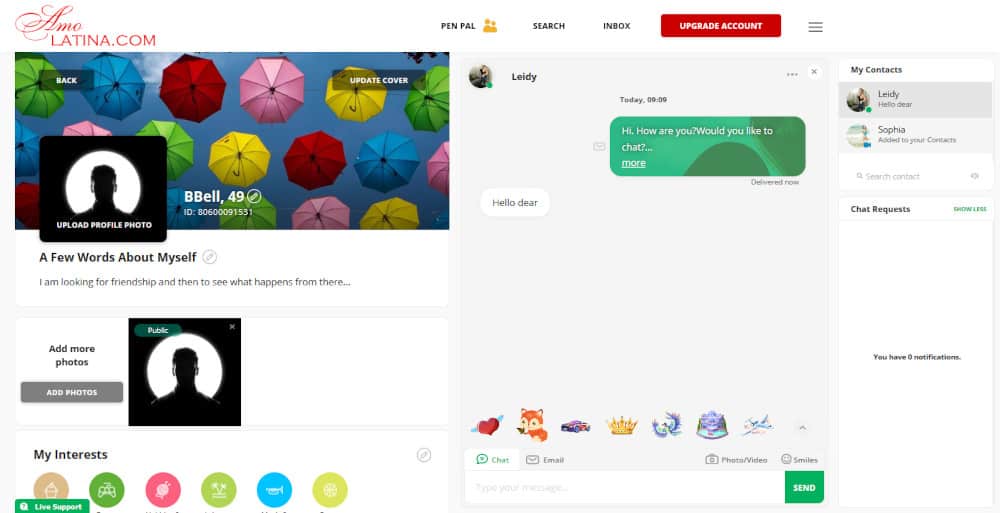 Even if you chose to fill in a few details on your profile during the sign-up process, there's more to add.
Having said that, there isn't as much detail to flesh out here as you find on other dating sites.
Details to expand on in your profile include:
Appearance (eye and hair color, body type and height
Lifestyle (do you drink or smoke)
Education
Relationship
Family
And that's about it.
Amolatina is very easy to use and not difficult to find your way around at all.
Does Amolatina have an app?
In today's mobile world, not having an app version of a dating site wouldn't be a good marketing move.
And Amolatina hasn't made that mistake.
In fact, they have an app that's available on both the Google Play Store and Apple iStore.
The Android version of the app has been downloaded over 1 million times but having said that, it only scores an average of 3.5 out of 5 with users.
So overall, Amolatina has all the tools in place you'd expect a dating site should have.
But can it help find you matchups that could lead to what you are looking for?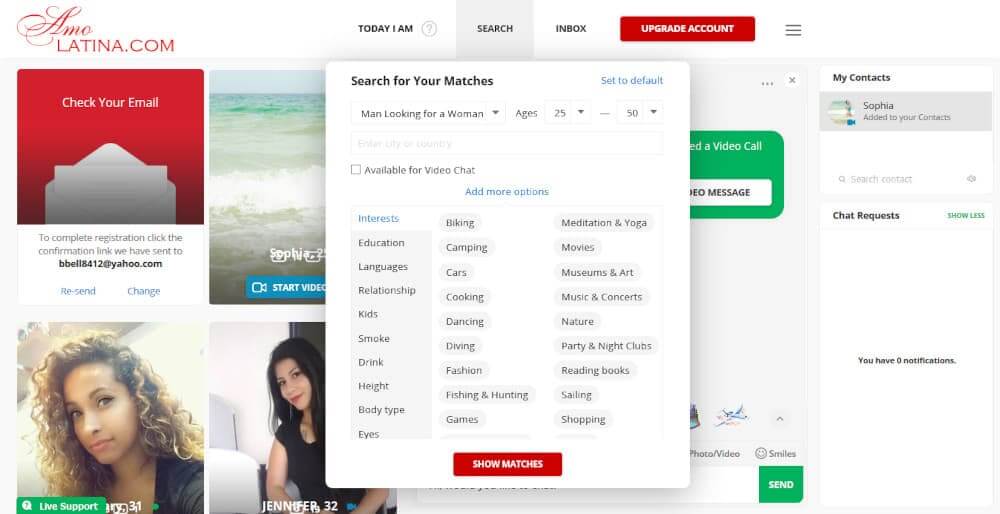 20 million users.
There's got to be a few decent matchups for you, right?
And while I believe there is, I cannot quite shake the feeling that Amolatina is a money-making site, first and foremost.
Just conduct a profile search and you are going to find tons of people that look like models.
But before we discuss that more, let's get into how the site operates in terms of finding your matches.
Let me just say that the search engine used by Amolatina could be a lot better.
There's just not enough parameters to fill in here.
I don't only want to search for people based on their gender, age, and interests.
I really couldn't care less they like camping or watching TV.
There is no option to search for people based on their profile answers relating to their lifestyle or appearance for example.
That said, if you conduct a basic search, there are plenty of profile returns.
How many of them are real, well that's anybody's guess?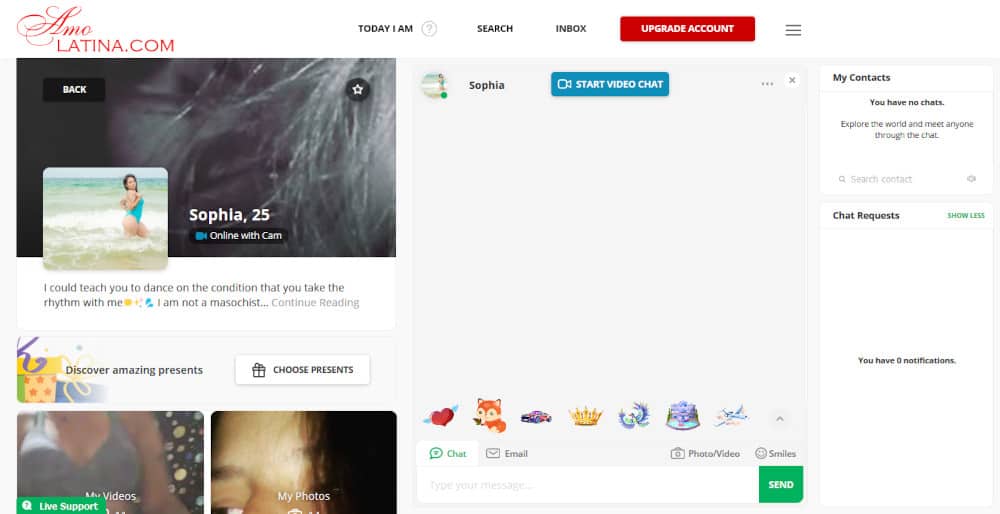 Once you've found a few people who you'd like to try to get into contact with, you quickly see how Amolatina operates.
I fired off a few messages and had replies in a matter of seconds.
But that was the extent of the free messaging.
Instead, all my follow up messages saw me taken to a page where I was encouraged to buy credits.
And that's how it continued whenever I sent off messages.
Because If you want to contact people at all, it's going to take credits.
And they are not cheap at all.
We will look into how much they cost a little later in the interview.
The other thing you will notice about Amolatina is the constant messages you receive from other "profiles".
In the space of 10 minutes of having signed up, I received 11 messages.
And it didn't stop.
Some of them seemed legit, while others were pretty random.
Again, you just get the feeling it's all aimed at getting you to buy credits to be able to talk back to them.
Well, that's the feeling I got anyway.
I do believe that some of these profiles are bots or people from the site enticing you to spend money.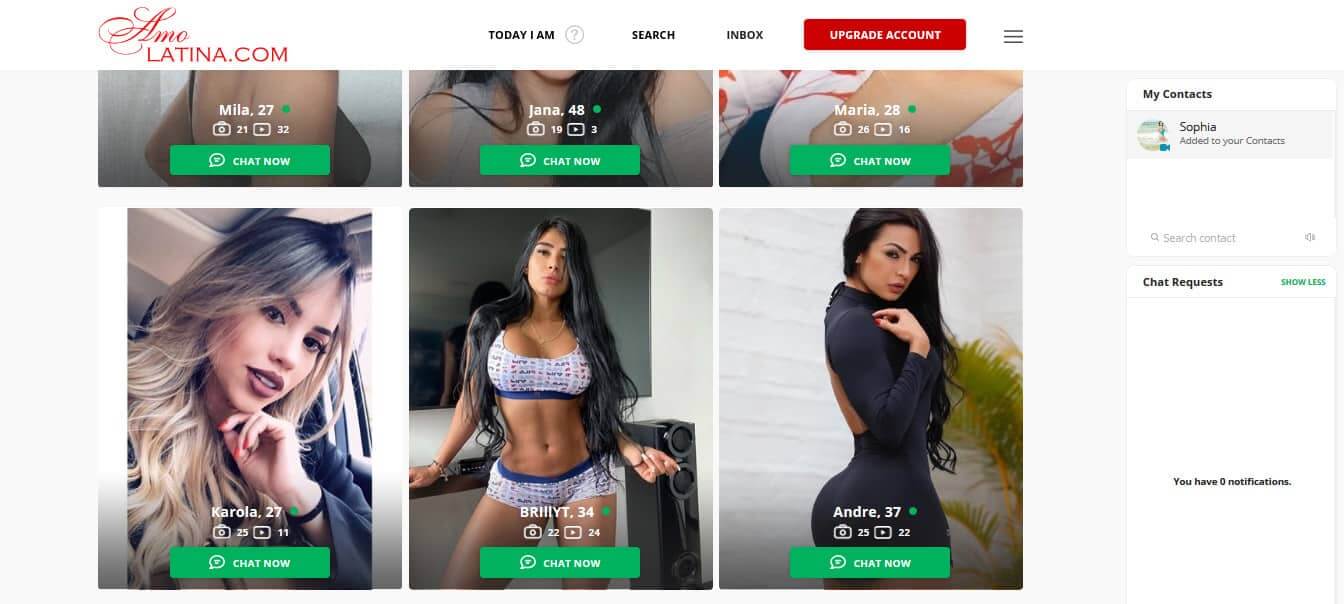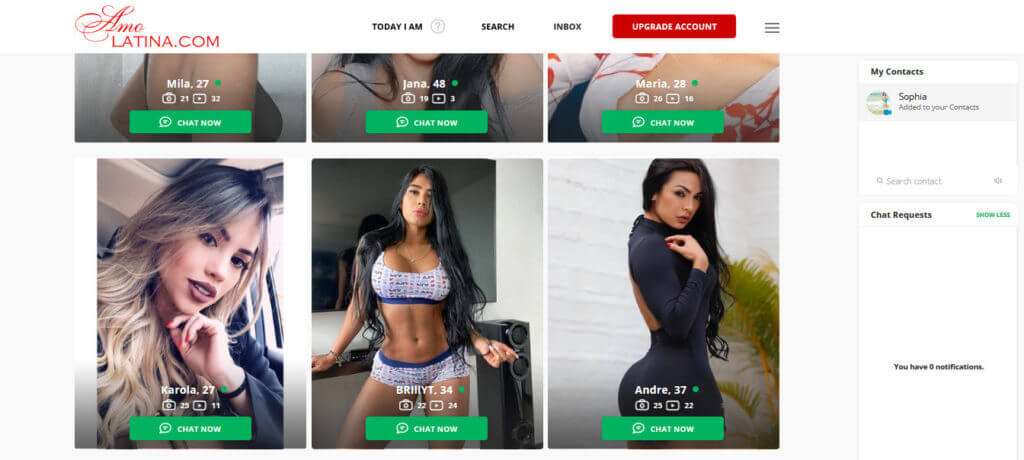 So because Amolatina doesn't really have a membership in the way that other sites have, for example, signing up for a one, three or six-month package, what will the credits you purchase give you when it comes to key features.
The first key feature that you would use your credits on is messaging.
Yes, the first message you send to each potential matchup will be free.
You can even reply to someone who has contacted you for free.
But from then on, your messages will not go through and their messages back to your will be blurred and so you'd need credits to carry on communicating.
This form of messaging is called Live Chat and it costs 1 credit per minute.
Other than the standard live chat option, you can also video chat with others on the site.
This will cost you 2 credits per minute.
Cam share chat is a two-way chat option on Amolatina.
It differs from video chat in the fact that the person you are talking to will now be able to see you through your webcam.
This costs 6 credits per minute.
Both video chat and cam share chat are a good way to see if someone really is who they say they are, especially if you ask them to wave, smile or touch their nose and they do so, as an example.
So you can send virtual gifts as well as real gifts to other users.
Of course, both will cost you credits.
Gifts include the following:
Flower baskets
Perfume
Champagne
Fruit
Cuddly toys
Sweets and chocolates
5. View videos and private photos
Users of Amolatina can upload videos as well as private photos to their profiles.
To see these, however, you will need credits.
Let's Mingle is a service where you can send a generic message to hundreds of profiles.
For example, type in something like "I am a hopeless romantic, looking for love", set the parameters (women, ages 25 to 45) and click send and your message goes to the profiles that match your parameters.
It's an interesting feature and useful for getting yourself out there when you first sign-up for the site.
So now you have an idea of the features on the site.
Some of them are pretty useful, especially "Let's Mingle" as well as the video chat options to see if the person you are talking to is legit or not.
Everything uses credits, however, and you are going to fly through them because as you can see, even chatting for just a minute is going to cost you one credit.
So just how much do these credits cost then?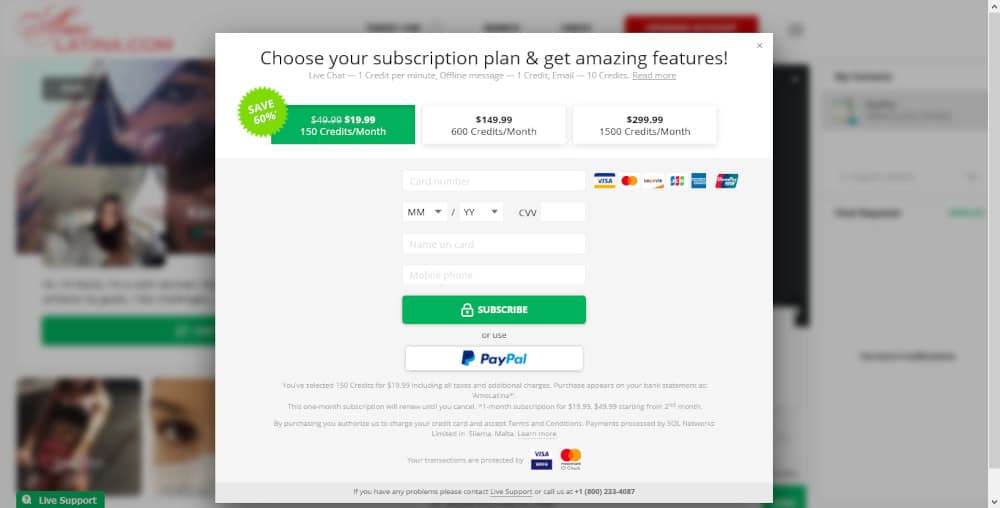 So you cannot buy a membership to Amolatina in the regular sense as with many other dating sites.
It's credits you need you are to have any luck in finding your perfect matchup.
For example, if you send a message to someone offline, that costs one credit, or if you send an email to someone, that's 10 credits.
These credits are used up quickly as you can see and they certainly aren't cheap.
There are three options when it comes to buying them.
These can be set up to come off your credit card each month or can use PayPal to pay for credits as well.
Here's a breakdown of the three options.
150 credits a month – $19.99
600 credits a month – $149.99
1500 credits a month – $299.99
Considering how easily you use up credits on the site, those are some steep prices.
And to be honest, I am not sure if they are worth it at the end of the day, especially on a site that seems like it has so many fake profiles and bots.
But that's not my call to make, but yours.
One redeeming factor for Amolatina is the fact that they do offer specials on these prices from time to time.
In fact, while I was using the site to write this review, the first package for 150 credits per month dropped from $49.99 to $19.99.
So if you just used that on sending messages, for example, you would get close to two and a half hours of being able to do so.
Of course, if you bring video chat into it, that time will halve.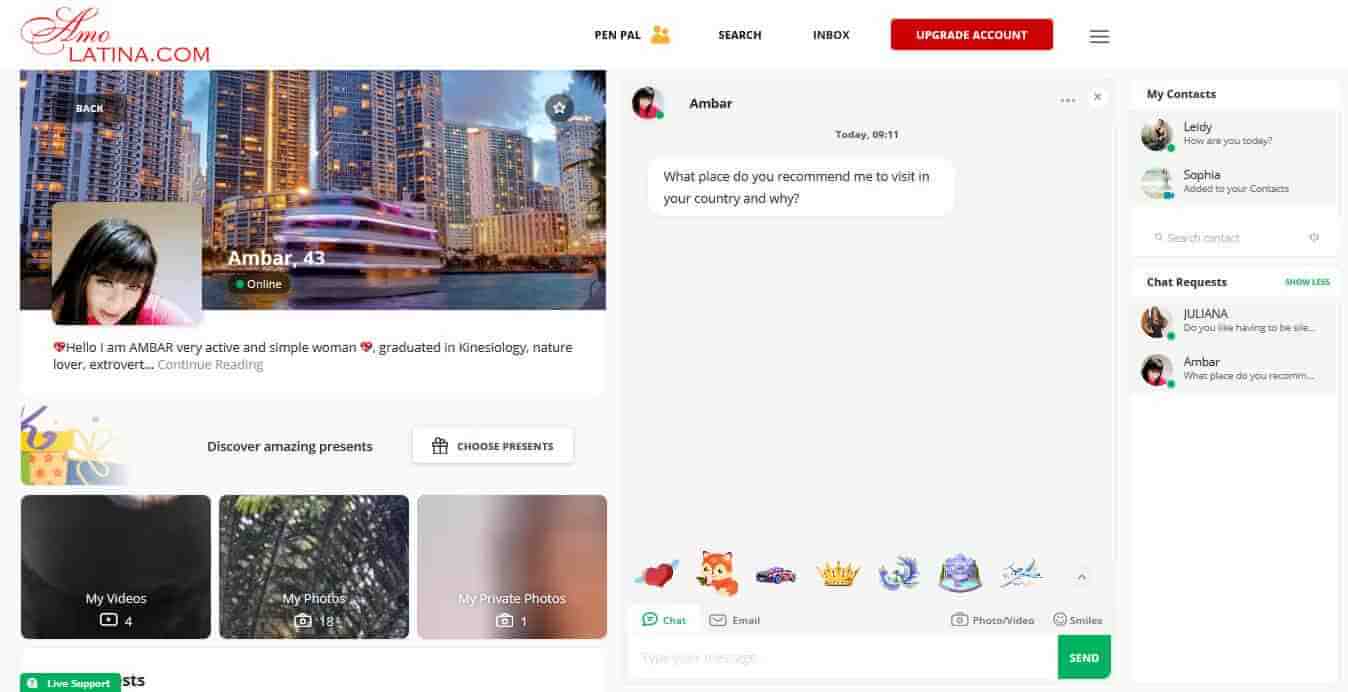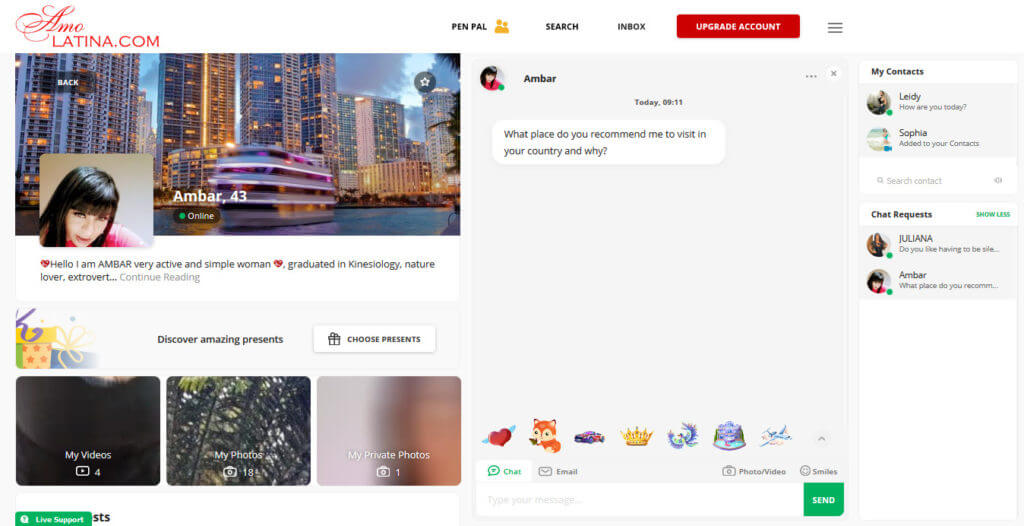 Conclusion and Overall Rating
From a pricing perspective and the way the site is set up, I just get the feeling that Amolatina is one big money-making scheme.
Everything points you towards the fact that you have to buy credits to get anything done on the site.
Yes, it's not unlike other dating sites but many of them offer more.
But I have a deeper concern.
This site is run by the same company that runs AsianDate and it operates in the same manner.
Both Amolatina and AsianDate have a bad reputation online from some users who feel they have been scammed.
Not only that but both are often mentioned for the fact that some users think they are speaking to bots or dealing with fake profiles.
Yes, there may be a person on the other end but why does everyone on Amolatina pretty much look like a supermodel?
I am not saying you shouldn't use the site, especially if you want to connect with people of Latin American origin but it's going to hit you in the back pocket, that is for sure.
So onto my overall rating for Amolatina.
It doesn't fair that well, I am afraid.
In fact, I am going to give it a score of 2.75 out of 5 and I think that's pretty generous.
It's saved by the fact that it's simple to set up and use and it's well designed.
It's let down, however, because the site seems to just be trying to make money out of you and also because there are what seem to be hundreds of fake profiles.
That's driven by the fact that you are contacted by so many people within minutes of starting your profile.
Where do you see that on any other dating site?
But what do you think?
Is this site really what it says or do you think it's more of a money-making scheme?
Let us know in the comments below.
Frequently Asked Questions