How's it going guys and girls and welcome to my Adult friend finder review.
If you have been wondering "does Adult friend finder work?" Or "is adult friend finder a scam?", you have come to the place where I will be answering all of your questions on Adultfriendfinder.com.
I will be going through different categories such as the user base, how easy the registration process is, available features as well as the cost for you guys. In the end, you will know whether or not this dating website for swingers and hook up is right for you.
Also, check out our fabulous guide that can help you through your online dating process. everyone is talking about it, you should also benefit from this.
OFL Top Recommendations based on 100,000+ Survey

"Serious Relationships"
"Discreet Hookups"
"Best Course for Men"
"Quick Flings"
"Normal Hookups"
"Our Quiz"
After the Review, make sure to check out the adult friend finder here.
Here is the official trailer for Adult friend finder:
Is your dating app giving you the best chance for success?
Make sure to take our online dating site/app quiz to find out.
It's a fact that people who follow our dating site suggestions have on average 2 extra dates per month.
AdultFriendFinder Review in Video Form
Audio (podcast) form for those of you on the go
AdultFriendFinder at a glance
While AdultFriendFinder costs an average of $40 per month, it still ranks as the 119th most popular site in the USA. With its 62 million visits by new users in a month, no wonder, it is a hotspot for casual dating, hookups, and one-night stands. Whereas a 12-month plan will cost you $20/month.
Tell me about the members
Hands-down, the most important feature of any traditional dating site review is the type of members as well as the number of members that it has.
Luckily for Adult friend finder, it has this trait in spades. AFF (Adult friend finder) is most likely the most prominent among best hookup sites for casual dating, hookups, one-night stands, and swingers in the entire world. It is in the United States.
Years ago, Adult friend finder lost its good reputation due to a large number of fake profiles that were found on this well-known dating platform with its great functionality. Likely in 2019 the site has taken much more precaution and has a ton of additional safety features to make sure that they get rid of fake profiles (I will talk a lot more about this below).
As can be seen below, Adult friend finder is the 119th most popular website in the United States. This is huge. Also highlighted below shows that it gets over 62 million visits per month which is much more than the typical dating website.

Where did the users come from?
The top three countries that use Adult friend finder are the United States, Canada, and the United Kingdom. It is an extremely popular site that is severely dominated by the English language in the countries that speak it.
Here is a quick visual showing what percent of each country uses Adult friend finder. If you are in the United States, you will have the best luck overall due to the overwhelming number of users (75%) located there.

Overall the site has approximately 60% men and 40% women which is typical of an adult dating website or dating apps especially one of this nature.
The age distribution has the largest percentile of users between the ages of 25 and 34 with the second highest being between 35 and 44 years old.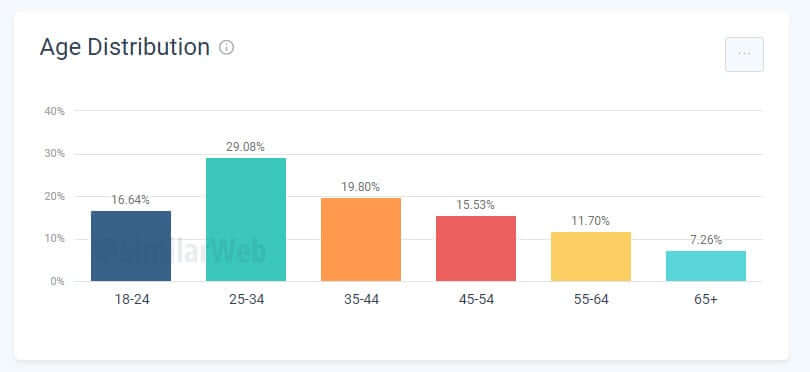 How hot are the users on AFF?
With using Adult friend finder for over a month now, I can tell you that I have seen some pretty sexy users that are using the website.
On the other hand, I have also seen a lot of incredibly unattractive users as well. The majority seems to be somewhere in between as I would give a lot of them between my rating of 6-8 on the attractiveness scale.
Here's a screenshot of some of the users that you will see on the AFF homepage. I made sure to blur out a lot of the explicit photos. Trust me; you'll see more nudity on this website than you will on any other dating website talked about here at Online4Love.
As you can notice there are some cute girls on the website. One of the greatest things about Adult friend finder is that there seems to be a limitless amount of women to choose from.
OFL Top Recommendations based on 100,000+ Survey

"Serious Relationships"
"Discreet Hookups"
"Best Course for Men"
"Quick Flings"
"Normal Hookups"
"Our Quiz"
This is due to the million users that it has. Continually searching and filtering for the last month, I always run across new profiles of members of the site than I have never seen before. This is something that is very important.
The site layout and design
Overall, the site layout and design for Adult friend finders are clean. Well, it is clean for the many features that they offer on the website.
It will still take you on average more time than usual to get used to the interface and navigating through the website. This is merely the price that one needs to pay for receiving all of the features that AFF offers.
Luckily, if you are somebody who likes to chat or search for the profiles of other members while using their smartphone, Adult friend finders have a fantastic mobile experience for its iOS and Android users.
If you look at the chart above you will notice that the majority of the users use the mobile version of the website compared to the desktop version.
Unfortunately, though, Adult friend finders do not have an application for Android or iPhone. I guess they feel that they do not need it because their mobile experience is quite good.
Check out the current website design here.
Tell me about the AFF features
Okay, deep breath, this section is going to be long. Adult friend finders have a ton of different features to explore and try out. I'm not saying that all of them are worthwhile, but I want to make this adult friend finder review as detailed as possible.
I will be going over the most important features first so you can get a good idea of what to expect when signing up for an account.
Adult friend finder offers a slew of possibilities to their large user base for being able to find different users on the website and connect with them as well. Let's go over them one by one, shall we?
Search and filter abilities
The most important feature of most dating websites is the ability to search and filter through its member base while searching for matches that are the most attractive.
Adult friend finder is no different in this regard except that it has an additional search function and filter capabilities compared to other dating sites I have seen.
The main sections for searching are: who's online, who's on instant messenger, new matches, members near me, advanced searches, kink search and browse. These search functions can be seen in the image below.

Out of the three search functions, my favorites are who's online, advanced search, and browse.
The who's online section can be used if you are trying to find a quick hookup. This will be your place to go if you're trying to find something immediately or for tonight.
The advanced search section lets you look for a man, woman, group (one sex or both), couple, and a few others. You can set your age range, distance, whether they are showing photos/videos, whether they are a verified member, ethnicity, body type, sexual orientation, cup size (for women), Hung size (for men), and much more.
As I was mentioning, the search and filter capabilities are seemingly endless in what you can explore.
The browsing section is used to find Adult friend finder listings in your state, region, and what people are looking for. If you have something, in particular, you are looking for such as a man seeking a woman, or a woman seeking a same-sex couple, this is the place to go. Here is what the listings look like.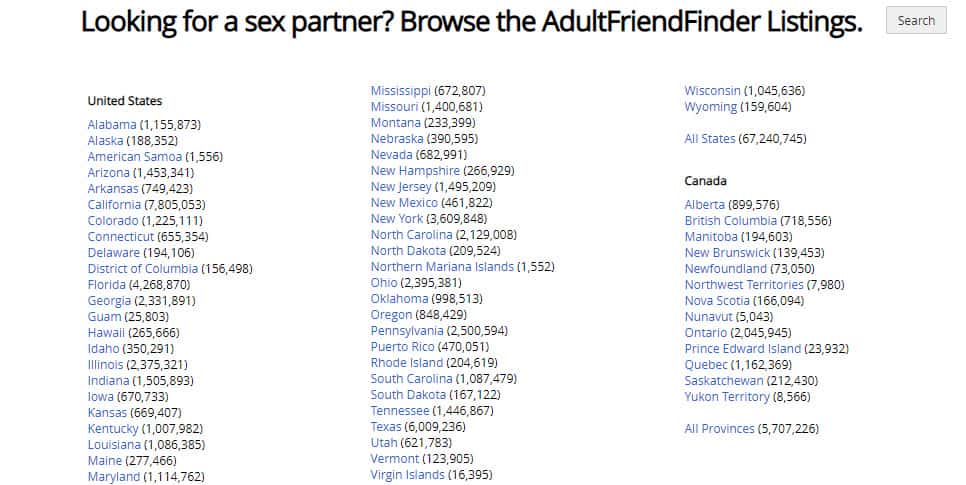 Live action
The live-action section of the website is not so much for online dating but for watching live WebCam shows.
As members of the website, you can also choose to broadcast yourself live to the rest of the community. You can make money based on "tips" the other members send your way.
Overall, if you are only interested in online dating, I would stay away from this section especially if you are a man that is not looking to spend money on watching videos.
What's hot
The what's hot section is a great way to find the most attractive men and women on Adult friend finder.
You can sort by the hottest photos, hottest videos, hottest albums, hottest members, and top members.
The hot or not game can be played by members on this site while searching for potential matches from the member base.
If you want to see where the cream of the crop is in regards to attractiveness/sexiness, this is the place to start.
Profile features
Overall, member's profile features are very extensive on Adult friend finder as well. You can upload photos and videos and update your status primarily.
In your adult friend finder profiles is where you can also see all of the people you have added to your "hot list," who you've sent flirts to, who your friends are, who your top fans are as well as access and manage your messaging section.
Also, the profile section is where you can set the standard search and filter settings that will be applied sitewide. These are your general preferences for what you are searching for on the site.
Better still, the site has given you exactly what the place is meant for, let your username speak juicily. If you are a woman and want to be paid tips to do a live webcam, work on your profile, make it as sexy and the word sexy itself. Your profile picture should define what you are on that site for, you didn't come to play, did you?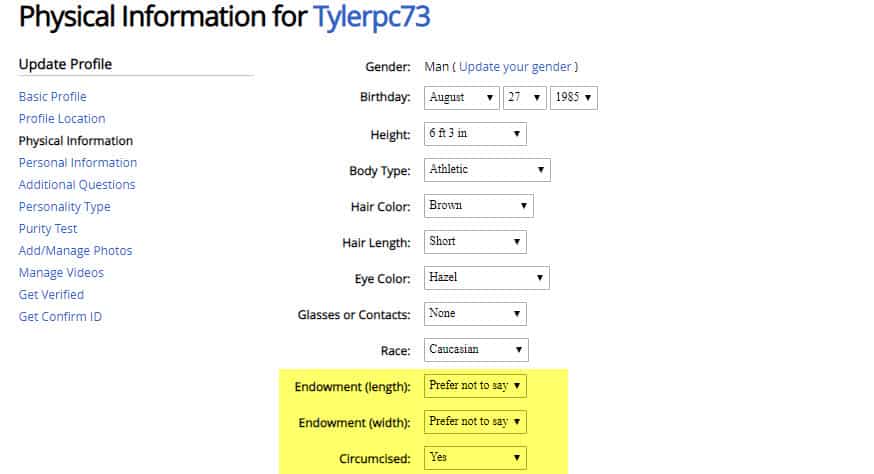 In the physical information section, you can put your height, body type, other physical aspects including your penis size or measurements as a woman! I thought this was pretty funny but honestly, everybody else on the adult friend finder website is looking for this information and can be very helpful if you fill it out.
Messaging features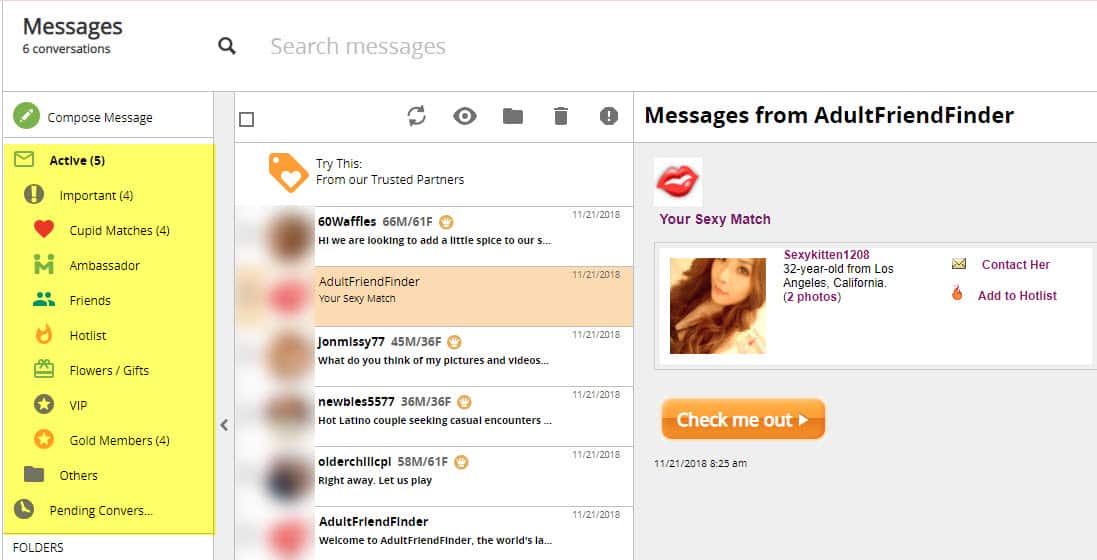 Adult friend finder gives you a ton of different ways to organize and arrange your messaging inbox.
You can organize via Cupid matches, hotlist, gold members, VIP, and even make separate folders that are personalized to your liking.
Safety features
After Adult friend finder was exposed for having a large number of fake profiles a few years back, they have made it their priority to keep spam members, scammers, and fake profiles off their platform.
They do this in a few different ways. The first is that they encourage users to take a photo of themselves holding up a sign that has their profile username written on the piece of paper. I think this is a fantastic way to know that active members are real or not and I wish that every single online dating site did the same.
You can also beef up your personal security by being in the know of those words that signify if the person you are chatting with is dangerous.

If you want to show members that you are entirely verified with the Adult friend finder team, you need to check your identity using either your driver's license, passport, or any other form of official identification.
Showing other users that you are officially verified will get more people to view your profile and also view full-sized photos compared to not being confirmed.
These safety features implemented by AFF have made me a lot more, all with knowing who I am talking with.
Privacy features
One other thing that surprised me was how many privacy options that Adult friend finder has. Most other dating websites had zero privacy settings.
I guess because this is such a scandalous dating website where people want to hide their identity, Adult friend finder ended up adding lots of privacy options.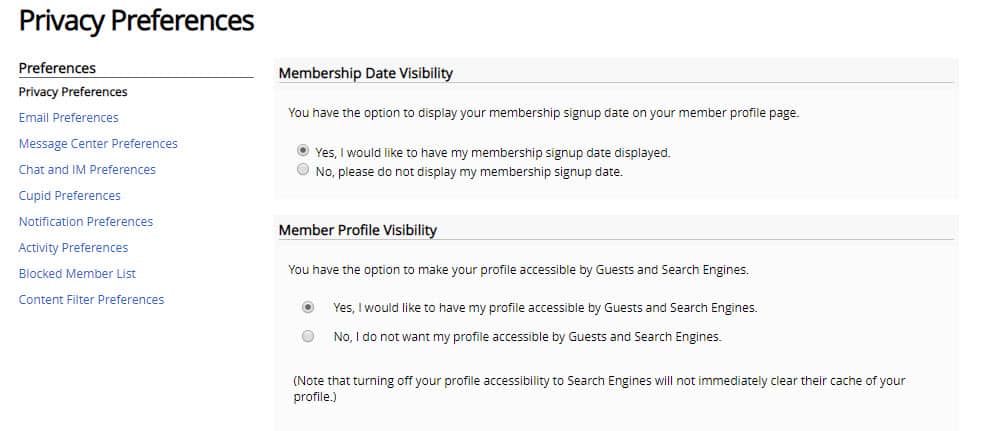 You can set your privacy information for your e-mails, message center, instant message and chat, Cupid preferences, notification preferences, blocking members, and where on Adult friend finders you want your profile to show up. This combined with their extensive safety features should put anyone's mind at rest.
Free AFF features
As an adult friend finder free account holder, you enjoy free features such as limited pictures or profiles (basic information) and videos, add members to your favorites list, join groups and blogs and chat in the chat rooms.
Subscription only features
As an Adult friend finder subscriber on premium membership, you can send messages and replied to them, view full profiles including full-sized pics and videos, watch live streams of members, and experience dating services with like-minded people without additional advertisement.
How much does Adult friend finder cost?
The Adult friend finder price depends on the length of subscription that you purchase from them.
The most expensive plan is the month-by-month plan which costs $40 per month. The three-month gold plan costs $27 per month or $81 quarterly. The 12-month gold plan costs $20 per month or $240 that is built yearly.
Adult friend finder accepts different payment options including bank transfer, credit card, or direct debit.
Check here for the current prices of adult friend finder.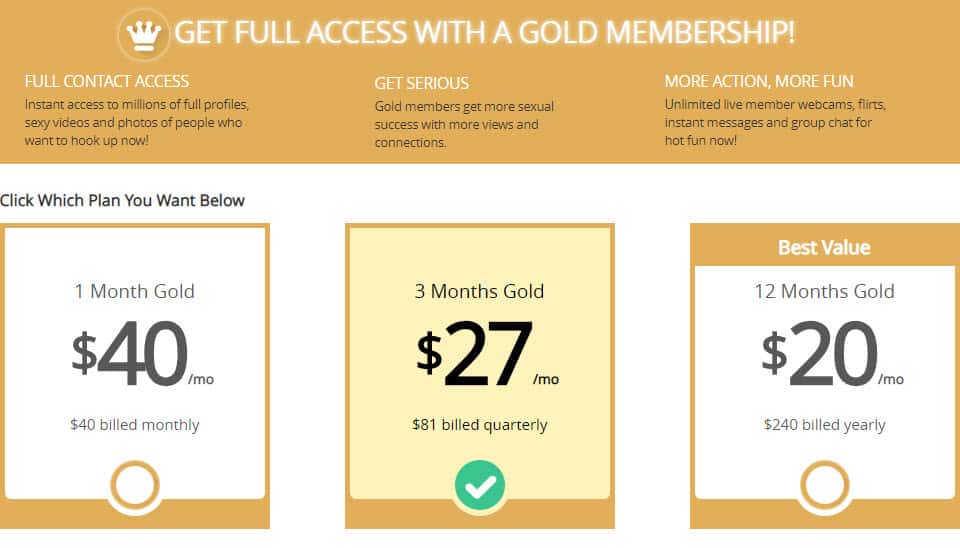 How easy is it to hook up with somebody from AFF?
Now, to the most important question of all, how easy is it to hook up with a girl or guy on Adult friend finder.
The overall rating, I give it for ease of use is 8.5/10. It is easy to meet with, chat, and hook up with the various members on the site.
It is simple, everybody in this online dating world is looking for the same thing and they explicitly say it and show it through their profile photo and message using the communication features. People don't play as many games on AFF. People are therefore interested in one thing, and one thing only, to get down which they won't find trouble finding!
With the approximately 5 weeks I have spent on the website I have already met up with three women and hooked up with two of them. This is a much higher success rate for hooking up than you would get from a normal dating website.
I did, however, purchase the three-month gold plan, and I am about to upgrade my membership to the 12-month Gold plan because it has been working so well for me.
Some quick advice for success
To have the most success on the website you need to be putting some sexy photos on your profile. These photos don't need to be completely nude, but they should be showing a good amount of skin. You will get much more attention with pictures like these. You need those kinds of profile pictures that give off pheromones whether you are male or female.
I suggest not showing your face as most people don't as well. Most people want to stay as anonymous as they possibly can on the website. This is unless you start connecting and talking with them. Then it is okay to send full photos to one another before you meet in real life. The talking dirty aspects will find you that partner you are looking for. This is the way it works.
I would also stay away from putting down any personal contact information on your profile that will connect to your real person. Once again, stay anonymous.
The first thing you should do is put up some exotic photos and get verified by Adult friend finder. These are the two most important things you need to do right off the bat.
Adult friend finder pros and cons
Pros
Different sexual preferences available for everyone
Large user base
The search algorithm is vast
The free version gives you access to some functions
Cons
Promotes pornographic
You have to stay anonymous to maximize the benefit
The matching system is not drive by the information you submit about yourself
Methodology
Our dating experts at OnlineforLove tested Adult friend finder over a period of time for this review.
Following that, the website was given a final star rating based on various criteria which included how many users have signed up for the site, how easy it is to register a profile on the site, how the search engine and matching algorithm works, what it costs to become a member, and what key features members receive.
Adult friend finder review conclusion
Well, that's about it, ladies and gentlemen for my adult friend finder review. You can check out their full site here to see for yourself. I hope you guys get some good information from this breakdown.
Some people have been asking me whether Adult friend finder is a scam or not. I have to break the rumor by saying it's not a scam. Adult friend finder is entirely legit, and they will not try to get your credit card information unless you want to get the gold account.
You can browse, search and find members on the website with just the free account or paid membership for a month. I suggest doing this to see what type of users are on the platform and decide if they are worth the gold membership or not for you.
My rating for this site is:

So, is Adult friend finder worth it? In my opinion, that's a definite yes!
Now let's hear from you guys. Have you guys tried out AFF? What were your experiences with this dating/WebCam service? what are your adult friend finder stories? Let's get a conversation started down below so that we can all benefit from dating advice and dating tips from one another.
You can also check out best dating sites like Tinder, eHarmony, or Ashley Madison to connect with people that are willing to satisfy your fetishes.
Go a bit further by learning everything you need to know from our incredible guide on dating online, it is worth your time.
Frequently Asked Questions(FAQS)