When choosing the right online dating platform, most people are looking for the cheapest option that will allow them to look for a potential partner.
Even though most people think Zoosk is extremely expensive, it is one of the rare platforms you can use free without spending a dime.
If you are looking to join Zoosk and find your potential match, then you should read the rest of the article to find out:
Is your dating app giving you the best chance for success?
Make sure to take our online dating site/app quiz to find out.
It's a fact that people who follow our dating site suggestions have on average 2 extra dates per month.
Using Zoosk for free is not something you need to be an expert for because all you need to do is register to the platform and avoid adding any payment method.
Everyone is allowed to create their online dating profile on this dating site, and as long as you meet their terms and conditions and your dating profile goes through a phone number verification and profile picture verification, you will be able to start using it without spending a dime.
This is one of the rare dating apps that can be used without a subscription too, so if you are looking for a dating platform that can be used only with a free membership, then this is the one you should give a try.
Once you have created your account and you were accepted to the platform, you can just start using it, sending friend requests to other daters, sending them messages, and liking their photos.
None of these actions require you to have a paid subscription, and you don't need to invets in any Zoosk coins in order to succeed.
The Smartpick algorithm is the main reason why so many people are joining Zoosk, and you will be able to reap all of its benefits for free, so if you are avoiding this platform thinking you will not be able to use it, then you should be aware that you can use it without spending a dollar on Zoosk.
As long as you download Zoosk from the official App Store to your Android or iOS device, or you access it through the official dating website in your web browser, you will be able to enjoy Zoosk for free.
You don't need to sign up for any special Zoosk free trial or set any settings on this dating service because this is a completely normal addition to the platform and a free member has access to everything.
However, as you can probably conclude by yourself, a free member doesn't have access to all the Zoosk features and filters that paid members do, so we will help you realize what the things you will be able to get for free are and which ones will be left aside.
What Can You Do With A Free Zoosk Account?
A free Zoosk account doesn't limit your dating experience too much, and the only reason why some people decide to go out of their way and spend the money on a subscription is that they feel like it would be a lot faster for them to find a soulmate with a premium membership.
When you are here to look for serious relationships (like eHarmony or Tinder), and you come across someone who seems like the person you would sincerely like in real life, too, then you will want to do everything that's in your power to make them answer your messages and requests.
As a free Zoosk member, you will probably not be able to do this all the time, and sometimes your perfect match may start going out with someone else just because they had a premium subscription and all the features that forced them to answer their messages.
OFL Top Recommendations based on 100,000+ Survey

"Serious Relationships"
"Discreet Hookups"
"Best Course for Men"
"Quick Flings"
"Normal Hookups"
"Our Quiz"
Just like on all social media and dating platforms, as long as you have several options at your hand and you can enhance your performance by investing some money into your account , you will probably need to do it at some point if you want to get to those who have the highest compatibility levels.
Premium features like Live chat, virtual gifts, and winks is something that can impress the other person, and if you are eager to seduce that specific user, you will probably want to spend money on the online dating site and use all the features that may allow you to force the interaction with them.
In case the person you like hasn't been answering for a while, you can also become a Priority mail in their inbox, which will lead to them seeing your face whenever they open the messaging feature.
Even though some of you may think that it definitely isn't worth it and that as long as you can chat with someone without having to spend money on it, you are fine and you don't need a paid membership, you will be surprised when you realize how much these features can step up your game.
You can try Zoosk for free, and I believe you will be amazed by it, but unfortunately, most success stories are the product of premium members who have used all features at their hand to get to those they like.
However, I am pretty sure that you will still be able to meet a lot of people on Zoosk.com even if you decide to keep it on the low and never invets into features because it is possible.
Zoosk can be used for free for a reason, and you will be able to explore it well without having to pay for it.
You can still do a lot like reading messages without having to connect your credit card or phone number as a payment option, and the Zoosk cost can always be 0 dollars, even after you have spent months or years on the platform.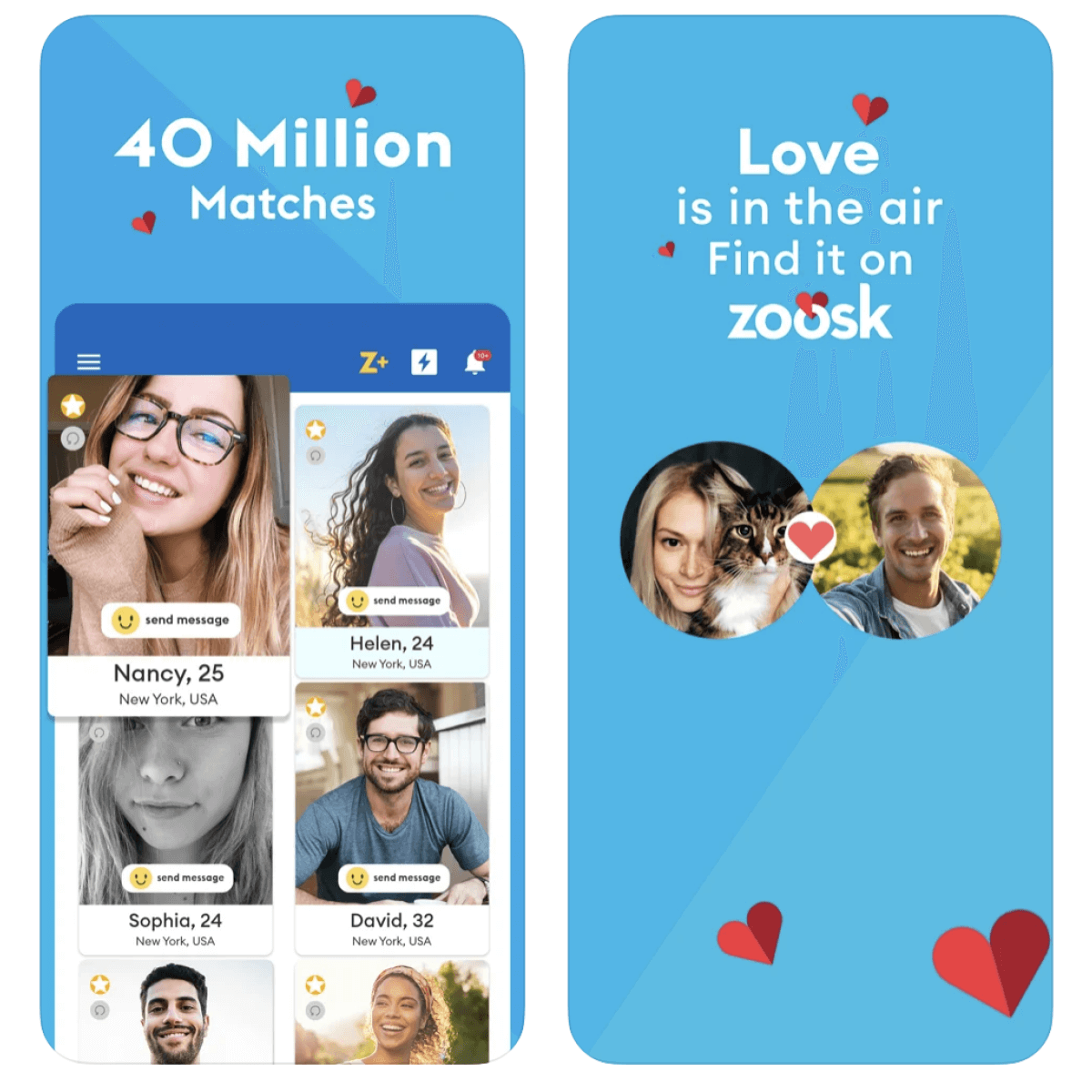 From time to time, you can also find a Zoosk promo code that will allow you to access some of the most popular Zoosk features at a lower price which is always a good deal and something you should consider.
For that reason, most people stick to using Zoosk for free without stressing too much about the potential outcomes because they know there are always several ways to elevate the experience if they don't feel like they are getting the recognition they deserve.
As a free user, you will still be able to message other people on Zoosk and create lasting relationships, but you will have a limited number of messages per day which can create problems if you run out of them in the middle of the conversation.
This wouldn't create too many problems for those who are just looking for a mobile app to hookup (like BeNaughty or Ashley Madison), but if functionality is your main goal and you want to keep your performance at the peak, then you will definitely be frustrated with this and probably decide to pick up some sort of premium feature, or at least unlimited messages.
Can I Have Success On Zoosk With A Free Account?
Even though plenty of people believe that you can't do too much with a free dating account, the truth is that this is wrong because there are over million active free users on Zoosk who seem to succeed at meeting their partner.
Zoosk never limits its users, and they have made sure that even those who don't have money to invest in their dating profile can have a satisfying experience on the platform.
You can tell if your views are real on Zoosk or not by interacting with your connections and asking questions only real people can answer.
The sign-up process is the same both for those who want a free membership and those who are willing to purchase a premium, and you will upload the same amount of information as those who are paying for their account,
Even though you have a free account, you will be 100% sure you don't have to mess with fake profiles and potential scammers because Zoosk makes sure everyone that gets accepted to the platform has verified their identity in several ways.
The Zoosk app provides people with a free profile with equal chances to meet someone they would truly like in real life, too, and they will also have a lot of success on the algorithm.
Those with a paid membership will get a bit more boost, but if you have completed the whole sign-up process and added all the crucial information for getting to know like-minded people, you will become a good option for all Zoosk users out there.
Also, no one knows whether you have an account with a Zoosk subscription or not, so you definitely won't be discriminated against because you are not investing money into your account.
I believe that if you have read a Zoosk review or two, you have realized that behavioral matchmaking on Zoosk allows you to meet the best options in the date mix, and whenever there is someone who seems to be a 100% perfect match for you, you will start receiving notifications and Zoosk will basically force you to get in touch with them.
For that reason, never underestimate the power of Zoosk because it isn't like those basic dating apps such as Tinder or EHarmony, and its algorithm does its best job providing all users with like-minded matches who suit them in different areas of life.
As you can see, even if you are far away from investing money into your Zoosk dating profile, how does Zoosk work is that it always makes you match with those that you would choose in real life too, and it provides everyone with an impeccable experience, even if they don't have the funds for it.
Zoosk is my sincere recommendation to everyone trying to get into the world of serious dating because this is a platform that will make your soulmate come true.