Social networking sites that let you easily chat with people can certainly double as dating sites.
Many of them even include search features, so you can look for, chat to and hopefully meet singles for a hookup (like BeNaughty or Ashley Madison), or a serious date (like Tinder or eHarmony).
Some people even use them to meet their perfect match, that's for sure.
Say Hi is one such app with both social networking and dating appeal.
OFL Top Recommendations based on 100,000+ Survey

"Serious Relationships"
"Discreet Hookups"
"Best Course for Men"
"Quick Flings"
"Normal Hookups"
"Our Quiz"
While conducting this review, we will look specifically at:
So is this one of the best dating apps around?
And are you thinking about becoming a new user on this dating and social app?
If so, you are in the right, place that's for sure.
So let's compare Say Hi against more traditional dating apps like Zoosk and Tinder, those without the social networking aspect and see how it fares.
Is your dating app giving you the best chance for success?
Make sure to take our online dating site/app quiz to find out.
It's a fact that people who follow our dating site suggestions have on average 2 extra dates per month.


Ease of use – 4.5/5
Success rate – 3.5/5
Key features – 2.5/5
Price – 2.5/5
Superfast registration has you using the app in just a minute
Say Hi has a user base of millions so you are sure to find someone near you
Messaging is totally free
For what it offers, membership is far too expensive


Who Is It For/Demographics?
Just Say Hi is a global platform, that's for sure.
You will find users all over the world here.
OFL Top Recommendations based on 100,000+ Survey

"Serious Relationships"
"Discreet Hookups"
"Best Course for Men"
"Quick Flings"
"Normal Hookups"
"Our Quiz"
As for users, determining just how many have signed up for this app was like looking for a needle in the haystack.
But, we can get some clues as to just how busy it is by looking at the following figures that I was able to research:
Around 30000 users are active on the app each week
That's 120000 a week and just over 4000 per day
The Say Hi app has over 10 million downloads on the Google Play Store
It has been rated close to 600000 times and has a star rating of 4.4 based on user reviews.
With 10 million downloads for Android devices alone (and probably similar numbers for IOS devices), there is no doubt that the user numbers for Say Hi in well into the millions.
So that's a great place to start, especially if you are looking to use it to meet new people.
That compares with popular commercial dating apps, that's for sure.
Gender ratio and user age ranges
For me, when observing the male to female ratio of users on Say Hi, it's no surprise that more men are users than women.
It's just always the case with chat and dating apps like this.
But let's identify exactly what the ratio is:
61% of the users are male
39% of the users are female
It's pretty far apart, but not quite yet a 3:1 ratio yet.
With so many users, this isn't much of a worry, however.
You should always be within reach of potential matchups from a dating point of view.
As for age ranges, social networking chat apps like Say Hi are generally used by young people.
That's the case here too but despite the 18-34 year-olds making up almost 60% of the total user base, it's not like all the other age ranges aren't represented.
In fact, the smallest groups of users are 45-54 years old and then 55 and older.
Between them, they contribute 22% of the users of Say Hi.
Here's a full breakdown of the age ranges on the app starting with the most popular:
25-34-year-olds: 39% of all users (23% are male, 16% are female)
18-24-year-olds: 20% of all users (12% are male, 8% are female)
35-44-year-olds: 19% of all users (12% are male, 7% are female)
45-54-year-olds: 10% of all users (6% are male, 4% are female)
55 and older: 12% of all users (7% are male, 5% are female)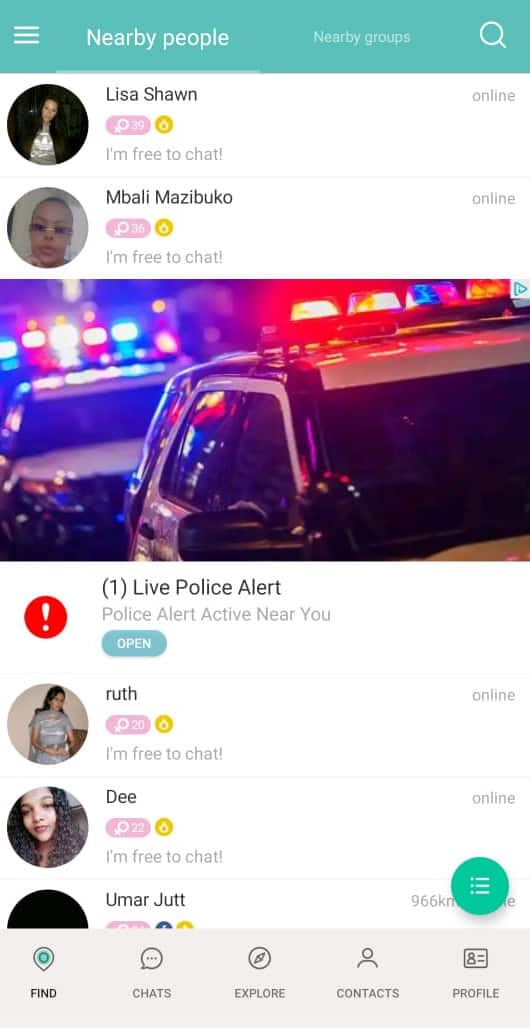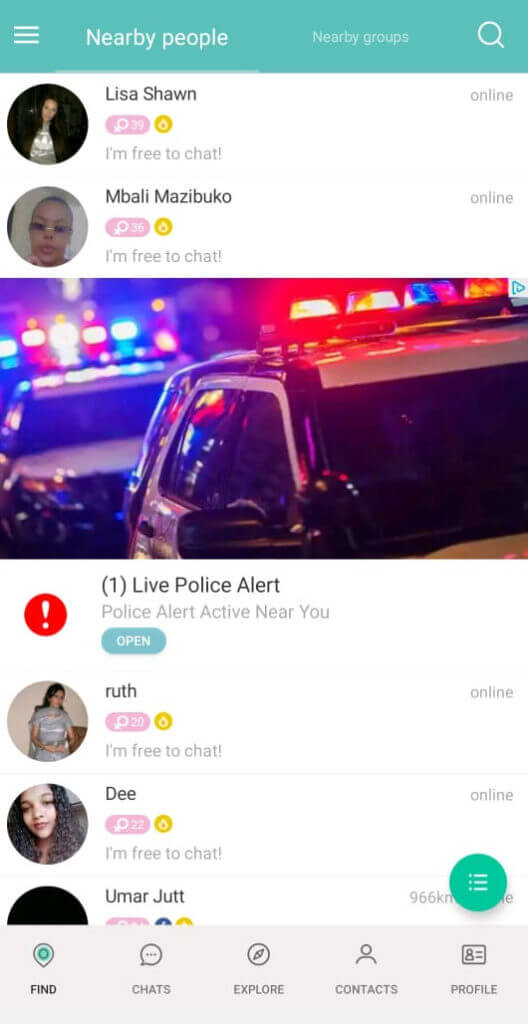 Now that we've analyzed the demographics behind Say Hi, it's time to get into the practical side of things.
That starts with how one goes about registering as a user on the app.
Yes, this is only app-based, you cannot use a website to register or use Say Hi.
To begin, you will need to download it on your Apple or Android device from the App Store or Google Play Store.
It works for a range of devices, including iPhone, iPod Touch and phones and tablets that are Android-based.
There are numerous ways to go about registering your profile, from signing up using one of three social media account options or simply using an email address or your phone number.
I chose to use my email address which led to the app looking for the following information:
Email address
Password
Name
Gender
Profile picture
Birthdate
That's all you need before you are zipped off into the app for the first time.
Finding your way around

Say Hi
Your journey on Say Hi places you right in the thick of the action.
And by that, I mean that it presents you with new friends to chat to that are near your location.
Each user has a profile header that can be changed but many people use the default which simply says "I am free to chat".
You can also see their profile picture, gender and age as well as if they are online or not although the app puts online users at the top of your list.
You will notice that the menu system for the app can be found at the bottom of the screen.
Here are the menus you will find here:
Find: This brings up the main screen where you can find users that are nearby your location
Chats: Find all your chats with other users here
Explore: Here you can play games, change themes, sign up for VIP, search through emojis and even random video chat with other users.
Contacts: Here you will find users that you have added to your hotlist as well as groups you have joined
Profile: Acces your profile, see who viewed you, change settings and more from this menu
There are two menus at the top of the screen as well.
The one on the left allows you to change settings, themes, enter the Say Hi store and more.
The one on the right is where you can verify your picture, raise your popularity on the site and sign up for membership.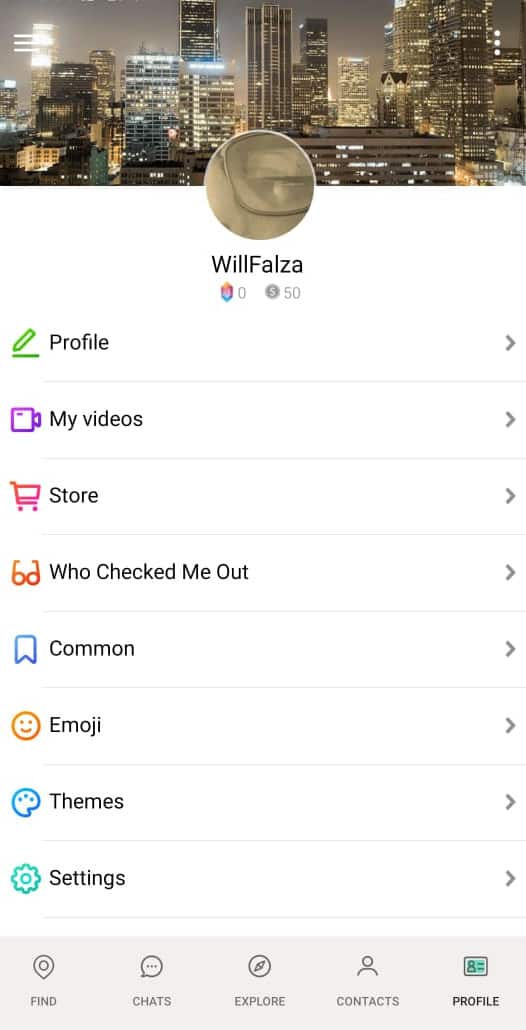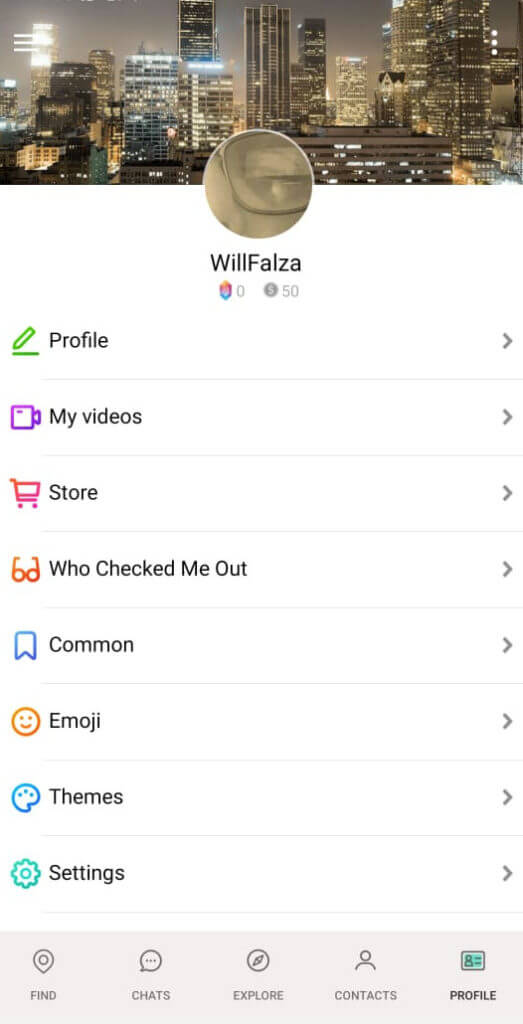 Profiles on Say Hi certainly exceeded my expectations, that's for sure.
It's one of the features of this app for me.
There's so much information that can be filled in here which again just backups up the fact that you can use Say Hi to meet people with dating in mind.
And because the registration process is super quick when you sign up, nothing on your profile will be filled in other than your age, gender and name.
So what do you need to add then?
Well, here's what you can expect:
An introduction
Your location
Annual income
Occupation
Height
Body shape
Ethnicity
Hair and eye color
Blood type
Relationship
If you have children
If you drink or smoke
Diet
Your academic background
Character traits (with multiple selections)
Fashion type
Hobbies
While there's plenty of information to fill in here, it won't take you that much time, to be honest.
Sadly, spending time on the app revealed that profiles are a bit of a hit-and-miss affair with other users.
While some have filled them in while others have chosen just to complete certain sections.
Many users, however, have not filled in any parts of their profile.
That's something that often happens when completing profiles, or parts of them at least, are not part of the registration process.
But you see this on all dating apps, right?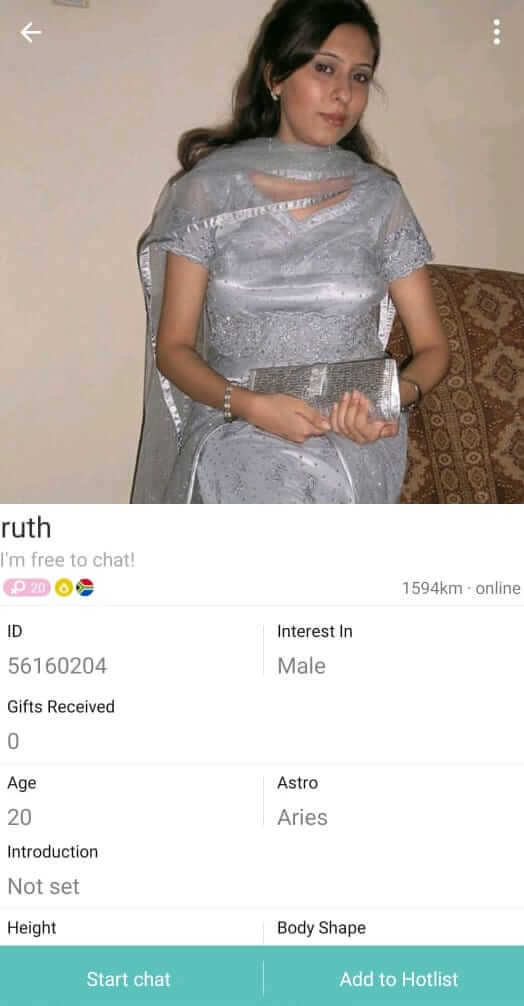 So now we get to the important part of this review.
And that's how you are going to use Say Hi as a dating app.
It certainly is possible, because you have all the tools at your disposal to search for a potential matchup and then to reach out to them too.
Search for a potential dating partner
From the start, Say Hi will provide you with potential matchups to look through based on your location.
These are displayed under the Find Menu which acts as the home screen each time you log into the app.
This is the best way to find a potential matchup.
You can adjust the parameters too if you'd like by clicking on the magnifying glass icon at the top right-hand side of the screen.
The basic search engine here allows you to adjust:
Gender
Distance from your location
When they lost logged in
But there is an advanced search filter here as well and it's free for all users.
Here you can change:
Gender
Age range
Location (either same city or same country)
When they were last seen online
If you'd like to use this advanced search filter, your profile needs to be completed fully.
You cannot search using profile parameters, however.
What's the point of including all of them and then not allowing someone to use them as part of the search tool.
This is something I think that the admin team behind Say Hi has got wrong.
It would improve search capabilities immeasurably if they allowed it.
Say Hi also allows users to join various groups.
To access this feature, simply click on the Nearby Groups option at the top right of the screen under the Find menu.
Now you can see what groups are in your area or start your own.
Groups can be formed with any subject in mind, so look out for ones that are for singles, dating or those along similar themes.
Obviously, you can find users within these groups and you are free to check out their profiles to see whether you'd like to reach out to them.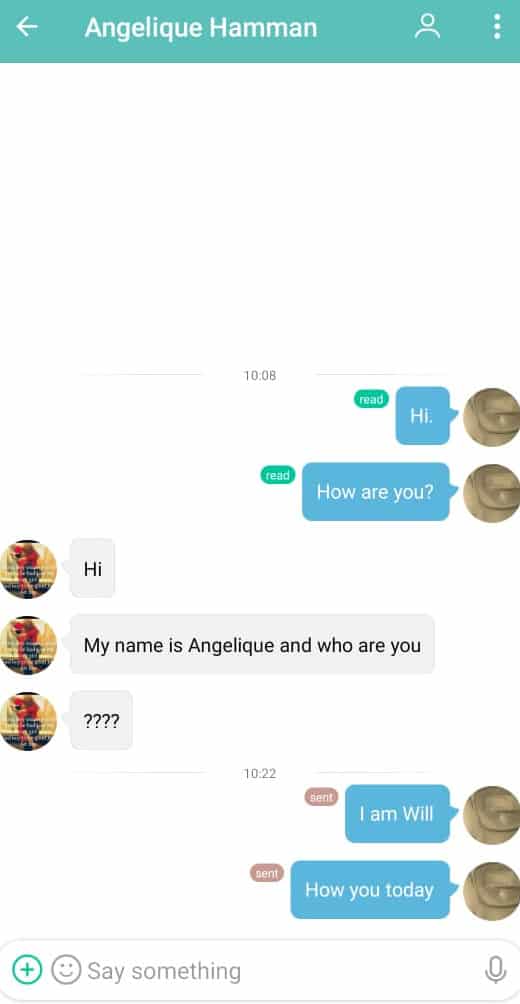 If you'd like to message someone, you are free to do so.
But there is a slight catch, although to be honest, it's not something that should bother you.
If a user is a popular member of the app and has tons of people reaching out to them, you will need the virtual currency used on Say Hi to message them.
This is something you see with many of these social networking chat apps.
But for me, it's not that big of a deal.
I found regular users just like myself that I could message easily enough and have a conversation with.
You shouldn't have any problems doing so either.
So how do you message someone?
Well, just click on their profile picture and then select "Start Chat" at the bottom of the screen.
Now you can send them messages in a real-time chat format.
You can even send them voice messages if you'd like.
Click on the + sign and you could even video chat with them, play a game or send a picture or even send a virtual gift.
Those, however, use the virtual currency on the site or you need to sign up for membership to use them.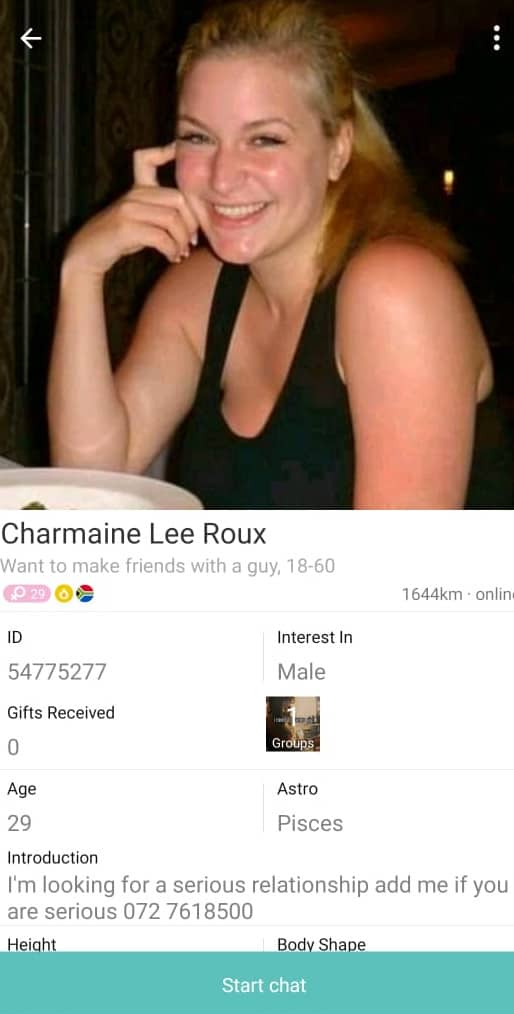 Let me just clarify that you don't need to sign up for VIP membership to use Say Hi effectively.
Signing up as a member of Say Hi will access the following features.
From a dating point of view, this really isn't something that I think is that important.
Popular users aren't someone that you are going to look to date, are you?
This is related to the social networking aspect of the app and to me, it's not something that someone looking for a potential matchup for a date needs to worry about.
Those who sign up for VIP membership on the site can be easily noticed as their profile will include a diamond to signify they are VIP members.
All advertising is removed from the site if you sign up for membership.
As a VIP member, if you send a message to someone it will always receive prioritizing in their mailbox.
So if they didn't read it today and get 100 other messages in the next few hours, your message will still appear at the top of their inbox.
From my perspective, there's not a lot of extras here that would draw me towards paying for a membership.
That's especially true because you can use the site for free anyway.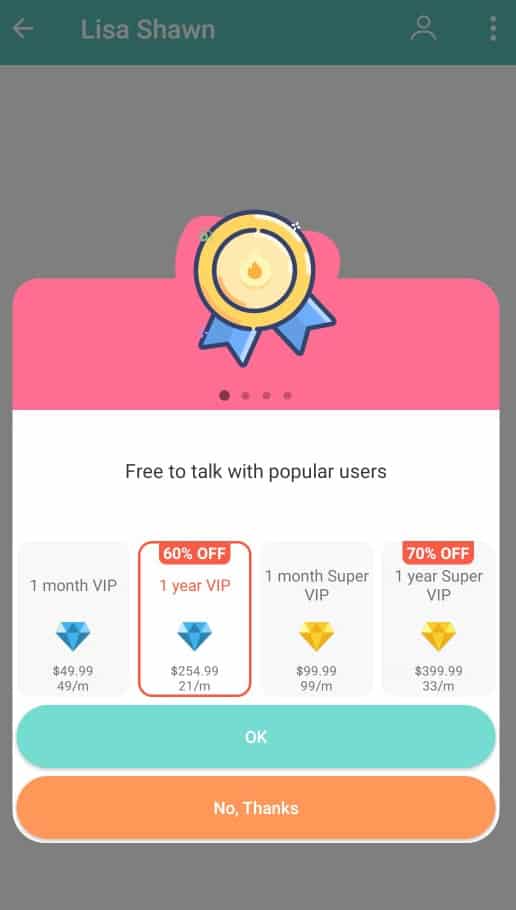 If you are interested in membership, let's break down what it's going to cost you.
1-month VIP: $49.99
1-year VIP: $254.99
Wow!
When compared to other similar apps, Say Hi is extremely expensive.
I am not sure that the extras that membership offers even come close to paying $49.99 per month for them.
And I suggest that they add other extended membership options.
To jump from a month to a year with nothing in between just makes no sense in my book.
You can opt to buy the site currency to speak to popular users, buy gifts and more.
Here's a breakdown of what that is going to cost you:
100 credits: $2.99
550 credits: $6.99
1200 credits: $13.99
6600 credits: $69.99
15000 credits: $99.99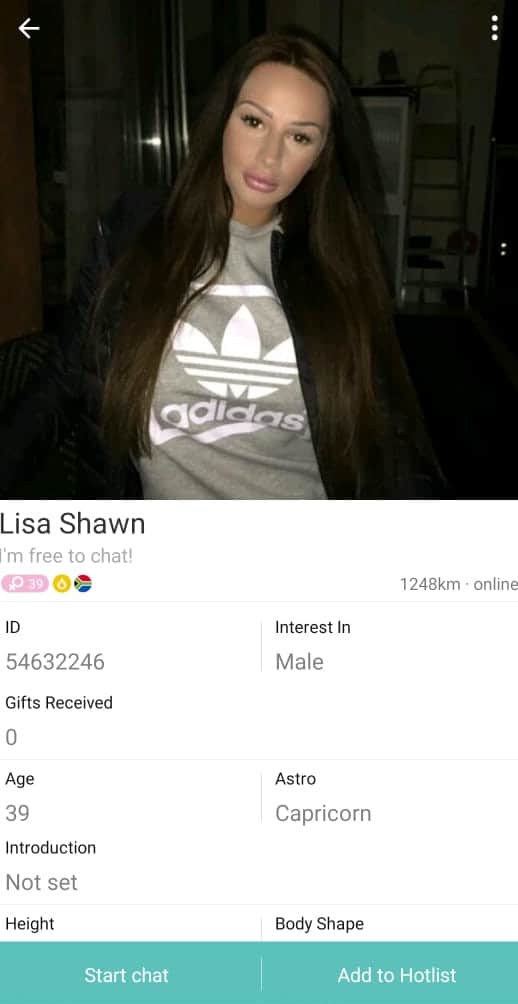 Conclusion and Overall Rating
Thanks for taking to read through the Just Say Hi online dating app review,
It really does have lots going for it, but mostly the fact that it has a massive user base and you can message others for free.
From my perspective, the key features that VIP membership brings and the price you will have to pay for it are not worth it at the end of the day.
And while this app has games, emoji plugins, groups and more, you certainly can use it as a dating app.
That's because it shows you people near your location and it allows you to chat with them.
The rest is up to you.
As an overall rating, Say Hi gets 3.25 out of 5.
That's pulled down somewhat by the expensive membership and the key features that offers.
To be fair, you can use this app easily enough without any of that, however.
Onlineforlove's review team registered for and tested Say Hi over an extended period of time.
At the end of that period, we have concluded that for those who love social networking apps that can also be used to meet new people, Say Hi has some excellent potential.
This is based on the fact that you can reach out to others for free and the fact that millions of people make use of the app.
Our testing approach for this review included using Say Hi over an extended period while rating important criteria as we reviewed it.
Our team's evaluation of Say Hi was based on the following critical factors: price, ease of use, success rate, user population, and key features, amongst others.