EastMeetEast is a unique niche dating platform that operates a little differently than most others.
Aimed at English-speaking Asian people from all over the world, EastMeetEast brings a fresh approach to dating, particularly when it comes to payment for membership.
In this complete review of EastMeetEast, we will cover everything you need to know about the site including:
OFL Top Recommendations based on 100,000+ Survey

"Serious Relationships"
"Discreet Hookups"
"Best Course for Men"
"Quick Flings"
"Normal Hookups"
"Our Quiz"
So if you are considering signing up for EastMeetEast in your search for love, this is the comprehensive review you should read.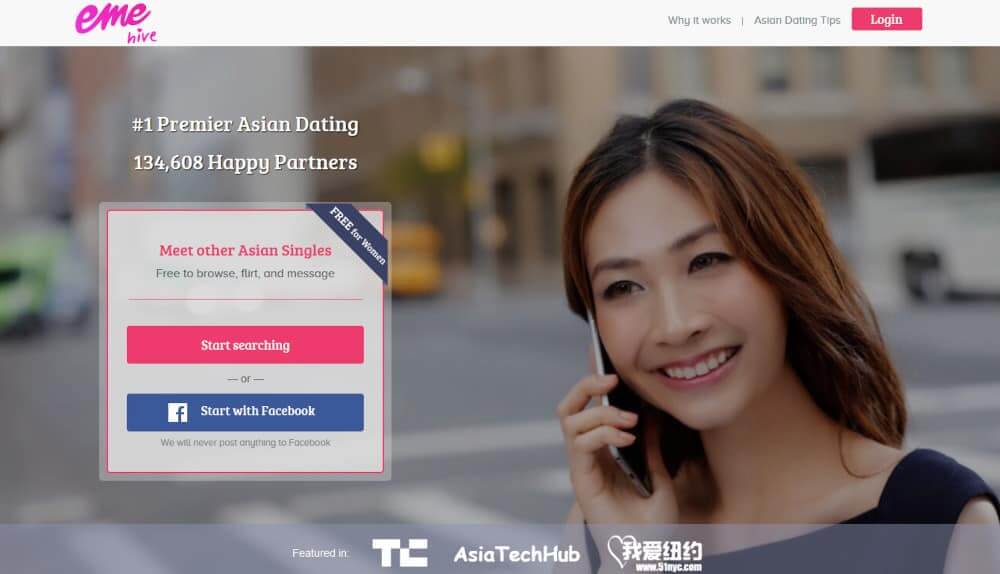 Is your dating app giving you the best chance for success?
Make sure to take our online dating site/app quiz to find out.
People who follow our dating site suggestions have on average 2 more dates per month.
EastMeetEast Review in Video Form
Audio (podcast) form for those of you on the go
Ease of Use – 5/5
Effectiveness – 4/5
Key Features – 3/5
Pricing – 4/5
OFL Top Recommendations based on 100,000+ Survey

"Serious Relationships"
"Discreet Hookups"
"Best Course for Men"
"Quick Flings"
"Normal Hookups"
"Our Quiz"
Over 700 000 users
Free for women
Excellent app
A few payment options
If you are a male, you will need a membership
Not that many key features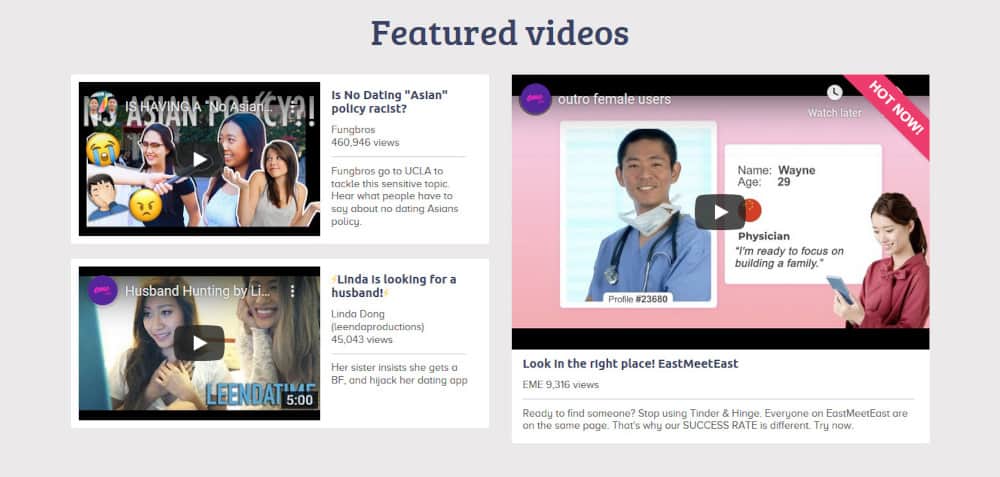 Who Is It For/Demographics?
First of all, EastMeetEast is an exclusive dating site for English speaking people of Asian origin.
As you may already know by now, EastMeetEast is not a hookup site for everyone (like BeNaughty or Ashley Madison) nor is it a site that focuses mainly on anyone seeking a serious relationship (like eHarmony) this is a niche dating site that focuses on Asians across the world.
It also has a very interesting approach to membership payments.
If you are a female, using the site is totally free.
If you are a male, however, you are going to need to pay for membership.
That's because the person behind EastMeetEast, entrepreneur Mariko Tokioka believes that Asian women are in demand when it comes to dating, so they can have all the features the site has to offer without paying a cent.
It certainly is an interesting way of going about things, but it doesn't seem to have affected the overall popularity of the site when looking at user numbers.
So just how many users are there on EastMeetEast?
Well, since the site first launched in 2013, its shown tremendous growth.
Here's a breakdown of a few interesting numbers regarding the site.
Over 700 000 have created profiles on EastMeetEast since 2013
Over 500 000 of these profiles belong to people of Asian descent living in the United States
Every day, around 1 500 people log in to check their EastMeetEast accounts
That's 45 000 logins each month
EastMeetEast claim have helped 134 000 people meet their partners
If you compare EastMeetEast to a regular dating site, the numbers aren't that impressive.
But remember, this isn't a regular dating site with all kinds of users, this is a niche site aimed specifically at English speaking users of Asian descent.
You'd have to compare it with a similar site, for example, Mexican Cupid which is a site for Mexican singles or people who'd like to date them.
That has a similar user base to EastMeetEast.
So yes, the numbers are there and people looking for matchups won't be scratching around trying to find them on EastMeetEast.
The next thing to establish is the breakdown of male to female profiles as well as the age ranges of the user base.
Gender ratios and age breakdown
With EastMeetEast being free for women, you'd expect that they'd make up more than half the users on the site.
And yes, you would be right.
But not by much.
The gender split currently is 60% female and 40% male.
As for an age breakdown, this site is popular with young professionals as well as with college students.
Here's a breakdown of the most popular age groups on the site.
25-34 years old
18-24 years old
44-45 years old
The first two groups easily make up around 90% of the total user base.
So now you know who the site is aimed at, just how easy is it to start a profile?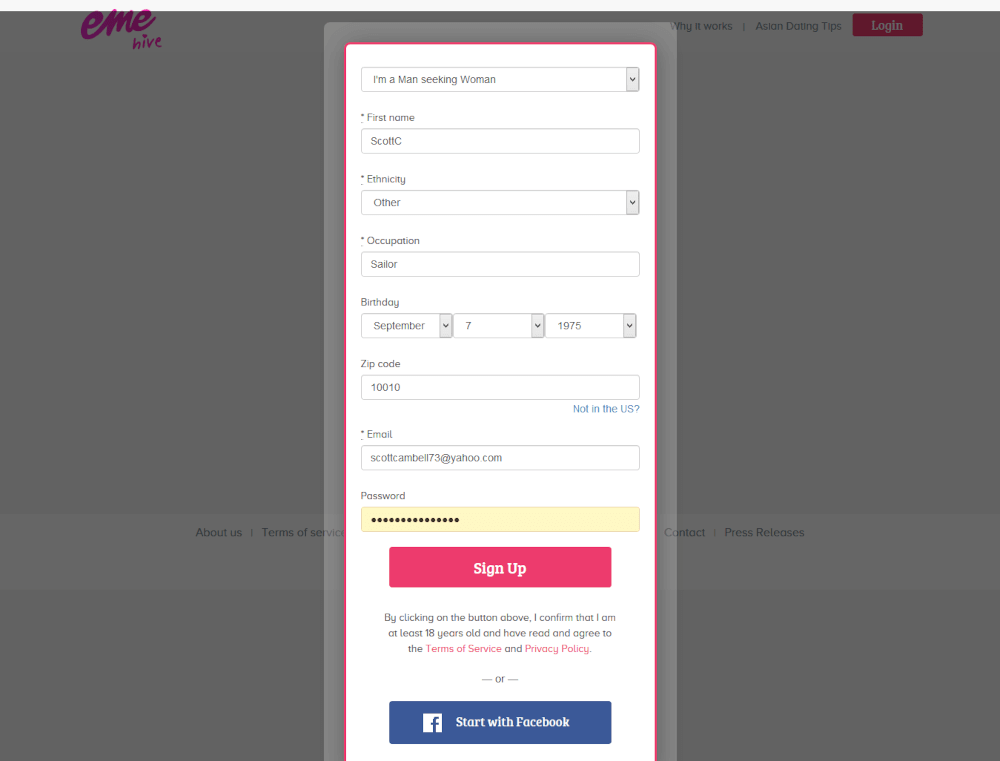 Dating sites are all similar, right?
But we've already seen that EastMeetEast has a few quirky differences to other sites, especially in terms of who has to pay and who doesn't to make use of its features.
When signing up for EastMeetEast, you will find the overall experience simple and easy to complete in just a few minutes.
It's also not any different from other dating sites that you may have used.
When accessing the EastMeetEast homepage for the first time, you will have the option to create an account using your Facebook login, or by creating a username, selecting a password and providing an email address.
There's an extra layer of security here because to finalize your account creation, you will have to reply to a verification email sent from the site.
You will also need to give:
Your gender
The gender of the matchups you are looking for
Ethnicity
Zipcode (for citizens of the United States) or country (for people outside of the United States)
You can upload a profile picture at this point as well.
EastMeetEast then sends you a verification mail and once you respond to that, you are free to start using the site.
Finding your way around EastMeetEast
Navigating around the site couldn't be easier.
You will immediately notice the five major menu items at the top of your screen.
These are:
Search
Messages
Smiles
Visitors
Subscribe
The first two are self-explanatory.
Here you can search for potential matchups entering from a huge amount of search parameters as well as access any messages you have received or look back on those that you have sent to other users.
As for the other two, let's explain how they work.
"Smiles" are a perfect way to show someone you are interested in them.
Most dating websites have something similar, for example, "liking" someone's profile or sending them a "wink".
When you click on the visitor's tab, you will be shown everyone that's viewed your profile.
This is a very effective way of finding people that might be interested in you and then checking out their profile to see if they are a match for what you are looking for.
Finally, you have the subscribe button.
This is where you will sign up as a member.
Not only is EastMeetEast so simple to navigate but it's beautifully designed as well.
All you need is right in front of you and the color palette is easy on the eyes.
There's no in your face advertising either so it's not too much of a chore to spend a few hours on the site looking for that perfect matchup.
Does EastMeetEast have an app?
EastMeetEast has an app for both Apple and Android phones.
It offers all the same features as you would find on the website but adds a little extra.
That's in the form of an instant messaging system in which you can contact other users and chat with them.
If you'd prefer the app over using the website, you won't be disappointed.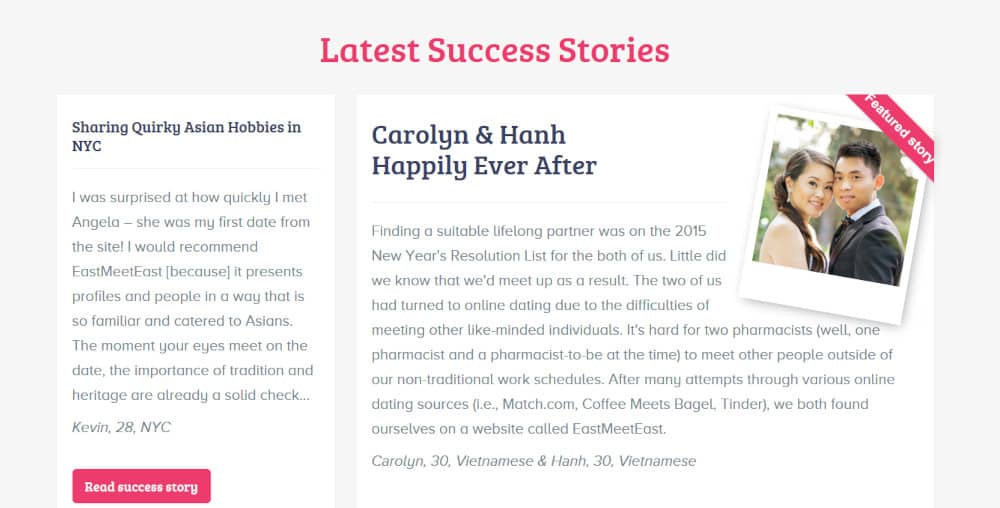 So other than a website that's simple to navigate and has all the tools you need to find a decent matchup as well as a large enough database, just how effective is EastMeetEast in providing you with the kind of matches you are looking for?
In a word – excellent.
The site even claims to have helped 120 000 couples find each other since 2013 and I'd tend to believe those figures from what I have seen.
The overall effectiveness of a dating site starts with its ability to provide you with the kinds of matches you are looking for.
And this task, EastMeetEast does extremely well.
That's because it offers you plenty of choices when it comes to the search parameters you can select to find that perfect matchup.
Of course, you can use as many or as little of these as you want.
But what are they?
Well, here are some that I think you'd probably use pretty often during your searches.
The age range of the matches you are looking for
Their height
Their body type
Their location (and distance from you)
Their interests
Their marital status
The number of children they have
Their income
That's just an example of the type of search parameters you can select.
Of course, the more you do select, the narrower your search will be and while it may turn up fewer matches, those are going to be close to exactly what you are looking for (as long as they are honest on their profile).
But when you find the right matchup, is contacting them easy enough?

We've already established that if you are a female that's found the perfect male matchup, making contact is easy enough.
That's because for you, messaging is free, so you can fire off as many as you want without having to pay a cent.
For males, it's a little different.
You are either going to need to purchase a membership to message someone that you've taken a liking to, or there is another method in which are granted the chance to send messages.
These are called "coins" and we will cover how they work and what they cost later in the review.
Messaging operates like all other dating sites but members of EastMeetEast will also receive read reports when someone opens and reads a message sent to them.
Remember, if you'd prefer an instant messaging system, you will need to download the app.
It's far faster than messaging on the website and a great way to have a proper conversation with someone instead of constantly waiting for their replies.
So what other key features can you expect from EastMeetEast?

When it comes to key features on EastMeetEast, there isn't much to write home about.
While female users are allowed to operate the site for free, a male user would need to consider either buying a membership or spending "coins" to be able to send messages.
I will explain "coins" in more detail later in this review but it's a good idea for those who want to contact someone but don't necessarily want to sign up for membership.
But before we look at the key features on offer, here's a reminder of what regular users can do on the site before they need to consider either buying "coins" or becoming a member.
"Smile" at other profiles
Search for potential matchups
Browse other user profiles
The ability to see which other users have viewed your profile
Dating tips
That's quite a few features for free, right?
Some of them, you would find behind member paywalls on other dating sites as well, but here they are for free.
Of course, the one major problem is the fact that if you are a male, you cannot send any messages without buying "coins" or a membership to do so.
Let's then look at the key features that membership, "coins" or being a female user of the site brings.
For me, the most important key feature on EastMeetEast is unlimited messaging.
While this is a given for female users, as a male, if you want to contact someone in an effective manner, this is the only way to do it.
You would need to purchase "coins" or sign up for one of the membership options to do so.
Users who are members will get read receipts for all the messages they send.
Of course, they only come when the person you sent a message to actually reads it.
This is a very useful tool although it's hardly a key feature in my eyes.
And that's it really.
When compared to other sites, I really feel that the key features on offer to paying members aren't that impressive.
The one that matters, unlimited messaging, is the one you need to make proper contact with matchups you identify.
A "smile" just isn't going to cut it at the end of the day.
Now let's move onto membership pricing.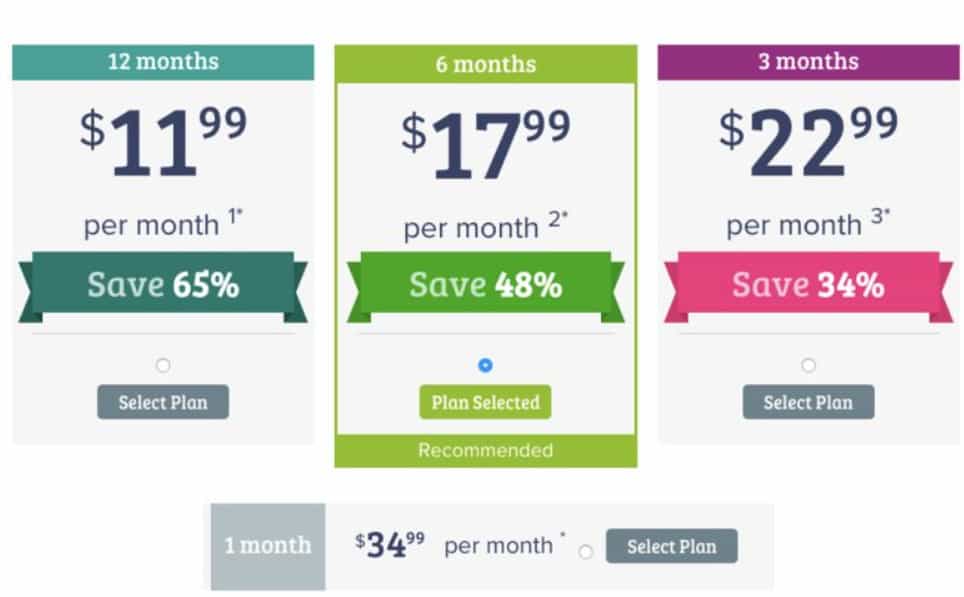 So we already know that EastMeetEast has a quirky pricing model in the fact that if you are a female, you don't have to pay to use the site.
If you are a male, however, you do.
And it's pretty significant member fees that you are charged.
It's easy to understand why as well, as by giving the fairer sex free use of the site, they have to make that money up somewhere else, right?
For me, however, the pricing is pretty steep, especially when looking at the key features that the site has to offer members.
They don't even come close to what you can expect to find on other sites.
In reality, you are just paying for the chance to be able to send messages to anyone and while that's critical to the success of you finding a matchup, I don't think it's worth the prices asked by EastMeetEast.
Luckily, EastMeetEast also has included "coins" a virtual currency that you can use on-site to message other people.
So now what are the membership options available and what will they cost?
EastMeetEast includes all the regular packages you would expect from a dating site in terms of membership contract length but adds one extra most dating sites don't offer.
So you can purchase a membership for either one month, three months and six months.
But EastMeetEast also offers its biggest discount when you opt for their 12-month membership package.
Here's a full breakdown of what those packages will cost.
1-month membership – $34.99
3-month membership – $68.99 ($22.99 per month)
6-month membership – $107.99 ($17.99 per month)
12-month membership – $143.88 ($11.99 per month)
As I said earlier, for the features you receive, the one-month pricing option, although on par with other niche datings sites, is far too expensive.
The value for money lies in the extended membership options, particularly the 12-month membership.
The question that men who want to join up on the site need to ask themselves is how long do they see themselves using it to pursue a perfect matchup?
For example, say you opt for a 12-month membership in your pursuit of finding someone for a long-term relationship.
And then you manage that in the first month.
That's a huge waste of money.
But if you are just looking for people to date with any serious intentions and you will keep coming back to the site to find them, then a 12-month membership plan would work.
Ultimately, it's up to each individual and what they want from the site.
Earlier, I mentioned "coins" as a form of currency on the site as well.
These are a brilliant addition and you could use them instead of having to sign up for membership.
That's because "coins" can be used to send messages to other users and when you sign up, you receive 1 000 "coins" for free.
Here's a breakdown of what they will cost you.
1 800 coins – $4.99
4 800 coins – $9.99
18 000 coins – $24.99
My suggestion to anyone who wants to try the site out would be to sign up and get a feel of how the site works.
If you find someone to message, then purchase "coins" to do so.
If things go really well, you can look into a membership at a later date.

Conclusion and Overall Rating
While it is let down by the fact that it doesn't have as many key features as other dating sites, EastMeetEast is a tremendous niche website that's gaining in popularity all the time.
In fairness, it's not difficult to see why.
The user base is there to find excellent matchups and if you are a woman of Asian descent looking for love, I wouldn't see the need to try any other website, considering EastMeetEast is free.
If you are male, you are going to have to pay and yes, it's not cheap especially for a month-to-month membership.
Luckily, EastMeetEast redeems itself by offering "coins" which you can purchase and spend on messaging the potential Mrs. Right.
So onto my rating then.
I think EastMeetEast is a fabulous dating site and well worth checking out.
It scores 4 out of 5.
Frequently Asked Questions