One of the things that niche datings sites are popular for is the fact that they cater to different ethnic groups.
AsiaMe is one such site.
It's here that you can meet Asian women and those of Asian descent not only from Southeast Asia but all over the world.
And if you've thought of ever trying a site like AsiaDate out, then this comprehensive review is going to provide you with the facts you need before you jump in and sign up for the site.
In fact, you will learn many things about AsiaDate including:
So jump right in and learn all you can about AsiaDate.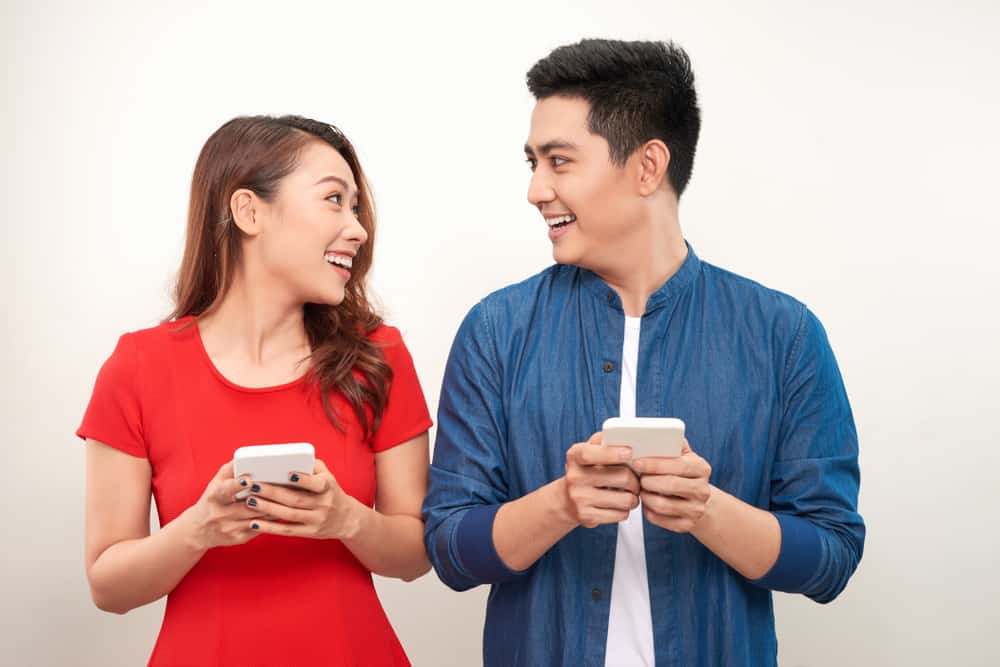 Ease of Use – 3/5
Effectiveness – 2/5
Key Features – 3/5
Pricing – 2/5
Simple registration
Easy to navigate once you get the feel for the site
Lots of users
Only 15% of the profiles are female
Everything is geared towards you spending "credits"
There seems to be a lot of bots and fake profiles
Expensive
Who Is It For/Demographics?
Well, the name kinds of gives it all away, doesn't it.
AsiaMe like other niche dating sites is not only for hookups (like BeNaughty or Ashley Madison) or only for serious relationships (like eHarmony).
AsiaMe is a site for people who are Asian and want to date other Asians but it's also for those of other ethnicities that would like to date people who are Asian.
That's it in a nutshell, really.
A breakdown of AsiaMe's user numbers
There are many different dating sites for Asians on the internet, but this is definitely one of the biggest and oldest.
In fact, AsiaMe has been around since 1998.
So, with over two decades online, you'd expect the user numbers to be extremely high.
And yes they are.
In terms of Asian online dating sites, when it comes to user numbers, AsiaMe certainly ranks right up there.
Getting the overall user figures, however, proved extremely difficult.
But with enough research, I was able to find out that AsiaMe has around 4 million users.
That's more than enough at least turn up a few matchups to look through.
Just a few…
But let's get serious here with a few more figures for you to digest.
Of AsiaMe 4 million users, close to 800 000 are from the United States
In total around 450 000 users are active on the site each week
That's just over 60 000 per day and 1.8 million each month!
Now those are some impressive numbers.
But it's not all wine and roses in the land of AsiaMe.
Let's look at a gender ratio breakdown as well as the age ranges of the users on site.
A male-dominated dating site is not something new.
Many of them are like this.
But at AsiaMe the ratio of men over women who have profiles is staggering.
We talking a ratio of around 8.5 to 1.
Yes, on AsiaMe
85% of the profiles are male
15% of the profiles are female
But what about the age ranges?
What's the most popular age group on the site?
Here's a quick breakdown:
35-44 years old
45-54 years old
55+ years old
25-34 years old
18-24 years old
Let's break the age groups down a little more.
The 35-44 age group makes up 30% of the users on site.
But only 2% of that group are women.
It gets a little stranger still.
The third biggest group on the site are 55 years and older.
They make up 15% of the profiles found on AsiaMe.
But almost zero of that 15% are women.
So the vast majority of female profiles on the site are then between the ages of 18 to 34, around 12%, in fact.
I find that fascinating but it also leaves some alarm bells ringing for me which I will explain during this review.
Now let's get onto the actual site and how you would go about starting a profile.
Well, it couldn't be easier.
AsiaMe has a mobile app, so if you'd prefer to register using that, you can.
Note that it's a general app that's used for all Qpid Network dating sites and not just specifically for AsiaMe.
It might not be available in your country, so check that out first before setting your heart on using the app only.
If you register through the website, there is no option to use a social media account like Facebook for a simple one-click registration.
Instead, you will have to input your first and last name, gender, birthday, email address and password.
And yes, you will need a valid password because AsiaMe will send you a verification email.
Before you get your chance to look around the site, you will first have to fill in a form that's all about your perfect matchup.
This includes questions about their hobbies, what their age should be, their education and a host of other bits of information.
It's on this that your initial matches are based.
And don't worry, this isn't permanent.
You can revisit these questions and change the answers to them at any time by going to the "Smart Matches" menu once you've logged in.
I would take some time to get it right from the beginning.
And it's only going to take a maximum of 10 minutes of your time.
I do just want to bring something to your attention here.
On my browser, I received a "connection not secure" warning on the landing page for AsiaMe where you would enter your first few details like your name, username and password.
The site was secure following my registration, however.
But that is a little bit of a worry.
Finding your way around AsiaMe
AsiaMe is a little different from other dating sites.
That's because it uses two sets of menus.
The first runs at the top of the page and the second run down the left-hand side of the page.
Let's look at the three menu options found at the top of the page first.
They are:
Home: Takes you to the home screen with matchups provide by AsiaMe
Online: This shows you the users that are currently online
Search: This takes you to the main search engine where you can adjust a range of different fields and launch searches of your own.
The side menus are a little more complicated.
They include the many different ways that you can communicate on AsiaMe.
Say hi: A quick way to say hello to someone that's online
Admirer mail: This is a separate inbox for other people who have liked your profile and want to chat with you
EMF mail: Your regular inbox
Chat: Here you can chat in real-time with other users
Cam Share: This is a service where you can see who you are chatting to and vice versa
Video Show: Here you can watch various videos from other users
Call service: Here you talk to other users over the phone
Virtual gifts: If you want to send virtual gifts to someone, you can do it from here
Gift and flowers: If you want to send actual gifts to someone, you can do it from here
Online ladies: Users online at that point in time
Smart matches: These are based on the questionnaire you filled in when you joined up
My contacts: The profiles of users that you have mailed, camshared, chatted with or called will appear here
My favorites: If you favorite a user, their profile will appear here
Search: Another menu where you can launch a search from
I won't lie, the site is very confusing at first.
There's a number of reasons for that.
Firstly, there are just so many menus.
Secondly, from the moment I joined the site, I was bombarded with messages from users that pop up on the right-hand side of the screen.
Whether these are actual users of the site or bots, I am not too sure.
So onto my experiences of using AsiaMe.
There seemed to be plenty of female profiles for my age group, despite the fact that 85% of the users of the site are male.
Again, it's difficult to tell which are real users and which might be bots or fake profiles.
There are a few ways that you can begin your search on AsiaMe.
The first is using the Smart Matches.
This will return user profiles based on the questionnaire that you filled in when registering for the site.
The second is the more traditional search method where you can adjust a number of search filters to your liking and then bring up potential users that match them.
There are lots of filters here that are site-specific.
For example, you can search for users that:
Have camshare
Have video shows
Are available for calls
Are online now
Then there are the filters you would be used if you've used a dating site before, for example:
Age range
Location
Interests
Height
Education
Zodiac sign
Profession
Religion
Relationship status
If they have children
So yes, the search engine allows you to fine-tune your searches as much as you want to.
But what about communication options when you've found someone you'd like to chat with.
There is no denying it, AsiaMe is all about getting you to spend your money to buy "credits".
This is the onsite currency and you will need it for just about anything.
Note, however, on signing up, you will receive two chat vouchers to be able to send text messages as well as two free greetings.
So that's a way to message a few potential matchups in the beginning.
But after that, everything will need "credits", from the phone calls to sending mail, to camshare sessions.
But "credits" are used differently for all these contact methods.
For example, sending a letter by email will cost 1 credit, while speaking to someone on a call is 0.5 credits for each minute.
Camshare sessions are 0.6 credits for each minute.
I am sure that you can see that it can get pretty costly.
So let's look a little more into the key features the site offers and what your credits will get you.
While we've mentioned some of the features the site has to offer, let's look at them in a little more detail.
So I spoke earlier in this review about Admirer Mail.
Let's look into what it's all about then.
This essentially is mail sent from other users that are showing you some interest.
When I signed up for AsiaMe it took around a minute before I received my first one.
Coincidence?
I don't think so at all.
It's a way of getting you excited that someone is interested in what you have to offer.
And to reply to them, you would need "credits".
In all honesty, I doubt that that first mail that I received was actually from a real user.
If you've found a profile of someone that you'd really like to get to know better, you can make use of the various call services that AsiaMe has to offer.
These are:
Instant calls
Scheduled calls
Call me feature
Instant calls don't need any form of appointment.
So if a user is online and you'd like to talk to them, you can instantly call them.
A scheduled call takes place at a certain time on a certain day that you book in advance.
Then to make the call, you will receive a specific ID that you need to enter beforehand.
Lastly, the Call Me feature sees you give authorization for another user to contact you.
Note that they don't pay for the call, you must.
Again for all of these features, you will need "credits" to pay for them.
If you'd like to see the person you are talking to and don't mind them seeing you back, then you can opt for a Camshare connection.
This is a good option if you want to test to see if someone is legit because you can ask them to perform certain actions, like writing their name on a piece of paper.
And yes, you will need to pay credits to Camshare.
This is one feature that you probably will use more often than the others, especially in getting to know someone.
Essentially, live chat is a form of instant messaging between you and another user.
There's no need to wait for any messages to appear in your inbox, instead, you can chat in real-time with someone.
You have the ability to send attachments as well, for example, photos but that will cost you extra "credits".
5. Virtual and real gifts
AsiaMe is not the first dating website to make use of virtual gifts and it probably won't be the last either.
I am not sure how you can win someone over with a digital rose, however.
If you want to waste even more money, you could opt to send someone you really like a gift in real life, chocolates for example.
For me, these are just money-making schemes.
So that's it for the key features that you are going to find on AsiaMe.
Now let's get down to just how much money "credits" are going to set you back.
If you've used dating sites that focus on Asia, you would have noticed that most of them don't have any form of monthly membership where you can join up.
Instead, they all almost exclusively operate on a site currency.
In the case of AsiaMe, we've established already that these are called "credits" and as you have already seen, you will need plenty of them if you'd like to access all the features that this website offers.
To get "credits" you are going to need to spend your hard-earned cash.
Here's a breakdown of what AsiaMe charges you for these credits and believe me, they are not cheap.
2 credits – $15.99 ($8.00 per credit)
16 credits – $96.00 ($6.00 per credit)
100 credits -$399 ($3.99 per credit)
Expensive, right?
Here's a brief recap on what credits you will need to carry out some of the ways you can communicate with a potential matchup.
Send an email to them – 1 credit
Talk to them on the phone for 5 mins – 0.5 credits
Camera share for 5 mins – 0.6 credits
Conclusion and Overall Rating
That's the end of this review of AsiaMe.
It's a site that takes a little getting used to in terms of finding your way around.
I must admit, the fact that I got a "not secure" message from my browser on the landing page is a worry but that did disappear after I logged into the actual site and the locked security icon in the web address was ever-present after that.
When it comes to AsiaMe, I am convinced that those messages you will receive from admirers as well as the people wanting to speak to you (who pop up in the right-hand bottom corner of the screen) are fake profiles or bots.
The site is all about "credits" and using them on the features that AsiaMe provides.
Plus, if you do a little research into the site, there's plenty of people out there calling it a scam.
I have no doubt there are real profiles on this site, but you need to be on your guard I think.
Overall, in terms of what the site offers, the key features and more, I will give it a rating of 2.5 out of 5.
For me, it pushes you to spend "credits" and to buy is expensive.
If you try the site out, let us know what you think about it in the comments below.
Frequently Asked Questions
Without a doubt, AsiaMe is safe in terms of keeping our personal and credit card details safe.
It's been around for two decades so has got that all well under control.
That said, there is a risk of fake profiles and scams on the site, so you do need to be aware of that.
AsiaMe has many different facets.
Some are free and others aren't.
So yes, you can register on the site for free as well as browse other members but to get into contact with other users, you will have to make use of "credits" which are the on-site currency used on AsiaMe.
For sure it is.
It's run by Qpid Networks and actually is an amalgamation of two other sites, ChnLove and iDateAsia.
AsiaMe has been active since 1998.
It's a very active site with 800 000 members from the United States alone.
Overall 450 000 people are active on-site each week.
Interestingly, the user ratio sees 10 males for every female profile.
First of all, you will need to be 18 years or older to join up on AsiaMe.
To register and start a profile, you will need to go to the AsiaMe website and start the registration process.
If you'd prefer, the AsiaMe app is available in the Apple iStore or on Google Play and you can register using that instead.
How do I remove my AsiaMe profile from the site?
If you don't want your profile to appear in matches anymore and you will be using AsiaMe you are able to take it off the site completely.
First, you need to log in to your profile.
From there click the "Settings" take and look for the "Switch Off Profile" button.
By clicking this, you will switch off your profile and remove it from AsiaMe.
The easiest way to contact the team at AsiaMe is by emailing them at [email protected]
If you'd prefer, you can phone them on 1-800-931-5079.
How does the AsiaMe algorithm work?
Like many other dating websites, AsiaMe uses a search engine to find your potential matchups.
You have a number of parameters that you can enter and tweak to help you find that perfect match.
How do I block and report people on AsiaMe?
For most dating websites, to block someone, you go to their profile and look for a button that will block them.
For AsiaMe, it's a little different.
You will first need to go to their profile and find their user identity number.
Take this and then go to your block list and enter that number.
That user is now blocked and you will not receive messages from them.