Welcome to our Illicit Encounters review where we look at a style of dating site that's becoming more popular.
These are dating websites where married people can find someone just like them for a discreet affair.
Perhaps the most popular discreet affairs dating site in this category is Ashley Madison.
On IllicitEncounters.com you will find thousands of male and female users, that are married, divorced, or separated and who are looking for a range of relationship types, long-term (like eHarmony or Tinder) or extramarital affairs (like BeNaughty or Ashley Madison).
OFL Top Recommendations based on 100,000+ Survey

"Serious Relationships"
"Discreet Hookups"
"Best Course for Men"
"Quick Flings"
"Normal Hookups"
"Our Quiz"
Our assessment and overall evaluation of Illicit Encounters include:
So sit back and take your time as you work your way through our review which will help you decide if you should start a profile here or not.
Is your dating app giving you the best chance for success?
Make sure to take our online dating site/app quiz to find out.
It's a fact that people who follow our dating site suggestions have on average 2 extra dates per month.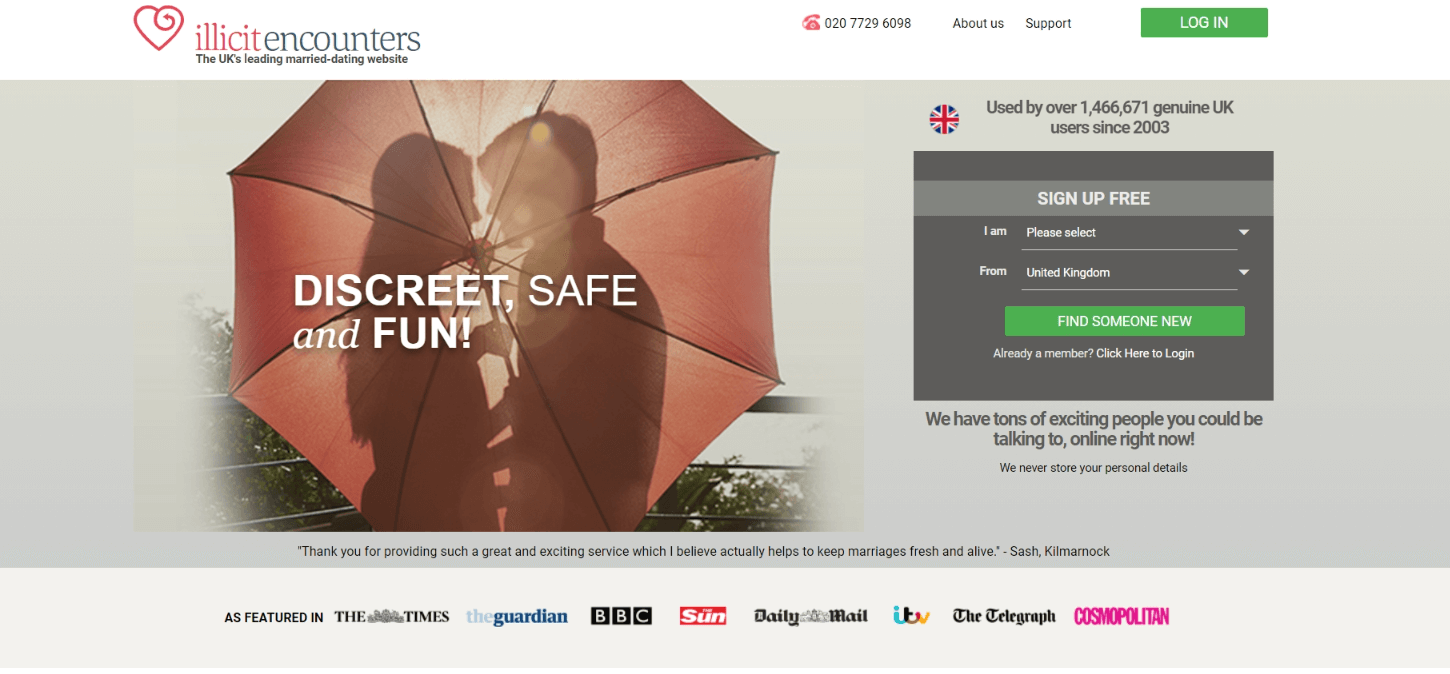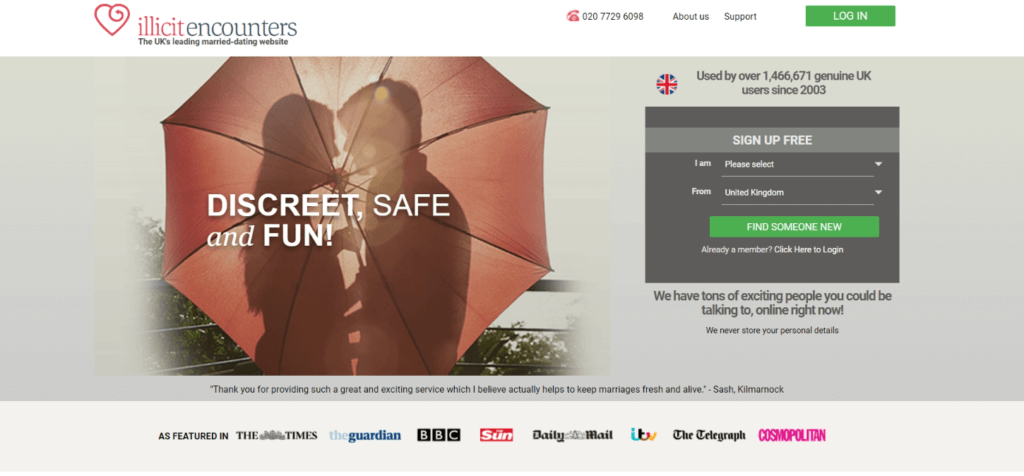 Ease of Use – 4/5
Effectivness – 4/5
Key Features – 2/5
Pricing – 2/5
Around 1.3 million users across the United Kingdom and Ireland
Women can use the site for free
Get daily matchups mailed to you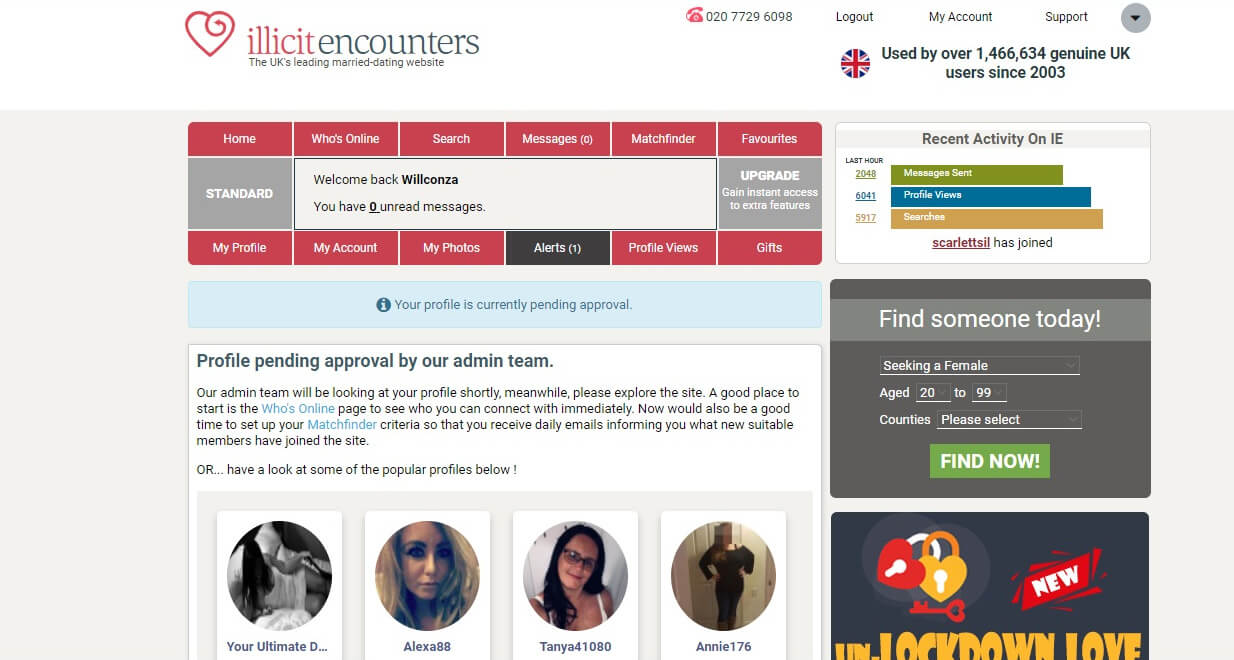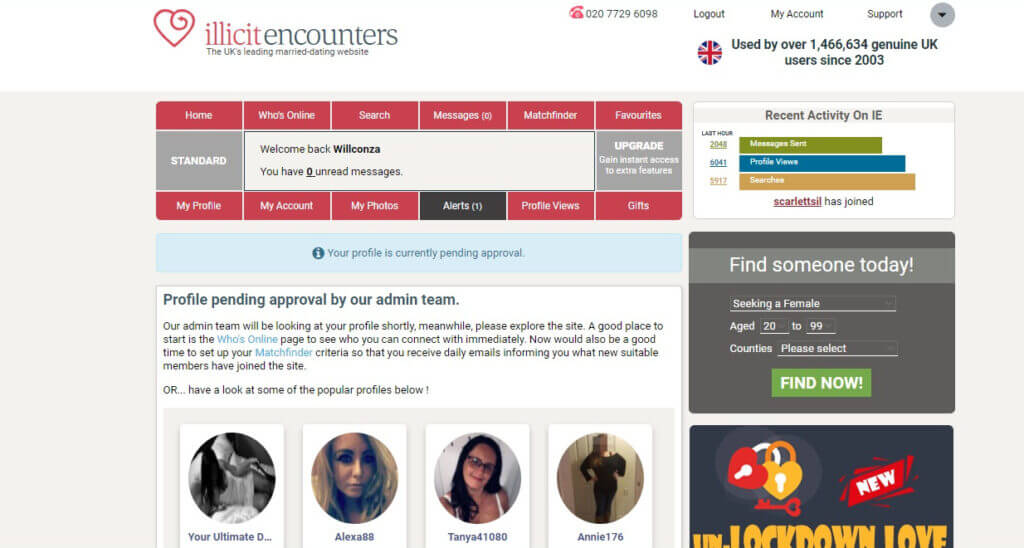 Who's It For/Demographics
So from the start, let me just clear up a critical fact about Illicit Encounters users.
They are from the United Kingdom and the Republic of Ireland.
These are the only people that can start an account on the site.
Of course, if you are running a VPN, you can as well but if you don't live in these two countries, there is little point in doing so.
While it only covers a few countries, Illicit Encounters has around 1.3 million users that have signed up for profiles.
Here are some other interesting facts and figures about the site:
Over 1000 users are online each day
Around 2000 messages are sent each hour on the platform
During that same time, around 6000 profiles are viewed and over 7000 searches conducted
No doubt, the Illicit Encounters website, even though there aren't any singles to be found here, is very active.
Gender ratio and age ranges of users
When deciding on a potential dating site to use, one of the things you should compare is the gender ratio.
That's because it's always important to get a site that's either to your advantage (where you have 3 to 1 in your favor, for example) or the ratio is close together.
On Illicit Encounters, it's the latter that is the case.
OFL Top Recommendations based on 100,000+ Survey

"Serious Relationships"
"Discreet Hookups"
"Best Course for Men"
"Quick Flings"
"Normal Hookups"
"Our Quiz"
Here 55% of the profiles are men and 45% are women.
As for age ranges, well you'd probably guess that the most popular would be older, right?
And they are.
Here's a breakdown of the three biggest groups on the site:
45-54 years old: 33% of all users of which 20% are male and 13% female
35-44 years old: 32% of all users of which 18% are male and 15% female
25-34 years old: 20% of all users of which 10% are male and 10% female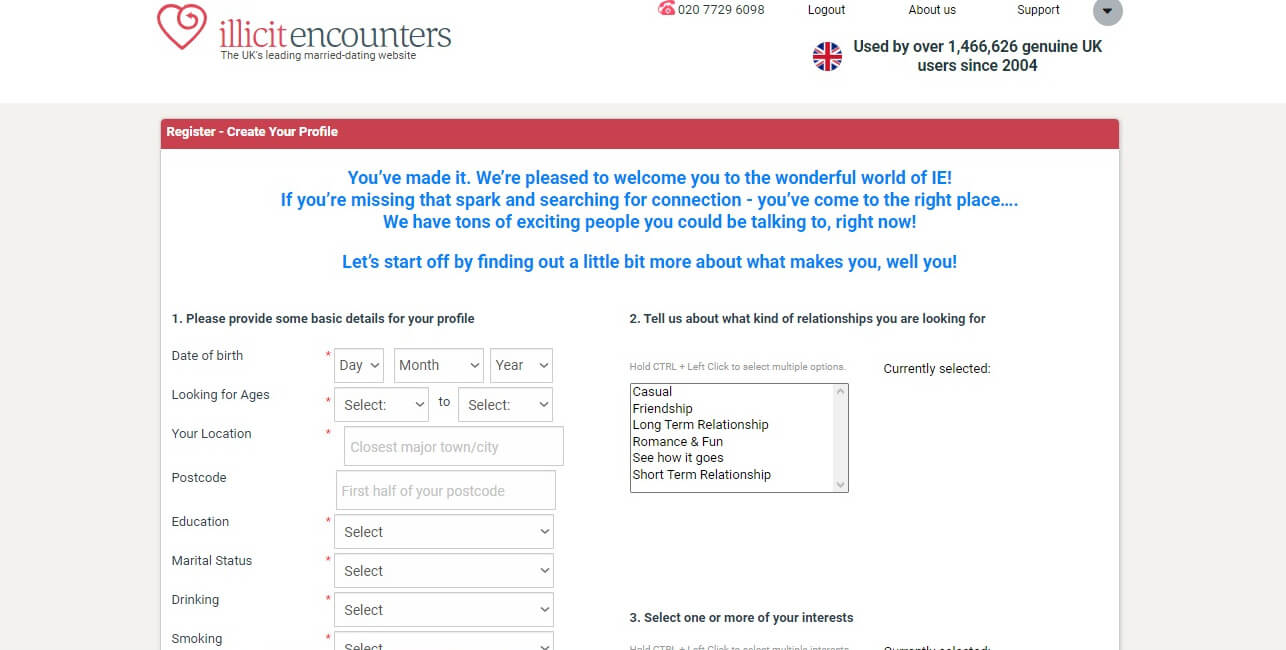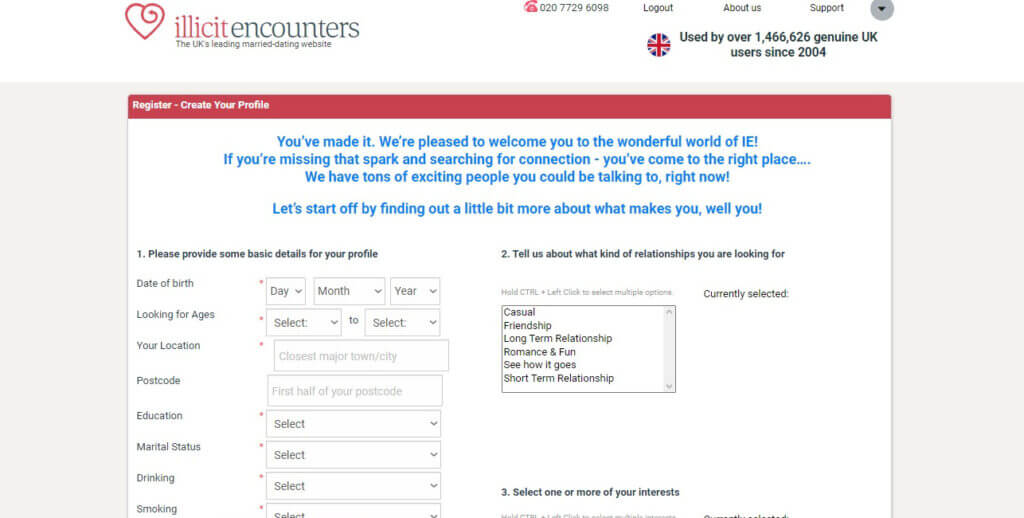 Starting your profile on Illicit Encounters is straightforward enough.
Note, however, that you will be expected to complete it before you can use this dating service.
There is no social media login at all, so you will have to provide the following information as part of the progress:
Gender and that which you want to hook up with (the site is not LGBT friendly)
Age range
Choose a pre-generated profile picture (you can change this later)
Username
Password
Country
County
That's just the first part of the process because now it's time to filling in your profile.
I can clarify that you can certainly skip parts of this but it isn't worthwhile.
Why?
Well, while you can still explore the site, you won't be able to see other users' profiles in full.
It's easier to get it out the way and I can confirm it won't take much more than a few minutes.
This is the information a profile needs for completion:
Date of birth
Town
Postcode
Education
Marital status
Habits (drinking, smoking)
Appearance (eye and hair color, build, race)
Religion
Occupation
Type of relationship (casual, friendship, long-term, romance and fun, see how it goes, short-term)
Interests
About Yourself section
Ideal partner information
Once you've done all of that, you are taking to the site, although the admin team will still have to approve your profile.
If I am honest, I would have preferred if users have to at least validate their email account before they can use the site.
While not a massive benefit, it does at least mean that from a security point of view, people need valid email accounts to sign up.
Navigating around the site
While I have seen hundreds of different dating site templates, the one that Illicit Encounters operates is not one I have ever come across before.
And while it is very different from most, it's functional in its own kind of way.
It did take a little while to get used to, however.
Those behind the site design have tried to cram everything you need into the home screen.
While it does make the site a little cluttered, it's not something that's a deal-breaker.
Overall, your home page consisted of menus at the top of the screen, information at a glance below that, and then your news feed.
This obviously gives the site a bit of a social networking feel but from what I can see, you cannot make status updates or comment on photographs.
It's more so in the way the feed tells you if you have a message, or if there is anything else that you should take note of.
It's kind of like a notifications menu that you will find on other sites.
So let's start with the menus then and what they do:
Home: This will take you back to the homepage as I have just described above
Who's online: Click here to see which users are currently online with you
Search: It's from this menu that you will launch your searches
Messages: All sent and received messages can be found here
Matchfinder: This is a service that operates each day. Set parameters and the site will mail your matches to you at the start of each day.
Favorites: Click here to access any users you've added to your favorites list
My Profile: Click here to access your profile
My Account: This contains details about your account on the site and you can buy a membership here
My photos: Upload pictures to your profile via this menu. You can also arrange them into albums as well as make them private if you'd like.
Alerts: This is a notification menu and will tell you when your profile has been viewed or when you have received a message
Profile views: See which users have viewed your profile
Gifts: The site has virtual gifts that you can send to other users. You will need credits to do so, however.
While I prefer fewer menus, each of these is necessary and have their use on the site.
Obviously, some are going to be far more critical to your overall success on Illicit Encounters, for example, the Search and Matchfinder menus.
I also just want to expand on the At A Glance section as well.
This is handy because it quickly shows you some vital information and acts as a live alert.
If you have a new unread message
If you have a recent match
If you have an unread virtual kiss
If you have a new profile view
If you have received a virtual gift
If you have any admirers
Every time you log into the site, all you need to do is check here to see if you've received any of the above.
It is pretty useful, that's for sure.
Before we move on to how the site operates, I would like o to point out three more menus at the top of the screen:
Log out
My Account
Support
While the My Account is the same as the one explained as part of the menu system, you may need support from time to time.
This takes you to a contact form where you can fill in your question and send it off to the admin team.
Admin will reply to you through the email system on the site.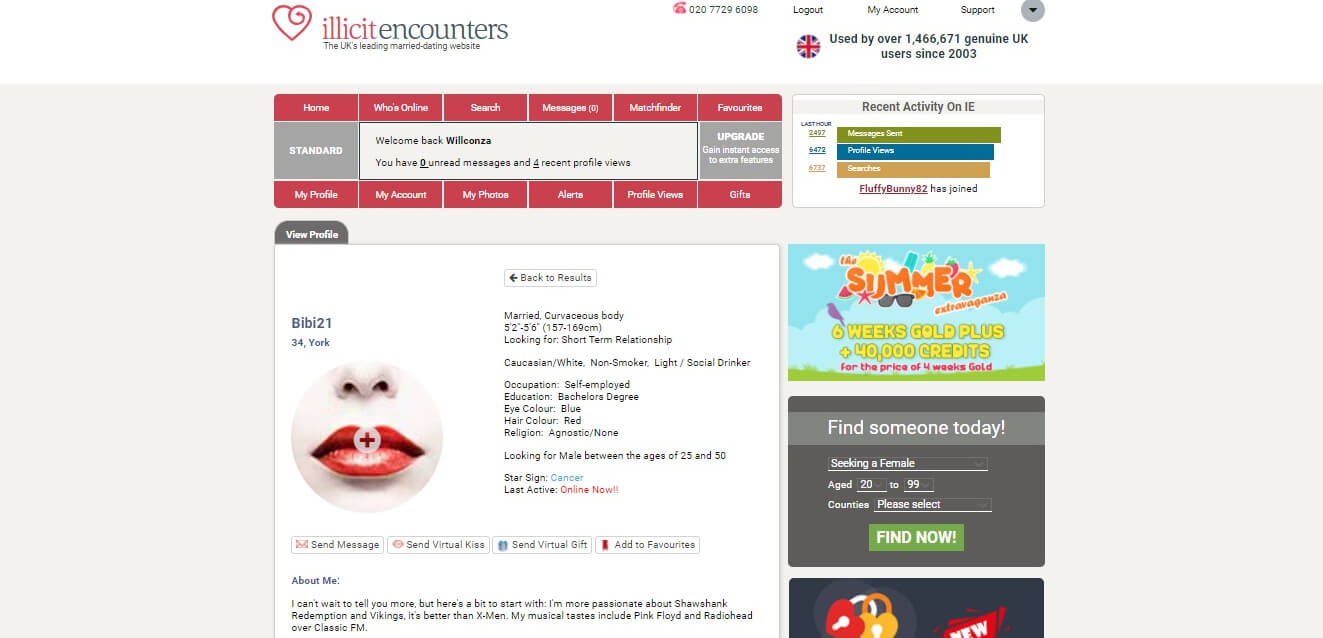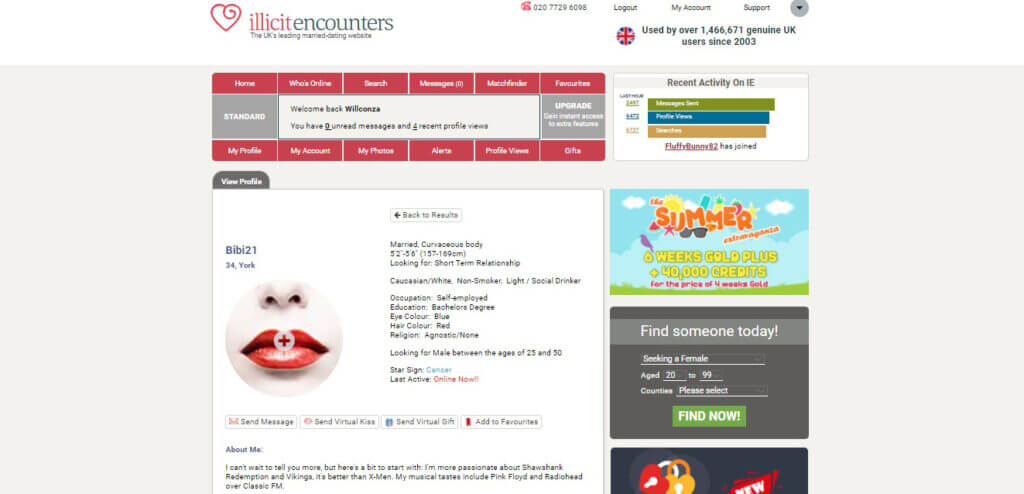 Once your profile has been approved (and it takes around 10 minutes), you can start using the site in full.
There are no matchups that are instantly ready for you to view on this site like you would find on many other dating portals.
But remember, I did mention how matchups work.
Instead of you finding them on the site, you can go set up your specific parameters, and then matchups will be sent to you each day by mail.
While I don't think it's a terrible system, I am a fan of seeing my matchups in front of me on the dating site.
In terms of the parameters that you can set for these daily matchups, they are:
Age range
Counties to look in
Your other option to find someone to reach out to is a little more hit and miss.
And that's scrolling through the users that are currently online at the same time that you are.
To see them, click the Who's Online menu.
Now, you can quickly scroll through users to see if there is anyone near your location.
This is easy to do as well because you will find their location displayed right under their name, so a glance at each profile will tell you if they are living close to you or not.
Of course, that's not the only way of finding a potential matchup.
You can use the onsite search engine too.
It's just that it is not that powerful.
In fact, you only have three parameters that you can set:
Gender
Age range
Location
And that's it.
For a regular user, there are no extra parameters that you can add, for example, height or if they drink or smoke.
I would have liked the opportunity for that but that's for a members-only feature.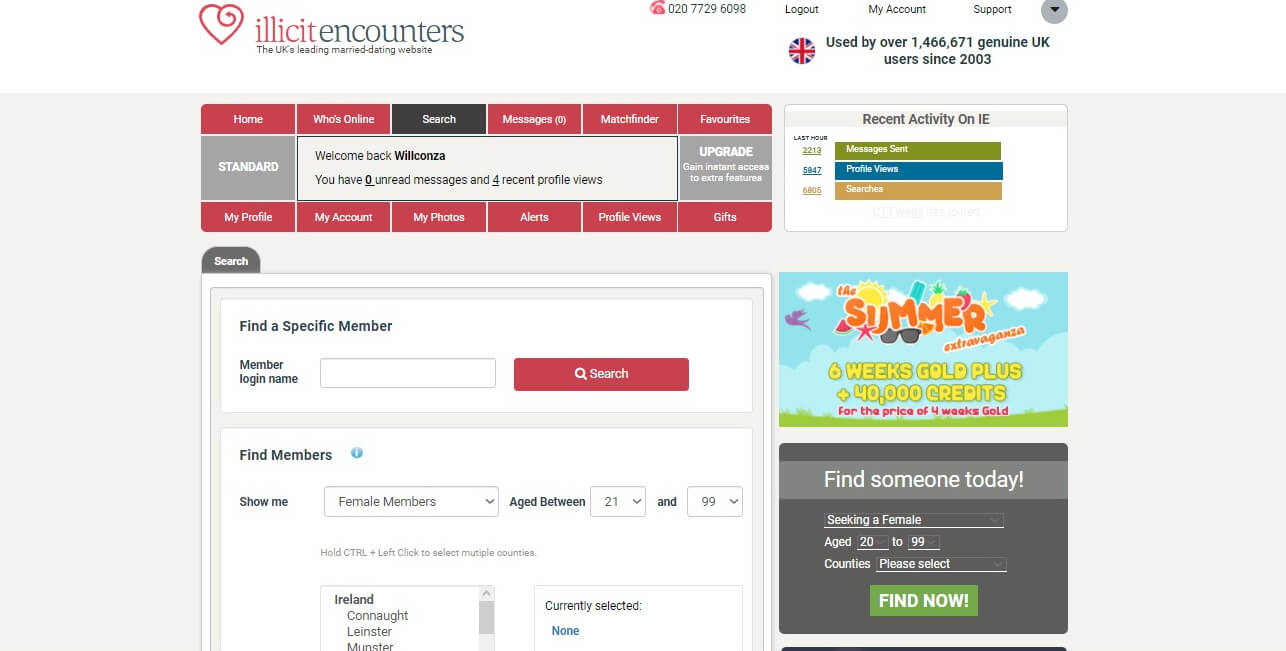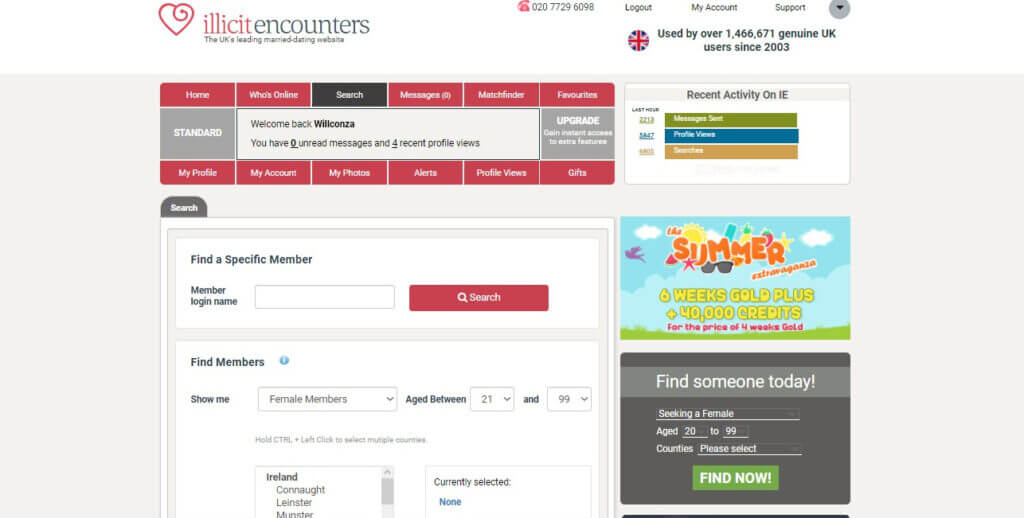 If you are a female and have signed up for the site, there is good news.
For all female users, the site is totally free to use.
It seems something that these kinds of sites always do.
But it does mean that men have to carry the burden.
If you'd like to message someone, as a male you will need to buy into one of the membership options you will find here.
As you will soon see, Illicit Encounters has a bunch of key features that you don't find on other dating sites.
It's going to be up to you if you think they are worth it or not for you to become a member of the site or if you are going to look elsewhere for your extramarital affair needs.
If you are a male on the site, you are going to need to take membership if you hope to send messages.
Luckily, if you are a female, you are free to message as you please.
In my time on the site, I received so many messages from females reaching out to me that it made deciding to try out membership that much easier.
2. See when your messages have been read
If you fire off a message to someone, often you don't know if it has been read or not.
That means you could be trying to get in touch with someone who might not even be using the site anymore.
With this feature, as soon as someone reads your message, you will be able to see that they have done so.
It's useful I guess.
Holiday mode allows users to put their profile offline for a period of three weeks.
You won't be charged during this time and afterward, your profile goes back online and you can carry on as per usual.
You can choose to browse other members' profiles without leaving a trace that you have done so.
Again, I would rather leave the fact that I have seen someone's profile as a sign that I am interested in them.
That's also going to help that if you do message them a little later and they notice that you have checked them out before.
Setting up an auto-responder can be useful if you are not on the site all the time.
An auto-responder is a message that you can set that will be sent to anyone who messages you when you aren't on the site.
This is something that I think can be particularly useful.
In general, however, I don't think the key features here are that impressive.
Different, for sure, but the need for a holiday mode for example just doesn't strike me as that important.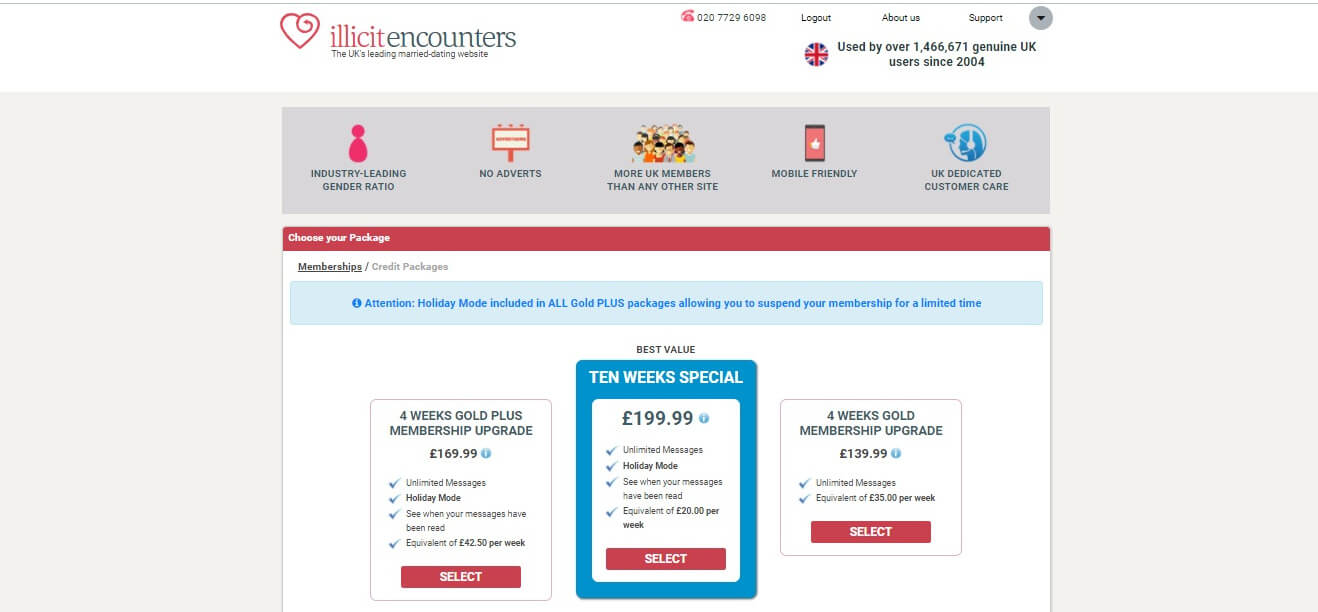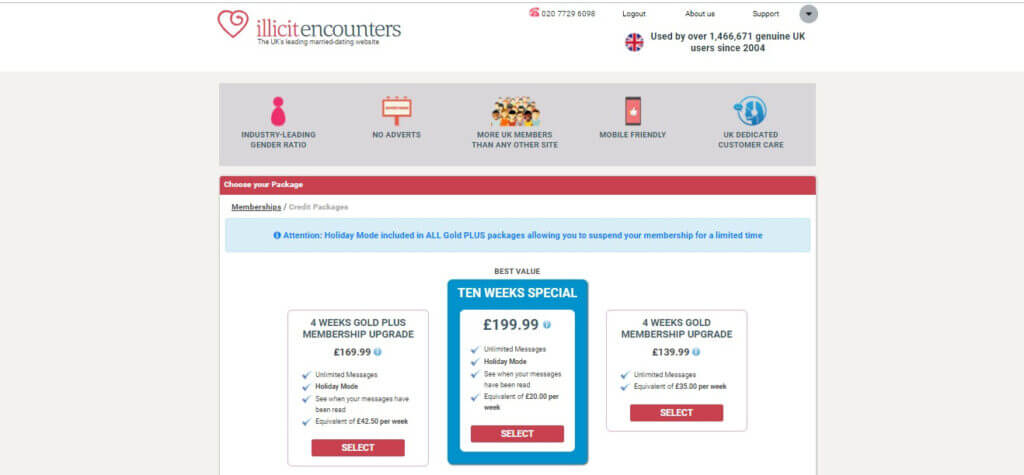 The membership pricing is called Gold Plus Membership and a little like the key features on offer, it's very different from most other dating sites.
There are four different packages on offer: 4 weeks Gold membership, 4 Week Gold Plus membership, and Ten Week Gold Plus membership.
Why it's different is that each package allows for only certain key features.
Here's a breakdown of what it will cost along with what features you get.
4 Week Gold membership: £139.99 (unlimited messaging)
4 Week Gold Plus membership: £169.99 (unlimited messaging, holiday mode, see who has read your messages)
10 Week Gold Plus membership: £199.99 (all of the key features mentioned above)
It's super expensive, right?
I really don't think those prices are justified for what's on offer but then again, this is a site that's for people in the United Kingdom and Ireland, so it is unique.
As far as payment options go, you can use your credit card.


Conclusion and Overall Rating
Thanks for taking the time to read our IllicitEncounters UK review.
This is a site that does things very differently from most others you might have tried out or seen.
It's an excellent platform but lacking in certain areas.
It's busy too and in the time I used it, I found many other users reaching out to me before I had to consider reaching out to them.
And that's not a bad thing at all, right?
In terms of fake profiles and scams, I can't say that I saw anyone who was trying to openly scam me but as always, you should be wary at all times.
The thing that really bothers me is that this site is very expensive, more so than most dating sites I have ever seen.
I am just not sure that those exorbitant prices are justified.
Today, as an overall rating, Illicit Encounters scores 3 out of 5.
The score could have been much higher but pricing and a lack of meaningful key features hamper the site.