Come on ladies, now that we are among our own, tell me, how often have you thought Well, screw this, I'm gonna find myself a sugar daddy and be done with this work bullshit?
Honest to God, I know I have!
I know; working your ass off is not easy. It does give you the sense of fulfillment, but very often you're so pissed you'd rather have someone pay for all the commodities you need, no questions asked.
Dating is none easier.
Go out, chat, have dinner, have sex, it's working, it's not working. You argue. You go back together.
Hmm, how about you bring these two together and find someone to be there for you, both financially and emotionally?
In this Sugardaddie Review, we'll look into:
And, men?
What's in it for you?
How 'bout hotties? A whole bunch of them?
Yes, you guessed it, Sugardaddie review coming right up!

What's your price is running a deal right now where girls can sign up completely free. We suggest you don't miss out on this limited offer. It's the biggest SD/SB site online.
Is your dating app giving you the best chance for success?
Make sure to take our online dating site/app quiz to find out.
People who follow our dating site suggestions have on average 2 more dates per month.
SugarDaddie Review in Video Form
Audio (podcast) form for those of you on the go
Effectiveness – 4/5
Features – 2/5
Ease-of-use – 3/5
Price – 4/4
Strong advertisement (leads to an increased number of matches)
A site with tradition and quality
Customer service available at all times
No ads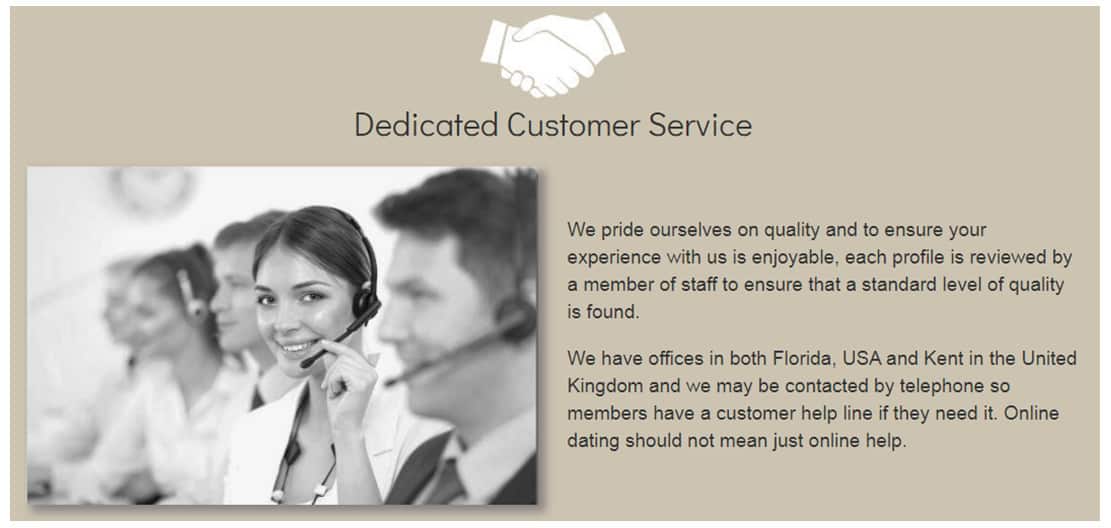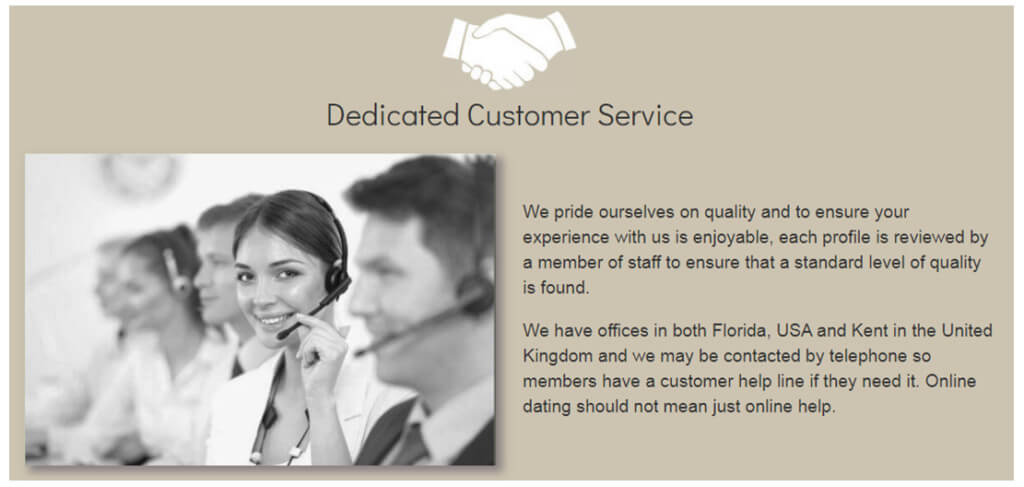 No income verification
No app
You must be a paying member to access all of the features
Best Sugar Dating Sites (Based on 100,000+ Survey)

'Best for Sugar Daddies"

"Best for Sugar Babies"

"Best for Discreet Sugar Dating"

"Best for Sugar Mommas"

"Best for Cheating Sugar Dating"

"Our Sugar Daddy/Baby Quiz"
Who is it For/Demographic Make-up?
Whenever you resort to online dating, there are some basics that you need to know about your website of choice.
For example, the first thing you need to bear in mind is what the target audience over there is.
I mean, you can't go to Tinder assuming you'll find a hot Russian bride the very same day, but if you want instant hookup there are sites (like BeNaughty and Ashley Madison) that specialize in that niche.
The same goes for Sugardaddie, Harmony, and SugarDaddyForMe in their own respects.
Before you go there, you need to know what to expect and who you can find.
So here goes…
Sugardadie is not a dating site for the "hey, girl s'uppp?" kind of dating. No.
People who resort to Sugardaddie are straight men and women who have a comfortable life in mind.


Namely, the site members' structure is comprised of wealthy single men looking for hot women to share life and wealth with.
Though fully aware of how superficial this may sound, I need to tell you that it's not everything black and white.
People are driven by different goals.
So, if you're thinking about some stereotypes here, such as of a fat, rich-as-stink guy and a plastic blonde with no brains, you might wanna think again.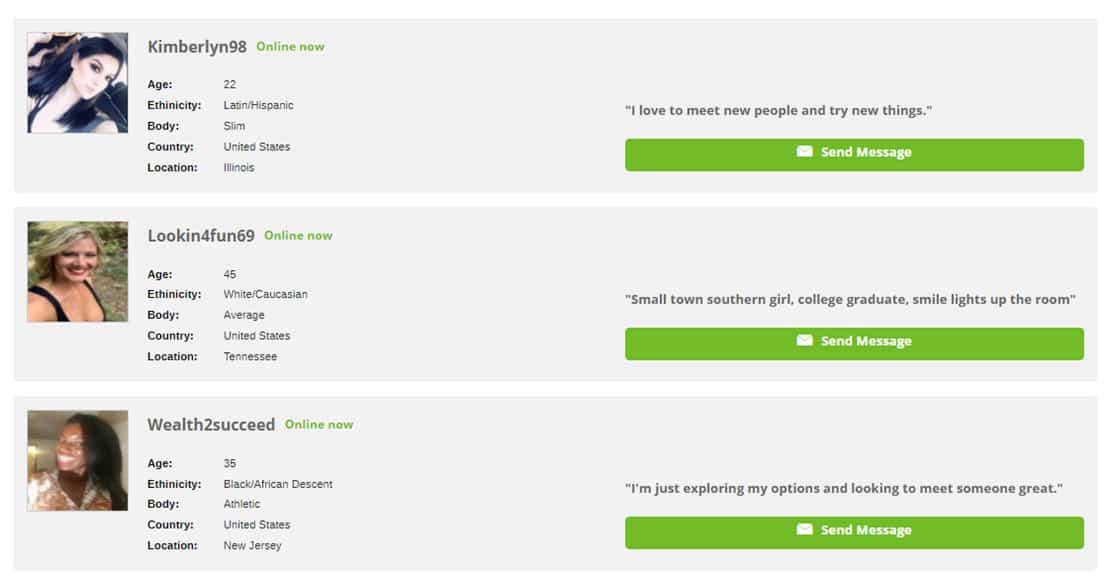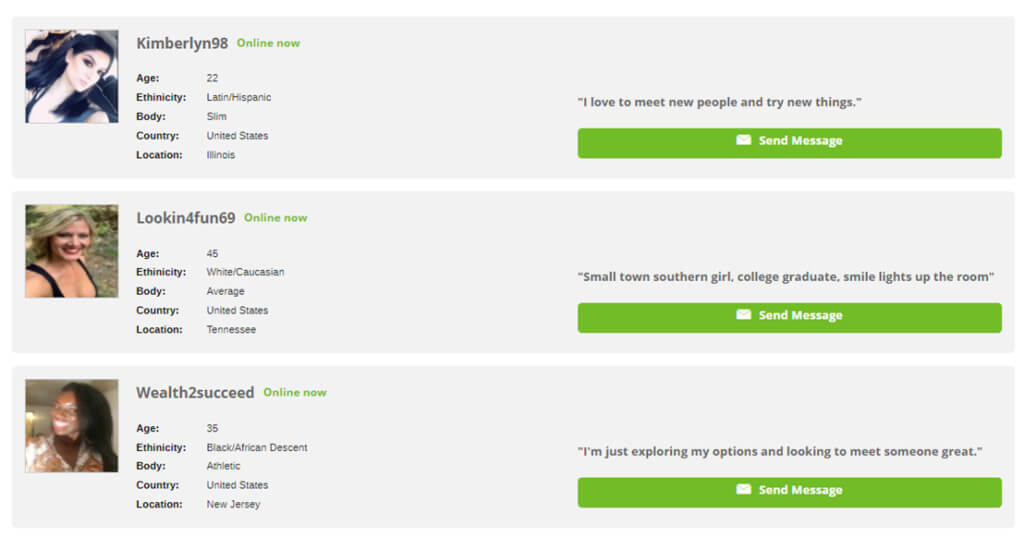 Generally speaking, the greatest traffic site comes from the USA and the UK.
Honorable mentions go to Brazil, Australia, and Slovakia.
As for the age structure, you can find members as young as 18. However, the majority of women are 18 – 24 and as for gentlemen, the highest number falls under the age group 35 – 55.
Don't be confused even if you stumble upon a sugar mommy occasionally looking for a hot young man to date.
Again, this is not the website for one-night stands between rich men and poor girls but is for well-to-do men and good-looking women who typically already have a job and are perfectly capable to earn money on their own.
Now that this Sugardaddie dating site review introduced you to some of the basics, let us see how it all works.
The point of every dating site should be to help you find someone suitable and to help you find it fast.
If we talk about the effectiveness of Sugardaddie or any dating site for that matter, there are some questions that need to be answered, such as how it works for your target group, the possibilities of making contact, and finally, the chances of success.
Let's deal with this one by one!
1. How does it work for your target group?
As I explained, this is a dating option for straight wealthy men looking for hot straight girls to have something more than a typical one-night stand.
On the other hand, girls come here to find someone who can make it possible for them to live the life they want, working or not working.
So, if you are either of these, you must start by creating an account and setting up your profile. After that, you are free to browse members and get in touch with them (only with a paid membership, though!).
After seeing someone you like, you can add them to your favorites list or you can try the Meet My Match feature and see what the site has to offer.
Having established successful communication with a girl you like, you can move slowly from there. Note that neither of you has to mention the money issue straight away.
Give it time.
The way of making contacts through a website is definitely one of the crucial features you need to pay attention to.
While some of the Sugardaddie alternatives offer some fun and creative ways of initiating contact, Sugardaddie is a bit old-school here.
No virtual gifts, no emojis, just e-mail messages, and instant messages.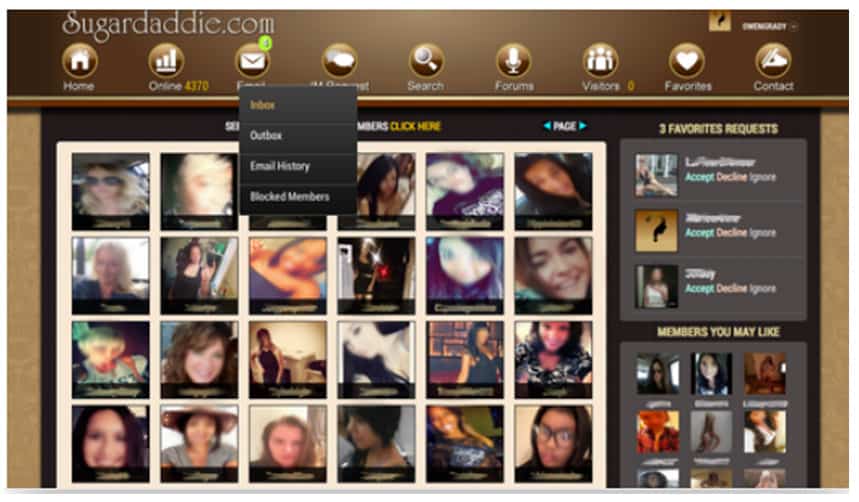 To make matters slightly worse, these two are separated so you can't find all the texts in a single place, which is a tad frustrating.
Just to remind you – these are not for free. As a free member, you will not be able to contact people. This will be granted to you only through a paid plan (more on that later).
The chances of success are the reason to come to a dating site and use it for further purposes.
Although generally, it might seem that Sugardaddie doesn't offer much, it's actually quite the opposite. As seen from the testimonials, the site offers rather high success rates.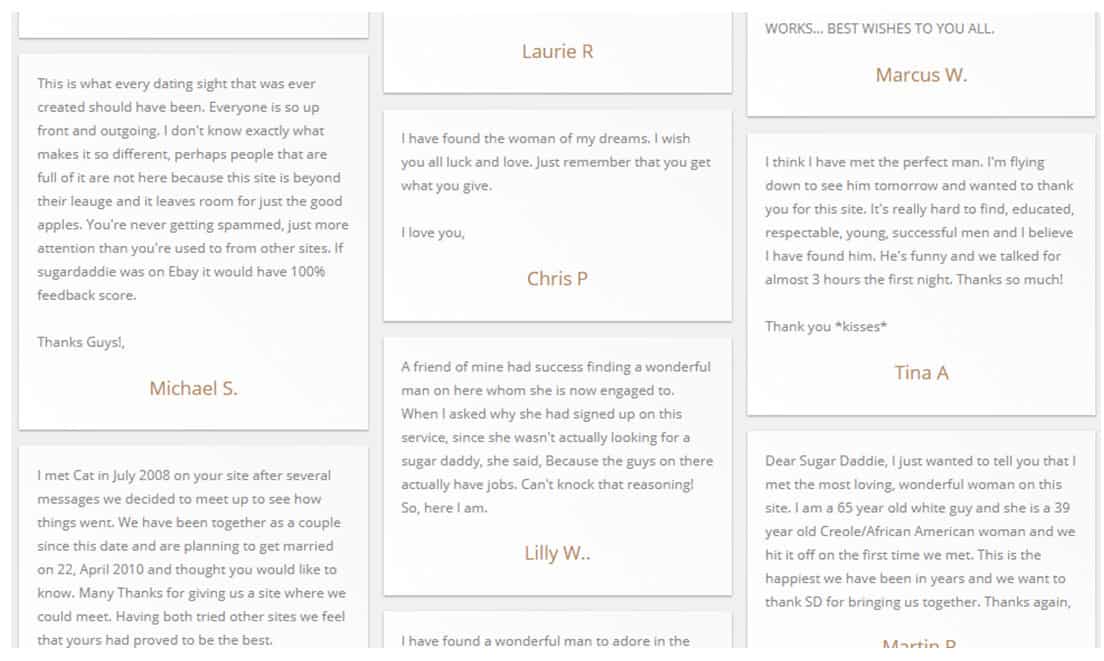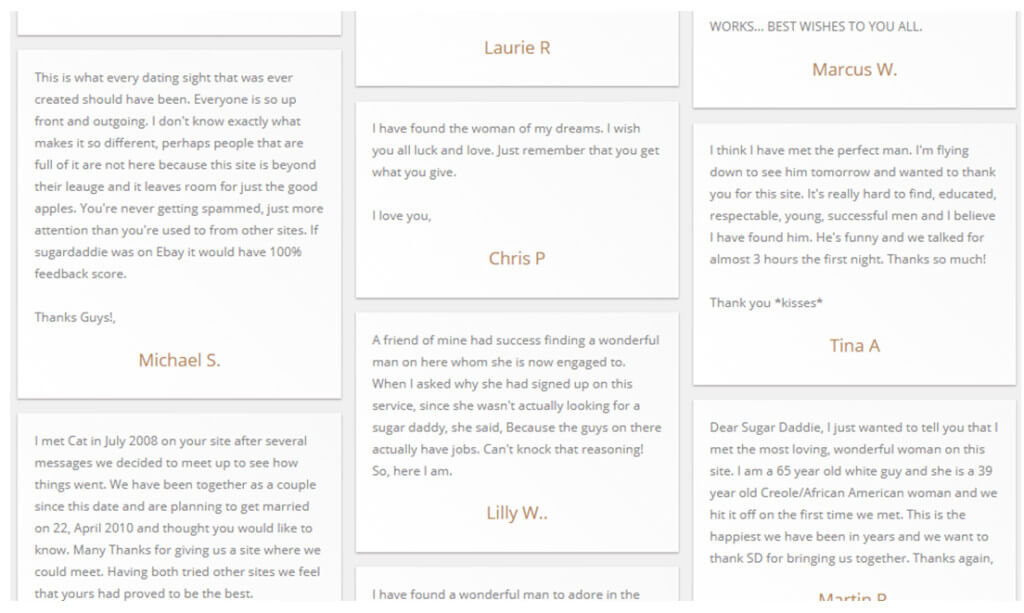 This is also confirmed by the fact that the site exists for over 15 years already and is set on existing for a while longer.
Not to mention the fact that the number of visits to the site is ever-growing.
Now that we have successfully dealt with the possibility of finding a sugar daddy or sugar baby through Sugardaddie, let's see what other things the site has to offer.
The next topic we are going to discuss in our review is the key features.
The key features are the heart and soul of any dating website.
They define its "personality" and are the practical reason that you go back to a site. If the key features are poor, then what's the point of it all?
The majority of the existing dating websites are dedicated to offering an array of communication options and this is all great if you're young with a bunch of time on your hands.
However, I already mentioned Sugardaddie is a bit old-school so obviously, things are going to work differently in this case.
This is why Sugardaddie decided to stick with the "traditional" e-mail messaging and instant messaging. Still, these are only available to paid members.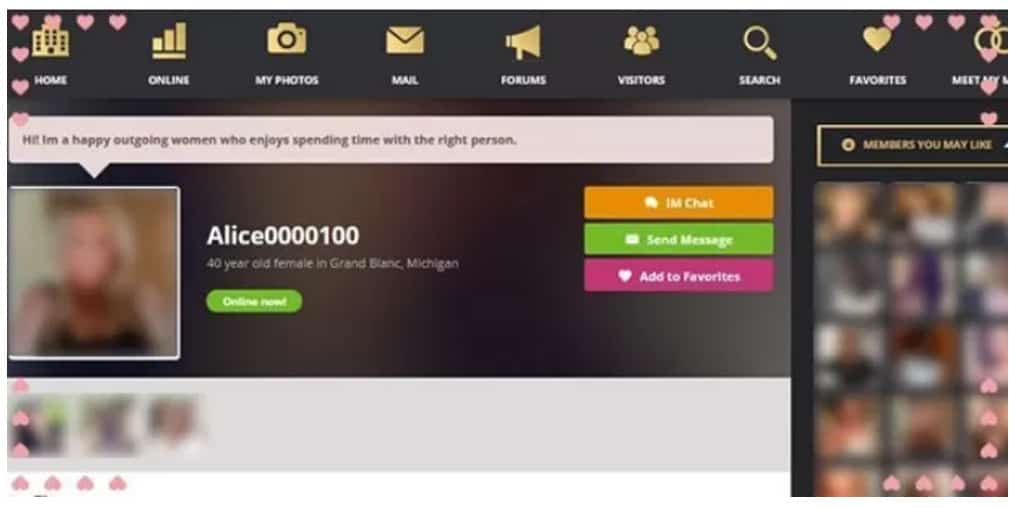 Anyways, let us see what Sugardaddie has to offer when it comes to its key features and how you can make the most of it.
Hmm, meet my match?
Yes and yes!!!
The point of online dating is to meet someone new, someone, you don't know through your friends, someone with who you do not share cousins.
So, once you let yourself go into this, you are expecting to lay eyes upon all sorts of people.
Sometimes you can browse and filter yourself, sometimes you can let the site choose for you.
In the latter option, when you see somebody's profile – it's all up to you; you can either choose to pair up and match with this person. By clicking a mere Yes, a match will be made and clicking No means that you'd rather pass the given match.
Choose wisely!
And, what would that be?
Basically, it's the rating of your profiles among the other ones on the site that is subsequently divided into eight separate categories.
It is made of every activity that you do on the site, and the more activities you try, the higher your overall score.
However, bear in mind that the paying members can increase their score way higher than the other members since they have full and unlimited access to all the site features.
Typically, people resort to forums when they need a piece of info about something.
Now, what makes Forums an interesting feature of Sugardaddie?
Well, primarily, this would be the fact that you can get informed on a variety of subjects and topics that other members found relevant to post.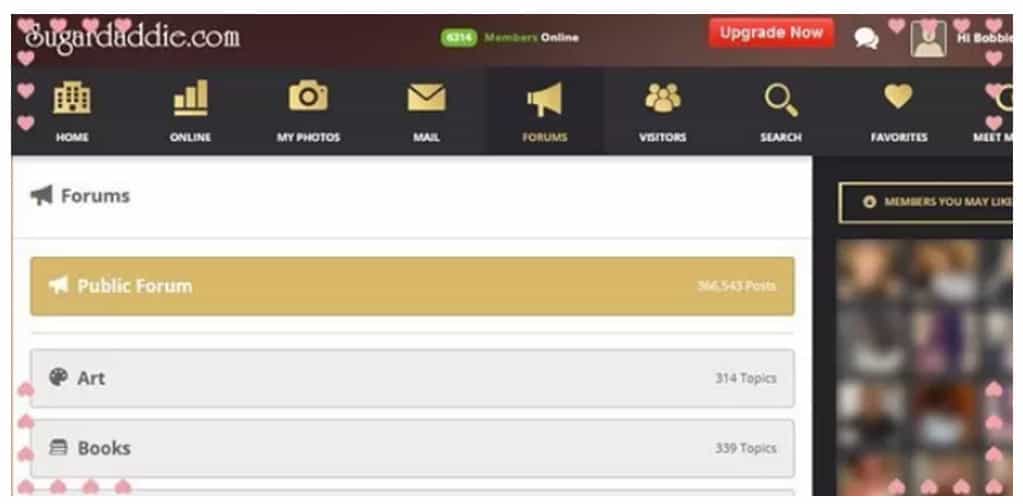 This is how you can gain an insight into other people's experience with the website and find out how to resolve some of the issues.
What you need to bear in mind is the fact that you can also join the current conversation or post a new topic.
You can enjoy and read different topics posted by other members. Although, you need to have a premium account to join with the discussion by posting your text or giving comments.
And, the ultimate question in our basics section is How easy is it to use Sugaraddie.com?
To even begin answering this question, we need to be aware that ease and simplicity are best shown through the categories listed below.
I mean, what's the use of a simple communication option if the registration takes hours?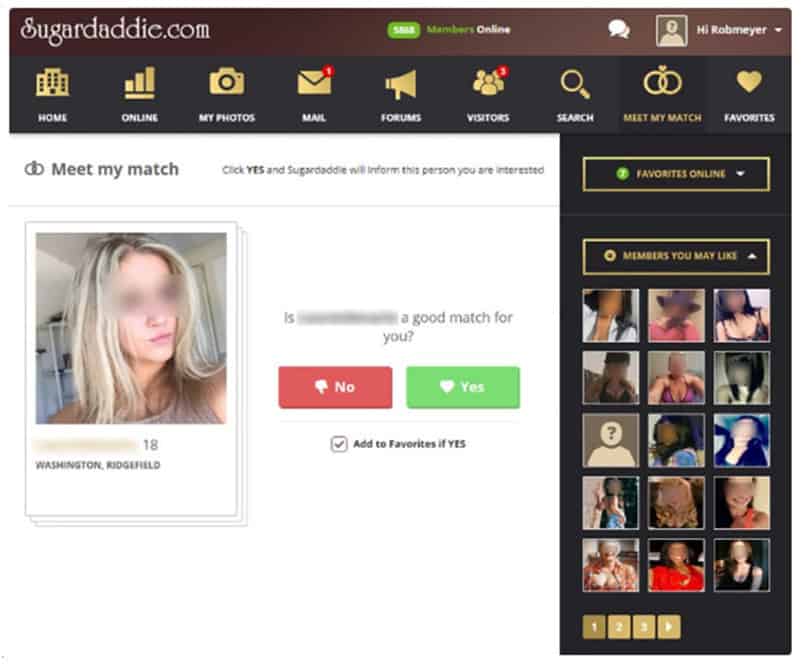 Remember, this is the age of fast lifestyles and fast solutions.
No time to waste.
Accordingly, let's move on to…
Occasionally, registration to a website can be a true nightmare. Not only that you have to fill out the initial form, but you also have to deal with excruciating questionnaires.
Still, sometimes the entry form you find on the first page is more than enough. But, then the matches may not be of the required quality.
To be perfectly honest here, Sugardaddie.com falls somewhere in between these two.
How so?
Well, the registration process is no pain, for one.
Once you go to the site homepage, you will see the entry form that only requires a few details.
To begin with, enter your username (you are aware that this does not have to be your real name; it's good in terms of preserving your privacy), select the gender (SugarDaddie or SugarBabe), and enter your e-mail address.
After this, confirm your e-mail and create a password.


And, that's about it.
Having completed this stage, you will have to activate the registration via the link that the site sends to you.
What comes next is answering some highly essential and personal questions such as where you come from, your age, hobbies, and naturally, the income.
Only after these, you can count yourself to be a member of the Sugardaddie.com community.
Interestingly enough, this is the only way to register. The registration through Facebook, Google, or Apple account is not enabled. At least not so far.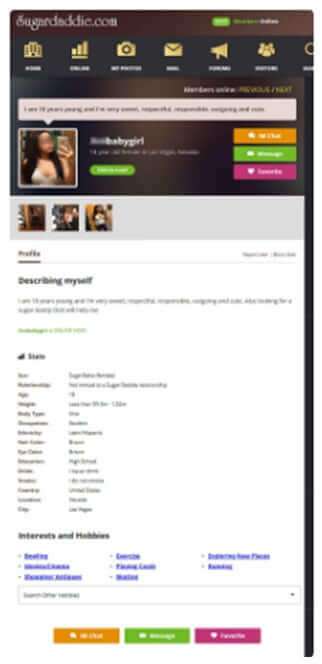 I will not lie to you – Sugardaddie.com could use improvement of its platform in general. The site may be slightly outdated, but, let's cut them some slack.
They've been around for so many years and are still bringing SugarDaddies and SugarBabes together.
Anyways, the ease of navigating through Sugardaddie.com starts with a simple registration.
Once you do this and provide the remaining personal details, everything will be available at a glance.
The bar on top will display the site logo and the icon that leads you to the current online members.
In the bar immediately below you will find the Home button, Photos, Favourites, Meet My Match, and Search, among other things.
You will also like its black and gold design that gives a bit of a luxury sensation without going overboard turning the layout into a tasteless virtual space.
The important thing is that the site caters to the simplicity of its use. You don't have to spend a large amount of time looking for the features that you need.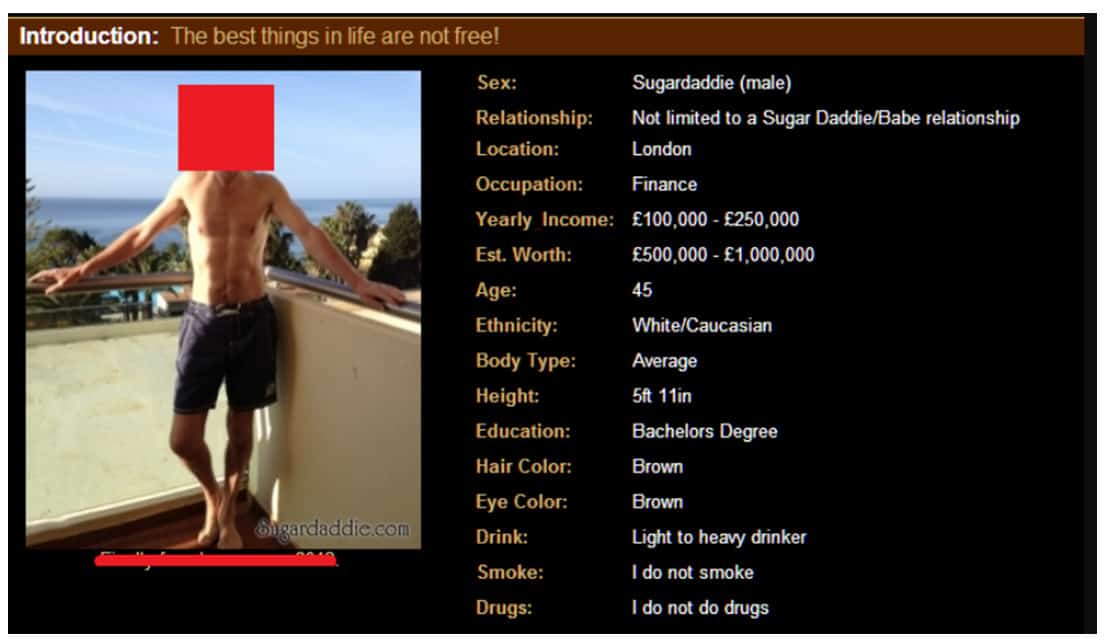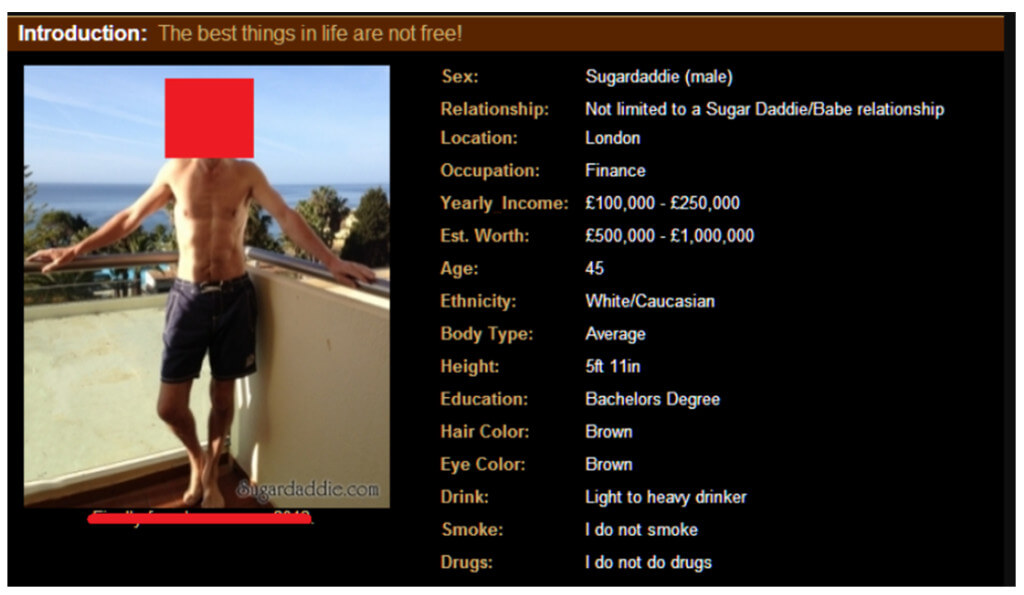 The site designers are aware of how frustrating this can be.
This is why they made the site navigation as simple as possible allowing you to find a match in no time.
Having gone through the most important details regarding the site navigation, it would be great if I could give you the Sugardaddie dating app review.
Sadly, I will not be able to do that.
Why Sugardaddie.com did not invest in a functional app is beyond me.
This is a time when we need to do things as we go, which is why the existence of an app would be ideal.
Still, Sugardaddie decided to stay on the website level just yet.
However, the site is generally mobile-friendly so you can access your profile and your homepage from your phone too, without major difficulties.
And, finally, is Sugardaddie worth it, money-wise and result-wise?
The topic that naturally follows after all the previous writing is the Sugardaddie.com cost.
Sometimes the cost is the most relevant factor that you need to pay attention to when deciding whether or not to give a chance to a dating site.
Though, having in mind the fact that you are a sugar daddy/mommy looking for a sugarbabe/boy, I don't think the price will be an issue.
Anyways, let's see the facts first.
You know already that dating sites typically offer a variety of paid memberships.
This is also the case with Sugardaddie.com. As for some actual pricing, this is what you need to know.
First of all, the site offers four different variations of the paid membership, such as Bronze, Silver, Gold, and Platinum.
The Bronze package is a paid upgrade that lasts only a month and it costs some $39.99.
Next, the Silver package lasts for three months and the price is some $26.66.
As for Gold membership, your monthly rate will be $22.49 and the overall package is for 6 months duration.
Finally, the Platinum package lasts for a full year and it will cost you some $14.16.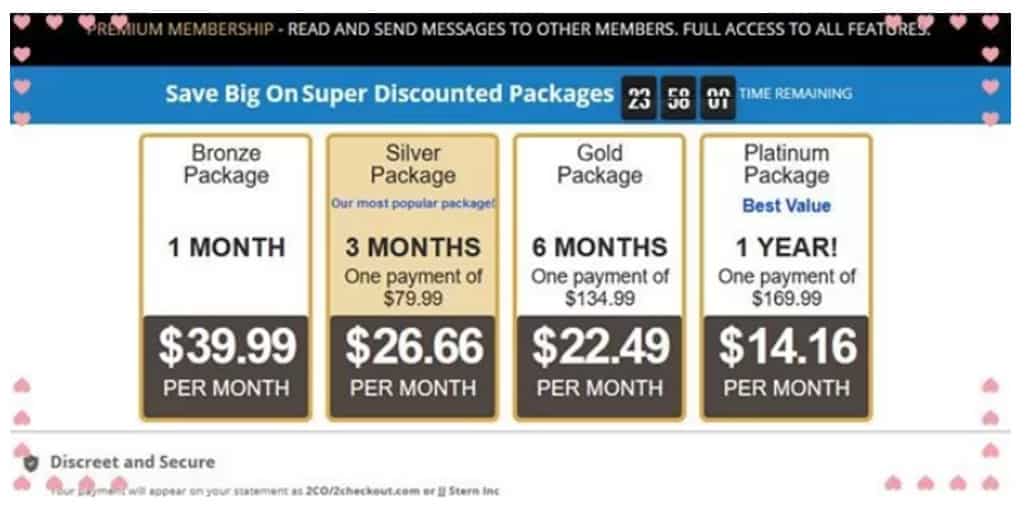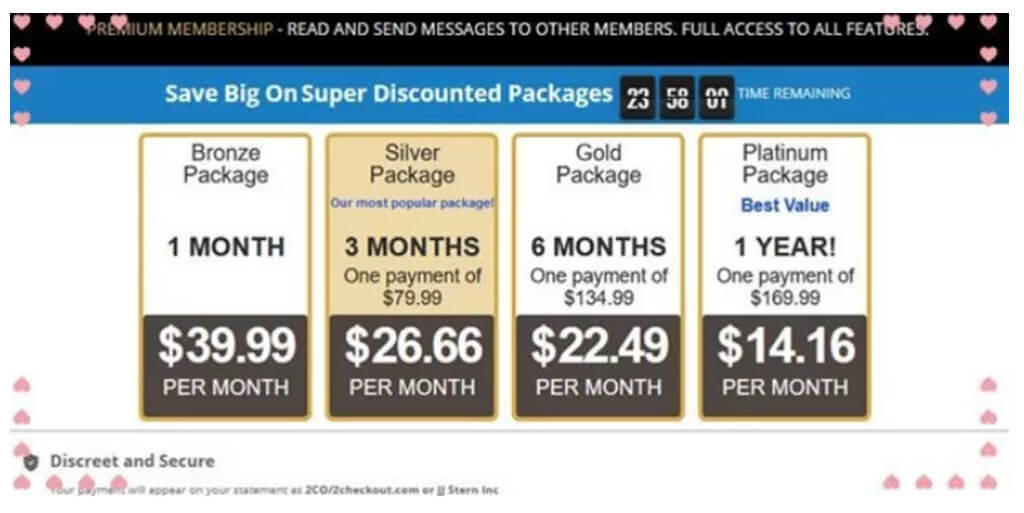 Bear in mind that the prices may be different in your case since they slightly depend on the users' location.

Conclusion and Overall Rating
So, is Sugardaddie.com legit?
I don't know – you tell me.
We're living fast lives, always striving to earn more and live better. Sometimes, there's a shortcut to it.
In this case, your shortcut can be Sugardaddie.com whether you are a sugar babe or a sugar boy looking for a sugar daddy or sugar momma respectively.
Here you got the full review so give it a try and let us know your experience!
Cheers!
As we have reached the end of our discussion together, there is just one little thing we cannot afford to miss.
Yes, it's the FAQs.
Even though the majority of these as already been answered directly or indirectly in the text, I will try to clear out some of the remaining doubts you may have.
Naturally, let's start from the state of facts.
As for the issues and doubts you may have with the account, these are the most important things you need to know.
And, finally, let's check some operational quirks.