Meow!
A cat person's dating app?
Yes, that's what you have in Tabby.
It's a niche dating site for cat owners who want to meet others just like them.
OFL Top Recommendations based on 100,000+ Survey

"Serious Relationships"
"Discreet Hookups"
"Best Course for Men"
"Quick Flings"
"Normal Hookups"
"Our Quiz"
So if you are someone your friends call "the cat person" and you are looking for a like-minded person to date (like Tinder or eHarmony) or hookup (like BeNaughty or Ashley Madison), Tabby might just be the "purrfect" fit.
We will look at where Tabby exceeded our expectations and as well as which areas they can improve on along with:
So if you are a dog person, you probably barking up the wrong tree with this review but for cat lovers, let's get right into this TabbyDates review.
Is your dating app giving you the best chance for success?
Make sure to take our online dating site/app quiz to find out.
It's a fact that people who follow our dating site suggestions have on average 2 extra dates per month.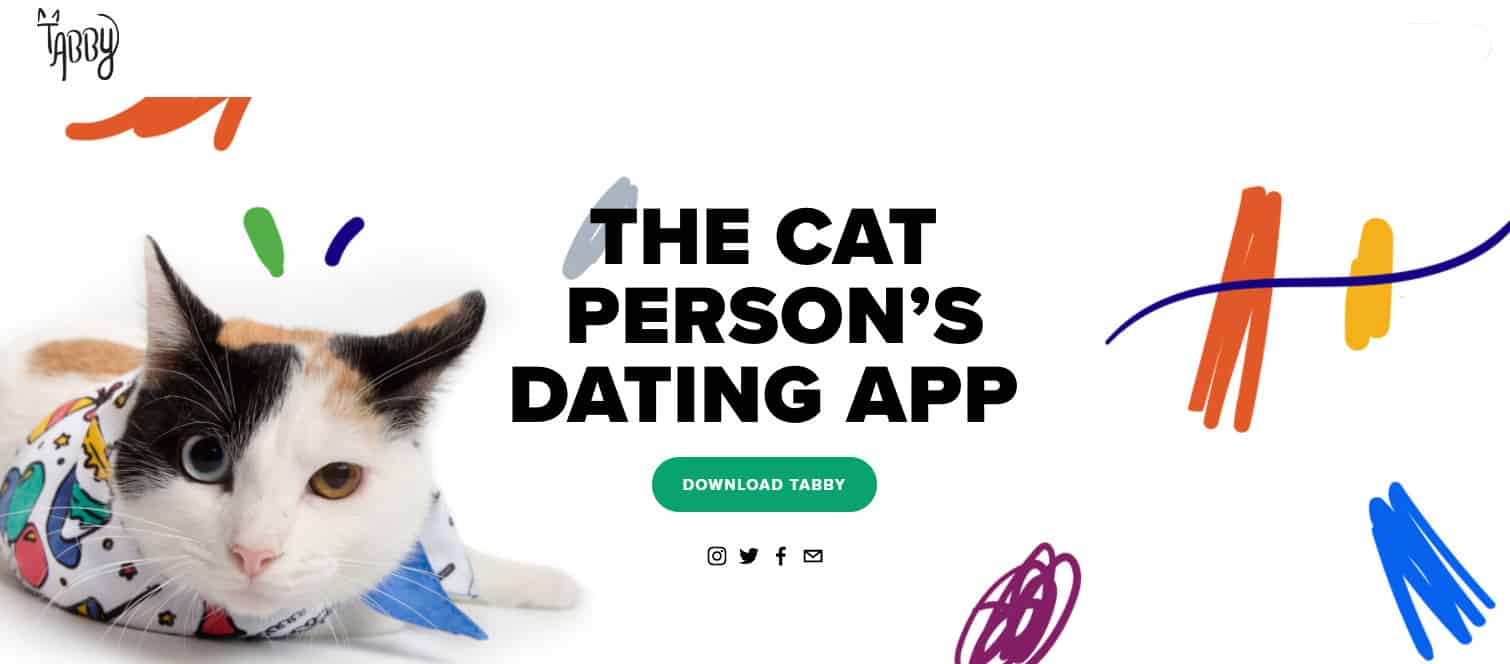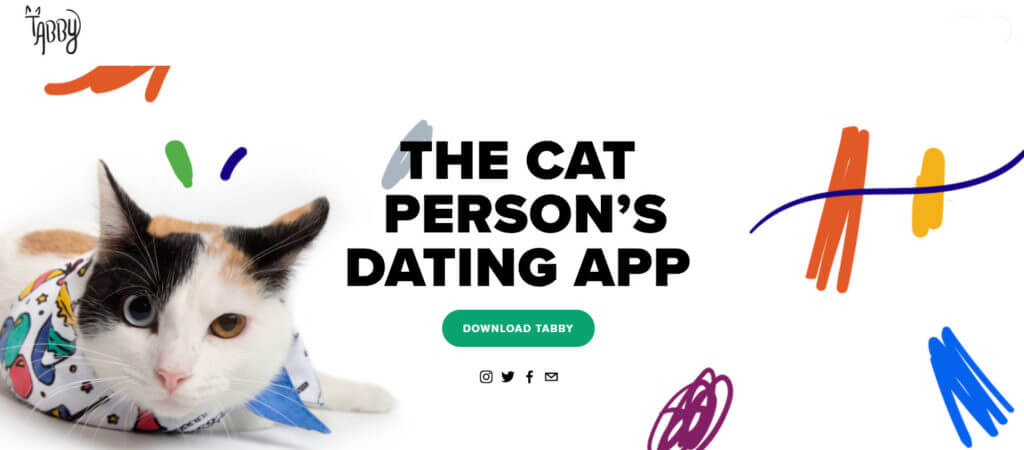 Ease of use – 5/5
Success rate – 3/5
Key features – 3.5/5
Price – 3.5/5
For such a niche app, Tabby offers both website and app options for users
The app is extremely well designed, easy to navigate and lots of fun to use
You can send messages for free although it is limited to one per person
Profiles don't contain that much information
A very small user base can limit your chances of finding matchups near your location

Who's It For/Demographics?
Niche dating sites for people that love animals have been around for a while.
For example, Dig helps dog lovers to meet up with like-minded people and now Tabby is doing the same for those of us who love cats.
Rest assured, the kind of people that register a profile on Tabby might be dog lovers too, but cats are more where it's it.
So if you know when international cat day is, you are the kind of person Tabby is aiming at.
OFL Top Recommendations based on 100,000+ Survey

"Serious Relationships"
"Discreet Hookups"
"Best Course for Men"
"Quick Flings"
"Normal Hookups"
"Our Quiz"
You don't have to be a cat owner either, but of course, you have to love them!
But just how many people have registered for profiles on this fairly new dating app?
Well, finalizing the total user number was next to impossible, but as this is as niche a dating app you could ever find, it's never going to be huge at all.
My research indicates:
Around 10000 Americans have sign-up with Tabby Dating
The Tabby app has been downloaded over 10000 times off Google Play where it has a rating of 3.9 stars
Tabby is a free download off the App Store as well with a rating of 3.2 stars.
Around 1000 new users sign up for Tabby each month
Gender ratio and user age range breakdown
With an app that obviously has a smaller user base because it is so niche, evaluating the gender ratio is super important.
And yes, the closer the ratio of male to female members the better when there aren't millions of users as is the case here.
In conducting this research, I would have thought that there would be more female users of TabbyDates than male users.
But it's actually the males that more profiles here, but only just.
55% of the profiles on Tabby are male
45% of the profiles on Tabby are female
So it's almost 1:1 but not quite.
When we analyze the age ranges, they are extremely interesting.
The two biggest groups of users are fairly far removed in terms of ages.
The biggest group of users by age are between 25 and 34 years old.
They make up 27% of all users.
The next biggest group of users are one that I initially thought would be near the top.
That's the 55 and older group who account for 20% of all users.
The third biggest group of users are aged from 35-44 years old and make up 19% of the user group.
The data I collected, however, showed each age group well represented with users.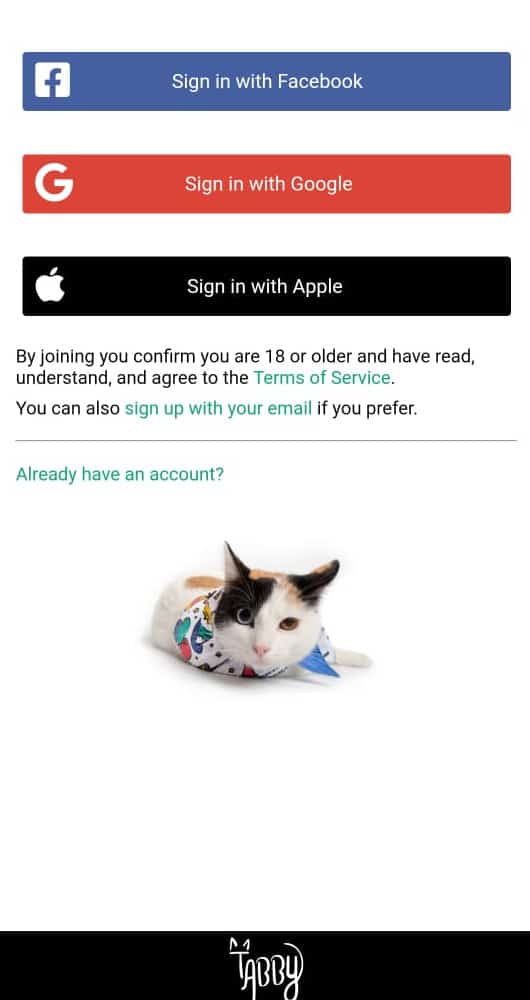 In testing a niche dating site like this, I would have never expected it to have an app.
But yes, Tabby has both an IOS and an Android app or you could use the TabbyDates.com website to register as a user.
I took the app route when signing up for a profile on Tabby and I can confirm that it was a breeze to get my profile up and running.
Once you've downloaded the app, you can log in with either your Apple, Google or Facebook account or register using a valid email address.
I took the latter option which means Tabby needed the following information as well:
Your gender (including LGBTQ+ options)
Your name (and that of your cat, if you'd like to include it)
A password
Your date of birth
The gender you are looking for (again, with including LGBTQ+ options)
The age range you'd prefer
Your email address
At this point, you are sent a confirmation code to confirm that you have given a valid email address.
Once you enter that code, the registration process continues with you filling in some profile information which includes:
Your location
A profile picture
A headline for your profile
An "About Myself" section.
After that's you are free to start your journey on Tabby.
I cannot talk for the website, although I would think it's pretty similar but the Tabby app is an absolute joy to use.
Your profile is not active straight from the start as it still needs to be clarified by the admin team.
But you are welcome to explore what Tabby has to offer.
I cannot highlight just how impressed I am with what's on offer here.
From my perspective, Tabby is super impressive, considering that this is such a small dating niche.
Its slick and professional design makes Tabby a joy to use.
One thing that they got right about the overall design of the app is that the navigational menus themselves are found behind a menu.
So when you load up for the first time, everything is extremely uncluttered with the profiles of the users front and foremost, as it should be.
Each time you use Tabby, it will present you with potential matchups.
I will talk more about how you can interact with these a little later.
Below this, however, you will see two menu icons.
The cog on the left of the settings menu.
The three stripes on the right open the main menu section by which you will navigate the app.
So what menus will you find here?
Well, there are quite a few:
Profile: You can access your Tabby profile here. You can also edit it and set your preferences.
Notifications: Any important notifications that you need to know about will appear here to remind you.
Messages: All messages, both sent and received can be found under this menu
Likes: See the profiles you have liked and those that have liked you back for a mutual match
Catty: This links to a host of resources for cat lovers and daters alike in including friendly date ideas, discounts and more.
Search: You can launch searches for matchups here using the Tabby search engine
Meet: If you like to be presented with matchups that you can pass or like, then click the Meet menu to find that purrfect partner.
Cat Tree: A social networking feed of sorts. You can post status updates here and those who match the criteria you are looking for in a potential date will see it. Users can then comment on your status or the picture you have uploaded.
I believe that Tabby has one of the best user interfaces I've yet seen for a dating app.
It just works incredibly well and one of the strengths is the clear, uncluttered design.
It's just visually appealing and you will enjoy spending time using the app.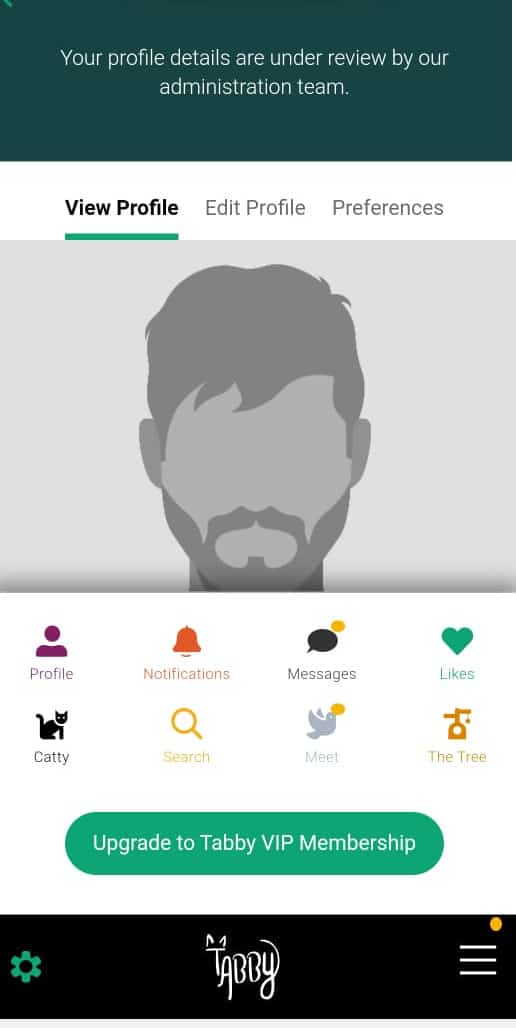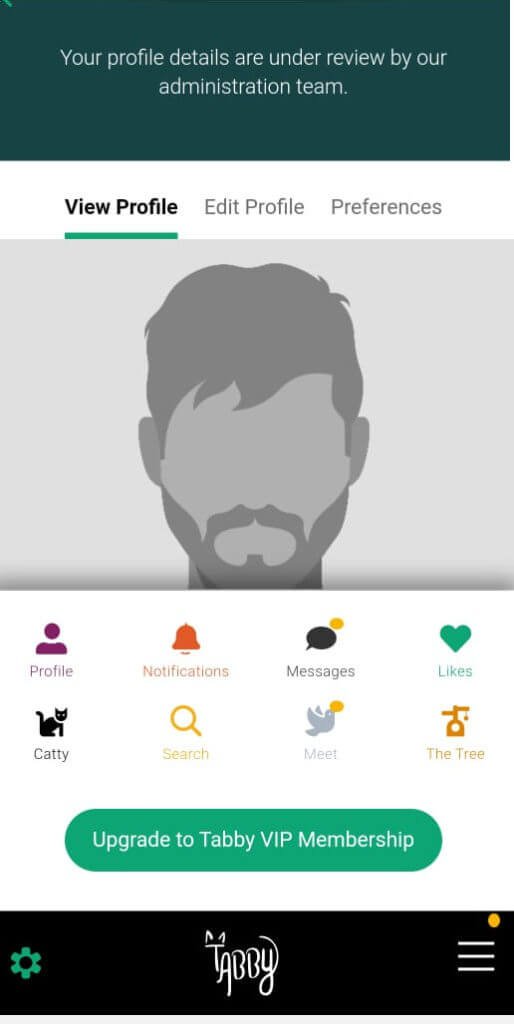 While I love many different things about this app, one of the areas that was a lot worse than I expected came in the form of user profiles.
While you would have filled in some of it during the registration process, you'd probably would have expected to add a few more details once you gain access to the app, right?
Lots of dating apps handle profiles in that manner.
The thing is, with Tabby, you profile is basically done.
It really has the bare minimum.
The only information you will find here (and about another user when you view their profile) is:
Name
Age
Profile headline
A description of the person
Location
Photos of their cats (if they have added them)
information about their cats (for example, if they are allowed indoors, are lap kitties, if they are purebred, if they are an influencer, if they sleep in your bed and more).
And that's it.
I get that this is a niche app and that cats are a critical part of but what about the human as well?
I want to know more about someone before I reach out to contact them but there is nothing to really find out.
This is a major critique from my point of view.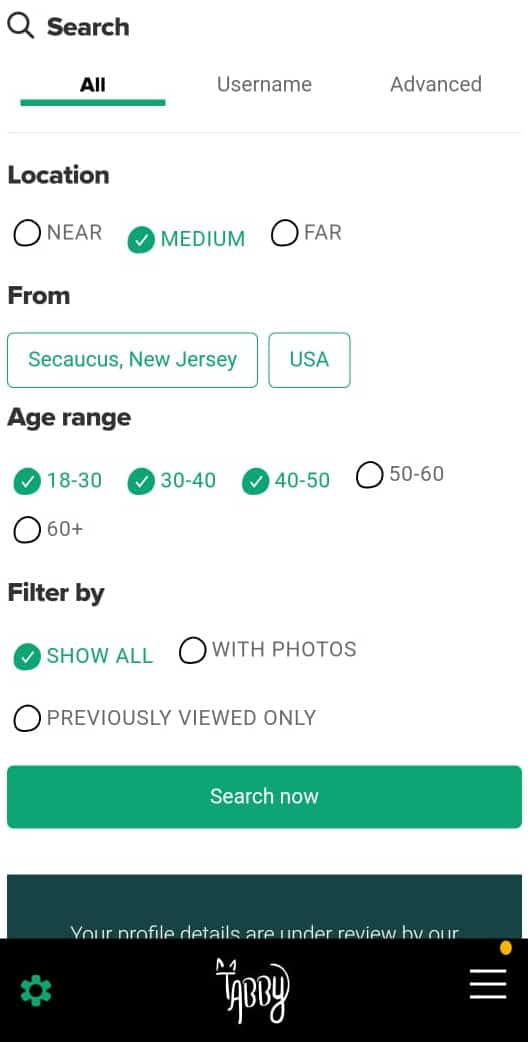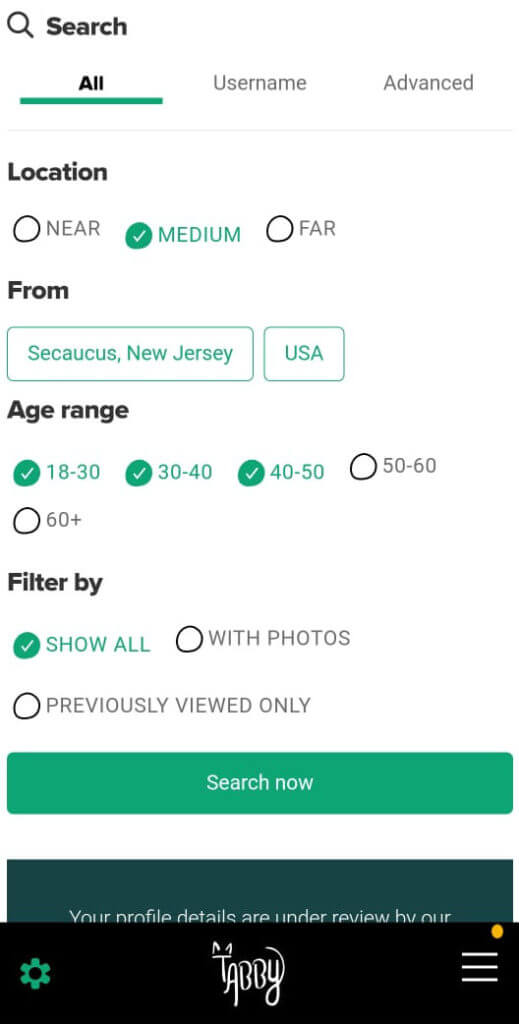 So just how does Tabby handle your search for a cat person just like yourself.
Well, there are numerous ways for you to find that perfect matchup.
If you love swiping the most obvious place to start is with the Match menu.
Here, you will be presented with profiles that meet your criteria as set out during the registration process.
You can see a user's full profile here as well including their profile header, their "About Me" section as well pictures and information about their cat, if they have uploaded something.
The star, however, is their profile picture which takes up about half of the screen.
With each profile, you can swipe left if you'd like to move on or right if you like what you see.
This can be achieved with the red sign on the left or the heart on the right as well.
There's another down arrow, however, that opens up a small menu system.
Here you can:
Like their profile
Send them a message
Block or report the user
Just the way this is all laid out is just so well planned and demonstrates to me the effort the team behind Tabby has put in.
Another way to find potential matchups is by using the Cat Tree.
You'll find users that match your criteria here and get to see their pictures and status updates in a social networking feed.
You can access profiles from here or leave a comment on their photo as a way to break the ice if you'd like.
Searching for your own matchups
There's a third way to look for a potential partner on Tabby and that's by launching your own searches.
While I don't mind swiping through profiles that an app suggests for me, I love to gather up potential matchups by searching myself as well.
By clicking on the Search menu, you can do that.
Here you can change the following parameters:
Location: You have three options – near, medium or far
From: Here you can change the overall location of where you want to search
Age range
Filter by: Your options here are Show All, With Photos or Previously Viewed Only
You'll notice an Advanced menu in the top right of the screen.
When clicking on it the first time, I couldn't really detect what extra parameters it had added to the search.
The second time I did so, however, I noticed the only addition what that you could order the profiles and how they are returned.
These options are:
Most recently logged on
Newest profiles
Most liked
While there's plenty that the team at Tabby has got right with this app, this is one of the things I feel they have got wrong.
This advanced search doesn't add that much extra does it.
Why not just add those options to a regular search?
An advanced search for me allows users to search for specific profile parameters, like height, hair color and things like that.
As Tabby doesn't have this in their profiles, there isn't really a need for this Advanced search menu.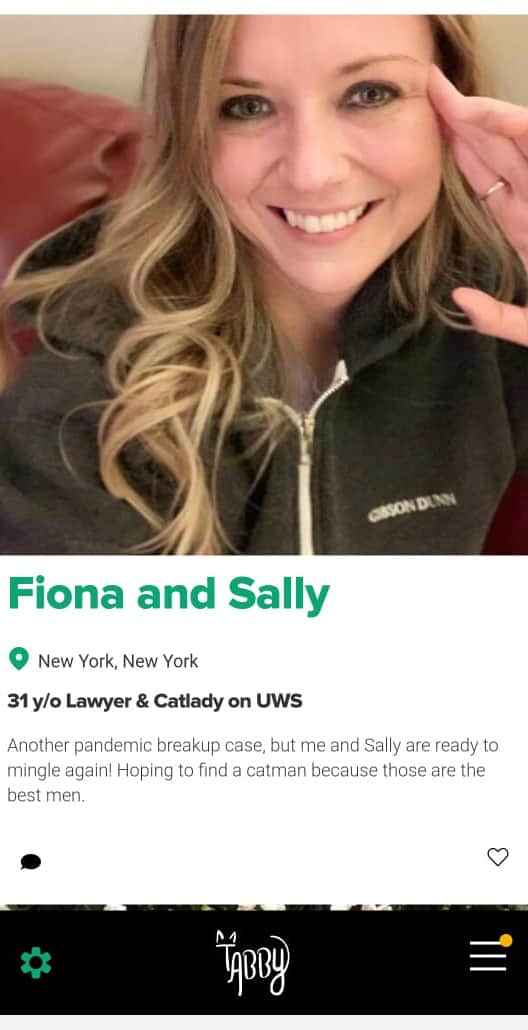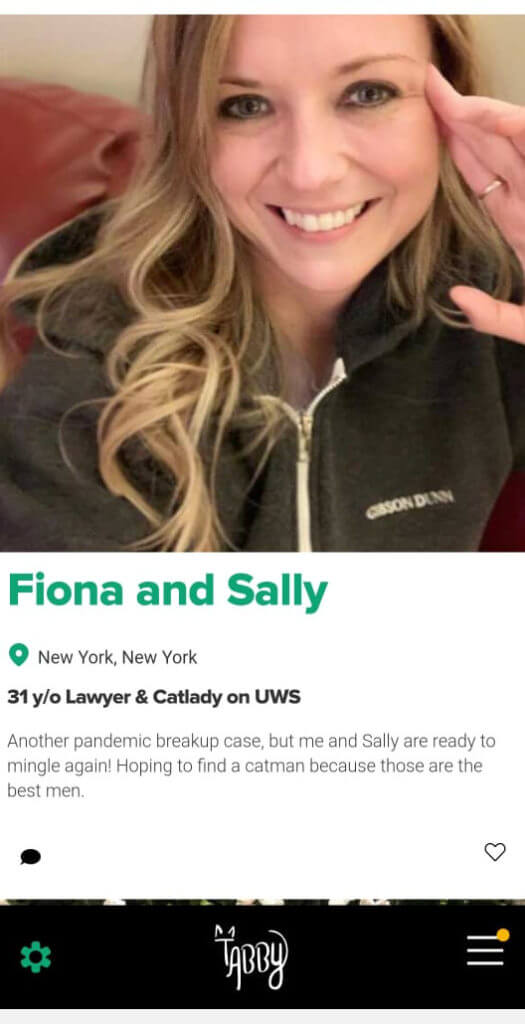 While Tabby uses the roulette-style match game that most other dating apps offer, you don't need to matchup with someone to message them.
Yes, you can send messages to other users on Tabby, but of course, it is limited.
Simply click on a users profile, find the message menu, type out your message and send.
The thing is, you can only send one message to each user.
After that, you are going to need a membership.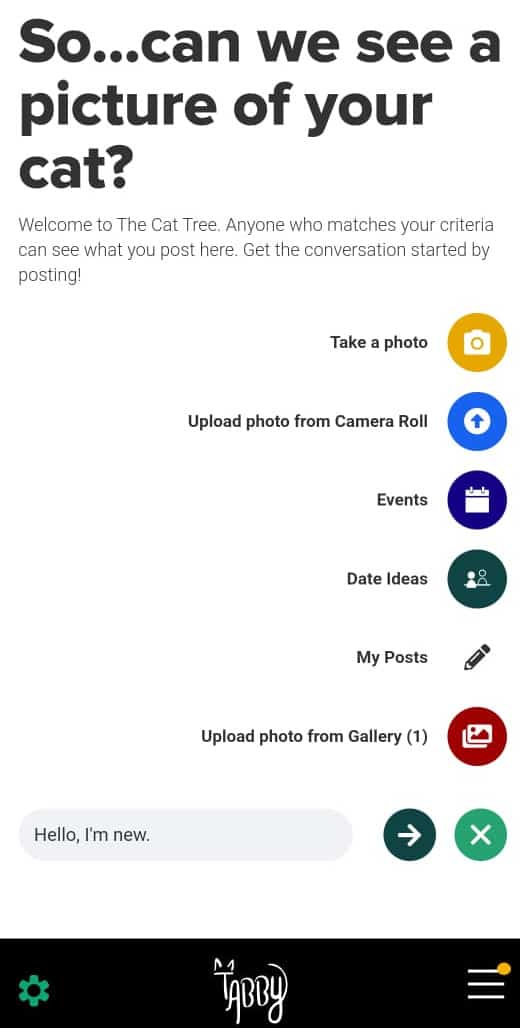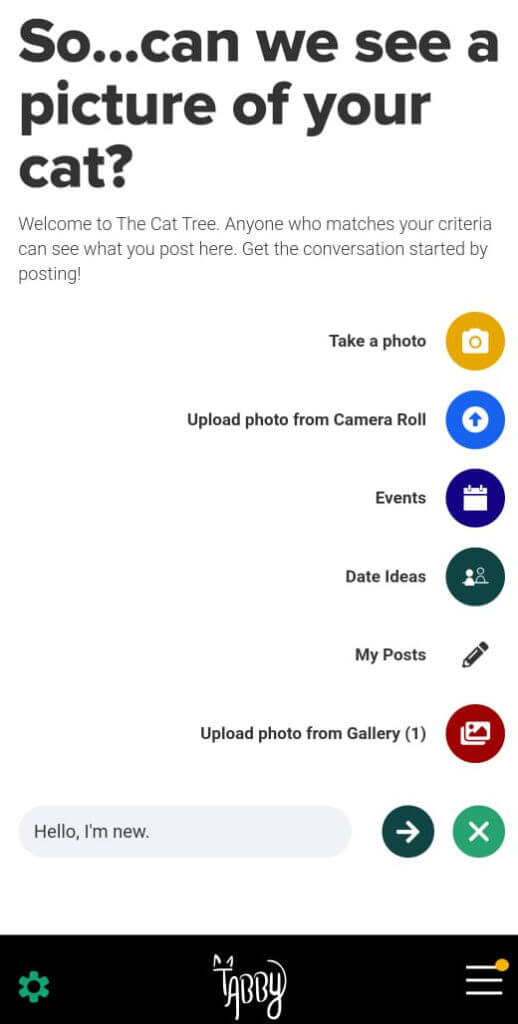 Tabby is no different from other dating apps.
At least you can use some form of messaging.
With others, there is often no messaging at all.
Here are the other key features that you can expect from membership to Tabby.
Send and receive all the messages you want as a Tabby member.
Without messaging, you aren't going to get very far on this app, that's for sure.
2. Member's posts are moderated quicker
The Tabby admin team are on the ball when it comes to helping ensure the site is secure and that it's used for what it is intended.
And with a social networking aspect, that's necessary.
So when you post on the Cat Tree, as a member, your posts will be moderated and uploaded before regular users.
For me, this is a bit of an unsung hero when it comes to member features but you will see many dating apps making use of it.
Basically, all it means is that as a member, your profile will appear first in other user's searches along with those of other members.
It's amazing what that little difference can make in having people reach out to you.
And when you are searching for love but also are a target for others, finding a potential matchup just happens that much faster.
4. See who has viewed/liked your profile
Another key feature that I love and is often seen on dating apps, seeing who viewed or liked your profile is priceless.
You may have just missed someone in your own searches and this is helpful so you can take another look.
After all, they have a huge interest in your, right?
They wouldn't have viewed or liked your profile if they didn't.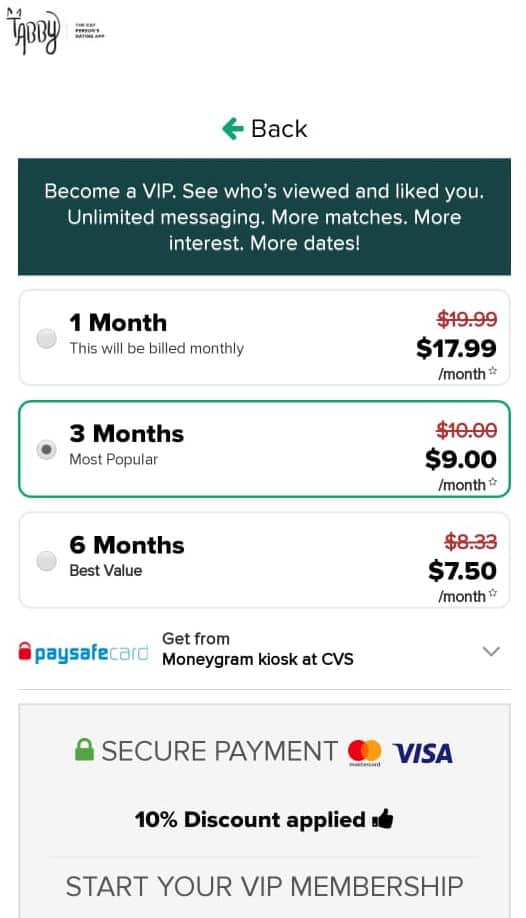 Even though you are going to need to sign up for membership to the app to message others, I can't say that the other key features are that impressive.
But what is membership going to cost?
Well, Tabby Dating has three options for you:
1-month membership: $19.99
3-months membership: $29.99 ($10 per month)
6-months membership: $49.99 ($8.33 per month)
Initially, I thought that membership was a little overpriced.
Many apps offer a monthly membership at $9.99 or $14.99 for example.
But then I remembered that Tabby is not only a niche dating up but also offers a website version.
Many dating websites and apps are priced in the $30 and above range for a monthly membership.
So my findings on pricing are that Tabby could be a little cheaper when it comes to the one-month membership option.
But it is also easy to see why it's priced like it is.
If you want to pay less, just pay $30 and you have membership for three months.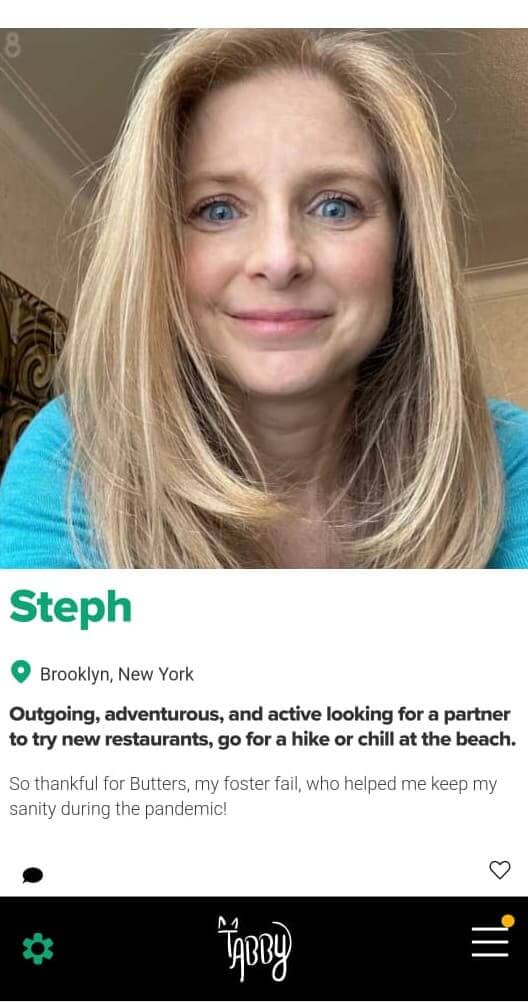 Conclusion and Overall rating
That's it for our review of TabbyDates.com.
Let's summarize then.
If you are a cat lover and you want to meet like-minded people, then I would suggest that Tabby Dates is a must.
That's because you can easily register a profile here for free, search for potential matchups and even send a few messages.
But effective use of the site is going to need membership which while not pricey, isn't cheap either.
What I love about Tabby is the overall experience of using it.
Despite this being such a niche dating scene, those behind the app have taken the time to deliver something that's not only easy to use but fun as well.
So to conclude, let's give our rating for Tabby.
Today, it gets a 3.75 out of 5.
That would be higher but because Tabby has such a small user base, not everyone is going to find a potential cat-loving matchup near them.
The team from Onlineforlove both studied and tested Tabby (the app version) extensively.
We have concluded that for cat lovers, it's perhaps the best dating app available at the moment but that your efforts to find a matchup will be hampered by the small user base.
The approach we took in testing this app for review included using out the app over a long period of time rating important criteria as we reviewed it.
Our final evaluation of Tabby was based on the following critical factors:price, ease of use, success rate, user population, and key features, amongst others.