Today we're going to review an only-Jewish app called JSwipe which is dedicated to single Jewish people who want to start relationships with like-minded people.
It's not going to be easy reviewing such an app because there aren't many apps JSwipe can be compared to, but I'll try my best to cover all the features this app holds.
So without further ado, let's dive straight into the JSwipe Review!
Is your dating app giving you the best chance for success?
Make sure to take our online dating site/app quiz to find out.
People who follow our dating site suggestions have on average 2 more dates per month.
JSwipe Review in Video Form
Audio (podcast) form for those of you on the go
Ratings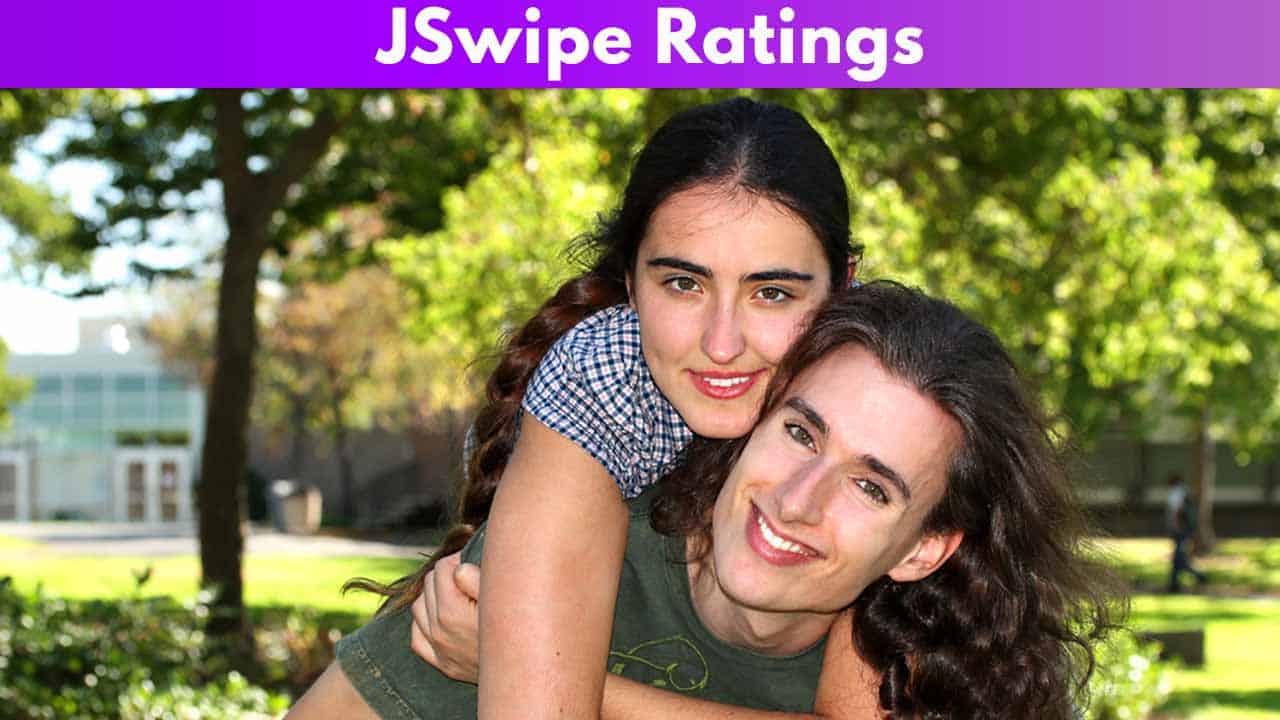 Effectiveness – 3/5
Features – 5/5
Ease of Use – 4/5
Price – 3/5
Pros
A lot of options to narrow your search
The majority of the members are in their 20s
Easy signing up process through Facebook
Free messages
You don't have to subscribe to use the app
Cons
Your match will expire if there is no conversation
You can only sign up using Facebook
Adjusting your location needs additional payment
Not much info on profiles
Who is it for?/Demographics Makeup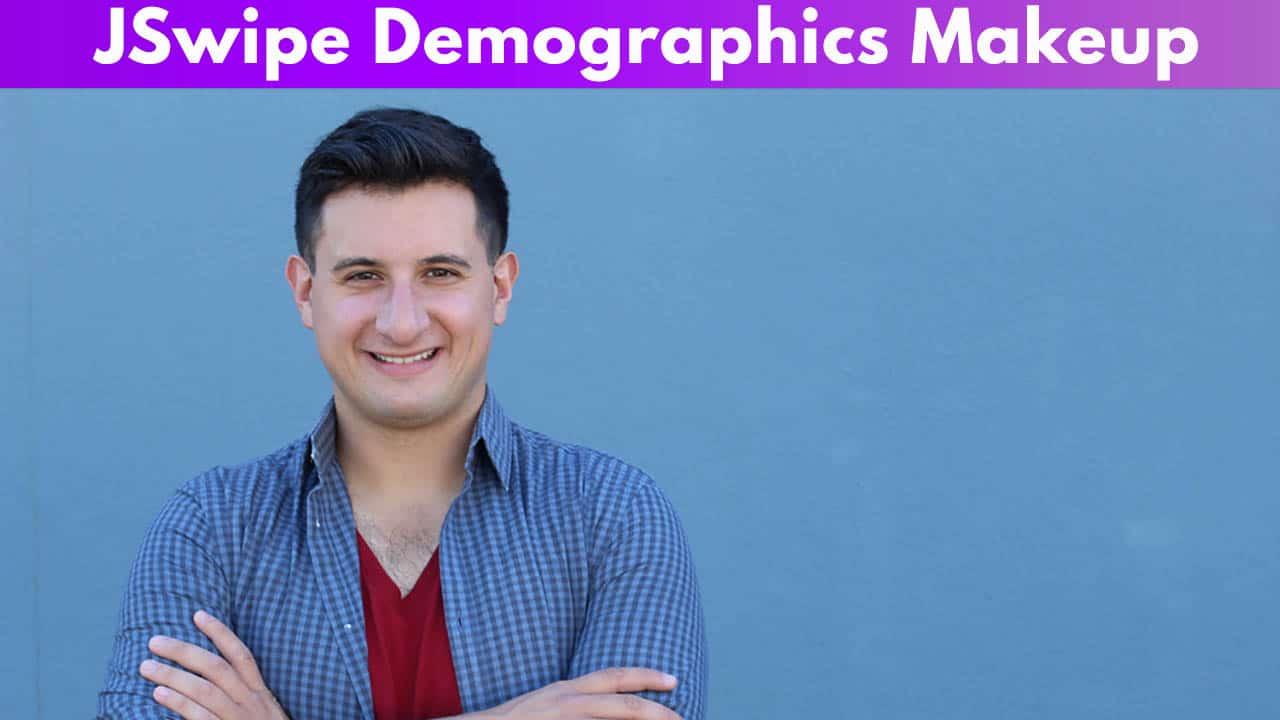 As you can already tell, JSwipe is an only-Jew dating app that aims at getting Jewish people from all around the world connect and maybe start dating or committing to a long-term relationship.
The app has about 750,000 members from more than 70 different countries.
However, the majority of the users are from the USA or Israel and because the matches are location-based, the highest probability of getting matches is right in those countries.
The founder of the app, David Yarus, claims that the people who use JSwipe are mostly millennials and that they take up about 90% of all users but there are also people in their 30s and 40s who use the app.
As far as gender ratio is concerned, there isn't much data but it is estimated that there are about 70% men and 30% women who are using the app which is quite normal for most dating apps.
Also, it has been reported by the Jewish Journal that most users who use the app are looking for long-term relationships instead of just hooking up.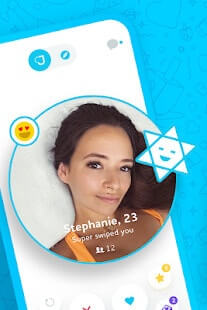 One thing that seems to be lacking in the JSwipe dating app is any sign of LGBTQ+ preferences as you can only choose between male and female genders.
And sure, you can search for men even if you're male but there still should be a lot more options since we're living in 2020 and most dating apps are making sure that the LGBT community is feeling welcomed.
So who is JSwipe for?
Well, as the name suggests, the app is solely for Jewish people, roughly in their 20s who are looking to settle down with other Jewish people.
To summarize, if you are Jewish want to date only Jewish people then this app is definitely for you.
Effectiveness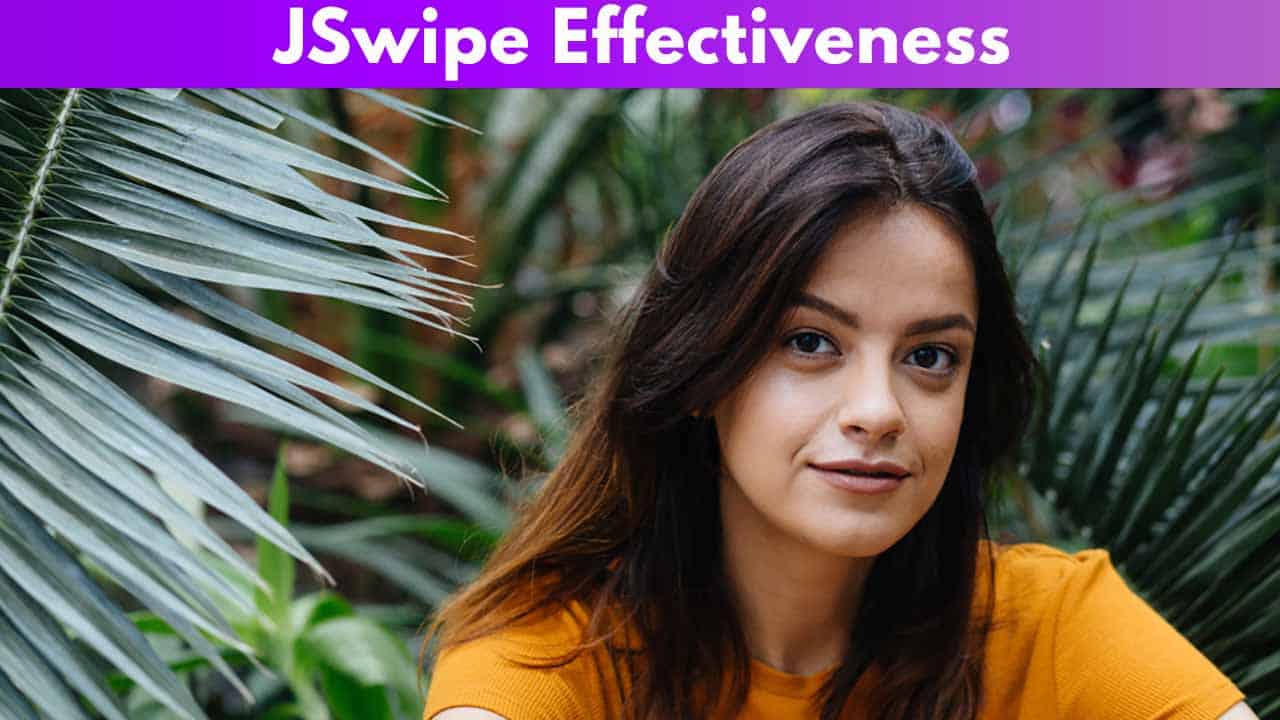 Because JSwipe is quite a specific app, the majority of the users know what they want and most of them want to start a long-term relationship with other Jewish people.
The app itself offers a lot for single Jews and the interface is quite smooth.
The way you engage other members is by swiping through their profiles just like on Tinder, Badoo, or Bumble.
Once you swipe right on someone, and they swipe you as well, it's a match and you can start chatting.
You can also undo your swipe with the premium membership which might sometimes come in handy when you're having second thoughts.
OFL Top Recommendations based on 100,000+ Survey

"Serious Relationships"
"Discreet Hookups"
"Best Course for Men"
"Quick Flings"
"Normal Hookups"
"Our Quiz"
What's great about JSwipe is that you have unlimited swipes and messaging other members is free.
The chat is your bread and butter and as with all dating apps, it is up to you to make a good first impression.
It's cool that you can even send photos in the chat which makes talking to other people much more interesting.
However, the main point of all dating apps, and JSwipe as well, is to get the girl's/guy's number and start chatting elsewhere so you end up meeting the person and maybe even start dating.
To narrow down your search for other people, especially if you want to date Jews who are from the same denomination as you, you can use the search filter.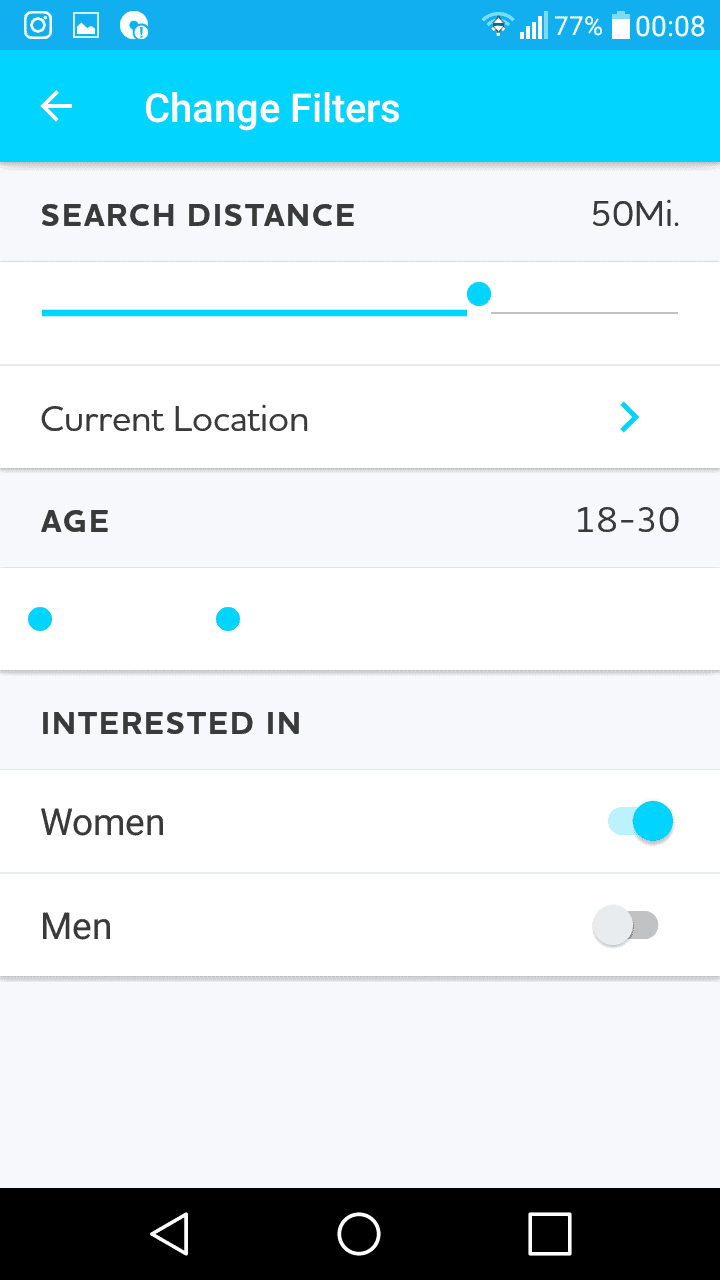 You can change the search distance to 100 miles max but with the JSwipe Passport, you can also change your location.
These two features are quite effective at getting users together and they're all for free so overall JSwipe is quite a good only-Jewish dating app.
All in all, even though JSwipe doesn't have a lot of users, the user count will increase over time and since the features are all quite nice, this app is sure to get you a date.
But don't believe me, thousands of users can testify that the app is quite good at bringing Jewish people together.
Features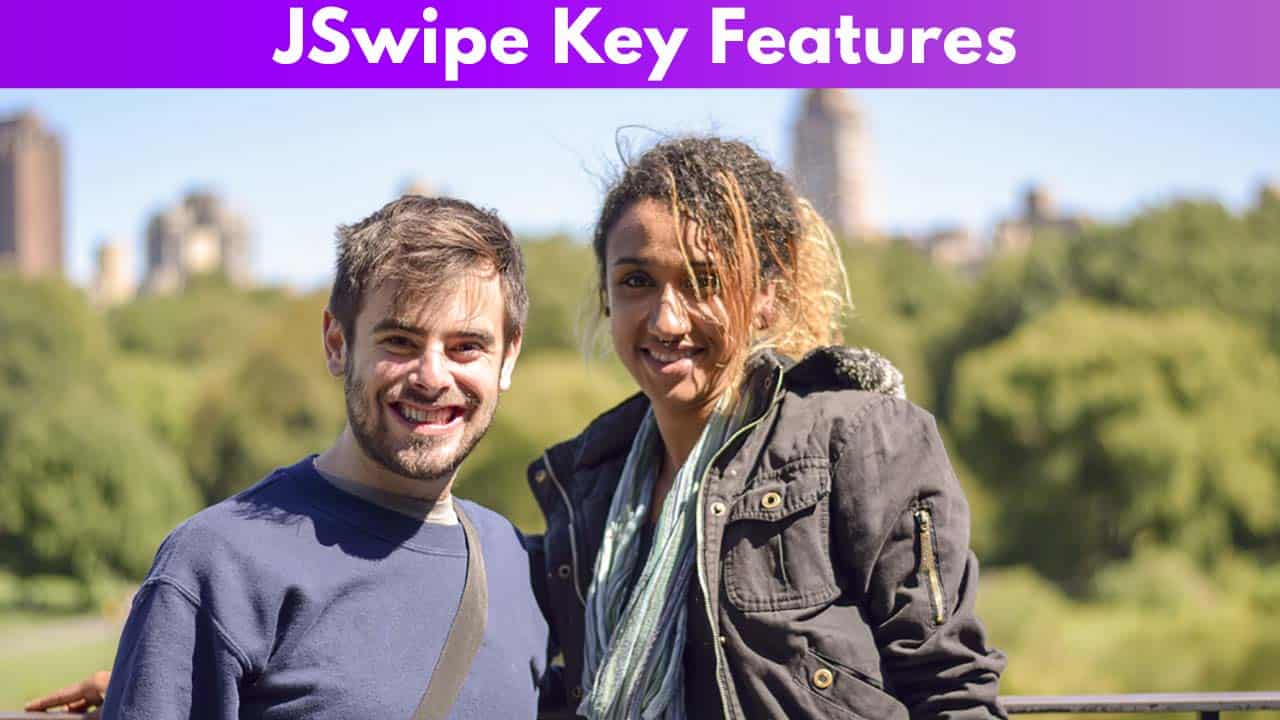 JSwipe is loaded with features that help its users get matches and have an easier time doing it.
First of all, I have to mention one feature that's quite unique is that you have unlimited swipes so you can spend your whole day just swiping and won't run out of them.
However, because the app is location-based and there aren't a lot of users on the app just yet, you might end up swiping through all the people from your area and still don't get a match.
Luckily, there is a premium option just for that.
1. Passport
Just like on Tinder, if you go premium on JSwipe you'll get a JSwipe passport which lets you change your location at any time and swipe through people from all around the world.
So for example, if you live in the US and want to find a girlfriend or boyfriend in Israel, this feature will make the job 10 times easier.
Because JSwipe is location-based, this feature is pretty much a must-have if you want to widen your options in terms of finding other Jewish people across the globe.
2. Super Swipe
This is a common feature in most dating apps nowadays and what Super Swipe does is letting a member know you're quite interested in them.
You get one Super Swipe each day and with a premium membership, you'll be able to see who Super Swiped you and start a conversation with them.
If you upgrade to a premium membership, you'll get 5 Super Swipes each day which will further help you to get people's attention.
3. Super Note
This is one of the most unique features out of all dating apps because it cuts all the time waiting for getting a match.
With Super Note, a premium feature you get with your paid membership, you'll be able to message anyone you see on the app without them even swiping you.
Because dating apps function as a waiting game where you wait to get a match, with Super Note your options are limitless and the conversation can start right away.
But please note that you get one Super Note each day so you have to use it wisely.
4. Profile Boost
This feature is self-explanatory but it's overall great to get more exposure.
Once you boost your profile it will be one of the first profiles suggested by others when they use the app.
The more people see your profile the higher the chances of them swiping you.
The boost lasts for 30 minutes and once it expires, your profile won't be on the top.
Also, by having a premium account, you'll see the people who boosted their profile and they'll appear in your top 10 suggested profiles once you enter the app.
5. Liked Me
In this section, you can see who liked you and even Super Swiped you and you can start to message them if you have a premium account.
So basically you won't have to search for them by swiping through tons of profiles but rather you can instantly start a conversation.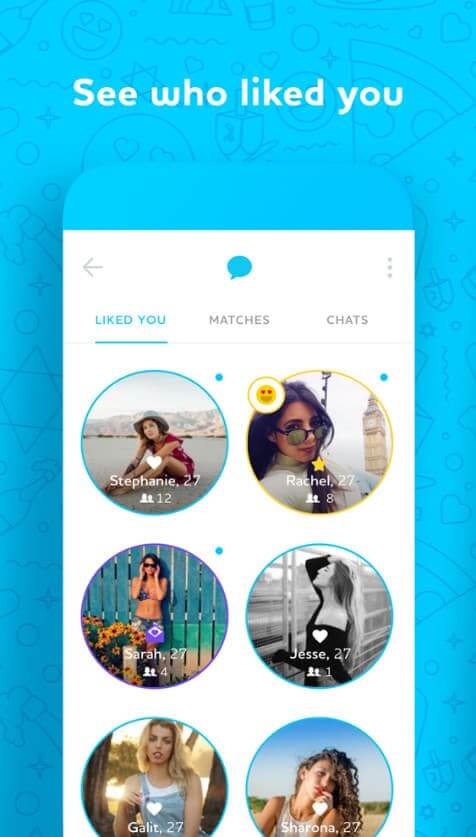 6. JSwipe Events
Events such as summer and Halloween parties, Passover balls, Hanukkahs, and so on are all celebrated within JSwipe.
The app hosts events and members can enter them through Facebook and this can be a perfect time to meet people you're chatting with on the app.
Sadly, these events only take place in the USA but if you're from there or are willing to travel then these events are a perfect opportunity for a first date.
7. Most Eligible
In this feature, you will see the most right-swiped profiles which make them the most popular or most eligible for you to swipe.
These profiles might not fit your criteria but will certainly make you stop for a second or two.
For your profile to make the most eligible list, you have to optimize your photos because this feature works solely based on the physical attraction of your profile and the number of swipes you get.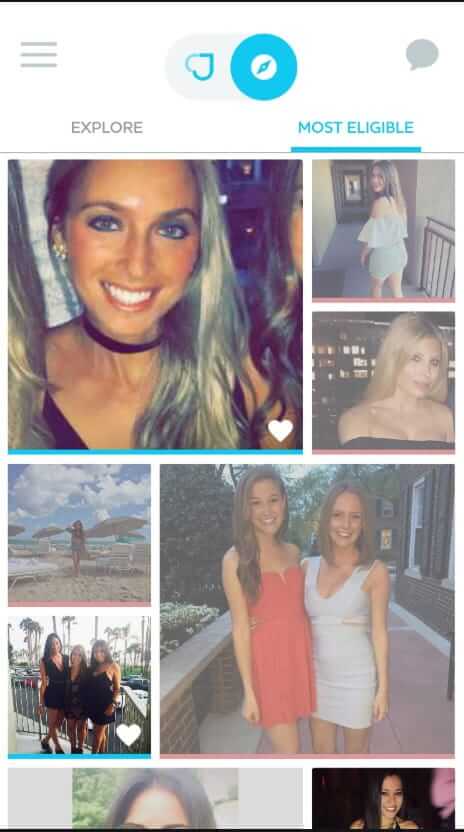 8. Photo Optimization
This premium feature helps you optimize the photos on your profile so that it looks as presentable as possible.
It will suggest to you which photos you should use to get the most matches.
This feature isn't that useful since there are only 4 slots for pictures on your profile but it might not hurt to check it out anyway.
Ease-of-Use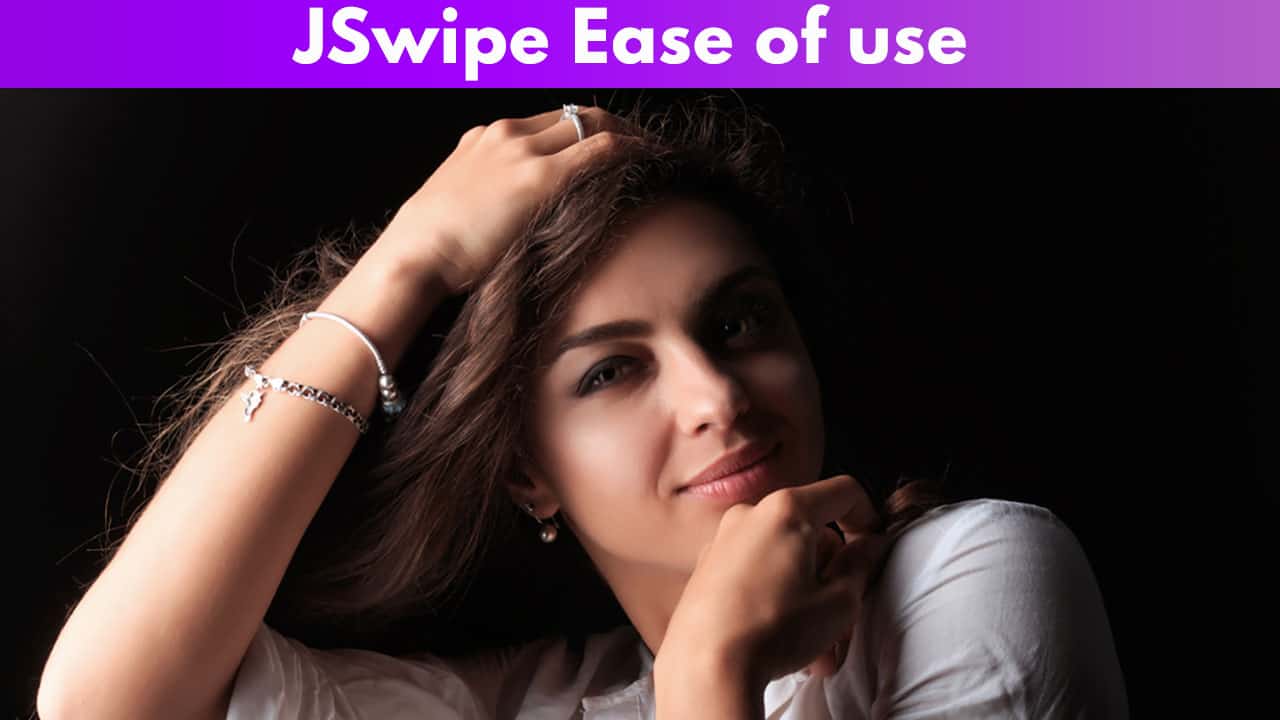 The signing up process on JSwipe is quite easy for most people and you don't have to have a lot of experience with dating apps at all.
You do have to have a Facebook account though, but the whole process doesn't take more than 10 minutes.
And even though you're logging in using your Facebook account, JSwipe won't use any info, nor will the app post anything on your Facebook wall, and your Facebook friends won't know you're using the app.
The Facebook login is OK I guess, but there should also be a phone number login option if you ask me.
Nevertheless, once you download JSwipe, you'll be asked to login via Facebook and with a simple tap, you'll enter the app.
Then, you'll be asked to provide information such as are you Kosher, your denomination, gender, a short bio, where you went to college, your occupation, and general interests.
All of this info will be available for others to see and you can change them at any time.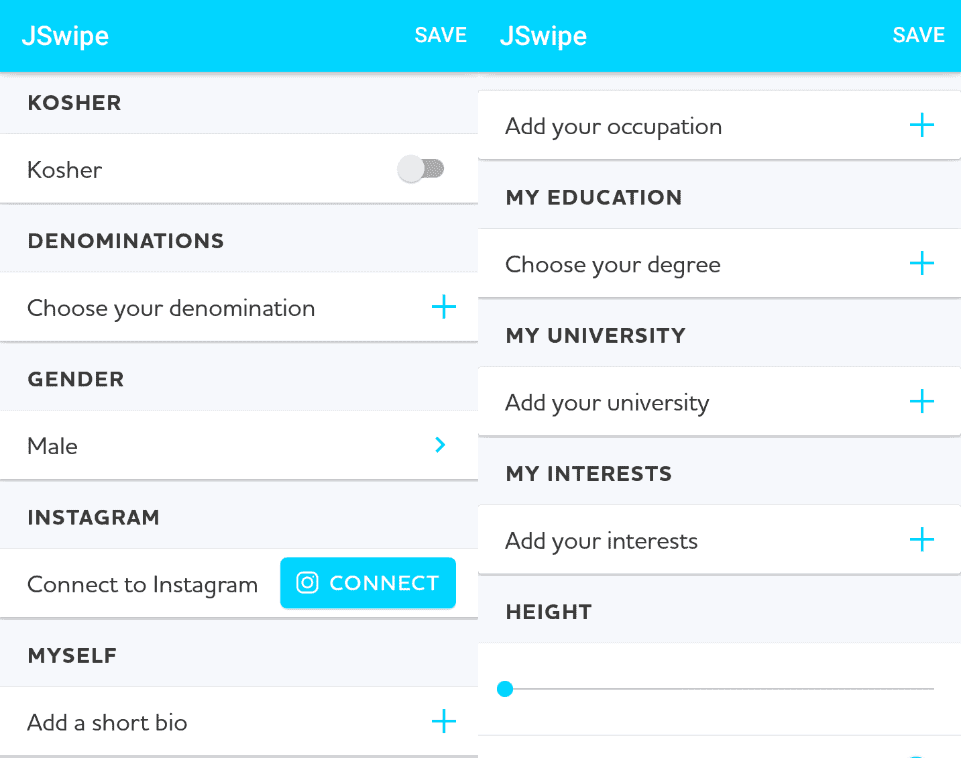 After this, you'll be asked to upload a few photos and you can even import them from your Facebook account.
You can only upload 4 photos and you can't upload any videos.
You'll also be asked to fill out your height and weight but not your location as the app uses your GPS to find other members.
Once you fill all this out, you'll enter the app's main menu and you can start matching with other people.
The main menu is quite a user friendly and you won't have a tough time navigating through it.
The main menu is also the place where you will get suggested profiles and as you can see everything is in one place.
You can swipe right or tap the blue heart icon to like the profile or tap the "X" button to pass.
Also, you can Super Swipe someone by clicking the yellow star on the right and undo your last swipe by clicking on the arrow on the left.
Your inbox is the purple envelope icon and there you will find all of your matches and chats.
This interface is quite great for people who don't have a lot of experience with online dating and all of the icons are pretty much self-explanatory.
Overall, JSwipe is packed full of nice and interesting features and is one of the most diverse dating apps in that part.
Pricing
Even though the app is free to use, there are still some benefits to upgrading to the "First Class" subscription.
But is JSwipe worth it? Well, let's see what JSwipe has in store for premium members.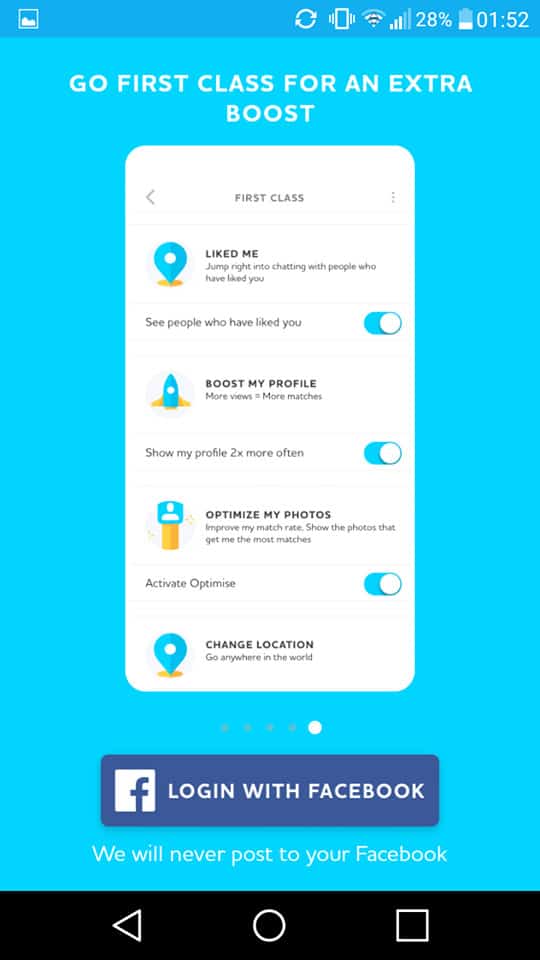 Some of the features you're getting once you go premium include:
Boost Profile – Your profile is viewed by more users
Passport – You can change your location at any time
Undo – You can undo your last swipe if you've changed your mind
Read Receipts – See when a member last saw your message
Liked Me – See who liked you and message them instantly
5 more Super Likes each day
Speaking of price, let's see who much will JSwipe cost you to upgrade to a premium membership.
As you can see in the picture below, just 1 month on JSwipe will cost you $25, but only $10 if you get the 6-month subscription.
So basically, you could get subscribed for 6 months with relatively the same price as you would pay if you opt to subscribe for 1 month 2 months in a row.

The price is quite steep for the 1-month subscription but the 3 and 6-months subscriptions are a steal so if we take this into consideration, JSwipe isn't that pricey.
In reality, paying just $120 a year for an all-Jewish dating app isn't that bad if we would compare the price to other dating apps.
One thing that I would suggest is that there should be a one-time-only subscription that shouldn't cost too low but also shouldn't cost a fortune.
The main reason is that the extra features you get on JSwipe aren't going to dramatically increase your chances of meeting people and you can do fine even with the free version, so why would you have to pay every 1, 3 or 6 months?
Conclusion, Overall Rating and CTA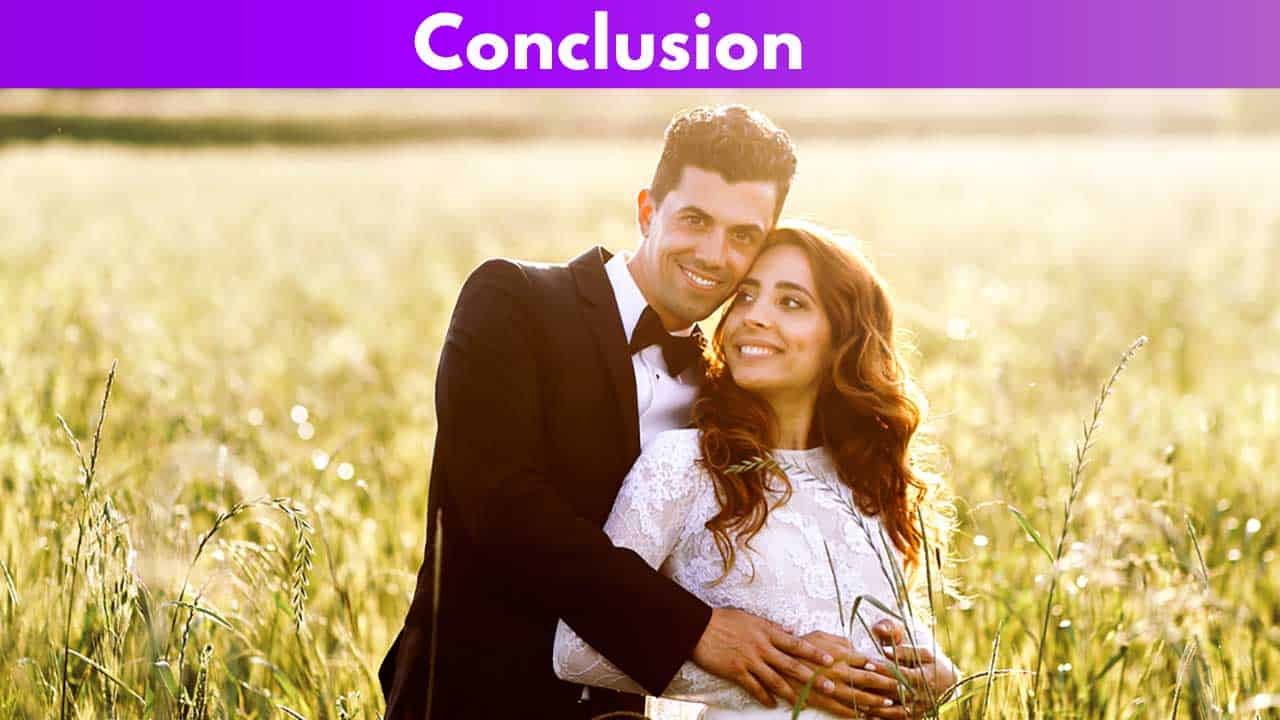 That's about it as far as this JSwipe review is concerned.
I have to say that rating an only-Jewish or only-anything app for that matter is no easy task as these kinds of apps are made for specific audiences.
As a dating app, I would rate JSwipe somewhere around 4/5.
It has all the features a dating app needs, the swipes are unlimited and the app is generally free to use.
The premium features are also quite nice and even though the app is a bit pricey, if you don't mind spending a few extra bucks, you'll have a much more pleasant experience on the app.
Now, some things that I don't like about the app is the Facebook-only login.
Many people nowadays, especially millennials, don't even use Facebook and it would be a good idea to have a phone number log-in as well.
But what do you think?
Would you give JSwipe a shot?
Please leave a comment down below sharing your answer or possibly a success story.
Also, sharing this review might help someone who might be interested in only-Jewish apps to find it so it would be much appreciated.
Frequently Asked Questions