A popular social networking site in the mid to late-2000s, Hi5 is still up and running today.
But does it work as a dating site and can you find anyone to match up with?
That's just some of the questions that we will look at during this insightful Hi5 review.
By the time you have read it, you will understand:
OFL Top Recommendations based on 100,000+ Survey

"Serious Relationships"
"Discreet Hookups"
"Best Course for Men"
"Quick Flings"
"Normal Hookups"
"Our Quiz"
And Hi5 dating, is that a possibility?
We will answer that question too.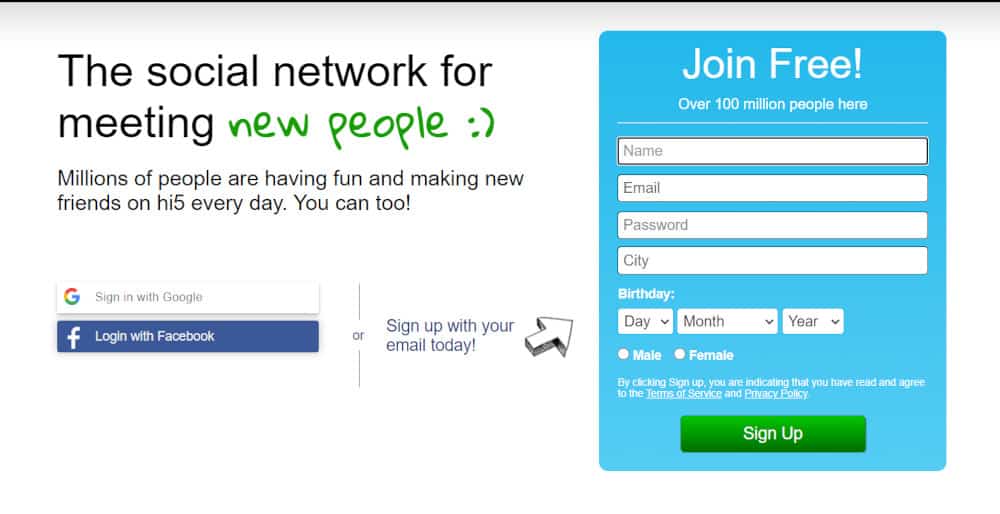 Is your dating app giving you the best chance for success?
Make sure to take our online dating site/app quiz to find out.
People who follow our dating site suggestions have on average 2 more dates per month.
Hi5 Review in Video Form
Audio (podcast) form for those of you on the go
Effectiveness – 3/5
Ease of Use – 3/5
Key Features – 3/5
Pricing – 3/5
It's free
Users from all over the world
Despite its age, Hi5 is still pretty active
Free messaging and searching tools
The website design is out of date
Not solely about online dating
Lots of fake profiles
Lots of advertising

Who Is It For/Demographic Makeup?
After launching in 2004, Hi5 quickly established itself as one of the top eight social networking sites on the internet.
Since then, however, it has gone through a number of ownership changes as well as the way in which it operates.
But if you visit the site today, which claims to have over 100 million users, it still calls itself "the social network for meeting new people".
Apart from aiding flings (like BeNaughty or Ashley Madison), Hi5 also boasts of serious relationships (like eHarmony)
And let's be honest, if it has 100 million users, the chances of meeting someone and that developing towards something more than friendship, say perhaps a fling or a serious romance, are pretty decent, right?
Let's look at a few more figures that can give us more of an idea of just how active Hi5 is currently.
Before we do, it's important that this is a site that's big in many parts of the world, so you can meet users from all over the globe.
And while its popularity may have waned a little it still generates some big user numbers from the United States.
But here are some other facts and figures for you:
Around 10.5 million users on Hi5 are from America
Hi5 has around 24 000 daily logins
Users from 200 different countries use the site
Hi5 can be used in 50 different languages
It's popular in Latin American countries
Hi5 claim the site gets 40 million unique page views each month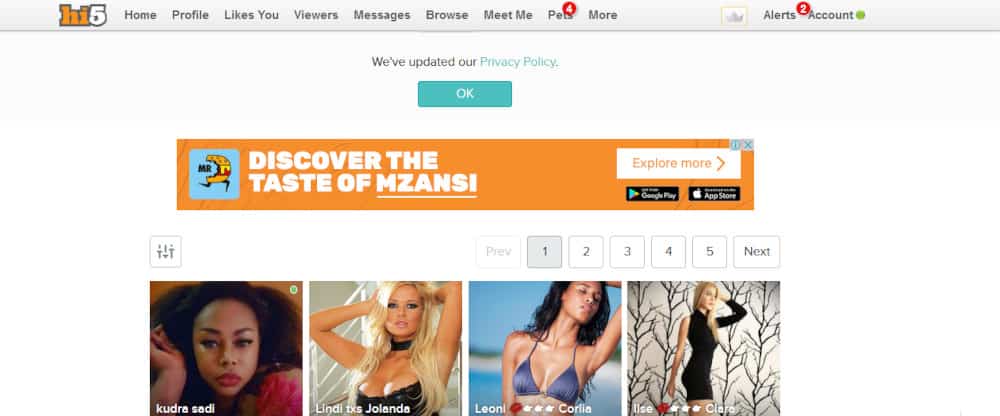 Gender breakdown and age ranges
During my research for this review, I scoured around for information on the gender breakdown on Hi5.
From what I read, Hi5 claims to have a 50/50 split when it comes to male and female users.
While I doubted that for a moment, I found more information that supported those kinds of figures giving Hi5 a 53% male and 47% female gender ratio breakdown.
It certainly bodes well if you are looking to use Hi5 as a way of meeting people with the intention of getting to know them better and possibly meeting them, in mind.
But what about the age ranges?
As you can probably guess, Hi5 is a website used by the young and hip.
Here's an age breakdown:
18-24 years old
25-34 years old
35-44 years old
So from the demographics we've covered, Hi5 is a platform for younger people, that's for sure.
The fact that it has a pretty even spread in terms of male and female users gives it some potential if you'd like to try and use it to meet new people.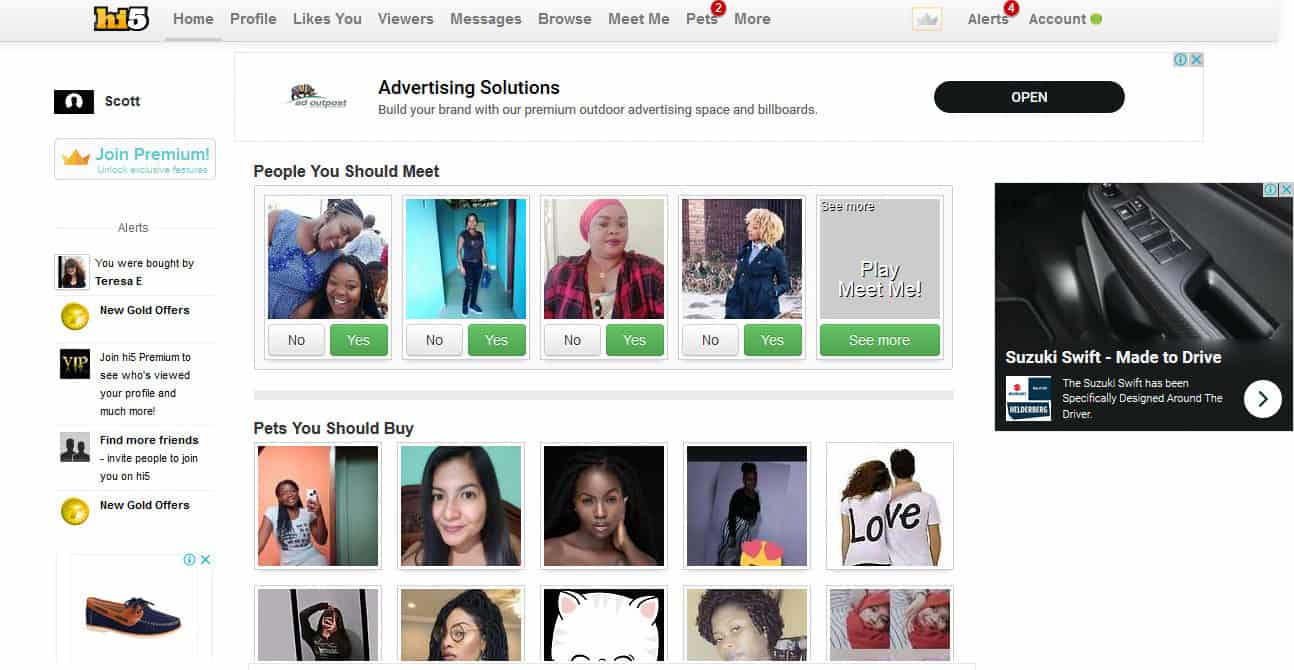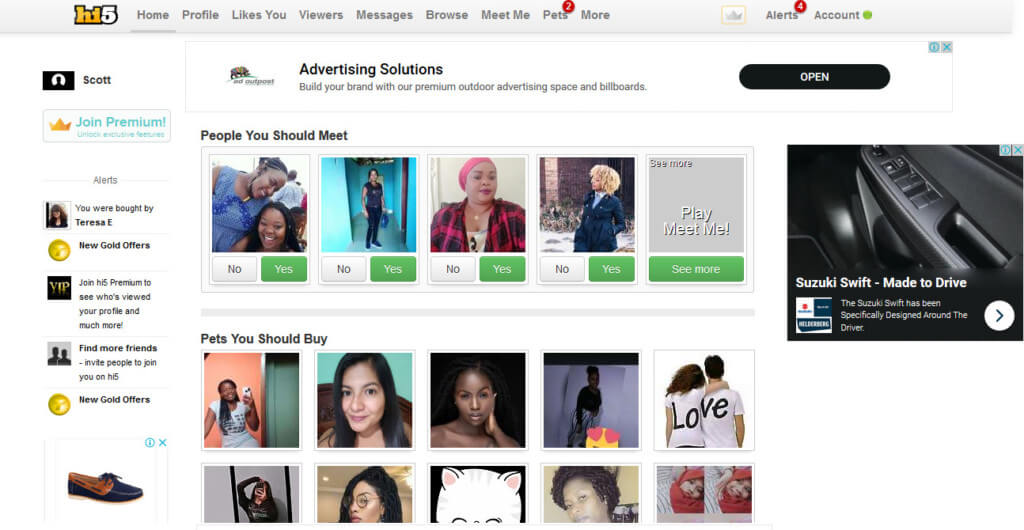 While Hi5 has a massive user base from over 200 countries how does it stack up in terms of meeting new people?
Can it really be used as a dating platform instead of the social media site it is?
It's free but does it work?
To meet people, you need to be able to communicate with them.
Dating sites know this and for that reason, often build the only means of effective communication (sending messages) behind a paywall.
Hi 5, because it is more of a social media site than a dating site, doesn't do this, so you are free to send messages to anyone,.
That's a major plus point and there are even more positives.
You can even search for people, just like you would on a dating site.
There is even the option to change your search parameters including:
Gender
Age
Country
Location
Distance from you
So yes, although this is a social network site, it has the tools for you to easily meet new people, start chatting to them and getting to know them better.
But there's even more to suggest that Hi5 doubles as a dating site.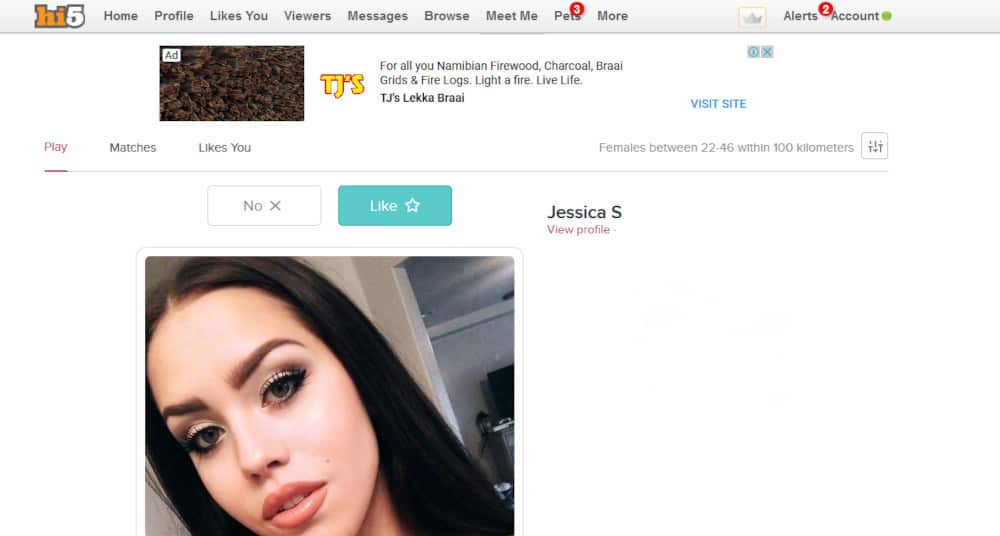 Matchup's through Meet Me
If you'd like to browse through profiles quickly and make decisions on whether you'd like to chat with someone based on their profile picture, then Meet Me is just for you.
This is a roulette-style mini-game in which Hi5 shows you profile pictures of other users near you and you decided if you like them or not.]
I will cover Meet Me in more detail under Key Features.
The other thing you will notice as soon as you start using Hi5 is the Pets feature.
On the whole, this confused me a little.
People were buying my profile (me) and selling my profile and I had no clue what was going on.
Pets, it seems, is all about popularity on the site and I will cover it in more detail under Key Features.
In summing up the overall effectiveness of Hi5 to help you meet people and possibly land a date, well, I would say yes, it definitely can.
That's because the two main tools you need to do so, namely free messaging and some form of search feature, are already built into the site.
Don't forget the added benefit of the Meet Me game either.
It's a real help in finding people near you and quickly making a decision on whether you like their profile or not based on their picture.
Because after all, when it comes to a dating site, we base our decision on looks almost 100% of the time.
That said, there are many fake profiles on Hi5, that's for sure, so you will have to keep your wits about you when looking through them.
They are not that hard to spot, luckily.
Just look for the profile pictures that are a little too perfect.
And lastly, advertising dominates Hi5, so be prepared to see them and often more than one on every page you navigate.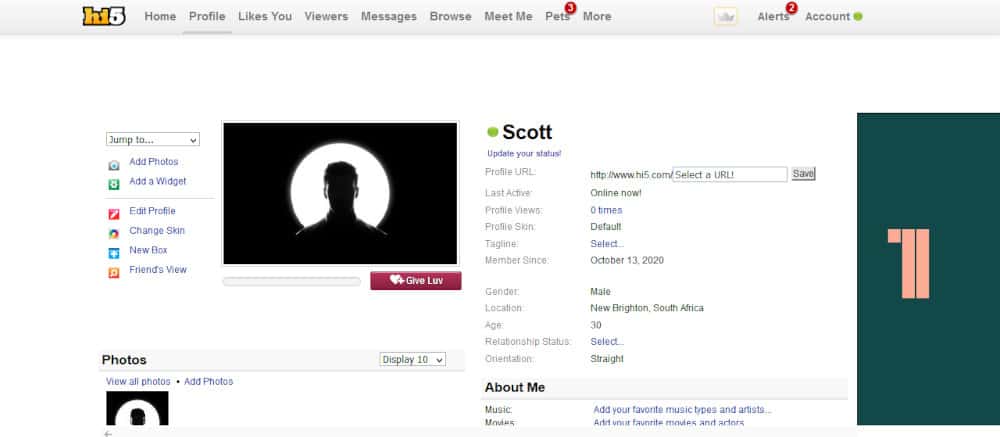 It's so simple to start your own Hi5 profile.
Sign in either using a social media account, Facebook in this case, or go more traditional and set up a username, password and give a valid email address.
During the sign-up process, Hi5 is also going to want to know your name, date of birth and where you live.
A valid email address is necessary as Hi5 sends you a code to activate your account.
If you don't have it, you won't be able to access your profile.
I'm not going to lie, Hi5 isn't the most well-designed site you will ever see.
As I already mentioned, advertising is found all over and when you first log on, things can be a little confusing.
For example, the first few messages I received related to how I was bought to be someone's pet.
It took a little time to find out what that meant and as I mentioned earlier, I will cover Pets under key features.
Once you log in, you will be greeted with a host of profile pictures of users.
They fall under two categories.
People you should meet
Pets you should buy
The people you should meet is related to the Meet Me minigame.
You can immediately click on "yes" to like profiles that catch your eye or click on the profile picture itself to take you into the mini-game.
Pets you should buy is all related to the Pets mini-game.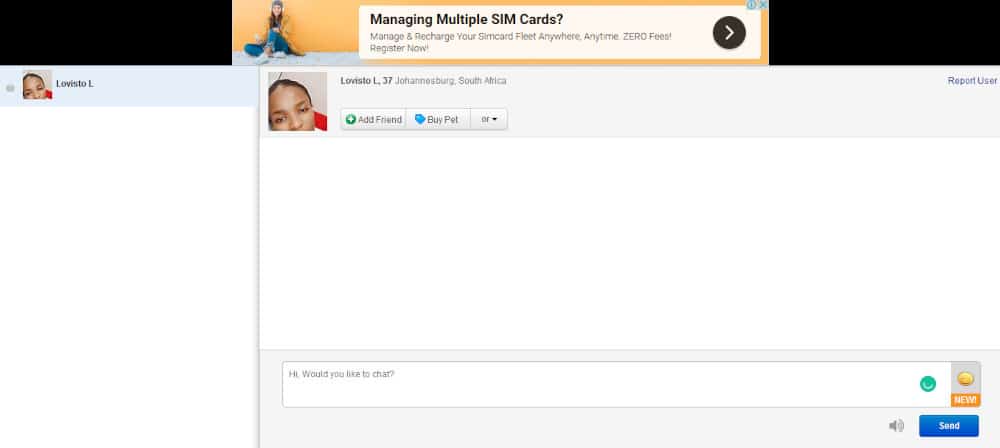 From a design point of view, Hi5 could do with an overall refresh.
And while it was a little confusing, to begin with, after 30 minutes of navigating the site, I knew where to find everything.
To navigate, it's easiest to use the menu options found right at the top of the screen.
These are:
Home: Takes you back to the home screen
Profile: Here you can make changes to your profile
Likes You: This lists all of the users that have liked your profile. It's a member's only feature
Viewers: This lists all the users who have viewed your profile. It's a member's only feature
Messages: Here you will find all the messages you have received
Browse: This is a search tool where you can change parameters to browse for users.
Meet Me: This takes you to the Meet Me mini-game
Pets: This takes you to the Pets page
More: This includes a whole range of other links
Hi5 has a few other ways of reaching out to people but they are hidden away behind the "More" menu tab.
Tags are essentially messages that you can send to other users in the form of a poster.
There are various categories to chose from and message as well.
For example, you could send a "Have a nice day" tag.
It's all a little bit of fun really, but can only be sent to people you are friends with.
Luv is a currency that users can spend to build up their popularity ranking.
Each day, you get 10 Luv which you can give to others.
Giving love and receiving it from others, makes your popularity rise in the Luv stakes.
While it seems popular with many users, for me, it's all a little silly.
A wink is simply another way to show someone you've noticed them.
You can only wink once per day, however.
Again, I would rather just message them.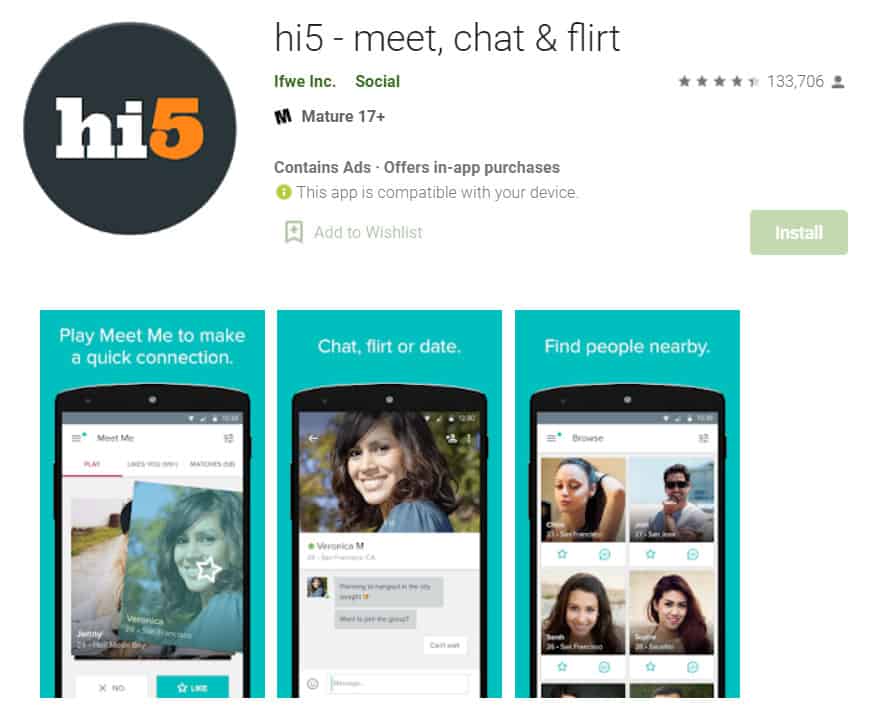 Yes, the Hi 5 app is available on both the Google Play Store as well as the Apple iStore.
Overall, its design is more modern than the website and it's simple to use.
If you prefer using your phone, the Hi5 app is worth checking out.
While most of the key features of the site are free, there are some that you will need to have a membership for.
Let's look at some of the free and paid-for key features now.
We've already established that messaging is free.
It certainly is a key feature too, as it allows you to get into contact with just about any users.
I say just about because for some of the more popular users on the site, if you want to message them, you will need a membership.
I don't see the need to message people like this when you are looking to make connections with other regular users, however.
If you are a paying member of the site, when you send a message, you can also see if someone has read it.
Another aspect of Hi5 that shows it's more social networking side is the group's feature.
There are groups here for just about anything and you are free to join them.
You will need to put in a request to join, however, and the group leaders will then decide to let you in or not.
Some groups might be worthwhile looking into, for example groups where singles meet up.
As we discussed earlier, Meet Me is a roulette-style match-up mini-game.
If you use it to meet new people, you will start viewing profile pictures of various users.
You have two options here.
You can either click on the "no" button or you can click on the "like" star.
Clicking "no" brings up another profile while clicking the "like" button sends them a message that you have done so.
If they do the same in return, a mutual matchup is made.
It's simple but effective in finding people to get to know better.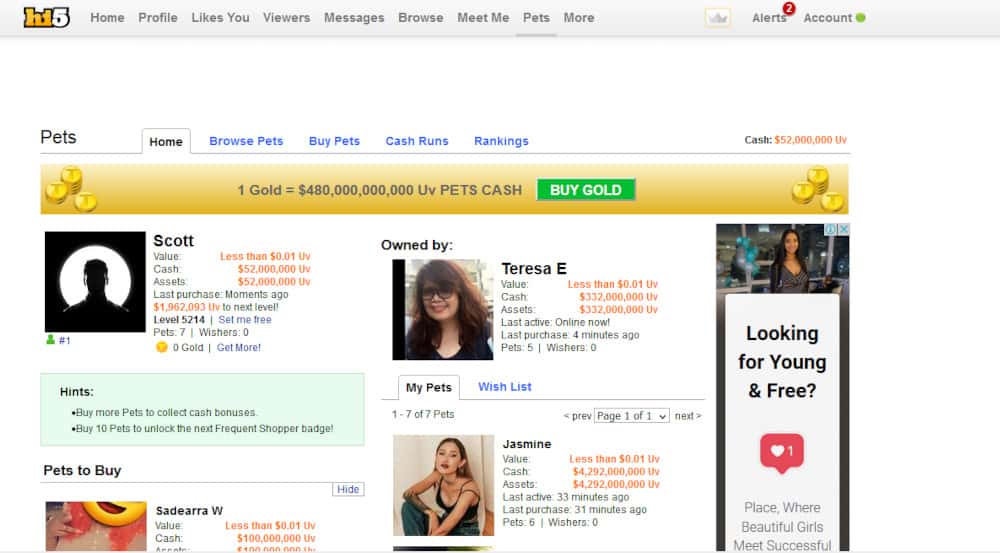 I am not going to lie, the Pets mini-game confused me.
From what I am able to work out, you buy and sell other users as pets and they do the same.
The more you buy popular users as well as how often you are bought raises your popularity.
I guess the objective here is to become the most popular Pet although as you become more popular, your profile value goes up as well and I suppose that leads to more people seeing it.
Again, this is more of a social media thing and not really related to dating I feel.
5. Profile Views and Likes
If you opt to become a paying member of Hi5, you can see who has viewed your profile as well as who has liked it.
This is something that might be useful for people who want to use the site to meet people and maybe have a relationship with them.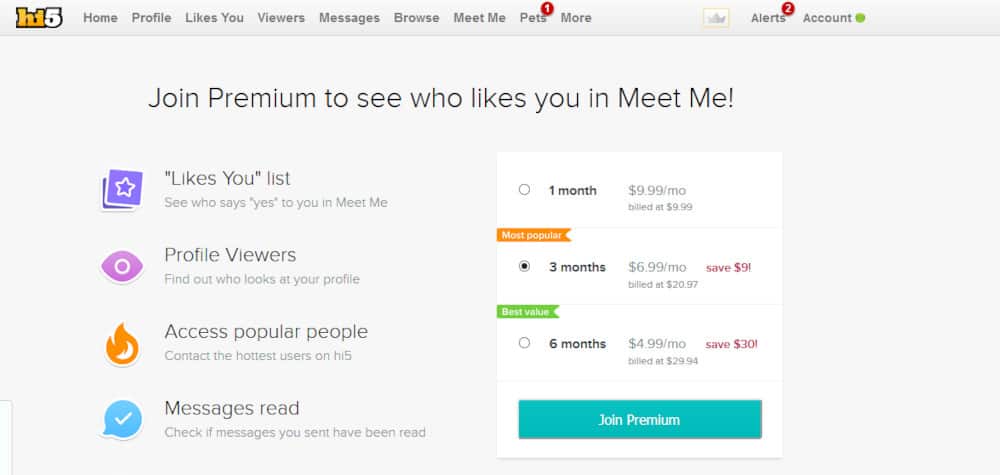 As you've probably seen, most of the tools you need to be able to get into contact with other users on Hi5 are free.
But there are some useful key features that are available to members.
So how much is a membership to Hi5 going to cost you should you choose to go that route?
1-month membership – $9.99
3-month membership – $20.99 ($6.99 per month)
6-month membership – $29.99 ($4.99 per month)
You can also buy credits to use on the Luv mini-game.
Here's a breakdown of what that will cost you:
2 500 credits – $5
10 000 credits – $10
25 000 credits – $20
75 000 credits – $50
200 000 credits – $100
400 000 credits – $200
For the most part, membership of Hi5 is pretty cheap.
And that's a good thing because there really isn't that much the site is offering members.
What they do offer could be useful if you are using the site as a dating site, particularly the ability to see who viewed your profile as well as who likes you.
Knowing that can help to narrow down your search for likely matchups, that's for sure.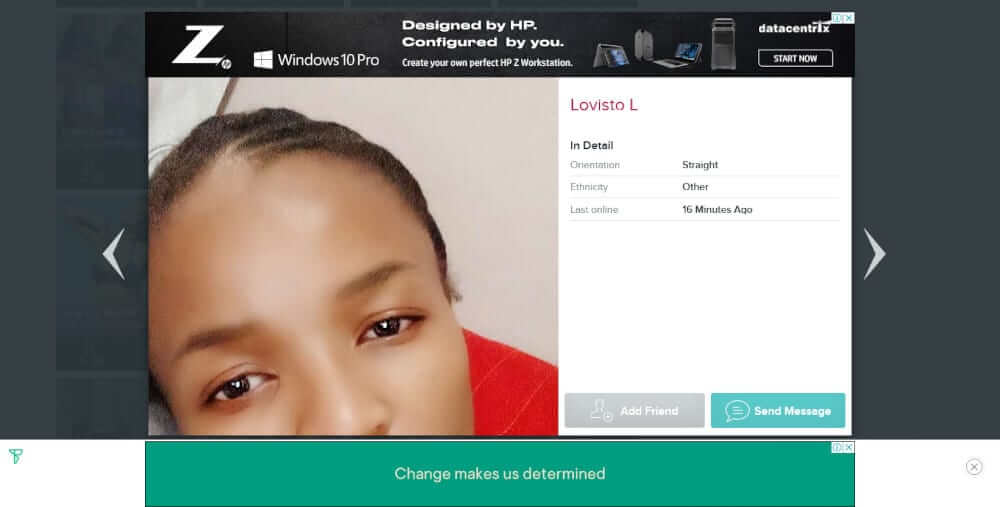 Conclusion and Overall Rating
Hi5 meet new people.
That's for sure!
While this is a social networking site, everything you need to meet and chat with a potential matchup is on the site.
And the best part, all the tools you need to do so, like sending a message and the Meet Me mini-game, are absolutely free.
Yes, this isn't a dating site but you could use it like one.
While the design outdated and it was a little bit overwhelming at first being bombarded with messages about Pets, I quickly got into my stride and found some decent matchups near me to follow up on and send messages to.
Note, however, there are plenty of fake profiles out there but that's to be expected on a social media site like this.
So what's my verdict?
It's not an out and out dating site but you can make it work.
I am giving Hi 5 a solid 3 out 5.
I particularly love the fact that if you want to message someone, you don't have to pay a sent.
That opens up a world of possibilities for sure, especially if you are prepared to be patient and work your way through matchups.
Have you found people to date or hookup with on Hi5?
If you haven't ever used the site, would you consider doing so?
Let us know in the comments below.
Frequently Asked Questions