Looking for a community of like-minded people interested in having a good time? The Fuckbook dating website is carefree and aims to serve up a fantastic experience. With limited rules and affordable premium membership options, Fuckbook is an inviting place on the web for someone who is looking to have a great time with no strings attached.
Millions of global members flock to this community on a daily basis as it is inclusive of all relationship types and is heavily in favor of graphic, sexually implicit content. This Fuckbook review is transparent and will provide you with everything that you need to determine whether this adult platform will suit your needs and sexual desires.
Pros:
Ideal community for those looking for casual relations with others
Profiles can be viewed for free
Accessible by mobile phone, tablet, or desktop
All genders welcome, but heavily male dominated
Global community with millions of users
Cons:
Premium membership required to message others
Bot messaging is highly likely
Profiles lack substantive information
Member Information
Learning about members can take some time on Fuckbook. The reason for this is that the amount of demographic and personality information that is required of a member is limited. While this is good in that it allows a member to choose what they want to share with the world, it can also limit one's ability to learn about someone before reaching out via message.
OFL Top Recommendations based on 100,000+ Survey

"Serious Relationships"
"Discreet Hookups"
"Best Course for Men"
"Quick Flings"
"Normal Hookups"
"Our Quiz"
Member information on Fuckbook is limited and there is no set standard for every member. Because of this, it is left entirely up to the member to provide as much or as little content as they wish. You will find that some members are descriptive in their 'About Me' section and go into details within their profile, while others will only answer what is required of them.
Many members choose to expand on their 'About Me' section by posting regular blog posts. The blog post feature allows members to post about fetishes and areas of particular interest, as well as to update the community about how their day has been, or their opinion on political events. They can also provide information about upcoming local gatherings. The blog post feature is unique in that there are no restrictions as to what you can share. Post videos, photos, or writing for members to enjoy, and watch your inbox begin to fill with messages from potential suiters and admirers!
While communicating with others, it is important to keep in mind that the Fuckbook website has limited oversight, which means that you are likely to run into fake accounts or bots from time to time. Do not let this discourage you as there are millions of active, global users that partake in what Fuckbook has to offer on a regular basis.
Sign Up Process
RATING
3/5
Signing up for an account on Fuckbook is easy and only takes a few moments of your time. You will be required to provide your location for verification purposes. You will be asked to enter your birth date, create a username, and provide a brief description of yourself. Most people use the 'About Me' section to indicate the type of relationship that they are looking for on Fuckbook. While you do not have to use the 'About Me' section for this, it is a portion of your profile that is highlighted to other members and will get your information out in the open with little effort on your part.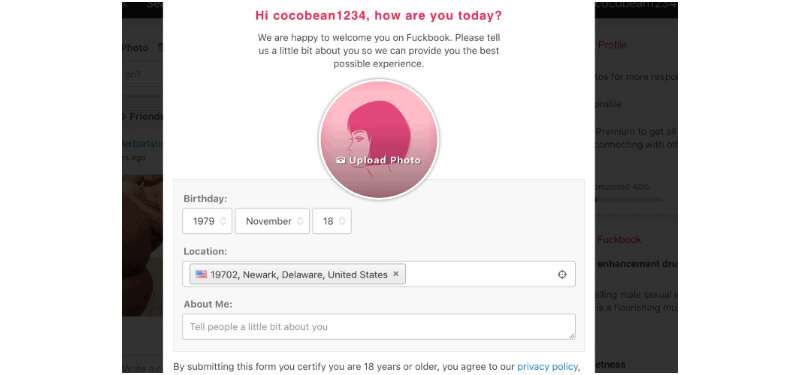 Upon sign up, you will need to verify your location as well as your email address. Once you have verified your email address, you can begin to enjoy spending time conducting searches on Fuckbook. It is advised that before you begin a search on Fuckbook, you upload a photo and spend some time navigating the website so that you are comfortable with how to use it.
Contacting People
RATING
3/5
Let's face it: the main reason you have joined a dating website is to connect with other like-minded individuals. Rest assured that contacting people via the Fuckbook app or website is easy and can be accomplished in a few ways.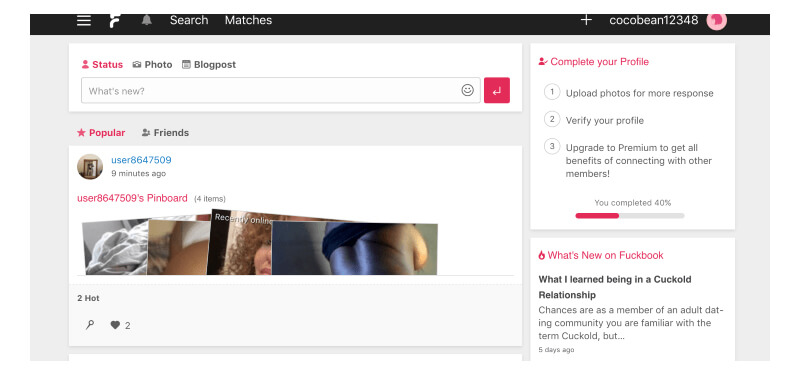 Upon logging on to the website, you will enjoy a feed of photos from members who are currently online or have been within the past few minutes. While you scroll through the photos, videos, or blog posts, you have the ability to reply to the posts with a comment or 'heart.'
While scrolling through the profiles, you are likely to find people of interest. To begin a chat with them privately, you can click on their profile. Once you click on their profile, you can learn more about them, request friendship, send them a gift, or start a chat. When you click on the chat button, you have the ability to send a message or photo. Once you have reached out to the member, you will need to wait for a response.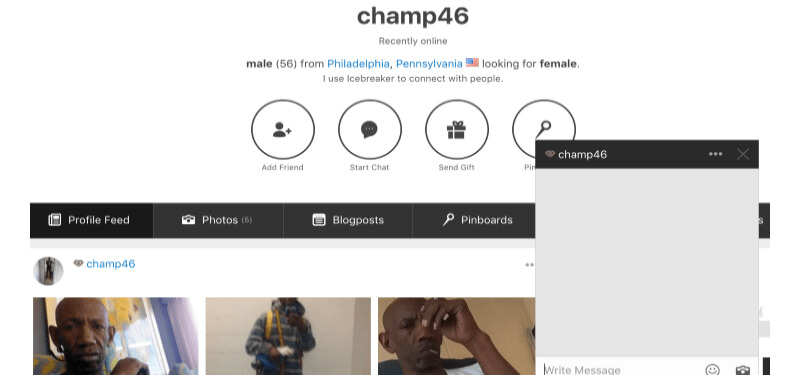 It is important to note that contacting members on Fuckbook is easy and does not take a great deal of effort. Because of this, you may find that you receive messages from members who may not be online often, or who do not respond to your replies. The best course of action is to just keep moving forward with others, and not spend too much time dwelling on someone who hasn't responded to your messages.
It is not possible to contact people on the Fuckbook app as there is no app available. However, you can access Fuckbook by logging on to the website via your phone's internet browser. This is convenient, especially for those who prefer to use the site while on the go.
Profile
RATING
2/5
OFL Top Recommendations based on 100,000+ Survey

"Serious Relationships"
"Discreet Hookups"
"Best Course for Men"
"Quick Flings"
"Normal Hookups"
"Our Quiz"
Fuckbook leaves a lot to be desired when it comes to creating your profile. You have the ability to add your photo and some demographic information to your profile. You can also post written content and photos for the viewing pleasure of others.

It is important to note that the profile verification process is set up to ensure that each member is authentic and agrees to the terms of service. All photos that are submitted must be verified before they are posted for public viewing. Keep in mind that in order to verify your photo, you will be required to submit a picture of yourself, along with a handwritten date and username. Doing so will help the Fuckbook administrative team verify that you are not a 'fake' person or a bot. While this may seem like a cumbersome step that you have to take as a new member, it is important to keep in mind that this process enhances the credibility of the membership panel overall.

Once your account is verified, you will begin to receive friend requests from other users. Accepting a friend request will give you an opportunity to get to know another member better by way of conversation, photos, and videos.
Mobile App
RATING
2/5
There is no Fuckbook app available for download for iOS or Android devices at this time. However, all is not lost. The Fuckbook desktop site is compatible for use on a mobile device or tablet. By logging on to the Fuckbook website from your phone, you can enjoy the same features while on the go as you do when you are sitting at your computer in the comfort of your own home.
Many mobile users notice that there are more advertisements and pop-ups that occur while using the web application on the go, rather than on a desktop. This can worsen the overall experience of using Fuckbook from a mobile device, but it does not make it impossible.
On a positive note, you can easily contact, chat, and send photos and videos to other members from your mobile device by using the website application. Similar to other networking sites, Fuckbook allows users to browse through blog posts, like photos, and leave comments for others, all from their mobile devices.
Membership Options
RATING
3/5
The Fuckbook dating site stands apart from most other dating sites. With affordable premium membership options and the ability to choose how often you pay, many new members are joining this intimate networking community on a daily basis.
One of the perks of joining the Fuckbook community with a paid membership plan is that you can rest assured that you will not be faced with surprise charges or mandatory enhancements once you become a paid member. The pricing for premium membership is upfront and transparent.
With a premium membership package, you can enjoy unlimited messages and gifts from others, have access to member-only features such as the 'Icebreaker,' and your profile will be outfitted with a 'Premium Badge,' which lets others know that you are invested in meeting others in the Fuckbook community.
Another premium perk is that you will receive a 'Karma' boost on your account. This 'Karma' boost is valuable as it shows others that you are a member in good standing.
Finally, with a paid membership, you do not have to worry about running out of reply options, as you can send, receive, and respond to unlimited messages.
The Bottom Line
Fuckbook is an affordable and welcoming community that is inclusive of all types of sexual interests. Heavily male dominated, the site will serve as candy for your eyes if you are seeking sexualized, graphic content. Easy to use via a mobile device or on a desktop, Fuckbook can be enjoyed while on the go or from the comfort of your own home.
Frequently Asked Questions
How does Fuckbook work?
Fuckbook was created to be user-friendly and simple. Open to people from all walks of life, sexual orientations, and identities, Fuckbook is a community that is inclusive and welcoming. Fuckbook contains a plethora of adult visual content, and you can expect to experience conversations that coordinate with this type of sentiment. It is important to keep in mind that Fuckbook is an open community and is not strictly regulated, which means it is quite common to receive messages from bots and "fake" users.
Does Fuckbook have hidden fees?
Upon signing up for a premium membership, it is important to read each detail thoroughly to avoid unnecessary charges for features you may not know how to enjoy. After you have completed the sign-up process and you have entered your billing information, you will be notified in small font that you have the ability to sign up for additional features via another website for a small monthly fee. To avoid additional charges, be sure to read through the statement thoroughly before agreeing to submit your payment information.
Is gay dating on Fuckbook possible?
Yes. Fuckbook is open to all types of dating and is LGBTQIA friendly. In fact, most members on Fuckbook are male, which makes finding gay men on the platform quite easy.
Is Fuckbook just like Facebook?
No. Facebook is a social networking website which that features content from people from all over the world. Many conversations are censored and politicized, which is off-putting to some. However, Fuckbook is an all-inclusive website with a sexual flair.
Is it possible to use Fuckbook for free?
Yes, users can use Fuckbook for free. However, if you want to communicate with others, you are required to pay for a premium membership. You can enjoy creating a profile, viewing content, and learning about others for free before you invest in a membership plan.
Why can't I read messages from another Fuckbook members?
Do not be alarmed if you are unable to read some of the messages in your inbox. This is a common occurrence, especially if you do not have premium membership privileges. It is important to keep in mind that unless you have a premium membership plan, you will not be able to read messages from other members.
If you are still unable to read a member's message even after you have invested in a premium membership plan, it is possible that the member is no longer active in the community. People send messages all the time, but they can easily be overlooked or overshadowed by other content. One way to test this theory is to search for the member's profile. If you are able to find an active profile, you can message the person from their profile page. However, if you are unable to locate the member's profile, it is likely that the account had be deleted or deactivated.
How do you search on Fuckbook?
Doing a search on Fuckbook is quite simple. When you log on to the website, you can search for a specific gender, age range, and sexual preference. You can also search based on location and preferred method of communcation.
Can you sign up for Fuckbook without a credit card?
At this time, the only payment option for upgrading your Fuckbook account is a credit card. The website does indicate on their FAQ page that there will be additional payment options in the future, and it is a good idea to check back frequently for any updates. In the meantime, when you use your credit card to pay for your premium upgrade, rest assured that Fuckbook will not appear on your billing statement. Fuckbook will appear in a discreet manner as ECHST.NET 866-452-5108 on your billing statement.
How do I contact Fuckbook.com support?
You may be surprised to discover that Fuckbook.com is a Swedish company. Knowing this is important, especially if you want to contact customer support via phone. While this may be challenging, depending on your time zone, there are several other options for contacting customer support.
The first and easiest method is to submit an inquiry on their website. Simply select the topic you want to discuss with customer services and they will get back to you as soon as possible. You can email inquiries to [email protected]
Another method to contacting Fuckbook.com support is by picking up the phone, waiting on hold, and speaking to a live representative.