Milf dating is not new.
There are tons of hookup sites online today (like BeNaughty or Ashley Madison), where older women and those that want to hook up with them, mostly young men, create profiles for casual dating.
MaturesForFuck.com doesn't pull any punches in announcing themselves as a dating service like that.
While it might be filled with mature women looking for casual encounters, most of the people on this site aren't looking for long-term relationships (like Tinder or eHarmony).
OFL Top Recommendations based on 100,000+ Survey

"Serious Relationships"
"Discreet Hookups"
"Best Course for Men"
"Quick Flings"
"Normal Hookups"
"Our Quiz"
That's why we've conducted this in-depth review of MaturesForFuck to report our findings to those who might want to start signing up for a profile here.
We will find analyze the following:
By the end of this MaturesForFuck review, my findings will help you decide if the site is worth your time or if it's more of a scam than anything else.
Is your dating app giving you the best chance for success?
Make sure to take our online dating site/app quiz to find out.
It's a fact that people who follow our dating site suggestions have on average 2 extra dates per month.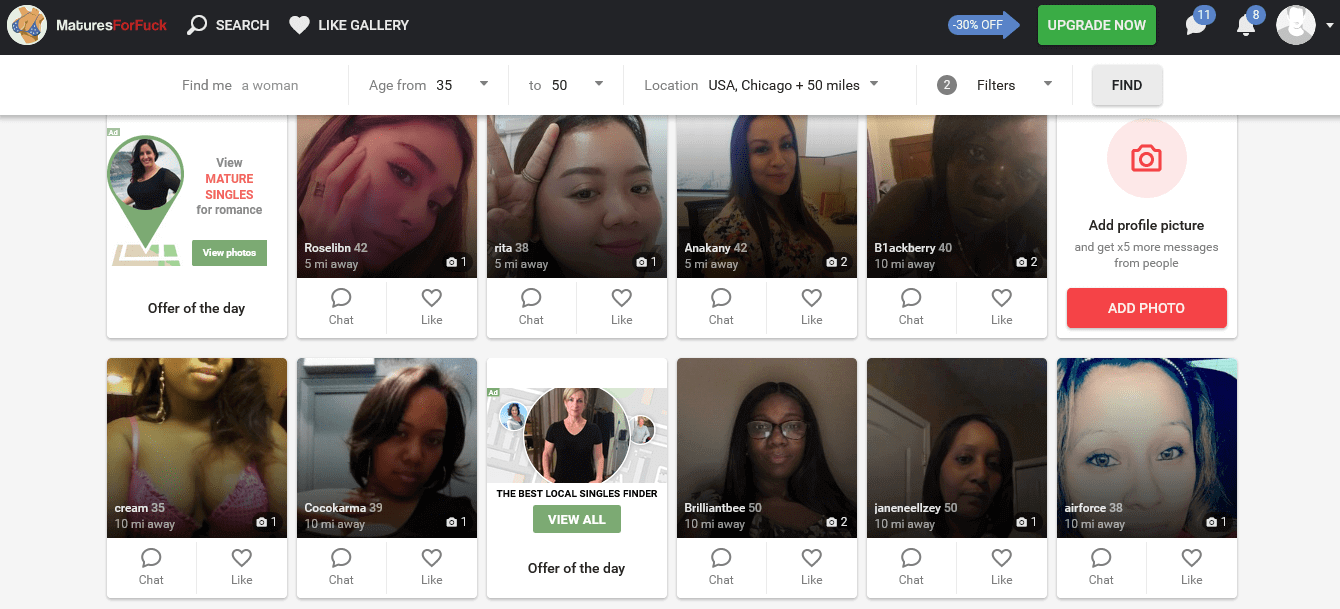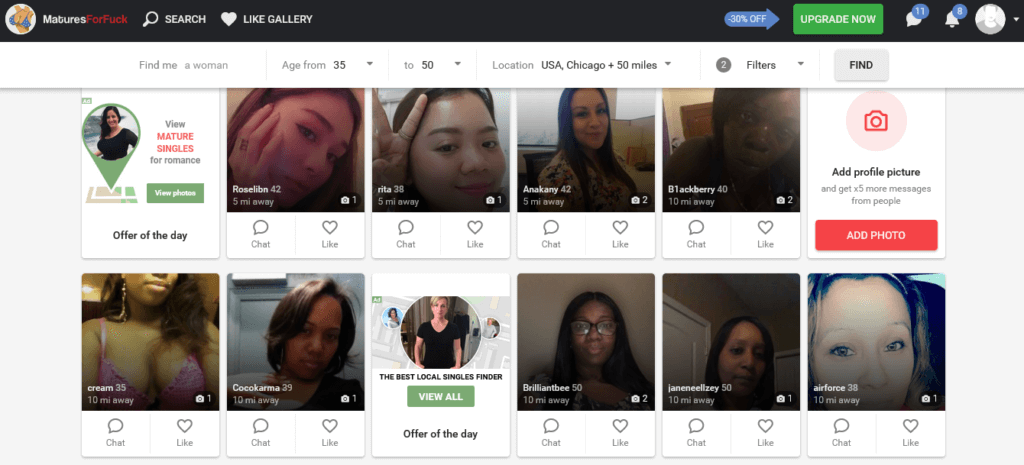 Ease of use – 3/5
Success rate – 2/5
Key features – 3/5
Price – 3/5
Includes a trial membership which helps you evaluate if this is the hookup site for you or not
It has some helpful key features
The site shares users with its sister sites. Do users even know they appear here?
Overall, when you evaluate membership prices against other hookup sites, it's quite expensive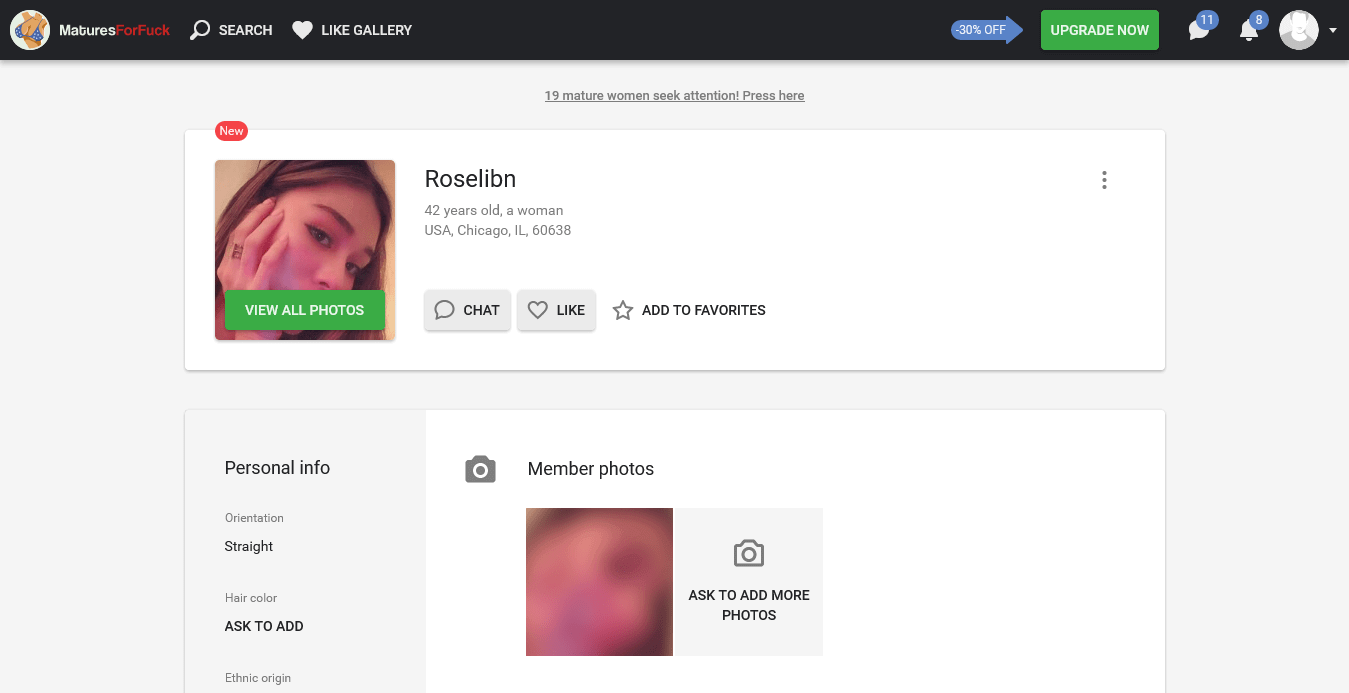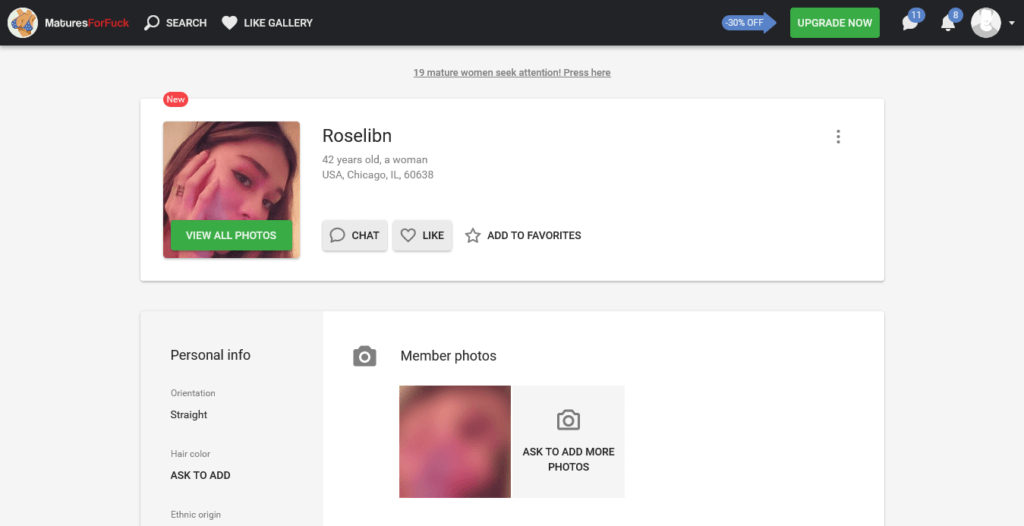 The first thing to analyze on any dating site is who it's aimed at.
But it's critical to gather, evaluate and research the overall demographics behind the site.
That means highlighting key areas of demographics such as:
How many users the site has
Comparing the ratio of male to female users
Analyzing the age range of users
But before we jump into the numbers, let's just clarify who this hookup site is aimed at.
First up, it's mature women looking for hookups.
According to the website, it's aimed at over-50s dating.
In collecting information around the site, I observed that younger women also had profiles even though the site isn't aimed at them.
The other target groups are those that want to hookup with them.
That seemed to be males of all ages.
But we will explore that more in-depth a little later as we determine both gender ratio and the age ranges of users.
Observing the numbers behind the site
My research indicates that while MaturesForFuck seems to be a very busy site, there are reasons behind this.
In researching user numbers, I collected the following information:
Over 1 million users are from the United States but there are millions all over the globe
Over 40 000 users are online each week
That's around 5 000 per day and over 150 000 each week
But while looking into the privacy policy of MaturesForFuck, I detected something that would certainly help these numbers.
That privacy policy indicates that by signing up for the site, your profile can be used on other sister sites of Together Networks, the company that owns MaturesForFuck.
And from that, I conclude that the same must be true for those other sites and their profiles appearing on MaturesForFuck.
To me, it seems that profiles are shared across these various dating sites and while this is indicated in the privacy policy, not many people will research that anyway.
While I thought it was critical to reveal this information, let's carry on looking at the gender breakdown of users as well as the most active age ranges.
Gender ratio and age ranges of users
When reviewing hook up or casual dating sites, there is always something that I observe.
And that's the fact that male profiles feature more than female profiles.
It seems that men want a casual hookup more than women do.
If I compare MaturesForFuck to other similar sites, the ratio is slightly more even than most.
Often men can make up over 75 to 80% of the profiles but here it's a little lower:
68% of the profiles are male
32% of the profiles are female
Let's analyze that further.
While men dominate the site, it's important to identify just which age group features strongly.
My research revealed this to be the 55 and older group.
In fact, they contribute about a fifth of the total users on MaturesForFuck.
Here's a full breakdown of age ranges:
55 and older: 28% of all users of which 20% are male and 8% female
25 to 34 year-olds: 20% of all users of which 13% are male and 7% female
45 to 54 year-olds: 18% of all user of which 12% are male and 8% female
35 to 44 year-olds: 17% of all users of which 11% are male and 8% female
18-24 year-olds: 16% of all users of which 11% are male and 5% female
Despite the fact that this site's one major target market is mature women, it's interesting to note that they don't dominate the female user numbers.
This is demonstrated by the fact that they, along with three other female age groups each contribute 8% of users.
Again, my one major critique of these numbers, particularly user numbers, is whether they belong just to MaturesForFuck.
​Or are they taken from all its sister sites too?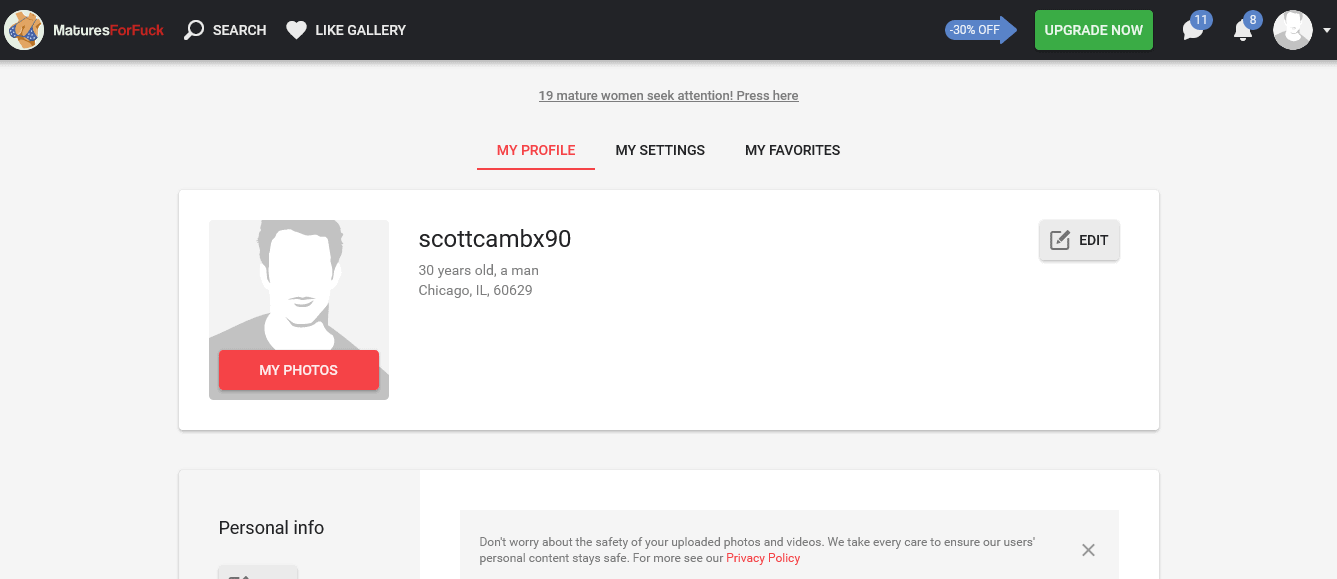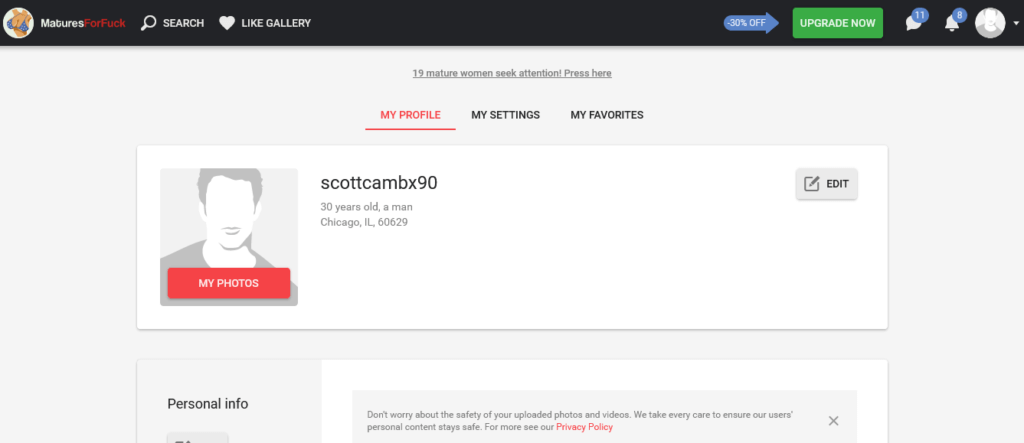 Now it's time to see just how MaturesForFuck operates.
That starts with registering a profile on the site.
Unlike many of it's competitors, you cannot use a social media account to start the process but you will need to provide the following information:
Your gender and what you are looking for (LBGT options available)
Age
Email address
Location
It's at this point that the site will send you an activation code.
This is one of the things they've got right because it means that verified email addresses are needed to create a profile.
While it's not going to stop scammers from making fake profiles, I believe it is a necessary deterrent.
And that's the registration process – simple and quick.
Once you confirm the activation code, you are taken straight to the site to begin your profile.
First up, you will need to upload a profile photo.
According to the website, posting a profile pic will mean two times the communication, higher search rankings and more likes from others.
That's something I can confirm as an advantage that profile photos bring to all users.
What follows next involve fleshing out your profile with information that other users want to know about you and while you can skip this, I wouldn't.
This is the information you will need to provide:
Username (although you are given one, you are free to change it)
Your profile status (think of this as a way to introduce yourself)
Appearance parameters (ethnicity, body type, hair and eye color, if you have tattoos or piercings)
You can also promote your profile through a flirtcast.
​I would suggest holding off on that until you get an idea of the site and what it is about.
While you are free to look around the site I would suggest going to your profile first because it's not complete.
There are a few more details that you can still add.
This includes:
Education
Weight
Height
If you have children
Living arrangements
Religion
You can even upload a video to your profile if you'd like to or add more pics.
Exploring other user profiles, it seems that not many have chosen to complete them at all.
In fact, as a test, I went through 30 different profiles first up.
Only ONE person had completed a few of the parameters but not all of them.
I feel that this is something the site has wrong.
People should be encourage to fill out their profiles even if it is a hookup site.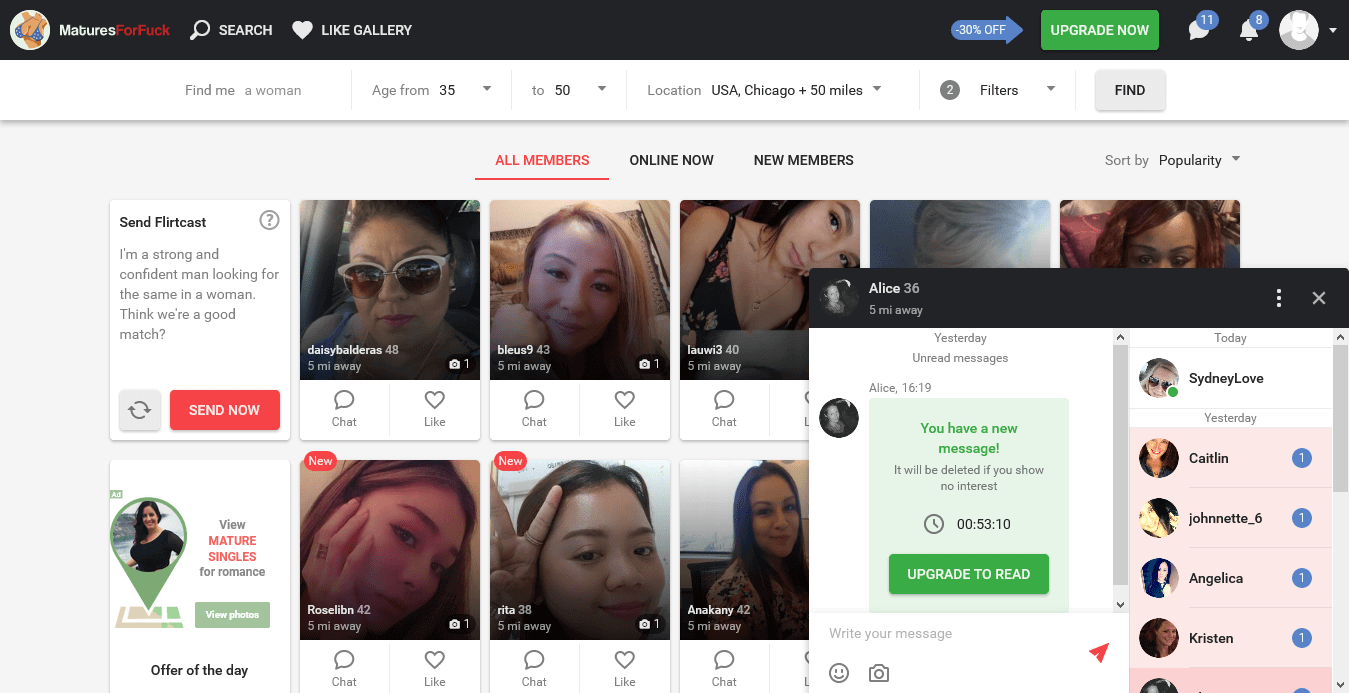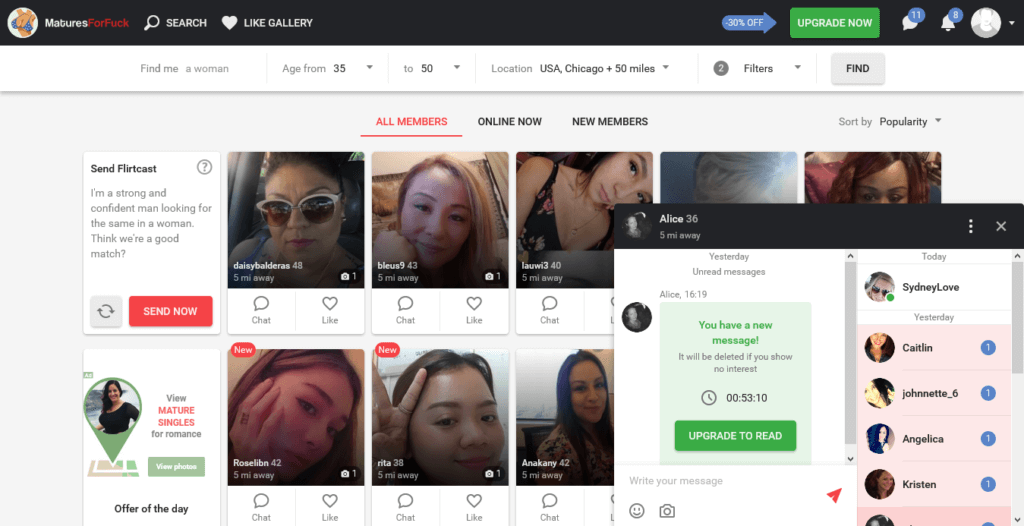 Like all sites run by the Together Network, MaturesForFuck couldn't be easier to use.
From the start, you are presented with profiles on the homepage.
These are based firstly on your location, your age and of course, your preferred gender.
I love it when dating sites present profiles like this first up.
This is why you are using the site, to find someone and in this case, it's to hookup with.
You will also notice that when it comes to a menu system to navigate the site, well MaturesForFuck keeps them to the barest minimum.
Yes, there are just two main menus on the site and a few supplementary ones.
For me, this is one of the things they have right.
Far too many dating sites the more menus they have, the better.
But sites like this show that this is not necessary.
These are the two menus you will use while on the site:
The search menu, well you know what that is.
It's here that you will launch your own searches with specific parameters.
That's something we will analyze later.
The Like Gallery shows you matchups near your location and then you can either like them or pass on them.
If you like them, they will receive a notification that you have done so.
While it's perhaps the best way to find a matchup – I prefer searching myself – it is a great way to get your profile out there by liking people you find attractive.
I want to alert you to the secondary menus that you will find on the right-hand side of the screen.
These include:
Speech bubble icon (messages): All messages you receive will be found here
Bell icon (notifications): If someone likes your profile, for example, the notification will appear here
Your profile picture: Access your profile, settings and more from this menu
For me, one of the strengths of this site is the design.
It's just really user-friendly and puts user profiles front and foremost.
That's just how it should be.
You can do anything from the main page.
All the menus you need to navigate the site are laid out right in front of you and simple to understand.
User profile pictures dominate the screen and you can quickly click on one to see more.
You can even launch a quick search from that same screen if you'd like.
In terms of design, MatureForFuck is crisp and clean and I found it super simple to use.
There currently is no app for this dating site.
You can access it through your browser on your phone, be it Chrome or Safari as it is optimized for mobile view.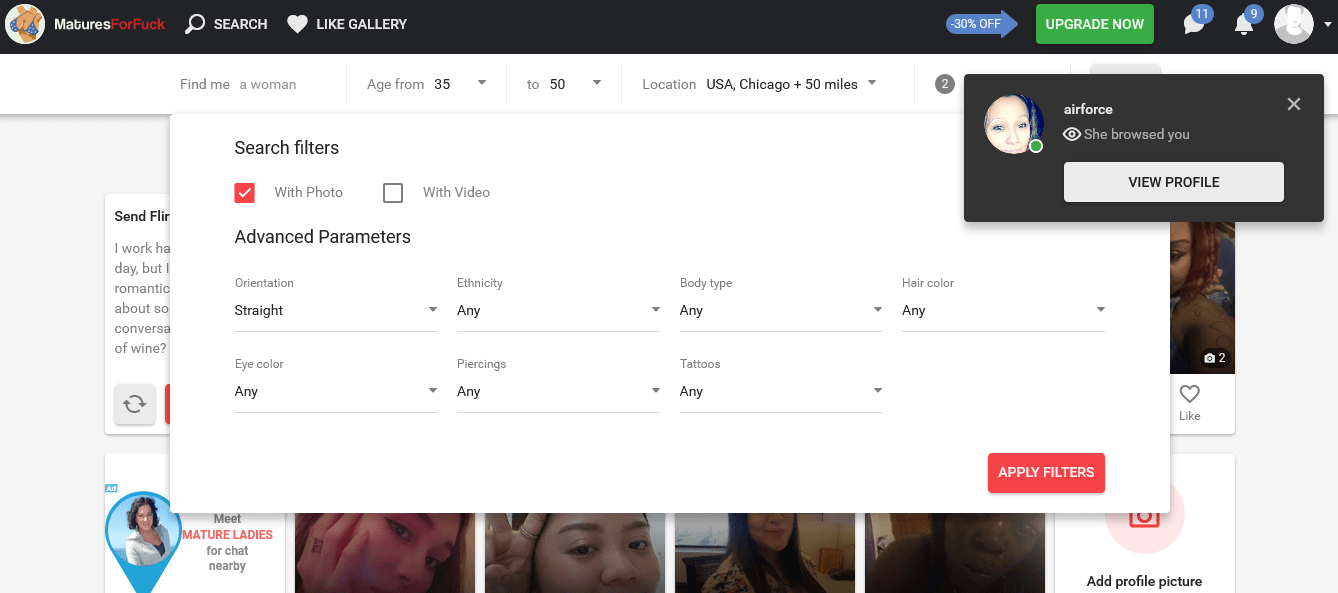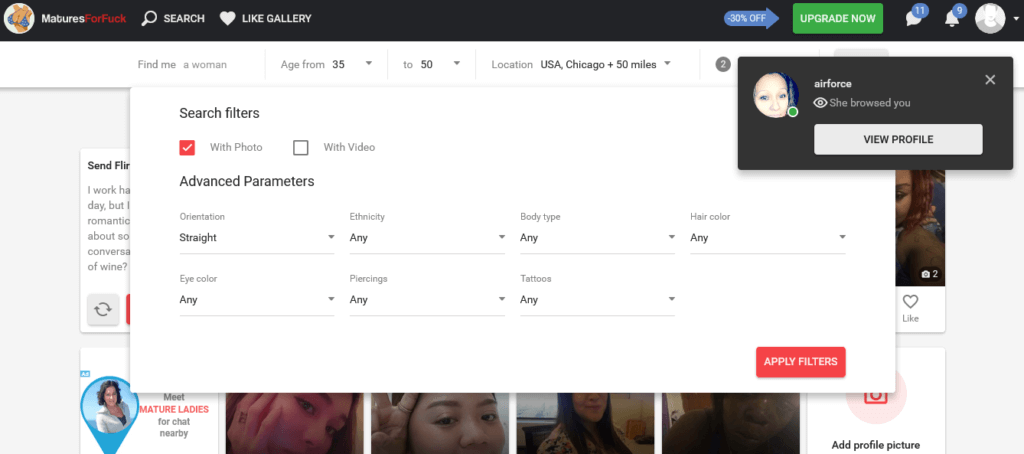 It's time to assess just how effective MaturesForFuck.com is in providing you with matchups.
And to do that, we have to put the search engine and the matching algorithm to to the test.
There are several ways to try it out.
First, you can check the matchups that the site provides to you.
And you will find them on the home screen.
Second, you can launch you own searches, using various parameters to fine-tune the returns to exactly what you are looking for.
We did both of these and this is what we found.
With the site providing potential matchups right from the moment you gain access, if you anything like me, that's where you are going to start.
From my experience, the matchups were all around in my age range as well as younger and older, usually about five years either way.
They were ranked, however, on how close they were to my location.
That's the way I would prefer it and I am sure you too would want to see people near your location.
After looking through the profiles, I notice a number of them sending me messages.
And to be honest, they all seemed genuine with some even using colloquialisms from the area I live.
I am sure that during your time on the site, you are going to want to use the search tool.
That allows you to search via the following parameters:
Those users with free accounts can add extra parameters in the advanced search too.
Here you can add parameters based on user profiles.
Sadly the results are worse than expected because people don't seem to complete their profiles, so it's pretty useless.
I did, however, confirm my suspicion that the site uses profiles from other sites in the Together Networks family.
That's because a search I always conduct on sites like this brought up two of the exact same profiles I have seen before on another site.
This demonstrates that profiles are shared.
But do those users know they are also appearing on a site like MaturesForFuck?
Probably not.
This approach is a little underhanded I feel.
Well, while you can like someone's profile and add them to your favorites, you cannot send them a message at all.
You can try, but all that happens is that you are taken to a membership payment page and asked to sign up.
You can announce yourself to others, however.
We spoke about a flirtcast earlier.
You get the chance to send one straight after signing up but my advice would be to hold back.
When you want to send it, you can access the option to do so from the home page.
This is essentially a set message that you can pick and that will be broadcast to all users near your location that meet your gender and age parameters.
This is a great approach to get your profile noticed as you can send a flirtcast every 12 hours.
But membership is need for communication, that's for sure.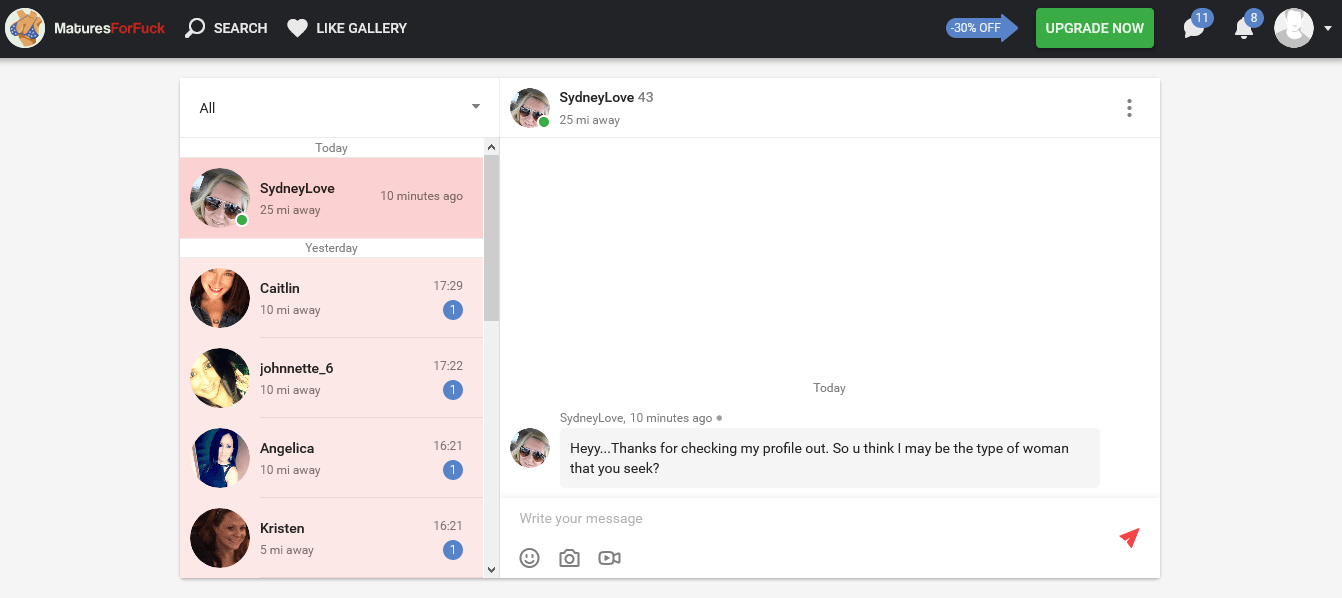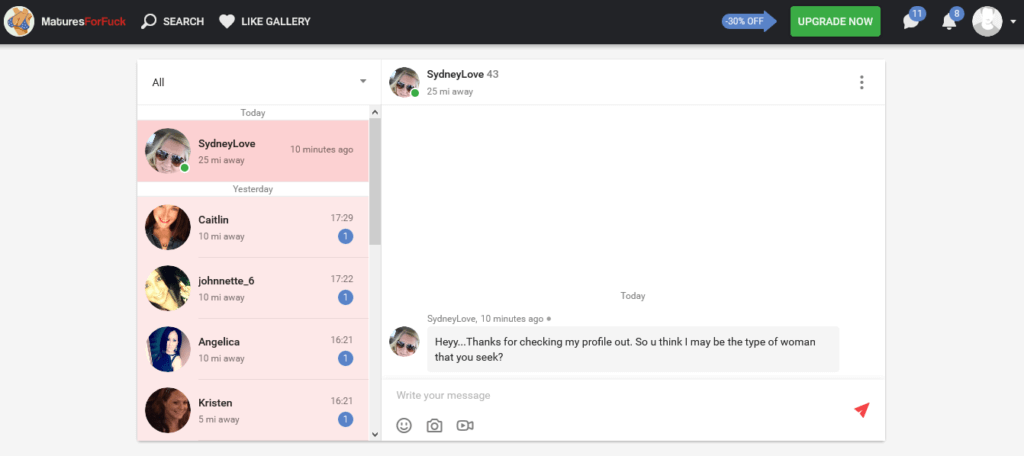 Communication is key on any dating site, even one that's for casual dating.
So yes, that's what premium membership will bring should you choose to go that route.
But there are other key features you can expect as well.
Some are better than others.
Let's take a look at them in greater detail.
1. See what type of relationships other users want
Wait, isn't this a hook up site?
Surely that's what they want, right?
Well, apparently they might want something else and this you can see by signing up as a member.
Again, to me, this demonstrates that the site is sharing users with others.
Premium members will get even more search options based on user profile parameters.
But I've already explained that many profiles aren't even filled in, so this won't be of that much value, I feel.
Members have access to support from the admin team should they need it.
If you click on someone's profile pic as a regular user, you cannot see the full-sized version of it while members can.
Useful, yes I would say so.
It it really a member feature?
Well, I am not so sure.
5. Share video and photos
When chatting with other users, you can share both videos and pictures in the messages you send them.
As you can see, there are a few features but many of them are that effective for me.
Messaging is by far the highlight of the membership extras.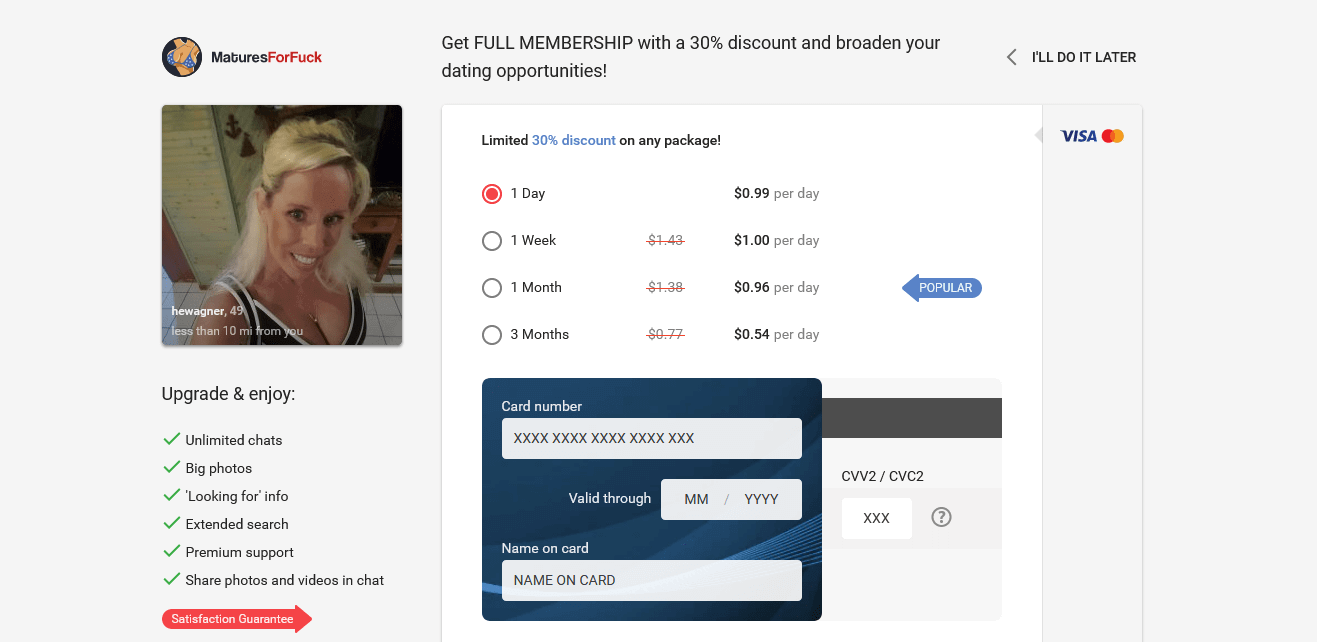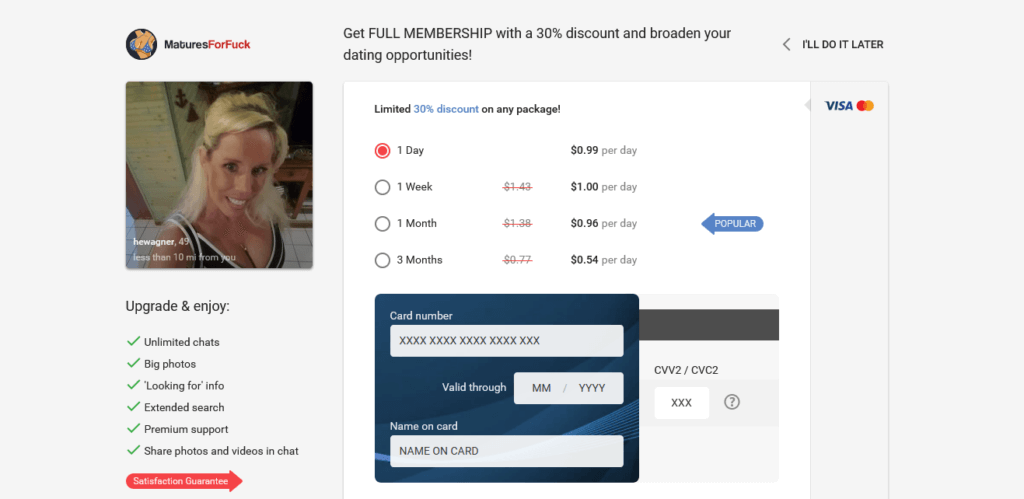 With premium membership a must if you'd like to contact someone, what membership options does the site provide?
Let's assess the options.
These are:
1-day trial: $0.99
1-month membership: $1.43 per day ($42.90 over 30 days)
3-months membership: $0.77 per day ($69.30 over 90 days)
There are specials to be had on the site, so lookout for those.
But I like that there is a trial offer so you can give the site a good look before committing to membership.
If you compare the price of the one-month membership, it is on par with other similar sites but also more expensive than others.
You can use our credit card as a payment option.


Overall Rating and Conclusion
That's it for our MaturesForFuck.com review
This is a dating website that was worse than I expected.
One of the areas they can improve is to ensure that it has its own user base.
Without a doubt, users are shared between sites.
And while that might seem ok, many of those users probably didn't know they would also appear on a site like this.
Is it a rip-off?
Well, I can say that the profiles I found on site seemed to be legit.
​That said, I did get a few messages that were strange.
But I also had conversations with those that looked like normal users to me.
To summarize, there are real people using this site but I would be wary when using it.
It gets a rating of just 2.75 out 5.
Onlineforlove studied and tested MaturesForFuck and concluded that while it promises a dating site that's about meeting mature women for hook ups, this isn't the case.
The approach we used was to give a star rating for the most important criteria of the site as we reviewed for an extended period.
Our evaluation was based on the following factors: price, ease-of-use, success rate, user population, and key features, amongst others.
Frequently Asked Questions