Welcome to another dating site and app review.
Today, we evaluate Qeep, a mobile app that's proved to be extremely popular all over the world.
Available for both IOS and Android devices, Qeep offers a quick way to find new potential matchups and reach out to them.
But just because it's popular, is this online dating app the real deal?
OFL Top Recommendations based on 100,000+ Survey

"Serious Relationships"
"Discreet Hookups"
"Best Course for Men"
"Quick Flings"
"Normal Hookups"
"Our Quiz"
Well, as we assess and analyze how Qeep works, we look at:
There must be a reason that 35 million people have turned to Qeep for their dating needs, right?
Let's explore what that is.
Is your dating app giving you the best chance for success?
Make sure to take our online dating site/app quiz to find out.
It's a fact that people who follow our dating site suggestions have on average 2 extra dates per month.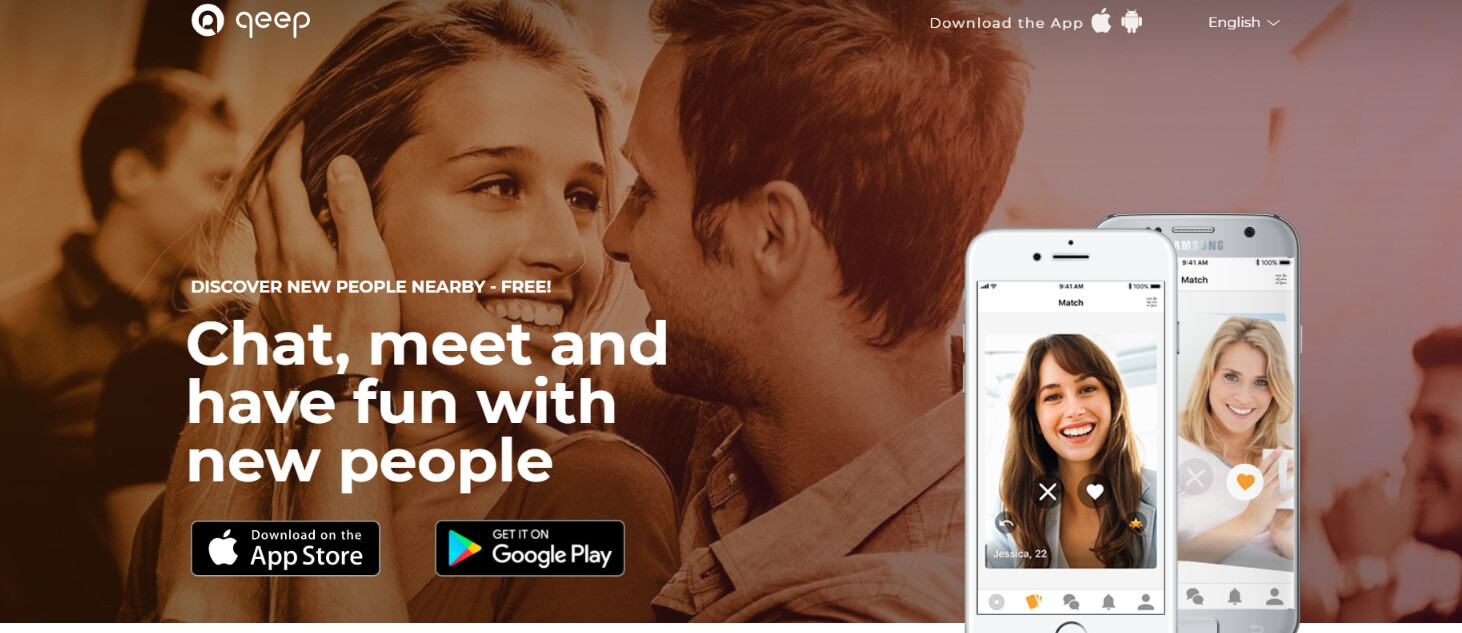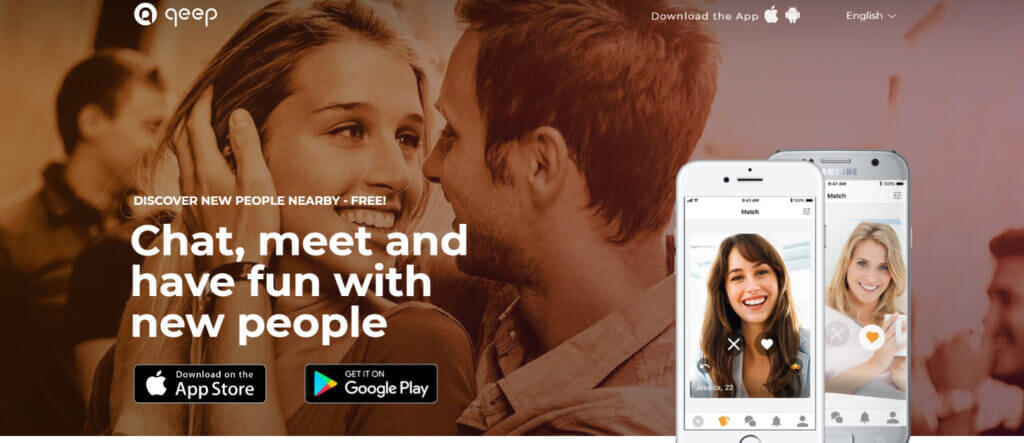 Ease of Use – 4/5
Effectivness – 4/5
Key Features – 4/5
Pricing – 4/5
35 million users
Register in less than a minute
Some key features available to regular users (but in limited quantities)
In-app advertising is very annoying


Who's It For/Demographics?
35 million users around the world.
That puts the Qeep app right up there with some of the biggest free dating apps on the planet.
As for who uses Qeep, well it's all kinds of people looking for various relationships, from flirting, to hookups (like BeNaughty or Ashley Madison), to finding your soulmate, or just making new friends (like eHarmony or Tinder).
But let's get into those demographics and other facts about Qeep:
OFL Top Recommendations based on 100,000+ Survey

"Serious Relationships"
"Discreet Hookups"
"Best Course for Men"
"Quick Flings"
"Normal Hookups"
"Our Quiz"
Around 150000 new users join Qeep each day
Most Qeep members come from the United States, but it's popular in Canada and Europe too
Qeep has been downloaded over 10 million times on the Google Play Store
On the App Store, it has a rating of 4 from Apple device users
Gender ratio and range distribution of Qeep users
It's always fascinating to look into which gender leads the way on various dating apps.
It's impossible to predict too.
If Qeep was a pure hookup app, I would confidently say that there should be many more men than women.
But Qeep is for people looking for all kinds of relationships and while males are in the ascendency, the ratio between them and female users aren't that far apart – 60% to 40%.
And with 35 million users, no matter what gender you are, there should be plenty of matchups to choose from.
Qeep is most popular with younger age groups but you will find users in every age range.
Here's a breakdown from the most popular:
25-34-year-olds: 37% of all users of which 22% are male and 15% are female
18-24-year-olds: 26% of all users of which 15% are male and 11% are female
35-44-year-olds: 21% of all users of which 12% are male and 9% are female
45-54-year-olds: 12% of all users of which 7% are male and 5% are female
55 and older: 3% of all users of which 2% are male and 1% are female
63% of all users are aged from 18 to 34 and just 3% are over 55.
So if you are older you are probably thinking you should use some other app for your age range.
However, it's important to remember that Qeep has 35 million users, so 3% of that is 350000 people older than 55.
That's probably on par with some niche dating sites for older folk, so don't rule at least trying it out.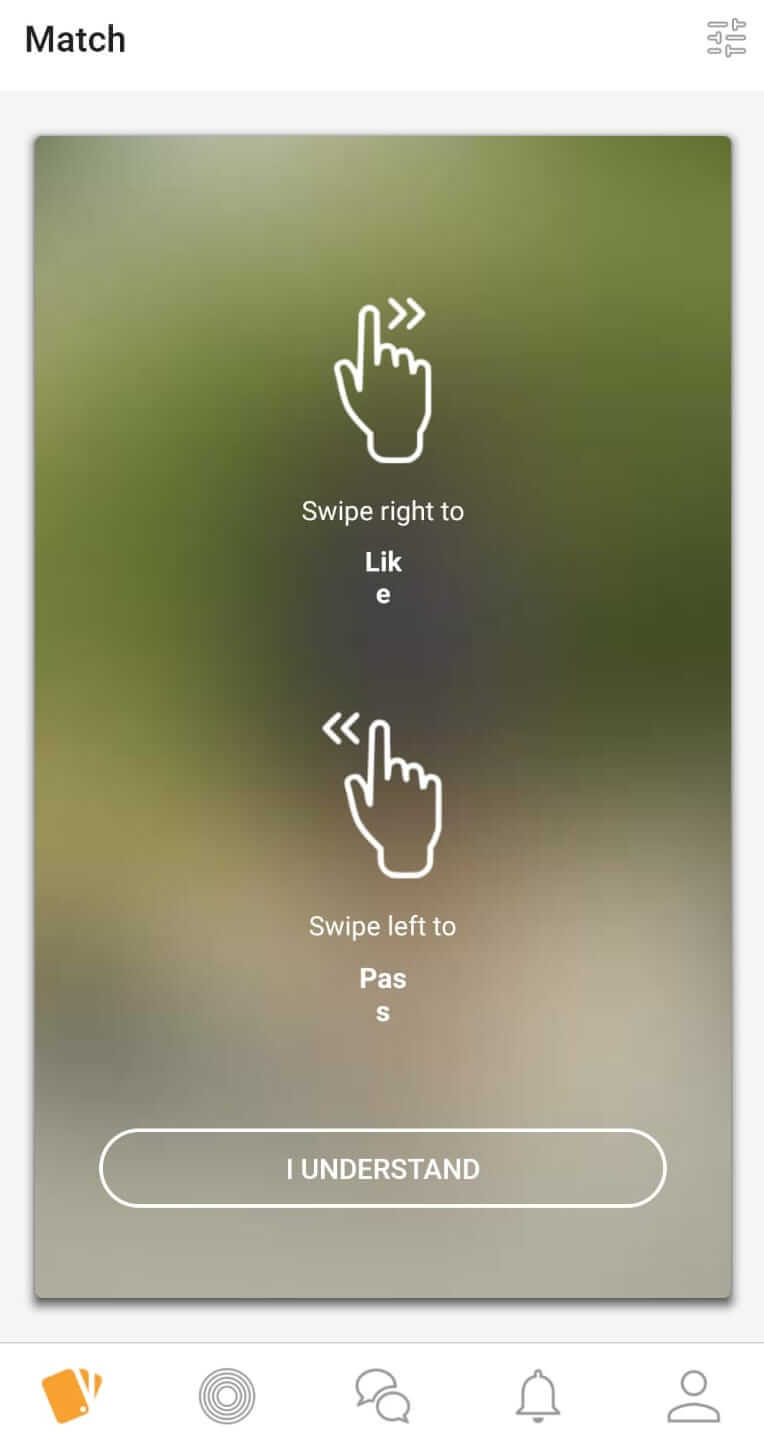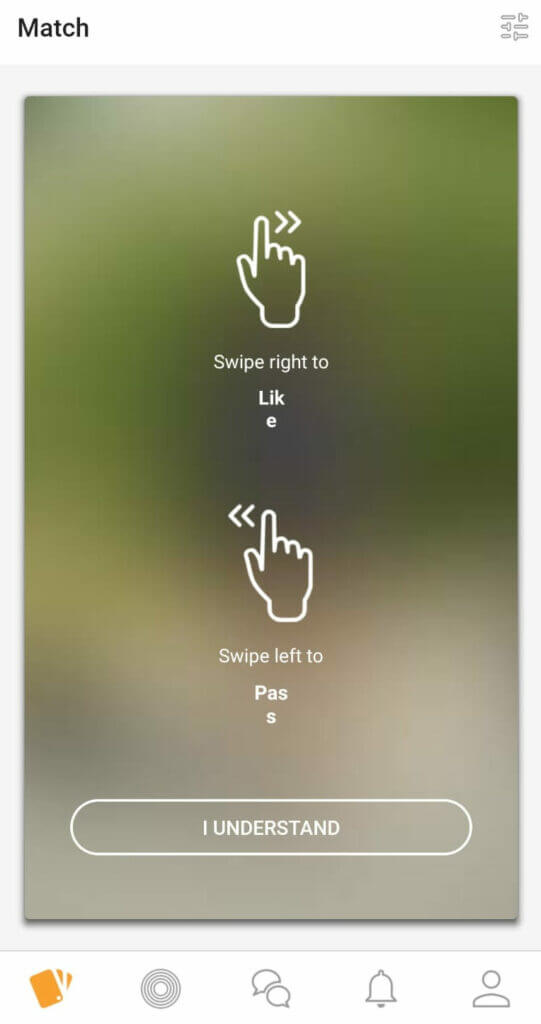 If you head on over to Qeep.net you'll find out plenty of information about this dating platform.
But you won't be able to start a Qeep account at all as it is only app-based.
Once you've downloaded it for your relevant device you can start the registration process.
You have three options:
Sign in with a Facebook account
Sign in with a Google account
Sign in with an email account
Most apps use your phone number as an option to sign in but not Qeep.
Once you've chosen your preferred method of signing in, Qeep asked for the following information:
Gender
Email address
First name
Date of birth
A password
Five minutes is all it takes and you are ready to start looking for love.
Navigating your way around Qeep
Qeep is your typical modern dating app.
If you've used Tinder or others like that before, you'd easily get to grips with Qeep.
Right from the start, Qeep opens on the match screen and you can immediately start looking for a potential matchup.
But there are several menus that you will find on the bottom of the page through which you will navigate to other parts of the app.
As usual, on dating apps, there are icon menus.
So let me explain to you what they are:
Card icon (Matches): Here you can scroll through your matches one by one. This is standard dating app fare and you swipe left if you don't like someone and right if you do.
Circles icon (Location matchups: This shows you all the matchups near your location but not in a one-by-one format.
Chat bubble icon (Messages): All your sent and received messages will be found here
Bell icon (Notifications): Qeep will alert you to important notifications here.
Human outline icon (Profile): You can access your profile as well as other settings here
It really is super simple to use.
Yes, there are menus within those menus but again, it's easy to understand their purpose as you use the app.
A little later in the review, we will explore just how you can go about finding the best possible matchups, dealing with chat requests, and more.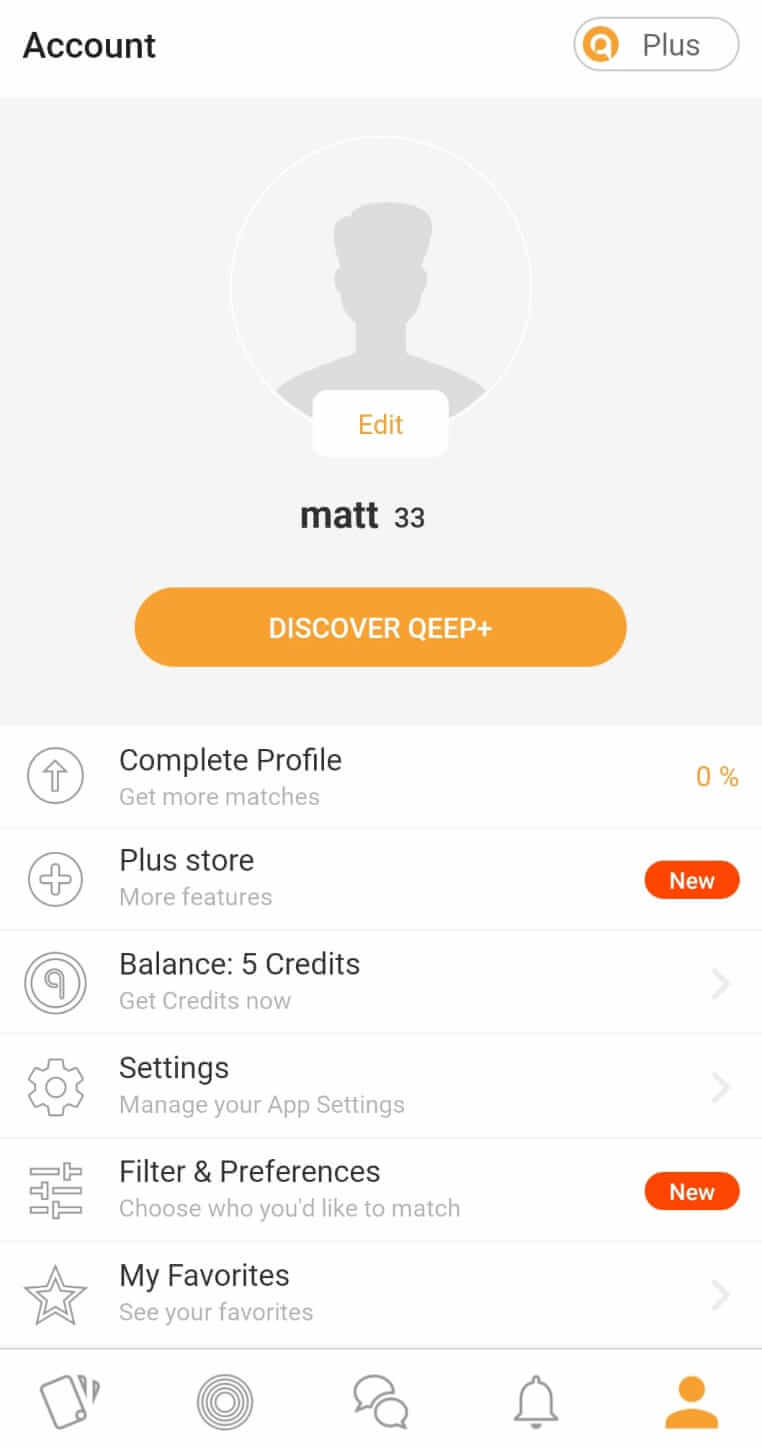 The downside to a quick user registration is the fact that your profile isn't complete.
In fact, it doesn't even have a profile picture yet.
Profiles on Qeep aren't packed with information like you might find on a dating site but there's enough information here for a potential matchup to find out a lot about you.
To complete your profile, you will fill in a questionnaire.
It includes the following:
Your relationship status
What you are looking for in terms of a relationship (dating, friendship, marriage, etc)
If you work out or not
Your height
If you drink
Your level of education
Your religion
Your plans when it comes to children one day
If you have pets
Do you speak a foreign language
Your current profession
And that's it except for your profile picture.
Again, just keep this as normal as possible.
Things like nudity are not tolerated.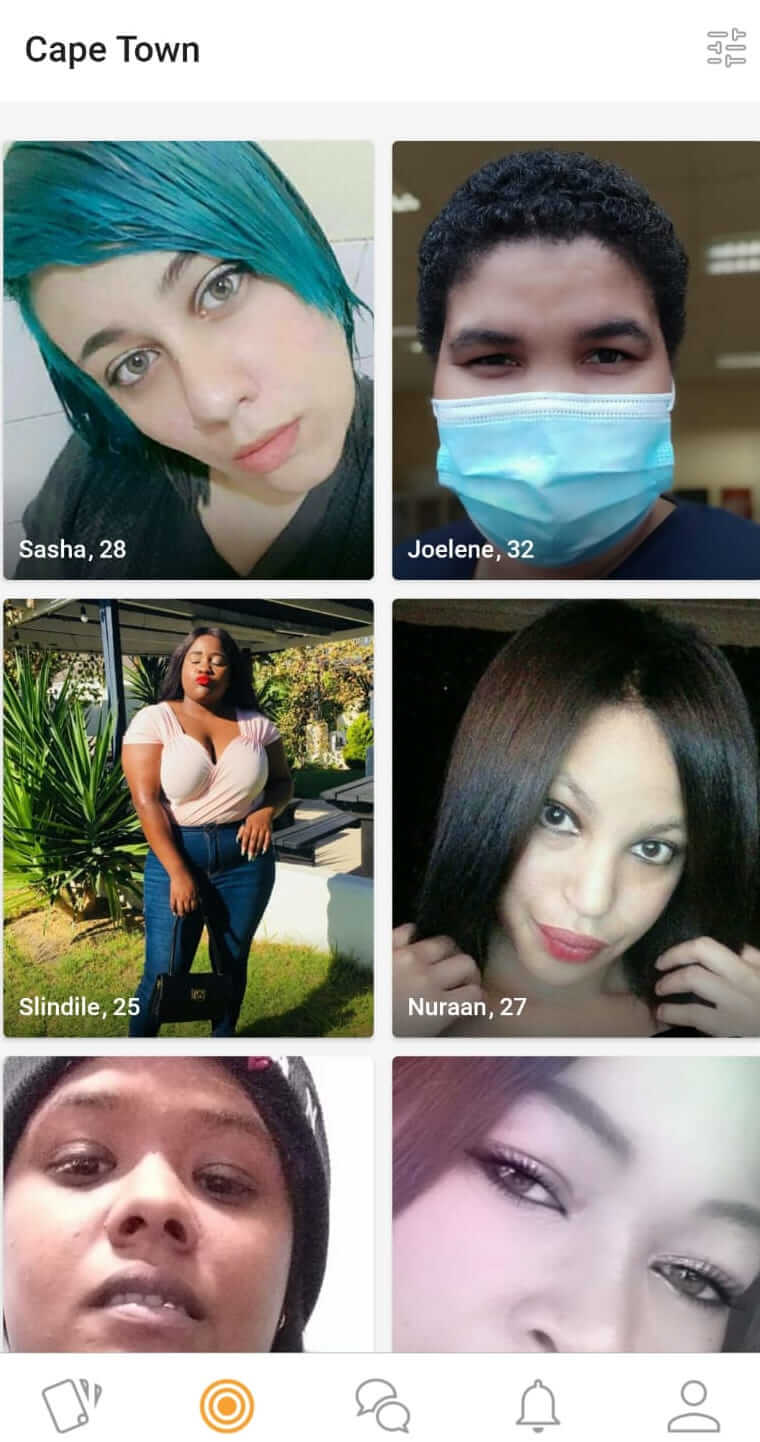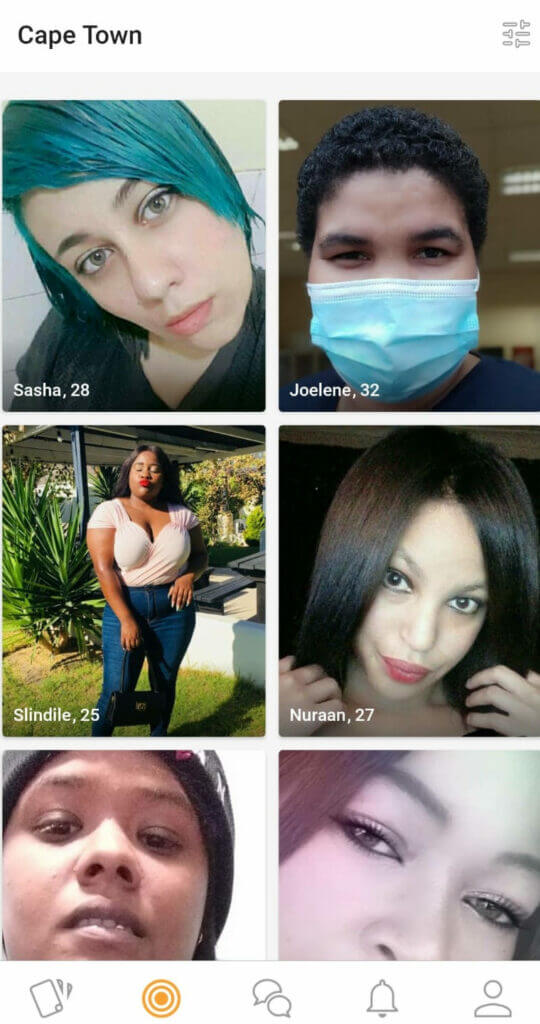 Once you've completed all of that, you are free to begin looking for matchups.
There are a few ways you can do this.
On dating apps, the most popular way is obviously by swiping through single profiles on the match screen.
And that's probably what you will do more often than not.
Remember, it's swipe left to move on to the next profile or right if you like someone.
If you'd like to know more about the person, click on their picture to bring up their profile.
You can scroll through their photos (if you are a Qeep member, like their profile or send them a chat request).
Should they then swipe right on your profile, it's a matchup and you both parties are alerted in their notifications on Qeep.
And then you are free to message each other.
Sounds easy enough but as with most dating apps, if you swipe right on someone's profile, they aren't alerted to the fact that you have done so.
That means matchups do happen naturally but not that frequently.
You can boost those chances, however, by using a Super Like.
When you click the "star" emblem you will see when you are in the Match menu, that users will be alerted to the fact that you like and then if they like you back, it's a matchup.
While Qeep is showing you these potential matchups based on your preferred gender, agreed range, and location, you are free to make changes.
On the top-right-hand side of the Matches screen, you will see a selection slider.
If you click on that, you can change:
The gender you want to see
Age ranges
The search distance (how far away from you the app can search for matchups)
You can even search globally if you'd like to.
There are also advanced search filters that even free users can add.
These are parameters linked to Qeep profiles like:
Do they drink?
What is their level of education?
What is their height?
What languages do they speak?
Do they exercise?
Do they have children?
Do they have pets?
What do you want from your date?
What is their religion?
What is their profession?
What is their relationship status?
With 35 million users, These parameters really let you fine-tune your Qeep matches if you'd prefer.
Searching through multiple profiles
Some users prefer looking at multiple profiles and clicking on those that they are attracted to.
Qeep allows you to do this by clicking on the circle icon.
Now you can see six potential matchups at a time and scroll through them by swiping up or down.
Find one you like and click on their profile picture.
If you like what you see, click on the heart icon.
That's like swiping right when looking at matches one-by-one as we discussed earlier.
You can also see their full profile information, provided they've filled it in.
You can change the settings for the profiles that Qeep shows you under this menu by clicking the slider icon at the top-right-hand side of the screen.
The changes you can make are exactly as we explained above and also include the advanced parameters you can add if you'd like.
If you'd like to, you can chat with users here too.
This will make use of the one free chat request that you receive per day.
Interestingly, you cannot send a super like to users from here.
That's only available as an option on the Match menu.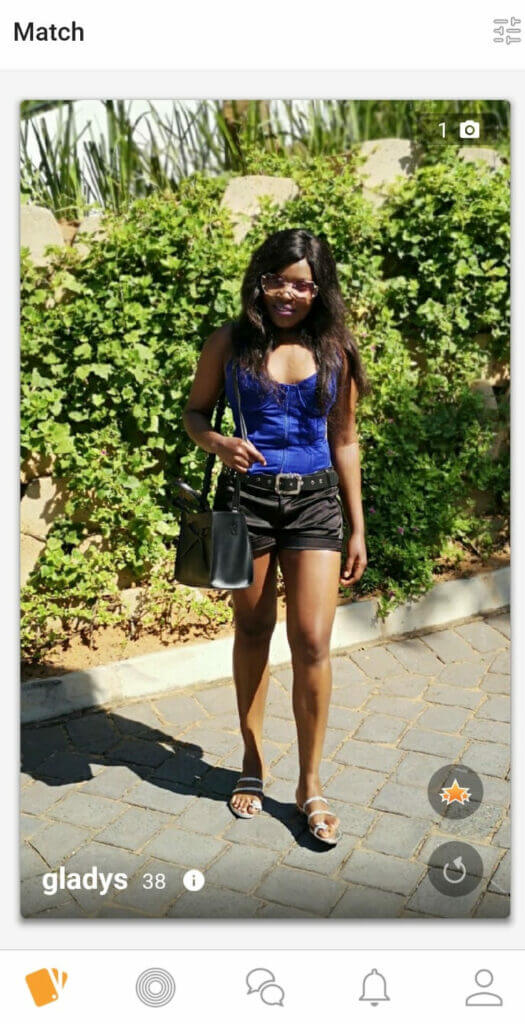 Reaching out to others on Qeep
Luckily, as a free user, Qeep allows you to send one chat request each day.
That's how Qeep chat works.
Of course, those receiving the chat request then decide if they want to get into a conversation or not.
Should you receive a chat request, you have that power as well.
And remember, if you match up with someone you can chat to them too.
So if you want to try and use Qeep without signing up for membership, remember to keep that Super Like and use it on the right person.
Of course, just like any other dating site, Qeep provides paying members with the tools to make a connection with someone else so much easier, as well as communicating with them.
If you'd prefer not to sign up for membership, you can purchase more Super Likes using credits.
But now let's see what key features you can expect should you wish to sign up for Qeep Plus.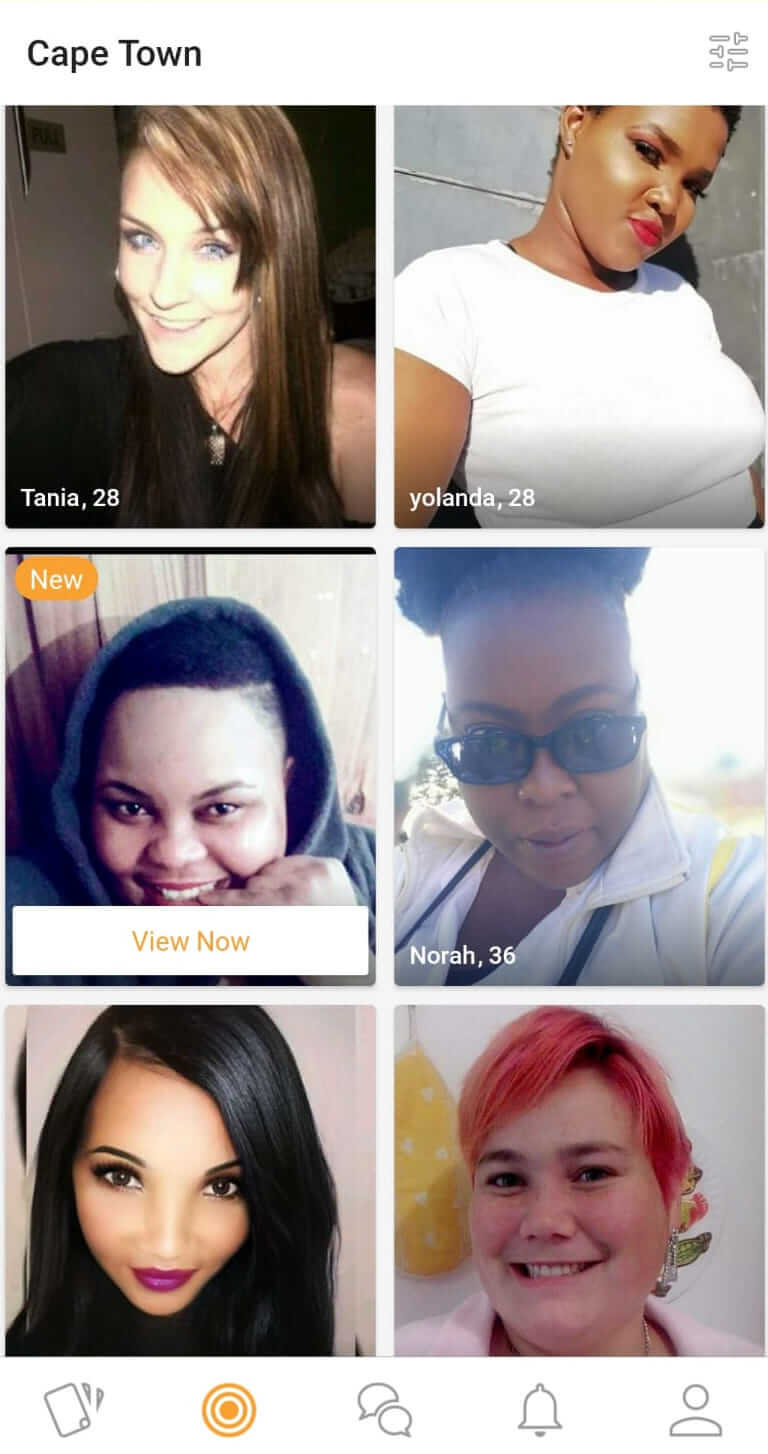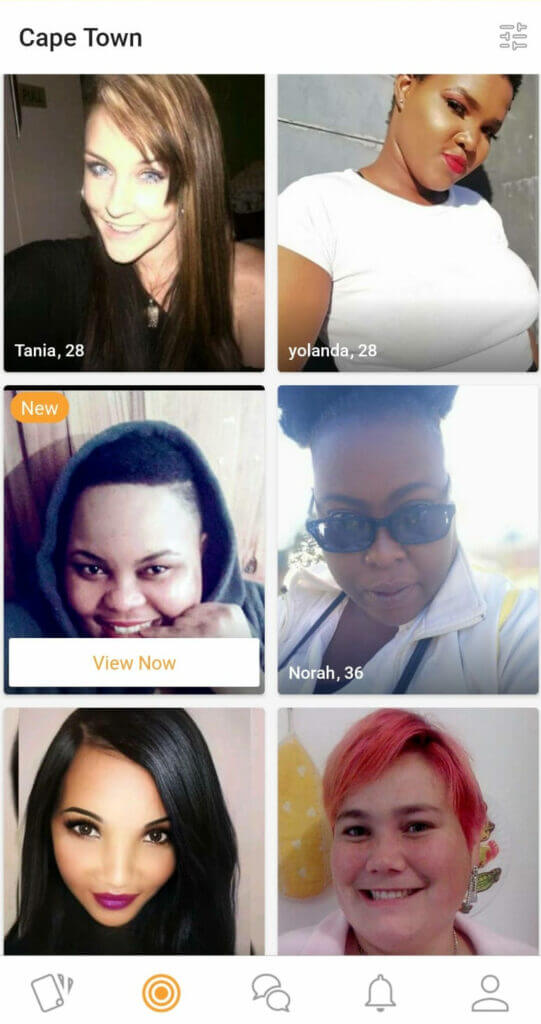 Before we look into all the extras you can expect from membership to Qeep, here's a reminder of what a regular non-paying user can do on the site.
25 "Like" swipes available on the Match menu per day
1 free chat request per day
1 Super Like per day
Free chatting with someone you've matched with
Membership brings a few added extras that help boost your chances of finding a potential matchup.
If you don't think one chat request per day is going to work for you and you need more, then membership to Qeep provides that.
It's not a whole lot more but it will help to establish a connection with other users.
So instead of one, you will get three chat requests every day.
You must remember, these are pretty powerful as the other users are immediately alerted that you want to chat with them.
Because there are only three, it's not something you should be firing off at the first profile that you come across, that's for sure.
You probably could get by on one Super Like per day, but it's definitely going to slow down your chances of finding a matchup quickly.
Unless you get pretty lucky of course.
Super Likes are something you find on all dating apps where swiping is involved.
If you choose to sign up as a member of Qeep, instead of one, you will get five over a 24-hour period which will get renewed.
If you don't use all of them in a day, however, they won't build up past 5, but instead, fall away.
So it's useful to make sure that as a member. up log in and find people to send those Super Likes to.
While regular users can only swipe right and like 25 other profiles each day, for members, right-swiping is unlimited.
That's really going to enhance your chances of a matchup, right?
Just think about it, if you swipe right on a ton of profiles you like, you have far more chance of one of them doing the same to your profile.
4. See who liked your profile
If you can see who liked your profile, you really are in the best seat in the house, so to speak.
Now you have time to see what they are all about, and if they are someone you'd like to get to know better, you can simply like them back to create a matchup.
All members can immediately see who has liked their profile instead of the profiles being blurred out as they appear to regular users.
5. See who favorited your profile
Someone may have favorited your profile but not yet got to the point where they have reached out to you.
They certainly wouldn't have favorited it if they didn't find you attractive or see you as someone they wanted to talk to, right?
So that means you can strike while the iron is hot and send them a chat request or favorite and like them too.
If you've swiped right when you should have swiped left or vice versa, you can undo that mistake as a member perk.
It's easy to swipe the wrong way and it's nice to know that this can quickly be rectified if you have signed up as a member of Qeep.
Qeep does have its fair share of advertising.
They either appear at the bottom of the page, but sometimes, you will have a full-screen ad that you have to sit through.
This can be extremely annoying but luckily not a problem for those who become paying members of the app.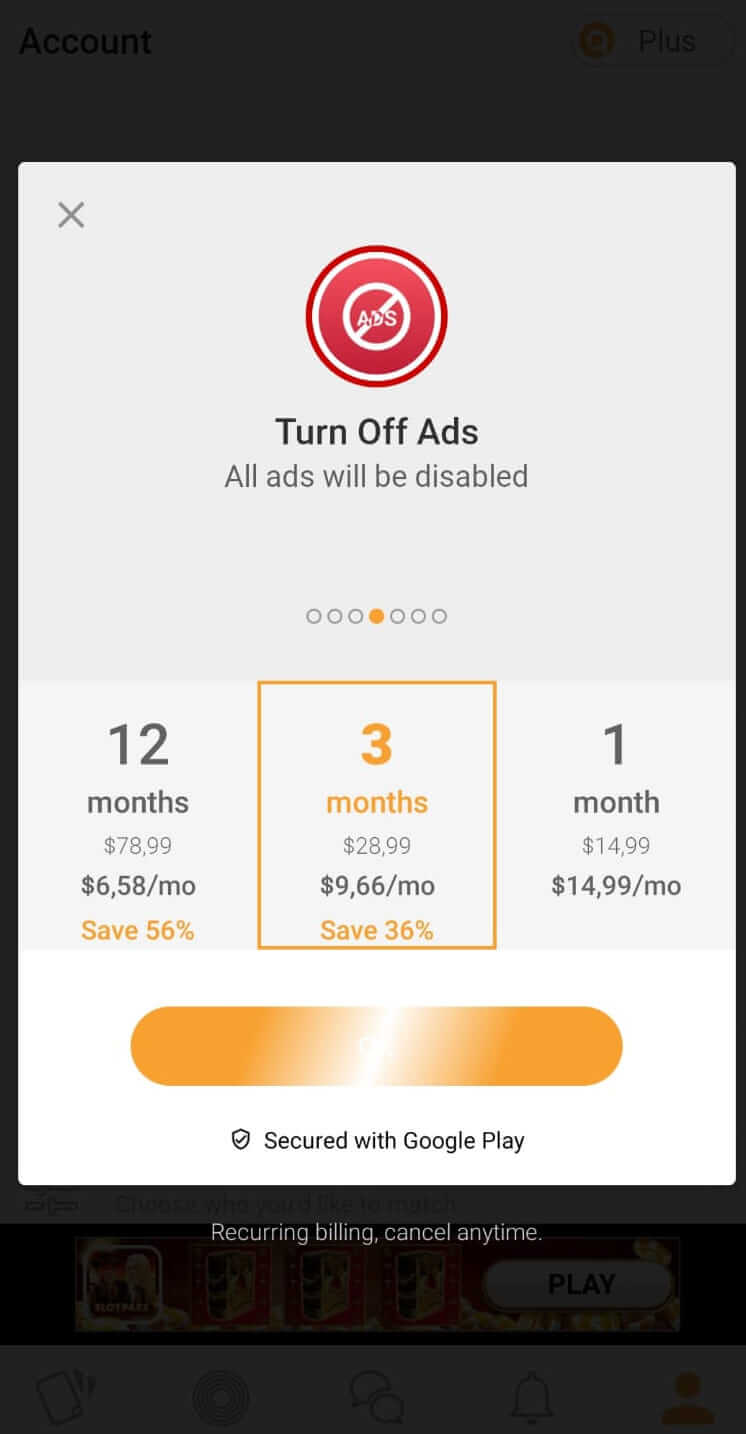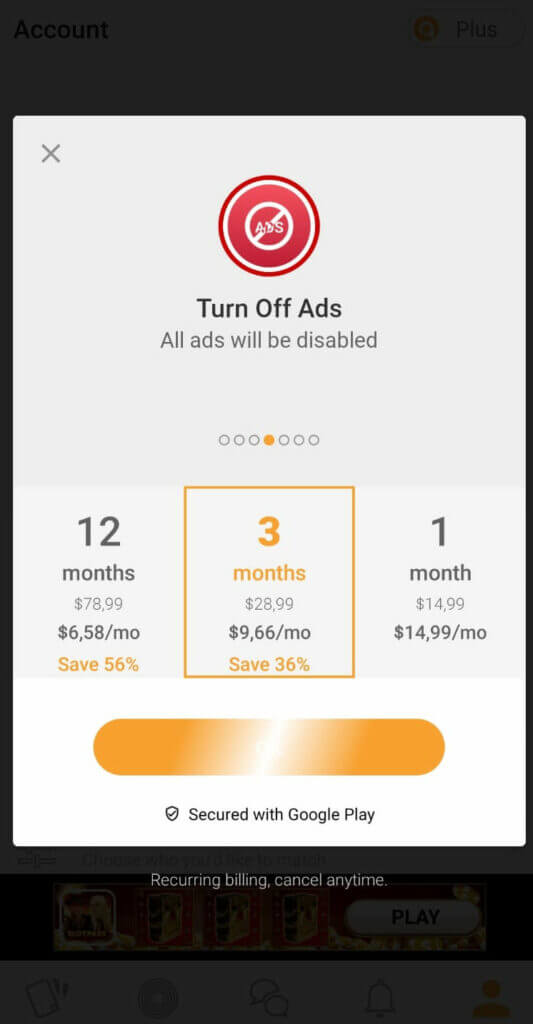 That's a fair few extras that you will get if you sign up as a paying member of Qeep, right?
But how much is that going to cost?
Generally, dating apps charge far less than a regular dating site and while Qeep isn't the cheapest I've seen, it's competitive.
That's especially true when you think it has 35 million users.
Qeep offers three membership options: one month, three months, and 12-months.
Here's what they will cost you:
1-month: $14.99
3 months: $28.99 ($9.66 per month – a 36% saving)
12 months: $79.99 ($6.58 per month – a 56% saving)
That really isn't bad at all, right?
I would jump at the three-month option because $28.99 is lower than many dating sites charge per month.
Of course, it's up to each individual to decide which is going to work best for them.
Qeep has multiple payment options depending on where you live.
You can pay with your credit card, through PayPal, or have it added to your cell phone bill.
Don't forget, you can also buy credits to purchase Super Likes and other features.


Conclusion and Overall Rating
We've come to the end of our Qeep review.
To quickly summarize, this is a dating app with 35 million users around the globe.
That already is one of the major advantages it has over many other dating apps with smaller users bases.
It means that you stand far more of a chance of finding someone near your location, even if you don't live in a large city.
And if you do, there are just going to be so much more options for you.
Will you find fake profiles?
Not that I saw, but all dating sites have fake profiles, so yes, there probably are people looking to get up to mischief.
What I really do like about Qeep is the fact that it allows non-paying users to try out some of the key features.
For example, they can use a Super Like per day or send a chat request.
That makes Qeep a dating app that you can use for free but of course, it's going to take a lot longer to find a potential matchup.
Checking out the membership options is worth it too.
Not only do you get tons of key features but it's priced perfectly.
Today, Qeep gets 4 out of 5.