Another day, another niche dating site, right?
The thing is, if they weren't popular in online dating circles, there wouldn't be so many of them.
Today, we are going to look at a niche dating site called Ukraine Date.
By the end of this full-on review, we aim to answer several critical questions that you would want to have answered should you be looking to make use of the site to look for love.
OFL Top Recommendations based on 100,000+ Survey

"Serious Relationships"
"Discreet Hookups"
"Best Course for Men"
"Quick Flings"
"Normal Hookups"
"Our Quiz"
These questions include:
Rest assured, we go deep and in-depth into this Ukraine Date review so that you can make an informed decision after reading this review.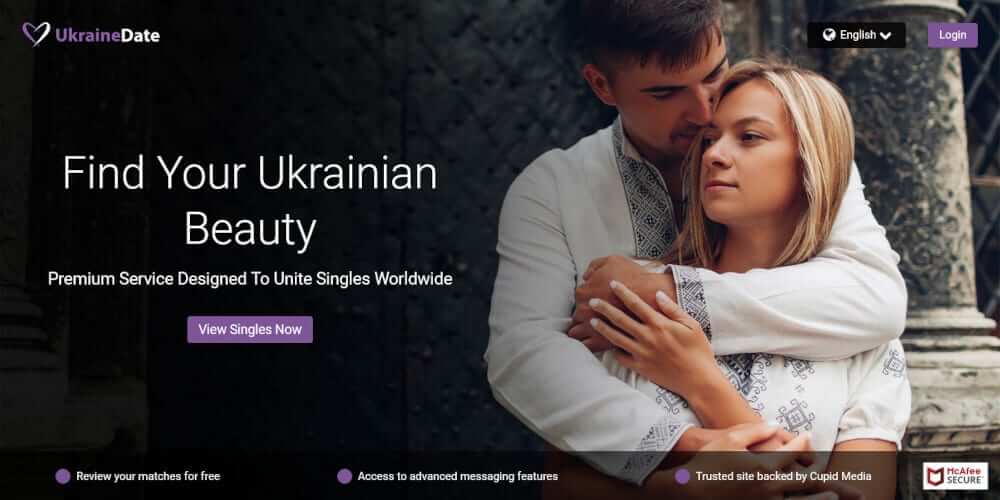 Is your dating app giving you the best chance for success?
Make sure to take our online dating site/app quiz to find out.
People who follow our dating site suggestions have on average 2 more dates per month.
Ukraine Date Review in Video Form
Audio (podcast) form for those of you on the go
Effectiveness 3/5
Ease of Use 4/5
Key Features 4/5
Pricing 3/5
Easy to register
Well designed site means everything is easy to find
Lots of features you don't have to pay for
Not many users
If you'd like to communicate effectively, you need to have a membership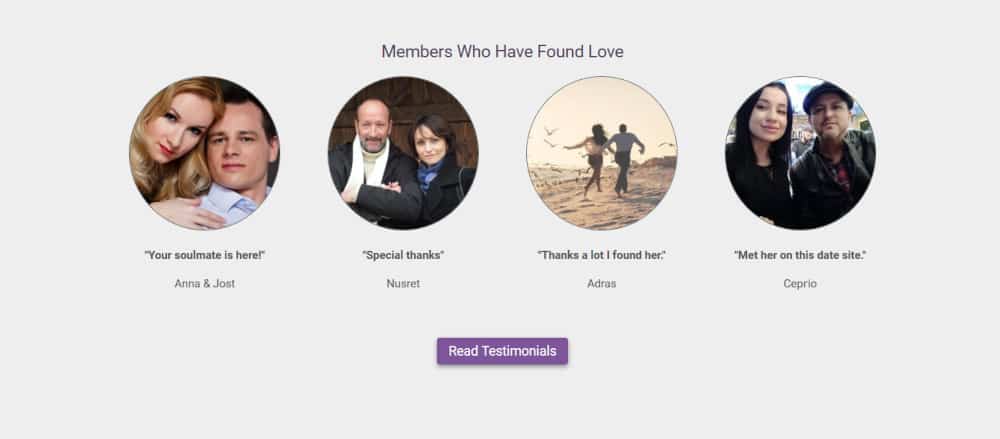 Ukraine Date is part of the network of 35 dating sites run by the Cupid Network.
These dating sites are extremely successful and cover an enormous range in terms of niche dating.
Urkaine Date is not for hookups (like BeNaughty or Ashley Madison) but rather for people seeking serious relationships (like eHarmony).
It's not that difficult either to work out just where Urkaine Dating fits in then.
Yes, this is a site for:
Men and women who want to meet up with Ukrainian women
Ukrainian women who want to meet up with a potential partner who, in the long run, will marry them
We all know that to be effective, a dating site has to have active users, so let's see how Ukraine Dating stacks up.
So as niche dating sites go, this one is pretty small in terms of users.
It's no Latin American Cupid, which boasts a user base into the millions.
Ukraine Date operates on a much smaller scale but it's easy to understand why as this is a small dating niche.
So what kind of figures can you expect?
Well, here's a breakdown of some that I managed to find out:
Ukraine Date says that it has over 1 million users
Cupid Media say that Ukraine Date has around 80 000 registered members
15 000 of them come from the United States
At any one time, you can find around 400 to 500 people online
The site records around 12 000 visits per month
The site is growing by 500 new members each month
As you can see, those aren't the most stellar numbers but again, it's important to realize how much of a niche type of dating site this is.
But what about gender ratios as well as user ages?
Those too, are critical pieces of information you should know about any dating site you'd like to use.
So when it comes to the ratio of men to women making use of Ukraine Dating, the numbers are just a little out of synch.
Ok, not a little, but a lot!
In fact, we are talking about 85% male profiles to 15% female profiles.
So that means lots of competition if you are a male looking for a Ukrainian beauty.
If you are a Ukrainian beauty, however, you have plenty of choices to find Mr. Right.
And the age ranges?
Well, Ukraine Date is used mostly by 35-44-year-olds but here is a full breakdown of the most popular age ranges.
35-44 years old
25-34 years old
18-24 years old
45-54 years old
55 and older
Looking at the age ranges, that's what I would have expected to be honest.
Having said that, I would have thought that 45-54-year-olds would be more prevalent on the site than 18-24-year-olds.
As far as user locations go, Ukraine dating has members across the world including Ukraine, United States and many European countries.
Now let's see how it brings all these different users together and just how effective you can expect it to be.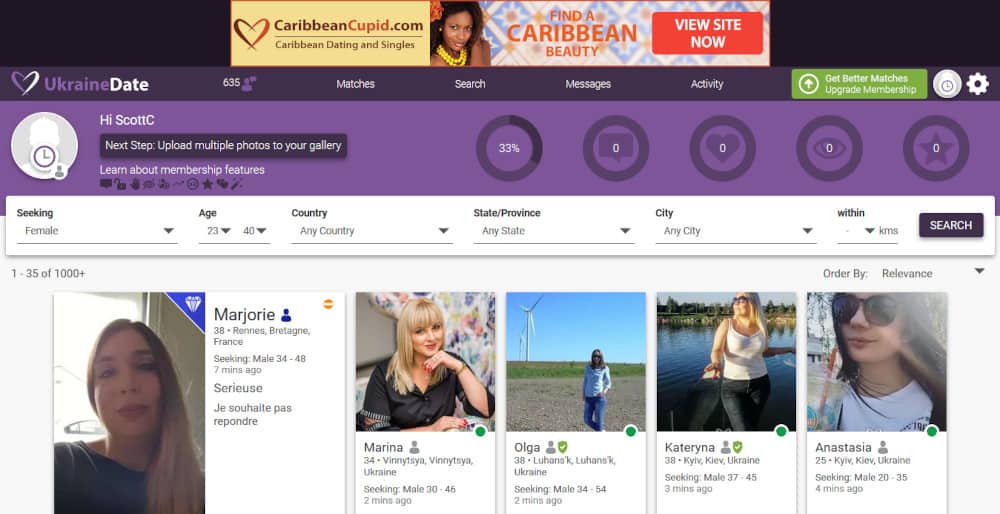 So people are only going to stick with a dating site if they get results.
That's a no brainer.
Why would you continue to try to find a matchup when the dating site you are using is turning up nothing but fake profiles, bots or people that you aren't suited to.
And like other dating sites, you are only going to stick with Ukraine Date if you see results.
For the most part, Ukraine Date is a bit of a hit and miss affair and I will explain why I say that during the course of this review.
As a site that forms part of the Cupid Media stable, there are a few things you have to know about actually making contact with someone.
That's got to do with sending messages.
Many sites simply don't let you at all, hiding their message systems behind a membership.
Ukraine Date, like its sister sites from Cupid Media, allows you to send messages to members only.
But that's it.
You cannot send to other users and you cannot reply to messages you receive.
That makes connecting with someone you've identified as a potential matchup extremely difficult.
That said, there are limited workarounds to this but overall, they are just that… limited.
For example, you could "like" someone's profile.
That certainly shows your interest.
But that all you can do.
So from the start, it's important to know that if you want to communicate effectively on Ukraine Date, you probably will have to look into some sort of membership.

What about searching for potential matchups?
While we've already said that the user base for Ukraine Date is small, the website gives you every chance possible of finding matchups.
It does this by providing you with a few ways to search for potential matches.
If you've used dating sites before, the first and most popular you would have seen many times before.
And that's a match search engine.
Here, you have to input what you are looking for.
You can use a very basic search format which uses:
Or you can use one which includes the first three parameters but adds a whole lot more such as:
Appearance, which can include height, weight, body type
If they have a profile picture or not
When they were last online
This gives you an excellent scope to build your searches just how you want and to include characteristics that are non-negotiable on your part.
Of course, when doing so on a niche dating site with a smaller user base, you might find searches that include a host of parameters returning not that many matchups.
Luckily, that's easy enough to tweak.
Ok, so we've seen the regular search method but what's the other way you can try to find a matchup.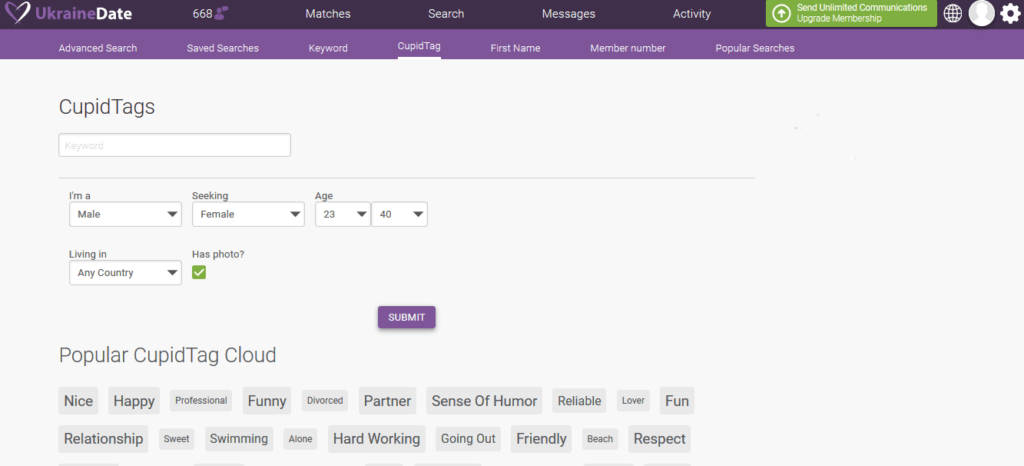 Well, that's by using something known as "Cupid Tags".
It's a staple of all the websites run by Cupid Media.
While some might see them as no more than a little fun, they can be quite useful.
A "Cupid Tag" is simply a tag that users of Ukraine Date can add to their profile to describe them.
This could be something like "caring" or "ambitious" or "romantic".
You get the idea.
Not only can you use these tags on your profile to aid others in their search for something specific, but you can search using them as well.
Find a few tags that best describe what you are looking for in a match and search specifically for those.
It could throw up some really good matches.

I love dating sites from Cupid Media.
Their design is slick, clean and easy to navigate and Ukraine Date is no different.
But let's start off right at the beginning and that's with signing up.
Ukraine Date includes two sign-up options:
Selecting your own username, entering a password and a valid email address
Or join in a single click using your Facebook
I prefer the username, password and valid email approach although it will take a few minutes longer.
Once you've entered those details, you will give some basic information including your gender, what you are looking for and the age ranges for your matchups.
And that's it.
After that, you can log into the site and start having fun.
Of course, to make sure you are more likely to get matchups or to have people view your profile, you need to add a profile picture.
While that's generally what get's you noticed, you would also need to fill in key areas of your profile so people can learn more about you before they contact you.
And if you don't do it, you are denting your chances of anyone reaching out to you.
There's plenty to go through here, but it will be worthwhile in the end.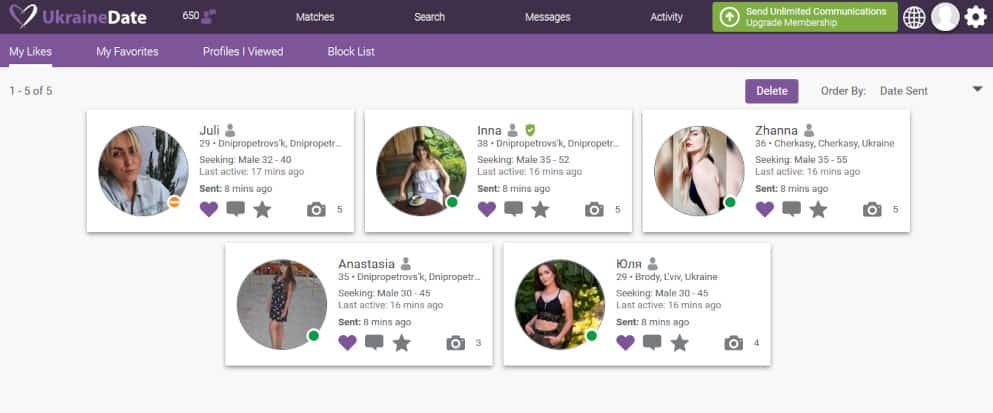 Everything you need is so easy to find and navigating Ukraine Date by the menus that you find at the top of the screen couldn't be simpler.
The buttons found here will link to your profile, settings, messages, search as well as the matches you've found.
Not only that but you will also find a counter to see how many users are on site.
This is very useful for a site with a small user base because you certainly want to be online when it is at its busiest and now it's simple to see when that is.
And if you'd prefer to use an app instead of navigating the website from your computer, you can download one from the Android store.
Sorry, Apple users, you haven't been catered for when it comes to an app but you can browse the website in mobile mode from your phone.
Now let's move onto the key features Ukraine Date offers and let's see how you can make them work for you.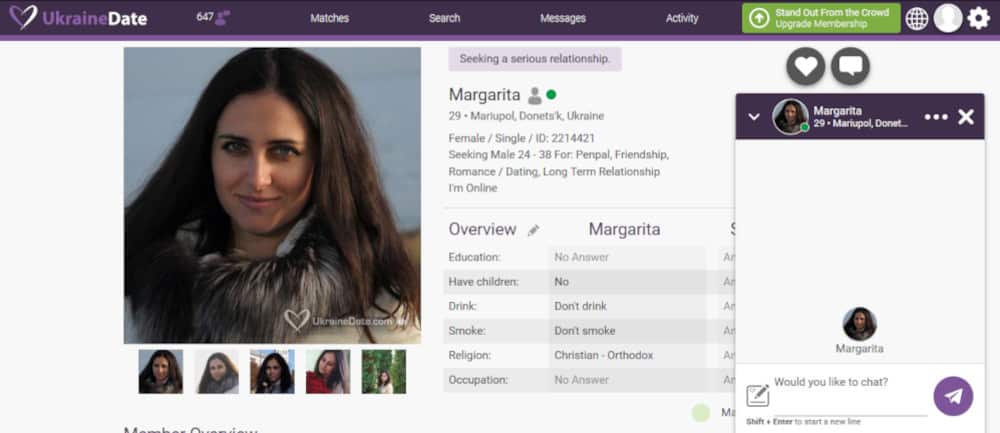 There were a number of useful features that I found for regular users while using Ukraine Date.
I wouldn't call them key features, but they are certainly helpful.
For example, without having to pay a membership fee, you can see who has viewed your profile, liked your profile and favorited your profile.
You can also like and favorite other people's profiles.
I think these are important features that if you are serious about looking for a matchup, you can make real use of them.
But what about users who opt to become members, what do they get for paying a monthly fee?
Well, there are two membership options, Gold and Platinum.
Note that not all features are available to Gold members but as a Platinum member, they are.
Other than searching for matchups using parameters, those users who opt to become a member of Ukraine Dating can also use two other forms of matchups.
These are specifically aligned to your profile alone based on the parameters you have entered.
They are called mutual and reverse matches.
A mutual match is someone whose criteria match exactly with yours and vice versa.
In essence, it should be a perfect match.
A reverse match means that the person is looking for someone like you.
In other words, your criteria match up with what they are looking for.
That said, their criteria might not be what you are looking for.
I think both of these are useful and something to consider getting a membership for.
Note, this is for Platinum members only.
While advertising isn't that evasive on Ukraine Dating, it's nice to get rid of them.
So if you are prepared to pay for a membership, advertising will simply disappear which makes your browsing that little bit more pleasant.
Perhaps the best thing about having a membership on Ukraine Dating is that it takes the stress of trying to communicate with someone away.
That's because, with both Gold and Platinum membership, you are free to send messages to all users.
And you can reply to any messages you receive.
There are no restrictions at all.
So if you prefer instant messaging between profiles, as a member you have that option too.
It certainly is something I prefer, simply because it's so much quicker than waiting for a reply to end up in your mailbox.
5. Hide your profile and browse in secret
If you'd like, you can hide your profile from other users.
You can also browse in secret without anybody know that you looked through their profile.
To be honest, I wouldn't want to make my profile secret on a site that has a limited user base like Ukraine Date.
As a paying member, you can set your status to VIP.
This helps you stand out during other user searches, placing you near the top of their return matches.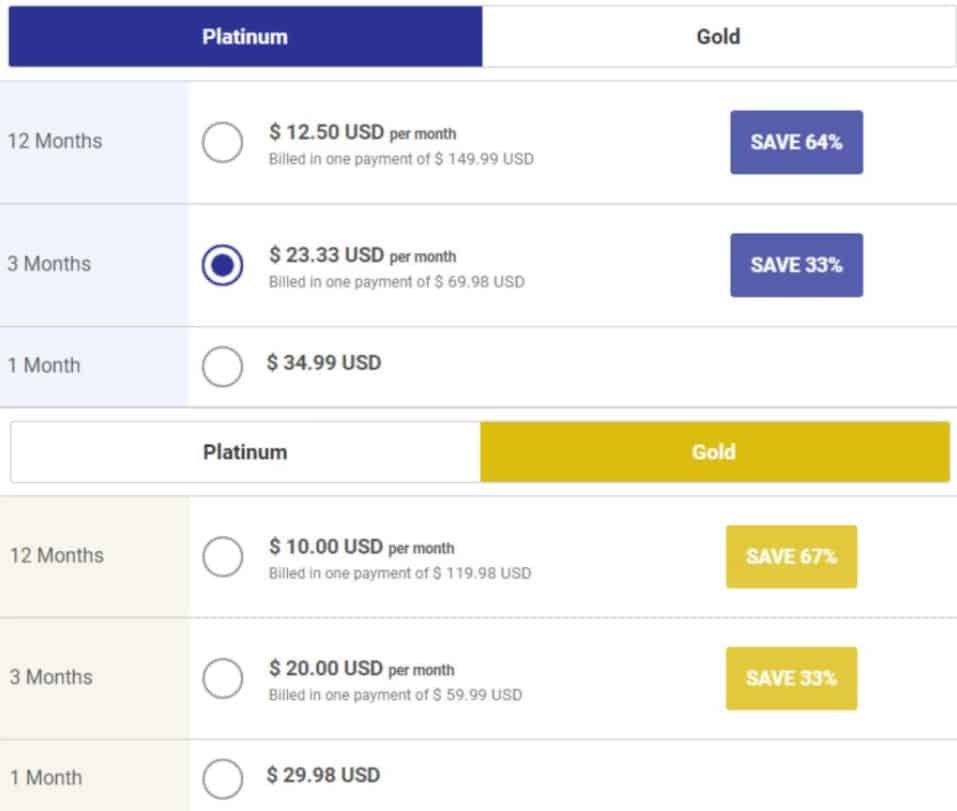 If you think membership is something you might consider on the site, you are probably wondering as to how much it will cost you per month or if there are discounted packages.
Remember, there are two different membership options: Gold and Silver.
Here's a breakdown of their respective costs.
Gold membership:
1-month membership – $29.99
3-month membership – $59.99 ($20.00 per month)
12-month membership – $119.99 ($10.00 per month)
Platinum membership:
1-month membership – $34.99
3-month membership – $69.99 ($23.33 per month)
12-month membership – $149.99 ($12.50 per month)
Those prices aren't cheap unless you are looking to buy a longer contract to take advantage of the discount.
Of course, you can sign up for a month and see just how your time on the site goes and whether you were able to find any decent matchups.
Although Ukraine Date doesn't have the cheapest membership options, I think the key features you get for becoming a member make it worthwhile.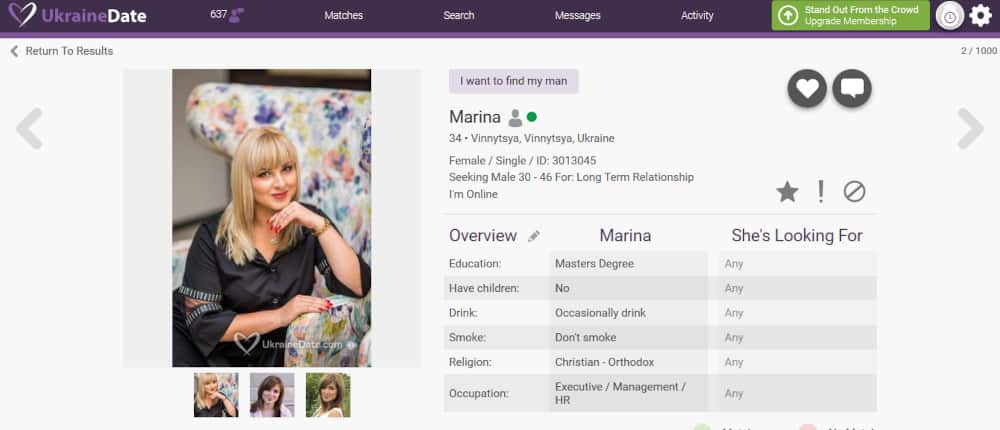 Conclusion and Overall Rating
And there you have it, an extensive review of Ukraine Date.
Now you know everything you need to know about the site to make an informed decision as to whether you should sign up for not.
For me, this is a very niche site, so if you'd like to get into contact with Ukrainian women, well, it makes sense to start a profile.
It does have a small user base and remember it's dominated by men but during my time on the site, I say many profiles that were worth following up.
So what would I give Ukrainian Date as an overall rating?
From me, it gets a 3.5 out of 5.
I love how easy it is to use and how slick and simple the design is.
The pricing is pretty steep, however, but if you are going to make use of all the features, overall it's probably worth it.
So what are your thoughts?
Would you consider setting up a profile here?
Let us know in the comments below.
Frequently Asked Questions