How many times have you heard the phrase Gay is OK?
Does it hurt your ears hearing it over and over again?
I'm not saying gay is not Okay, it most certainly is.
However, do you know when gay is definitely not OK?
OFL Top Recommendations based on 100,000+ Survey

"Serious Relationships"
"Discreet Hookups"
"Best Course for Men"
"Quick Flings"
"Normal Hookups"
"Our Quiz"
Well, it's not okay when you simply cannot find a proper gay guy to hang out with – neither in real life nor through the charms of the internet.
I mean, now that we have everything at hand thanks to the perks of the internet, the gay community is still struggling to find themselves adequate matches to fool around.
What if I told you I have a little secret to tell?
And, the secret is www.outpersonals.com.
In this outpersonals' review, I'll show you:
This review is here to tell you all there is to know about outpersonals and how you can use it to your benefit.
Let's dive in!

Is your dating app giving you the best chance for success?
Make sure to take our online dating site/app quiz to find out.
It's a fact that people who follow our dating site suggestions have on average 2 extra dates per month.
OutPersonals Review in Video Form
Audio (podcast) form for those of you on the go
Effectiveness – 2/5
Features – 3/5
Ease-of-use – 4/5
Price – 4/4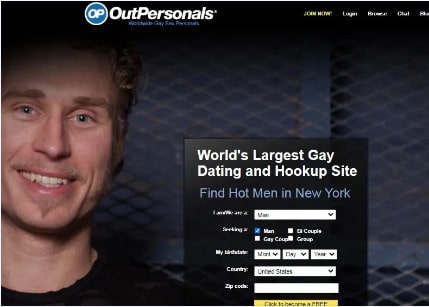 Multiple search filters
Easy-fix site
Rare scams and frauds + verified members
Webcams
Members have 9 different languages at their disposal
Lower chances of finding a serious relationship
Poor dating pool (localized membership to the USA)
No free contact options
Who is it For/ Demographic Make-up?
Let's start our review with some basics on the out personal dating site.
OFL Top Recommendations based on 100,000+ Survey

"Serious Relationships"
"Discreet Hookups"
"Best Course for Men"
"Quick Flings"
"Normal Hookups"
"Our Quiz"
If you're still having some doubts about it, allow me to say as follows.
The first and foremost is that outpersonal is not meant for everyone.
It is not like Tinder, BeNaughty, or Ashley Madison, neither is it even like eHarmony.
The simple reason behind this is that the target group of the outpersonal site community are gay men looking for other gay men to either fool around with in the form of a one-night stand or for a serious relationship.
Or, that's what the site says, at least.
To speak frankly, you will definitely have more luck finding a casual hook-up here than a serious involvement.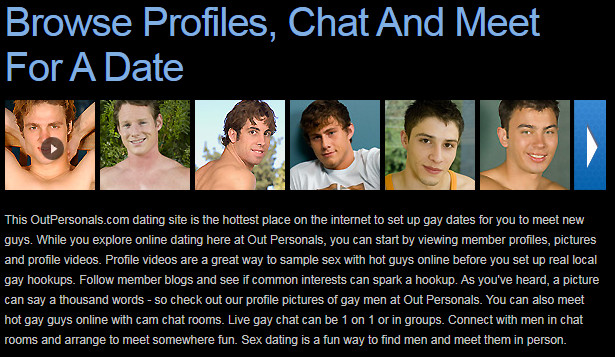 The age limit is not an issue here – you will find adult gay members both aged 18 and over 40. Still, the most dominant age group is 25 – 40 year-olds.
Albeit primarily aimed at the gay population, outpersonals can also be used by gay people looking for gay couples and bisexual couples to have fun with.
If we talk about the numbers, OutPersonal has yet to gain popularity.
Currently, there are only 360K members (a bit higher than that, in all honesty) so this is only one of the downsides.
The vast majority of the site traffic (i.e. members) comes from the USA (over 70%) and the remaining share is distributed between members coming from Japan, Canada, France, and Germany.
To sum up, the outpersonals dating site is ideal for gay guys looking for gay singles and/or couples and bi couples to have some fun under the sheets.
If we talk about interpersonal relationships, one of the most important notions is the effort.
Not to say, if it's all worth it.
Or, the trouble and effort you invest – do they pay off?
So, let's see what the situation is like with OutPersonals.
Is it worth your time and trouble?
To give the best answer to this question, maybe we can start by replying to these first.
1. How does it work for your target group?
The idea behind applying to any dating site is to find exactly what you're looking for.
If it omits the main area of your interest, then there's nothing for you there in the first place.
This means that a site can be skipped.
Now, when it comes to outpersonal, we've established that it's gay people to have fun with we're talking about.
And, while it's true that OutPersonals could use an improvement in terms of the overall number of members, let's not just write it off yet.
One of the great things regarding the outpersonal website is that they allow you to clearly say who you are into.
You can choose from gay singles, gay couples, and/or bi couples who would like to have some fun with a gay guy.
This is enabled through all sorts of filters you can use to find whom you are looking for.
Moreover, during the very registering process, you will be asked to tell the site who you are and who you are looking for.
This will bring multiple benefits later on.
Just as an example, it will be easier for you to sort through the people you see on your page.
The next question of crucial importance here is how to make contacts with other members.
Since, what's the point of a dating site if you cannot talk to someone you find attractive and are interested in taking to your car or bedroom, or wherever that you like?
In terms of messaging and communication in general, OutPersonals is truly great.
There are so many options you can try out and use to help yourself in finding a proper match.
For example, you have a chat and video and voice introduction at your disposal.
Next, there are also blogs and various groups.
Finally, you can also enjoy the bliss of instant message centers, send winks/ invites, and or give a shot to live video chat!
Yeah, yeah, but where's the catch?
Well, it's just that neither of these is free.
So, to sum up, if you want to establish any kind of contact, you need to be a paid member.
And, yes – you guessed it – this is why the effectiveness was rated with a solid 2.
It would be great if one could just go ahead and say that the chances of success with Outpersonals dating site are sky-high.
It's not that they're not.
But, you need to work for it.
As we have just witnessed, establishing communication through OutPersonals is tough luck if you're a free member.
So, we can easily say that the chances of success are directly influenced by whether you are a free member or a paying member.
So, let's say in this case that the chances of success for the free members are equal to none.
As for paying member, the chances of success are truly sky-high.
With so many options, there simply isn't a chance that you won't find someone to play with just before bedtime.
The next stop in our personals review is the chapter on key features.
When we talk about any of the plethora dating sites out there, the key features are the ones that make a difference.
To begin with, it's not the same when you only have the instant messaging at your disposal or when you also bring the live show in the game.
Let's see what OutPersonals has to offer when it comes to the key features.
One might easily ask – and, what does this have to do with the key features?
For one, it is a fact that gay people are still struggling in their real-life communities with being accepted by their families, friends, and/or neighbours.
This is why OutPersonals community is an interesting tool to find and join various groups, browse online magazines and read blogs on various topics.
This is where you can find like-minded individuals and share thoughts with.
It will be great for establishing and re-affirming your attitude and confidence.
And, the best thing of all – this feature is available to basic and gold members alike.
It is safe to say that this is a "cute" little feature that will help you make a contact without saying a word.
This is just to tickle the imagination of the other guy and tell them that you find him attractive.
In a way, this is to tell him to start hitting on you – you are literally extending the invitation.
Or, to put it this way – you are seemingly letting this other guy be the alpha male. But, just seemingly.
Still, note that the standard member can only receive the winks, not send them to.
On the other hand, Gold members can receive winks from another gold member and can also send winks to everyone.
Live, live!
OutPersonals lavishes its members with a variety of live features, in addition to the fact that you can upload photos and videos made beforehand.
To gain access to the live feature, all you need is a webcam and then you can set up a broadcast that is meant for viewing by Gold members exclusively.
The best thing of all – THERE ARE LIVE MODELS!
So, Live features might easily be the thing that finally persuades you to become an OutPersonals community member.
And, how much effort is this all?
We already discussed the topic of whether your effort is worthwhile.
Now, let us try to quantify the effort you invest in finding someone to play with trough OutPersonals.
The best way to do it is to check these topics one by one.
Let's go!
Well, that's a piece of cake!
It's done in only two minutes and it will not require much thought.
You start by filling out a simple form (choose from the drop-down menu) that will require you to say who you are (Man, Gay Couple, Bi Couple, Group, or TS/TV/TG.).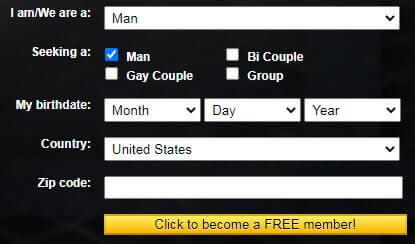 Then you proceed to fill out whom you are looking for and the region you come from.
Then, provide the e-mail address, create the username and password, verify the e-mail and add photos.
Along the way, you will also have to add a short bio and come up with an introductory line. Make sure that this one is as interesting as possible.
Once you have completed your profile creation you are good to go looking for matches.
Site navigation should not be an issue today when we are all supposed to be computer-savvy.
But, one can still get easily surprised.
Despite the fact that this may not be a topic of crucial importance as is the pricing, for example or the key features, site navigation can still bear some significance in choosing whether to go through it all or not.
Because, honestly, there is nothing more frustrating than spending time and time again figuring out how a feature works or where to find it in the first place.
As judged immediately by the homepage, OutPersonals dating websites cherishes the modern design incorporating the darker shades of blue and black in the background.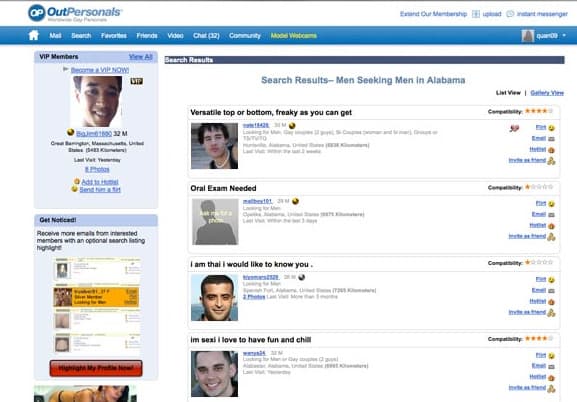 Even here you can see that they strive towards simplicity.
However, the site may seem a tad confusing to those that are new to the world of online dating.
Still, it is easily managed after a few log-ins so there should be no major difficulties.
And, to let you know in advance what you can expect once you log in, the homepage (even before the registration) gives you a preview of what you can find after you become a member.
Sadly, there is no OutPersonals App yet.
However, besides the desktop, OutPersonals is also available through your mobile.
This mobile version is well adapted to your needs and it may even be more simple to use than the PC version.
Not to mention that it is as equally functional as the PC version.
Just as an example, the access to the cam chat may even be more straightforward through the mobile version than through the PC.
Finally, the time has come to deal with the…
Ah, here we are!
I know this is the part of the OutPersonals dating review you've been dying to read!
It's completely understandable, of course, that you want to know the worth of it, both in terms of your personal effort invested and the price.
So, this is what we know of OutPersonals.
You get the free membership that will get you nowhere, to tell you candidly.
Next, you have the Silver membership at your disposal with periods of 1 month ($19.99), 3 months ($11.99/month), and 12 months ($7.99/month).
Then you have the Gold membership lasting up to 1 month ($29.99), 3 months (12.99/month), and 12 months ($6.99/month).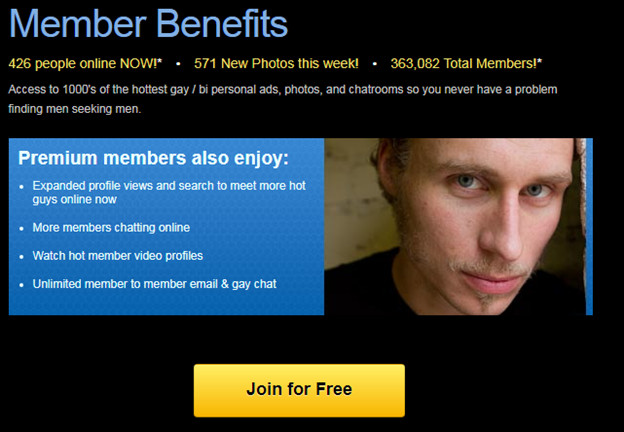 Besides these, OutPersonals also offers some additional paid subscriptions to their users regardless of whether they are free or paying members.
For example, if you opt for a subscription to enable the contact between standard members (i.e. so they can get in touch with you for free) you can try these subscribing options:
1 month at $19.99.
3 months at $11.99 / month.
12 months at $8.99 / month.
Or, you can make your profile prominent (exclusive) in searches as per the following options:
1 month at $9.99.
3 months at $8.99 / month.
And, if you'd like to view ALL gay porn, then this is what you pay:
1 month at $14.99.
3 months at $9.99 / month.
Overall Rating – 3.25/5
As we can see, it's not that bad a rating, after all.
The only reason is the poor effectiveness score due to the fact that you need to pay for a membership plan to use most of the meaningful communication features.
Luckily, the price range is totally affordable so you can easily bridge the gap and have a full test of the OutPersonals gay dating website.
Whichever the case, let us know your experiences!
Ha, you thought it was the end!
Well, not just yet.
Let's try to answer some of the most frequent questions that you as a potential user may have.
These will be divided into subgroups so let's go ahead with our first subgroup that is…
These are some of the most typical questions related to the state of facts.
Yes, it is.
Each member goes through the e-mail verification process that guarantees that there is a real person behind every profile.
Moreover, scams and frauds are so rarely reported.
This is what makes your dating experience through OutPersonals all the more stress-relieved and relaxed.
As was thoroughly explained in the review, there are different membership plans in the OutPersonals gay dating site.
Everybody starts as a free member that has access to instant messaging and group chat, for example.
On the other hand, you also have Silver and Gold memberships at your disposals so you can try these for the more meaningful communication options, let's say.
In addition, irrespective of whether you are a free or paying member, you also have other subscription options lasting up to 1, 3, or 12 months and they can be purchased depending on what you want to achieve – access to gay porn, boosting your profile, etc.
3. Is OutPersonals legit?
Yes, it is.
This is one of the legitimate gay dating sites that can help you out in finding a casual hook-up with gay men.
Moreover, it will also give you a chance to look for gay or bisexual couples and have a three-way.
4. About OutPersonals company
As their intro line says, OutPersonals is a dating site catering to the needs of the gay men who are eager to find gay singles or gay and bi couples to have a casual hook-up with.
The site is one of the dating sites under the FriendsFinder network which merely adds to its pedigree.
In general, OutPersonals is a dating site for gays with just a bit under 400K users and with more than 400 members online at all times.
Our next group of questions is account-related, so let's dive right in!
1. How do I join OutPersonals?
Well, that's easy peasy lemon squeezy!
To sum up an earlier paragraph, once you decide to become an OutPersonals member, just fill out the form on the home page.
This means that you need to provide the sexual orientation you identify with, then to specify the kind of individual or couple you are looking for.
Then provide the e-mail, create the username and password, verify the e-mail and start uploading photos.
And, that's about it!
2. How to cancel OutPersonals?
Once you've subscribed to service here, you can easily cancel it.
Just go to your account settings, click the Billing History & Credit Card Info. Here look for the service or subscription you want to cancel and simply click the button OFF.
That should do the trick!
3. How to delete OutPersonals?
If you want to permanently remove/delete your profile from OutPersonals from whichever reason, there is a simple procedure you can do.
Under the "My Account" section you will find the "Delete Account" link. Click this and then choose the "Permanently Delete My Entire Account", enter the password and then click the option "Yes, delete my account".
If, after a while, you decide to go back, you will have to start from scratch – no recovery of the previous data!
4. How to contact OutPersonals?
Unfortunately, there is no contact option in the traditional sense.
However, there is the Help / Contact centre that works as the FAQ section at the same time.

This is where you will find the answers to most of the questions you may have, properly organized under groups and general categories.
Our last set of questions refers to the usability of OutPersonals, so let's check this before we finally wrap up.
1. How does the OutPersonals algorithm work?
The idea behind the OutPersonals algorithm is that everybody seeks what they like.
Accordingly, the site presents its members with the possibility to look for matches against the criteria they find relevant (sexual orientation, type of commitment, age, location, etc.).
Moreover, with just a little additional funding, you can give a try to all the features that will make your dating experience all the more pleasant and pleasurable.
2. How do I block people on OutPersonals?
Being aware of the dangers and perils in the online dating world, OutPersonals allows its members to block each other.
So, if you don't want someone to send you messages, you can block them by going to the "Edit Preferences" option in "My Account".
This is where you will find the "Blocked Member List."
Choose this and then click the "Add a member to your blocked list."
Proceed to enter the username of the user you want to block and finally click "Add".
3. How do I report people on OutPersonals?
Reporting people on OutPersonals is also an option and you can do it in a similar way as blocking them.