Menchats is a great website for anyone that is looking for something that will break the monotony of daily life.
This isn't strictly a dating platform – it was developed as a place for gay men to chat and meet, but since then it has grown.
Nowadays Menchats is a place where you can enjoy live shows from models, host your own, and meet single gays from around the world.
We will check out:
OFL Top Recommendations based on 100,000+ Survey

"Serious Relationships"
"Discreet Hookups"
"Best Course for Men"
"Quick Flings"
"Normal Hookups"
"Our Quiz"
Let's dig deeper into what Menchats has to offer!
Is your dating app giving you the best chance for success?
Make sure to take our online dating site/app quiz to find out.
It's a fact that people who follow our dating site suggestions have on average 2 extra dates per month.

Effectiveness – 3/5
Features – 2.5/5
Ease of use – 3/5
Price – 4.5/5
Connects gays and bisexual men from all over the globe
Great place for anyone who is looking to have fun online
You can chat with members as a guest – no need to create an account to test out the features
All of the website's features are free of charge
Even though the interface is simple, it is outdated and unappealing
Because the website allows guests, fake profiles are hard to recognize
Low-profile quality
There aren't any search filters or browsing, so meeting a person with specific characteristics is harder
Who is it for/Demographic makeup
Menchats is the website welcoming to everyone, so people of any race, ethnicity, and religion can join.
It is available worldwide, so you can enjoy its features and browse through members' base from any part of the world.
Keep in mind that even though it is an international dating website, it is a smaller one, with only 5500 weekly logins.
Users from the USA have the highest chances of meeting someone new since the majority of users live in the United States.
OFL Top Recommendations based on 100,000+ Survey

"Serious Relationships"
"Discreet Hookups"
"Best Course for Men"
"Quick Flings"
"Normal Hookups"
"Our Quiz"
If you live in the UK, you can also expect to stumble upon someone interesting – 35 thousand members are located in the United Kingdom.
In countries where people aren't so accepting of the LGBTQ+ community, the percentage of Menchats' users is low, so you should stay open-minded to long-distance relationships.
Even though the website is super welcoming, there are some restrictions and things you should be aware of before joining.
This is a website dedicated to gay dating, specifically for gay and bisexual males.
All users are males, and females aren't allowed to join.
Straight guys can join, but since there aren't any women, this website is entirely useless for them and they should find the one with a more like-minded audience.
Speaking of age distribution, around half of the users are young adults, people in their early and late twenties and thirties.
If you like older guys, you can still meet them here – 10% of users belong to the 45-54 age group, while 8% fall in the 55+ age group. You will have to look harder for them, but chatting with older, single gays isn't impossible on Menchats.
The only age restriction the website has is 18 – minors cannot join, with or without parents' consent.
When we are talking about interests, this is a hookup website (like BeNaughty or Ashley Madison), and deep relationships (like eHarmony or Tinder), are rarely created via Menchats.
The website is designed as a place to unleash sexual fantasies, and have some fun, without any obligations or fear of being judged.
So, can you expect to meet a bunch of men via Menchats or it is all just a scam?
Let's dig deeper into how this website works.
Keep in mind that many things depend on you – learning about the website's basics can help you score more dates, and putting in the work is necessary for success.
How does it work for the target group?
The target group of Menchats is homosexual and bisexual men.
As said, women aren't allowed to join – upon registration, users, that check the box next to "woman", immediately get banned.
So, if you are joining as a bisexual male, be aware that you can only date men via Menchats.
This website has a quite straightforward interface with not many options.
There aren't any search filters, you aren't able to browse through profiles, and only chatrooms and video chats are available.
So, finding someone that meets your age or location preferences is hard.
Making contact on Menchats
Even though Menchats doesn't allow any browsing and you aren't meeting your ideal partner, it has great communication tools, so you can easily meet many members at once.
All you have to do to make contact is enter one of the chatrooms.
Before entering, you can quickly read some of the rules, and then start chatting.
All participants are placed on one side of the screen and by clicking on a profile, you can see general information.
If that someone matches your criteria, you can invite them on a Video chat.
Multiple people can be invited to join live streams, so you can have fun with more members at once.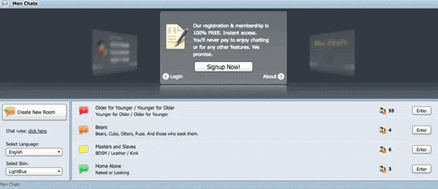 Determining chances of success is quite hard, especially on Menchats that is a bit unusual dating platform.
Before joining, you should think about your priorities and what you want to find on the website.
Are you looking for something long-term or just want to get to know other guys, without starting anything serious?
If the latter is the case, then you won't be disappointed by Menchats.
Since it is a place for gays to explore and enjoy some superficial relationships, you will get exactly what you want.
Whenever you log-in, there will be thousands of gays already chatting or live streaming, so just join one of the chatrooms and enjoy the show.
People that are ready to settle down should probably consider another dating website for gays – something that offers more versatility, where you can browse through the profile, and meet someone that matches all of your criteria.
When it comes to features, Menchats isn't so innovative.
Their features are quite basic, but work fine – there are only two of them and let's check them out:
Not everyone is super comfortable on camera or down to take off their clothes and have webcam sex with a complete stranger.
Menchats offers multiple chatrooms where you can talk with many users at once. Before you enter the chatroom, go through the rules, just so you don't step over any boundaries while chatting.
The design of the chatrooms is simple, and all of the participants can be found next to the chat. There are even smileys and icons, to make the conversations spicier.
Even without an account, you can access these chatrooms and talk to participants.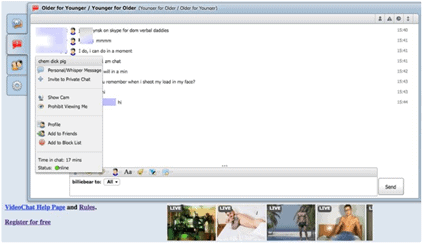 Keep in mind that if you enter as a guest, you won't be able to save the conversations or profiles that sparked your attention.
Once you logout, all of the information is deleted, and when you come back, you will probably talk to an entirely different audience.
If you want to relax entirely, you can start video chats.
To create a live stream, you have to enable both camera and microphone, so you can interact with other members.
Once you start the live stream, you determine who can access it – these video chats can be even one on one if you want to get to know better a particular user.
Many members are creating live streams for a larger audience.
Now that you are familiar with some of the website's features and perks, you are probably wondering how you can join and test them out.
Well, I've got your back – here is everything you need to know about web site's registration process as well as site and app navigation.
How can I become Menchats member?
You do not have to become one of the members to explore the features or chat with single men.
There are two options – sign up as a guest, or create a profile.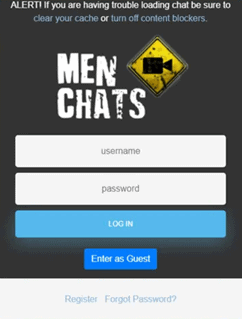 When it comes to joining Menchats, you can log in as a guest, before you decide to create a profile.
All of the features available for standard members are available to guests.
Keep in mind that guests cannot save conversations or any profiles they've visited. Once you logout, all of the chats are automatically deleted.
This sucks, especially if you found someone interesting, and want to continue talking to them in the future.
Still, it is a great way to test out the website, try some features, and then decide to make a profile.
To join without creating a profile, just choose a nickname, password, and share your location. You can write a few sentences about yourself, preferences, or hobbies, but this step isn't necessary.
Even though you aren't creating a profile, you can still join either as a single guy or a couple.
If you liked the website's design and features, you can log out of your guest profile and create an account.
The steps are straightforward, and the process isn't lengthy or time-consuming.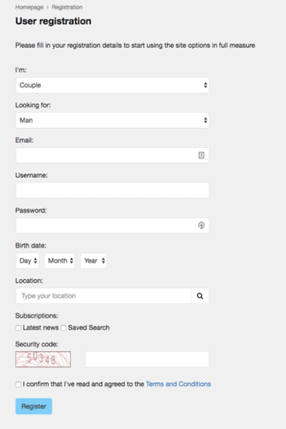 In just a few minutes, you will be able to start browsing again and chat with other singles on Menchats.
To create a profile, you have to visit GayMeeting.com – all accounts are created via this platform, so just follow the simple instructions.
Firstly, you will have to state whether you are creating an account as a couple, or single.
Then you should state your preferences – looking for either a guy or a girl.
Anyone who ticks the box next to the option for a girl will automatically get banned and won't be able to complete the process, so be careful what you are clicking. Even if you are bi-man, and wouldn't mind dating a girl, this is a place for men, so this choice is unacceptable by the website.
Once this step is completed, you will be asked to complete a form – it consists of only basic questions, such as age, location, and email address.
Input the valid email, so you can receive username and password information for login in and newsletters of the hottest guys on Menchats.
When you agree to their Terms and Conditions, the only thing left to do is upload a picture.
Nudity isn't forbidden on Menchats and many users are uploading super sexy pictures to attract more singles, so don't be shy or afraid to follow this trend.
Menchats website navigation
The interface of Menchats website is a bit outdated – it resembles old dating platforms, so you might not be so attracted to it at first.
Still, it is straightforward and user-friendly, so users from all over the world and of all ages can use it without any troubles.
Currently, the website is available only in English, but do not worry – only simple English is used, so even if you own only the basics you can understand different features and options.
If you get stuck or don't understand something, their support team is there to resolve all problems.
As said, Menchats can be used even without a profile – guests are able to see all of the chatrooms, they can enter them and meet others just like registered users.
When you go to the website's page, you will see a carousel that consists of their logo, a button for login and sign-up.
All of the chatrooms are located at the bottom of the page, along with its rules. To enter the chatroom, just click on one.
Participants are placed on the left side of the screen, and text along with different smileys are at the bottom.
Since the website doesn't require a lot of information upon sign-up, profiles are not so detailed.
All of the profiles are public, but they only feature basic information. You can see someone's age, location, as well as preferences. Some users display the online status as well.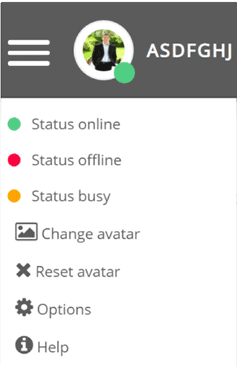 Furthermore, profile pictures are unlocked as well, so you can determine whether to contact someone or not only by their basic information but their pictures as well.
Because it is a hookup website, many users aren't showing their face in pictures, but their other attributes that should catch the attention of other males.
One of the biggest downsides of Menchats is the lack of an official app.
The creators still haven't said anything about making an app, so for now, you will have the best user experience by accessing the website via your computer.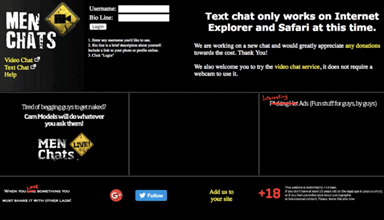 When you are away from the desktop, you could use a mobile browser.
The outdated design of the website looks even worse on the mobile browser, but at least you will be able to read a few messages and browse to pass some time.
You are probably wondering how much all of these features as well as the registration process will cost you.
Well, Menchats doesn't cost a dime, so you don't have to worry about hidden expenses!
Whether you are login in as a guest or want to create a profile, you can do it entirely for free.
The same goes for all chatrooms, live streams, and of course, profiles.
Everything is public, and there are no additional services to spend your money on.
Conclusion and Overall Rating
Overall Rating – 3.25/5
One of the biggest advantages of Menchats is that it is an entirely free dating website.
If you are on a budget, and cannot afford to spend money on some of the website's features to enjoy it, then Menchats is a great alternative.
It even allows you to sign-up as a guest, so before you make a profile, you can test the features.
However, there aren't many features to try out.
Only chatrooms are available, along with live streams for the selected audience.
Also, even though you might be okay at first with these features, both can get quite boring after some time, and then there won't be anything much to do.
Furthermore, meeting someone that is your type is hard because you can't just apply search filters, and browse until you stumble upon someone that you like.
The outdated design is something that most people can easily get over, but the lack of an app is bothering many users, especially younger ones.
You should be able to stay in touch with members wherever you are, through your mobile, but Menchats is currently disabling this.
That is why I gave it 3.25/5.
Before you go over to Menchats to check it out, read the FAQ – you might find an answer to one of your questions.