We've covered many online dating sites that are specifically for Indian daters both from India and around the world.
In today's review, we are looking at another, but this one is app-based only.
And you will find in this Aisle review that its particular aim is to encourage long-term relationships and find one's soulmate, much like Tinder or eHarmony, for example. It is not for those looking for a hookup, like BeNaughty or Ashley Madison.
It seems that it's one of the best dating apps in that regard according to the success stories you will find on the Aisle.co homepage.
OFL Top Recommendations based on 100,000+ Survey

"Serious Relationships"
"Discreet Hookups"
"Best Course for Men"
"Quick Flings"
"Normal Hookups"
"Our Quiz"
That's certainly something we will assess, however.
To do that, we will conduct a thorough look through the site, testing and critiquing it so we can provide an overall rating for Aisle as a dating platform.
That includes looking at:
So if you want to know the strengths and weaknesses of this dating app, you've come to the right place.
Is your dating app giving you the best chance for success?
Make sure to take our online dating site/app quiz to find out.
It's a fact that people who follow our dating site suggestions have on average 2 extra dates per month.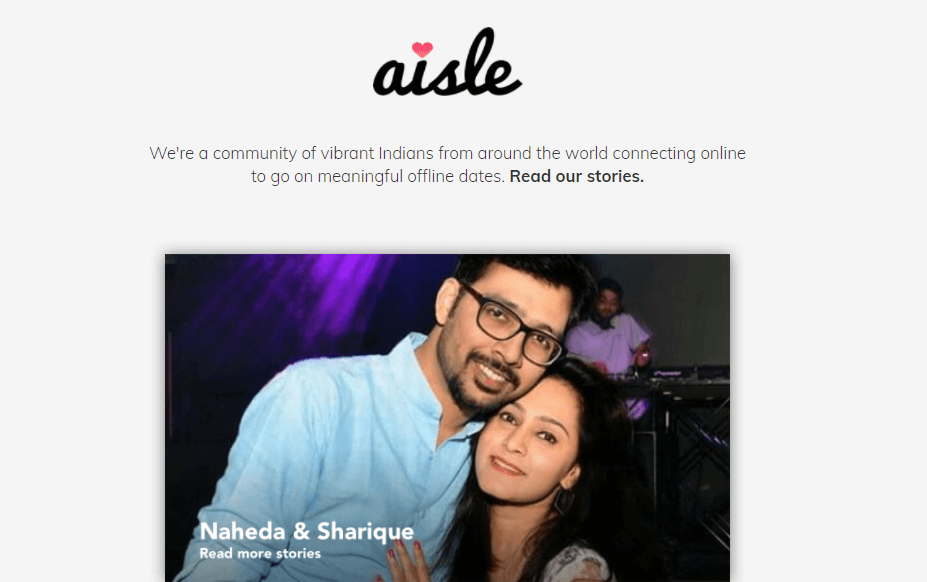 Ease of use – 4/5
Success rate – 3/5
Key features – 4/5
Price – 4/5
Over 3 million users
A comprehensive registration process which includes completing much of your profile
Profile form an important part of the app
More than useful membership features
Affordable membership pricing
Too many unnecessary menus
The app hangs occasionally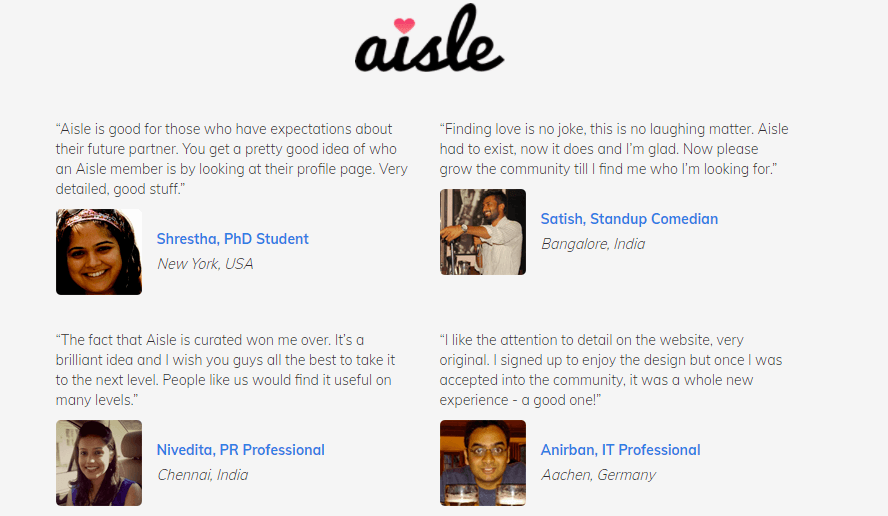 Who Is It For/Demographics?
Evaluating who the Aisle Dating App is for isn't difficult.
In fact, we've already mentioned it.
But it's not only Indians that join the site.
OFL Top Recommendations based on 100,000+ Survey

"Serious Relationships"
"Discreet Hookups"
"Best Course for Men"
"Quick Flings"
"Normal Hookups"
"Our Quiz"
It is open to others as well, particularly if you want to meet someone of Indian descent.
During the registration process, there is no need to prove you are Indian, so to me, that shows an app that lets anyone join.
But there is no denying who the main target audience is.
As the second-most populous country in the world, you can conclude that the user base for Aisle would be pretty substantial.
That certainly is true.
Here's a breakdown of some facts and figures behind the site:
Aisle has over 3 million users
The Android app has been downloaded over a million times and has a rating of 4.5
The IOS app has a rating of 4.4
Over 500000 people are active on the site each week
That's over 70000 per day
From my perspective, those user numbers will continue to grow significantly just because of the potential target audience available.
But yes, the numbers behind Aisle would indicate that this is a very active dating platform.
Gender ratio and Aisle user age ranges
Often, dating sites that are aimed at users from India or those of Indian origin will have more women signing up for profiles than men.
You'll observe that with Aisle as well.
That ratio is pretty far apart too.
75% of users are female
25% of users are male
That's a 3:1 ratio, which I believe is pretty significant.
Males have far more choice available to them while females have more competition.
As for the ages of users, it was almost impossible to find extensive information about the various age groups and their contribution to the overall user base.
What I can highlight is that 25-34 year-olds are the biggest user group on the app and they make up over 60% of all those who have registered for a profile.
From my perspective, this makes absolute sense as in terms of marrying ages, many Indians are looking to find their soul mate and settle down in their mid-20s.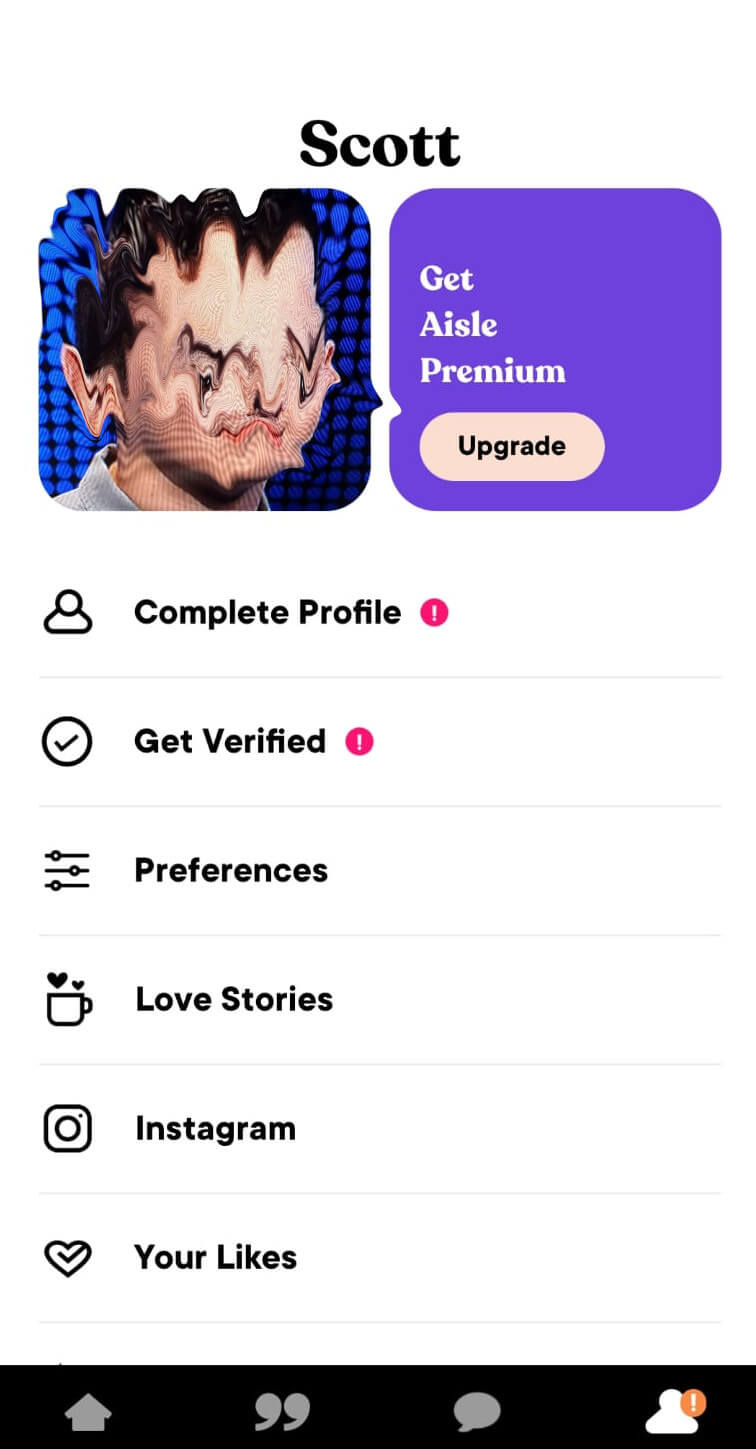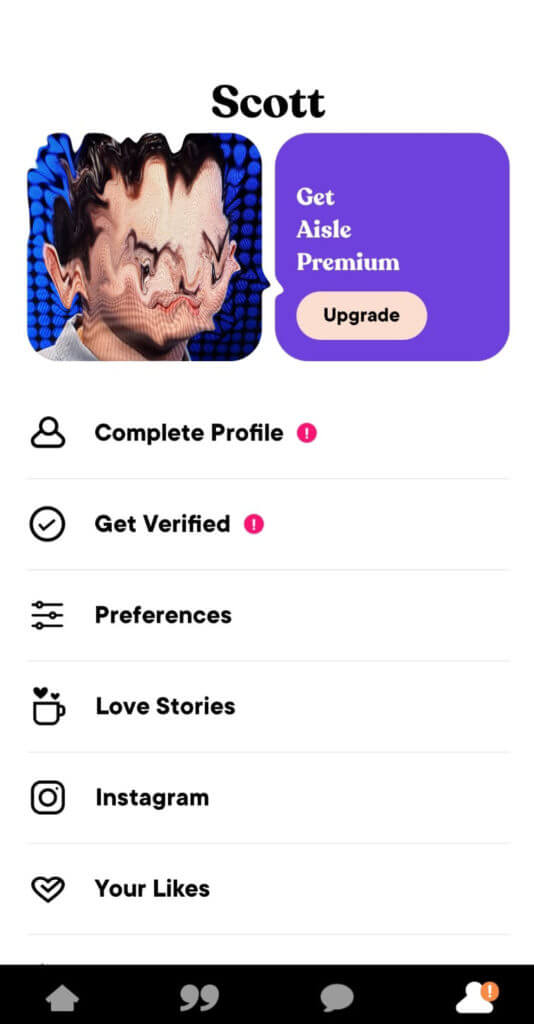 Once you've downloaded the Aisle mobile application for either your Android or IOS device, you can start the registration process as a first-time user.
You have many different ways to do this including:
Using your social media account (Facebook)
Using your email address
Using your phone number
When I am using dating apps, I like to tie them to my phone number, it just seems the most logical.
After all, they are phone-based, right?
The app will send you an OTP number to confirm that it is your phone number that you have registered with.
Registering as an Aisle user
So the registration process for Aisle is fairly simple but takes a few minutes to complete.
That's because you will be completing several sections related to your profile.
You can't skip and for me, that's one thing that those behind Aisle, have got right.
While profiles on dating apps like Tinder aren't that important, on one like this where long-term relationships are the end game, a profile is critical.
So let's go through the whole process from the beginning then.
This is the information you will need to provide:
Your name
Email address
Gender
Birthdate
Your location
Two profile pictures
Your height
Your current relationship status (for example, single, divorced and more)
Your faith
The main language you speak
Do you smoke or drink?
Your education and profession
While it looks like a lot of information, it really isn't and to complete this section will take a few minutes at most.
But there is still one more step to complete.
And it's crucial because it forms a critical part of your profile.
All you need to do is choose between a few words to describe yourself.
These words are in certain categories, for example:
Are you tech-savvy or Luddite.
Meal out or order in
Veg or non-veg
Passive or aggressive
Indie or mainstream
I am pretty sure that this is used by Aisle's matchmaking algorithm to help with the correct kind of matchups for each user.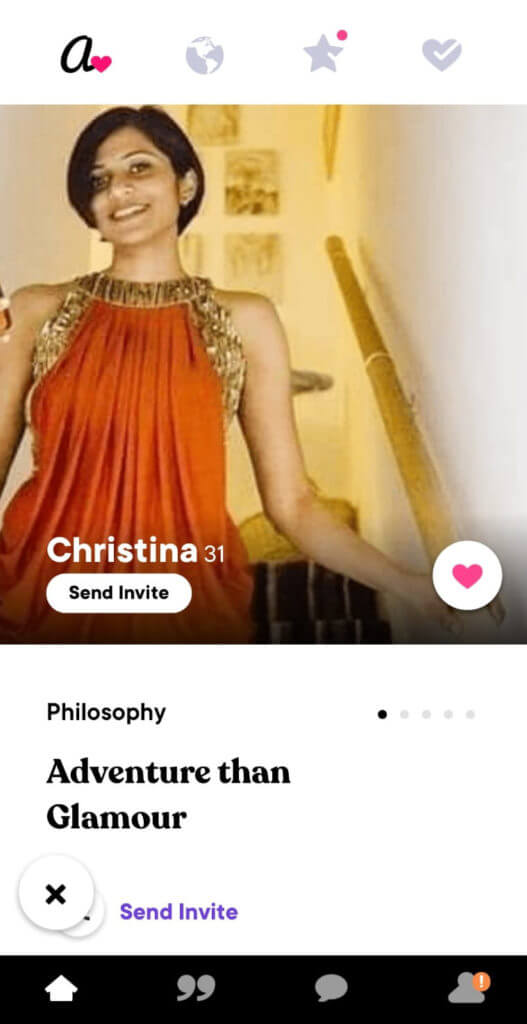 Finding your way around the site
Aisle looks pretty much just like any other online dating app out there.
Here, profiles are at the forefront and rightly so as you are looking for a potential date or possibly more, aren't you?
Aisle employs a two-system menu which if I am honest, I am not that much of a fan of.
Yes, each menu does something but I just think cutting down on them would make things far more simple.
Let's start with the menus at the bottom of the screen because they are the ones that you are going to use the most.
They are:
Home: This is the home menu and takes you back to matchups the site wants you to browse through.
Quotes: Here you can see who likes you (if you are a premium member), as well as invites or private notes other users have sent to you.
Speech bubble: Here you will find messages received from other users.
Human outline: This is where you can access your profile, get verified, change preferences see your likes, hook up with your Instagram account and see other users' love stories.
But what about the menus at the top of the screen?
Well, here is what they do:
Letter A with a heart: This takes you to the home screen as well.
Globe: This allows you to see other users from all around the world
Star icon: This is the Concierge matchmaker service
Heart Icon: This shows you the profile of users that you have liked while using the app
There really is nothing that difficult to understand within these menus, I just think they could have added certain features to other menus which would mean less of them.
But having a few extra menus won't heed you using the app in any way at all.
Remember, to access your profile, you can just click on the fourth menu at the bottom of the screen which looks like a human outline.
And while you did fill in much of your profile during the registration process, there is still more to do.
This is what you can still add:
My story: Here you have 500 characters to give a brief description of yourself and your life journey
Icebreaker: Here you can pick a prompt that you and a potential matchup can discuss. It will appear on your profile. "I don't trust people who (you fill in the rest)" is an example of an icebreaker. There are over 50 to choose from and they range from serious to funny.
Interests: There are 12 interests for you to rate on a scale of 0 to 10. These include things such as cooking, shopping, sports, gaming, cinema and more.
Again, this won't take more than 10 minutes of your time and you will see that Aisle asks you to complete it fully to help their algorithm match you with the right kind of people.
I love that the profiles are filled with compelling information about each user.
Many dating apps don't take the profile side of things that seriously.
That means you can't really learn that much about someone you might be interested in, it's more about physical attraction than anything else.
But here there are plenty of information on a potential matchup.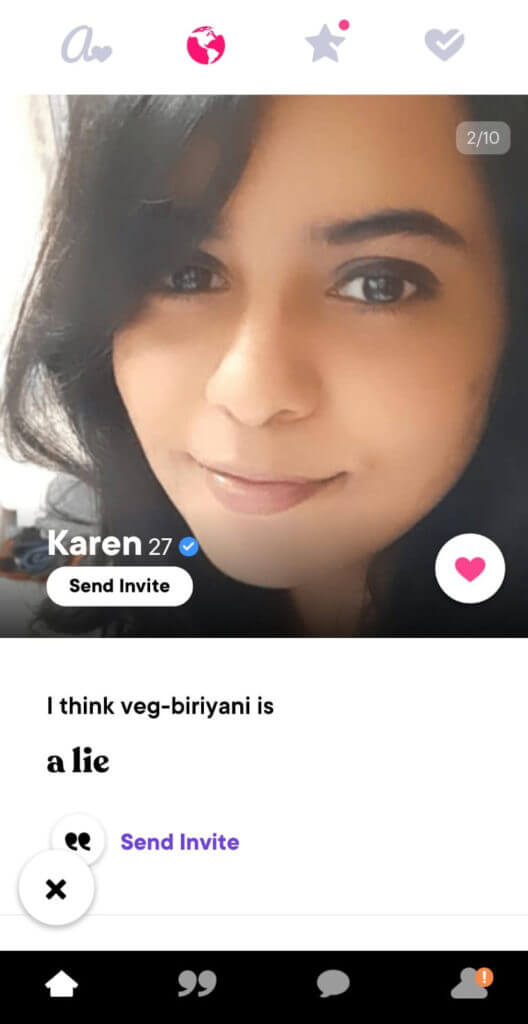 The Aisle Dating App is about serious relationships, there is no doubt about it, especially for female users.
But just how effective is it in helping bring that about?
To answer that question we have to start with just how you go about finding a potential matchup.
Aisle handles this much like regular dating apps, for example Tinder, Woo or many of the others you can think of.
And that's by presenting you with matchups.
That's why completing your profile is so important because it makes it easier for the matching algorithm to pair you up with the right kind of people.
Technically, I guess it's not searching.
Just click on the Home menu to find the matchups that Aisle suggests you look through.
These will be based on your preferences which you can adjust if you'd like.
But how do you adjust them?
Well, you'd do that from the Preferences menu which you will find under the Profile menu.
You can change the following:
Age range (anything from 18 to 55+)
Distance (10 to 50 kilometers)
Their faith
The language they speak
Those are the only parameters for a regular user.
With a VIP membership, you can add marital status, height, habits, the industry they work in, qualifications and work experience.
That can further increase your chances of compatibility with a potential matchup.
Let's talk about looking at the matchup returns.
You have two options with each profile.
You can click the heart icon to like them
You can click the x icon to move onto the next matchup
A matchup will occur should someone like you and you like them back or vice versa.
If you want to know more about someone before you either pass or like on their profile, simply scroll up.
That's where you will see their full profile as well as more pictures if they have uploaded them.
Remember, if you want to see matchups from further afield, you can click on the Globe menu that you will find in the top menu system.
If two users like each other's profiles (and there is no way of telling if someone liked if you don't have a membership), they can now message each other because they have matched up.
Don't worry, if you do match with someone, the app will inform you.
If you sign up for membership, however, you can send them an invite.
That will indicate to them you are interested and will help facilitate matchups faster.
There are some other key benefits as well.
Let's explore what those are.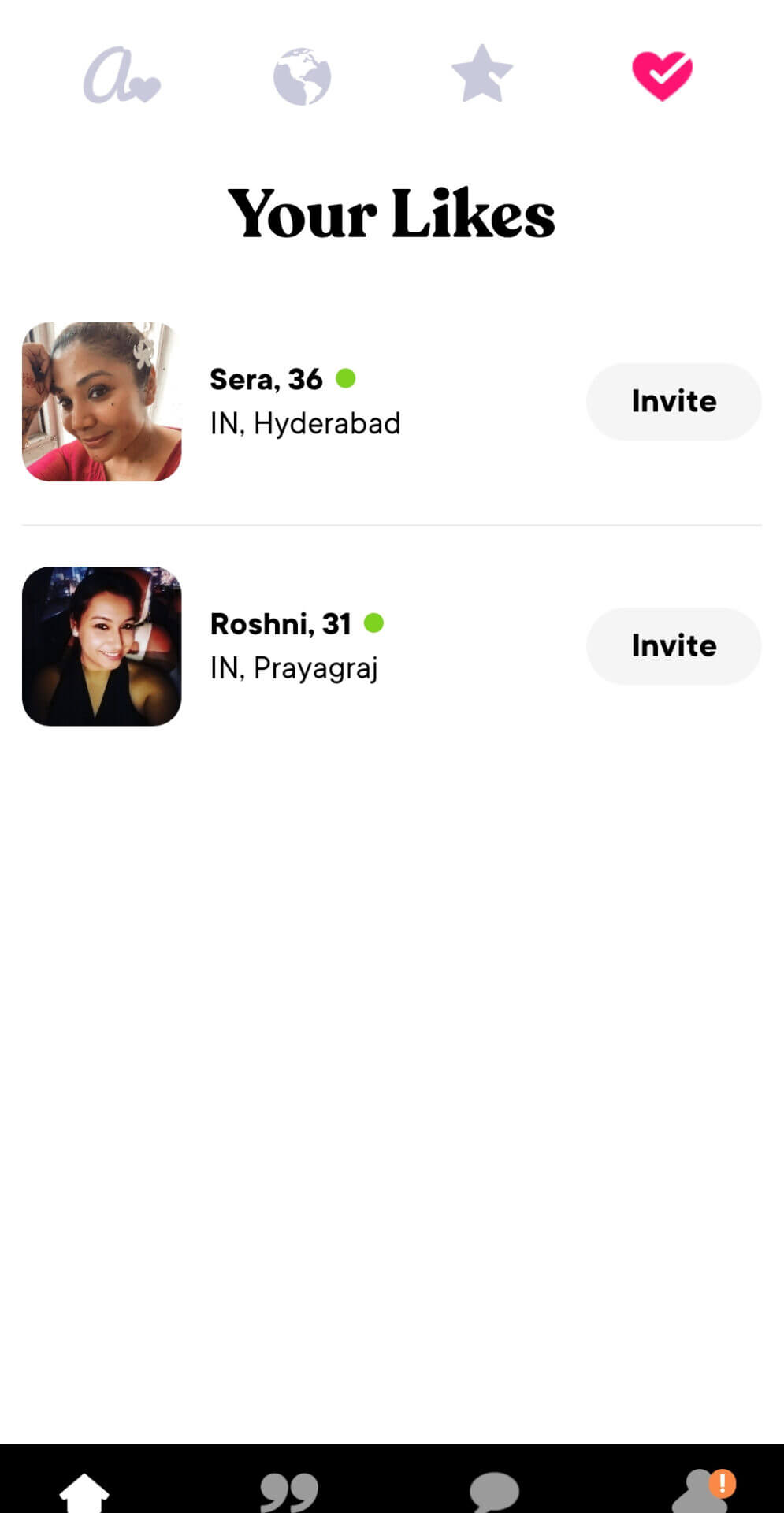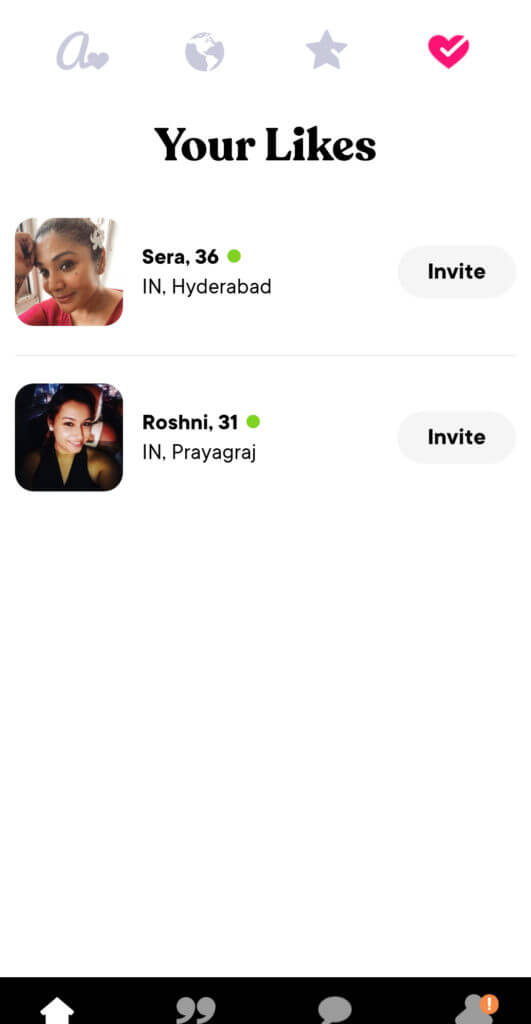 ​​​​As a premium member on Aisle, you get the following extra benefits.
​1. Five invites each day
Sending an invite to someone shows that you are serious about wanting to get to know them further.
As a regular user, you cannot send an invite but as a premium member, you can send up to five of these a day.
While you are free to like profiles as a free user, there is a limit.
That's because no dating app is going to allow you to like every profile you come across to try to facilitate matchups quicker.
They would prefer if you looked into membership as a way to do that.
But as a member, you do get unlimited likes so you can hit those hearts as many times as you want.
​3. See who likes your profile
Often an understated key feature but one that for me is critical.
See who likes your profile, like them back, matchup and communicate.
So yes, don't ever underestimate the role this feature can play in helping you to find your soul mate.
4. More search preferences
If you'd like to set more search preferences, as a premium user, you can.
For example, is finding someone who doesn't drink a critical priority when it comes to matchups?
Well, then you can set the search preference to find only potential matchups that don't.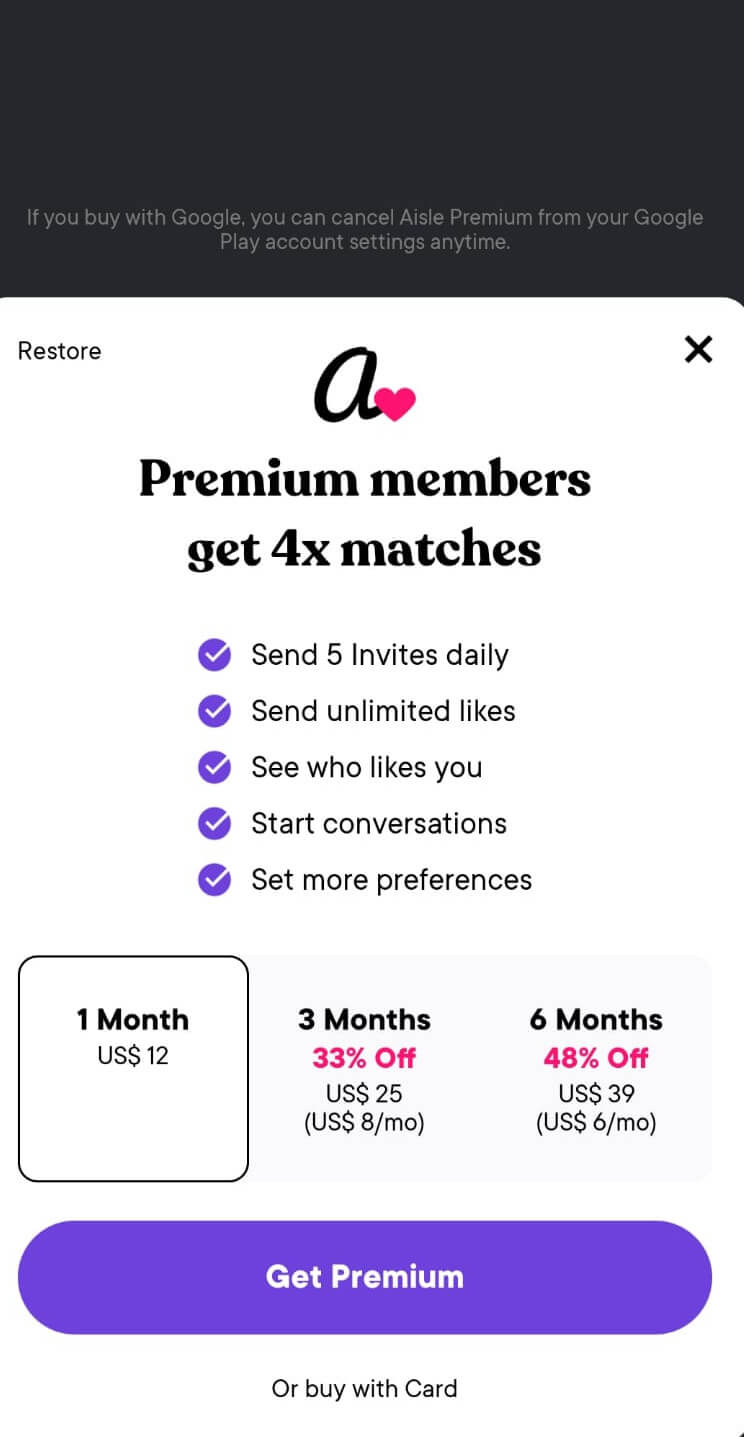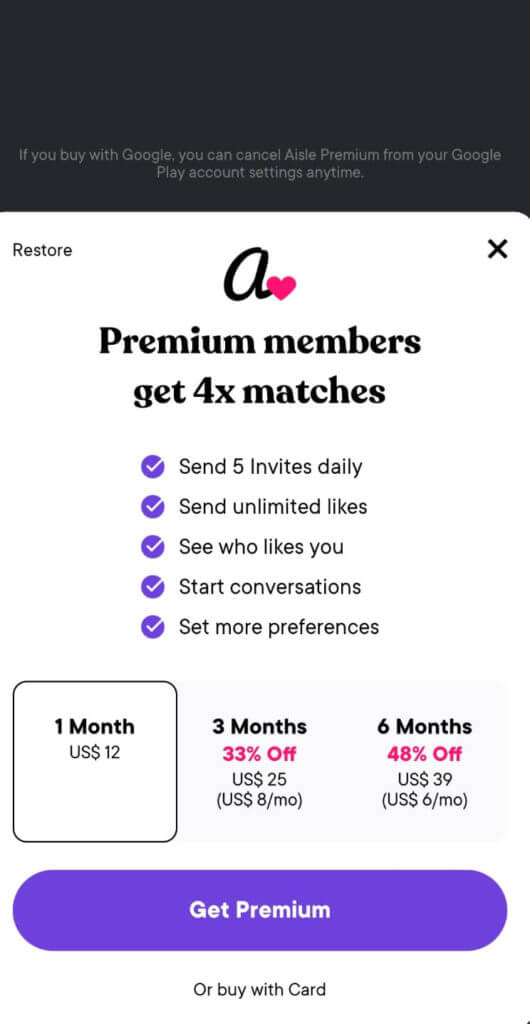 In my opinion, all of the key features are going to prove useful should you want to use Aisle to find someone.
But how much are you going to pay to be able to make use of them?
I believe that Aisle's VIP membership is well-priced.
You have three options available: one-month, three-month and six-month.
1-month: $12
3-months: $25 ($8.33 per month)
6-months: $39 ($6.50 per month)
These prices are significantly lower than other similar dating sites that are helping people in India and of Indian descent to find love.
And for the helpful features on offer, I would have no problem paying $12 per month.
Of course, sign-up for longer and you can save.
While we are talking specifically about pricing, I want to also talk about Concierge, a personalized matchmaking service on the site that provides you with handpicked profiles to look through.
This allows:
Unlimited likes and invites
Your profile is prioritized over other members
You get a special profile badge
That costs $33.99 per month.
Payment for all of these membership services can be made by credit card.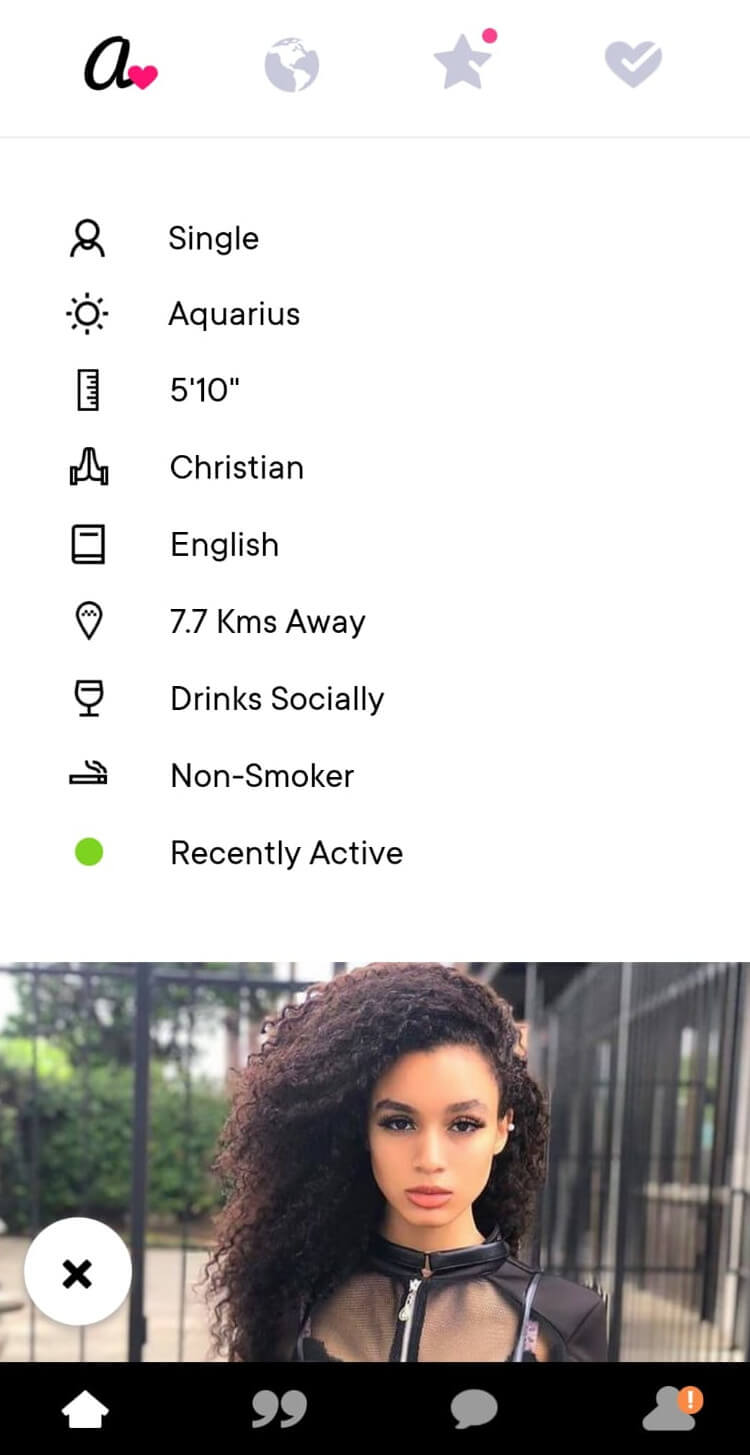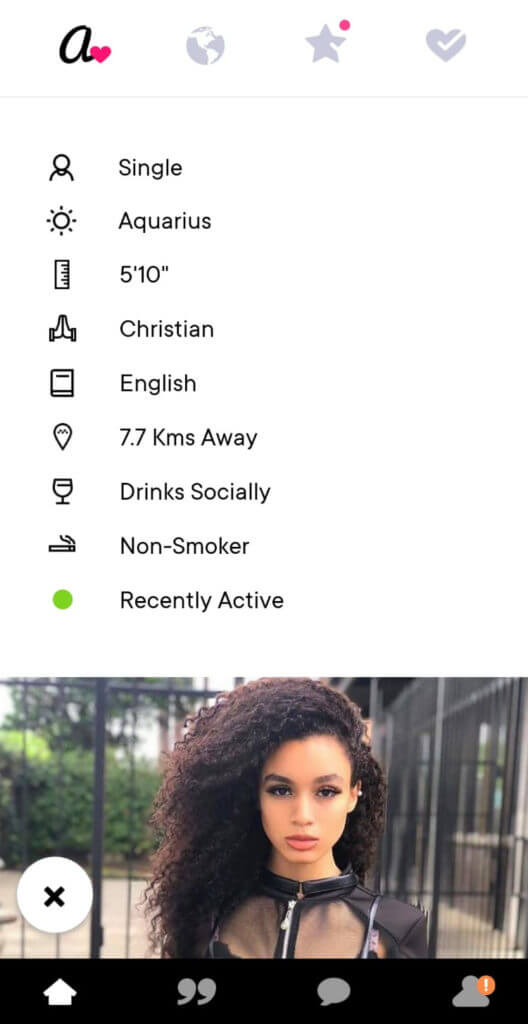 Conclusion and Overall Rating
Let's start right off with a rating for Aisle.
It gets a very solid 3.75 out of 5.
Not only does Aisle have an extensive user base, but it proved to be an enjoyable app to use as well.
While regular users can find matchups albeit slowly, all the tools to help speed up that process are found behind the membership paywall.
Luckily, that's not expensive and well worth trying out, especially considering what's on offer to aid your search for love.
Our dedicated review team at Onlineforlove spent time using and testing Aisle and concluded that if you are living in India or are of Indian origin, this is a site where finding long-term relationships is possible.
Our review approach saw us giving Aisle a star rating for the most critical criteria that a user has at their disposal to find a potential matchup.
We evaluated the app based on several key factors including price, how easy it was to use, the features the app offered, overall effectiveness and the size of the user base.