Over the past few years, dating apps that include social networking aspects have become all the rage, particularly in the Far East, India, Indonesia, and other countries.
In today's review, we will explore one of these apps that has millions of users across the globe.
Called Lamour, it is particularly popular with people between 18 and 24 years old.
But it is worth using an app like this to try and find love, relationships (like eHarmony or Tinder), or hookups (like BeNaughty or Ashley Madison)?
OFL Top Recommendations based on 100,000+ Survey

"Serious Relationships"
"Discreet Hookups"
"Best Course for Men"
"Quick Flings"
"Normal Hookups"
"Our Quiz"
Can it replace more traditional dating sites like Elite Singles, Bumble, or OkCupid?
Well, let's read on to find out.
In this assessment of Lamour, we will determine the following:
So now that you have an idea of what this review will cover, let's put Lamour to the test and find out all of its strengths and weaknesses.
Is your dating app giving you the best chance for success?
Make sure to take our online dating site/app quiz to find out.
It's a fact that people who follow our dating site suggestions have on average 2 extra dates per month.


Ease of Use – 2.5/5
Success Rate – 2/5
Key Features 3/5
Pricing – 3.5/5
Millions of users around the world
Auto translator allows you to speak with anyone no matter the language barrier
It's not too expensive
Lamour is confused as to what it wants to be: a dating app with social networking features or vice versa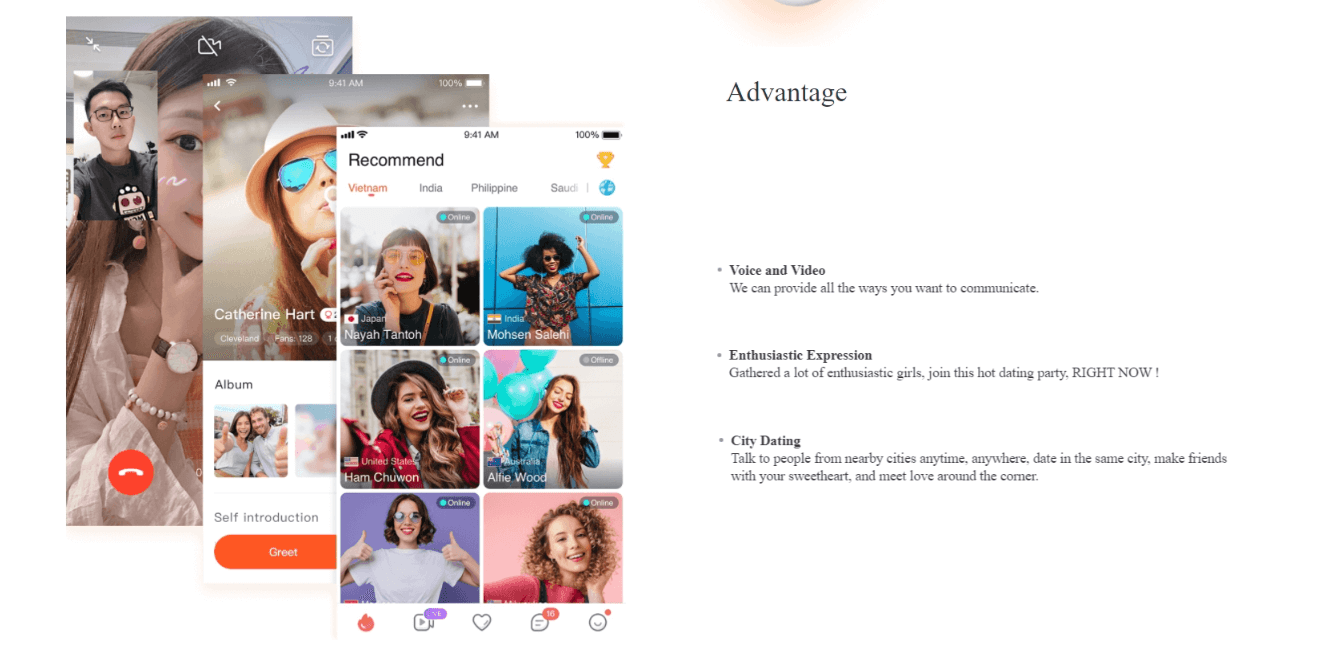 Who Is It For/Demographics
There's no doubt that Lamour is aimed at the younger generation in general.
You know, those are love TikTok and use the likes of Whatsapp to communicate with their friends.
And yes, while they dominate the app, there is a good spread of users across all the age ranges.
OFL Top Recommendations based on 100,000+ Survey

"Serious Relationships"
"Discreet Hookups"
"Best Course for Men"
"Quick Flings"
"Normal Hookups"
"Our Quiz"
In collecting demographic information and researching Lamour, I found that while it is more popular in the Far East, the app does have users everywhere.
But just how many?
It's millions.
If you check the download stats for the app on the Google Play Store, it has been installed on over 50 million devices.
That's not counting App store downloads or even those users who have installed the APK version.
Here are some other interesting facts and figures that reveal more about the app:
Over 500000 users are based in the United States
Around 300000 users are from in the United Kingdom
Over 700000 users have reviewed the Android version of the app where it gets an average of 4 stars
Lamour isn't only available in English but many other languages include Arabic, Hindi, Mandarin and more.
Gender ratio and age ranges of users
Analyzing the gender ratio on the app shows that men are more dominant, but not by that much.
Around 55% of the profiles on the site are registered to male users and the remaining 45% are females.
I've already indicated that this is an app that appeals to the younger generations.
Here's a full breakdown of the user age ranges you will observe on Lamour.
18-24-year-olds: 40% of all users of which 22% are male and 18% female
25-34-year-olds: 30% of all users of which 16% are male and 14% female
35-44-year-olds: 15% of all users of which 8% are male and 7% female
45-54-year-ods: 10% of all users of which 6% are male and 4% female
55 and older: 5% of all users of which 3% are male and 2% female.
These figures clearly demonstrate that this is a young person's app, that's for sure with 70% of users aged between 18 and 34 years old.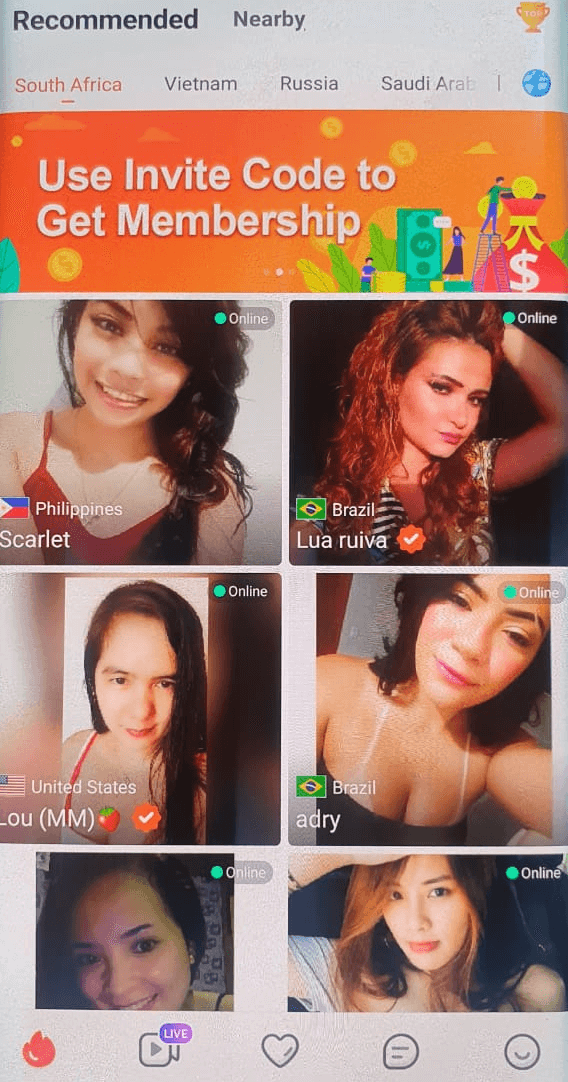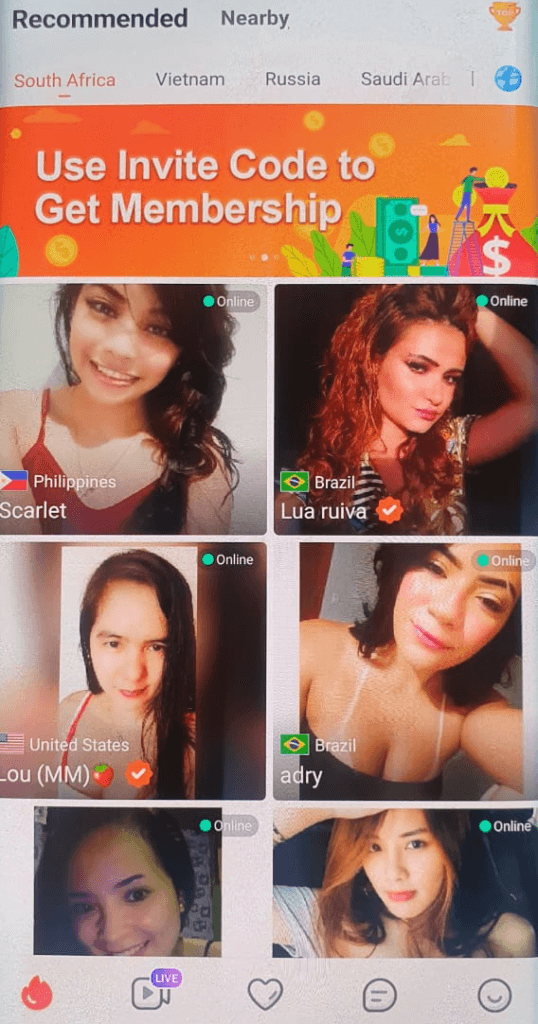 With three ways to sign up, Lamour sure does give you some choices.
You are probably wondering how there can be three options right?
Well, you have your regular sign-up using your phone number and also the social media option with Facebook.
But users can also use the quick registration method, where you are assigned a username by the app and taken online straight away.
I guess in today's fast-paced world many of the young crowd might choose that option.
Let me clarify that I used my phone number and that was super quick too.
You will only need to provide:
Your location
Your phone number
Once the app has collected that data and confirmed your location via the GPS on your phone, you will be sent an SMS code.
You then use that to gain access to the app for the first time.
Finding your way around

Lamour
One critique I have of these social networking, chat and date apps is that it takes a little bit to work out exactly what is going on when you first use them.
I was immediately presented with profiles of other users, but from all over the world, even though my country was selected.
And what's the assumption from that?
Well, for me it was that not many other users from my country were using the app.
Despite that assessment, I was wrong.
But I will explain more later.
Let first chat about how Lamour looks.
Disorganized is a word that comes to mind.
There are tons of menus, profiles and advertising all taking up your screen and screaming for your attention.
And while it's easy to get a bit flustered by it all, it's better to take some time and figure it all out.
You will notice the menu system at the bottom of the screen, so let's start with those:
Flame icon: The first thing this menu shows is a range of featured profiles of users from all over the world. You will notice your country name at the top as well as another menu for people nearby you. You want to click this Nearby menu to find people near your location to chat to.
Video Camera icon: Here you can find users that are currently streaming on the app as well as people to follow, those that are having an app party and others who are gaming.
Heart icon: Here you can find streams of other users but they have already been broadcast. A secondary Feed menu shows the status updates of other users, including profile pictures, other screenshots and status updates.
Speech bubble icon: This is where you can find messages received from others.
Circle icon: This is the menu from which you can access your profile.
Again, the menu system can be pretty confusing with secondary menus within the main menu system.
But we will focus mostly on those that you can use to find potential dating matches.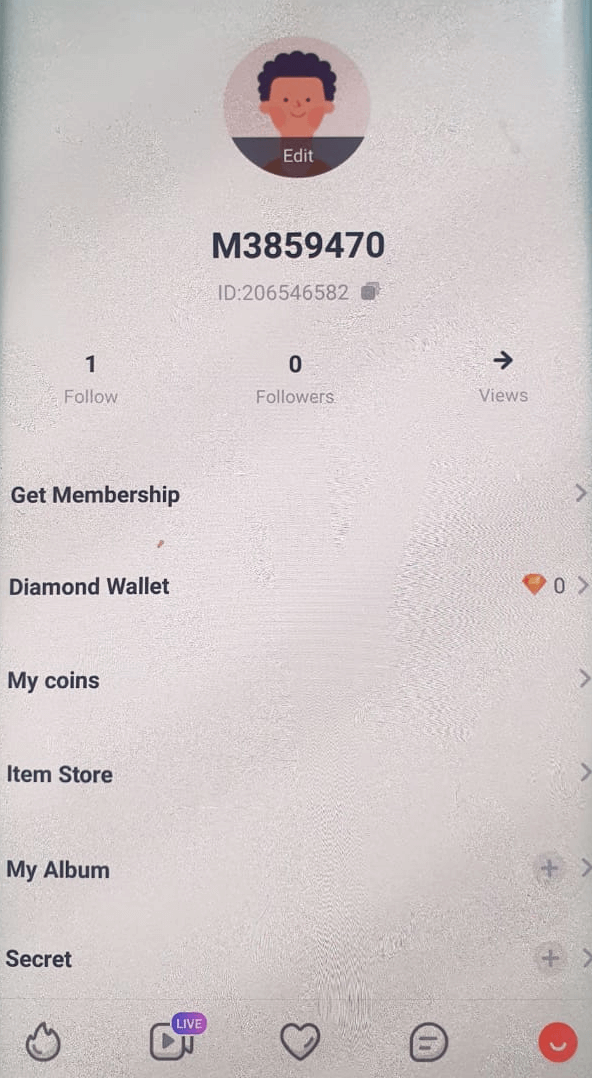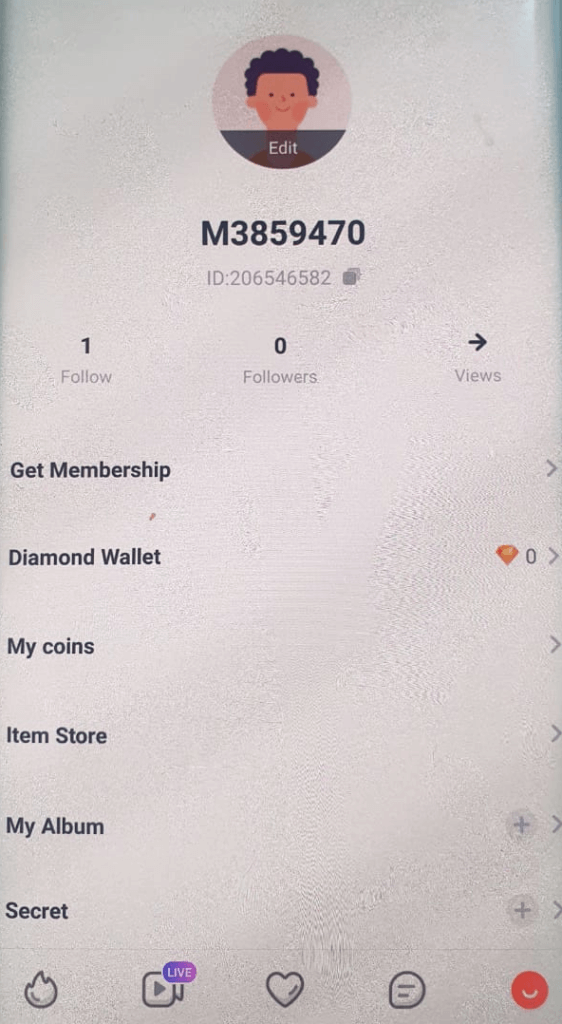 Profiles on Lamour aren't filled with much information.
You obviously will have to start with a profile picture, so that's what you should upload first.
It's really easy to do.
Simply click the edit button on your current profile cartoon and select a picture of yourself from your gallery on your phone.
As this is a very visual medium, you can also upload more pictures in the My Album section or you can load them into the Secret section.
Weirdly enough, if you view another users' profile, you can see a bio section as well as information like their age and gender.
I can confirm, however, that I could not find where to fill this information in on my profile at all.
There is other information to be seen here but it's mostly focussing on seeing how many Diamonds or Coins you have.
This is the site currency and is used to buy various things from the Item Store, which you can access from your profile.
This includes things like profile frames and more.
If there is one thing that certainly can improve from a dating perspective, it's that profiles can have more information about each individual.
For now, there isn't much.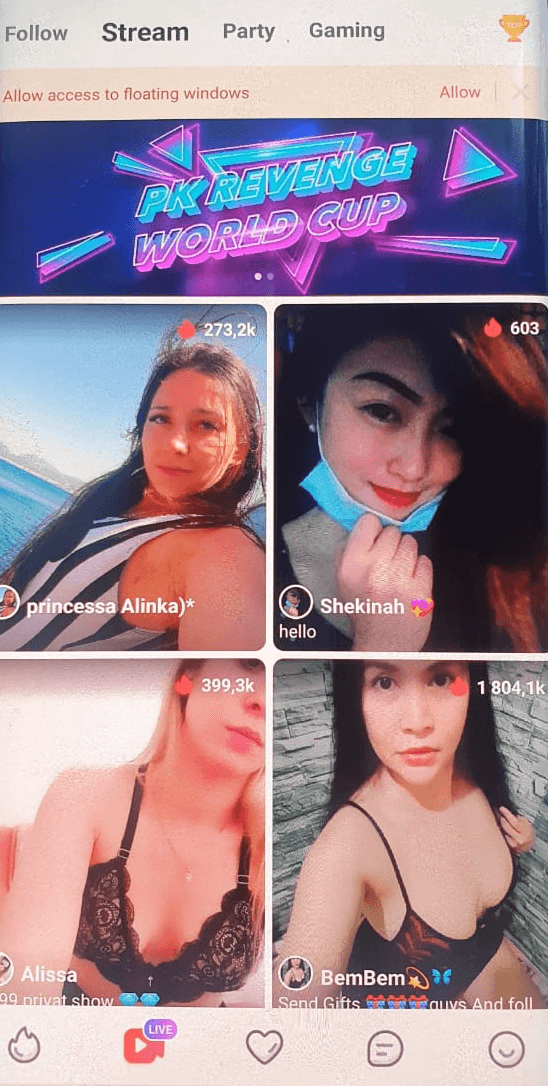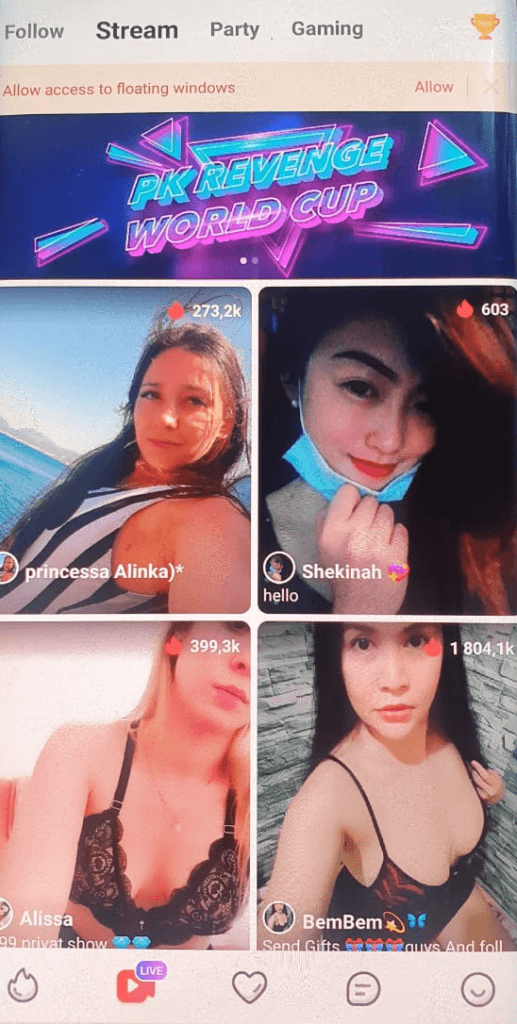 Bearing in mind what we've just learned about Lamour, can you use it as an effective dating app?
I believe you could and I am going to show you why and how.
At the end of the day, dating apps are about connecting with someone and Lamour certainly has those tools in place to let you do that.
While you are free to interact with other users from all over the globe, the closer to you the better, right?
And to find people that are nearby, you will have to click on the first main menu icon (the Flame).
But remember, I said that only shows you featured users on the app first up.
To find those users from your country, make sure that it is selected in the list of countries displayed at the top of the screen.
Then, click on the "Nearby" secondary menu above that to confirm a list of users nearby.
Now you can scroll through those users and click to see their profile.
This will feature the following information:
Their gender
Their age
Their bio
Their location (country only)
Their reply rate to interactions from other users
On the right-hand side of their picture is a + sign with a human icon.
Click on that if you would like to follow them.
You can also ask them for more information.
This includes:
Height
Weight
Education
Occupation
Again, these were not parameters that I could find on my profile at all.
Despite the fact that Lamour has in-app purchases it also has monthly membership.
The primary reason behind that is communication.
While you can follow someone and send them an initial greeting (by clicking the "Hi" icon on their profile), any other communication from there is for members only.
That includes video calls, video chat or voice calls.
So yes, there are several ways that you can reach out to someone.
So what other key features will that membership bring?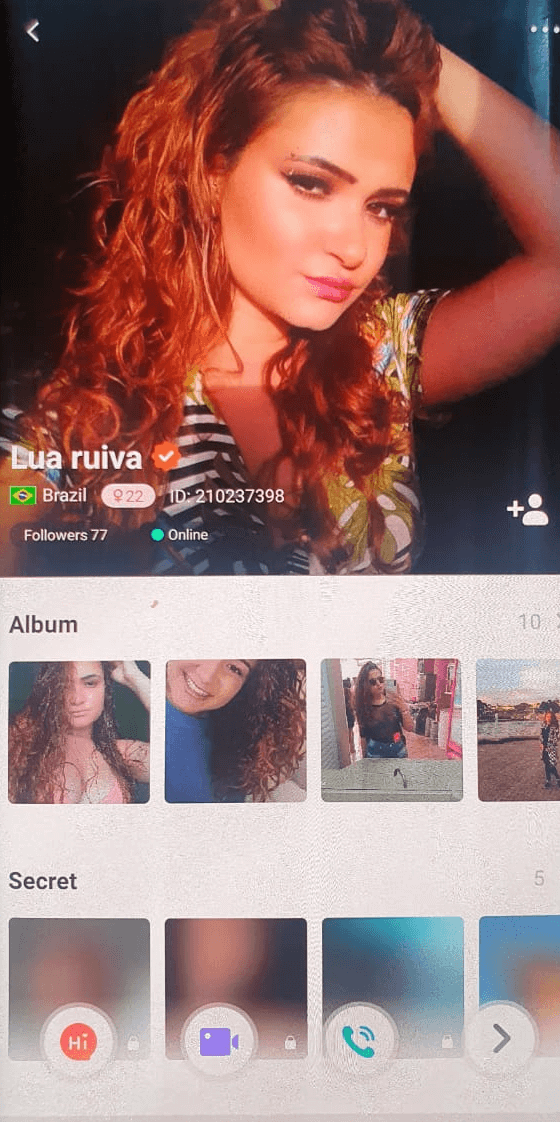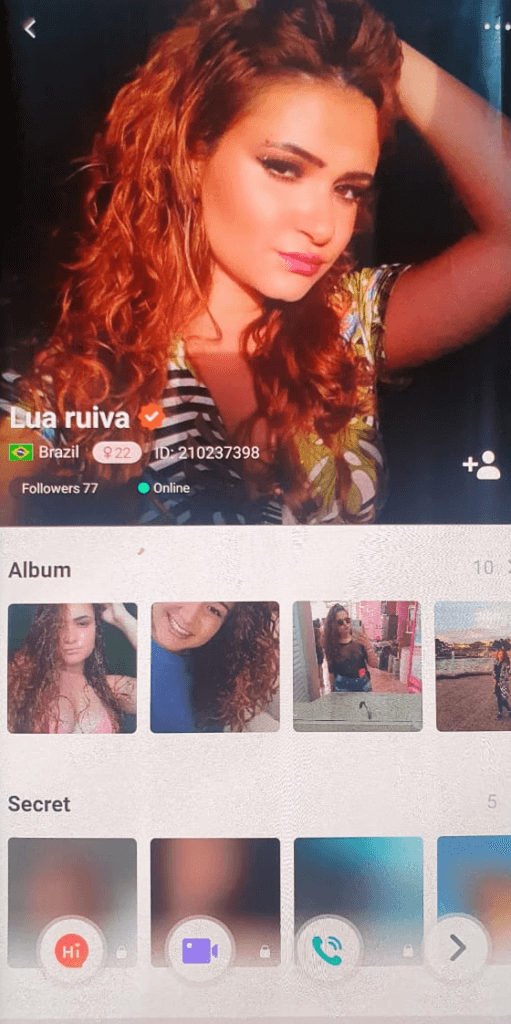 Members of Lamour can send unlimited messages to any others users.
But you also initiate phone calls and video chat with others.
Of course, they have the power to decide if they want to accept that call or video chat just as you would have if they reached out to you.
2. Identify yourself as a

Lamour

VIP
All members of Lamour are easily identified by the fact that they receive a "crown" logo on their profile.
Now everyone will know that you are a member of the app.
As a member of the app, your profile will be boosted and featured for others to see.
This is something the Lamour admin team calls priority exposure and it could help with other users reaching out to you.
If you don't mind finding someone to date in another country, virtually of course, the membership allows you to search for potential matchups all around the world.
The ability to search other countries for a potential matchup is further enhanced thanks to the app's auto translator.
Gifting is often a big deal on these social networking dating apps.
As a VIP you get access to exclusive, customized gifts that you can send to others.
In assessing these features, some certainly stand out to me more than others from a dating point of view.
I love the fact that you can send unlimited messages as well as video chat with others.
Also, you can look for friends beyond the borders of your country thanks to the auto translator tool
These are all useful I feel.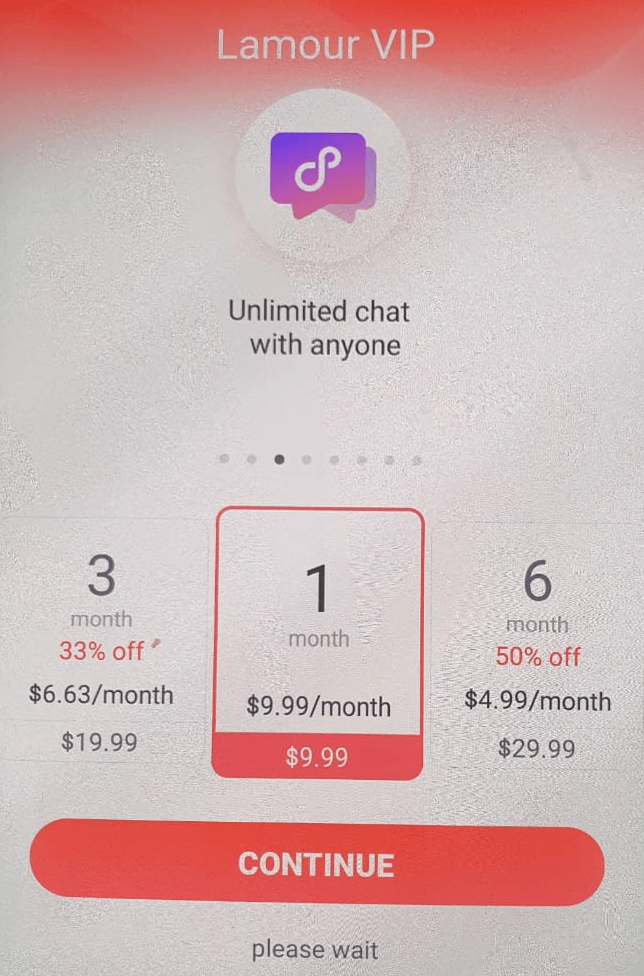 With regards to pricing, I am not going to talk about how you can purchase Diamonds.
That's for the popularity side of things, which is often what these types of social networking apps become.
You can explore for yourself once you try the app out.
I want to talk about membership pricing because as we have already seen, that provides the tools you can use if you are hoping to use Lamour as a dating app.
So just what packages does the app offer for membership and what's it going to cost you?
There are three: one-month, three-month and six-month.
They are well priced too.
Here's a breakdown:
1-month membership: $9.99
3-month membership: $19.99 ($6.33 per month)
6-month membership: $29.99 ($4.99 per month)
While there is no trial membership here, the one-month option is priced similarly to other apps that work in the same way as Lamour.
In trying to see if this is an app that can work from a dating perspective, I would suggest taking out a one-month membership and seeing how much success you would have here.
30 days is more than enough to help you determine if Lamour could be used as a dating app and whether there are other users near your location.
If not, it's simple to cancel the membership.


Conclusion and Overall Rating
Thanks for taking the time to read our Lamour app review.
Is it the best dating app out there?
Well, let's summarize what we have learned.
On the whole, Lamour is much like a new breed of social networking, chat and live streaming apps that have become very popular over the past few years.
Of course, these can be used as dating apps too because they do two things:
They show other users of the app that are near your location
They give you ways to communicate with them, be it through messaging, video chat or voice calls.
So yes, everything you need is there to contact other people.
And you might find users who are using Lamour for dating.
I just think that for most users, that's not its primary use.
Here, it's all about building popularity, trying to rank as the number one streamer in your country or the most popular user for in-app parties.
I guess what I am trying to say is that there is just so much to do on this app and it's not primarily focused on dating.
So therefore, it loses out to so many other apps where that's the main aim.
I am not saying you shouldn't try out Lamour in your quest to find someone to date or perhaps have a relationship with.
It's just that Lamour isn't only focused on that when you compare it to Tinder or Bumble, for example.
As for a rating, well I've given that based purely on what Lamour offers to those who want to use it as a dating app.
And it scores 2.75 out of 5.
Over a review period of weeks, Onlineforlove registered for and used Lamour to test it as a dating app.
Onlineforlove's review approach gave a star rating for the most critical criteria of the app while we tested every aspect of it.
Our overall evaluation took the following elements under consideration: membership cost, how easy it is to use, success rate when it comes to matchups, the size of the user base is and key features it offers.