At OnlineforLove, we cover the best dating sites from all over the world.
And because there are thousands of these dating services, some fly under the radar.
Many of these sites offer excellent matchmaking services where you can meet a real person from different countries or perhaps in the city where you live.
That's the beauty about online dating sites, right?
OFL Top Recommendations based on 100,000+ Survey

"Serious Relationships"
"Discreet Hookups"
"Best Course for Men"
"Quick Flings"
"Normal Hookups"
"Our Quiz"
They can bring people together from all over the globe.
Today, we are taking a look at the LoveAwake dating site, one that perhaps isn't as well known as it should be.
It has registered members from all over the globe, from the United States to Australia, Russia and South Africa.
And in this review of Love Awake dating, we are going to assess and evaluate it in full.
The kind of critical pieces of information that we hope to examine include:
So if you've ever considered starting a profile here, this LoveAwake review is going to tell you everything you need to know about this dating hangout.
Is your dating app giving you the best chance for success?
Make sure to take our online dating site/app quiz to find out.
It's a fact that people who follow our dating site suggestions have on average 2 extra dates per month.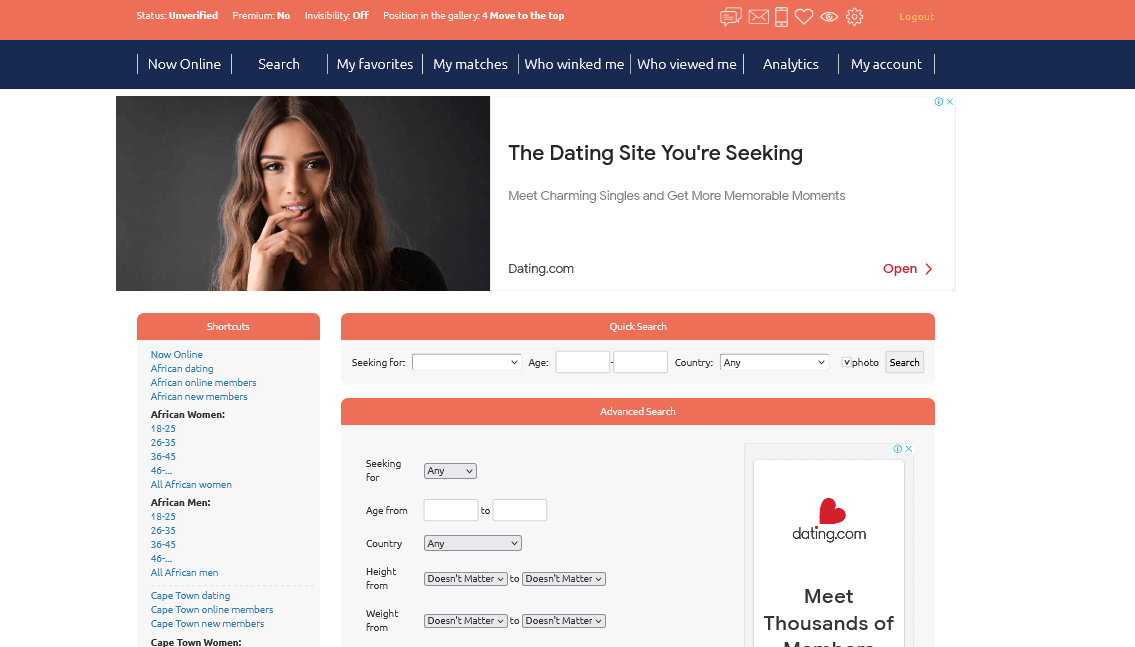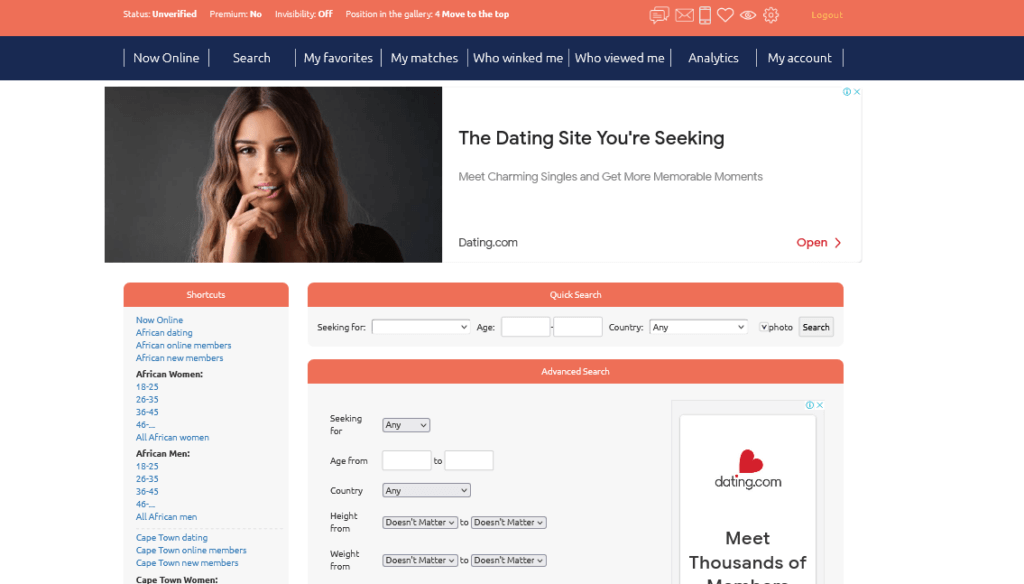 Ease of Use – 5/5
Effectiveness – 4/5
Key Features – 3/5
Pricing – 4/5
Your profile means something in terms of helping to find potential matchups
Three ways to contact other users
Membership if cheap, but not necessary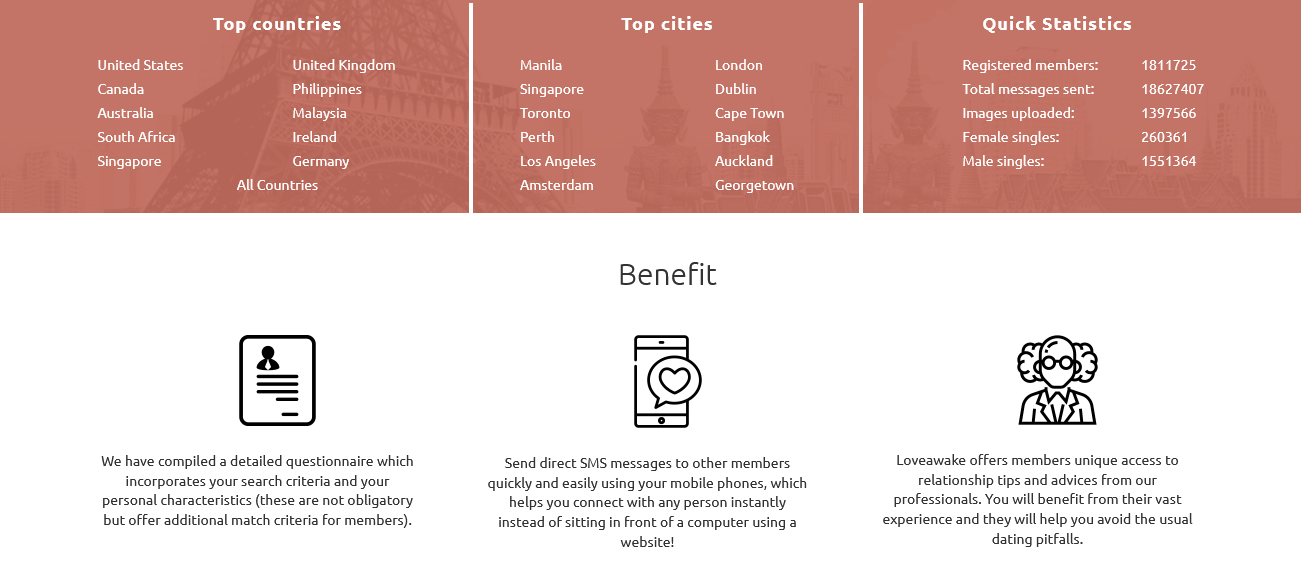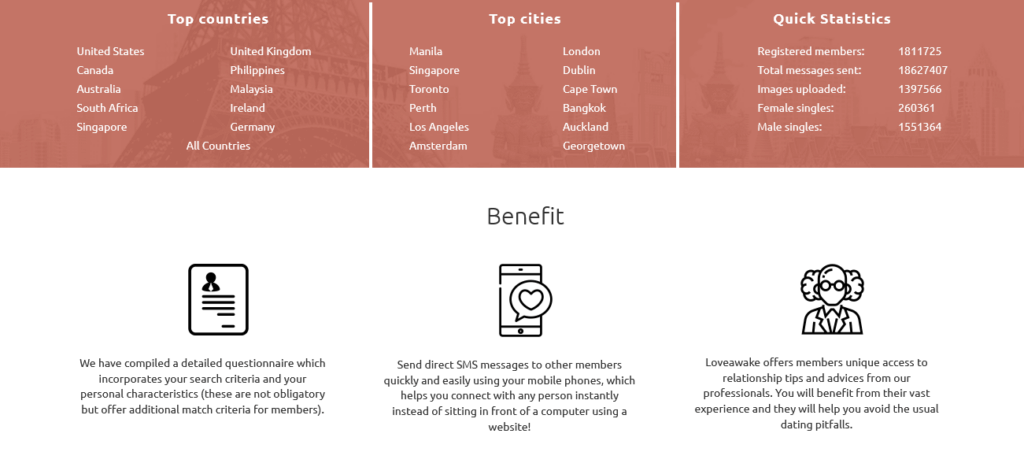 Who's It For/Demographics?
LoveAwake is not new.
OFL Top Recommendations based on 100,000+ Survey

"Serious Relationships"
"Discreet Hookups"
"Best Course for Men"
"Quick Flings"
"Normal Hookups"
"Our Quiz"
It was started by a Russian entrepreneur back in 1995 and provided a dating portal for single men and women in his home country to find love (like Tinder or eHarmony). This isn't a hookup site (like BeNaughty or Ashley Madison).
That expanded in the mid-2000s when LoveAwake went international.
As with all our dating reviews, we first are going to look into how big LoveAwake has grown since it went international.
Well, quite a lot!
At the present moment, the site has close around 1.8 million users.
That's impressive for a dating site that seems to fly under the radar when compared to others, more popular ones.
Despite the fact that the user base is certainly impressive, there is one glaring problem.
According to stats found on the LoveAwake landing page, around 1.6 million users are male while just 250000 are female.
That's a ratio of around 6:1 which is extremely high and something you should consider when using the site.
Of course, this really depends on which gender you are.
As a female, you have so many profiles to choose from but as a male, the competition to find the right kind of matchup is going to be stiff, that's for sure.
During my research for this review, I spent many hours looking into the age ranges of users on LoveAwake.
The good news is that while the biggest group of users are from 18 to 34-years old, you will that all of the age groups are well represented.
It really does depend on the kind of relationship you are looking for, however, as to whether you can find someone.
For example, if you are looking for friendship, you don't mind where some come from, as you can converse with people all over the world.
If you are looking for someone to date, however, you are going to want that matchup to be near your location.
But that's for each user to try and see what LoveAwake can provide for them.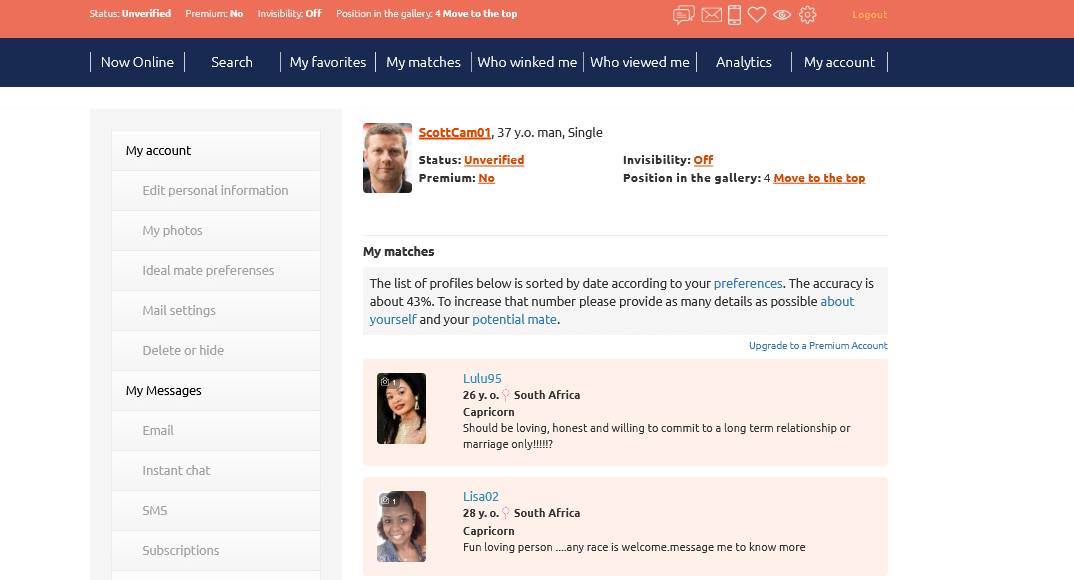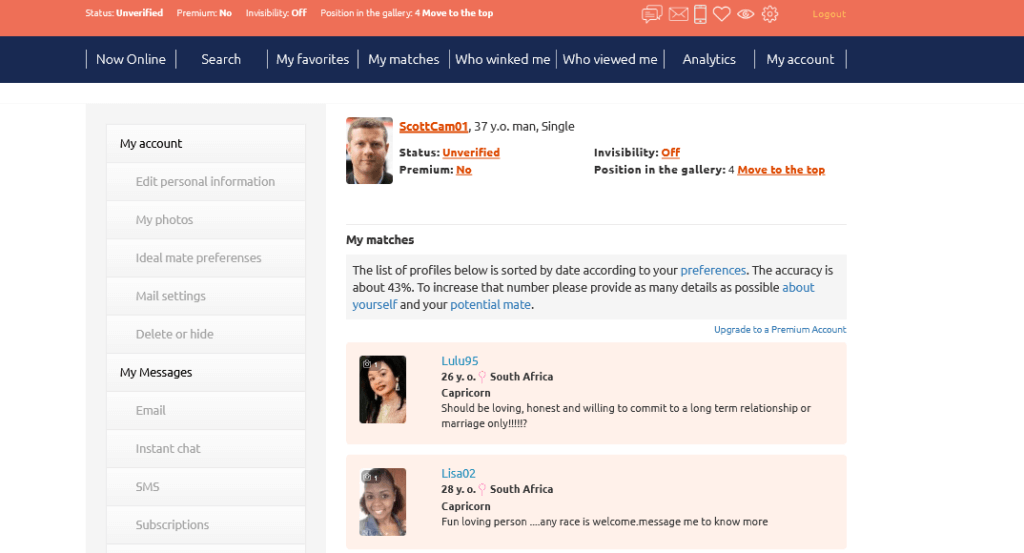 With no dating app, to register as a LoveAwake user, you will need to head on over to the website.
From the moment you start your registration, you can see that this is a pretty slick operation.
And becoming a user on the site couldn't be easier.
To start, you will have to provide the following basic information:
Your gender
The ender you are looking for (LoveAwake is gay-friendly)
Your location (country, state, city)
Your birthdate
A username
A secure password
Your valid email address
The next step is to complete various parameters about your profile.
These include:
Appearance parameters
Habits (smoke, drink, drugs)
The relationship type you are looking for (friendship, virtual relationship, dating, marriage, casual dating. This isn't a hookup site, so casual dating is more like going out for dates with others)
Your marital status
If you have or want children
Your religion
Your ethnicity
A description of yourself
LoveAwake doesn't stop with the registration process at this point but takes you straight into filling in your profile on-site at this point.
This isn't so much a questionnaire but actually completed by accessing the various parts of your profile of which there are a few.
This is one of the strengths of the LoveAwake site because it helps to get user profiles out of the way but more importantly, completed.
First up, LoveaAwake will have you upload a profile picture just as all good sites do.
That's simple enough, but it's the next step that stood out for me.
This helps to stipulate the search criteria for the exact kind of matchups you are looking for and includes:
A description of your ideal mate
If they have to come from only your country or all around the world
Preferred age
Preferred height, weight, body type
Type of relationship you are looking for
Also, take the time to go back to your profile to fill in a few extra details that weren't part of the registration process.
This includes:
Your education
Your profession
Your regime of the day
Your interests
What music do you like
What do you like to do in your free time
Your life priorities
What sport do you like
All of these can be selected from checkboxes in each specific section, so it takes around five minutes to complete.
Once you've done all of this (in around 15 minutes from the start of registration) you have a fully completed profile on LoveAwake.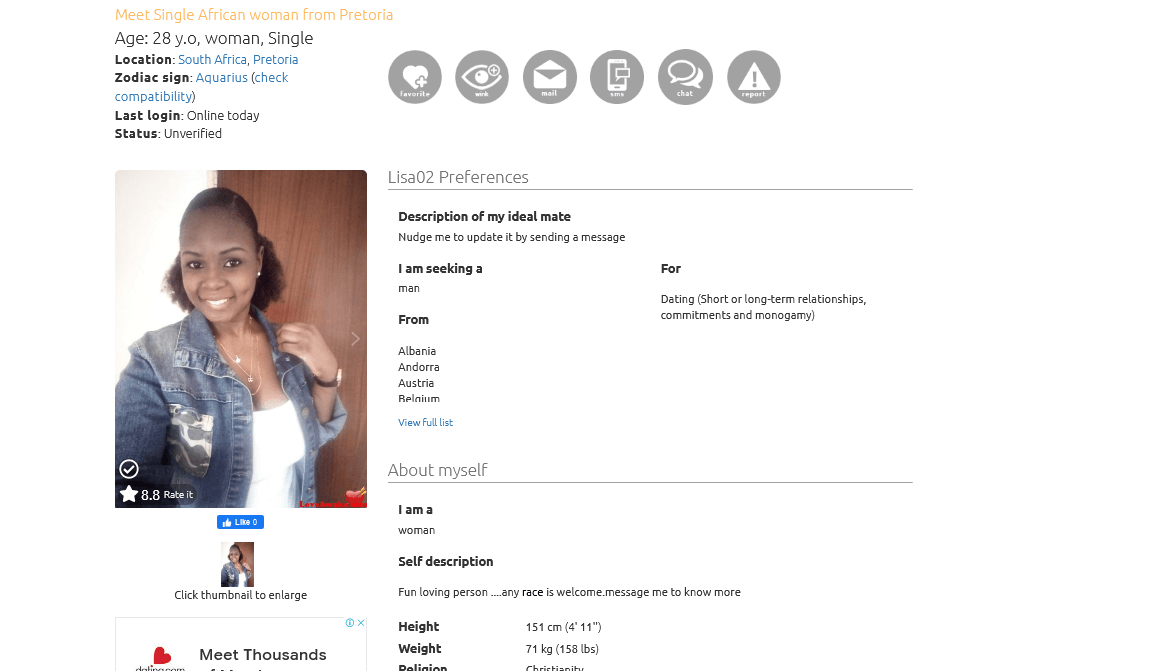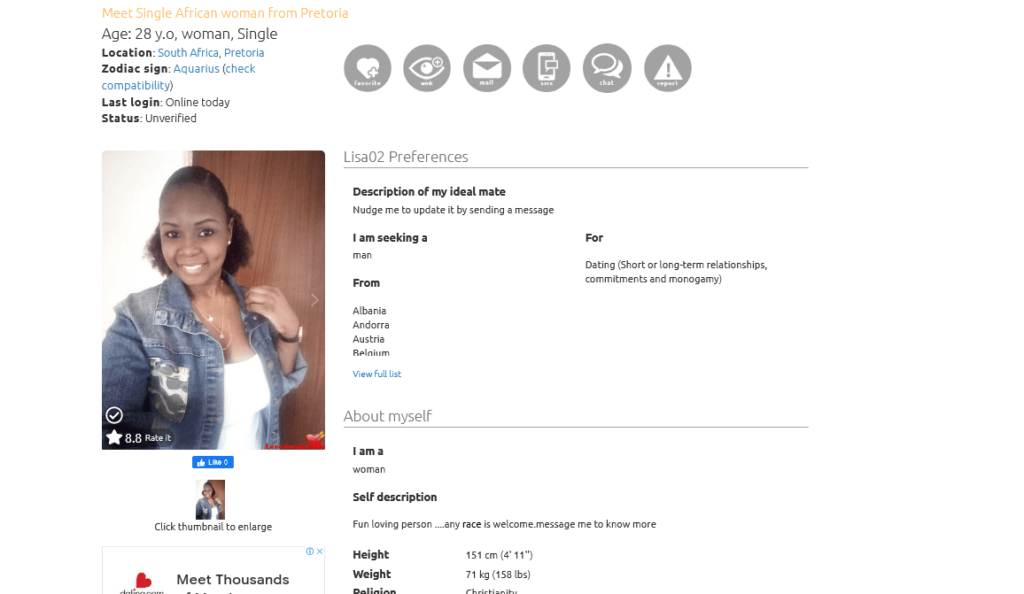 Finding your way around the site
In assessing dating websites, you've got to consider the design.
No matter how effective a dating site is, if it looks horrible and it's difficult to find your way around, you will end up going elsewhere because you will just get frustrated after a while.
Well, I can reveal that there are no such concerns with LoveAwake.
It's an effectively designed website that you won't have any trouble using or finding your way around.
The site uses a favorite dating site design where the menu system to navigate is found at the top of the screen and everything is found underneath that.
So select the relevant menu, for example, Now Online and below you will see all the LoveAwake users that are using the site at that moment.
Let's take a quick look at the menus because there are two different systems in play here.
You have the main menu system and then a second one that uses chat icons above it.
First up, the main menu system:
Now Online: If you'd like to see which LoveAwake users are currently online, you can click here.
Search: Users can launch their own search for matchups using this menu
My Favorites: If you favorited someone's profile, it will appear here.
My Matches: These are matches that the LoveAwake matching algorithm has found for you based on the questions you answered in your profile.
Who winked at me: Click here to see who may have an interest in you
Who viewed me: Click here to see who viewed your profile
Analytics: LoveAwake includes an interesting feature where you can see statistics about the site, where the people come from who have visited your profile and more. It's fun to checkout.
That's it for the main menu system but you will notice secondary menus in the form of icons above those.
These are:
Speech bubble icon (chat): All the messages that you have been sent will appear here. This is from the instant messaging system, one of the ways to communicate on LoveAwake.
Envelope icon (email): These are longer-form email messages that come from other users
Phone icon (SMS): Yet another form of messaging. You can set up that your phone will receive an SMS from other LoveAwake users sent through the website. This requires you to buy credits, however.
Heart icon (likes): Here you can see who has liked your profile.
Eye icon (winks): Here you can see who has winked at you
Cog icon (settings): Change various LoveAwake settings here.
There's quite a lot of menus with some doubling up as well.
It's easy to understand what each of them does and how each of them operates, however.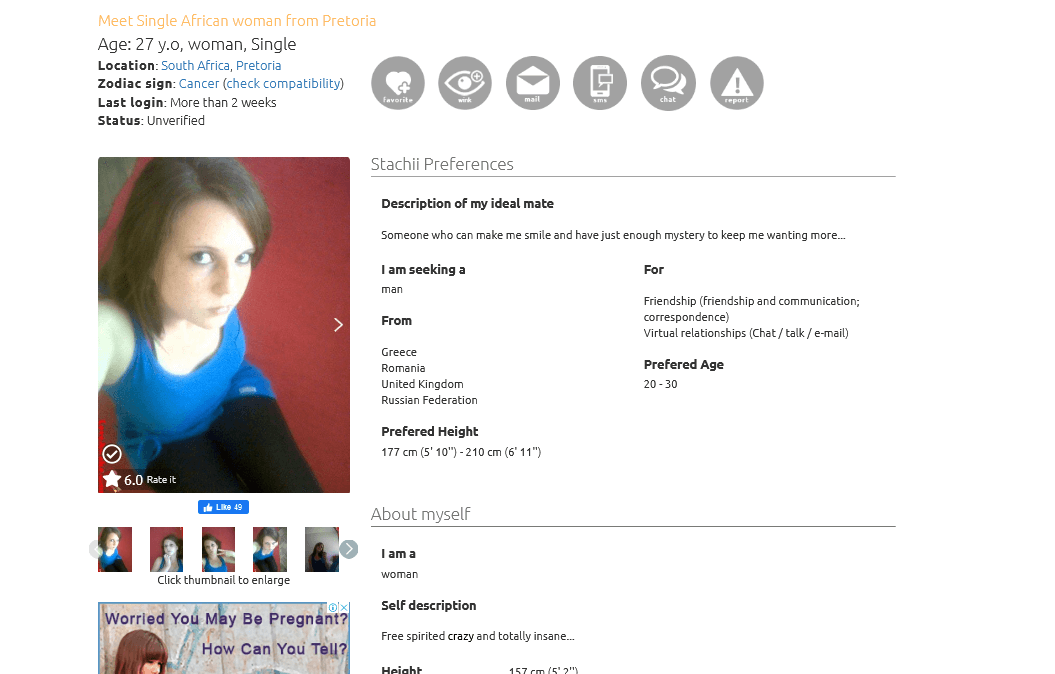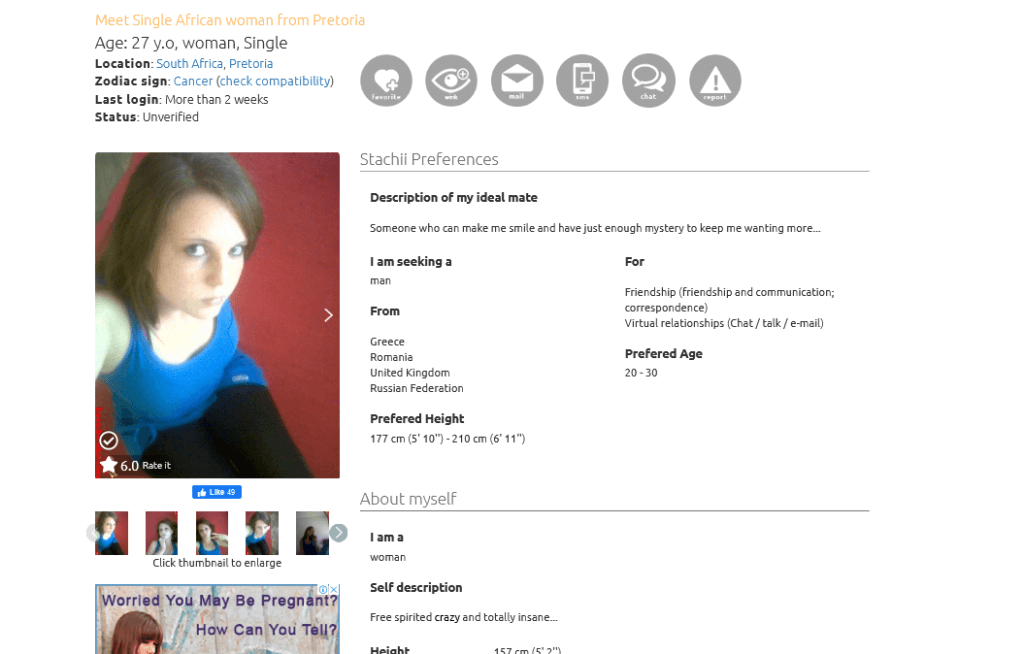 Excellent design and a well throughout out menu system mean nothing if a dating site cannot provide you with potential matchups, right?
With LoveAwake, ultimately depends on what you are looking for.
For example, many people come to sites like this to find new friends from all over the world.
LoveAwake's more than adequately equipped to help you out in that regard if that's your intention.
But we've got to judge it from a dating site perspective, right?
So let's see what tools LoveAwake provides to help you find potential matchups amongst the almost two million people that use the site.
For me, there are three-way to look for a potential matchup.
Of course, some are going to be far more effective than others.
You can:
Look through users that are currently online
Using the search engine
Using the My Matches tab
Let's start with the first option.
Looking through users that are currently online is a bit hit and miss.
They are going to be from locations all around the world, so you aren't very likely to see some in the same city as you, but it can happen.
You are more likely to see users that might be from the country you live in, however.
As I explained earlier, if you don't care where people come from and you are just looking for someone to chat to, this is probably the best place to do that from.
You will notice a quick search bar on the right-hand side of the screen.
Here you can change a few parameters and launch a basic search if you'd like to.
Those parameters are:
Gender
Age
Location (country and city)
But what about making more in-depth searches of your own, or looking through the matchups the site suggests.
Well, for me, those are the options you would use most often to find someone to reach out to.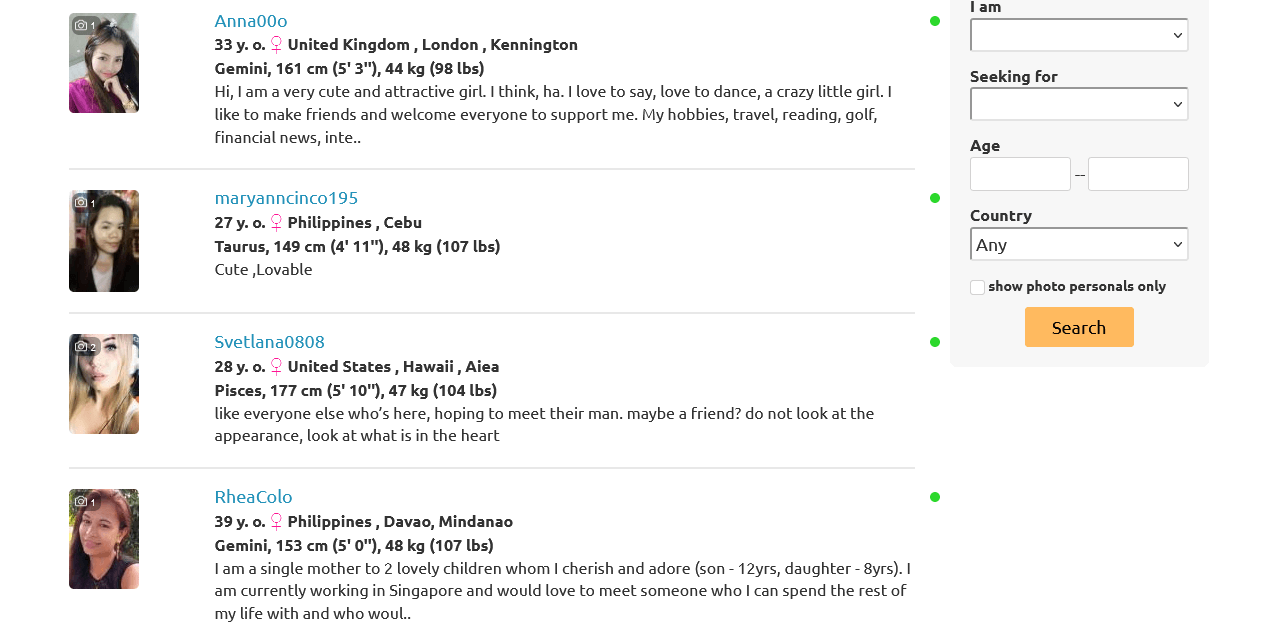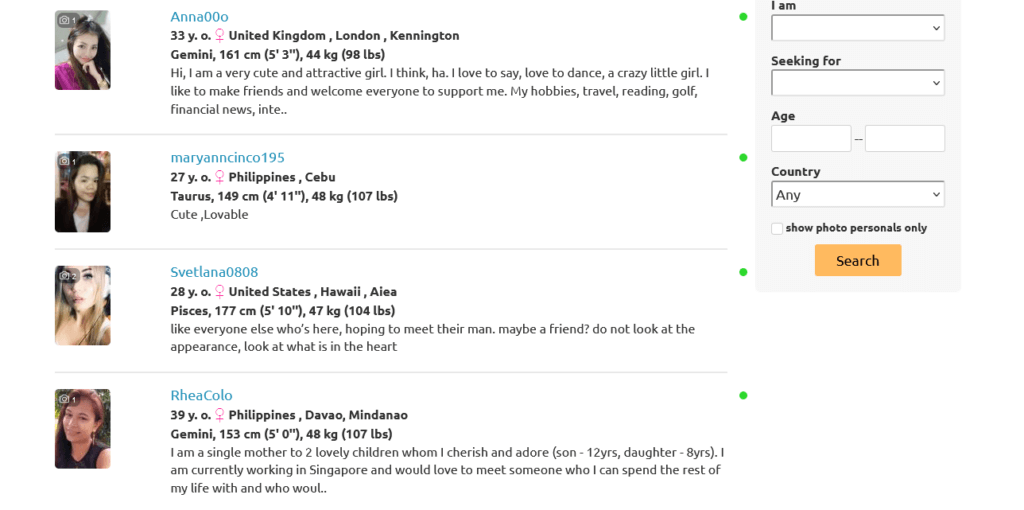 Searching for love on LoveAwake
I can reveal that the search engine you'll find on this dating site is impressive.
All users can use the advanced search parameters which includes
Your preferred gender
Age range
Height
Weight
Hair color
Body type
Marital status
If you have or want children
Ethnicity
Religion
If they have piercings or tattoos
If they smoke, drink or do drugs
If they should have a photo on their profile
If returns should be ranked by when they last logged in
Keywords
Impressive, right?
But there is even more.
On the left-hand side of the screen are location-based searches that you can click on.
For example, if you live in the United States, this will be broken down into:
USA dating
USA online members now
USA new members
US Men
18-25
26-35
36-45
46 and older
All US men
US Women
18-25
26-35
36-45
46 and older
All US women
This is a more than useful tool for people who want to find people in their country.
Of course, for near your location, you are going to have to make use of the search engine specifically.
Or matchups the site provides you with, so let's talk about those now.
These matchups are determined thanks to the information that LoveMatch finds in your profile as well as information you provided regarding matchups.
So again, that just shows you how critical it is that profiles are completed.
Sure, you can search for your own matches, and invariably, that's what people do, but there is no denying having matchups presented from the site can just turn up exactly what you are looking for.
Reaching out to others on LoveAwake
Well, if you want to send unlimited personal messages on this site, we've already mentioned the ways that you can go about that.
Normally, a dating site might have a chat room and either an instant messaging system between two people or a more email-style system.
LoveMatch offers both of those as well as SMS messaging as something additional.
Unbelievable, other than having to pay for SMS messaging, you won't have to spend a dime on any of the others.
Yes, that's right, if you just want to send instant messages or longer emails to someone, you may.
And you can send as many as you like.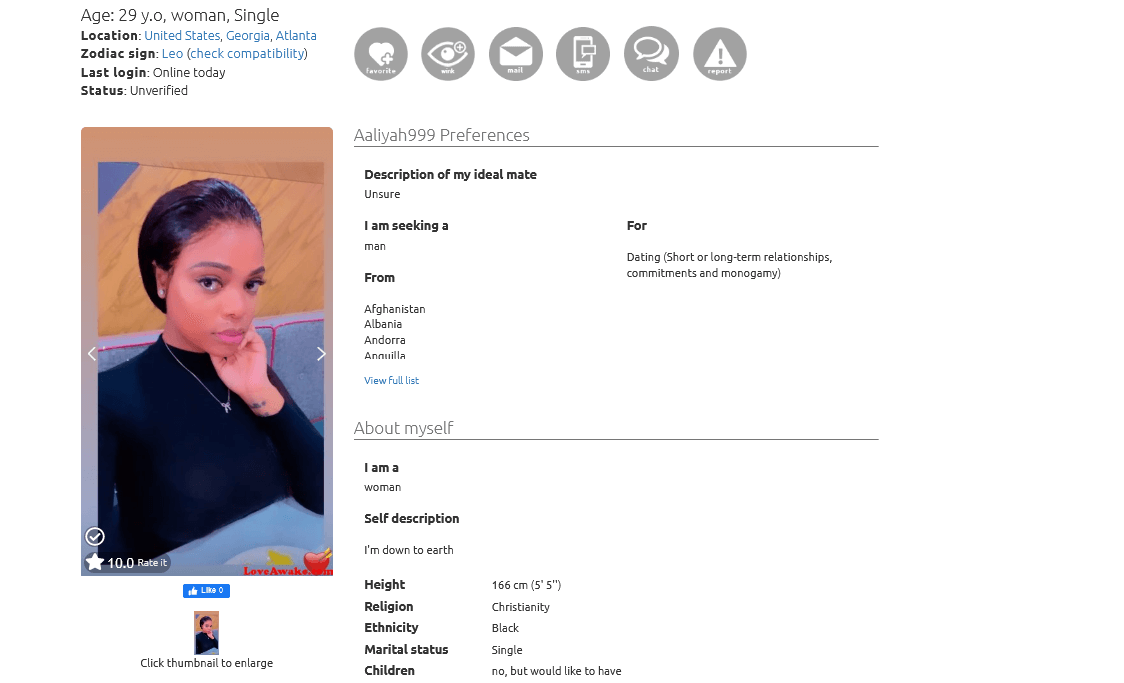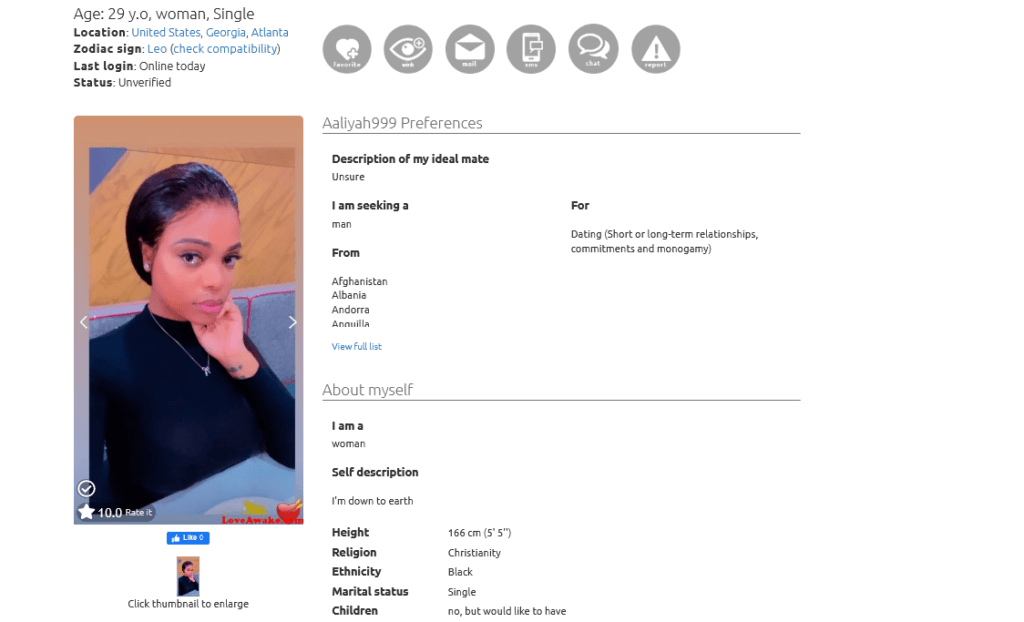 So if messaging is free, does LoveAwake have a membership?
Yes, it does and here are the key features you can expect should you wish to sign up to become one.
Because of scammers and fake profiles, this is something that more and more dating sites are looking towards.
Verified profiles do offer more security, especially if they are taken seriously and not just handed out easily.
If you become a member of the site, you automatically get a verified profile.
Because let's be honest, what scammer is going to pay money to sign up for membership for one?
All members will have their profiles boosted in others users' search returns.
That gets your profile right out in the open and while you are looking for potential matchups, your profile is doing good work while others look for their ideal date.
Not only is your profile boosted in other users' searches but in their specific matches as well.
Without a doubt, that's going to have other users reaching out to you.
All members of the site get access to individual support 24/7.
No longer do you have to look through FAQs or wait for someone to return your mail.
Simply enter the support portal for members and get your questions answered straight away.
There are not many features here but according to LoveAwake, their statistics show that members have around 250% more visitors than a regular user on the site would have.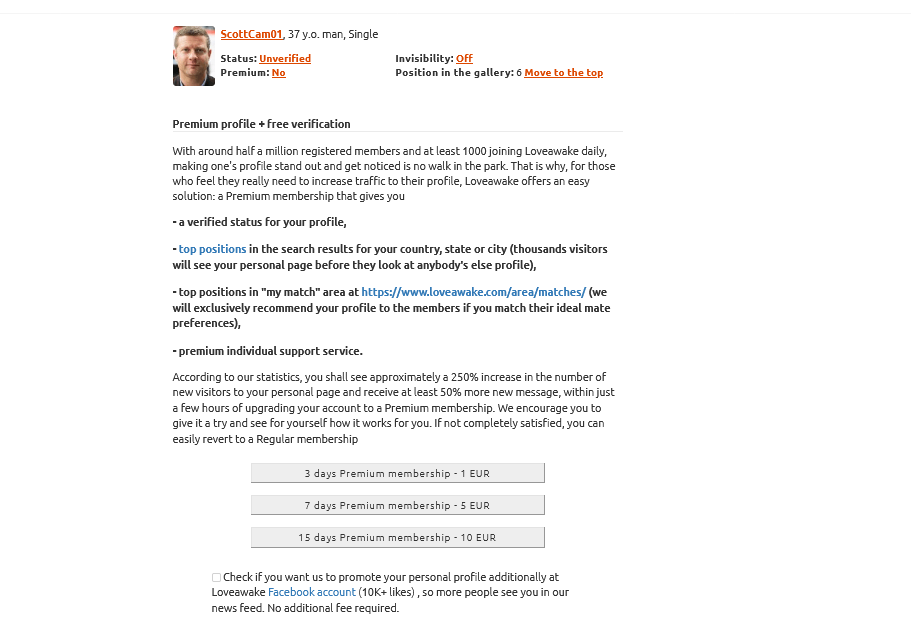 With so few extra features and users able to message for free, what will pricing on LoveAwake be like?
Well, interestingly, they've taken a bit of a different approach to membership.
Here, instead of buying into a month, three months or even longer, you can only purchase a membership in day packages.
The three options are 3-days, 7-days and 15-days.
Here's what they will cost:
3-day premium membership: $1.20
7-day premium membership: $6
15-day premium membership: $12
Please note, these prices are subject to change as they have been converted from Euros.
I am sure you will agree, membership here isn't that expensive at all.
And it's not only nice to have a verified profile but to see it boosted as well.
For me, it's at least something you should try out to see how it works for you.
There doesn't seem to be a way to pay with your credit card, however.
The only option I had for payment was through PayPal.


Conclusion And Overall Rating
Thanks for taking the time to read this LoveAwake.com review.
I'm amazed that I had never heard of this site, despite the fact that it grew out of a dating site from 1995.
In fact, LoveAwake has been around for over 15 years now in its present form.
But it is popular and that's to be expected with a dating site that allows users to message for free.
Yes, you can easily use the site without ever having to spend money and that's always going to draw people in, including those who want to scam you.
But here's a bit of dating advice for you, they are on just about every site you can think of.
Keeps your wits about you and you can spot them, especially if they start asking you to send them money.
Luckily, LoveAwake does also offer verified profiles which is an excellent added security buffer.
In terms of extras, if you want to pay a nominal membership fee, you too can have your profile verified as well as boosted.
There are not that many extras for those who pay but then the payment fee asked matches that.
It really is inexpensive.
Now onto our rating for LoveMatch.
Today, it scores a worthy 4 out of 5.
While it does have users all over the world, it's probably only going to work for people who live in bigger cities in terms of finding people to date.