Online dating can be hard in these times, many online dating sites and apps have become a place where nudity and money run the online dating world.
Young Muslim adults have no safe online dating place in this crazy world, and they are seeking a place where they will be happy and safe at the same time.
In this assessment of MuzMatch, we will determine the following:
If you are part of that limited dating population and look for a safe online dating place to find your future life partner, continue reading this review of one of the safest Muslim dating apps, the MuzMatch app.
OFL Top Recommendations based on 100,000+ Survey

"Serious Relationships"
"Discreet Hookups"
"Best Course for Men"
"Quick Flings"
"Normal Hookups"
"Our Quiz"
Is your dating app giving you the best chance for success?
Make sure to take our online dating site/app quiz to find out.
It's a fact that people who follow our dating site suggestions have on average 2 extra dates per month.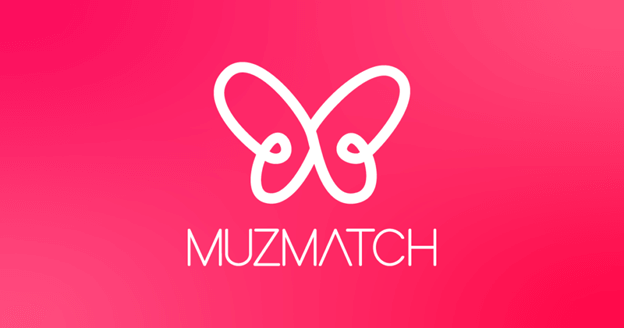 Effectiveness – 3/5
Features – 4/5
Ease-of-use – 4/5
Price – 2/5
Easy to use
Strict verification process
Available for Android and iOS users
Not too many fake profiles
Who Is It Best for/ Demographic Make Up
Muzmatch.com is an online dating company based in the UK. It was released in 2015, and it has been one of the best online dating apps for single Muslim men and women all over the world since then.
All single Muslims are welcomed and looking for serious relationships (like eHarmony or Tinder), life partners, and most of them looking for marriage.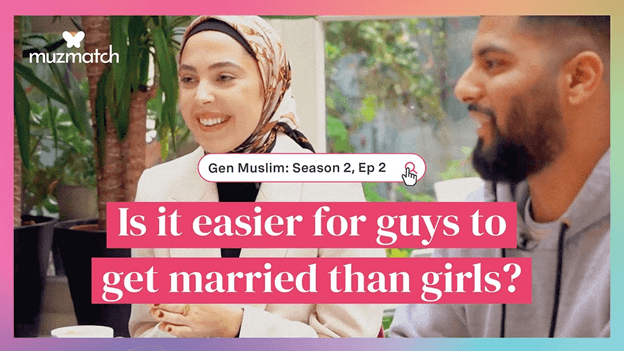 Arab singles have a specific attitude regarding online dating, so there is no place for occasional hookups (like BeNaughty or Ashley Madison). That is not their cup of tea.
The MuzMatch app respects the Muslim religion and Islamic laws, and other religions are restricted.
You can join the app if you are part of the Muslim or Arabic religion and looking for a long-term relationship.
With MuzMatch online dating app Muslim dating has never been easier. There are more than 130 thousand Muslim singles just in the UK who are using the app at the moment.
50%Mulsim men and the same number of Muslim women have an opportunity to experience fast, free, and exciting online dating. All that thanks to MuzMatch.com.
There are no many fake profiles and scam is forbidden because MuzMatch app has a very strict verification process.
However, using this mobile app under restricted options can sometimes demand premium membership to find a soulmate.
Finding your perfect match by ethnicity doesn't always get you your perfect partner. Besides the fact that the MuzMatch app is the best Muslim marriage app, you have to put some good halal effort into it.
Designed as a user-friendly online dating app, MuzMatch is very easy to use, and it is extremely functional.
This app represents a real halal dating site vision. Its colors are red and white, the content is short and clear, and the app is well-known among young Muslim people.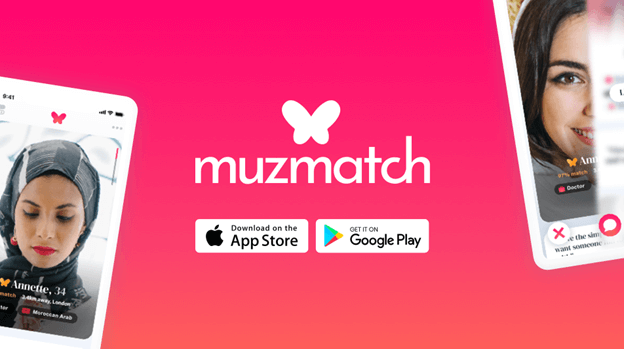 MuzMatch app's main goal is to keep Muslim dating online as safe as possible. Your phone number won't be reveled on the platform, and you don't even have to leave your real name.
Once you download the app for free from the play store, MuzMatch is really easy to navigate through.
The registration process lasts two minutes, and you are ready to use the app immediately.
The profile settings are available to arrange at any time, and there is no questionnaire that you have to fill in.
Islam is a very specific religion, and the MuzMatch features are made by Muslim beliefs and laws. The app constantly grows, and its teams of professionals upgrade the app every day.
The app is originally made for young Muslim and Arabic adults. Everyone who is using the app at the moment can confirm that it is really easy to use it.
The MuzMatch app is well-organized and approachable to go.
Its profiles and notification bar are detailed but not too complicated to check daily.
Downloading the app is free, and there are no extra costs during the signing-up process.
There are no extra questionnaires neither, so you have all the time in the world to start your free dating.
The signing-up process is short, and the app connection is very fast.
The only information that is needed is gender, birthday, and creative nickname.
Profiles are usually very detailed, and under each profile pic, you can see the user's age, profession, and interests.
However, if you don't have too much time to spend on creating your perfect profile, you can do it later without a rush.
The MuzMatch ease of use can be compared to the Tinder app. There are many Tinder features that you will recognize if you use Tinder as an online dating app.
When you open the Muzmatch app, you can sign in using your Facebook or your email account. The profile picture is something that you have to verify by taking a selfie.
In that way, the app assures a very detailed profile selection and there is no place for scammers.
You have to enter your gender, birth date, and nickname. The app doesn't require your real name in order to keep your safety in the first place.
There are no questionnaires or personality tests that can just waste your time. Plus, your profile doesn't have to be detailed in the beginning, it is quite optional, and you can arrange it after you start using it.
The signing-in process will be so short that you won't even be aware of how fast you are going to start using the app.
When you finish the first steps while joining the platform, it's time to pass your verification process.
The verification process works with selfie verification.
A profile pic is obligatory, and it has to be approved by the platform to finish the registration process.
What do you have to know before you start the verification process?
A profile pic has to be decent and flawless. It means that all kinds of nudity and pornography are forbidden, and you will be immediately blocked by the platform if you don't respect these rules.
Your face has to be in focus so you can easily finish the verification process.
The profile pic has to look like those pictures on your ID or passport.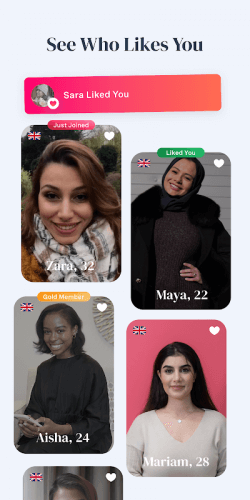 A gentle smile, an innocent look at the camera, and decent clothes are the top three things you have to respect.
Speaking about your profile description, the advice is to write a brief but detailed description.
Opposite to many other online dating apps and sites, it would be cute to write something about your private life and family because the MuzMatch app is specialized in a Muslim marriage.
It would be great to show your future husband or wife your family background. It can be just one more plus in this Islamic online dating world.
The next thing, but not the least important is that you reveal all your interests and hobbies.
Be honest, and write everything you like doing in your free time and with your best friends. Add locations where you like shopping, going out, or add a location where you relax from time to time.
Making Contact on MuzMatch
Making very first contact on the Muzmatch app is similar to Tinder. There are many similar features like swiping and liking.
Searching filters are free to use and they can help you to find your perfect partner in your real life.
The MuzMatch app offers you free messaging, chatting, and instant matching as long as you become a perfect match with other users.
If you don't get any matches, you won't be able to use these free features.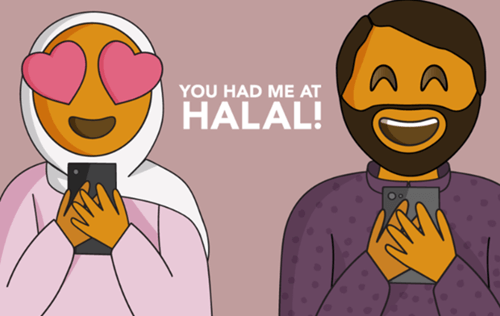 Its fast connection among members allows you to collect many matches in no time.
A Tinder feature like swiping is available as liking. You can visit someone's profile and press the check or cross button. Check button matches you with users, while the cross button will eliminate the users from your visual area because it means that you are not interested in them.
Besides free chatting, as a matched member you can use free video calling, but your profile has to be real and deeply verified.
Your profile pic has to pass through a verification process, and it has to be liked by other users if you want to start dating online.
What else can the MuzMatch app offer to you?
1. One free instant chat every month
When you visit someone's profile for the first time, you can receive one free instant chat every month.
The only thing you have to do is to have mutual likes, and you will receive a free instant match right away.
You can get the MuzMatch free coupons using the email code that will be sent to your email.
You have to copy the code that the platform sends you, and paste it in the promo code section on the app. Then, you have to confirm the promo code and you can start using your free coupons for making more contacts.
3. The MuzMatch golden membership
The MuzMatch golden membership allows you to use the site without additional restrictions like many boring ads. As a golden member, you can get unlimited swipes, you don't have to wait for other users' requests, and you can get a large range of special features that can help you in the online dating world.
4. Free MuzMatch advice on how to start chatting with other members
The MuzMatch platform left a few pieces of advice you can use to start safe chatting with other members.
On the app, you will find the list of the most common phrases you can use to start the very first MuzMact conversation.
5. The MuzMatch success stories in real life
The MuzMatch app offers you a bunch of true love stories about partners who started their serious relationships on the same platform.
You can read their confessions, and you can experience virtually their online love life in the real world.
Many of those successful couples leave advice and a brief guide on how to find your perfect match on the MuzMatch app.
You can even ask them about anything you are interested in as a MuzMatch beginner.
The MuzMatch blog has a large specter of many different short stories that are related to love relationship, but that is related to the Islamic religion, beliefs, and its lifestyle.
You can learn many things that you've never known before, and you can be matched with the Muslim culture too.
MuzMatch profiles are based on a detailed selection among all its members and its customer service.
You don't have to write your real name. An interesting nickname would be enough to keep your privacy and safety far away from suspicious minds.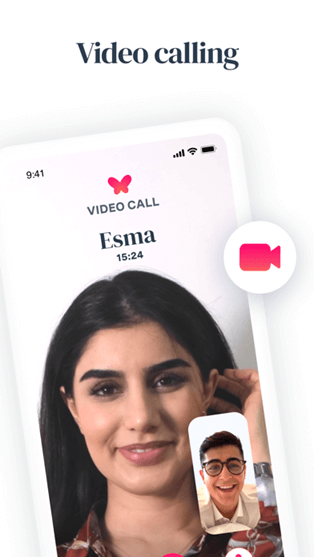 Profile picture has to be flawless and it has to be in high-quality resolution.
Your profile description has to be detailed if you want to be successful in halal dating, but you can arrange it additionally. Without any pressure during the registration process.
Your profile photo is visible to everyone who would like to visit your profile, but the other pictures will be hidden until you two match.
You can upload only four profile pictures, and that's it.
The MuzMatch app has many special features that are all based on safety, and they stop immediately any kind of pornography or forbidden nudity.
The MuzMatch app is available for all Android and iOS devices.
The app is free to download and is user-friendly. You can easily download it from the App Store or the Google play store.
It can be linked to your email or Facebook account, so there is no need for extra registration time.
The app offers to all its users really great notification toolbar that is very fast and allows you to track your profile wherever you are.
All MuzMatch features are pretty much related to members' safety. The more special features you get, the safer you are.
In order to prevent fake profiles and scammers on the platform, the MuzMatch app requires selfie verification.
Your selfies have to be clear, not blurred, and it has to show your entire face. The verification system requires high-quality selfies, too.
So, if you want to be well-prepared in this online dating world, you have to buy some good equipment.
Have you ever wanted your Dad to check a guy you could marry one day? Well, here you go that kind of opportunity. Now both your Dad and you will have that honor to meet your perfect match together. Salaam to all of you, guys!
Community-rated members have a special place on the MuzMatch platform. These members get some kind of special badge that everyone can see in their profile pictures.
These badges are well-earned for your good behavior and the many great comments that your account provides every day.
This feature is very important in the Muslim world, especially for Muslim women.
A chaperone or Wali is a person who protects you and keeps your back safe and sound.
The MuzMatch app gives you a free seven-day trial to explore the app before you become a premium user.
Once you sign in, you always get a hundred swipes that you can use for free.
As a free member you get:
Free registration
Free navigation
Free invites and requests
Free chatting
As a premium member you get:
Using the app without a single ad
Unlimited swipes
Premium features
Instant matches with users profiles
Special features that can help you to change likes, passwords, and blocked members
Extra search filters
More contact opportunities
You can become a premium user for one week, and the costs for that one week are 4.88 USD.
The other way is to buy some credits. There are two options. You can choose 250 credits or 400 credits. The first credit package costs 12.99 USD, and the price for the second package is 19.99 USD.
However, if you decide to continue using the app as a free user, there is an option to buy just the instant match feature for 2.99 USD only.
Speaking about the payment options, you can use either a credit card either your PayPal wallet.
After this brief and modest review, the MuzMatch overall rating will be 3,25 because its price is a little bit higher than it is usually on the other online dating apps, and because of its effectiveness you have to be very persistent.
We hope that this honest review helped you to see the MuzMatch app for dating Muslims and Arabs from a different perspective.
The app's team can be proud on themselves because they really put big effort into their users.
For further questions about the app, continue reading the section below.